Cryptocurrencies and society
Cryptocurrencies and society
Get Pin Code
I have a PIN code
Full access to the report is available to StormGain clients with a balance of 500 USDT 50 USDT or more
If you have any problems obtaining the PIN, contact your personal manager or our support service:
Get the report
Full access to research is available for Stormgain clients with deposit from 500 USDT 50 USDT
If you have any problems with obtaining a PIN code, contact your personal manager or support service:
It's a bit too early to talk about the full-scale adoption of cryptocurrencies. But this process is actively moving on an upward trajectory. Still, concerns will remain about state regulation, the supposed pyramidal nature of the entire crypto industry and the inability of the system to technically implement all of the most daring ideas from blockchain start-ups.

But these concerns are merely based on fear and emotion and are refuted by the facts, which are what we ought to rely on.

Recently, the market has seen a significant inflow of institutional investors, which has contributed to the system's stability. Officials already recognise this. Specifically, US SEC Commissioner Esther Pierce said that the cryptocurrency market is becoming more mature thanks to interest from institutional investors. Their presence in the market has also sparked an impressive increase in the prices of major cryptocurrencies. As a result, as of mid-April 2021, the crypto market's capitalisation exceeded $2 trillion.

Figure Cryptocurrency market capitalisation. Source: https://coinmarketcap.com/
An important trend is that Bitcoin owners are increasingly using it as a long-term investment asset. The chart showing Bitcoin's weighted turnover by time serves as strong confirmation of this. That's the ratio of the number of Bitcoin transactions made over a certain period to the length of time the coin is kept in a wallet.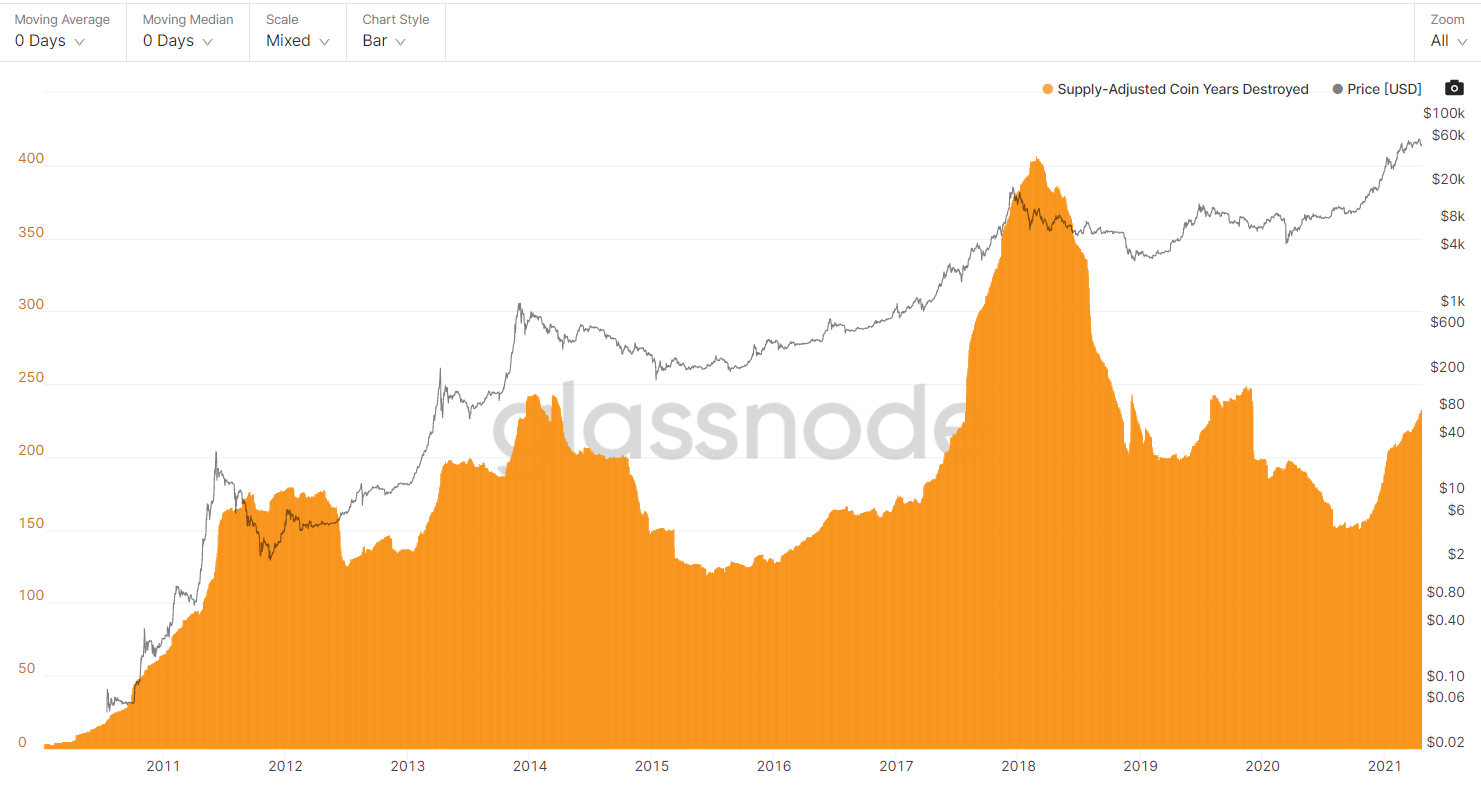 Figure Bitcoin's turnover weighted by time. Source: glassnode.com
Since 2018, a long-term downtrend has been forming on this chart. This means that Bitcoin owners are keeping 'old' coins. However, the share of large coin holders is low. Only 1,611 Bitcoin wallets (about 0.16% of all Bitcoin wallets) contain more than 1,000 BTC. Still, these account for the lion's share of BTC ever mined.

Cryptocurrencies are also growing in popularity as a means of payment supported by well-known payment systems Visa, MasterCard and PayPal. In three and a half years, the number of companies accepting cryptocurrencies for payment has increased by 230%.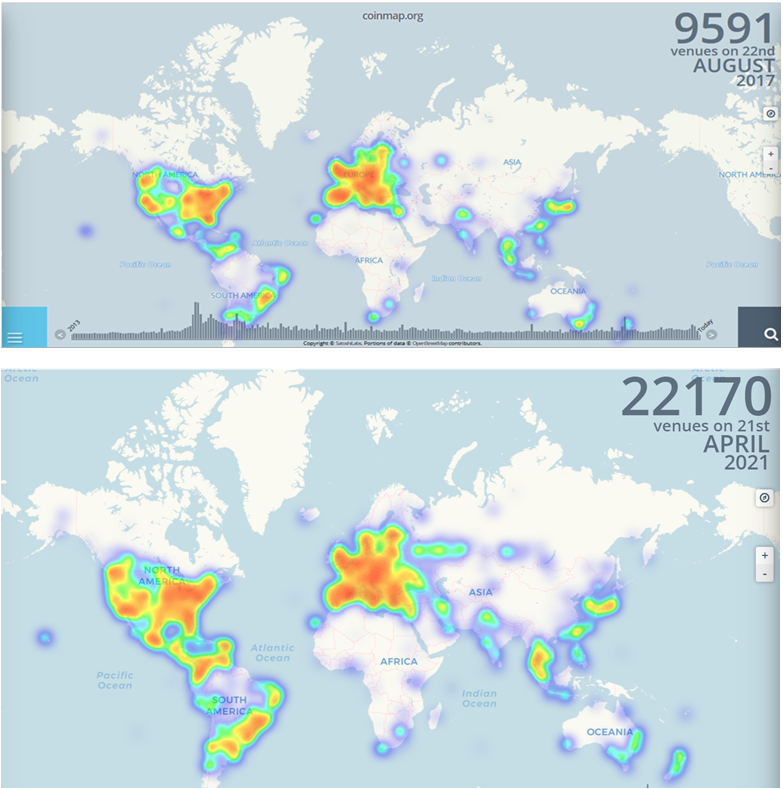 Figure umber of companies accepting payments in cryptocurrencies. Source: https://coinmap.org
Well-known companies are joining this pool, with Tesla being one recent example. In March 2021, the company began accepting payments for its cars in Bitcoin. Elon Musk stated that all payments in Bitcoin will remain in the cryptocurrency form and won't be converted into fiat.

It should be noted that Elon Musk has become a major cryptocurrency investor. His company has invested $1.50 billion in Bitcoin (around 24,000 BTC), as evidenced by a filing with the US SEC.
But Tesla is not the largest investor in Bitcoin. Business analytics software development company MicroStrategy started actively investing in cryptocurrencies back in August 2020, becoming the first public company to convert some of its free capital into Bitcoin. The company currently holds over 90,000 BTC, confirming its belief that Bitcoin, the world's most widely used cryptocurrency, can serve as a reliable means of savings.
One of the largest crypto-investors has been Grayscale Investments Holdings. Its Bitcoin trust owns 649,990 BTC, but the company's assets are not limited to the crypto market pioneer. In addition to BTC, the company has assets in Ethereum (3.05 million ETH), Litecoin (1.33 million LTC), and many other Top 50 cryptocurrencies by market cap.

Mining also plays an important role. This industry is attracting massive investments. New mining farms are being opened, while capacity for existing ones is increasing. The mayors of some cities are even offering to create crypto hubs in their jurisdictions. The mayor of Miami has expressed interest in attracting Bitcoin mining businesses to the city. Francis Suarez also recently expressed interest in converting a small portion of Miami's reserves into Bitcoin. For reference, the city's coffers amount to around $95 million. So even a 1% investment in Bitcoin is equal to nearly $1 million. But that's not all: the mayor has suggested considering the possibility of paying employees' salaries in Bitcoin. The management of a company named MicroStrategy have launched a similar initiative, but went further than the mayor of Miami. Michael Saylor, the company's CEO, reported that the Board of Directors approved a motion to allow bonus payments to be made in Bitcoin. The document has already been sent for approval to the US SEC.

Moreover, it's not just cryptocurrencies that are taking on an increasingly important role in society, the technology they're based on is also gaining in standing, too. We're talking, of course, about blockchain. Much has already been said about its possible applications, but one point is certainly worth reiterating. The world is still in the grip of COVID-19. And while cryptocurrencies are often used by investors as defensive — albeit high-risk — assets, the technology itself may well help bring clarity to the vaccine race, for example. How? The answer is pretty simple, actually. Blockchain can provide much-needed transparency about vaccines, both in terms of who needs the vaccine, as well as details of the vaccine's reliability and compliance with its storage and transportation requirements.

Blockchain allows multiple parties to manage a shared, decentralised database at the same time, making available information that doesn't depend on just one party. The data stored in a block sequence is read-only and can be easily accessed by participants in the supply chain. The technology is also convenient because blockchains can be configured as desired. Some can only read the information stored there, while others can add information. The system could simplify the process of managing vaccine stocks, verifying their authenticity and establishing a supply chain.

Blockchain-based technology is also already being tested in New York, where it will facilitate the partial revitalisation of the economy. This innovative solution known as the Excelsior Pass contains the user's personal information, including the presence of a negative COVID-19 test or COVID-19 vaccination info. That's just one more step toward containing the spread of the coronavirus.

These are just a few examples of how firmly cryptocurrencies have rooted themselves in today's world. Of course, like everything new and underresearched, cryptocurrencies raise a number of concerns. That's pretty normal: Just recall the dot-com crisis in 2000. While the internet technology sector is quite developed today, it was considered highly innovative a couple of decades ago. Technology capable of changing the established way of doing things doesn't just get implemented overnight; it's a long-term process complete with ups and downs. But sooner or later, this technology's real value will be understood, and people will start to realise the value that it adds.