Earn passive income on Litecoin
Earn rewards for holding Litecoin in your StormGain wallets. Get a predictable source of passive income with Litecoin with zero risks to your crypto deposits.
Deposit a minimum of $50 and a maximum of $2 million.
Start earning interest and withdraw funds whenever you want.
Rest easy with our secure, multifunctional crypto app.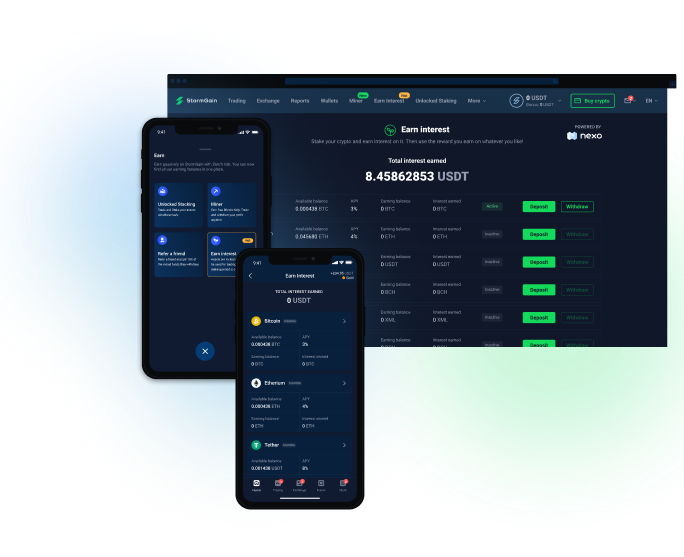 How do I earn interest on Litecoin?
In a nutshell, you earn interest on Litecoin similar to how you earn interest at a bank by keeping your deposit there. However, instead of fiat currency, you have Litecoin. Crypto owners keep their crypto funds like Litecoin in a wallet, thus staking the funds for a selected period of time. In return, they are rewarded with interest on top of their holdings.
A lot of people buy Litecoin just to hold it for potential future profit. But until that time comes, these crypto funds are just sitting there, gathering dust. In fact, they could even lose value when the crypto market turns bearish. As a result, hodlers get nothing from their Litecoin. Earning crypto interest on Litecoin solves this problem.
In addition to Litecoin, we also have other cryptocurrencies you can earn interest on
Now you can have one app to mine Litecoin, trade 50+ cryptos plus tokenised gold and silver and crypto options, get trading signals, see crypto indices, earn crypto interest, exchange assets, store crypto in wallets and access educational video tutorials.
5,000,000+ total clients in 230+ countries
$19.6 billion 30-day volume
StormGain's security features include two-factor authentication, encryption, and cold and hot wallets, among others.
How to start earning on Litecoin:
Create a StormGain account

Select your crypto and parameters