Register in 5 seconds and easily operate funds on your wallet: deposit, exchange, withdrawal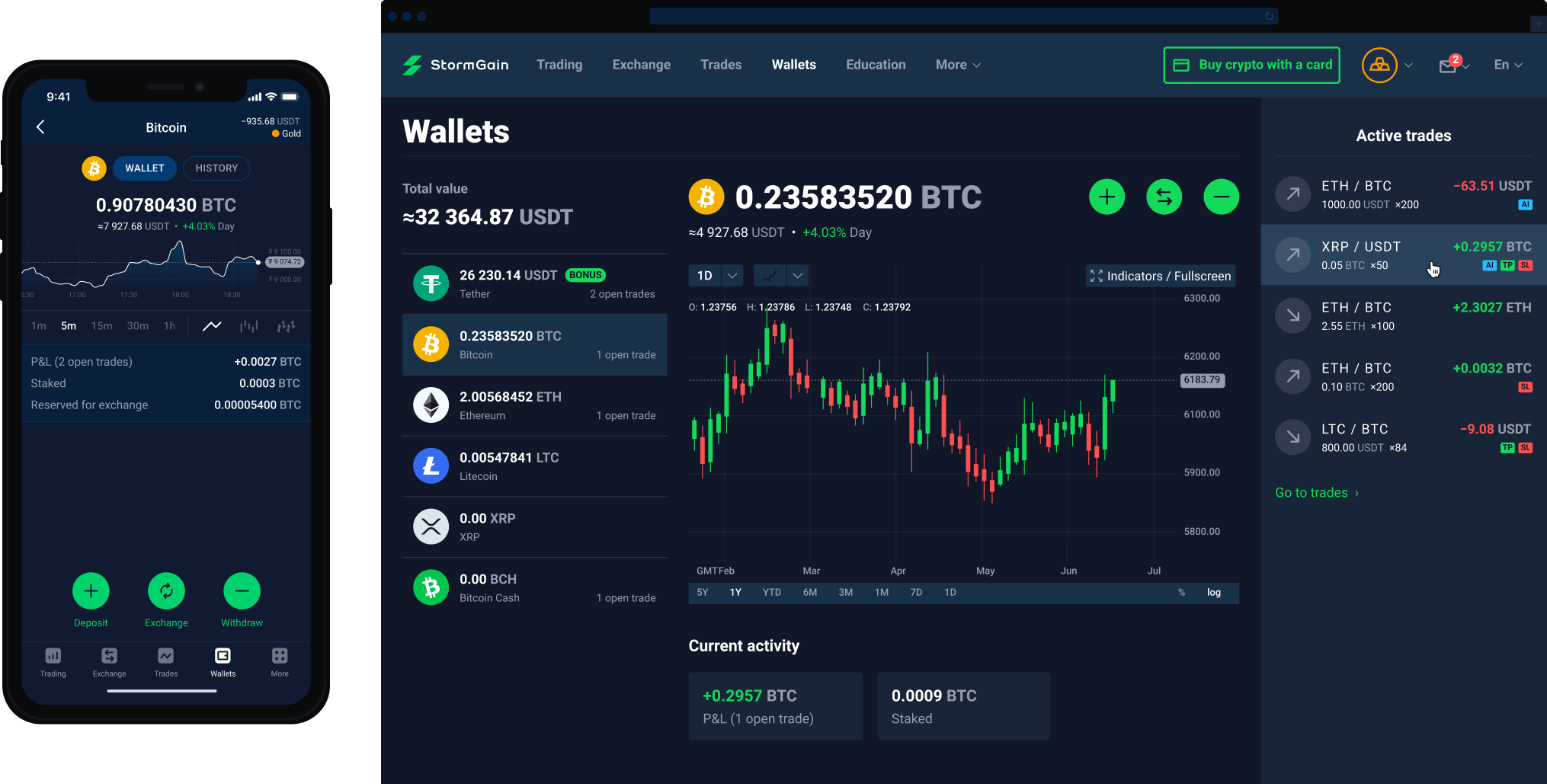 StormGain's DASH Wallet
StormGain's built-in multi-currency wallet provides a simple way to secure, manage and exchange your funds whenever and wherever you want. All you need to do is to register and deposit your assets!

Full crypto options
Whether you're looking to exchange, hodl or transfer your assets, StormGain's crypto wallets let you do just that with its built-in tools.

Available 24/7
Access your wallet 24/7 worldwide from any device.

Top-level security
Rest assured with industry-leading security protocols and strong encryption.

Absolutely free
StormGain's built-in wallet is completely free of charge.

Exchange Tokens in Wallet
Hedge your portfolio by exchanging your coins for Gold and Silver tokens in your wallet.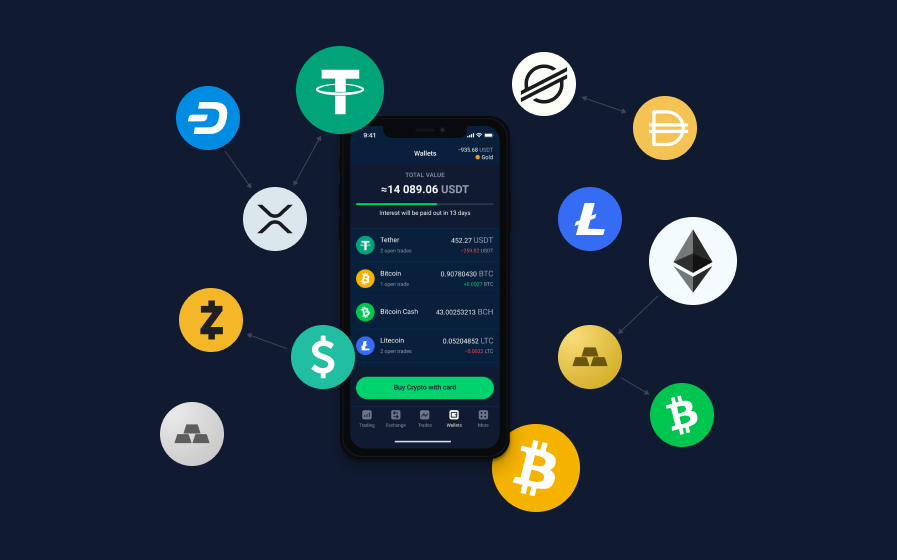 Your Digital Assets in One Place
You have a quick access to all of your crypto assets — BTC, ETH, BCH or any other.
Cold wallet for Dash
The most popular cryptocurrencies wallets: we have selected the best for you. Easy purchase and reliable storage of real cryptocurrency
How do I register a Dash (DASH) wallet?
StormGain is a market-leading platform offering in-app wallets to store Dash (DASH) and other cryptocurrencies, which allows you to securely hodl and exchange your assets. All you need to do is register with your e-mail address and password to create a StormGain account and automatically access these wallets.
StormGain's crypto holdings support Dash wallet and eight other cryptocurrencies: Bitcoin (BTC), Tether (USDT), Bitcoin Cash (BCH), Ethereum (ETH), Ripple (XRP), Litecoin (LTC), Zcash (ZEC) and Stellar (XLM).
What devices does the crypto wallet work on?
StormGain's platform gives you 24/7 access from any device. Whether it's a tablet or phone compatible with Android and iOS, or a desktop compatible with Windows, Mac OS or Linux, it will allow you to access your crypto wallets from anywhere and anytime. You only need to have internet access to buy, sell, exchange, hodl and withdraw in the fastest and easiest way from your DASH wallet.
How do I download a Dash wallet?
Our customers don't need to download DASH wallet or any other crypto wallets for the major cryptocurrencies. These in-app wallets work by downloading and installing StormGain's platform, which you can download on Apple Store for iOS users, Google Play for Android users and Huawei AppGallery for Huawei users. Register in seconds, and you can immediately make use of this wallet. Find all the crypto-related needs you're looking for in one place with StormGain, your all-in-one platform.
What is the best way to add funds to my DASH crypto wallet?
With StormGain, adding funds to your wallet is easy. First, log in to your account from any of your devices, and you'll see all nine available wallets with various cryptocurrencies. Select 'deposit' next to the Dash wallet.
Once you select it, StormGain allows you to use your bank card to add funds in fiat money to your crypto wallet, which can be in dollars, euros or pounds. All transactions you make will be validated on the blockchain by checksum for security and accuracy.
How can I make a 10% profit on my deposits?
StormGain offers up to 10% APY per client in your cryptocurrency wallet for any crypto you hold with us. Plus, you can trade without commissions, get 15% on deposits through our loyalty programme and use our up to 300x leverage to maximise your profits and trade volume. Don't wait a moment longer! Register today.
What advantages does StormGain's Dash wallet offer?
StormGain's in-app wallets make your life easier. You can manage all your crypto movements in one place with the highest security standards and a powerful and intuitive platform that allows you to manage your funds in the best way. Not only can you control your movements, but with StormGain's multi-currency crypto wallet, you can take advantage of the best moment of the crypto market.
Download the DASH Wallet Now!
Enjoy quick access to all of your crypto assets — BTC, ETH, BCH or any other — stored in one place.