Bitcoin Cash (BCH) price prediction 2021, 2022, 2025, 2030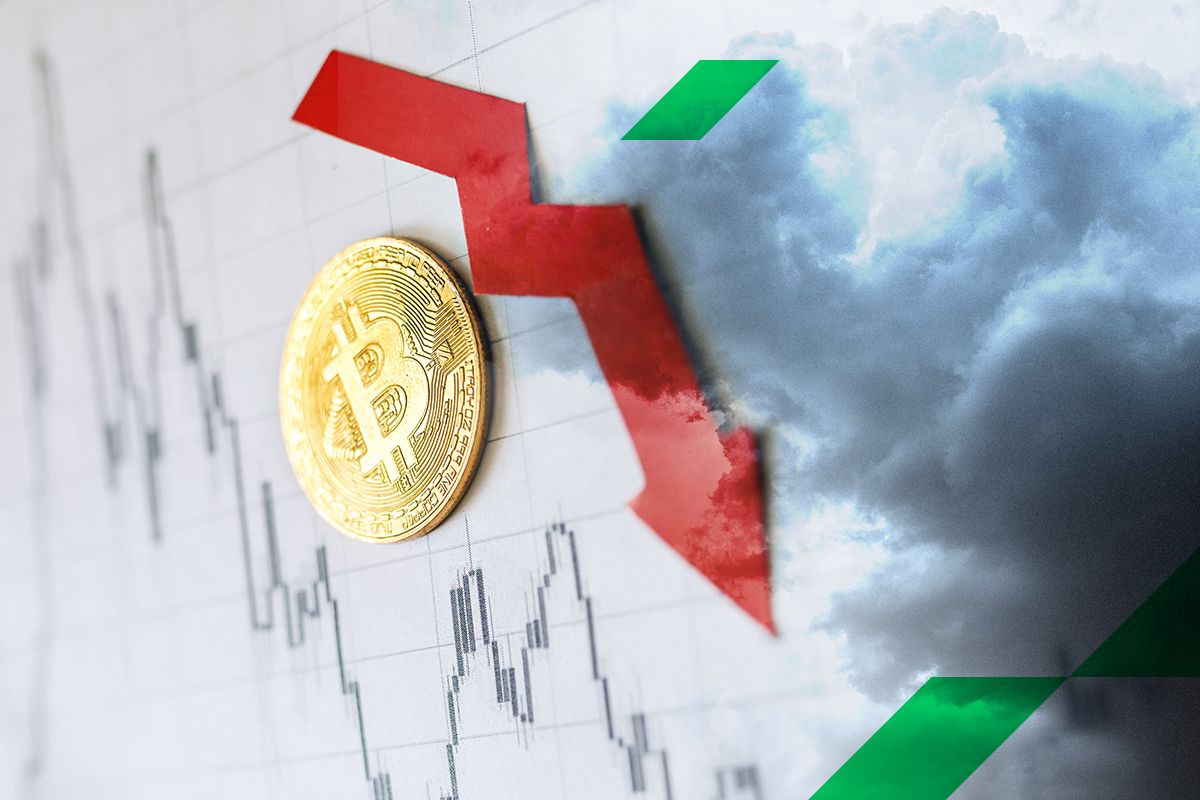 The Gold Draw is over, and the winners have been announced!
The last round of the Gold Draw has finally ended. All the prizes went to their owners, and we're happy to announce the winners here.
Within 2 years, Bitcoin Cash has proven to be a good investment, ranking 18th among all cryptocurrencies by market capitalisation, according to CoinMarketCap. As a prosperous Bitcoin fork, BCH is predicted to grow further. However, before we delve deep into our Bitcoin Cash price prediction, let's take a look at its history.
What is Bitcoin Cash (BCH)?
Bitcoin Cash is a hard fork of Bitcoin. It appeared in August 2017, the result of a decision of influential miners, developers, investors and users who were opposed to the SegWit2x consensus. Now, it's a P2P decentralised payment system. The idea of BCH is "a coin for everyday transactions".
Bitcoin Cash's developers decided to change the block size to enable a greater number of transactions and improve the cryptocurrency's scalability. They, therefore, increased it from 1 MB to 8 MB.
After its creation, BCH quickly became popular. Almost 1,500 blocks were created within a month. Mining pools such as Antpool and ViaBTC recognised this cryptocurrency and routed high hashrate volumes to mine BCH.
Here's a brief overview of Bitcoin Cash's status at the time of writing:
| | |
| --- | --- |
| Project name | Bitcoin Cash |
| Created by | Amaury Sechet, Roger Ver Jian Wu |
| Market capitalisation | $11.4 billion |
| Market price | $603.19 |
| Protocol | Proof-of-work |
| Algorithm | SHA-256 |
| Block size | 8 MB |
| GitHub stars | 866 |
| Official website | |
Bitcoin Cash main information
Bitcoin Cash (BCH) price analysis
The many cryptocurrency community members, including Ethereum and Bitcoin miners, didn't readily accept Bitcoin Cash. Nevertheless, BCH has become a great investment tool. It's listed on different digital currency exchanges, including Bitstamp, Coinbase, Gemini and Kraken.
BCH's price history
It all started at about $200 for 1 BCH. Even at this rate, the cryptocurrency immediately hit the top of CoinMarketCap's charts by market capitalisation. The rate doubled the next day. The price was stable for three weeks until it rose to $1,000. The community must have been convinced that it was an intentional rise because the price immediately fell to $700.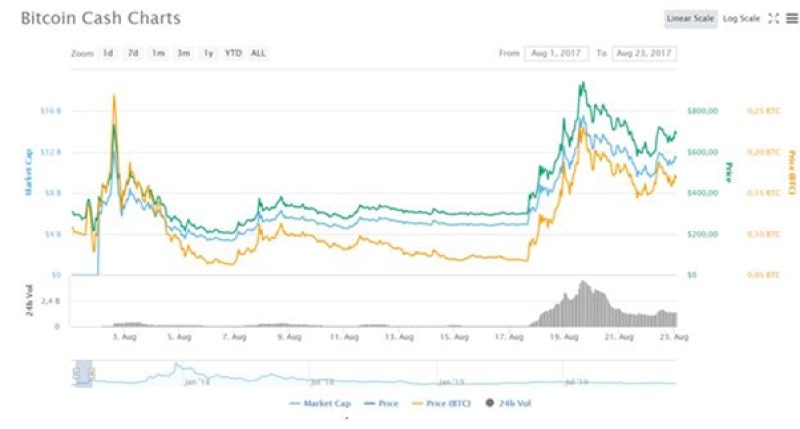 We can observe a long, smooth decline. In the middle of October 2017, the price hit the $317 mark per BCH. Then, there was a significant reversal that saw BCH rise to $1,600.
Following this, the market grew several times. Each cryptocurrency rose by around 400%. Some prices increased by up to 1,000%. Bitcoin Cash was at its highest level in the middle of December, with a value of $4,091 per coin.
The dark days for the crypto market started on 22 December, when each project, including Bitcoin, Waves and others, began to lose value. The price of Bitcoin Cash fell to $1,000 before seeing a big price jump to $1,500 at the beginning of May 2018, when the market went down again.
The previous winter was the worst for the cryptocurrency market due to low prices. At that time, Bitcoin Cash traded for $80. There was small growth that brought it up to $534, but the price dropped again. In May 2021, the surge in crypto prices saw Bitcoin Cash's price increase to over $1,600, the highest since it traded at around $1,800 in April 2018. But it couldn't be maintained; since then, the price has fallen back to the $500-$600 region.
BCH technical analysis
Today, the price of Bitcoin Cash is trading close to a yearly low, and there is hope that BCH's price will recover in the near future. This current price point indicates a good deal for buyers.
Earlier in the year, Bitcoin Cash was part of the buying pressure that affected the crypto market. After consolidating between $105 - $500 for the better part of two years on higher time frames, the price finally broke out and rallied higher. It moved over 200% from January into May 2021 to over $1,600 before declining sharply back to $469.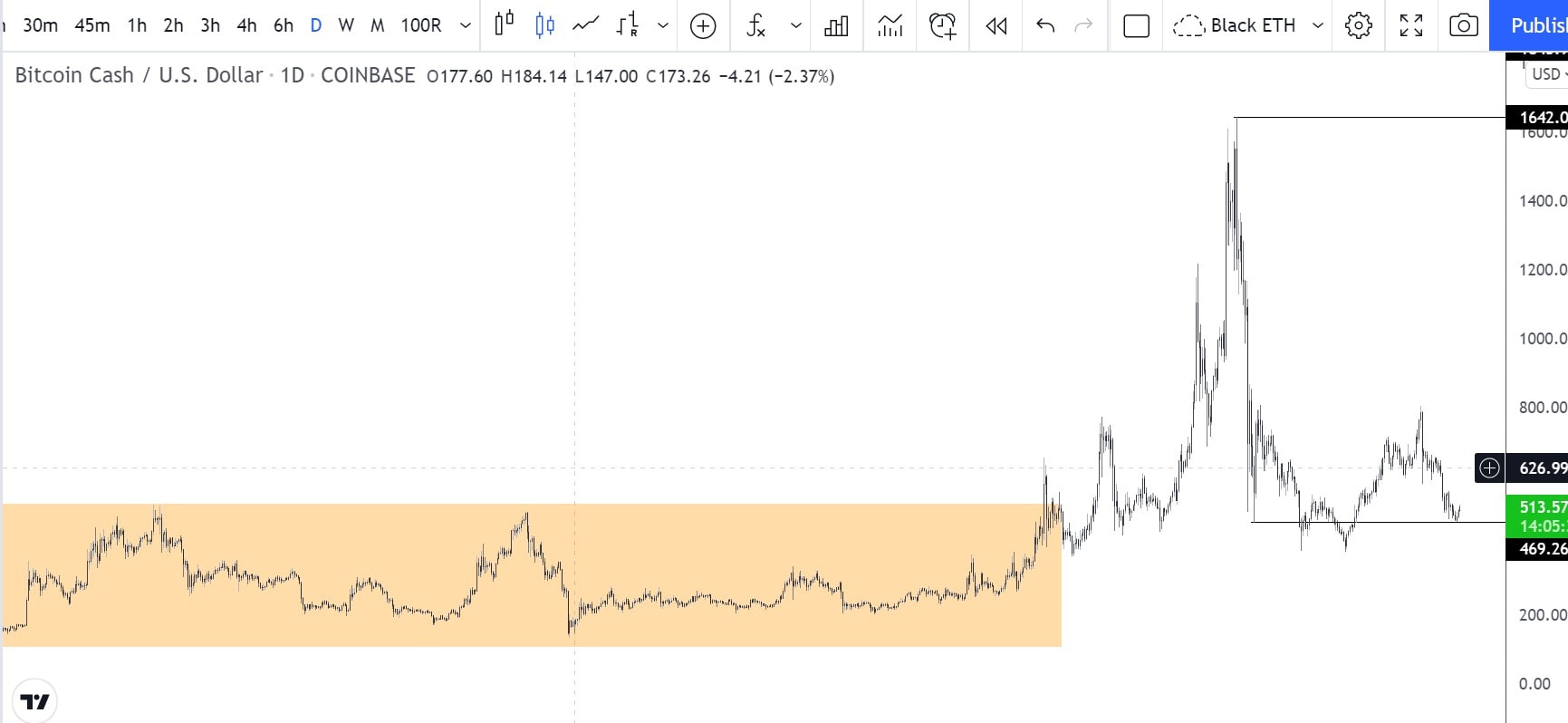 The price has found support around $400, rejecting it twice in June ($387.33) and July ($384.26) before recovering over 100% and meeting resistance around $800 on 6 September 2021. It slowly traded lower within that range, but the price has recently rejected the aforementioned support.
If this support holds and buyers emerge, even tentatively, we can expect a break above short-term highs back into $800. A consequent rally higher may see price move into premium grounds within the yearly range. It's also expected that 2022 may be a stellar year for BCH due to the predicted higher acceptance of cryptocurrencies globally.
Bitcoin Cash (BCH) price prediction for 2021, 2022, 2025, 2030
It's tough to make a price prediction for such a volatile market. Technical analysis isn't enough. Why? To understand this, take a look at human psychology and follow the latest news about all the top cryptocurrencies.
First, prices depend on Bitcoin. As it gains strength, it rushes swiftly onto the market and stimulates growth. On the other hand, it also generates a decrease for all coins. Why does this happen? People think that Bitcoin determines the market's near future.
Next, most cryptocurrencies are interdependent upon each other, often with negative dynamics and relatively independent with positive ones. When the market falls, all currencies lose their value, but during a massive rise, each coin's price grows at its own rate.
Other influential factors are:
The latest news
Investments from well-rated companies or persons
Miner productivity
The attitude of different exchanges.
We have some thoughts about Bitcoin Cash's future price. But first, let's take a look at some predictions from popular services.
Smartereum Bitcoin Cash price prediction for 2021, 2022, 2025, 2030
Smartereum thinks that Bitcoin Cash is struggling to reach the top. Why? Because Bitcoin found some solutions for scalability: SegWit and the Lightning Network. They allowed Bitcoin to get more throughput, which means Bitcoin Cash will fall.
Nevertheless, Smartereum still thinks this cryptocurrency has a chance; they've predicted that price may reach new highs above $6,000 by the start of 2022. Their prediction for the next 5 years is $10,000 for 1 BCH.
TradingBeasts Bitcoin Cash price prediction for 2021, 2022, 2025, 2030 
As it stands, the price prediction from TradingBeasts is a bit conservative for the coming years. They predict that the highest price point for Bitcoin Cash in the next couple of years could be capped at a little over $700. Price prediction for 2022 is also conservative, and BCH is expected to consolidate for most of the year.
WalletInvestor Bitcoin Cash price prediction for 2021, 2022, 2025, 2030
WalletInvestor says that a long-term increase in BCH is inevitable. According to last year's forecast, the future value of Bitcoin Cash could reach as high as $819, which it did back in May 2021.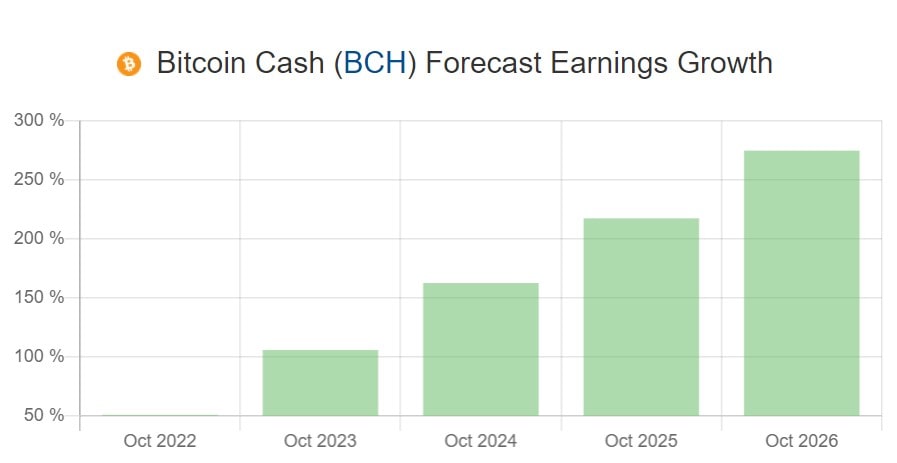 WalletInvestor's look ahead is also quite reserved in their hopes for BCH gains in 2022, but their BCH price prediction for consequent years will get investors excited. They predict that BCH will grow year by year from 2023, with at least a 100% growth increase each year.
Long Forecast Bitcoin Cash price prediction for 2021, 2022, 2025, 2030
Long Forecast is still a bit pessimistic about BCH's price, especially for the first few months in 2022. They predict a fall into lows of $300 in the first quarter of 2022, and only after will BCH slowly recover, and even then, the price will only recover back to what it currently trades at. Subsequent years also aren't very optimistic either as the price isn't expected to take out 2021's high ($800) for quite some time.
DigitalCoinPrice Bitcoin Cash price prediction for 2021, 2022, 2025, 2030
Probably the most positive BCH price prediction, DigitalCoinPrice has predicted a very successful decade for Bitcoin Cash. They believe that in 2022, Bitcoin Cash will trade above $900, and in 2025, prices will stabilise above $1,500 for 1 BCH.
Bitcoin Cash overall value predictions
Predictions for Bitcoin Cash could be optimistic just because it's the most successful hard fork in cryptocurrency history today. The total hashrate is 2.544 Ehash/s. This shows that mining pools believe in the future of BCH and are trying to support it. According to CoinMarketCap, the daily trading volume is over $1 billion. So, traders believe in this project, too.
BCH's fees are low again, so it could be more stable, with people completing more transactions. This could influence the positive attitude towards cryptocurrency and stimulate a small rise.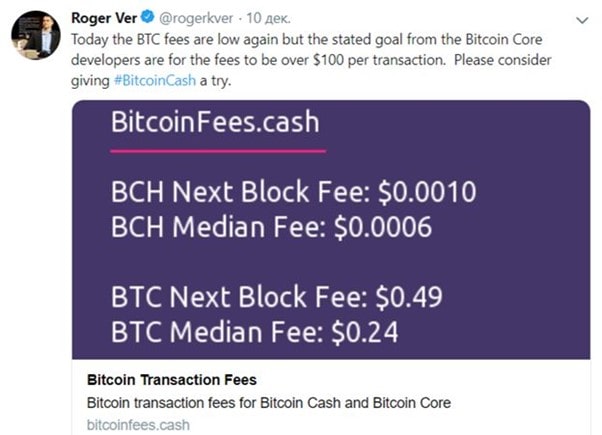 BCH prevails above fiat in some countries, especially in Australia. Forecasters rely on future projects connected with Bitcoin Cash and predict continued growth. And with the wider adoption of cryptocurrencies worldwide, we can also see a chance for better price performance in 2022.
On the other hand, Bitcoin Cash has many problems, mostly technical issues. Just as with Bitcoin, BCH's block time is almost 10 minutes. This chain is overloaded, and each transaction processes after a significant delay.
Bitcoin Cash's productivity depends on miners' activity. The network's complexity is increasing, so miners have to spend more resources to work effectively. As a result, some of them will give up on this idea for the hashrate to decrease. This will hurt transaction rates, followed by a fall in BCH's price.
The same goes for security issues. If miners are reluctant to use their high hashing power, that 51% possibility of an attack will grow. Someone with great resources could have the ability to control the BCH chain and use it for their own needs.
How high can Bitcoin Cash go?
It depends on whether Bitcoin Cash will destroy Bitcoin. It's hard to answer this question. BCH can be scaled much higher than Bitcoin. But it still has its own flaws: security and interdependence with other alternative coins.
Bitcoin will not die anytime soon because it's needed to exchange most cryptocurrencies on most exchanges. If Bitcoin crashes shortly, the whole market will fall. While the need for BTC exists, neither Bitcoin Cash nor other altcoins can overtake the market.
Next, BCH is dependent on Bitmain, which provides the biggest support for this cryptocurrency. Because of this, BCH can't go very high. If Bitmain changes its favourites, Bitcoin Cash will lose its position.
Therefore, we can't give a forecast for the highest Bitcoin Cash price because it has many variables affecting it. However, we do believe that it will rise to $5,000 in the next five years. 
BCH Price prediction today
These days, the whole crypto market is bearish. Traders are mostly selling Bitcoin Cash. That is why the BCH price prediction today is quite gloomy. In the coming days, the price may fall even further. There are some bullish reversals, but it probably won't be enough for a significant rise until more bullish momentum in the crypto market in general.
Tags
Exchange BTC
Try our Bitcoin Cloud Miner and get additional crypto rewards based on your trading volume. It's immediately available upon registration.
Try our Bitcoin Cloud Miner and get additional crypto rewards based on your trading volume. It's immediately available upon registration.
Welcome to StormGain — crypto trading platform!
Trade with 300× multiplier.