The contentious rebirth of Terra (LUNA)

Despite strong community dissent, validators have voted for the creation of a second chain. New $LUNA will be made available to existing holders so long as they can provide two pictures of their holdings taken before and after the UST stablecoin's crash. The majority of major crypto exchanges came out in support of the move to create a new fork.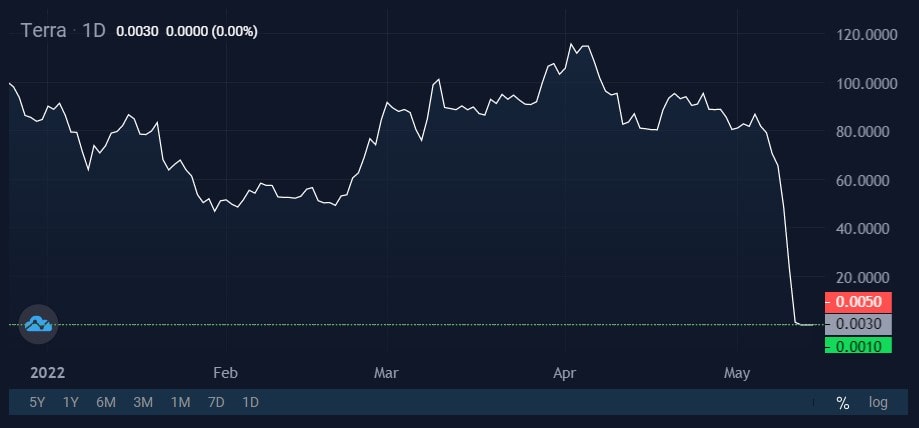 Terra is a cryptocurrency project that famously released an algorithmic, USD-pegged stablecoin known as UST. The project's internal coin, LUNA, was used to prop up the exchange rate, though a lack of liquidity ended up leading to a loss of UST's parity and the total devaluation of LUNA.
The collapse of a stablecoin is not a common occurrence in the cryptocurrency market. But Terra had made a lot of noise after UST made it into the top three stablecoins by market cap and its network managed to gain and retain second place in the DeFi sector, lagging only behind Ethereum. Such highs would not have been attainable without Terra's development team and the support of its multi-million-strong user base. For this reason, validators voted to relaunch the blockchain and keep the Terra (LUNA) brand as before.

The new chain is not a fork in the classical sense because it will be built from the genesis block and will not inherit LUNA's existing transaction history. Following the relaunch, the stablecoin UST will disappear, with old LUNA being renamed Terra Classic (LUNC) and the new branch retaining the previous title of LUNA. The development team is migrating over to the new network, with Spectrum, Nebula, Prism, Astroport and other partners similarly expressing their desire to support the new fork.
Cryptocurrency exchanges that support the blockchain's relaunch include Huobi and Binance, while Coinbase Cloud has stated that it will stop supporting Terra and any other associated chains. BitMEX, on the other hand, has adopted a wait-and-see approach, saying that the new fork will first have to achieve the necessary level of security and liquidity.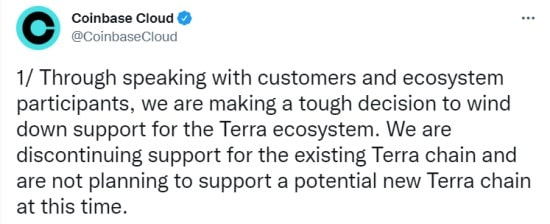 Holders of LUNC will receive new LUNA by providing two pictures:

The size of the refund and timeframes for crediting it in full will depend on the amount of UST and/or LUNA the holders currently have. Initially, holders will be sent no more than 30% of their initial holding and will receive the rest over a period of between six months and four years.
Refunding investors is a major sticking point and one reason that many community members surveyed did not support the new form, calling instead for LUNA to be bought up and subsequently burned. Under the current plan, speculators who bought UST for 10 cents will receive the same refund as investors who bought UST for $1 before the stablecoin's collapse.
The project's decision to bin its stablecoin UST could prove a big hurdle to Terra's speedy recovery. Last year, one of the major driving forces behind LUNA's ascent was investors' desire to receive a 20% annual return from staking UST on the Anchor exchange. At its peak, Terra's total locked value exceeded $17 billion, 75% of which were UST deposits. 
A series of contradictions and investor pain following the loss of investments make a successful Terra relaunch and return to its previous levels unlikely. What do you think? Does Terra have a shot? Tell us in the comments section!
StormGain analytical group
(cryptocurrency trading exchange and storage platform)
Tags
Exchange BTC

Try our Bitcoin Cloud Miner and get additional crypto rewards based on your trading volume. It's immediately available upon registration.

Try our Bitcoin Cloud Miner and get additional crypto rewards based on your trading volume. It's immediately available upon registration.
Instrument
Rate
Change (24h)