A new tradition: Tron (TRX) follows in the footsteps of Terra (LUNA)

The collapse of Terra's UST, the third-largest stablecoin, and the subsequent destruction of LUNA led to a significant correction across the entire sector. Meanwhile, the decentralised finance (DeFi) market has shrunk by almost half to reach $88 billion. 
It looked as if such a hit for algorithmic stablecoins ought to scare investors from putting their money in such projects, but the highly similar USDD project by Tron has managed to attract investments of $1 billion in the space of just a month, while the company's blockchain has also ascended to third place in terms of Total Value Locked (TVL) in DeFi. And this is precisely why the Tron's native TRX coin has managed to record growth in 2022.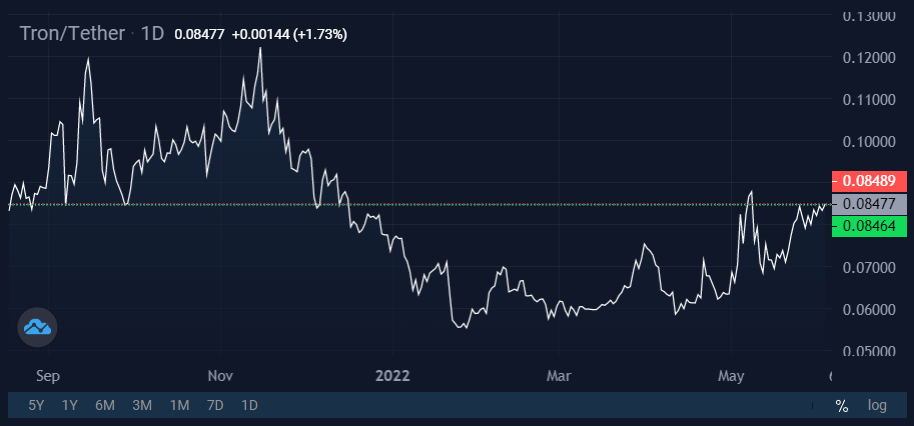 UST and USDD are algorithmic stablecoins that are pegged to the US dollar. In order to ensure that the exchange rate remains stable, the stablecoin is linked directly to the native cryptocurrency. With UST, that's LUNA, while for USDD, it's TRX. 
Terra's collapse was caused by the fact that the team could not maintain UST's exchange rate. An avalanche of selling led to a liquidity crisis that saw LUNA totally devalued. A project with a market capitalisation of $40 billion lost 95% of its value in a matter of days. Sceptics are calling the revelations the latest proof of algorithmic stablecoins' failure as an asset class.
Terra showed tremendous growth up until these unfortunate events, while its main investment stream was from the Anchor platform, where investors were paid up to 20% annual interest for staking their UST. In early May, it had TVL in excess of $17 billion, 75% of which was accounted for by UST staking. That is to say that, over the course of a year, Terra ought to have paid out $2.5 billion in dividends. However, since the system was not balanced properly and a portion of the funds were put aside to attract new participants, the crisis was inevitable.

Justin Sun unveiled USDD on 5 May. This stablecoin copies Terra's model in virtually every way, except that it promises an annual staking yield of 30%. Despite UST's recent failure, USDD has already accumulated $600 million in capitalisation over the last month, with this amount expected to grow to $1.4 billion in the near future.

In an effort to attract investment, Terra used their own Anchor platform. For Tron, this is JustLend. Over the last 10 days, its TVL has risen by $1 billion to reach a total of $2.9 billion.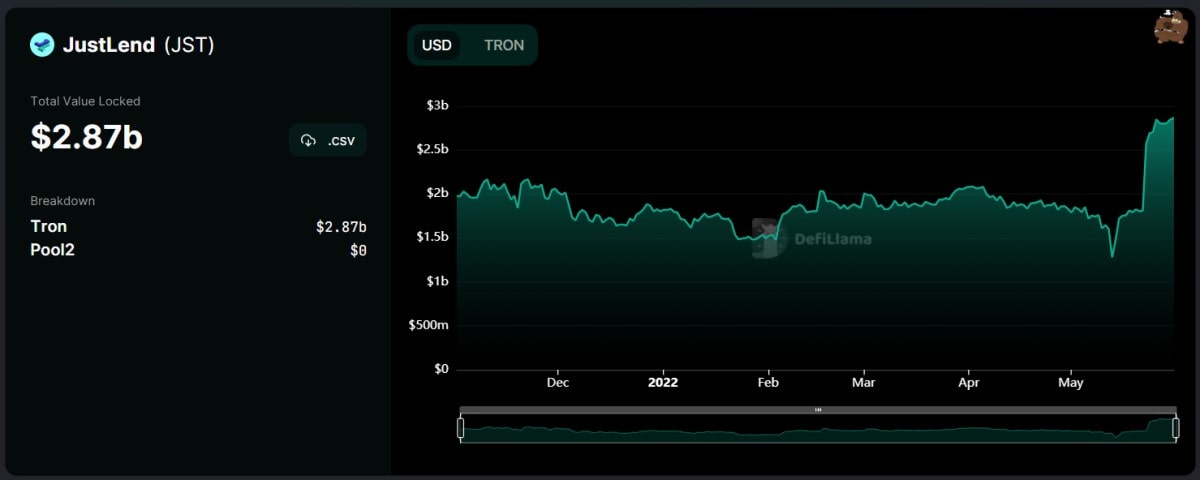 Despite the clear parallel between the two projects, investors are still pumping cash into Justin Sun's new project. But is it really worth the risk?
StormGain analytical group 
(cryptocurrency trading, exchange and storage platform)
Tags
Exchange BTC

Try our Bitcoin Cloud Miner and get additional crypto rewards based on your trading volume. It's immediately available upon registration.

Try our Bitcoin Cloud Miner and get additional crypto rewards based on your trading volume. It's immediately available upon registration.
Instrument
Rate
Change (24h)