Api3 (API3) Price Prediction 2022-2030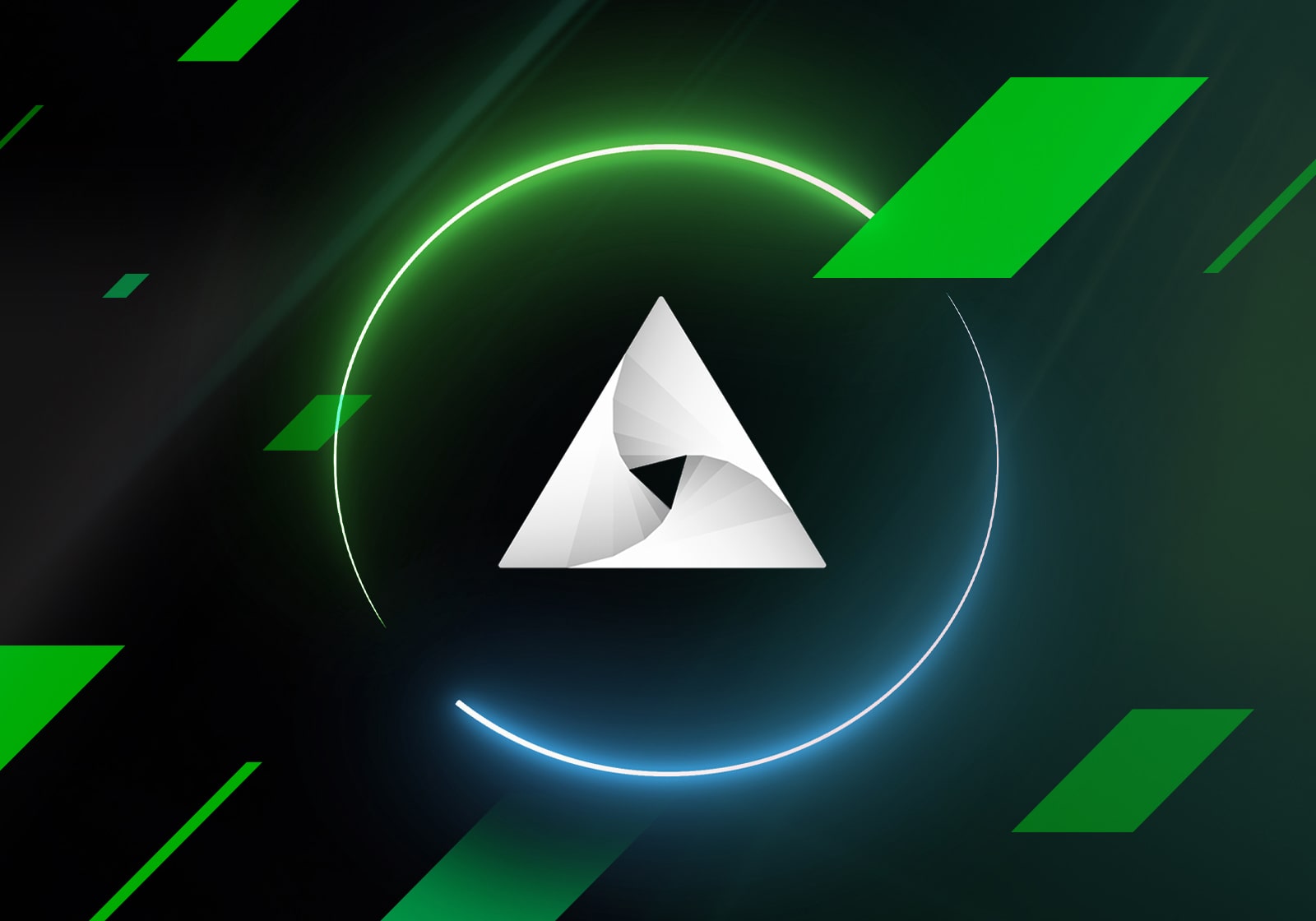 Since its launch in December 2020, the API3 price has experienced both impressive rises and tremendous falls. With several peaks mapping its chart, this Ethereum token connects standard APIs with blockchain networks. It's a cost-saver for API providers looking for ways to operate their nodes without breaking the bank and without using any centralised oracle monitoring. As of the time of writing this article (20 February 2022), API3 traded at $6.83, which is 33.15% below its all-time high of $10.31 (which was on 7 April 2021). Will the token ever surpass that value? Take a look at the API3 price prediction for 2022 and beyond.
What is Api3 (API3)?
API3 is a native token of the API3 network. This DAO-based solution represents a combination of oracle features (providing real-world data access on the blockchain network) and APIs used for receiving data. The API3 whitepaper was published in late 2021, followed by the official start of the token's public sale.
Oracles and API are the two vital elements making DeFi apps function properly. They allow dApps to get live data feeds from outside the blockchains easily. Although many companies are providing APIs and choosing an API provider for your project shouldn't be an issue, relying on their services means introducing the middlemen into the flow of operations. It contradicts the principle of decentralisation. Besides, most third-party oracles are universal and treat all data similarly, regardless of their source.
API3 aims to solve this problem by building a network of decentralised APIs. Such APIs are operated by the same nodes that comprise the oracle network. When used in such systems, the API3 token serves multiple functions:
Providing security for the oracle
Serving governing operations
Working as fees within the network
Technology
API3 uses the Airnode oracle (commonly used for first-party oracles) as the core of its network. The Airnode is a lightweight cloud service that makes API accessible on blockchain. This means that instead of relying on third parties to operate the API, the entity that owns the API uses it.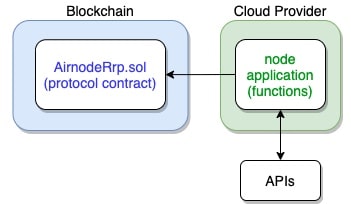 API3 DAO governs aggregations of dAPIs or oracles managed by API providers. API providers running their own oracles sign their responses with private keys. In turn, this is the best proof that the data is not tampered with. Proprietary oracles are often private oracles and do not have access to raw data processing by a third party, which allows them to be used for a wider range of purposes.
Using a data feed comprised of the first-party is more cost-efficient than using the middlemen services. Working with the middlemen suggests that you should pay for their services and incentivise them against attacking the data feed. A data feed comprising the first-party oracles needs fewer oracles because there is no need for over-redundant decentralisation required to protect from third-party attacks.
Api3 (API3) history
Although the API3 token was officially released in December 2020, it traces its origins to 2019. Back then, CLG (which is generally considered a spiritual predecessor of the API3 token) was founded to create the Honeycomb API marketplace for oracles, allowing API providers, dApp developers and oracle node operators to come together for doing business. The main idea behind the Honeycomb marketplace was that the main oracle's problems were caused by the difficulty of getting a large number of independent participants to cooperate in a decentralised manner to achieve better business results.
Honeycomb was a success. However, from an architectural standpoint, it featured the third-party oracle model that relied on the middlemen services to deliver data from an API provider on-chain. The third-party model bore a significant middlemen risk.
The API marketplace acted as an incubator for API3. It consolidated that API providers should be considered an essential component of an oracle. This was the underlying idea for API3 to become the API-centric solution it is today.
The API3's oracle node, Airnode, was launched due to many years of learning and experimenting with the needs of oracle API providers. As a result, Airnode adopted the well-standardised API-oracle integration capabilities and the first fully serverless oracle node directly from Honeycomb.
Api3 (API3) Price Analysis
To begin the API3 price prediction discussion, let's first analyse its current stats. The API3 is a fee-earning, payment, and governance token used to facilitate smooth operations and align incentives between stakeholders in the API3 protocol.
At the time of writing on 29 June 2022, the API3 token ranked 289th among cryptocurrencies by market capitalisation at $69,829,541.
API3 price statistics (as of 20/02/22)
| | |
| --- | --- |
| API3 current price | $1.89 |
| Market cap | $69,829,541 |
| Circulating supply | 36,907,810.00 API3 |
| Total supply | 104,238,461 API3 |
| Daily trading volume | $45,436,694 |
| All-time high | $10.31 (07/04/21) |
| All-time low | $1.04 (13/06/22) |
| Website | |
API3 Price History
The API3 token has experienced a series of fluctuations since its launch. Before getting into the API3 price prediction, let us consider its current price and look back into its history, though it's not as long as that of Bitcoin.
On 7 April 2021, API3 hit its all-time high of $10.31. As of the time of writing this article, the token is 33.15% below it. However, the API3 is 455.84% higher than its all-time low of $1.24 that the token reached on 2 December 2020. In the last two weeks of June 2022, API3's price wasn't stable either. The price created a new all-time low at $1.04.
The advancements and upgrades on the token's ecosystem lay the ground for an optimistic API3 price prediction in the long run.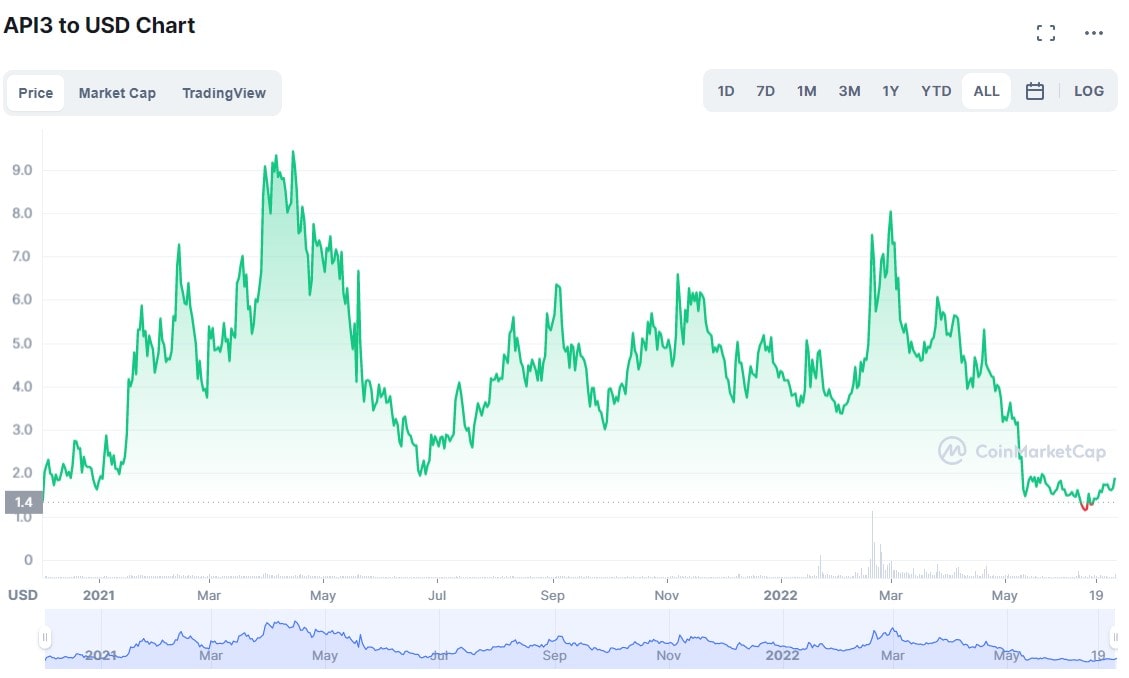 API3 Technical Analysis
After reaching its all-time high in April 2021, API3 mainly traded downwards with some minor price peaks in between, setting a new all-time low at $1.04 in June 2022. After the low was formed, API3 seemed prepared to move higher. In late June 2022, a clear ascending channel formed, and a significantly bullish market structure developed in the H4 timeframe. If the price continues to grow, a breakout outside the channel is likely, although there is a daily resistance resting below the channel resistance at $2.03.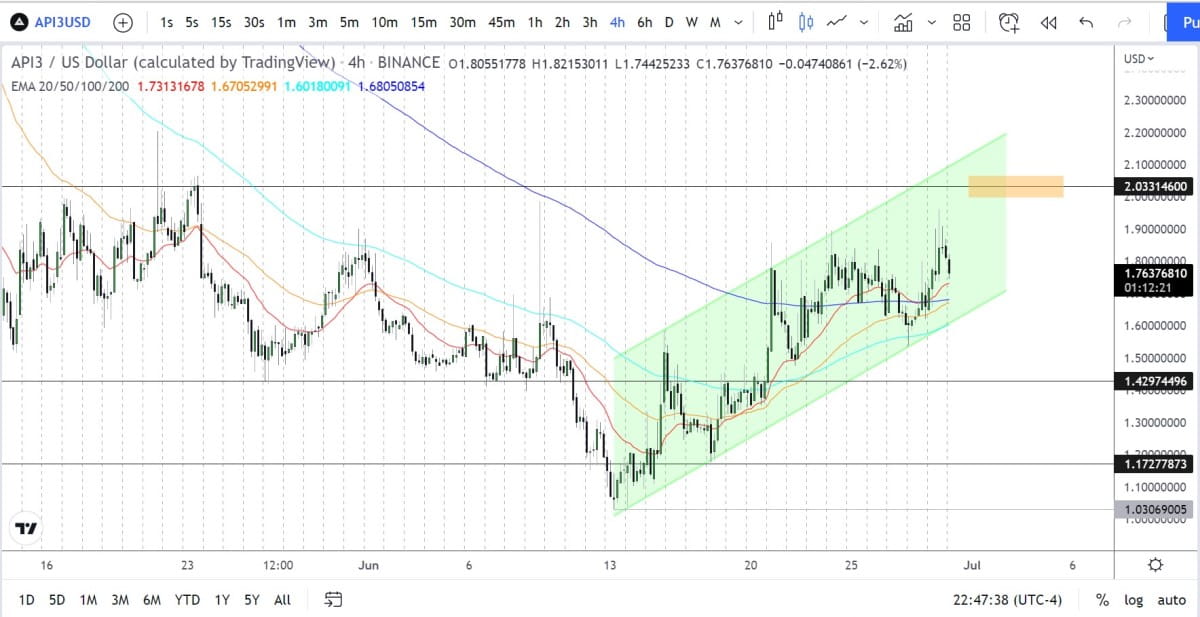 Api3 Price Prediction 2021
In December 2021, API3 held the 446th position on CoinGecko. API3 price prediction 2021 is explained below with a daily timeframe.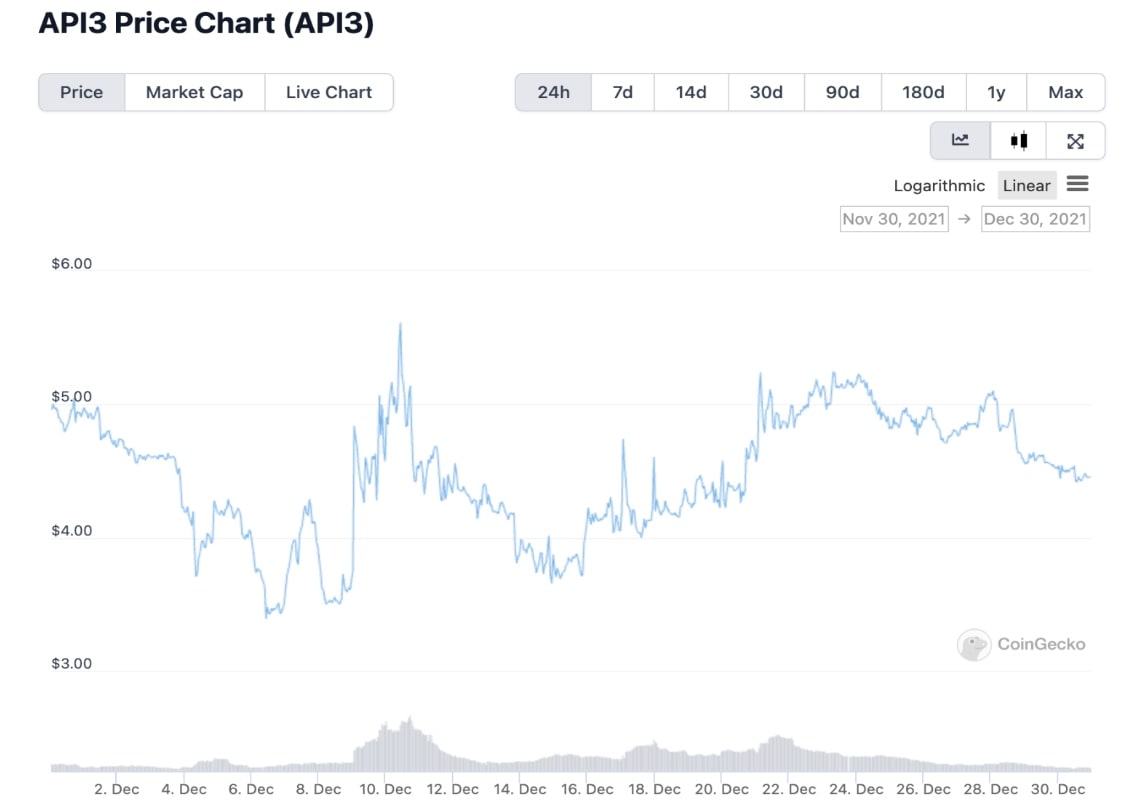 The chart above shows a descending triangle pattern of the API3 token. The descending triangle is often seen during downtrends and is often interpreted as a bearish signal. As the API3 price continued making lower lows at the beginning of December 2021, it indicated that buyers were less aggressive than sellers.
In late 2021, API3 was trading at $5 on average. Despite the popular API3 price prediction for 2021 suggesting the API3 price to roll back to $1.80, the token's price reached the resistance level of $5.80.
API3 price prediction is bullish in the short term. It's one of the cryptos that work best for a long-term investment.
Api3 (API3) price prediction for 2022, 2025 and 2030
Traders and investors should remember that the following API3 price predictions are based on algorithms based on the past token's performance to predict the future. The crypto market is volatile, and the most accurate predictions may go wrong with changes in the blockchain. The API3 price prediction needs deep technical analysis and knowledge about the current market scenario. Let's take a look at long-term algorithm-based API3 price predictions shared by some of the leading cryptocurrency information aggregators.
CoinCodex Api3 Price Prediction for 2022
CoinCodex provides a short-term API3 token price forecast for 30 days, based on the positive/negative trends in the past 30 days.
Based on data from June 2022, the general API3 price prediction sentiment is bearish, with technical analysis indicators showing bearish signals and a fearful market. According to their current short-term API3 Token price prediction, the price of the token may drop by -14.99% and reach $1.50 by 5 July 2022.
DigitalCoinPrice Api3 Price Prediction for 2022, 2024, 2025, 2027 and 2030
The API3 price predictions by DigitalCoinPrice are upbeat. The token price is expected to grow to $2.52 by the end of 2022. The API3 price might climb to $2.93 by 2023. The API3 price predictions for 2024 and 2025 are expected to reach $2.88 and $3.81, respectively. Analysts at DigitalCoinPrice expect the token value to hit $5.02 by 2027. The API3 price prediction for 2030 is $8.31 per token.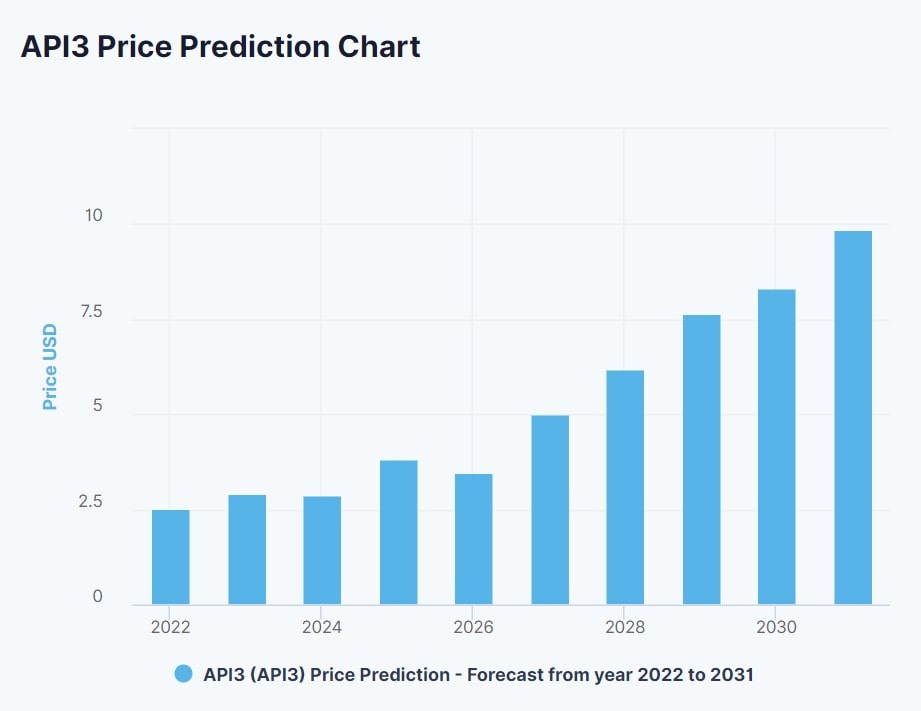 WalletInvestor Api3 Price Prediction for 2022, 2023, 2024, 2025 and 2027 
API3 price predictions by Wallet Investor indicate that API3 is a bad long-term investment and high risk. Wallet Investor forecasts the API3 token's price might drop to $1.228 in 2023. The API3 token's price is expected to have lost over 90% of its current price in 2027.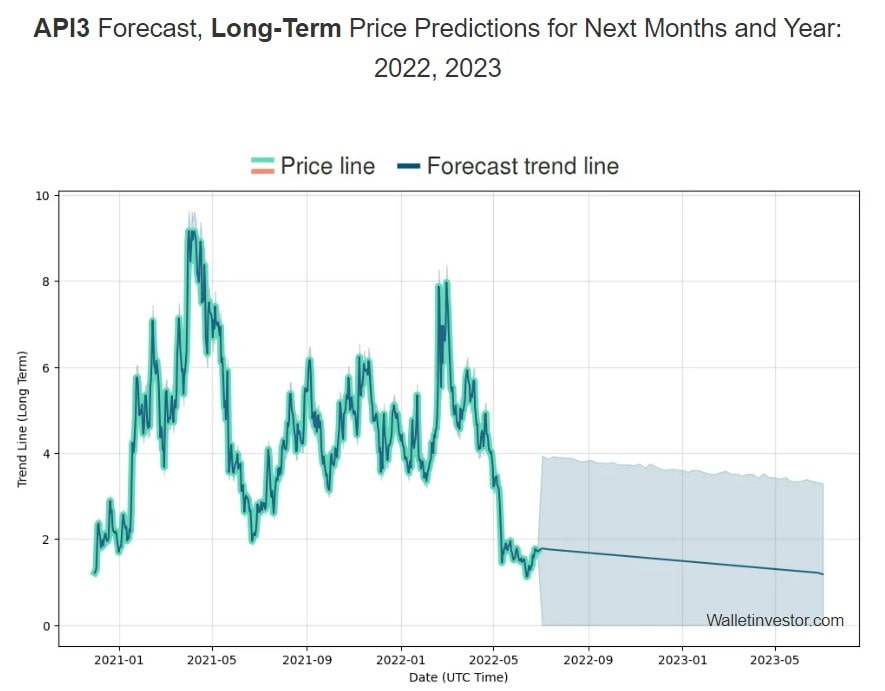 Price Prediction's Api3 Price Prediction for 2022, 2023, 2025 and 2030
Price Prediction's API3 price predictions are upbeat. The year-on-year trend in the price for 2022, 2023, 2024, and 2025 is expected to average $6.18, $9.07, $13.31 and $20.10, respectively. API3 price prediction for 2027 is expected to average $42.44 and climb to $122.80 by 2030.
Api3 (API3) Future Value Predictions in General
API3 reached an all-time high in April 2021. However, will it rebound ever again? Analysts from popular stock prediction sites state different API3 price predictions. Price Prediction and DigitalCoinPrice show that the coin might reach an average of $10. However, such forecasts do not guarantee the results, and one should not fully base their investing decisions on these numbers.
How High Can Api3 Go?
The API3 project is quite promising. The relatively low market cap of this Ethereum token lets us suggest that the API3 price might hit $100 in the long run. According to the forecast provided by Price Prediction, the API3 price might rise to $122.80 by 2030. However, such algorithm-based predictions may go wrong. Only time can show how high the API3 price will rise.
API3 Price Prediction Today
The API3 token forecast is bullish on lower time frames. This might indicate a price reversal and that API3 could be a good investment in 2022. However, before making the buying decision, it's important to consider the API3 price history and such fundamentals as the on-chain activity and the token's development. API3 price predictions can be helpful as an indicator pointing out in which direction the price may move in. These should be considered as possibilities rather than absolutes. It's especially true when it comes to long-term forecasts. The cryptocurrency market is highly volatile, and you never know what could impact future prices.
Tags
Exchange BTC

Try our Bitcoin Cloud Miner and get additional crypto rewards based on your trading volume. It's immediately available upon registration.

Try our Bitcoin Cloud Miner and get additional crypto rewards based on your trading volume. It's immediately available upon registration.
Instrument
Rate
Change (24h)