Ethereum (ETH) price prediction 2022-2030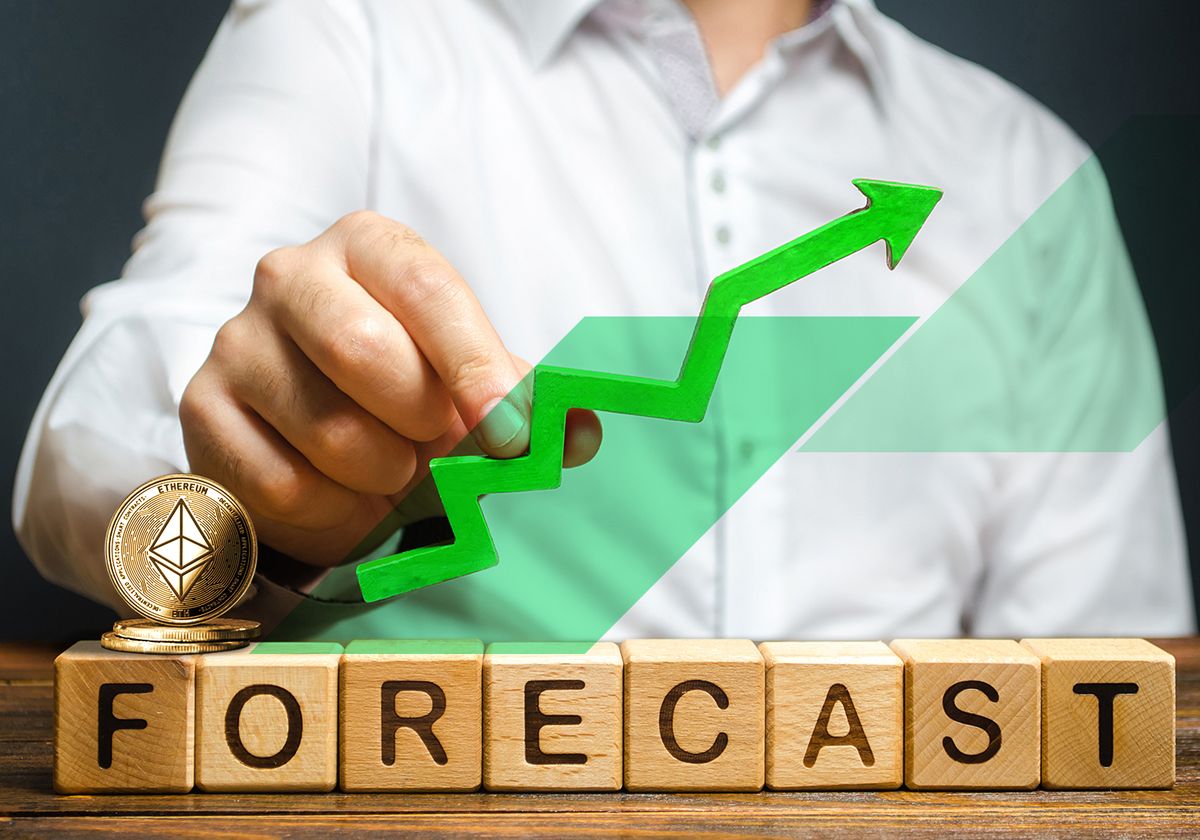 Ethereum is the second-largest cryptocurrency after Bitcoin, with $20 billion in capital and $12 billion every day trading volume. It wouldn't be wrong to say that Ethereum is as well-known around the world as Bitcoin. Some people use their smart contracts and technologies to improve their business, while others use them for everyday transactions.
There is also a particular group of people who trade this cryptocurrency. To them, the Ethereum price prediction is the most interesting piece of information. That's why we're going to look at its history and future opportunities.
What is Ethereum (ETH)?
Ethereum is both a cryptocurrency and a decentralised environment that is transforming the IT industry. It was created by Vitalik Buterin and his team with one purpose: to give the world something better than Bitcoin.
Some brief information about Ethereum:
| | |
| --- | --- |
| Project name | Ethereum |
| Founded by | Vitalik Buterin in 2013 and launched in 2015 |
| Market Capacity | $165,083,947,069 (05/10/2022) |
| Market price | $1,345 (05/10/2022) |
| Total supply  | Unlimited |
| Protocol | Proof-of-stake |
| Block time | 13.4 s |
| Algorithm | Ethash |
| GitHub stars  | 25,315 |
| Official website | |
Ethereum main information
ETH's main feature is smart contracts. They have changed the world of business because they allow you to get rid of intermediaries and provide complete control over fulfilling obligations. The Ethereum platform allows new altcoins and tokens to be launched on its blockchain. Moreover, it provides the possibility of creating decentralised applications that have become more popular nowadays.
Finally, it is one of the most popular cryptocurrencies among traders. It is listed on 95% of exchanges and has great volumes every day. To sum up, ETH can be considered BTC's main competitor.
Ethereum (ETH) price analysis
Ethereum didn't see any excitement for a long time. It was just considered another cryptocurrency on the market. Nevertheless, its price was bound to rise for many reasons, and that's just what happened.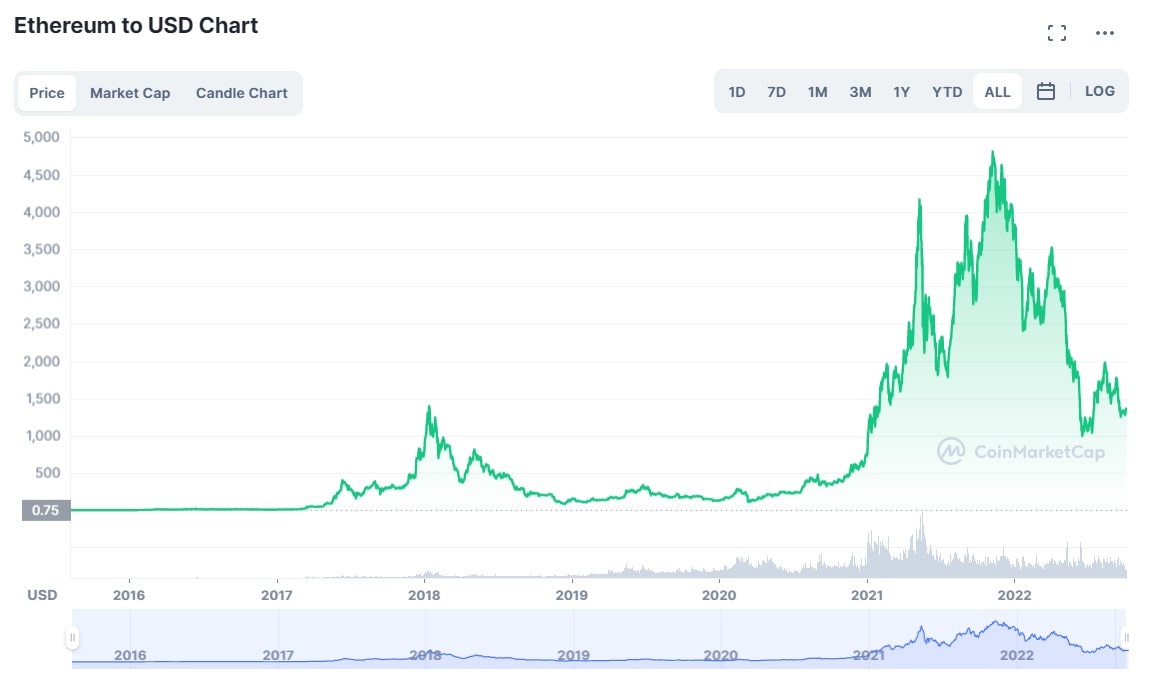 Why did it happen? Ethereum's transactions are significantly faster than Bitcoin's. Many people, therefore, migrated from the first-ever cryptocurrency. The Ethereum blockchain also provides an environment to create decentralised applications or dApps, so it became very intriguing to developers.
The rise in interest in this cryptocurrency meant that someone had to find new blocks and verify transactions. Hence, many miners directed their hash rate from BTC to ETH. They found many new blocks, which created mining difficulty and increased mining costs.
ETH's price history
The first-ever ETH tokens were created in 2014, but they were not listed on any exchange. However, during their implementation, the company got an income of $18 million. The first release of the Ethereum blockchain was in 2015. With its launch, ETH was added to some exchanges, but the price was below $1.
At the very beginning of 2016, it had its first growth. It was traded for $6 in the middle of February and even for $15 in the middle of March. The system was then hacked, and the company lost a third of all its capital. That is why it traded for $7.50 at the end of April 2016.
After that, the Ethereum team was able to return stolen money and upgrade their security systems. These measures had a positive effect on ETH's price, which rose to $19 on 16 June 2016. However, the next day, it went down to $12. We can conclude that this rise to $19 was just a pump.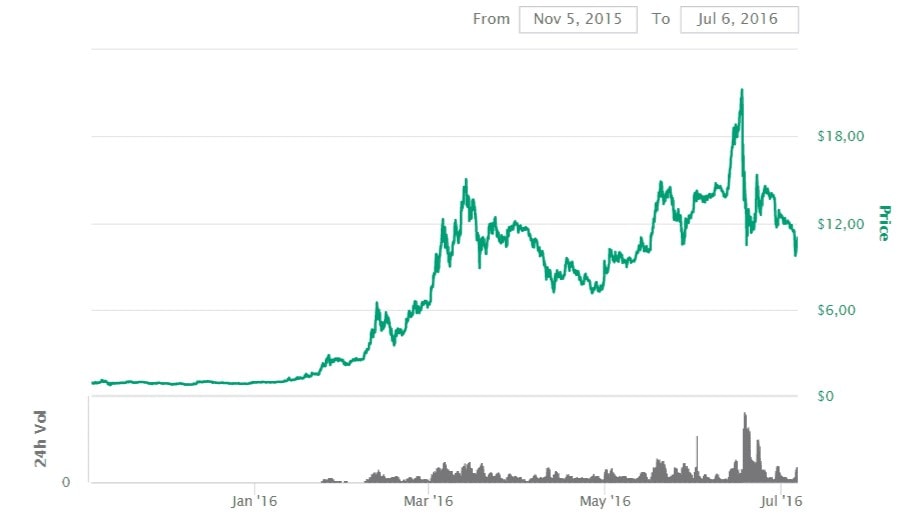 After that, ETH held stable between $10 to $12. A hard fork took place in October 2016, which led to the emergence of Ethereum Classic. However, this situation didn't affect the price.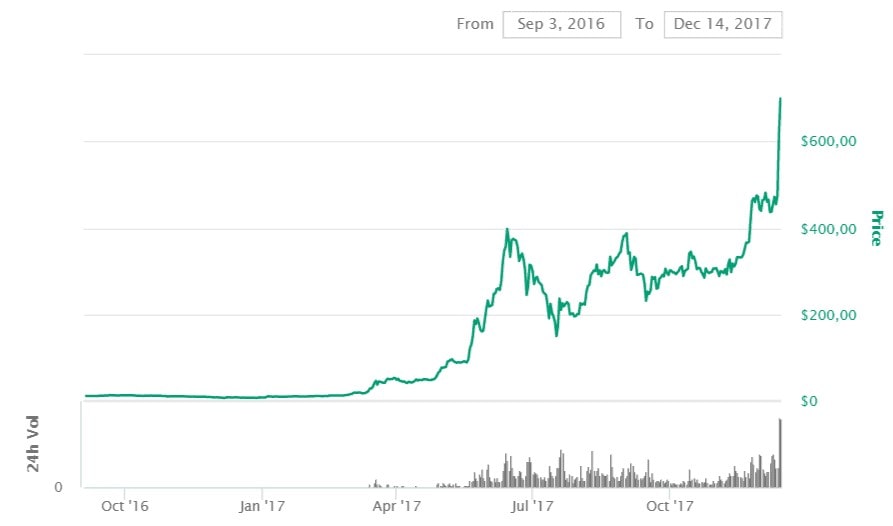 The first serious changes were made in 2017. First, in February, ETH was added to ETORO, which led to a $450 million increase in trading volume. In May, the value of ETH was $95. Within a month, it was trading for $400.
During what was once considered the biggest pump in cryptocurrency history, ETH's price rose to $1,352 per coin before crashing back down to $300. For over two years, the price never really made any attempt to regain old highs, and it trended downwards until 2020 into 2021. It's no news that 2021 was the acquired 'holy grail' of the crypto market, but it seems that Ethereum took that to another level. Like BTC, it not only took out its previous all-time high, it set new ones at over 200% more than its previous yearly high.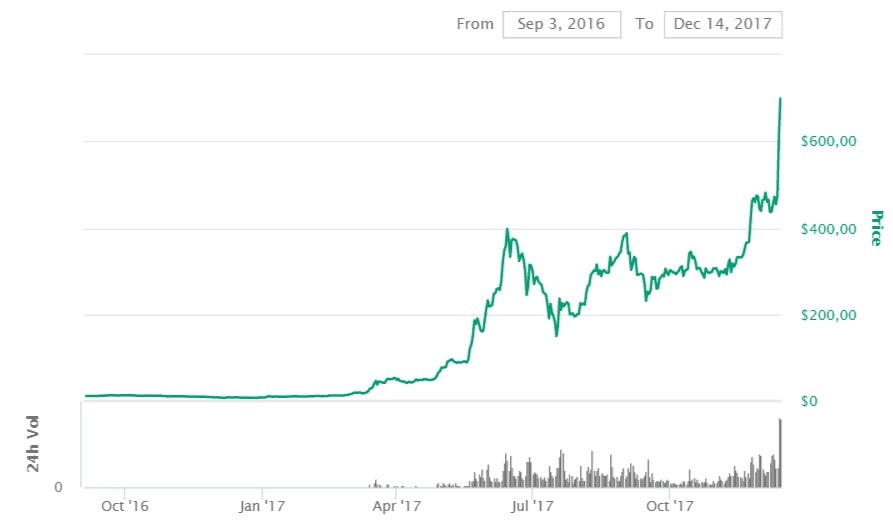 ETH technical analysis
When the rally began on 3 March 2020, only a scant few imagined that Ethereum would reach the highest it did, and within such a short time to boot. After years of a continuous downtrend, Ethereum finally found support at around $110. It then rose steadily but slowly for about four months before making an impulsive leg into $480. Traders took profit, and the world settled down to endure, perhaps, another long stretch of consolidation that characteristically follows crypto price swings. 'Undisappointingly', Ethereum's price consolidated from September into the first few days of November, after which it exploded upwards again.
On 19 January 2021, Ethereum reached its all-time high at $1,422, rejecting sharply and forming a resistance. After a few weeks of testing and prodding that resistance, the price finally broke out. At this point, every real crypto stakeholder was paying rapt attention to the crypto market, and hopes were high in the air. Ethereum never disappointed, exploding through resistance after resistance, creating an extremely bullish market structure and finding higher prices to ravage. 
All good things must come to an end, and thus, on 16 November 2021, Ethereum reached $4,891.70, its all-time highest price. ETH has consistently traded lower ever since, and any attempt it has made to recover higher has been met with strong bearish pressure.
Ethereum's price is currently at $1,345 (as of 5 October 2022), but analysts are afraid there's still a lot of room to fall before hitting bottom. 
For any real optimism for bulls, ETH's price needs to create a bullish structure on the daily timeframe and break above $3,524.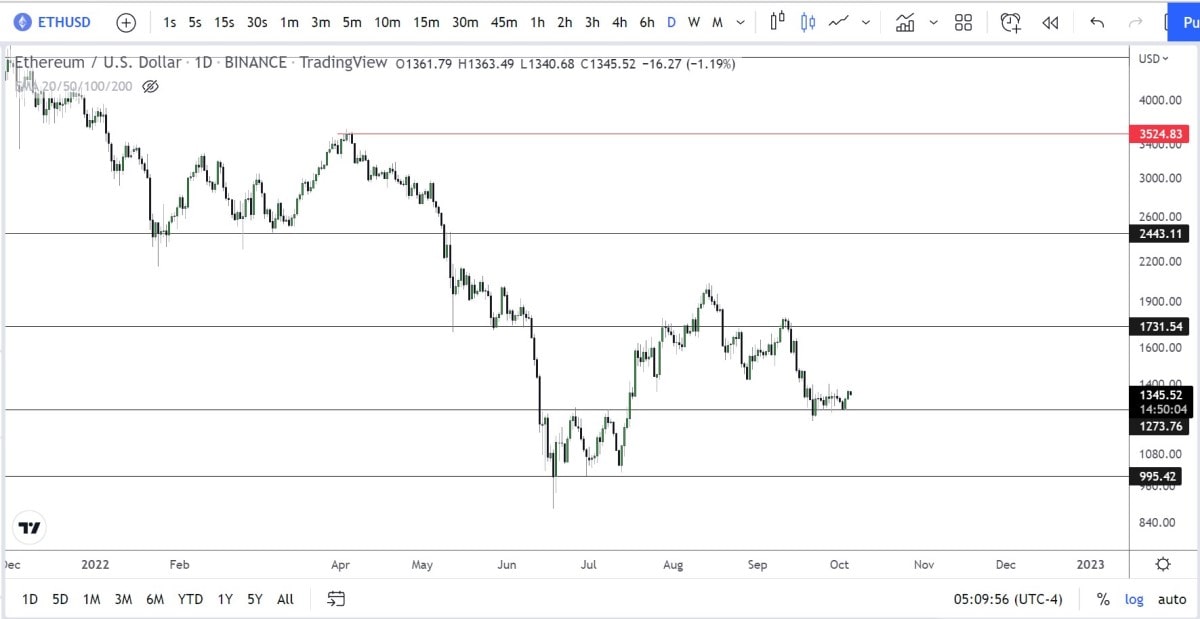 Ethereum price prediction 2018
The beginning of 2018 saw a significant rise across all cryptocurrencies, which sparked many Ethereum price predictions. Some said that cryptocurrencies were very close to replacing fiat, while others considered the surge was just a pump.
Nevertheless, experienced traders know that price prediction begins with learning about history and different factors. While making forecasts, analysts used the following information:
ETH is essential for smart contracts.
ETH has no issues with the number of processed transactions.
Many countries don't recognise ETH, so its regulation isn't as good as for BTC.
More and more banks are focusing on ETH.
ETH is the second-most popular crypto on exchanges.
In addition, it was necessary to include possible risks:
Despite fast growth, Ethereum was still liable to speculative activity.
The possibility of hacking.
The growing number of users may cause different technological problems.
Most issues could be resolved, so many experts predicted that Ethereum would rise by the end of 2018. The most positive forecast put ETH around $2,500; the most pessimistic saw ETH dropping by $1,500.
As we know today, they were all wrong. At the end of 2018, Ethereum's price was about $137. Moreover, in December 2018, it showed the worst value for the whole year at -$86.
Ethereum price prediction 2019
At the very beginning of 2019, ETH's price was $106. However, it experienced a fast rise, and in March, it traded for $140. Still, this wasn't the best scenario, especially considering that this asset cost almost $1,400 at the beginning of January 2018.
Although the first predictions were negative, experts analysed several factors:
The protracted deep correction was going to end.
ETH's price depends on BTC's, which tends to rise.
Mining costs were on the rise.
The following Constantinople update would improve the system.
The functioning of smart contracts was improving.
Buterin said that he was going to achieve a network bandwidth of 100,000 transactions/sec.
Most factors showed that Ethereum would tend to rise in the future, so the market expected it to close at $500 or more at the end of 2019. However, there were some negative factors:
Ethereum had less capitalisation than Ripple.
Many projects were evolving and getting closer to ETH (e.g., Tron, Dash, BCH, etc.).
Mining became more difficult, so miners changed their priorities to other cryptocurrencies.
All these points showed that Ethereum could be very unstable. The worst ETH value prediction was that this currency could fall to $70, and people would lose interest. Nevertheless, such a scenario was almost impossible because ETH smart contracts provide many opportunities for the whole world.
Ethereum price prediction 2020
Ethereum opened around $131 and trended upward for most of January. By February, it peaked at $290 before retracing to form the yearly low in March at $90. After creating the low, ETH steadily traded high, and by the end of the year, its value had risen as high as $750.
Ethereum price prediction 2021
There weren't many predictions that ETH would grow as much as it did. The growth storm that hit the crypto market also hit Ethereum hard, as the currency was among the most profitable assets all year. It set a new all-time high record at $4,891 after increasing by more than 550% in less than a year.
Ethereum (ETH) price prediction for 2022, 2023, 2025 and 2030
The cryptocurrency market is very volatile, so it's not easy to provide accurate forecasts for many years. However, many analysts have some thoughts about popular cryptocurrencies like Ethereum. Here are some Ethereum price predictions from experts.
TradingBeasts Ethereum price prediction for 2022, 2023, 2025, and 2030
TradingBeasts' forecasts are neutral-bullish. TradingBeast predicts a relatively stable year ahead for Ethereum's price, and by the end of 2022, the token should have added about $200 more. Things begin to change in 2023 when they predict that ETH will fall to below $1,000 by the end of that year but will recover in 2024 to around $1,800.
WalletInvestor Ethereum price prediction for 2022, 2023, 2025 and 2030
WalletInvestor's technical analysis predicts that Ethereum is a great asset for short- to long-term investments. Their prediction suggests that ETH will rise to $2,269.24 in one year. This translates to almost 70% ROI in growth for those who get in now. Not too shabby. The gains keep coming as they also predict that, by 2027, the value of Ethereum will be five times its current value, hitting $6,071.49.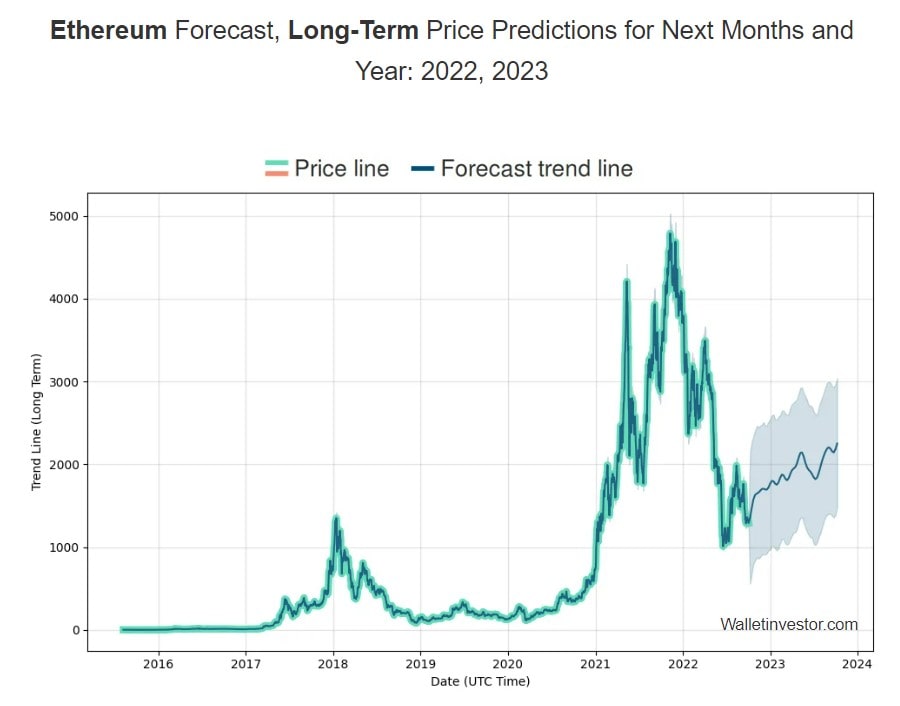 Long Forecast Ethereum price prediction for 2022, 2023, 2025 and 2030
Long Forecast's ETH predictions are also quite positive. They predict that ETH's price will fall below the $1,000 mark but will pick up again towards the closing months of 2024. It gets even more optimistic from there as they believe that Ethereum's price will likely reach above $2,000 by 2025.
DigitalCoinPrice Ethereum price prediction for 2022, 2023, 2025 and 2030
DigitalCoinPrice also provides a positive Ethereum price prediction for the next 10 years. They believe that the coin may close in 2022 at over $1,600 and that its maximum value in 2026 could be $5,088. However, DCP believes that there will be a short drop between 2025 and 2027.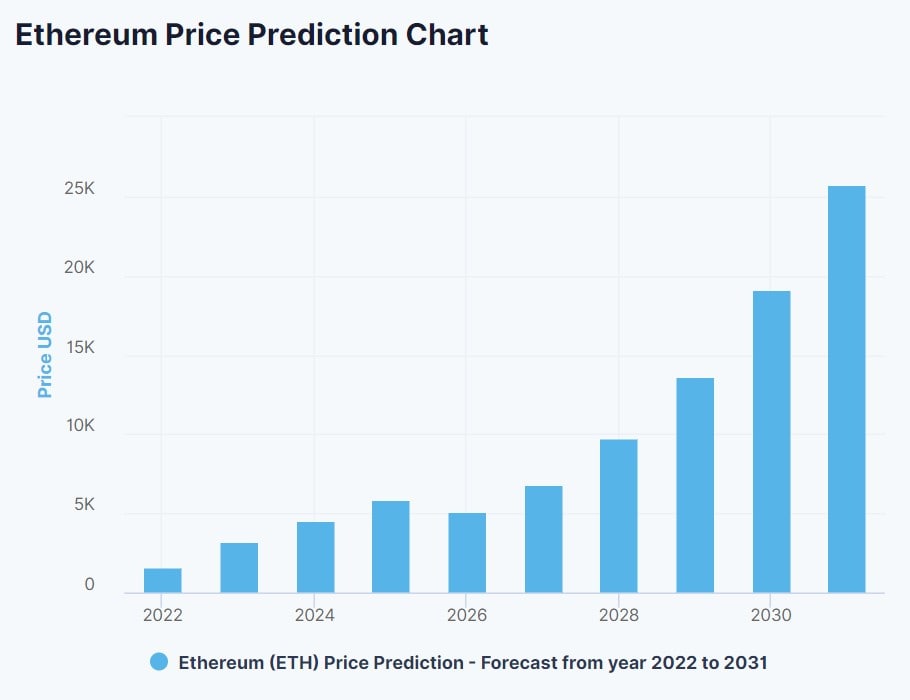 Ethereum (ETH) overall future price predictions
Just as Bitcoin is the first-ever cryptocurrency, Ethereum is the first-ever project to create smart contracts. That is why this cryptocurrency probably won't crash in the future. Its positions are very strong today, and many people from the cryptocurrency community continue to believe in ETH.
Today, this system has many issues, so the value of Ethereum will be volatile in the short term. Everything will depend on the ETH team. If they solve the main issues, ETH will gain a foothold. If not, the cryptocurrency's value will dip into double digits.
How high can Ethereum go?
The cryptocurrency community knows that the Ethereum team is very talented, so they predict the best results. On forums, most people say that ETH will be the #1 platform for smart contracts.
However, some experts think that Ethereum smart contracts are losing their positions. Developers are out of ideas about improving the system without refusing the main principles of the ETH blockchain, and projects like Solana are hot on the heels of Ethereum. With time and continued support of other promising projects, Ethereum may eventually bow out into irrelevance.
However, its price doesn't just depend on the development team. There are many other factors, like news, Bitcoin trends, altcoin activity, and more. Ethereum is a very interdependent project, so there will be many obstacles.
How far can ETH go? It has all the chances of breaking through the $14,000 level, as predicted by WalletInvestor some months ago. While the market isn't bullish, the asset still has good support. If this situation stabilises, we may see it hit $4,000 again and even higher.
In the following years, ETH may hit a maximum of $6,000. The only way to reach higher is through a pump. However, as we know, the bigger the pump, the bigger the correction will be. So, we should be realistic and predict that ETH won't reach a stable $10,000 until at least 2025.
ETH price prediction today
Ethereum faced many problems varying from technical to fundamental, such as political news or the community's sentiment. That's why it's very hard for this cryptocurrency to break out of each resistance level.
However, two things are obvious: ETH won't crash, and it won't lose its #2 ranking on CoinMarketCap for quite some time, if ever. Therefore, its price won't fall too far in the near future. What do you think?
Tags
Exchange BTC

Try our Bitcoin Cloud Miner and get additional crypto rewards based on your trading volume. It's immediately available upon registration.

Try our Bitcoin Cloud Miner and get additional crypto rewards based on your trading volume. It's immediately available upon registration.