How to convert cryptocurrency to cash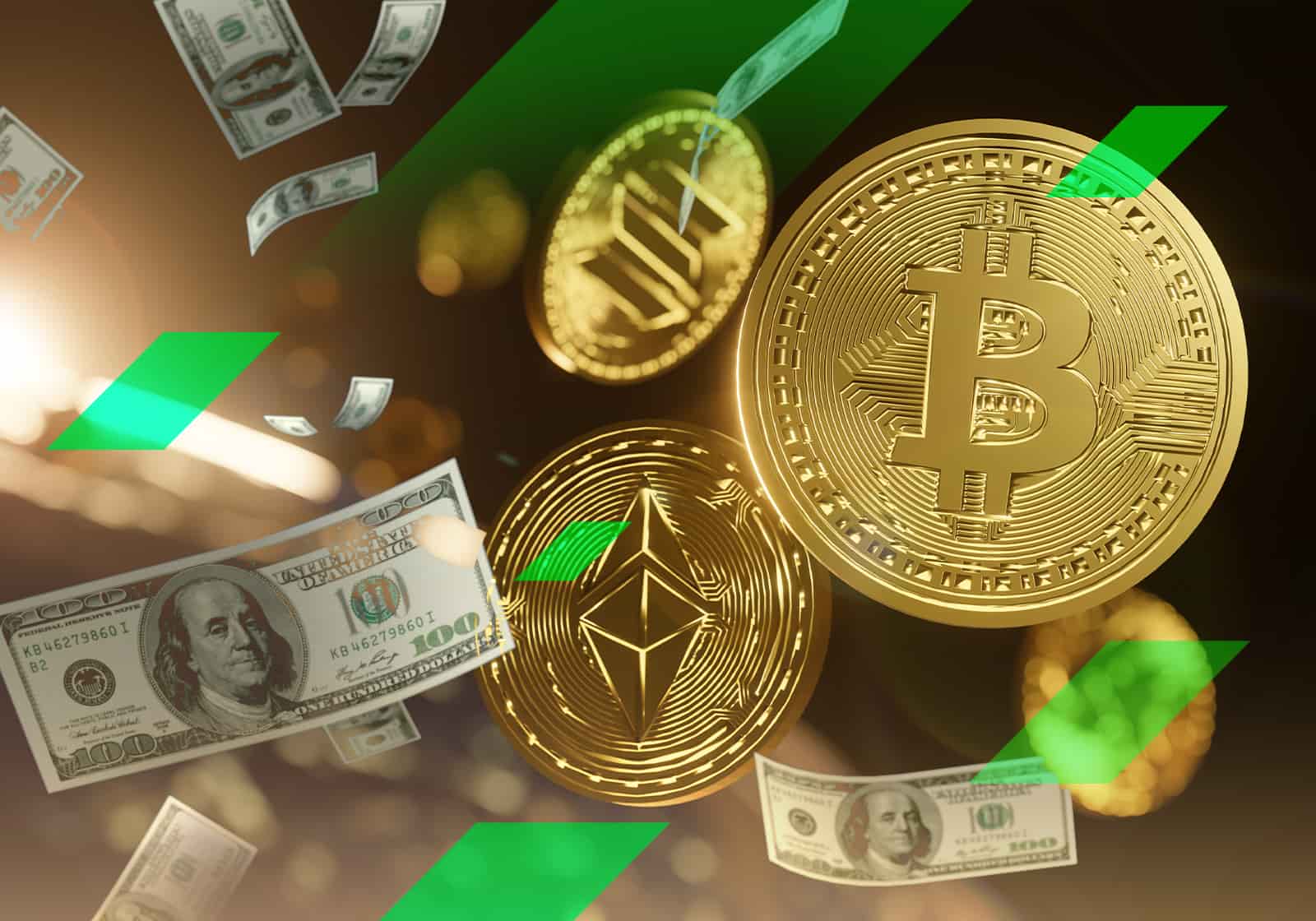 Cryptocurrency is a popular investment option that can bring you real revenue. Still, you can't pay for dinner even if your wallet is full of coins and tokens. Only a limited number of businesses accept payments in cryptocurrencies. You still need to know how to convert cryptocurrency to cash. 
The good news is that it's fairly easy to do. However, there are several factors you should consider before converting cryptocurrency to cash, time being one of the biggest. Cryptocurrencies are very volatile. If you choose the wrong time, you can lose a lot of money. On the other hand, when seeing the uncertainty around cryptocurrencies, a risk-averse investor would prefer to convert them into fiat money.
Either way, here's what you need to know about how to convert your cryptocurrency to cash. 
Can you convert your cryptocurrency to cash?
Cryptocurrency is fast emerging as a smart investment option across all strata of society. However, it has certain issues as cryptocurrency can't be used for daily transactions like paying restaurants and monthly bills. So the question is whether cryptocurrency can be converted to cash and how can you do it? 
The important thing one should know when converting crypto to cash is that the real value of money isn't lost once you do so. The only possibility of losing your money is caused by the highly volatile nature of digital money, meaning that you need to find the best time for this operation.
With that said, let's see how you can convert crypto to cash. 
First, let's consider converting Bitcoin, for example. Whenever you convert cryptocurrency to cash, you should mind that a third-party broker will charge you exchange and taxation fees. Its amount depends on the number of digital tokens that should be converted to cash. The funds won't be immediately submitted to your account. As a rule, the broker needs a day or two to complete the transaction. 
There are two most common ways to convert crypto to cash. One of them is getting the procedure completed through an exchange or a broker. Deposit your cryptocurrency into an exchange and request a withdrawal in the currency of your choice. The funds will be paid to your bank account.
If you choose this method, mind the restrictions on brokers related to money laundering. Investors are obliged to withdraw their money through the same bank account in which it was deposited. 
The main disadvantage of using this method is that it's rather time-consuming. Although it's one of the safest ways to convert crypto to cash, you should know that it'll take some time before the money will reach your account. 
If you can't wait for 4-6 days until the funds hit your bank account, you may convert crypto to cash using peer-to-peer networks like LocalBitcoins, Bitsquare, BitKan, Paxful, etc. It's a faster way. Still, there are some nuances you should know. 
To convert your cryptocurrency to cash using this method, you need to sign up on the preferred peer-to-peer platform and choose your buyer's location. Then, the marketplace will find buyers for you. It's a big advantage if the chosen network provides the escrow option. This means your cryptocurrency isn't released to the buyer until you verify that you received their payment. It's an important feature considering the growing amount of fraud one can face on such platforms. 
The best way to convert crypto to cash
Selling Bitcoin and other cryptocurrencies on StormGain and other exchanges is one of the easiest methods to withdraw cash directly to your bank account. 
Fees and limits
Before you convert your crypto to cash, there are several pitfalls you should consider. 
Taxes. If you profit from selling your cryptocurrency, you should be ready to pay taxes on your profit income
Fees. Most exchanges and brokers entail exchange fees
Speed. Third-party broker exchanges may need several days to transfer the money to your bank account.
StormGain offers a quick and easy way to convert cryptocurrency to cash. If you choose our service, you should know about the following fees and limits:
You can transfer a minimum of 50 USDT (or the equivalent in another cryptocurrency)
Using the ERC-20 protocol for USDT, USDC, and/or DAI wallets is strongly recommended. Sending via other currency protocols may result in the loss of your funds.
How to convert crypto to cash with StormGain
With StormGain, you can withdraw cryptocurrency by transferring your funds to an existing crypto wallet. For example, customers from the European Union can withdraw crypto to their bank accounts via SEPA credit transfer.
You can withdraw crypto funds by transferring them to an existing crypto wallet. The Fees & Limits page provides a complete list of cryptos available for withdrawal, along with fees and terms for each currency. 
Step-by-step guide
StormGain lets you withdraw funds using the methods described below.
Method 1. How to convert crypto to cash by transferring the funds to an existing crypto wallet
When you open the StormGain platform or mobile app, you'll see a full list of cryptocurrencies available for withdrawal, along with fees and commissions related to each.
To withdraw your crypto, you need to create a crypto wallet. For example, you can use such platforms as Blockchain, Coinbase, XCOEX, etc. Once you create one, you'll get a unique web address that you can use to deposit and withdraw funds.
Using StormGain, withdrawing cryptocurrency is the same on both the web platform and the mobile app. Use the following step-by-step instructions on how to convert cryptocurrency to cash to withdraw your funds.
Log into your account.
Go to the 'Wallets' section and select the cryptocurrency to transfer.
Click the 'Withdrawal' option.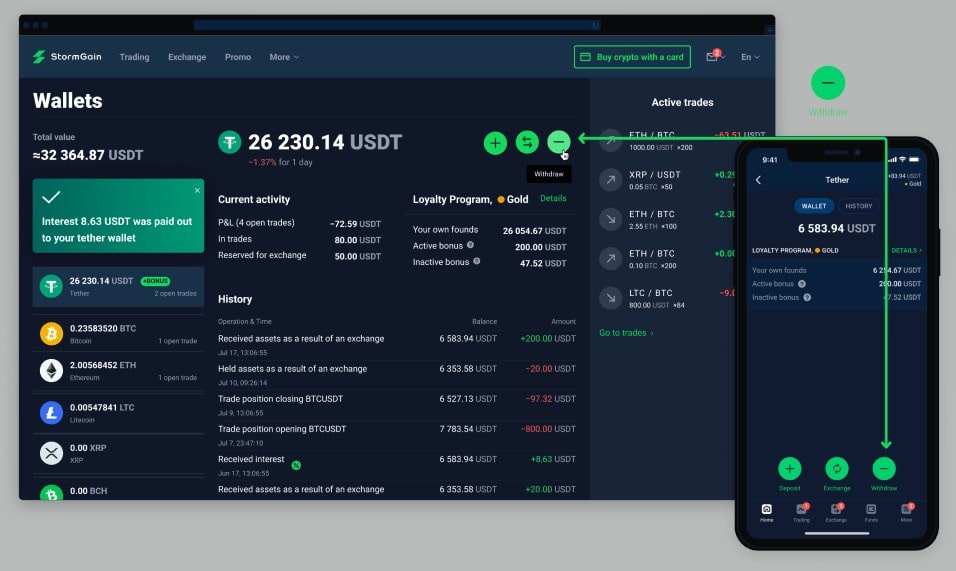 Enter the amount to transfer.
Choose a payment method. The cryptocurrency you send must match the cryptocurrency in the receiver's wallet.
Paste the receiver's wallet address or scan its QR code. Be sure to check the address you're withdrawing to carefully. StormGain won't be able to return funds withdrawn to an incorrect wallet.
Select 'Withdraw'. Please bear in mind that each cryptocurrency has a maximum withdrawal amount. If the amount exceeds this threshold, the funds won't be credited to your account.
Complete the operation using the two-factor authentication code received via SMS.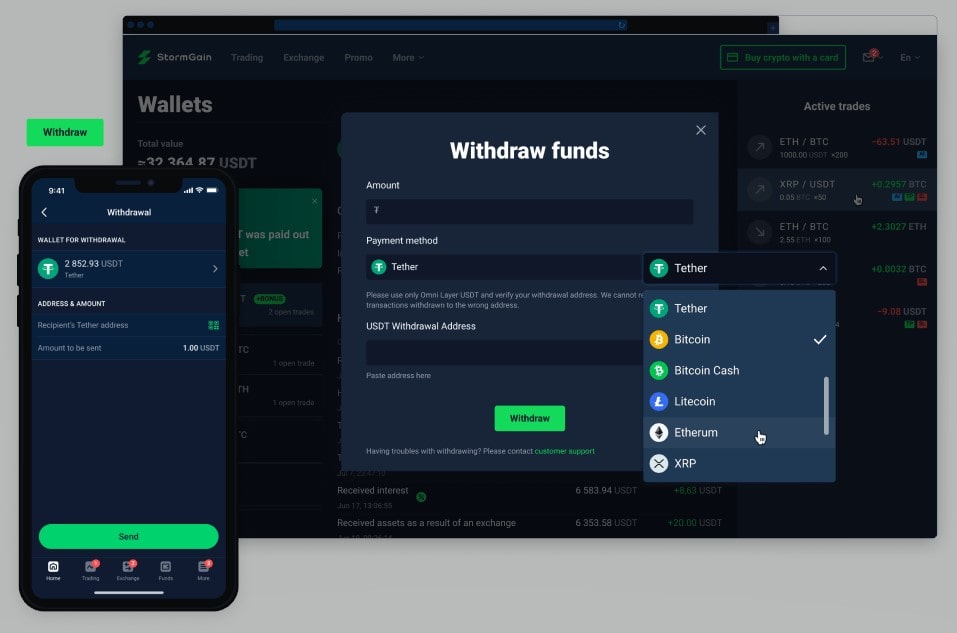 One more important thing to remember is that the cryptocurrency being transferred must match the wallet's cryptocurrency. Sending any other currency to this address may result in the loss of your deposit. 
You can also find detailed video instructions in the video below.
Method 2. How to convert crypto to cash by making a SEPA transfer (only available for ЕЕА countries)
EU-based clients can now make deposits and withdrawals using standard SEPA bank transfers. You can send your fiat money vial SEPA transfer to Bits of Gold's bank account. Once the payment clears, they'll convert it to your desired cryptocurrency, and we'll credit it to your relevant StormGain wallet. 
The procedure is more or less the same for withdrawals. The only difference is that you transfer your chosen digital currency to Bits of Gold's crypto wallet, and then they convert it to fiat before sending it to your bank account.
To make a SEPA transfer, follow these steps or watch our handy video tutorial on setting up your withdrawal. 
Sign in to your StormGain account.
Go to the Wallets tab.
Select a SEPA transfer and then 'Initiate a Transfer'. This will automatically open Bits of Gold. Next, you'll be asked to select your desired cryptocurrency and enter an amount.
After filling in all the parameters, click continue and complete verification.
Next, fill in your bank details to initiate the transfer.
One of the main advantages of using this withdrawal method is the huge savings compared to other crypto-to-fiat currencies conversions. The commission is only 0.1% and 0% for deposits. Bits of Gold charges a 5% exchange fee, a normal fee for such transactions.
StormGain benefits
StormGain offers a simple, convenient, and easy-to-use interface that lets you invest in the biggest cryptocurrencies in the market and convert your crypto fund to cash whenever needed. Moreover, unlike other exchange platforms, it offers a zero-commission for maintaining your account and low exchange fees that differ based on the crypto funds you wish to withdraw. 
Security is another important factor why users who wonder how to convert cryptocurrency to cash choose StormGain. The platform offers the best standards in the market using the latest and most innovative technology to let you trade and withdraw your funds safely. 
Besides, you get 24/7 access to all trading tools, which you can use anywhere in the world. Use the web-based platform or mobile application to trade and withdraw funds on holidays, weekdays, and days off.
Tags
Exchange BTC

Try our Bitcoin Cloud Miner and get additional crypto rewards based on your trading volume. It's immediately available upon registration.

Try our Bitcoin Cloud Miner and get additional crypto rewards based on your trading volume. It's immediately available upon registration.
Instrument
Rate
Change (24h)