iExec (RLC) Price Prediction 2023, 2025 and 2030

iExec (RLC) is an innovative and valuable technology in the crypto market. The basic idea behind it is to allow other computers to use your computer's computing power to perform various calculations. In this article, we'll delve into the exciting iExec RLC projects formed a few years ago and are currently offering unique and essential solutions to help build the future of computers and decentralised applications in the coming years. We'll also take a closer look at iExec RLC's price prediction and historical price analysis, identify the most reliable price projections and analyse how well this digital token's price is doing. Let's get started!
What is iExec (RLC)?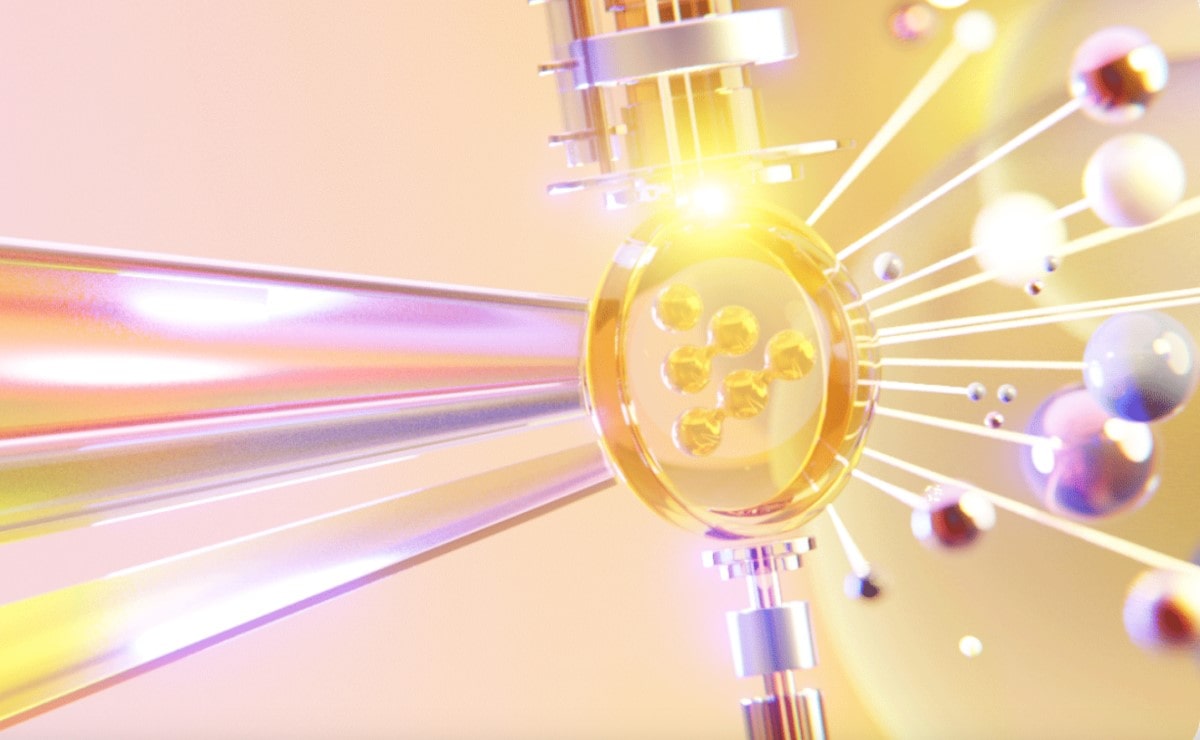 iExec RLC is a renowned decentralised blockchain-based computing provider. Through the iExec RLC decentralised marketplace, individuals with computing resources can connect with those who require them, making it possible for anyone to monetise and lease their computing power for complex calculations or data set handling.
Gilles Fedak, the CEO and co-founder of the iExec RLC initiative, was a researcher in parallel and distributed systems and deeply understood cloud computing. This expertise and the cryptocurrency market model enabled him to create a new solution to a longstanding problem.
The iExec ecosystem prioritises four fundamental values: decentralisation, innovation, sustainability, and the freedom to innovate, create, and contribute to a better world. By providing decentralised applications with computing power on blockchain networks, iExec RLC has become an invaluable asset in the blockchain computing field.
iExec RLC also relies on XtremWeb-HEP, an open-source Desktop Grid software. This software features essential capabilities such as fault tolerance, multi-user access, hybrid infrastructures, public structures, multi-application support, data management, and accountability. In addition to these features, it also deploys virtual images. The project aims to establish a new and enhanced Proof of Contribution (PoCo) protocol.
iExec Features
An intriguing fact about iExec RLC is that the abbreviation "RLC" stands for "Run on Lots of Computers". Resource providers on the network accept RLC tokens as payment for utilising the resources or computational power.
The iExec RLC cryptocurrency boasts several features: simplicity, security, adaptability and accessibility. Users can effortlessly utilise RLC tokens to access computing resources and make transactions on a pay-as-you-go basis. With approximately 83 million RLC coins in circulation, businesses can easily access iExec cloud resources. Moreover, RLC tokens can be effortlessly accessed, stored, transferred, traded, divided and used for transactions or payments.
iExec White Paper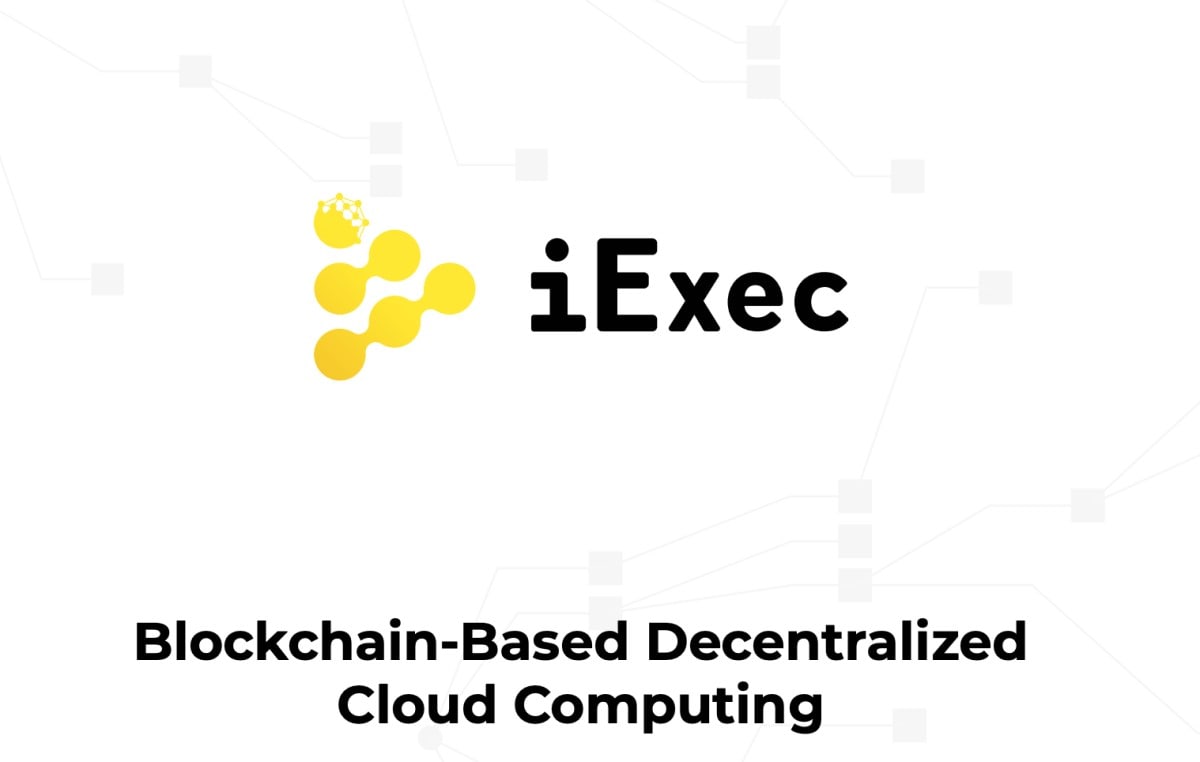 The iExec RLC platform aims to connect individuals' computers on the blockchain and allow them to lease out their computing resources, data and services on the cloud to generate income. The platform employs the XtremWeb-HEP open-source program to ensure secure and reliable operation.
Unlike its counterparts, iExec RLC operates in an off-chain manner. This means that computations and transactions are carried out separately from the blockchain (in this case, Ethereum) and then put back on the chain. This approach is believed to be faster and less expensive than conducting these tasks on the blockchain.
The white paper states, "The iExec network connects cloud resource sellers with cloud resource buyers, encouraging an ecosystem of decentralised and autonomous, privacy-preserving applications."
The iExec RLC system operates without a centralised server by distributing computing tasks to nodes on the network. This system can be used to build decentralised applications (dApps).
Like any blockchain-based network, iExec RLC has its native cryptocurrency, the iExec RLC token (RLC). RLC utilises a proof-of-contribution (PoCo) mechanism that enables users to add blocks to the blockchain and receive RLC rewards.
For PoCo to function correctly, it needs to authenticate transactions carried out on the iExec RLC platform while linking them to XtremWeb-HEP. PoCo consensus parameters have been established to ensure that all the processing power that contributes to the decentralised storage network is operating in good faith.
RLC is used to pay transaction fees on the iExec RLC platform, and it can also be purchased, sold, and traded on exchanges. Because it is based on the Ethereum blockchain, RLC is a token, not a coin.
iExec Use Cases
The iExec network has been applied to several impressive use cases. For example, in 2017, iExec RLC addressed the issue of trust in smart cities by creating an infrastructure that supported autonomous services and machine-to-machine transactions. In 2018, it facilitated the deployment of decentralised Oracles, making it easier for developers to create dApps using terabytes of data available on Web 2.0 without compromising security.
iExec also established a decentralised marketplace in the same year, leveraging cutting-edge blockchain technologies to offer traceability and trust. The project has introduced TEE technology, also known as Trusted Execution Environment, which is used in Kaiko price feeds, and BirdieBlue, an AI module that tracks market sentiment towards a crypto asset.
In 2020, iExec created Websensors, the PoCo protocol, which ensures the off-chain execution of each computation. This is particularly useful for developing scalable and powerful dApps.
RLC Benefits
The iExec RLC token is utilised as payment for accessing the cloud computing resource. It provides a solution to the current limitations of blockchain computing by offering a virtual cloud infrastructure that provides high-performance computing services on demand. The distributed cloud reduces the environmental impact of data centres and provides a cost-effective, high-performance solution.
Traditional cloud infrastructure has limitations and cannot meet the needs of fully decentralised dApps. High-performance computing infrastructure (HPCs) is typically used to run big data applications, but they are complex and expensive. This means that innovative small businesses may not have the expertise to acquire HPCs, and traditional cloud infrastructures like AWS are expensive for demanding computations like GPU rendering. Therefore, traditional cloud services are not useful for dApps.
To turn decentralised applications into profitable ventures, a new mechanism is needed, and the iExec network can provide it.
iExec (RLC) Price Analysis
At the time of writing this iExec (RLC) price prediction on 5 March 2023, the token was worth $1.77. RLC moved 0.90% in the last 24 hours with a trading volume of $6,522,734. iExec ranked #189 amongst all cryptocurrencies with a market capitalisation of $143,211,519.
iExec (RLC) price statistics (as of 5/03/23)
| | |
| --- | --- |
| Current price | $1.77 |
| Market capitalisation | $143,211,519 |
| Circulating supply | 80,999,785 RLC |
| Maximum supply | 86,999,785 RLC |
| Daily trading volume | $6,522,734 |
| All-time high | $16.26 (10/05/2021) |
| All-time low | $0.1488 (15/12/2018) |
| Website | |
RLC Token Price History
Let's cast our eyes on RLC's price history before we discuss the RLC price predictions. 
The RLC token was introduced to the market in April 2017, with an initial value of just under $0.30. During the cryptocurrency boom of late 2017 and early 2018, its price peaked above $3 in January 2018. However, as the market entered a period of decline known as "crypto winter," the token's value dropped to an all-time low of $0.1488 on 15 December 2018.
Over the next two years, the RLC token remained below one dollar. In early 2021, the market experienced a strong bullish phase, with the distribution of Covid-19 stimulus checks in the United States leading to an influx of funds into the cryptocurrency sphere. On 10 May 2021, the RLC token hit an all-time high of $16.50. However, after the significant crypto market crash of 19 May 2021, the RLC token's price plummeted, closing the year at $2.94.
Throughout 2022, the RLC token price has been declining, with only a brief run to $3.61 on 4 January. In May, it hit a low of $0.6291 following the depegging of the UST stablecoin and the collapse of the associated LUNA cryptocurrency. The cancellation of withdrawals on the Celsius crypto lending platform confirmed the crypto market was in a bear market, with RLC falling to $0.5693 on 18 June.
However, there has been some recovery since then, with the token breaking past the dollar and trading at around $1.60 on 11 August 2022. At that time, there were just under 81 million RLC in circulation out of a total supply of a little below 87 million. This gave the token a market capitalisation of about $1.60, making it the 184th largest cryptocurrency by that metric.
RLC Technical Analysis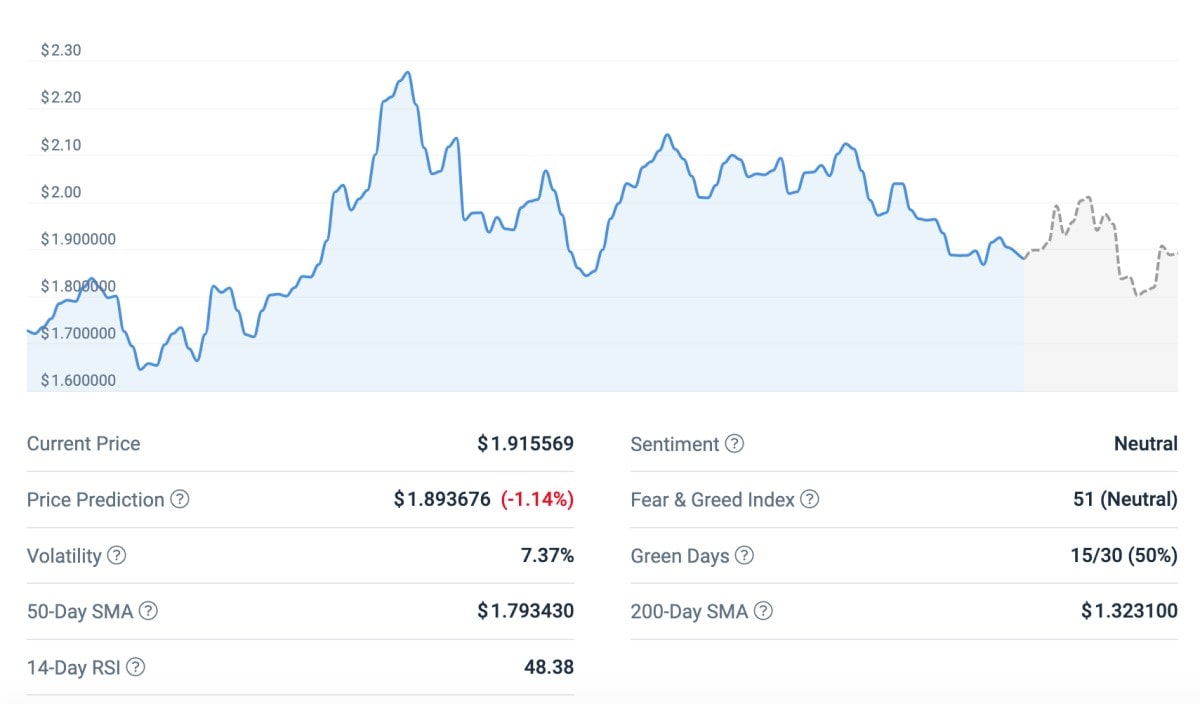 In 2021, iExec RLC reached its all-time high of $16.26 on 10 May, while its all-time low was at $0.1488 on 15 December 2018. Currently, the price is 91.38% lower than its ATH and 841.85% higher than its ATL.
The token is currently trading above both the 200-day and 50-day simple moving averages (SMA), with both indicators signalling a BUY since 8 December 2022.
Based on technical indicators, iExec RLC's 200-day SMA is expected to rise and reach $1.453543 by 28 March 2023. The short-term 50-day SMA is estimated to reach $2.11 by the same date.
iExec RLC Price Predictions 2023
According to some analysts, iExec's cryptocurrency RLC was one of the most impressive performers in 2022. The RLC price forecast for 2023 suggests that there will be a significant increase in the second half of the year, with a potential peak of $2.89.
Although the rise is predicted to be gradual, there are no significant drops expected. It is ambitious but feasible for the cryptocurrency to average a price of $2.70 in the near future, given anticipated collaborations and advancements. It is projected that RLC will have a minimum value of $2.31.
Is iExec Token a Good Investment?
While iExec RLC has the potential as a profitable investment, it's important to note that there is no guarantee of huge returns in the short term. The price has been declining for over a year, so a conservative approach may be warranted. However, for those willing to take on higher risk, the current low price could present an opportunity to accumulate RLC tokens with the potential for returns in the long run, even if they may not be significant in the short term.
iExec (RLC) Price Prediction 2023-2050
Let's examine some of the iExec (RLC) price predictions that were available as of 5 March 2023. 
WalletInvestor RLC Token Price Prediction for 2023, 2025, 2030, 2040 and 2050
According to WalletInvestor's RLC price forecast as of 5 March 2023, the site had a bearish outlook on iExec RLC's price over the next 12 months. It predicted that the token's price could potentially drop to a low of $0.198 by August 2023. By the end of 2023, the token could average $0.257. WalletInvestor predicted the RLC token to be $0.129 in 2025 and $0.0769 by the end of 2028.
CoinCodex RLC Crypto Price Prediction for 2023, 2025, 2030, 2040 and 2050
CoinCodex's iExec RLC price prediction suggests that the token's value is expected to reach $ 2.13 by 4 April 2023. The RLC price prediction for 2026 is $ 26.30. 
TradingBeasts RLC Price Prediction for 2023, 2025, 2030, 2040 and 2050
According to TradingBeasts' iExec RLC price predictions as of 5 March 2023, the site forecasted that the token's price could drop to $1.28 in August 2023. In August 2024, RLC could be worth an average of just under $1.46, while by August 2025, it could be trading at slightly below $1.83 and potentially close to $1.93 by the end of the year. It's important to keep in mind that price predictions are not guaranteed and can be subject to change based on market conditions and other factors.
Capital RLC Token Price Prediction for 2023, 2025, 2030, 2040 and 2050
According to Capital's RLC prediction, the token could be trading at a little under $10.40 in 2023. The iExec RLC price prediction for 2025 is $16.82.
iExec Future Forecast in General
Several indicators suggest a positive future for iExec RLC, such as the constant improvement of the platform's infrastructure, resulting in the addition of new functionalities, and the confidence shown by investors towards the project. The former will ensure that the project remains relevant, while the latter will continue to provide the necessary backing.
How High Can RLC Token Go?
It is possible that the average price of iExec (RLC) could reach $2.70 this year. Additionally, some projections suggest that over the next 5 years, iExec could potentially surpass a value of $12.53.
RLC Price Prediction Today
According to some experts, iExec (RLC) is considered one of the most promising cryptocurrencies to rise this year. The RLC price prediction for 2023 expects a substantial increase in the second half of the year, potentially reaching $2.89. While the rise may be gradual, there are no significant drops expected. Achieving an average price of $2.70 is an ambitious target, but it is feasible in the near future due to expected collaborations and advancements. Moreover, RLC is expected to have a minimum value of $2.31.
Tags
Exchange BTC

Try our Bitcoin Cloud Miner and get additional crypto rewards based on your trading volume. It's immediately available upon registration.

Try our Bitcoin Cloud Miner and get additional crypto rewards based on your trading volume. It's immediately available upon registration.