The Internet Computer (ICP) price prediction 2022-2030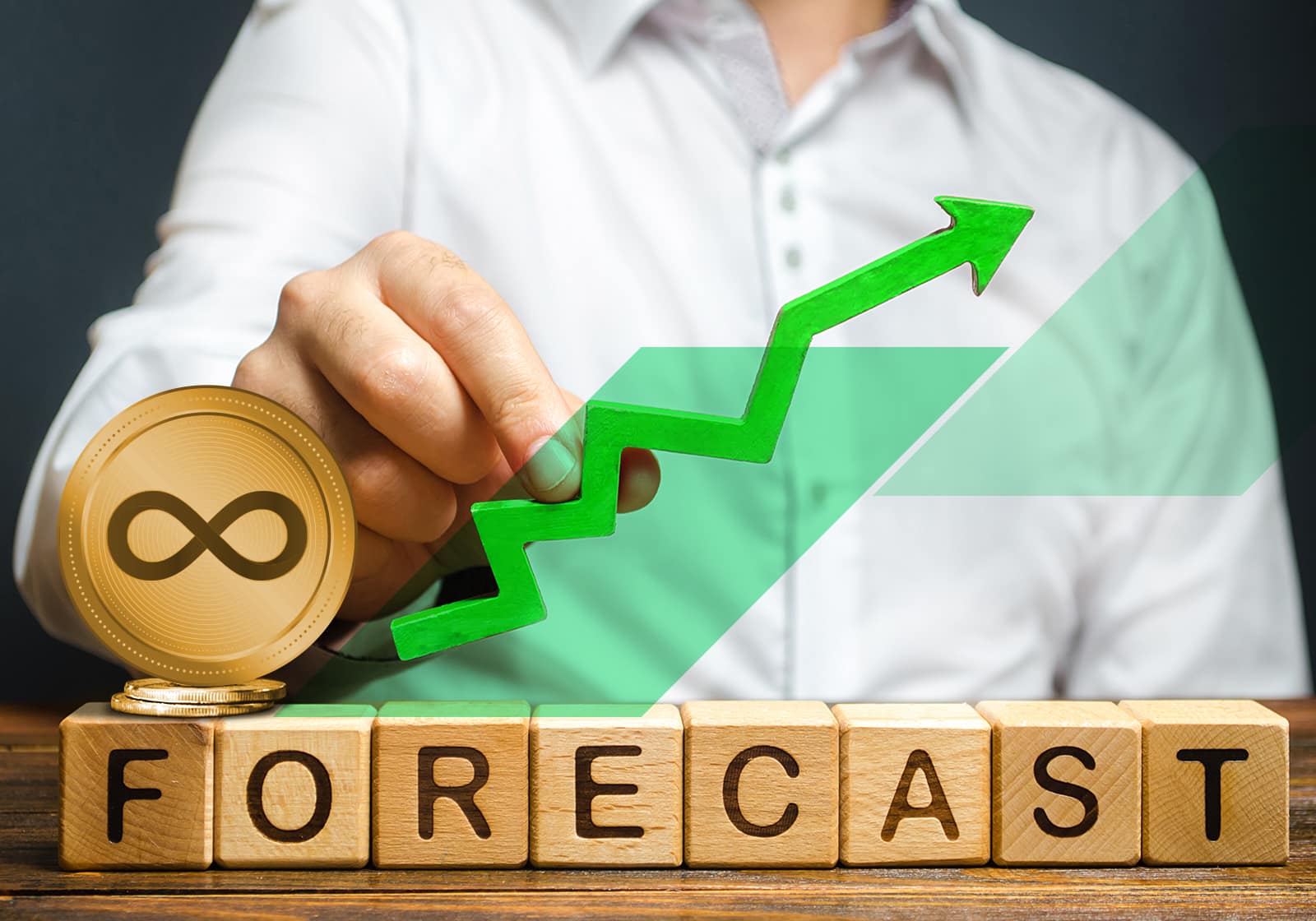 The blockchain industry keeps evolving, with new projects popping up all the time. But only a few of them are attracting really keen interest from the blockchain community. This article will focus on one such project: The Internet Computer (ICP).
You may have already noticed the emergence of this new cryptocurrency, which quickly became one of the largest in terms of market capitalisation. In this article, we'll explore The Internet Computer project, conduct a technical analysis of the ICP coin, and examine experts' price predictions.
What is The Internet Computer (ICP)?
The Internet Computer is a decentralised blockchain project developed by the DFINITY Foundation, a non-profit research organisation based in Zurich, Switzerland. DFINITY was founded in October 2016 by the entrepreneur and crypto theoretician Dominic Williams. Developers position The Internet Computer as the third step in blockchain development. The first step was Bitcoin, the first cryptocurrency. The second one was Ethereum, which introduced smart contracts. And the third step — "limitless blockchain" — is supposed to be represented by The Internet Computer.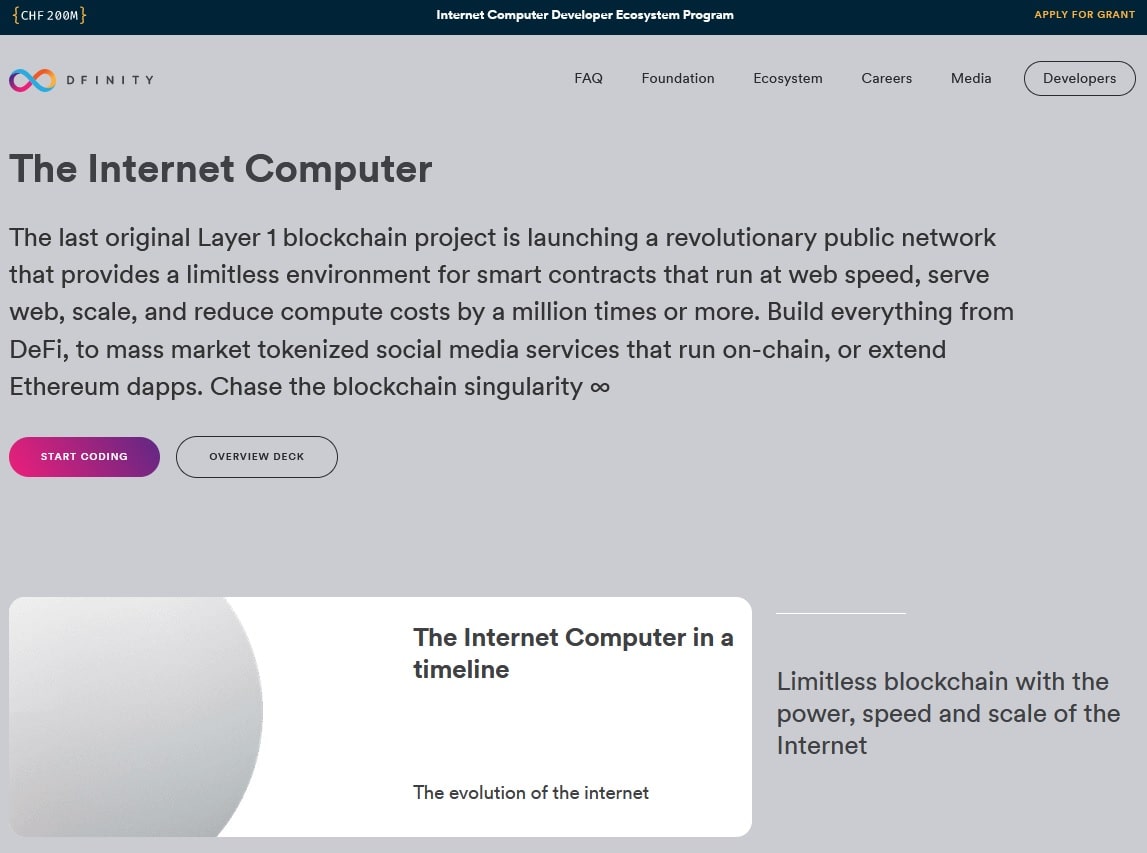 The network stands out for its ability to provide a convenient environment for supporting smart contracts and enable them to operate at a speed comparable to that of the Internet. Its high scalability and cost reductions are suitable for creating mass media services, decentralised finance apps and more.
One of The Internet Computer's main goals is to compete with tech giants. According to Dominic Williams, although the Internet initially became popular thanks to its openness and decentralisation, it's now too monopolised. Most hosting services are controlled by several large players, such as Amazon Web Services and Google. They can selectively restrict services and arbitrarily change the rules of operation and platform parameters without prior notice to users and companies. With The Internet Computer, developers can create websites, corporate IT systems and Internet services by hosting their code directly on the public Internet without the need for servers or commercial cloud services.
If you build on big tech, you're building on sand. You just can't trust it. — Dominic Williams, Founder and Chief Scientist of DFINITY Foundation.
The project was announced in 2016 and immediately attracted the interest of the cryptocurrency community. In 2018, the project was supported by the venture fund Andreessen Horowitz and the cryptocurrency fund Polychain Capital, which invested a combined $102 million. In total, DFINITY raised $166.9 million. On 18 December 2020, the Internet Computer network was launched. On 10 May 2021, the ICP token became available to everyone on the Coinbase cryptocurrency exchange. Soon, the coin was also listed by Huobi, OKEx and Binance.
Among the notable apps running on The Internet Computer are:
Enso Finance, a decentralised exchange
Distrikt, a decentralised, professional social media network
OpenChat, an open version of a standard chat app
Capsule, a decentralised social media platform free from censorship
Fleek, a platform for creating open websites and apps.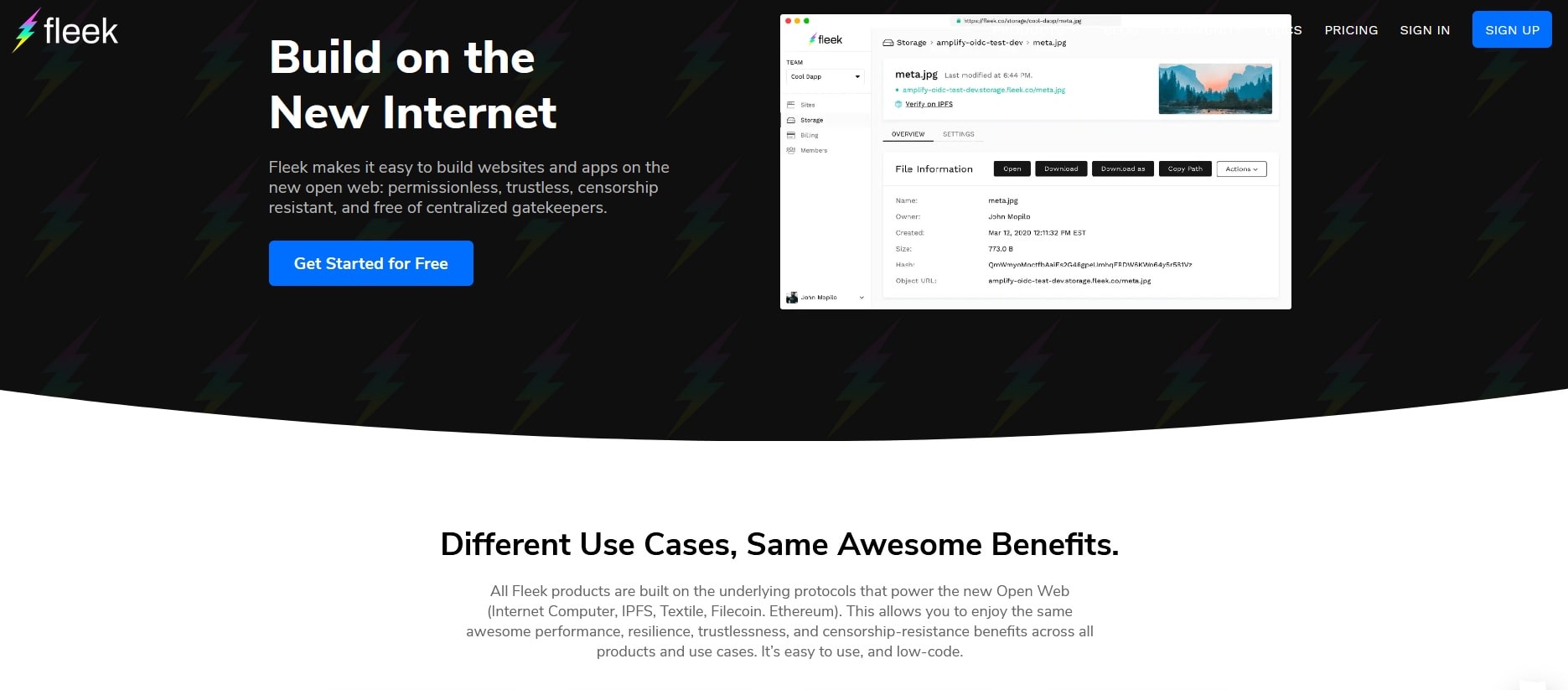 The Internet Computer (ICP) price analysis
At the time of writing, the ICP token ranked 36th among cryptocurrencies by market capitalisation at $1,670,895,785
ICP price statistics (as of 29/05/22)
| | |
| --- | --- |
| ICP current price | $7.14 |
| Market cap | $1,670,895,785 |
| Circulating supply | 233,990,407.77 ICP |
| Total supply | 469,293,127.00 ICP |
| Daily trading volume | $233,990,407.77 |
| All-time high | $737.20 (10/05/21) |
| All-time low | $20.08 (14/06/21) |
| Website | |
ICP's price history
ICP is still a very young coin with almost no price history. When it was first listed on Coinbase's exchange on 10 May 2021, it was priced at its all-time high of $737.20. However, the price almost instantly dropped to $250. The next day it rose to a local maximum of $491, and then it began to fall again. The decline continued until 19 May, when the price reached an all-time low. The next day, the price jumped sharply to a local maximum of $223. After that, it corrected and began to fluctuate in the range of $120 to $166. On 28 May, sellers managed to break through the support level of $120, and the price continued to consolidate in the range of $102-120. Finally, on 3 June, buyers managed to overcome the $120 resistance level, but the momentum soon faded away. By December, ICP's value had sunk heavily to set a new all-time low at around $20, and it is yet to recover to significantly higher prices ever since.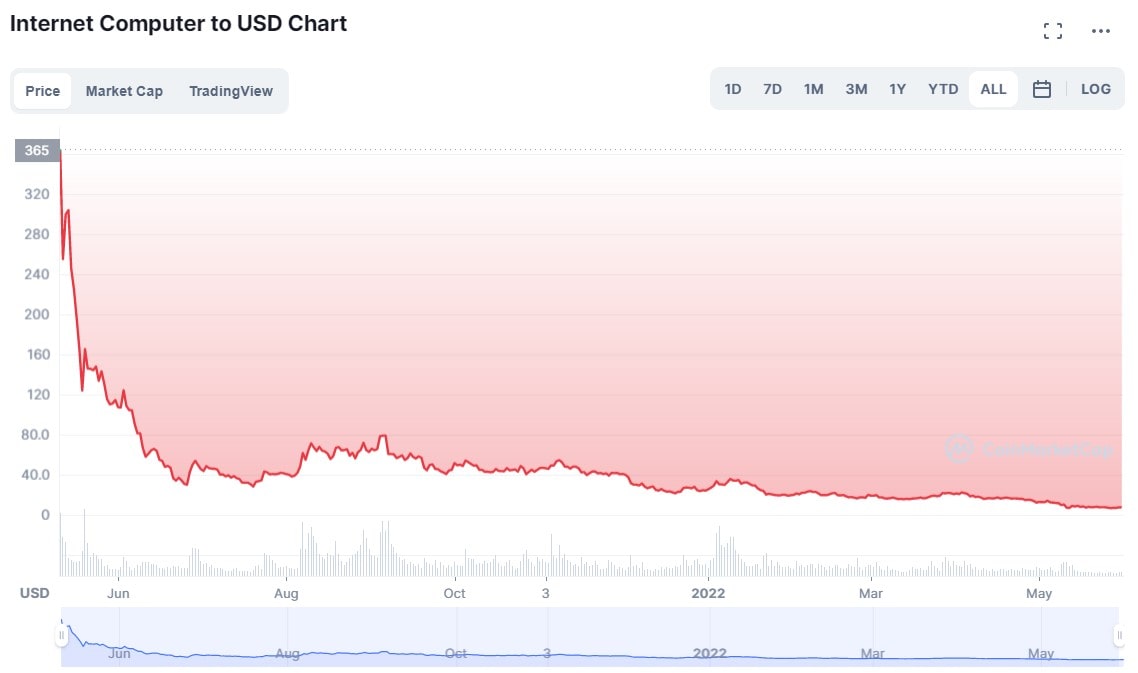 ICP technical analysis
ICP doesn't have a robust history of price action to make a large timeframe analysis. Therefore, we have deemed H4 a suitable timeframe. The currency has been on a downtrend for some time but has recently found strong support at $6.67. After bouncing off the previously mentioned support, ICP spiked to above $10.00 but could not maintain the bullish pressure. It subsequently began trading lower again but at a slower pace, creating short term highs and lows within the range from the support at $6.67 and the local high at $10.00. This type of price action formed a descending channel, and ICP currently trades within the channel. With some good fortunes in the general crypto market, we may expect to see ICP break above the descending channel and attempt to recover the high of around $10.00.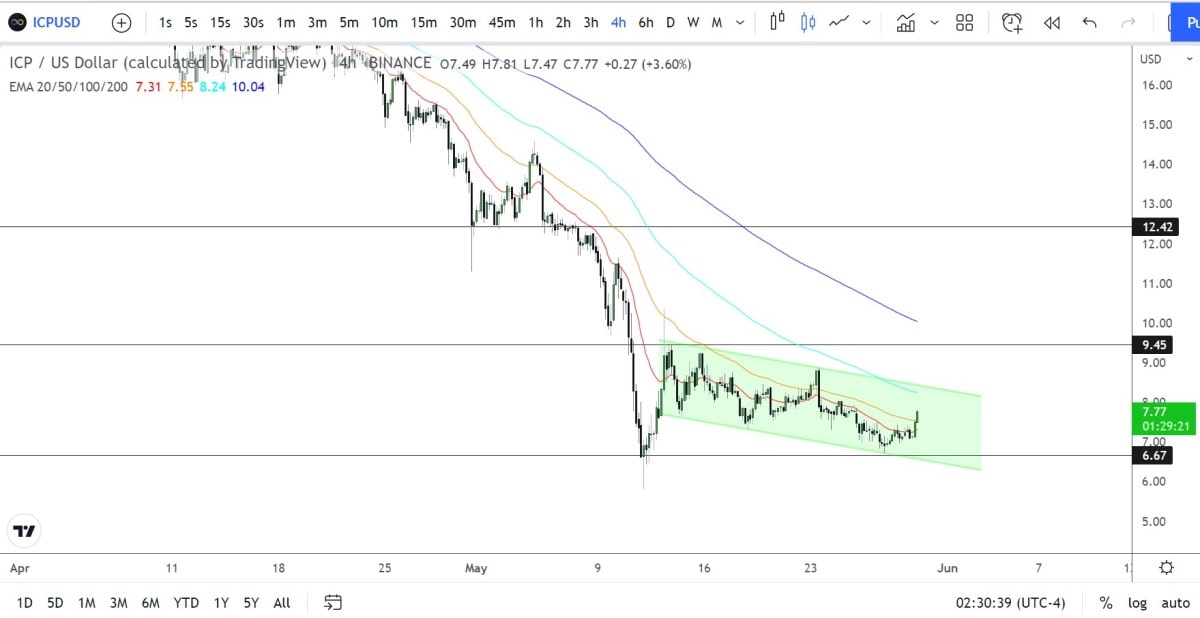 The Internet Computer price prediction 2018-2020
The ICP was listed on crypto exchanges on 10 May 2021 and was not traded before that date.
The Internet Computer (ICP) price prediction for 2022, 2023, 2025, and 2030
Now let's take a look at what renowned experts think about ICP's prospects. We've compiled some of their forecasts for you. It should be noted that, due to the coin's novelty, many popular experts have not yet had time to make predictions about its future.
WalletInvestor's ICP price prediction for 2022, 2023, 2025, and 2030
WalletInvestor is pessimistic about ICP. According to their calculations, the price will fall below $1 within a year. This translates to a decline of over 91% from its current price. ICP may continue to decline in the coming years or, at the very least, stabilise below $0.50 by 2025.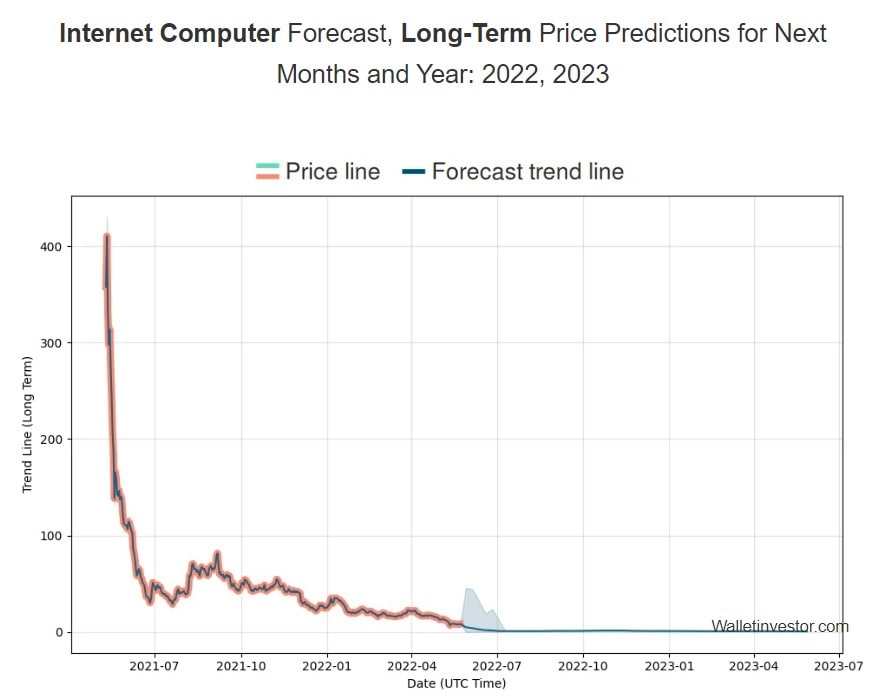 DigitalCoinPrice's ICP price prediction for 2022, 2023, 2025, and 2030
DigitalCoinPrice disagrees with WalletInvestor's forecast and believes that ICP's price will rise. According to their calculations, the price will increase slightly in 2023 and close the year around $12.00 despite short-term ups and downs. Over the coming years, we'll see a steady bullish trend, and the price will reach $22.80 by 2027 and $37.18 at the end of 2030.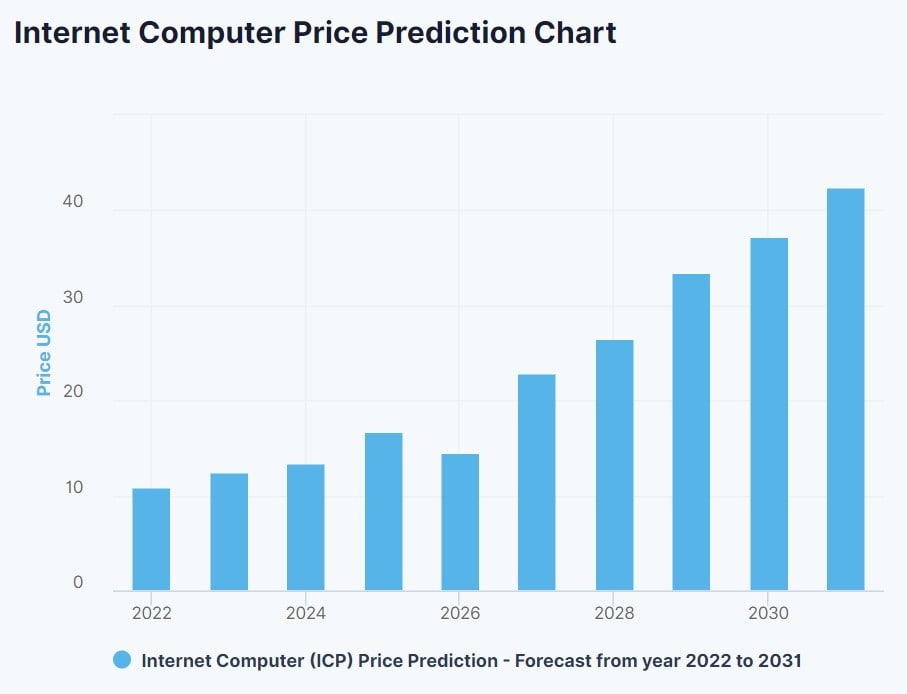 The Internet Computer's overall future value predictions
Although ICP is a new coin, it's backed by a rather interesting and promising project being worked on by a large team of qualified specialists. The Internet Computer attracted the attention of the entire crypto community and some pretty serious investors. The project intends to solve specific and rather global problems inherent in the Internet. If it even partially succeeds in solving these objectives, its native token's value will increase significantly.
Will The Internet Computer go up?
This strongly depends on how successfully the project team is at solving the goals they set for themselves. You also shouldn't discount the pressure from competitors offering similar functionality. In addition, one must also consider that less than 30% of the total tokens number is currently in circulation. When the rest of the coins are thrown into the market, that will inevitably pressure the price.
How high can ICP go?
Nobody knows for sure. As it stands, ICP has not had the best start in the crypto market, but with wider adoption of cryptocurrencies, perhaps the currency may eventually rise to its predicted glory.
The Internet Computer's price prediction today
At the time of writing, the coin is in a downward consolidation phase. Its future movement will strongly depend on how the crypto market moves as a whole.
Tags
Exchange BTC

Try our Bitcoin Cloud Miner and get additional crypto rewards based on your trading volume. It's immediately available upon registration.

Try our Bitcoin Cloud Miner and get additional crypto rewards based on your trading volume. It's immediately available upon registration.