Nucleus Vision (NCASH) price prediction 2022-2029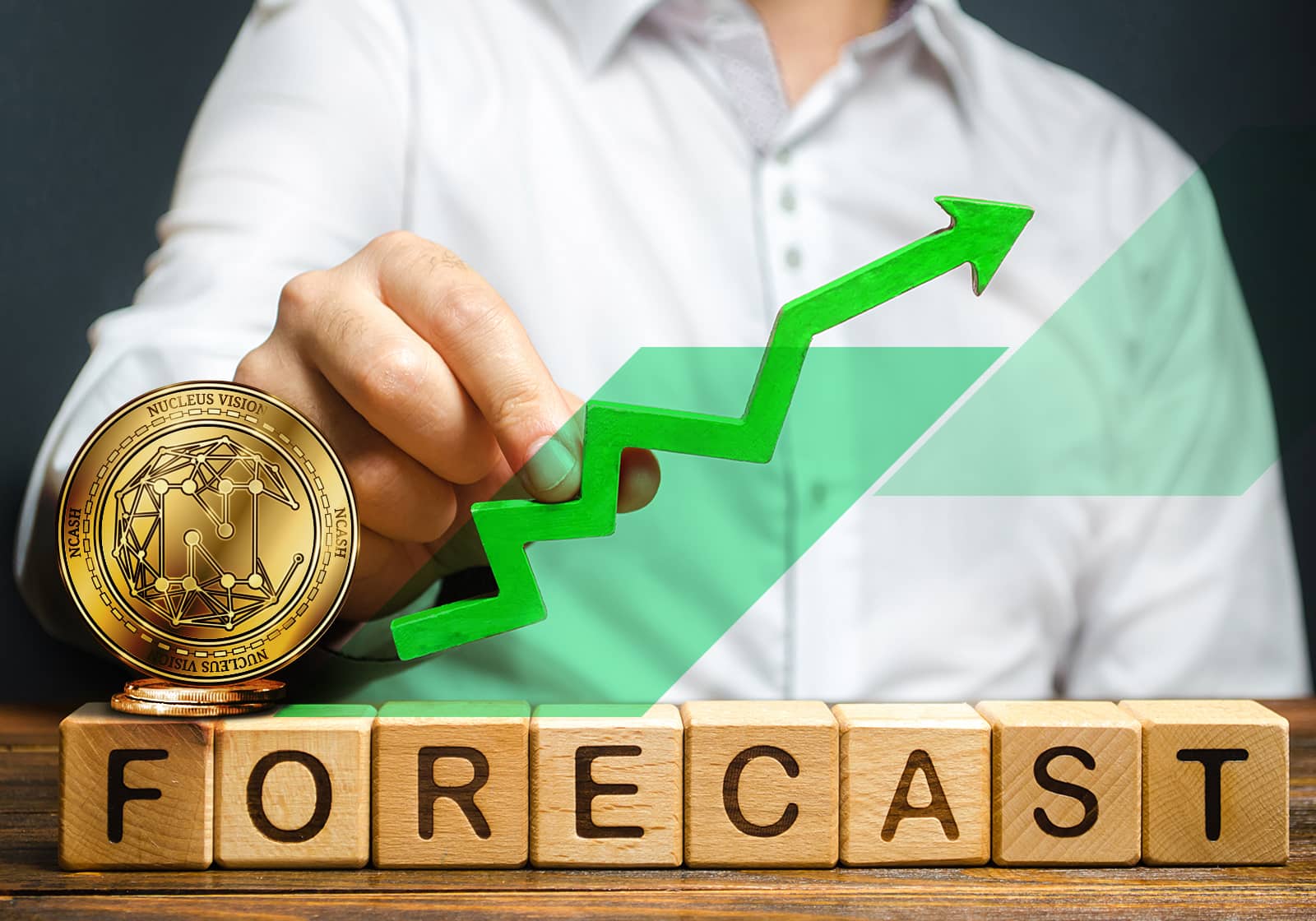 Nucleus Vision is an ecosystem of software and hardware designed to collect previously inaccessible data that is normally used in the offline world. NCASH, the native token for Nucleus Vision used to power retail tech, isn't flying off the shelves. How high can the Nucleus Vision price rise in 2023, 2025 and 2027? This article explains the major Nucleus Vision (NCASH) price predictions that should help you make the right decision about whether the token is worth investing in.
What is Nucleus Vision (NCASH)?
Nucleus Vision is an end-to-end ecosystem of hardware and software intended to connect and distribute unique data from the offline world. It was founded at Harvard University in 2014 with the intention of changing the retail market. Nucleus Vision uses its native blockchain network and proprietary IoT Sensors to create an ecosystem of offline user data.
Today, the platform's four entities are:
ION Sensors (to help retailers capture data)
Neuron (a dashboard for retailers)
NCASH Pay (a wallet & payment app)
O2O marketing (marketing strategy to target online and offline customers)
When Nucleus Vision was launched, it was intended to be used for businesses to connect with their customers by connecting e-commerce data. Nucleus Vision's hardware and software can also be used for home and retail security, along with their NFT-like solutions.
At the beginning of its history, Nucleus Vision (NCASH) price was growing at a fast rate because it's IoT-based and doesn't use Wi-Fi, Bluetooth, or any other solutions to transfer data. Nucleus Vision is a unique project aimed to improve the interaction between businesses and their customers by using installable products that let every possible device connect at any distance and with a high level of accuracy and security even without using Bluetooth or Wi-Fi connectivity.
The Nucleus ecosystem is especially useful for physical stores because it's easy to use and can store huge volumes of data. This makes it a lucrative asset for investors who should be interested in learning about the following Nucleus Vision price predictions.
Nucleus Vision (NCASH) history
Abhishek Pitti is the founder and CEO of Nucleus Vision. In 2017, the CEO published his story and described the path that led him to his vision. As a child, Pitti worked in his father's plumbing store in India and was very upset that he had to stay in the store while his friends played games outside. While working at the store, the young Pitti realised the need and value of information about customers coming to the store.
The idea of customer information resonated with Pitti as he started his career in the aerospace industry and later began studying at the Harvard Business School. However, he dropped out of Harvard in his second year and focused all his time and energy on Nucleus. 
Since then, Pitti has started working on developing a suite of products involved in the Nucleus Vision project. Initially, ION Sensors were installed in 10 retail locations. Today, Nitro Network (Nucleus Impact is currently switching its name to Nitro Network) impacts every aspect of life, serving the needs of many businesses and organisations of all sizes, ranging from basic internet service for a mall customer to high-speed content consumption, smart cities, autonomous cars, industrial Internet of Things, digital health, and moving robots with the lowest possible latency.
Along the way, the Nucleus Vision project has expanded to a team of 30+ employees spread across San Francisco and India. Nucleus' core team includes Abhishek Pitti (Founder and Chairman), Arun Seth (Chairman, Alcatel Lucent India), Anoop Vootkuri (Chief Executive Officer), Avinash Pitti (Chief Technology Officer), Karthik Kalluri (Chief Operating Officer) and Praveen Thakur (Chief Product Officer).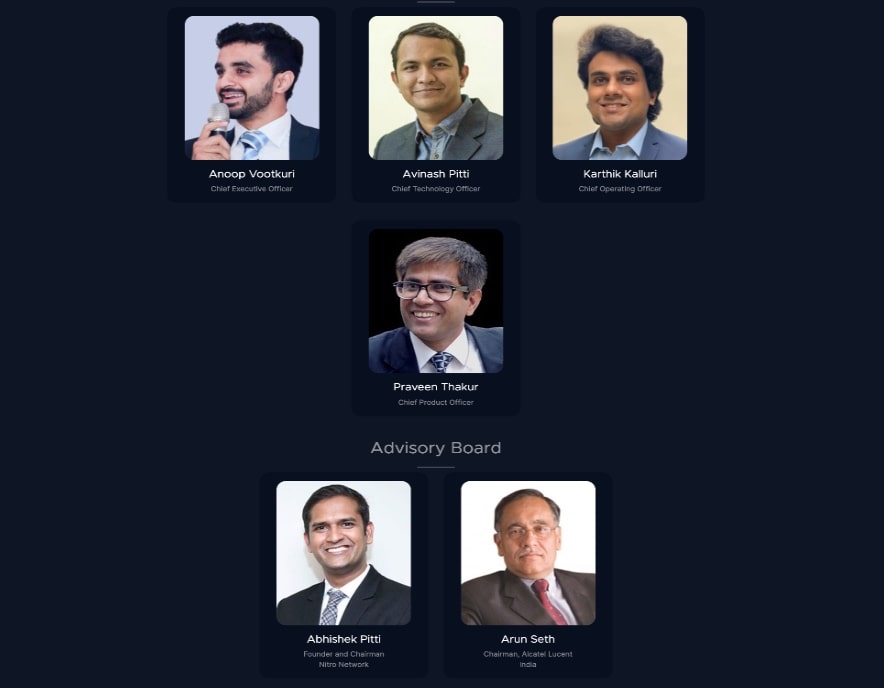 Nucleus Vision has many advisors and key investors, including venture capitalist Tim Draper, Harvard Business School Professor José Alvarez and telecom professional Arun Seth to name a few.
Nucleus Vision (NCASH) Price Analysis
Before we start the discussion of the Nucleus Vision (NCASH) future price prediction, let's consider its current stats. At the time of writing (20 June 2022), the NCASH token ranked #1419 among cryptocurrencies by market capitalisation at $1,029,579.
NCASH price statistics (as of 21/06/22)
| | |
| --- | --- |
| NCASH current price | $0.0001406 |
| Market cap | $1,029,579 |
| Circulating supply | 7.33B NCash |
| Total supply | 10,000,000,000 NCASH |
| Daily trading volume | $12,953 |
| All-time high | $0.05129 (30/04/18) |
| All-time low | $0.0001094 (12/05/22) |
| Website | |
NCASH Price History
The NCASH token's position has been facing a hard time with other cryptocurrencies. The token has experienced big losses in its value since the all-time high values recorded in 2018. In the last 7 days, the NCASH price dropped from $0.0017 to $0.0012. This has continued even now, after a few years, and nCASH is trading considerably lower than the price it debuted at.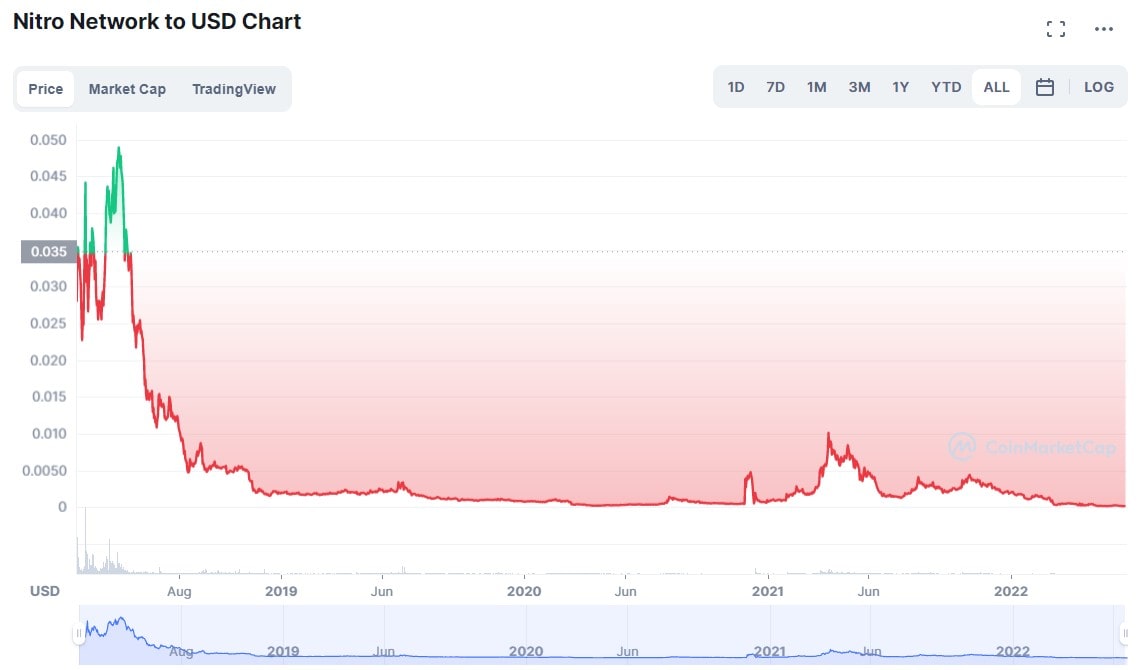 As of the time of writing (21/06/2022), the NCASH token's price has decreased from $0.00025 to $0.00012 within the past month. The drop means the coin is in a dip right now, meaning it might be a good buying opportunity for users looking for quick investments.
NCASH Technical Analysis
Nucleus Vision is currently priced at around $0.0014 (as of 21/06/2022). The NCASH token ranks 1419th in the entire crypto ecosystem, with a market capitalisation of $1,029,579. Its circulating supply is 7.33 billion NCASH tokens.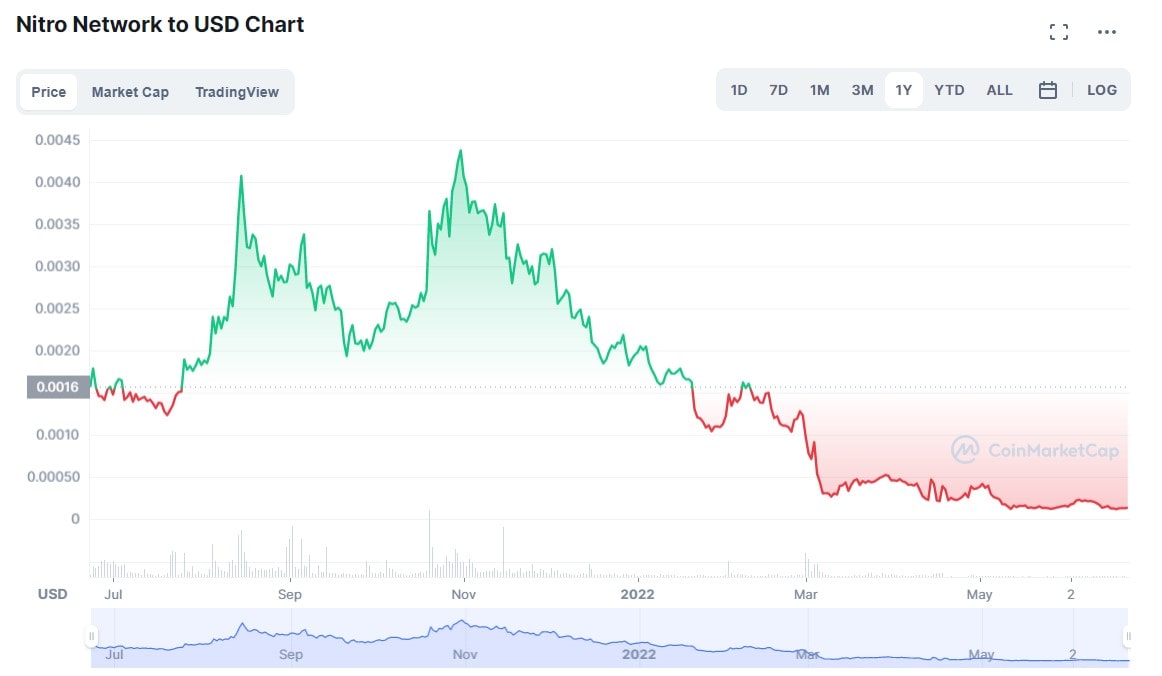 Technical analysis for NCASH is overwhelmingly bearish, and this has been the case for the most part since it was first listed on exchanges. There were times when it saw a price spike, but these correlate with the general price spike in the crypto market at specific times, e.g., May 2021. Its market capitalisation and number of active trades also suggest that the volume of actual NCASH traders is insufficient to increase buying pressure. According to CoinMarketCap, in the last seven days, there have been no active trades above $100k, indicating low demand relative to the token's supply.

Nucleus Vision Price Prediction 2022
The forecast shared by icocreed.com provides the following NCASH price prediction for 2022. The price per one NCASH token might reach a low of $0.006 and a high of $0.007 with an average trading price of $0.007.
Nucleus Vision (NCASH) price prediction for 2022, 2023 and 2025 and 2030
We've compiled NCASH price predictions from several crypto experts. Let's check out the NCASH future price predictions.
Trading Beasts Nucleus Vision Price Prediction for 2022, 2023 and 2025
According to the Nucleus Vision (NCASH) coin price predictions published by Trading Beasts, the token is an excellent long-term investment option. The prediction suggests that NCASH will have risen by over 120% by the end of 2023, which would translate to around $0.0003507 per token. The price is predicted to keep rising and may even climb as high as $0.0004675 in 2025. 
WalletInvestor Nucleus Vision Price Prediction for 2022, 2023, 2025 and 2027
According to WalletInvestor, Nucleus Vision's price will drop to $0.00000646 in one year. This Nucleus Vision (NCASH) price prediction makes it a bad investment, with a long-term earning potential of -95.0285%.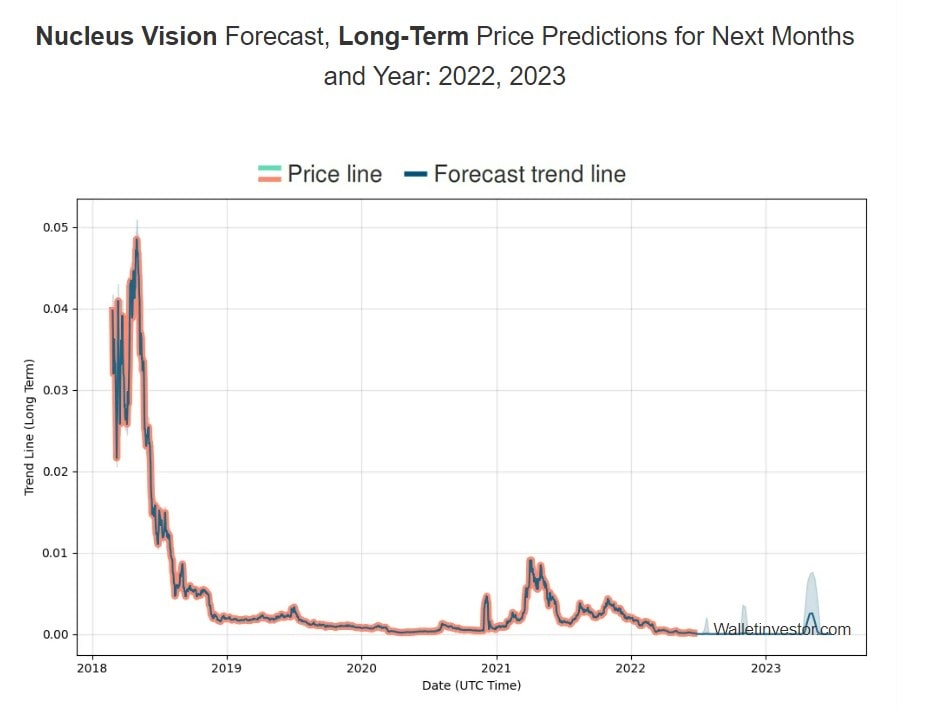 DigitalCoin Nucleus Vision Price Prediction for 2022, 2023 and 2025
According to DigitalCoin'sNucleus Vision price prediction, the value of one NCASH token will rise steadily till the end of the decade. 
According to the Nucleus Vision price prediction for 2025, the cost for one NCASH token will be set at $0.00028 in 2025. The NCASH future price prediction for 2027 is forecasted to change from $0.00250 in 2026 to $0.00382 in 2027.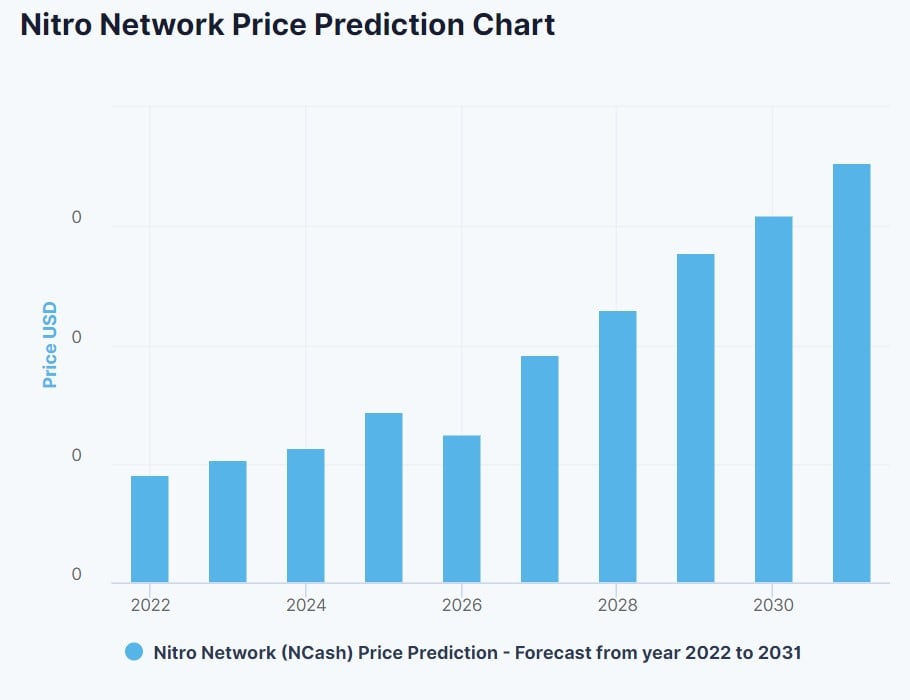 CoinDataFlow Nucleus Vision Price Prediction for 2023-2027
Based on the Nucleus Vision (NCASH) future price prediction published by CoinDataFlow, we can assume how much one NCASH asset can cost if its capitalisation behaves like that of some Internet companies. By extrapolating this data, we can predict the future NCASH price for 2023-2027.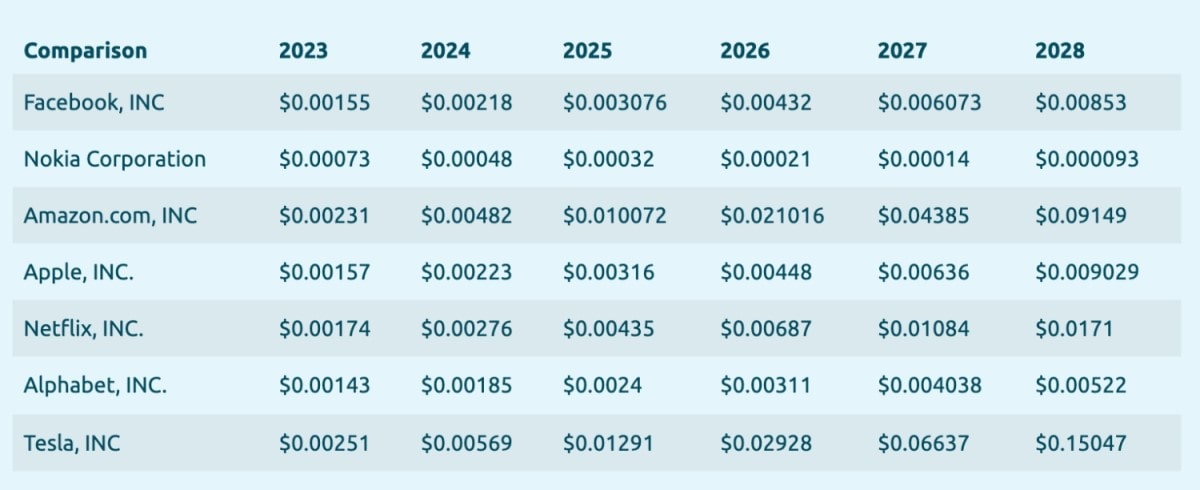 Nucleus Vision (NCASH) Future Value Predictions in General
Nucleus Vision is an ambitious project developed and implemented by a small team. Its prospects depend on whether developers will continue turning their ambitions into reality, which should attract more users to support NCASH with long-term investments. Considering the Nucleus Vision price predictions given above, NCASH is expected to be a reasonable and profitable long-term investment.
How High Can Nucleus Vision Go?
The average price per NCASH token might increase to $0.003 by the end of 2022. If we estimate the Nucleus Vision (NCASH) future price prediction for the next five years, the coin might reach the $0.015 mark.
NCASH Price Prediction Today
nCASH is currently trading at around $0.00014 and is likely to go lower considering the mounting bear pressure that has gripped the crypto market in general. This is not to suggest that nCASH will never recover, but it would take a major bullish reversal to affect the token positively in any meaningful way.
The Nucleus Vision (NCASH) coin price predictions listed above are not investment advice. Do your research before deciding to invest in any asset. The information posted in this article is for informational purposes only. Take independent advice from a professional and verify any information in this article and wish to rely on before making any decision. 
Tags
Exchange BTC

Try our Bitcoin Cloud Miner and get additional crypto rewards based on your trading volume. It's immediately available upon registration.

Try our Bitcoin Cloud Miner and get additional crypto rewards based on your trading volume. It's immediately available upon registration.
Instrument
Rate
Change (24h)