StormX (STMX) Price Prediction 2022-2030

Although it hasn't broken into the mainstream yet, StormX is a cryptocurrency with some recognition. It's a unique cryptocurrency that has consistently ranked among the top 300 digital currencies by market capitalisation. StormX owners have a unique chance to earn crypto both during market booms and lulls and to make cashback for online purchases. However, many investors consider StormX to be a speculative investment opportunity. This blog post doesn't aim to provide you with any investment advice, but we hope our StormX price prediction will help you decide whether this cryptocurrency will be a worthwhile addition to your portfolio.
What is StormX (STMX)?
StormX differs from other cryptocurrencies available in the market today. StormX (STMX) owners can earn rewards and cashback in cryptocurrency for every purchase made in over 1,000 online stores.
All you need to do to start earning with StormX is download their app (for Android or iOS) or Chrome extension. Members with a higher membership level can earn up to 87.5% in rewards. Users have already been rewarded with more than $5 million in cryptocurrency. On top of that, they are also offered the ability to stake their STMX.
StormX (STMX) is an ERC-20 token operating on the Ethereum blockchain. It's the native token of the StormX project.
StormX (STMX) history
StormX is one of the first cryptocurrency projects of its kind, trying to bring users cashback in crypto for most of the purchases they make online. StormX also lets users grow their rewards by staking the native STMX token.
In 2015, the StormX project was founded by Simon Yu (CEO and co-founder) and Calvin Hsieh (CTO and co-founder). Since then, they've partnered with such big and well-known companies as Samsung, Nike and Lego. StormX has attracted investments from Blockfolio, Litecoin Foundation and Kyber Network.
When StormX was released on crypto exchanges, it reached a value of $0.20 in its first month compared to the starting point of $0.02. The main reason for this initial spike in the price is that STMX was released when Bitcoin had already reached a value of $20,000, and the market welcomed every industry player with open arms. 
This initial burst of upward price movement was followed by a quick retreat from January 2018 to November 2018, with a few minor bounces. At the end of 2018, STMX lost over 98.78% of its value. Its price dropped below $0.003.
The next couple of years didn't bring any big price changes to STMX holders. From late 2018 to February 2021, the token's price oscillated between $0.004 and $0.001 without any signs resembling a committed breakout. STMX's price dropped to its all-time low during this period. Although it recovered quickly, it returned to its relatively stable state.
In early 2021, the token's price broke out of its previously firm resistance lines. The asset's value increased by 300% in less than a month. It turned out to be just the beginning of the story. The next phase pushed the token's price past $0.08, an increase of over 2,500%. Following the token's price spike, its value recoiled back to $0.02.
StormX (STMX) Price Analysis
As of 7 June 2022, STMX's price stood at $0.009888, and its market capitalisation was $98,857,872, putting it at the 267th rank on CoinMarketCap. The token's price dropped by 5.63% in the past 24 hours, and its daily trading volume was $9,819,331 (a 16.65% decline). 
STMX price statistics (as of 7/06/22)
| | |
| --- | --- |
| StormX (STMX) price  | $0.009888 |
| Market cap | $98,857,872 |
| Circulating Supply  | 10.00B STMX |
| Daily Trading Volume | $9,819,331 |
| All-time high | $0.2466 (9 January 2018) |
| All-time low | $0.0005756 (13 March 2020) |
| Official website | |
STMX Price History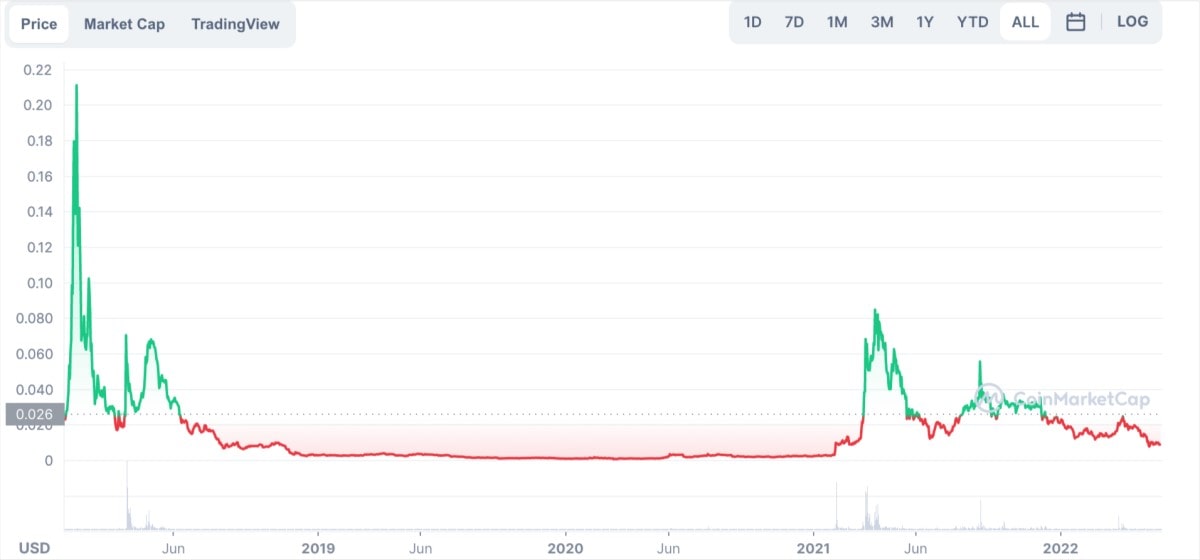 Before we look at an STMX price prediction, we should look at StormX's (STMX) price history in detail. Although a cryptocurrency's past performance is never an indicator of its future results, knowing how the asset behaved in the past gives us some insights when discussing the  StormX price prediction.
The token first entered the open market in late 2017. On 22 December 2017, StormX's (STMX) price was $0.023. In early 2018, STMX was in a bullish trend, just like many other cryptocurrencies. On 9 January 2018, the token hit its all-time high price of $0.2466. However, STMX's price soon dwindled, and the token traded between $0.002 and $0.003 during the last months of 2018. It dropped further in 2019 and 2020. On 13 March 2020, STMX's price reached its all-time low of $0.0005756. There was some recovery, but it wasn't until 2021 that things started to kick off again.
The beginning of 2021 was a boom time for many cryptocurrencies, and StormX (STMX) also responded well. At the beginning of March 2021, the token's price was $0.009035. By the end of the month, its value had increased by more than 630%, reaching $0.06629. However, the good times weren't over, and STMX reached $0.1069 intraday on 5 April 2021.
The rise was followed by a downturn that lasted until 2021. Early 2022 was an underwhelming performance for the coin. STMX's price continued a downward trend, and not even a partnership with PokerGo could rescue it. The descent continued until 22 February 2022, when STMX's price hit its 12-month low of $0.01165.
Following that price point, there was a slight recovery, and on 3 April 2022, the token was trading at its new 3-month high of $0.02738. Since then, STMX's price has receded, hitting the low of $0.01344 on 1 May 2022.
STMX Technical Analysis
Although it's hardly possible to provide a 100% accurate analysis for StormX (STMX) token, using the technical analysis tool from TradingView, you can check the real-time aggregated STMX buy-and-sell rating. The technical analysis summary for STMX/USD is based on such popular indicators as Moving Averages, Oscillators and Pivots.
When writing this StormX crypto prediction (7/06/2022), TradingView gave StormX a "Sell" signal. 
However, another website dedicated to performing technical analysis on cryptocurrencies — Investing.com — has given StormX a "Strong Sell" signal. Both moving averages and technical indicators show a bearish trend for STMX.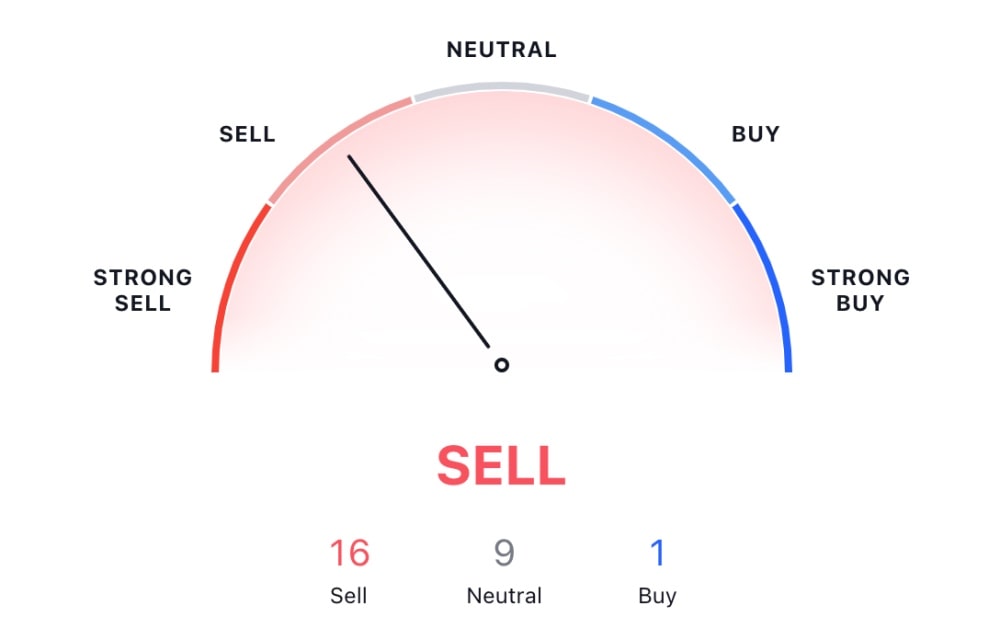 StormX (STMX) price prediction for 2022, 2025 and 2030
DigitalCoinPrice StormX Price Prediction for 2022, 2025 and 2030
According to DigitalCoinPrice's StormX price prediction, the token could reach $0.0127 in June 2022, representing an upswing of 40%. The platform also predicts a general year-on-year uptrend, hitting an average of $0.0418 in 2030.
Trading Beasts StormX Price Prediction for 2022, 2025 and 2030
The StormX price prediction for the end of June 2022 is $0.0133454. According to Trading Beasts, the expected maximum price for June is $0.0166818, and the minimum price is $0.0113436. By 2022, the average StormX price is expected to be $0.0125848. By the end of 2023, the average StormX price is expected to be $0.0137665.
WalletInvestor StormX Price Prediction for 2022, 2025 and 2030
According to the StormX price prediction from WalletInvestor, it can be a bad, high-risk 1-year investment option. StormX's price may drop from its current value of $0.009888 (as of 7/06/2022) to $0.000871. The change will be -91.169%. WalletInvestor feels pessimistic about StormX's future. They forecast the token's price won't hit $1 in a year or later. According to their analysis, it's very likely that STMX will crash.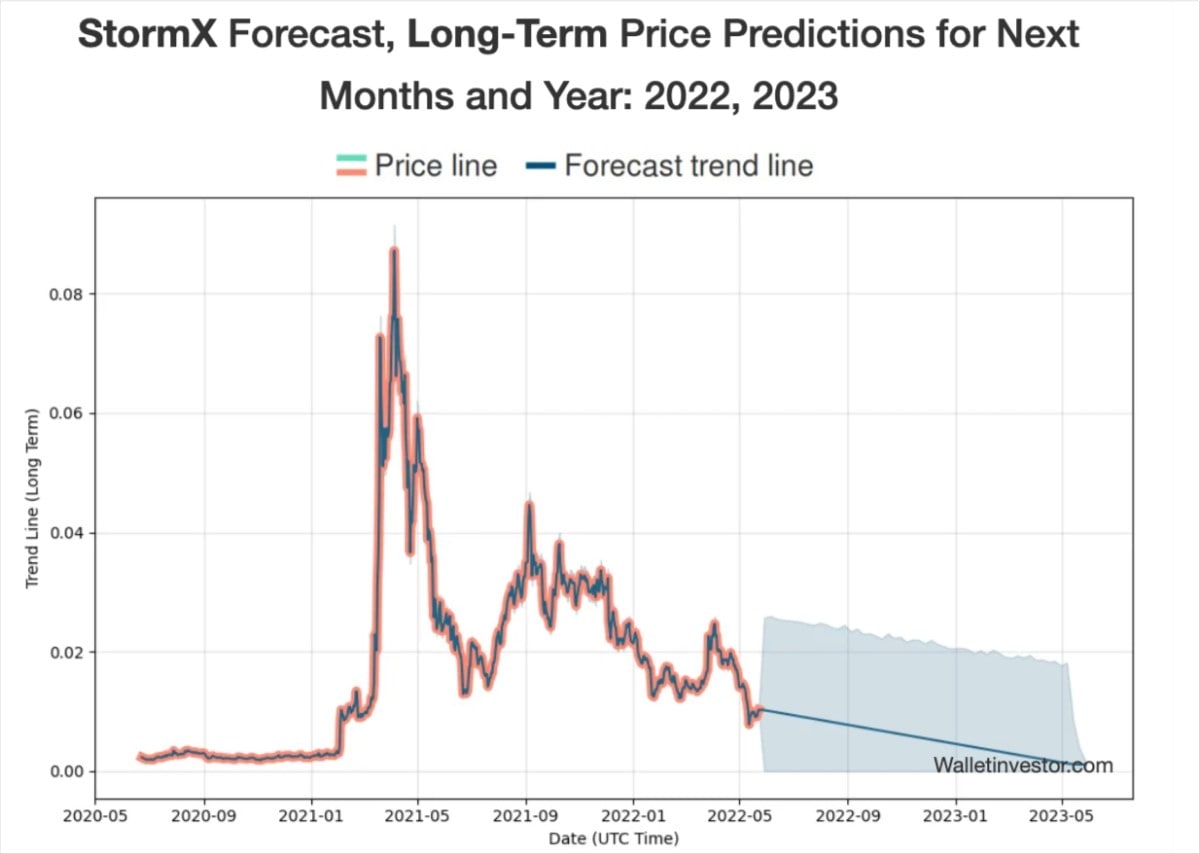 UpToBrain StormX Price Prediction for 2022, 2025 and 2030
UpToBrain has an STMX price prediction that the coin could reach $0.2556 in 2022 and rise to $0.50 in 2023. UpToBrain also forecasts the coin will hit the $1 mark in 2024. According to their optimistic StormX prediction for 2024, the token's price will be about $2 in 2024 and $3 in 2026. This makes it one of the most positive StormX price predictions on this list.
StormX (STMX) Future Value Predictions in General
There is no correlation between StormX's current value and its future price. However, the StormX price prediction depends on the factors that emerge during the market's growth and development.
StormX (STMX) is a well-established cryptocurrency. Investing in this token can be a good idea, but you may want to wait for market dumps before making a big investment decision.
In addition to following current market developments and StormX predictions, you might consider conducting your own research into the topic. Due to the volatile nature of the cryptocurrency market, it may be difficult to estimate the precise value of any currency in advance. Following the currency market developments will help you make the right decision.
How High Can StormX Go?
Many analysts and platforms think StormX's (STMX) price will continue to rise during the next 5 years and surpass the $0.05 value by the end of 2025. Similar to other cryptocurrencies, STMX is highly volatile, and its direction can change at any time.
STMX Price Prediction Today
According to our StormX crypto prediction, the token can be a worthwhile investment in the long term. However, there is also a big chance that STMX's value will continue declining compared to its current price. You should consider all risks before investing in this currency.
As you can see in the StormX predictions above, STMX forecasts are contradictory. There is no universal forecast either about positive or negative STMX price movements. The possible future growth of the token's price depends on many factors, including new technological solutions, the cryptocurrency market, new technologies for the StormX project, etc.
We kindly remind you to do your own research before investing in any cryptocurrency. 
Tags
Exchange BTC

Try our Bitcoin Cloud Miner and get additional crypto rewards based on your trading volume. It's immediately available upon registration.

Try our Bitcoin Cloud Miner and get additional crypto rewards based on your trading volume. It's immediately available upon registration.
Instrument
Rate
Change (24h)