Third most visited crypto exchange on verge of collapse

The May crypto sell-off was provoked by the downfall of Terra (LUNA) and the collapse of the third biggest stablecoin by market cap UST. Now, the market is down again today on news of a liquidity crisis at FTX, the crypto exchange with the third most daily visitors in the world.

The comparison drawn between these two projects is not coincidental. After all, in an effort to boost UST's liquidity, the internal coin LUNA was used along with sizeable reserves of other cryptocurrencies worth $3 billion at the time. Investors had initially gravitated to the project because of LUNA's electric growth and UST's annual staking reward of 20%. Once it became clear that they couldn't pay the interest, a liquidity crisis ensued that saw their entire market capital go up in smoke.
We are now seeing a similar situation unfold around FTX and Alameda Research. Both companies are headed up by billionaire Sam Bankman-Fried. FTX is focused firmly on trading operations, while Alameda is aimed at attracting investors and providing asset management services. The fuse was lit by a Coindesk editorial accusing Alameda Research of using the FTX token as a dominant asset. What's more, Sam Bankman-Fried continued to the last to assure the community that Alameda was "a totally separate organisation".
As Bloomberg analysts note, Bankman-Fried exploited loopholes in legislation to maximise profits both from the company's cryptocurrency transactions and asset management activities. Moreover, Alameda's assets have frequently proven a key source of liquidity for FTX. In the traditional financial sphere, such actions would not be possible.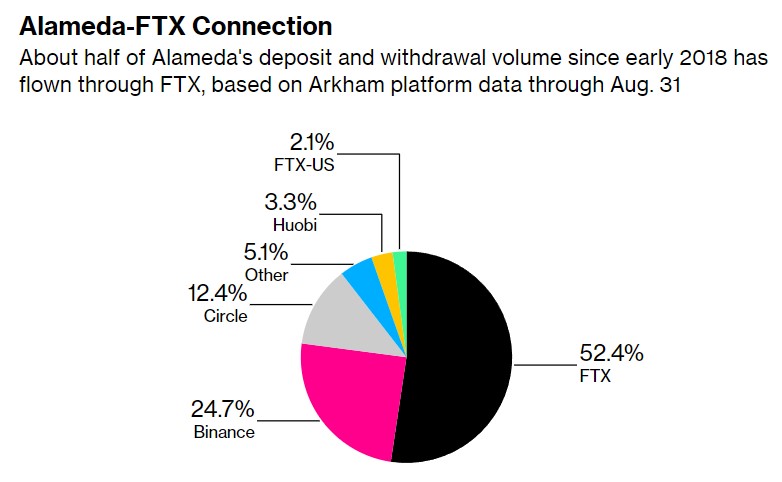 When investors learnt the whole truth, they quickly headed for the Alameda exit doors. Since the company's majority asset is the FTT token (the FTX crypto exchange's internal coin), its price fell sharply. This left the cryptocurrency exchange with a liquidity shortfall of $6 billion. In the space of just 24 hours, FTT lost 74% of its value.
In order to cover the deficit, Alameda and FTX put up for sale all of their available cryptocurrency reserves. Thus, in Solana (including blocked tokens) alone, their reserves exceeded $1 billion. As a result, the dumping of coins saw SOL practically halve in value over a two-day period.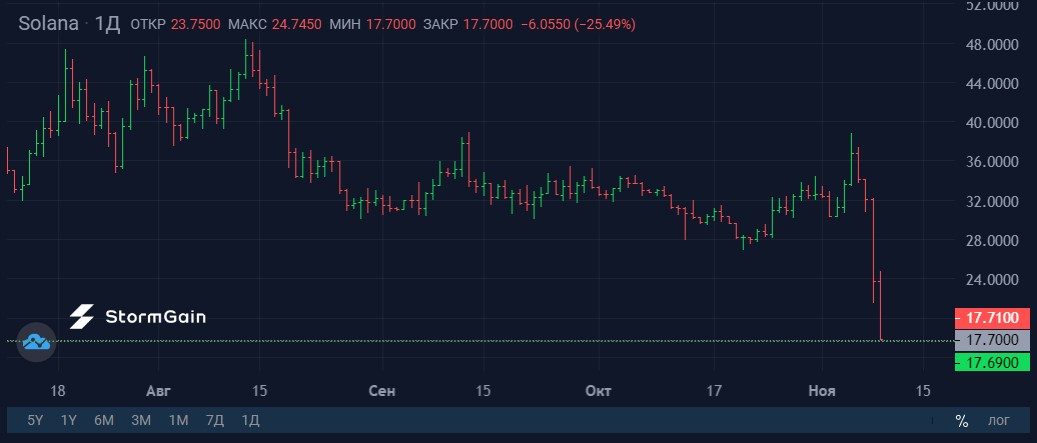 The only thing protecting the crypto market from a steeper dive was the Binance CEO's pledge to purchase FTX. However, without any legally binding conditions in place and after rounds of negotiations, Changpeng Zhao could easily pull out of the deal at any moment. In all likelihood, the cryptocurrency market can expect to see another major project collapse in the coming days.
StormGain Analytics Team
(a cryptocurrency trading, exchange and storage platform)
Tags
Exchange BTC

Try our Bitcoin Cloud Miner and get additional crypto rewards based on your trading volume. It's immediately available upon registration.

Try our Bitcoin Cloud Miner and get additional crypto rewards based on your trading volume. It's immediately available upon registration.