Why Bitcoin won the last round

It would seem that the cryptocurrency repression by US regulators, the liquidation of three crypto-friendly banks and the storm in the stablecoin market should have dealt damage to Bitcoin's capitalisation. That is what institutional investors decided would happen as they rushed to exit cryptocurrency funds. But the value of the leading crypto asset has only grown in the eyes of the public.

In 2023, US regulators and senators launched a verbal attack on cryptocurrencies, promising a tougher working environment for the sector. In February, the SEC forced cryptocurrency exchange Kraken to stop providing staking services, while the New York Department of Financial Services (NYDFS) pressured Paxos to stop minting the BUSD stablecoin.
A month later, cryptocurrency banks fell apart. Silvergate announced its voluntary liquidation over FTX debt, Silicon Valley Bank (SVB) faced a liquidity crisis, and regulators shut down Signature Bank to keep SVB company. The latter had no problems with payments, and, as Messari CEO Ryan Selkis writes, NYFDS was deceptive in its actions to close the bank, which surprised even the FDIC.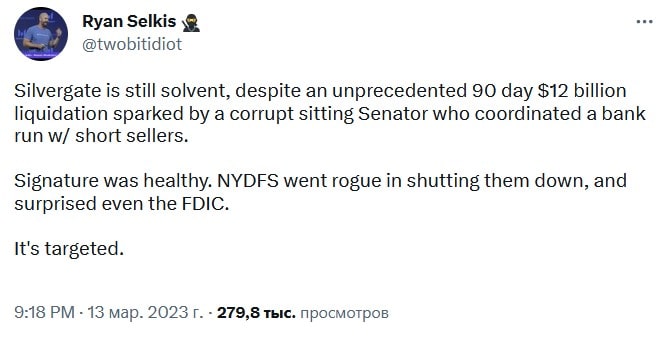 Given the situation, institutional investors assumed that Bitcoin would be a total disaster, with outflows from Bitcoin funds reaching a record $244 million in the past week. What the big market players failed to take into account is that Bitcoin was created to withstand such shocks.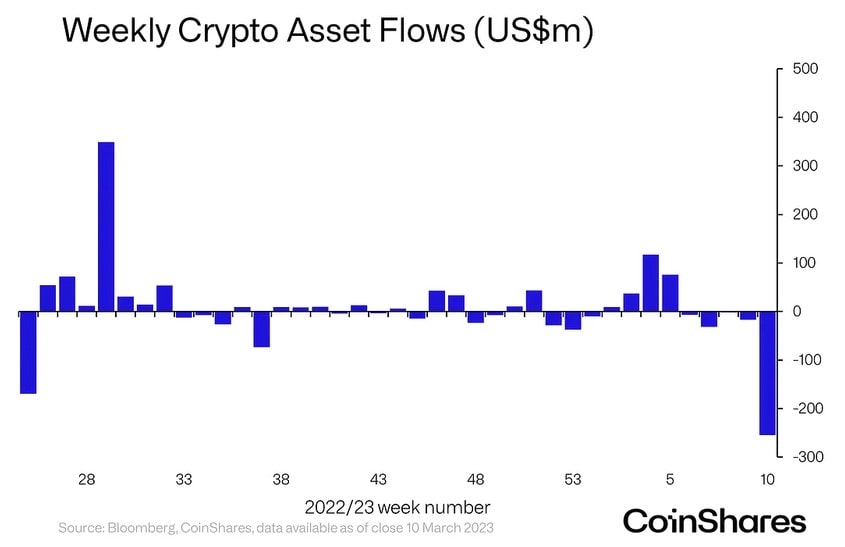 First, decentralisation prevents regulators from striking directly at Bitcoin. Even China understands this, as its ban on cryptocurrency transactions doesn't apply to exchanges between citizens. As such, the blow to US banks will only strengthen the outflow of funds into other assets.
Second, the Fed is once again undermining confidence in the financial system through its actions. It'll have to go back to printing dollars to support banks by returning customer deposits and buying bonds from banks at nominal prices. It's also very likely that the regulator will pause its key interest rate hikes, despite Powell's hawkish tone a week ago. This development has already led to an increase in high-risk assets and a sharp fall in bond yields.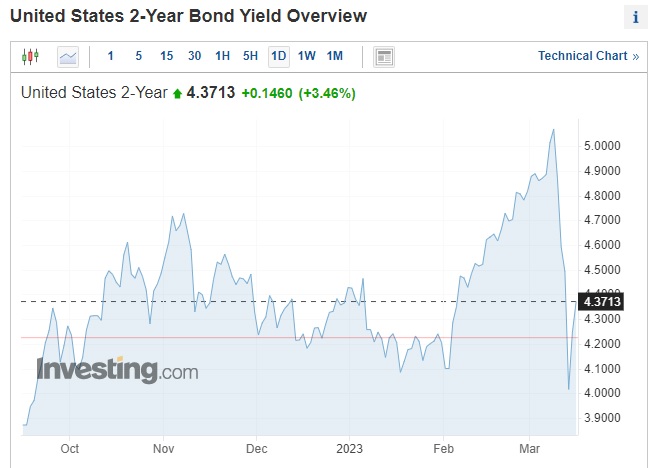 The cherry on top is the US banking crisis: unrealised bank losses rose from $3 billion to $652 billion in one year, according to the FDIC. That means that the Fed's dilemma lies between inflation and a full-scale economic crisis. It's very likely that the regulator will compromise on its fight with inflation, and in such an environment, Bitcoin will regain its status as a store of value. 
StormGain Analytical Group 
(platform for trading, exchanging and storing cryptocurrency)
Tags
Exchange BTC

Try our Bitcoin Cloud Miner and get additional crypto rewards based on your trading volume. It's immediately available upon registration.

Try our Bitcoin Cloud Miner and get additional crypto rewards based on your trading volume. It's immediately available upon registration.