Why Dogecoin shot up 26% in 24 hours

Initially created as a joke by Jackson Palmer and Billy Marcus in 2013, Dogecoin has since become the granddaddy of all meme coins. This group of cryptocurrencies typically experiences sharp rises amid increased interest in the coins and equally sharp drops once interest wanes.
On 25 April, the renowned godfather of Dogecoin, Elon Musk, announced that he was buying Twitter for $44 billion. The legacy social media platform can now expect wholesale changes in the weeks ahead, one of which will probably be the addition of DOGE as a payment method. This news saw the coin shoot up 26% in the space of just one day.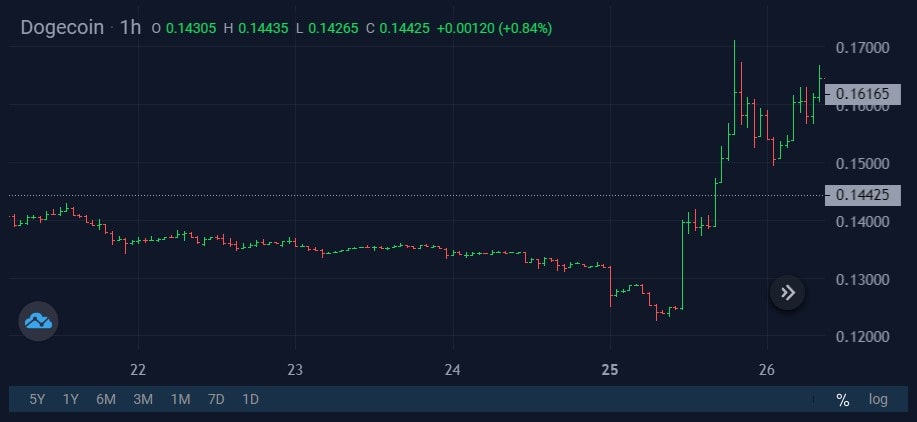 Despite remaining a dedicated fan of the social network, Elon Musk had criticised Twitter for what he saw as its arbitrary censorship on multiple occasions. In his speech announcing his acquisition of the company, Musk noted the following: 
Free speech is the bedrock of a functioning democracy, and Twitter is the digital town square where matters vital to the future of humanity are debated. I also want to make Twitter better than ever by enhancing the product with new features, making the algorithms open source to increase trust, defeating the spam bots, and authenticating all humans.
Twitter founder Jack Dorsey expressed his support for Elon Musk, calling the approval of his bid the "singular solution I trust". However, not everyone reacted to the news with enthusiasm. In fact, Dogecoin co-developer Jackson Palmer termed the deal a "hostile takeover". He deleted that message just as quickly as he did a tweet from 13 May 2021 in which he called Elon Musk a "self-absorbed grifter".
Jackson Palmer's criticisms relate to Elon's manipulation and trickery of the general public. This comes after Tesla suspended Bitcoin payments for its cars in favour of Dogecoin, citing the original cryptocurrency's "environmental impact". However, both cryptocurrencies use a PoW protocol and need miners. Then, in July 2021, Musk published a cryptic post that sent BABYDOGE on a 500% moonshot. 

At the time he posted his tweet, the project hadn't even been up and running for a month, which led to him being accused of pumping and dumping (a process whereby actors artificially inflate interest in an asset before later selling all their holdings).
Elon Musk has an extremely large reach, with an audience of over 83 million subscribers. By way of comparison, Jack Dorsey only has 6.3 million. Musk's significant informational clout doesn't just worry Jackson Palmer; it also has the White House on edge. Yesterday, Press Secretary Jen Psaki announced President Biden's growing concern over the power of private social media platforms and the need to increase their legal responsibility.
Despite the agreement reached with Twitter, the deal has not yet passed through all the necessary steps and must still be voted on by shareholders and approved by the appropriate regulators. Until that has happened, we shouldn't expect to see any tangible changes in the way the social media platform operates. According to CEO Parag Agrawal, the deal will be concluded by the end of the year. As for society at large, many people are concerned that Donald Trump's account could be unblocked.
StormGain analytical group
(cryptocurrency trading, exchange and storage platform)
Tags
Exchange BTC

Try our Bitcoin Cloud Miner and get additional crypto rewards based on your trading volume. It's immediately available upon registration.

Try our Bitcoin Cloud Miner and get additional crypto rewards based on your trading volume. It's immediately available upon registration.
Instrument
Rate
Change (24h)