The head of Binance rocks the boat yet again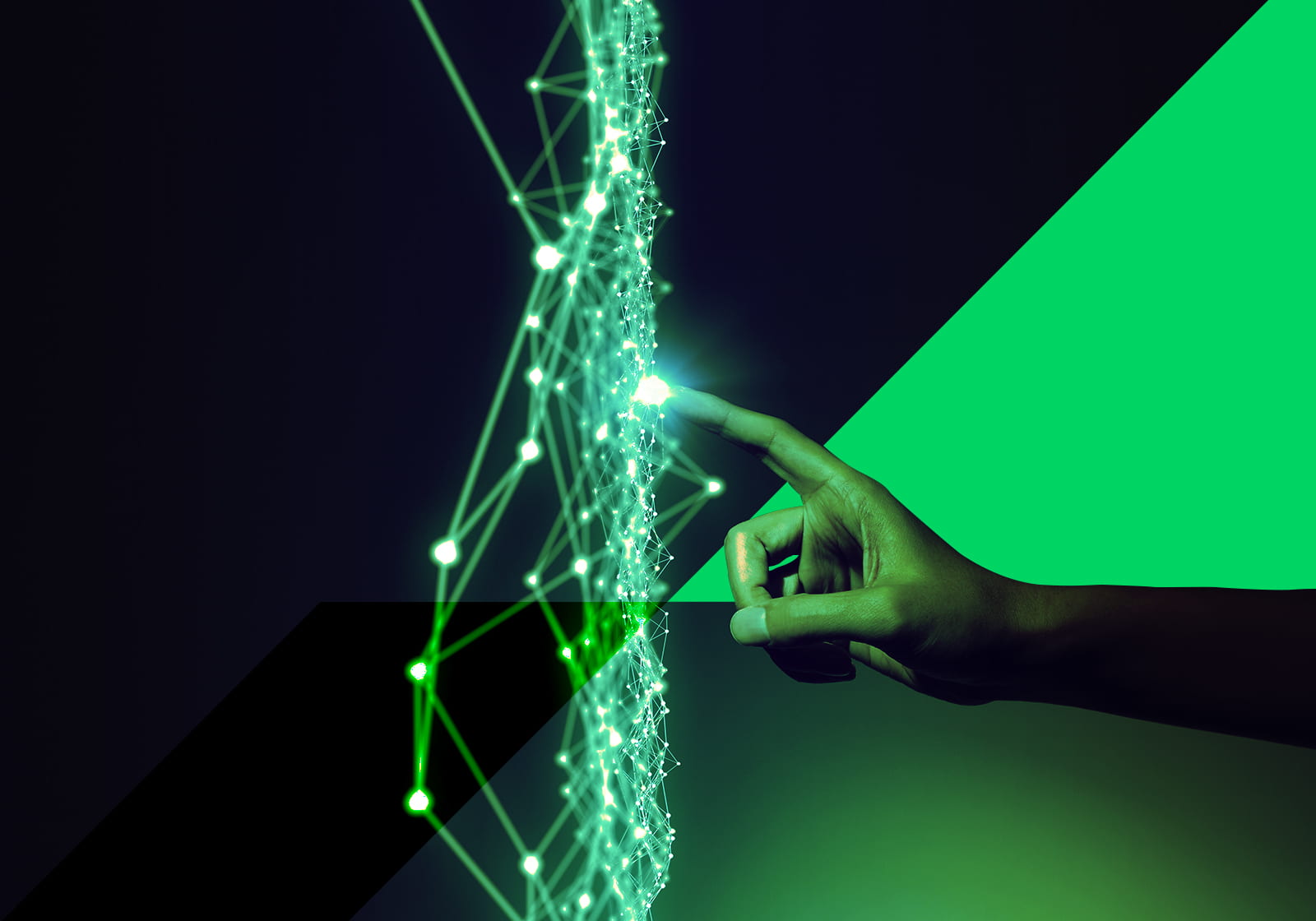 A deleted tweet by Changpeng Zhao (CZ) criticising Coinbase's reserves caused discontent among the professional part of the crypto community due to its obvious destructiveness. Many reminded Binance's leader of his direct role in FTX's collapse.
We recently discussed the risk of selling the largest publicly traded crypto fund, Grayscale, which is connected to crypto trader Genesis Trading through Digital Currency Group. Invested funds stuck in FTX hit the parent company DCG, which is now forced to consider selling its most liquid asset: Grayscale.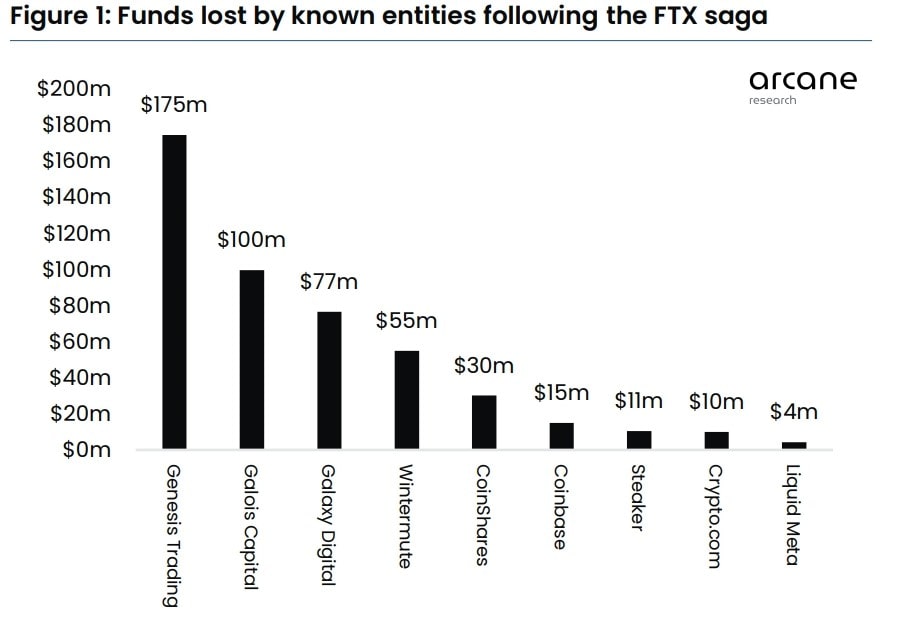 Grayscale's Bitcoin holdings alone are estimated to be 643,572 coins (~$10.6 billion). On the one hand, the company tried to reassure investors by announcing that it's storing crypto on Coinbase. On the other hand, it declined to publish its wallet address, citing security requirements. CZ took advantage of this by hinting that these funds aren't at Coinbase.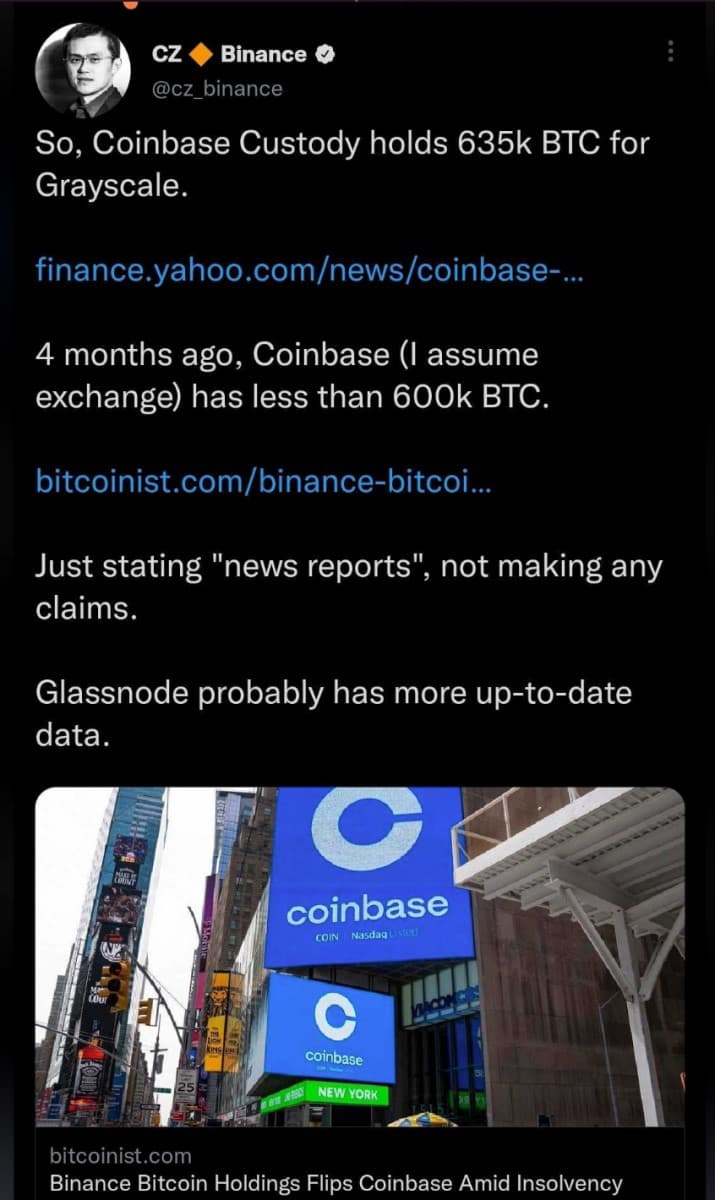 In his now-deleted tweet, CZ wrote, "4 months ago, Coinbase...has less than 600k BTC", while the crypto exchange is supposed to be holding over 635,000 BTC for Grayscale. By doing this, the head of Binance expressed doubts about both Grayscale's supply of coins and the impartiality of Coinbase. "[I'm] just stating 'news reports'," CZ concluded. 
Criticism of CZ was not long in coming since it's obvious that Coinbase can't merge data on deposits of crypto exchange clients and on custodial storage services into one pot. What's more, as a publicly traded company in the United States, financial compliance is monitored by some of the world's most stringent financial regulators.
Coinbase CEO Brian Armstrong did not directly respond to CZ but did note that all of the company's financial indicators are in the public domain and that, as of 30 September, it had 2 million BTC on its balance sheet. He also warned readers to beware of false information and attempts at manipulation.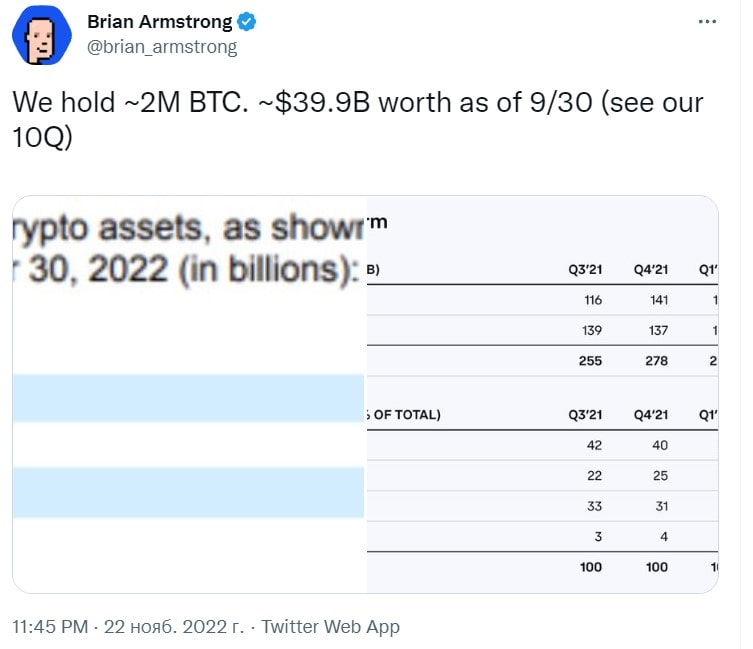 Social media users point out that CZ is smart enough not to know what things really look like right now. That's why most criticisms focused on the Binance CEO acting as a 'villain', either to strengthen bearish sentiment or to increase his market share. People also pointed to him as the trigger for FTX's collapse since the panic began with CZ selling $0.6 billion worth of FTT tokens in early November.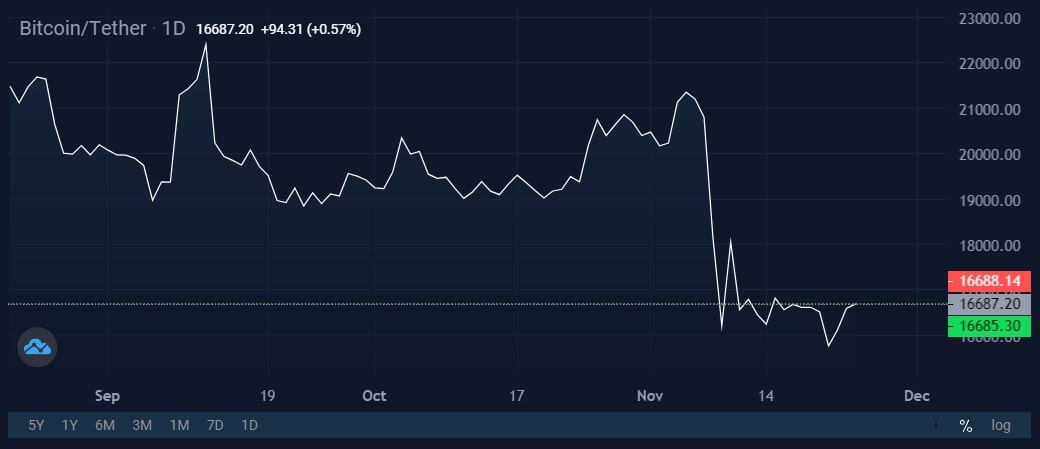 Posting a message containing unverified information with obvious negative connotations about a competitor did more damage to Changpeng Zhao himself. If he did it out of ignorance, then his level of competence comes into question.
StormGain Analytics Team
(a cryptocurrency trading, exchange and storage platform)
Tags
Exchange BTC

Try our Bitcoin Cloud Miner and get additional crypto rewards based on your trading volume. It's immediately available upon registration.

Try our Bitcoin Cloud Miner and get additional crypto rewards based on your trading volume. It's immediately available upon registration.
Instrument
Rate
Change (24h)