El Salvador starts buying Bitcoin on a daily basis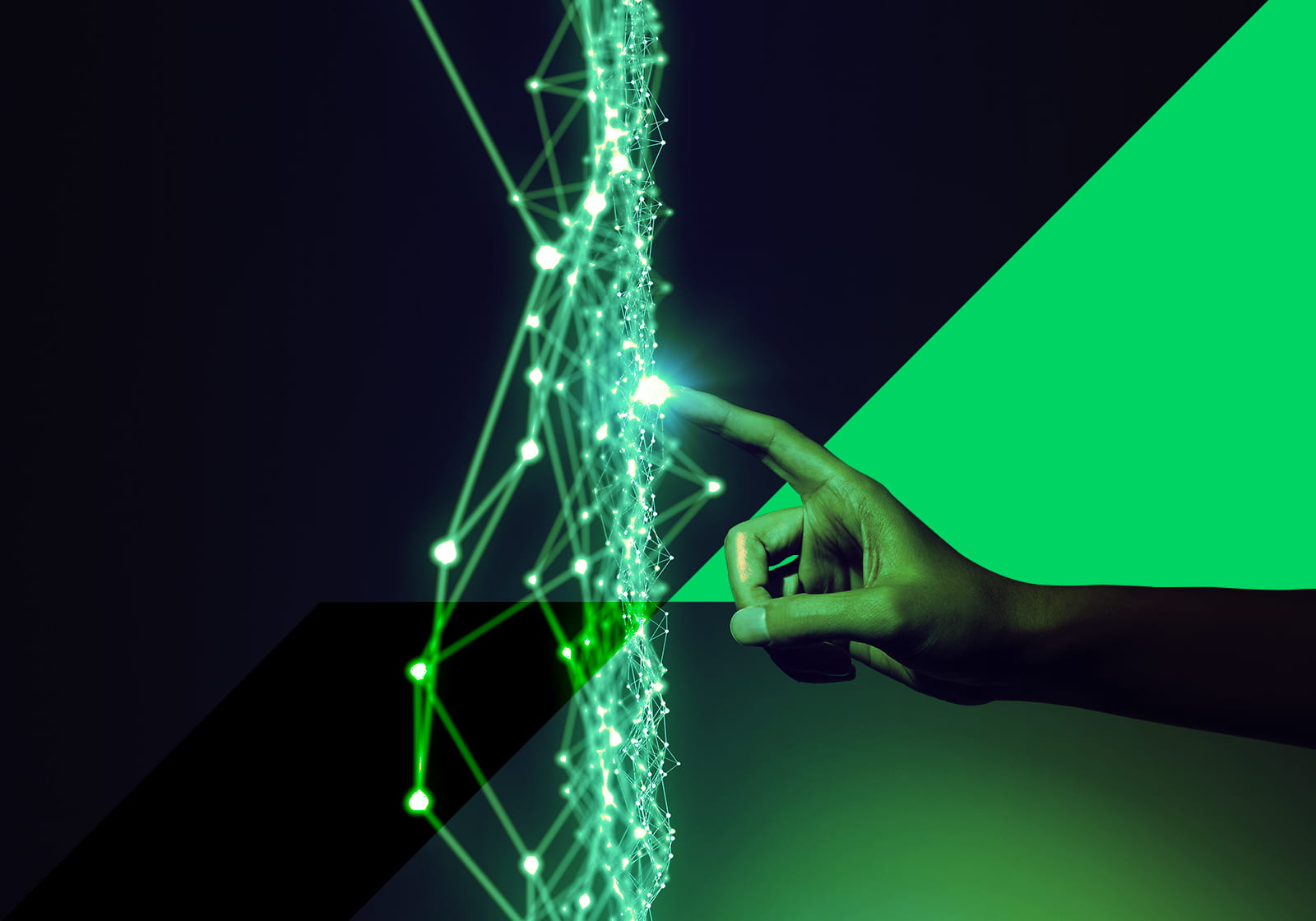 While the outflow of Bitcoin from crypto exchanges has reached a historical record, the President of El Salvador, Nayib Bukele, is calling to separate the wheat from the chaff and has announced the start of a programme for the country to buy cryptocurrency every day.
The collapse of the third-most-visited crypto exchange caused panic among users. In just the week ending on 13 November, a record high of 97,805 BTC was withdrawn from the platform. Investors became so nervous that Gemini's refusal to credit interest as part of its Earn programme led to the extraction of over 20% of all funds on the platform in a day.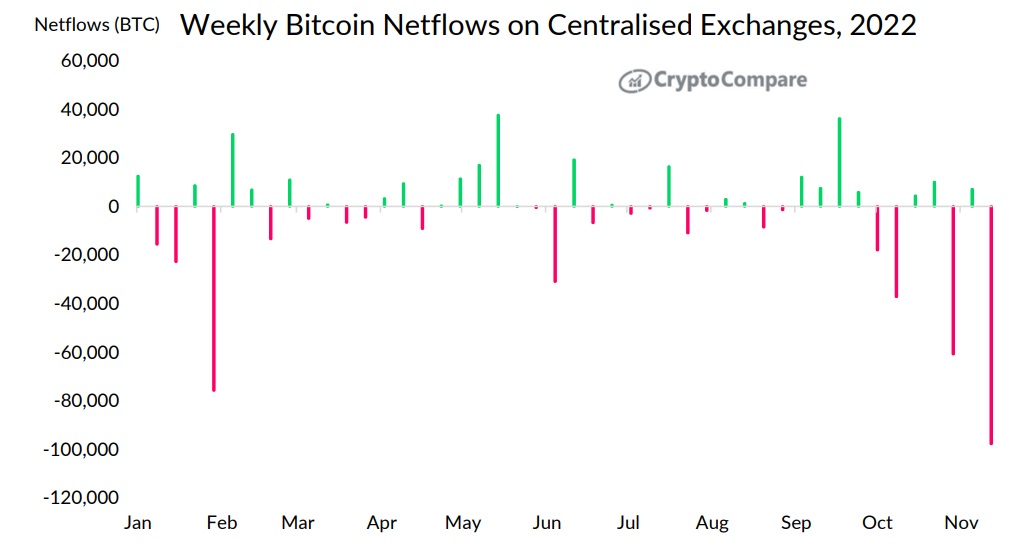 Based on the movement of coins, a host of analytical agencies have already proven that the only reason for FTX's collapse was the bubble that the team inflated itself based on the FTT token. Alameda Research and FTX controlled 86% of FTT's supply, manipulating the market price and drawing loans in exchange for tokens. 
However, this did not stop people from bad-mouthing cryptocurrencies with renewed vigour and promising that the entire crypto market would soon completely collapse. The President of El Salvador, Nayib Bukele, spoke out in defence of Bitcoin, explaining its fundamental difference from fraudulent schemes to the general public.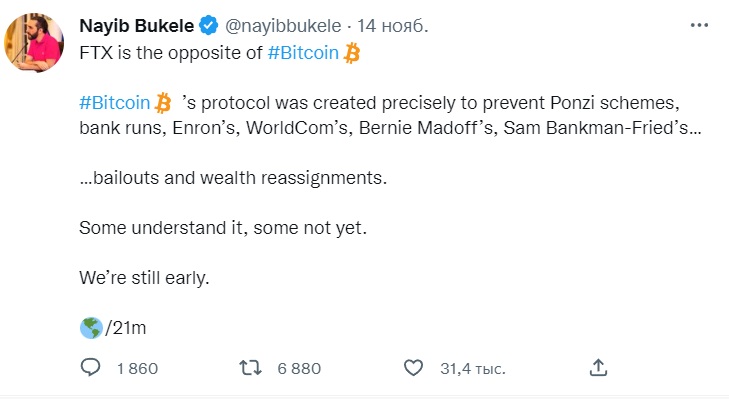 In support of his position, Bukele announced that El Salvador would make a daily purchase of 1 BTC starting on 18 November. In September 2021, El Salvador recognised Bitcoin as legal tender alongside the US dollar and has since accumulated a total of 2381 BTC.
This move pleased Justin Sun (Tron), who also promised to buy 1 BTC per day and encouraged as many people as possible to join this "mission".

Many market participants see Bitcoin's current price as unjustifiably low. We recently reported that all cohorts of holders, from whales to shrimp, have been buying cryptocurrency. Even institutional investors have increased their investments in cryptocurrency funds.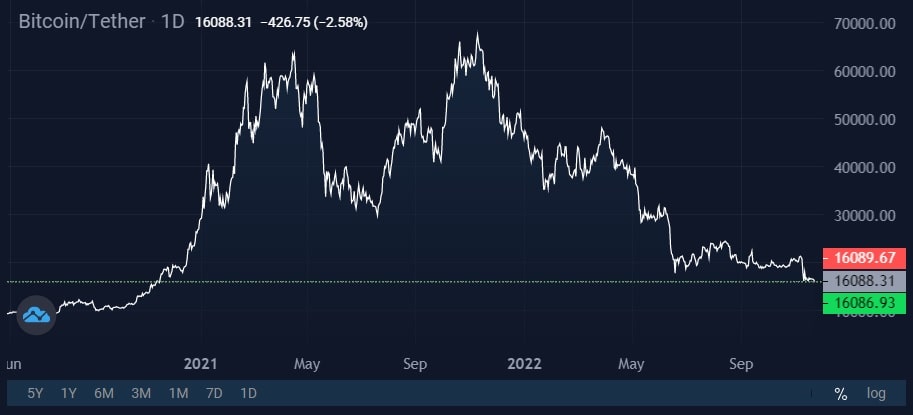 For the crypto industry, 2022 looks like a dramatic year since many companies have faced difficulties up to and including bankruptcy following the market's decline. However, it's mostly players with a weak or dishonest business model that are experiencing problems. If we look at the statistics, multitudes more cryptocurrency exchanges were liquidated in past years.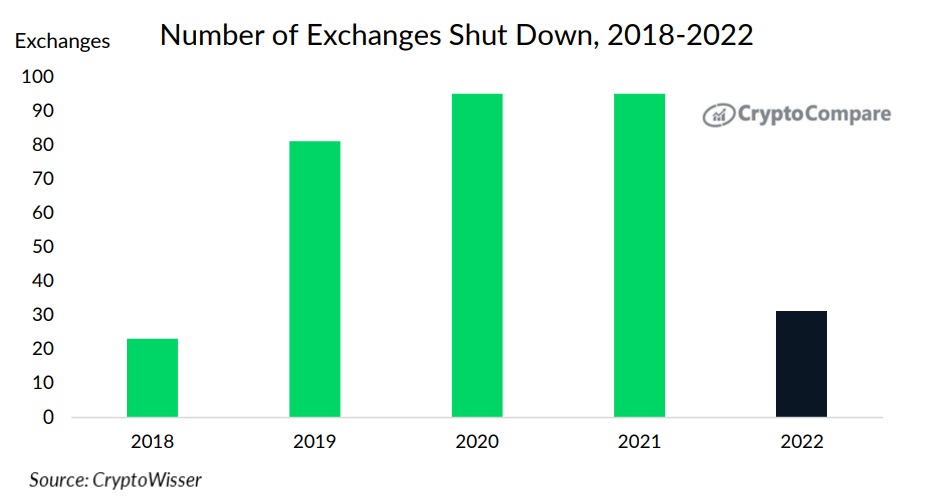 The 2022 crisis is kicking weak players out of the game, and the reduction in the share of borrowed funds is triggering a rebalancing of assets and bringing them closer to their objective value. Regulators, who need to close a number of holes in the legislative realm, received an additional impetus to do so, while strong players rushed to increase transparency by independently disclosing the volume of their assets. 
StormGain Analytics Team
(a cryptocurrency trading, exchange and storage platform)
Tags
Exchange BTC

Try our Bitcoin Cloud Miner and get additional crypto rewards based on your trading volume. It's immediately available upon registration.

Try our Bitcoin Cloud Miner and get additional crypto rewards based on your trading volume. It's immediately available upon registration.