Bitcoin Diamond (BCD) price prediction for 2022-2030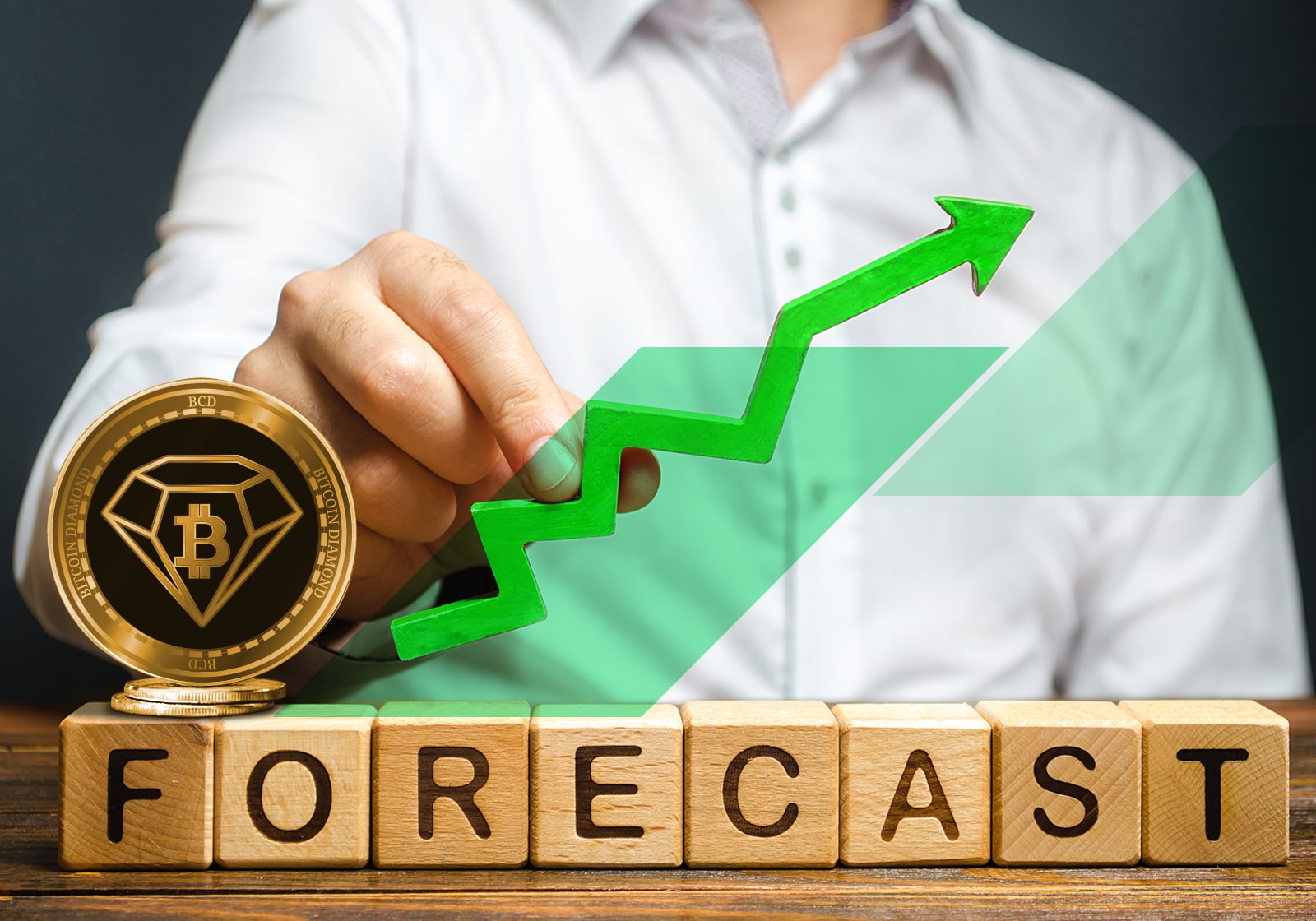 Bitcoin is the most popular cryptocurrency in the world. But, like any other crypto, it has some disadvantages. Transactions take a long time to process and are expensive because Bitcoin's limited block size results in a low number of transactions per second. Developers have started to think about possible solutions to these problems, the simplest and most logical of which is to hard fork the network. This means that it's now acceptable to change the cryptocurrency protocol that makes the operations or blocks in the system, something previously considered unacceptable.
What is Bitcoin Diamond (BCD), and how does it work? By evaluating and researching all vital information about the project, readers will get a correct understanding of BCD's investment potential. That's why we'll use this article to review the project's fundamentals, examine BCD features and finish with experts Bitcoin Diamond price predictions.
Bitcoin Diamond's origin
The first mention of the upcoming Bitcoin fork appeared on 22 November 2017 on the OKEx cryptocurrency exchange's official website. Visitors and users could see a message about the forthcoming listing of Bitcoin Diamond on the trading platform. An announcement was also made that the new BCD cryptocurrency would be credited to the corresponding wallets where BTC was previously stored. The Bitcoin Diamond fork originated from the Bitcoin blockchain two days later on 24 November. Bitcoin Diamond's history began right after BTC block number 495866.
The project was headed by three developers, about whom users knew nothing but their nicknames when the project started. Later, however, the creators stepped out of the dark: Connor Cui took the lead of the project, and the official team expanded to 15 members. The developers wanted to improve Bitcoin and expand its features to become even more popular and widely used worldwide. If you're wondering, "Why is Bitcoin Rising?", please read our blog.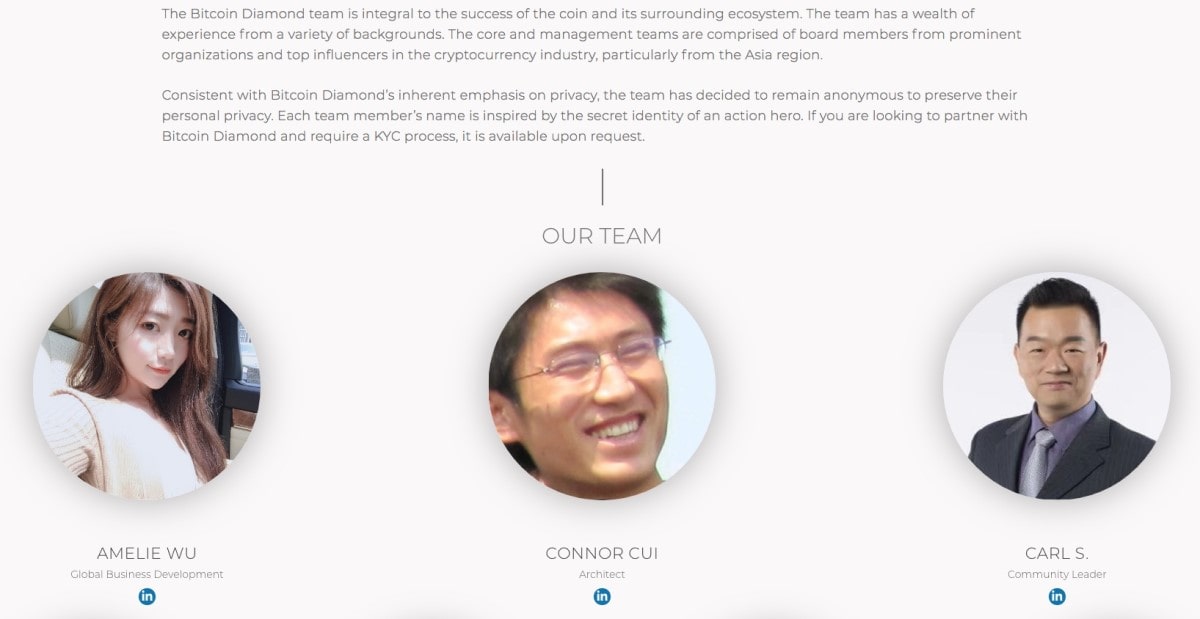 The problem with the original Bitcoin's blockchain was the primary reason for the fork. Bitcoin Diamond offered an increased block size (8 MB), thus solving the transaction size problems. The total issuance of BCD tokens was set at 210 million, exceeding the original system by 10 times. Like all other forks, Bitcoin Diamond pursues a similar goal of creating a unique payment system. The developers managed to improve consensus algorithms and encryption methods, as well as network anonymity. New tokens were accrued to Bitcoin holders at a ratio of 1:10.
To date, not all provisions of the project's roadmap have been implemented. The latest update to the roadmap was dated 4 June 2019 and covered the most critical milestones years ahead in the project's development.
What is Bitcoin Diamond (BCD)?
Bitcoin Diamond is a Bitcoin fork designed to increase network privacy and reduce transaction costs. This cryptocurrency has replaced the block sizes and the development algorithm. The Bitcoin Diamond hard fork was made possible through efforts by then-anonymous developers who were dissatisfied with Bitcoin's original properties. The fork passed on Bitcoin block number 495866, leading to the creation of the new Bitcoin Diamond blockchain and cryptocurrency. Bitcoin Diamond's purpose is the same as BTC's: a convenient payment system for online payments that serves as a great substitute for fiat money.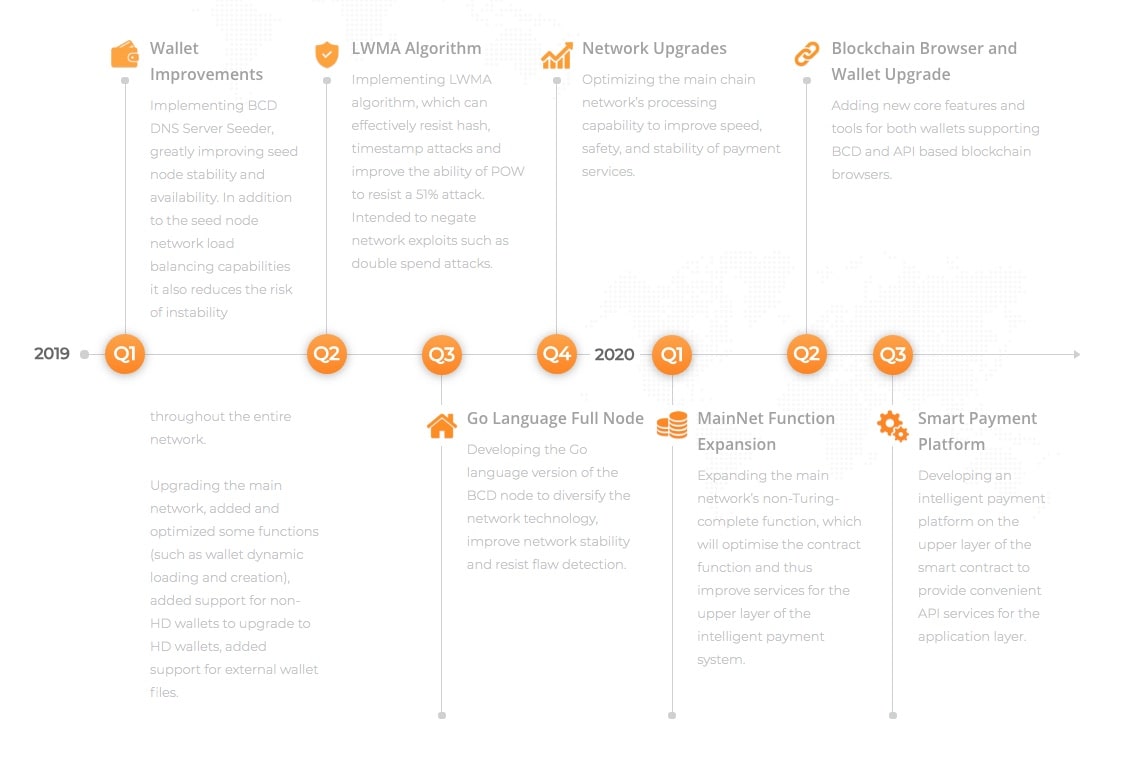 BCD differs from the basic version of Bitcoin in that it eliminates some significant problems of security and scalability. At the very beginning of its existence, Bitcoin Diamond's developers were anonymous, and the project even didn't have its own page on GitHub. Fortunately, as time passed, the devs came out of the darkness, and BCD's code was listed on GitHub. Since the project's inception, the community has gradually expanded, and new partnerships have been established, thus increasing BCD's use cases and adoption rate.
How Bitcoin Diamond (BCD) works
BIP44 is the standard that makes a deterministic wallet an essential tool, and it's what Bitcoin Diamond adheres to. If this standard is used, the wallet owner must simply keep their own private key and use a secret phrase (the 'seed' value) to generate a large number of associated addresses that will also be tied to your wallet. In the end, only a backup copy of the master private key or master seed is needed. 
If the user can't remember their secret phrase, access to all available funds is lost. It's worth noting that it's not recommended to store the secret phrase electronically because it becomes easy prey for hackers.
Bitcoin's blockchain information block combines information about signatures as well as transactions made. That means that there are very few transactions per block. Bitcoin Diamond's creators managed to increase the block size to 8 MB, thus building up transactional capacity. New block generation is five times faster compared to the original Bitcoin.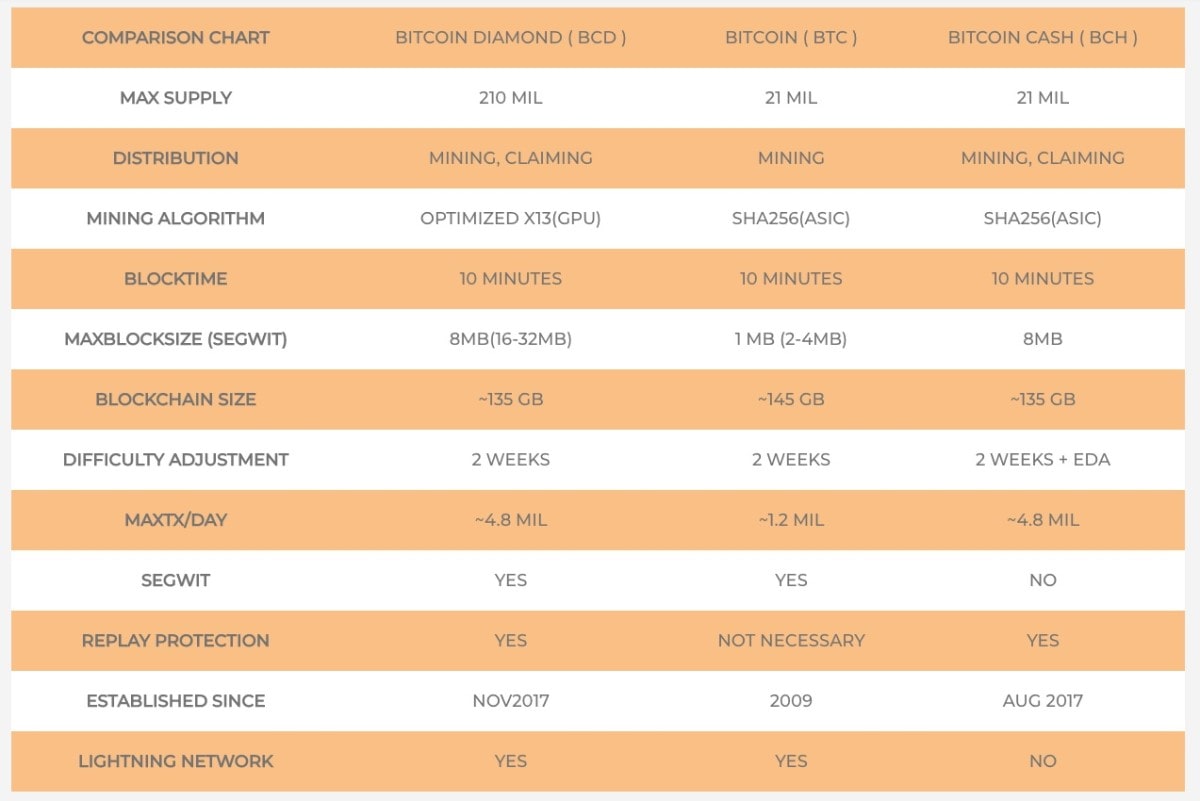 With the move to SegWit, it's possible to improve the structure of transactions and blocks. Signatures are pushed out of transactions into a separate structure. In other words, in Bitcoin Diamond, the block size has been increased just to increase network throughput, thus increasing blockchain scalability. Transfers in the Bitcoin system are becoming less profitable every day due to dynamically growing fees. In turn, the costs in the BCD network associated with transactions are decreasing.
Bitcoin transactions are partially not anonymous. For example, it's possible to see the transfer amount and the balance of another user's wallet. This information is enough to identify the owner of the wallet. The developers who created Bitcoin Diamond have integrated new encryption methods into the system, so confidentiality and security have increased significantly compared to the original system.
Bitcoin Diamond (BCD) mining
The changes have also affected mining. In particular, the developers decided to abandon the SHA-256 algorithm, which is considered outdated. The X13 algorithm was chosen, the essence of which is the 13-round verification. It should be noted that the main drawback of SHA-256 is ASIC mining that can lead to a lack of decentralisation because there's a risk that the cryptocurrency will be concentrated in the hands of a few pools. The X13 algorithm is more resistant to such hardware devices. BCD coins can also be mined at home, requiring a video card with the appropriate capacity. Feel free to read our article exploring Cryptocurrency Mining for Beginners.
Bitcoin Diamond (BCD) features
We mentioned that one of the main features the BCD cryptocurrency's creators proposed is a special improved mining algorithm, denoted by the symbols X13, designed to mine the cryptocurrency using a GPU. Bitcoin Diamond managed to add support for SegWit, build protection against replay and use a combined PoS/ PoW consensus mechanism. The following distinctive features define Bitcoin Diamond cryptocurrency:
It expanded the amount of tokens (210 million coins).
Bitcoin Diamond was not intended to be used for trading.
The block size was expanded to 8 megabytes.
The number of BCD tokens exceeds the number of BTCs by a factor of ten.
The size of the full blockchain totals approximately 140 GB.
Bitcoin Diamond has higher confidentiality.
The cryptocurrency has an optimised mining algorithm.
Mining complexity is recalculated every two weeks.
Bitcoin Diamond uses a new algorithm to encrypt cryptocurrencies and the names of their holders.
Bitcoin Diamond miners need to form blocks according to an optimised proof-of-work algorithm (Optimised X13). Its working mechanism is as follows; each result is hashed 13 times in the network. If a single compromised hash result is found in the loop, nothing bad happens; fraudsters would have to find a vulnerability in 13 hashes in one loop to hack it.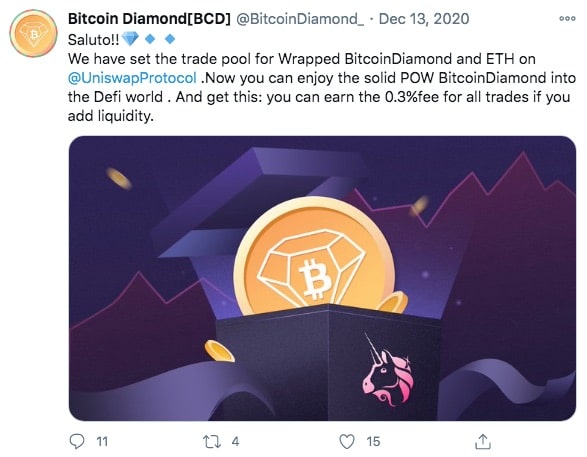 If we talk about scalability, the project developers promise that it's more scalable than its big brother. As a result of its high scalability and boosted network performance, fees are also significantly reduced. The project was planned to develop and improve accounts' privacy and security in stages, taking the original Bitcoin features as a starting point. Implementing these innovative features led to the Bitcoin blockchain hard fork.
Bitcoin Diamond (BCD) price analysis
As of 22 October 2021, Bitcoin Diamond (BCD) is ranked 150th among cryptocurrencies by market cap, coming in at $423,191,143. With a circulating supply of 186,492,897.95 out of 210,000,000 coins, one BCD token costs $2.26/0.00003672 BTC. Here's an overview of Bitcoin Diamond (BCD):
Bitcoin Diamond (BCD) Price Today

$0.31

Market Cap

$58,438,712

Circulating Supply/ Max Supply

186,492,897.95 / 210,000,000 BCD

Daily Trading Volume

$1,664,899

All-Time High

$147.18

(13 January 2018)

All-Time Low

$0.2664

(13 March 2020)

Official Website
Bitcoin Diamond (BCD) price history
When Bitcoin Diamond cryptocurrency was listed on 25 November 2017, it traded hands for $140 or 0.014 BTC for the first few days. As usually happens with newly listed assets, Bitcoin Diamond failed to maintain bullish momentum and dropped, searching for a fair market price for BCD.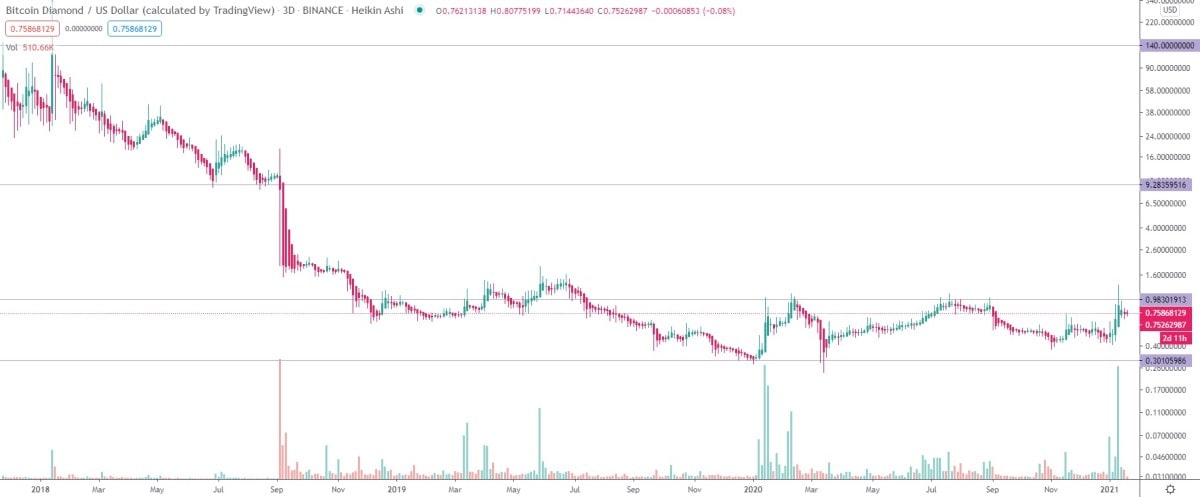 The first strong support was found at the $26, or 0.002, BTC price level, where buyers stepped in, trying to start upward momentum and break through the resistance at $140. The last attempt coincided with the main network update in early January 2018, where the asset met resistance at $140 and started dropping. Followed by short-term bounces, the asset slid to $9 by late June 2018. In September, even that critical $9 support was taken down; BCD closed the year at the $1 price point.
Bitcoin Diamond (BCD) price prediction 2019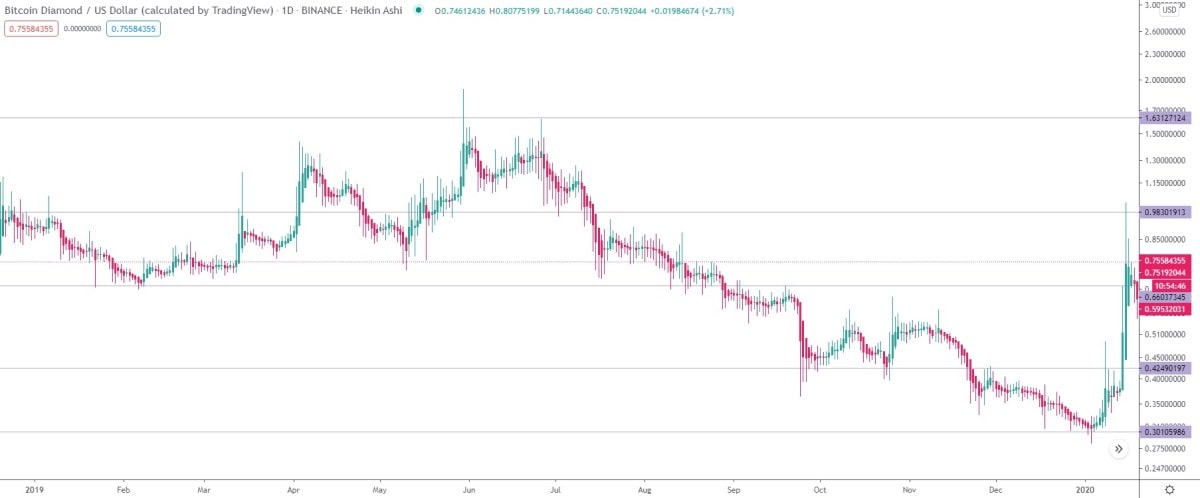 Opening 2019 at $1, Bitcoin Diamond's price dropped to $0.65 by 7 February. Its consolidation near the newly formed support level of $0.65-$0.75 lasted until mid-March. The opening of a BCD international trading platform, where all services and products could be bought and sold with BCD or BTC, fuelled the cryptocurrency's growth. Bitcoin Diamond's price rose to $1.40 on 3 April. After a pullback to $0.76 in early May, the asset resumed the uptrend and reached $1.80 on 30 May. An attempt to break through resistance at $1.60 made on 26 June led to a breakdown. Even positive steps towards Bitcoin Diamond's adoption didn't help it maintain the price at this level. Instead, BCD tanked for the rest of the year, sliding to as low as $0.30 by year's end.
Bitcoin Diamond (BCD) price prediction 2020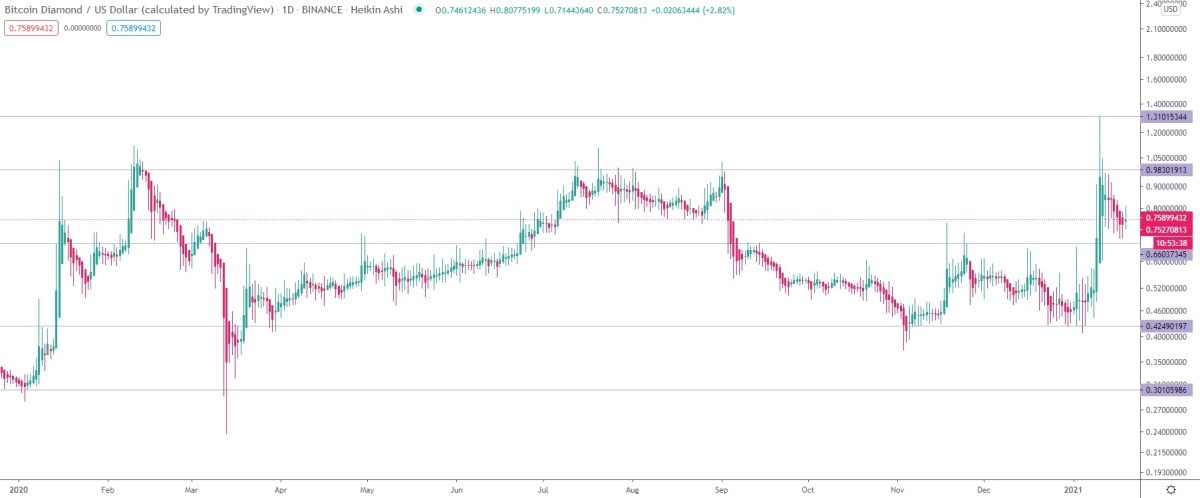 Bitcoin Diamond's 2020 price prediction offered good volatility for traders. The year opened on a positive note, with BCD's price increasing threefold from $0.30 to $1 on 15 January. After a quick pullback to $0.50, Bitcoin Diamond broke through resistance and reached $1.10 on 10 February. One of the biggest shocks across all markets stopped BCD's rise, instead dragging the price down to support at $0.30, with a small wick to $0.24. By mid-July, Bitcoin Diamond managed to recover from the drop, fully establishing the $0.75-$1.00 trading range. After a period of consolidation, a failed attempt to break past $1 led to a decline, with BCD falling back to the support level at $0.40 by 4 November. This was followed by a rebound to $0.70 on 24 November, from where the asset slid to $0.43 by late December. Having formed solid support at the $0.43 mark, the asset saw significant growth at the beginning of 2021, reaching $1.30 by 10 January.
Bitcoin Diamond (BCD) price prediction 2021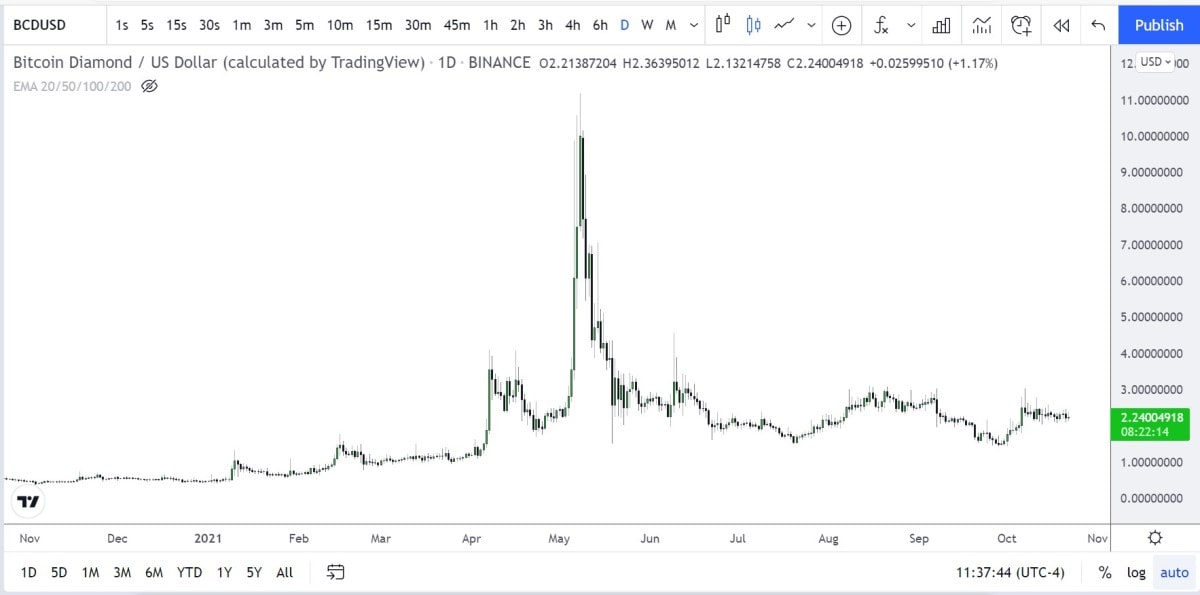 Like most crypto-based assets, Bitcoin Diamond also had a sterling start to 2021. It rose slowly but steadily throughout Q1, then began the rapid move characteristic of other coins in Q2. It managed to reach $11 before tanking back down and consolidating for the rest of Q3 and Q4. Bitcoin Diamond is currently trading around $2.20.
Bitcoin Diamond (BCD) technical analysis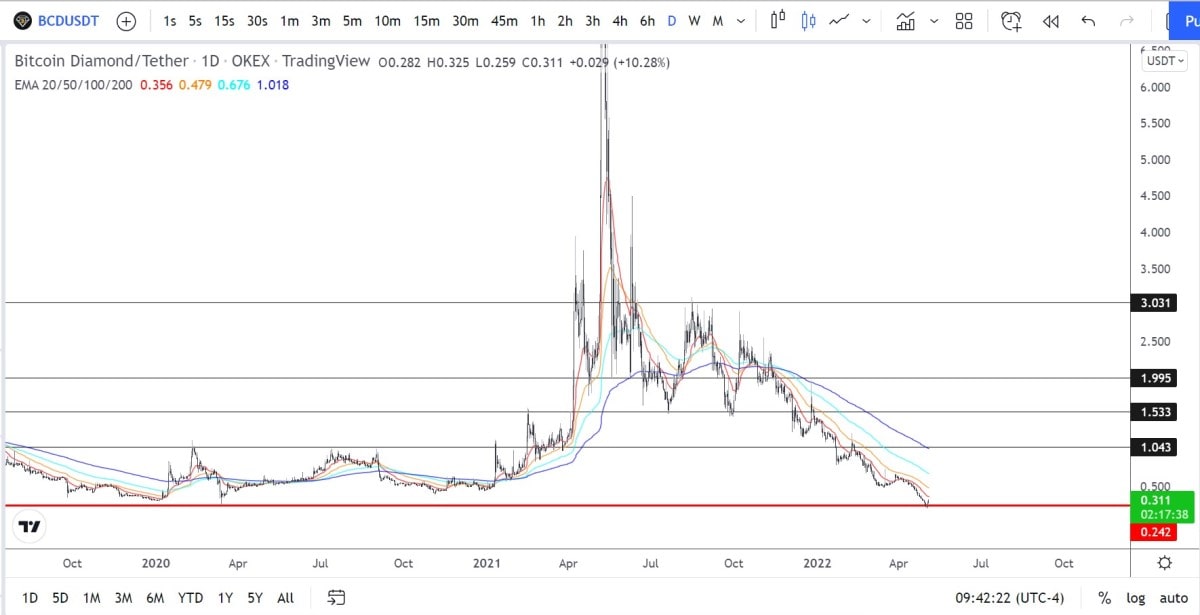 BDC has had an overwhelmingly bearish run since it peaked in May 2022. The coin has lost all the gains it made last year and set a new all-time low at $0.20 a couple of days ago. It's currently trading above the support where it rebounded, but the momentum is strongly bearish, and the price may continue even lower to set new records
Bitcoin Diamond (BCD) price prediction for 2022, 2023, 2025, 2030
As the project developers have stated, they didn't plan for this asset to be used for trading. Their main focus was on the profitability of its GPU mining. Regardless, as a free cryptocurrency for BTC holders, Bitcoin Diamond became popular among miners and traders. The decision to buy BCD depends on your trading skills since the Bitcoin Cash case showed that it could be profitable.
We gathered the most reliable Bitcoin Diamond future price predictions from experts to learn their views on the project. That said, one should note that every cryptocurrency price prediction should be treated with caution; the same is true for BCD price predictions, as well. Please always consider the risk of investing in Bitcoin Diamond or any other cryptocurrency when based only on price predictions.
TradingBeasts Bitcoin Diamond (BCD) price prediction for 2022, 2023, 2025, 2030
According to TradingBeasts' Bitcoin Diamond price prediction, BCD's price will stabilise just above the support at $0.20 for the most part of 2022. In 2023, TradingBeasts' forecast puts BCD at $0.29 as the lowest possible price per token and $0.62 as its highest. They expect that the price range in the following years will expand slowly to $0.90 by 2025.
WalletInvestor Bitcoin Diamond (BCD) price prediction for 2022, 2023, 2025, 2030
Based on WalletInvestor's BCD prediction, BCD will increase by over 82% in one year from now. They don't expect the price to continue rising, at least not in 2023. Their prediction suggests a drab year until 2026, where their future BCD price prediction stands at around $2.71.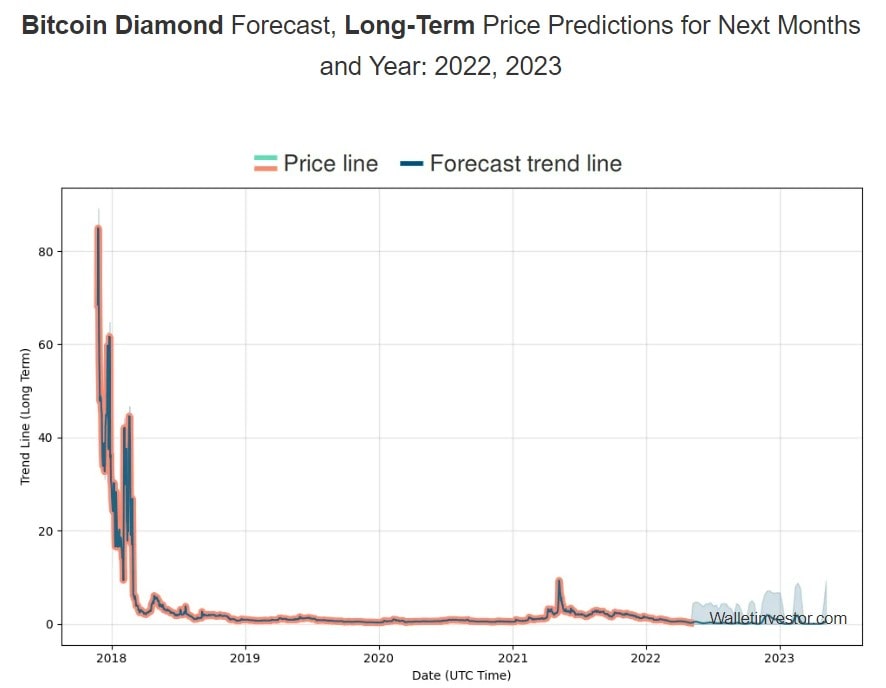 DigitalCoinPrice Bitcoin Diamond (BCD) price prediction for 2022, 2023, 2025, 2030
DigitalCoinPrice has given the most bullish price prediction on Bitcoin Diamond for the upcoming years. They predict that BCD will grow to $0.50 in just one year. Bitcoin Diamond will keep rising and may reach $0.71 by 2025 and $1.10 by 2028.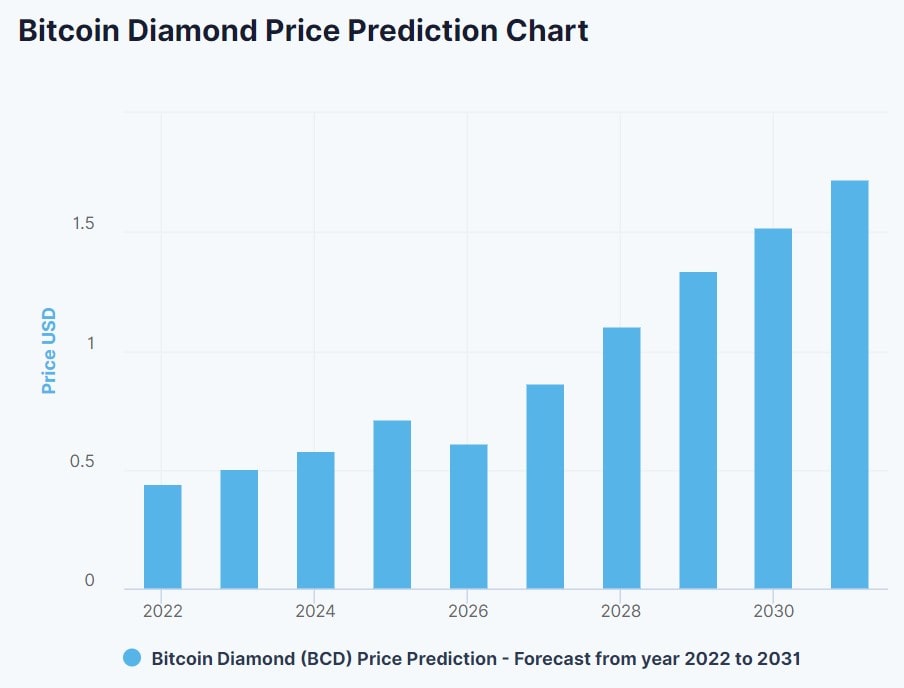 Bitcoin Diamond (BCD) overall value predictions in the future
Is Bitcoin Diamond really better than the original Bitcoin? That depends on who you ask. There are many Bitcoin hard forks, such as Bitcoin Cash, Bitcoin Gold and Bitcoin Diamond, and the creators of each cryptocurrency hope theirs will be better than the original. None of the forks has reached the same level of success as Bitcoin, but competition always leads to finding the best possible solutions for existing problems. As long as developers and miners support the project, BCD has a future.
Will Bitcoin Diamond (BCD) go up?
Recently, BCD's developers have set up a wrapped Bitcoin Diamond and ETH trading pool on Uniswap. These improvements show that the coin's creators are always trying to keep their project progressing by designing new gateways and pushing BCD adoption. These improvements positively affect the asset's stability and set the stage for further growth.
Bitcoin Diamond's (BCD) price prediction today
Bitcoin Diamond is more advanced from a technical standpoint than the original cryptocurrency, and the idea of profitable GPU mining has found supporters. Nevertheless, it's quite difficult to predict this asset's behaviour in the long term. We recommended choosing more traditional cryptocurrencies for investing.
Tags
Exchange BTC

Try our Bitcoin Cloud Miner and get additional crypto rewards based on your trading volume. It's immediately available upon registration.

Try our Bitcoin Cloud Miner and get additional crypto rewards based on your trading volume. It's immediately available upon registration.
Instrument
Rate
Change (24h)