Warning: Bitcoin was always part of Tether's reserves

The low financial transparency of Tether's reserves and the lack of a full-fledged audit sometimes lead to misinterpretations of fresh data. For example, at the end of Q1, the issuer of the USDT stablecoin released a report from BDO Italian, which for the first time, singled out reserves in Bitcoin as a separate line item. This allowed a number of media outlets to interpret events as new purchases of cryptocurrency for the profits generated by the transactions. K33 Research warns that it was misleading readers.
First of all, one should note that the release of quarterly results isn't an audit. BDO creates those based on data provided by Tether. The numbers should be approached sceptically, as independent accounting organisations have stated on multiple occasions. Reports don't contain any information on Tether's obligations to third parties, and the categories of other investments and loans have never been disclosed. Moreover, Tether once sought a court order to remove its obligation to publicly disclose reserves.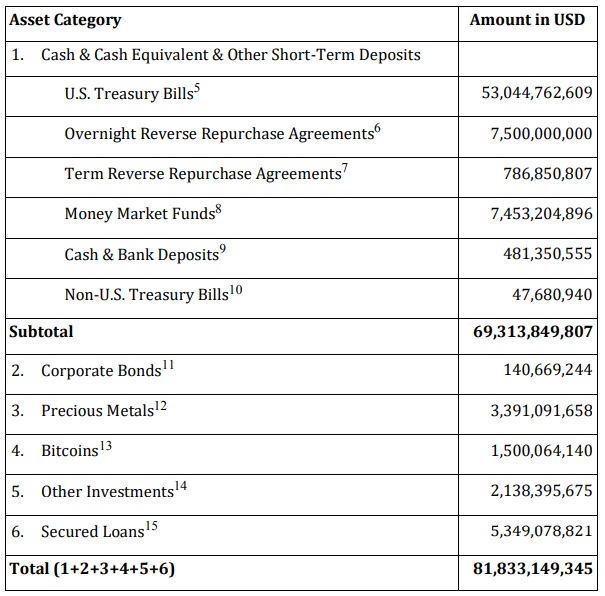 In the latest report, Bitcoin had its own separate line. This came amid Tether gaining significant profits from operations and reducing competitors' market share. At the year's end, BUSD may completely disappear due to NYFDS's prohibition on Paxos in February from minting this stablecoin for Binance. USDC faced a trust crisis after it risked losing 8% of its reserves due to SVB's bank collapse.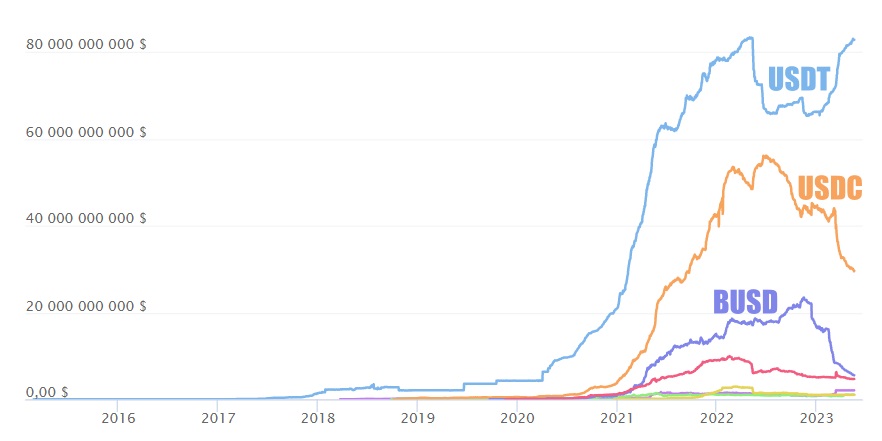 The amount of Bitcoin held in reserve matched the net income generated in Q1, which reached $1.48 billion (Tether isn't a public company; the data were made available in a press release). This led to the spread of misinformation. In fact, Bitcoin has been in its reserves for a long time.
Firstly, this is evidenced by the strong correlation of the 'Other' part of the reserves category priced in Bitcoin.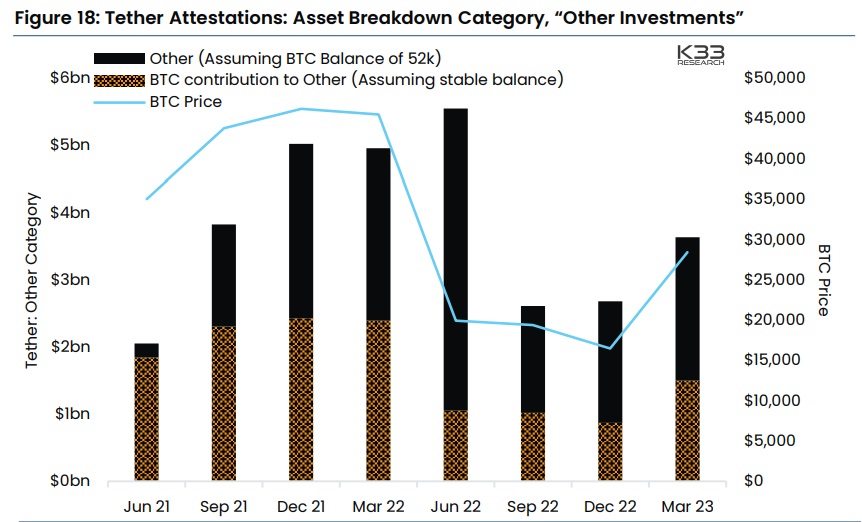 Secondly, back in 2019, a lawsuit against Tether revealed that the company had spent some of its reserves to buy Bitcoin. Lawyer David Miller admitted in court: "In addition to cash and cash equivalents, Tether invested in other instruments, including Bitcoin."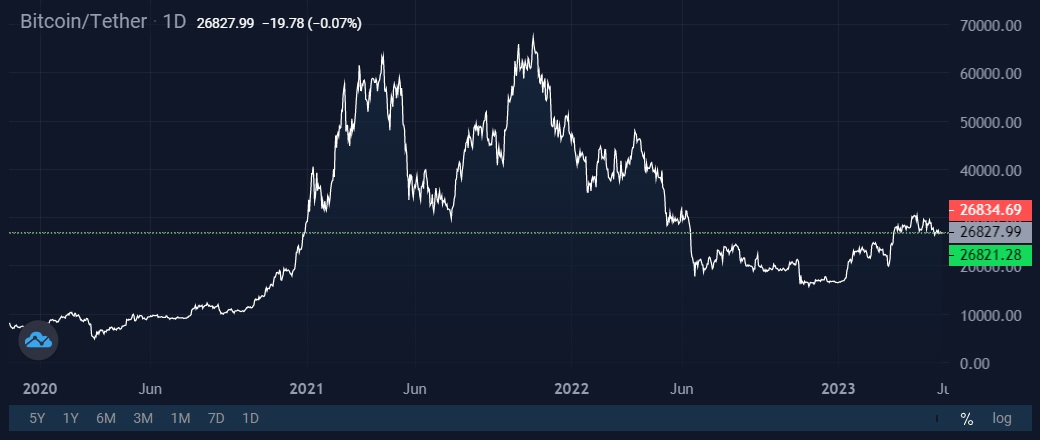 The above arguments indicate that USDT has not been sufficiently backed by cash equivalents, at least historically. Buying Bitcoin with reserve funds is only partly justified if the cryptocurrency's price is rising. Apart from Bitcoin, corporate bonds accounted for almost half of all reserves two years ago.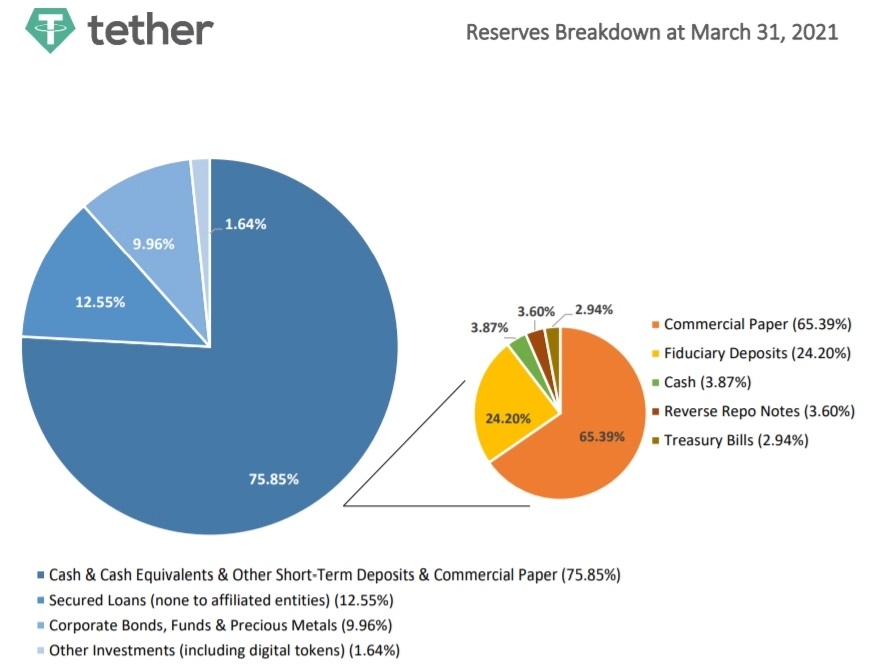 If the value of the portfolio declines and there's a rapid outflow of funds, USDT risks a liquidity crisis, which would lead to a loss of its peg to the US dollar. This would consequently provoke panic due to the stable coin's significant market share and widespread use.
For the past two years, the company has been busy rebalancing reserves and improving its financial sustainability, but it's almost impossible to evaluate its success without a decent and complete audit. 
However, the tensions between Tether and law enforcement aren't over yet. More proceedings are on the way. Last year, the court demanded ledgers and other financial records, including a cash flow history, for the past few years. The claims revolve around the issuance of unsecured USDTs and market manipulation.

StormGain Analytical Group 
(platform for trading, exchanging and storing cryptocurrency)
Tags
Exchange BTC

Try our Bitcoin Cloud Miner and get additional crypto rewards based on your trading volume. It's immediately available upon registration.

Try our Bitcoin Cloud Miner and get additional crypto rewards based on your trading volume. It's immediately available upon registration.