Chainlink (LINK) price prediction for 2023-2030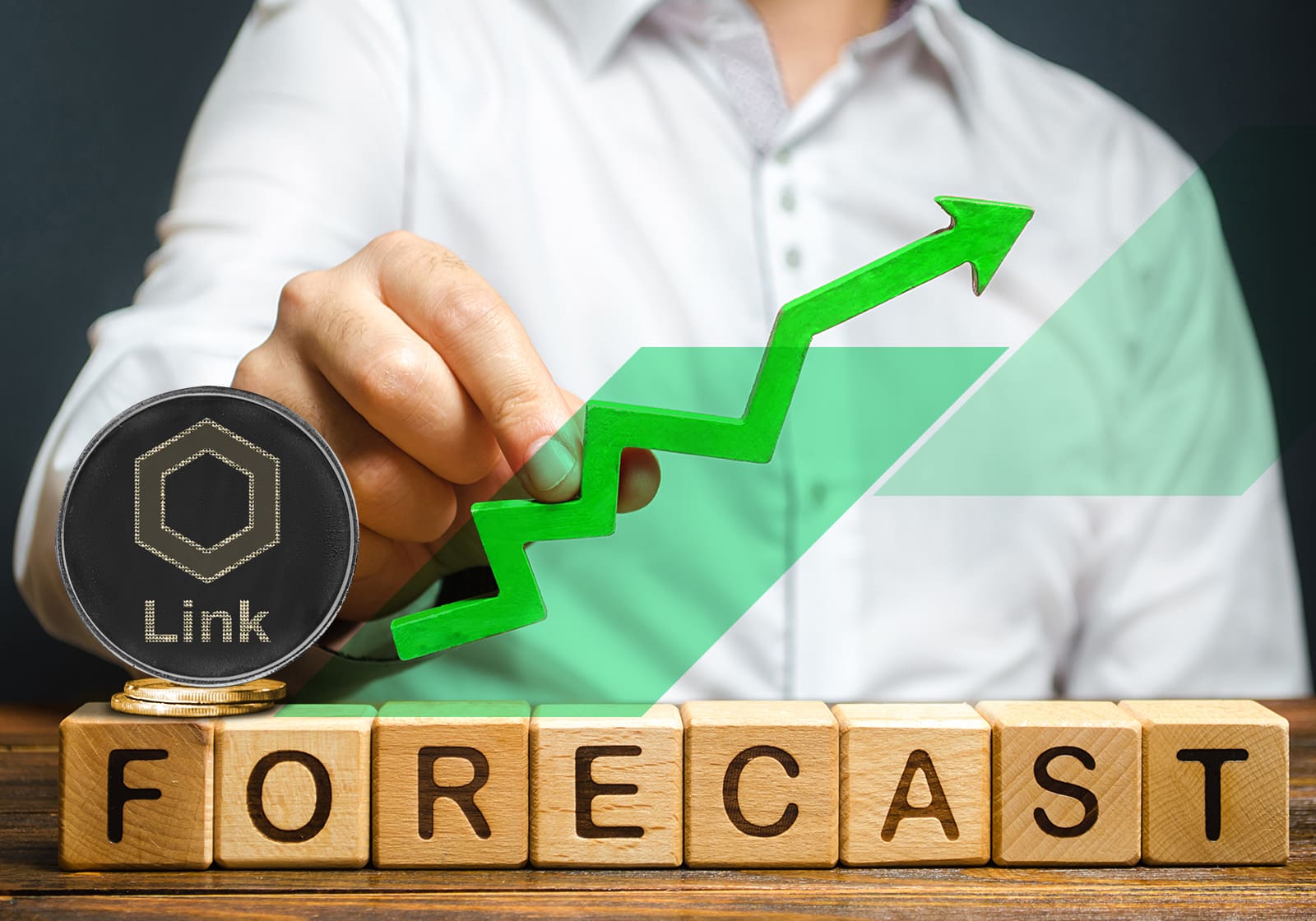 The Chainlink network has gained popularity by providing reliable data protection against unauthorised access for complex smart contracts on any blockchain. The decentralised oracles solution the company offers has allowed it to gain credibility and popularity in the decentralised financial app market. What is Chainlink, and how does it work? Throughout this article, we'll review Chainlink price predictions, cover the project's fundamentals and end with experts' price forecasts.
Chainlink's origin
Chainlink's origin can be traced back to September 2014, when its parent company, SmartContract.com, was established to build a bridge between external data sources and public blockchains. Sergey Nazarov and Steve Ellis are the project's founders. The team developed a product called Chainlink, which allows smart contracts to connect to the data feed of any web API or data source. This idea has changed the rules of the game in the blockchain industry.
SmartContract.com's original solution relied on centralised oracles, creating an obstacle to the development of decentralised financial networks. The problem was solved in September 2017 with the introduction of a decentralised oracle network, the Chainlink network. Within the same month, the team conducted an initial coin offering, which raised more than $32 million.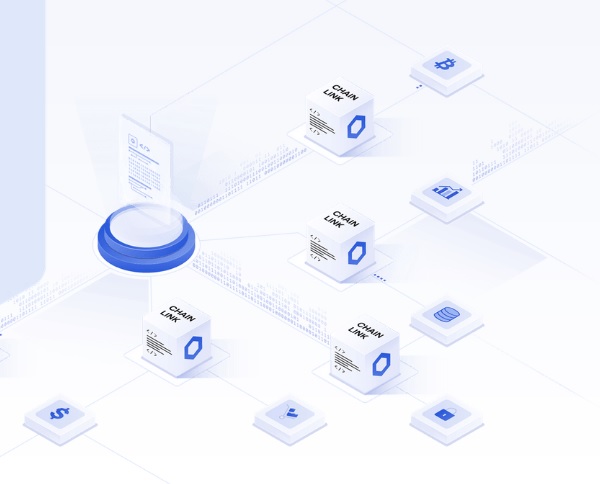 Chainlink's issue is limited to one billion tokens. During its ICO, the developers sold over 370 million LINK tokens. Chainlink's main network was launched on 1 June 2019. Anyone with a data feed or any other API can join the Chainlink network and take jobs to retrieve data and provide it to smart contracts. Node operators are paid for their services with LINK tokens. To learn how to store cryptocurrency safely and securely, make sure to read our blog post on the best hardware wallets. On top of that, node operators can stake their LINK tokens to service certain smart contract requests that require collateral. Project ideas and investor support have made Chainlink one of the major solutions in the oracle space.
What is Chainlink (LINK)?
Chainlink is a blockchain platform designed to protect clients against unauthorised access when exchanging data while working with complex smart contracts. The Chainlink solution provides advanced data protection both inside and outside of the blockchain.
The Chainlink blockchain consists of special nodes known as oracles. For the network to function correctly, the smart contracts need to work correctly, and the data sent to them must be reliable. A decentralised oracle network verifies the input data from various sources and then sends them to a smart contract. This achieves higher precision of input information, which is sometimes hard to verify in a centralised manner. In addition, this eliminates data manipulation. The Chainlink oracle serves as a reliable bridge between data providers and their customers.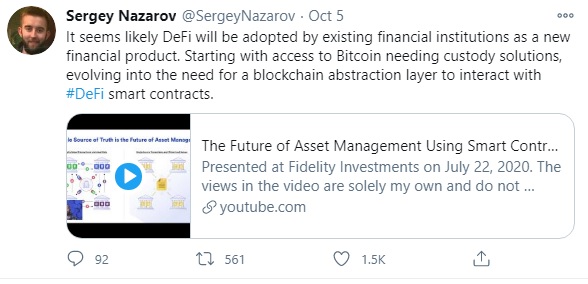 Smart contracts
Smart contracts allow you to move cryptocurrency from one address to another when certain conditions are met. Available for public viewing in the blockchain, smart contracts are invariable, which means that the parameters of the agreement or contract features can't be changed once they're deployed.
Smart contracts requiring off-chain data must have a reliable source to securely transfer data into the chain before this data is transferred back and forth to any off-chain party. That communication problem had previously held back the development of smart contracts. However, with the emergence of oracles, that problem is a thing of the past. Smart contracts can now be used for a variety of scenarios.
Oracles
Oracles are used to transfer real data to the blockchain via smart contracts. Any data can be transferred: weather forecasts, price details or the football match score. Decentralised finance (DeFi) is the most common use of an oracle because these platforms need the most accurate and reliable sources of data available to prevent errors.
An oracle is a middleman or middleware that acts as a bridge between several parties during the data transfer to and out of a blockchain. Oracle checks and transmits real data to different blockchain ecosystems, where the data is then utilised. When oracles are used in conjunction with smart contracts, they verify that the conditions of the smart contract are fulfilled and that the data provided is reliable.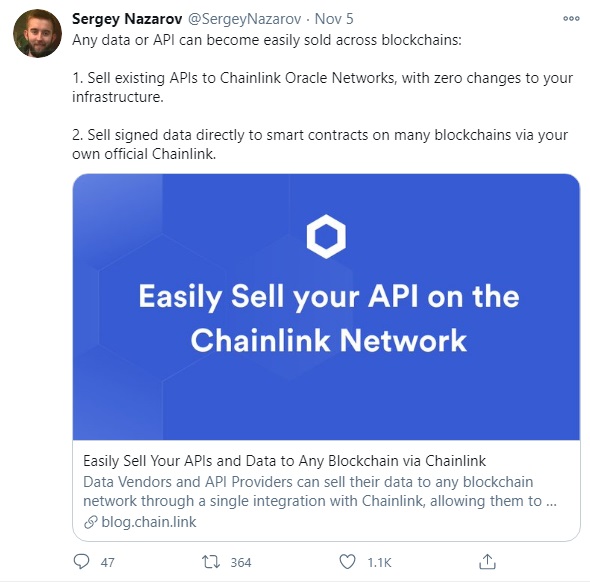 Centralised oracles come with a problem: if the system fails, it can cause a failure on other platforms, potentially putting users' funds at risk. If one single oracle shuts down for a moment, it can cause chaos for many people. That creates substantial trust issues for a centralised oracle network.
Chainlink's network of decentralised node operators is financially encouraged to reach a consensus on data reliability. Abusers are penalised for playing unfairly, and their data gets rejected without reaching a consensus with the rest of the network. That's the decentralisation element that makes the Chainlink network so secure.
How does Chainlink (LINK) work?
Chainlink (LINK) is a decentralised network of oracles whose primary purpose is to connect smart contracts with information coming from the environment. Since a blockchain does not have free access to information outside of its system, the oracle acts as an information channel in a smart contract.
The Chainlink network uses as its underlying asset LINK tokens, which are needed to extract off-network data flows. All tokens are formed into a readable blockchain and off-chain network computing system that provides a reliable, secure workflow.
Chainlink is based on customers and data providers. Customers select specific desired data, and providers share only this data. As a guarantee, data providers block a certain percentage of LINK tokens when they publish an offer for data. These tokens can be confiscated in the event of vendor misconduct. At the same time, Chainlink uses the oracle reputation system to collect and evaluate the data provided. If everything goes smoothly, suppliers simply receive their payment, and everyone is satisfied.

The project developers assume that smart contracts can improve existing industries' business chains significantly. However, at present, the ability to obtain information from an external source is extremely limited. That's why Chainlink is developing a reliable, highly secured, decentralised oracle network using blockchain technology. The Chainlink network connects a smart contract with:
Any other smart contract
Various APIs
Bank payment systems
External sources.
The Chainlink network consists of two main components: a blockchain and an off-chain. The two elements interact with each other to provide up-to-date and reliable data. Blockchains select the oracle based on parameters requested by the smart contract. The off-chain part consists of oracle nodes connected to the Ethereum network, which collect data requested by users (read our blog article What is Ethereum (ETH)? for more info on Ethereum). Chainlink's software processes the information received. It's also used by large organisations, including SWIFT, which is an international enterprise engaged in worldwide monetary operations.
Chainlink's (LINK) price analysis
As of 28 May 2023, Chainlink (LINK) was ranked 19th by market cap among cryptocurrencies, coming in at $3,363,961,552. With a circulating supply of 517,099,970 LINK out of 1,000,000,000 coins, the cost of one LINK token equals $6.51. Here's an overview of Chainlink (LINK):
Chainlink Price Today

$6.51

Market Cap

$3,363,961,552

Circulating Supply/Total Supply

517,099,970 LINK / 1,000,000,000 LINK

Daily Trading Volume

$100,218,045

All-Time High

$52.88

(10 May 2021)

All-Time Low

$0.126297

(23 September 2017)

Official Website
Chainlink's (LINK) price history
A Chainlink price prediction and analysis should start with a review of historical data. Chainlink is firmly anchored at the top of the cryptocurrency rankings. The substantial amount of money raised during its ICO helped the team fund the project's development. The project's native cryptocurrency, LINK, performed great over the past two years, moving from $0.30 to $19.85.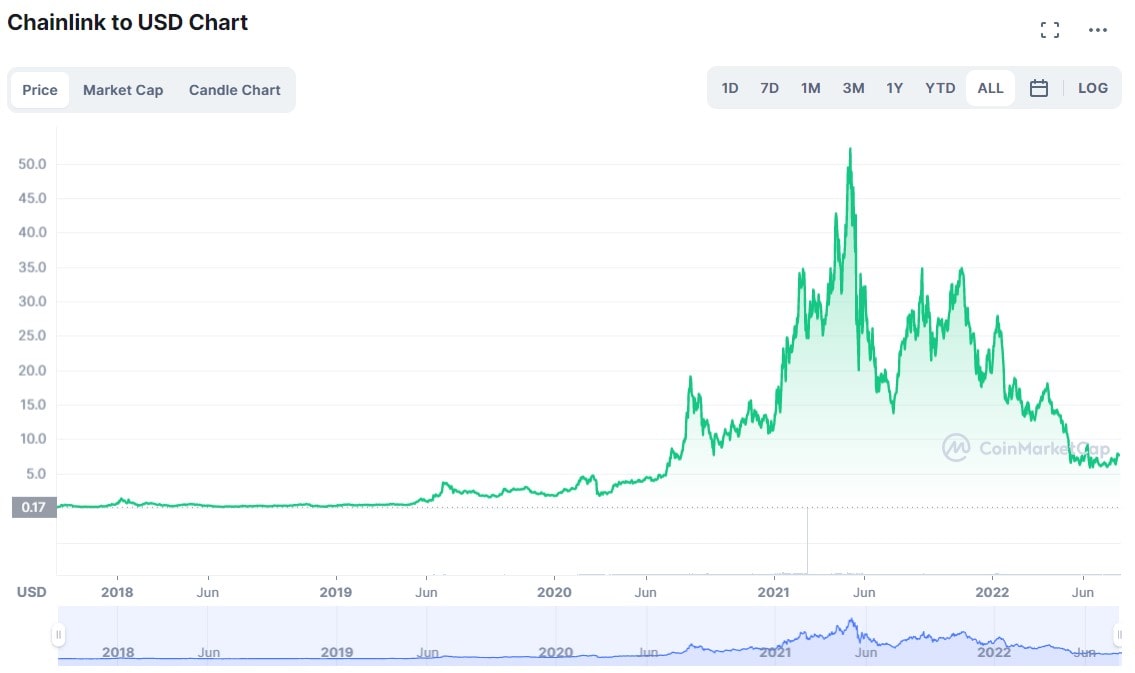 In 2017, when Chainlink (LINK) was listed on exchanges, its price was $0.126297. The project's popularity and investors' attention helped LINK reach $0.50 in 7 days after its listing. However, as all newly listed assets do, Chainlink was looking for real value. After conquering $0.50, LINK dropped, establishing a strong floor in December at the $0.13 support level.
The price bounced from the support, and investors brought the coin's value up to $1.50 on 8 January 2018. That was the first time Chainlink's value increased tenfold. However, after reaching that high, LINK's price declined and dropped to $0.16 on 26 June. It then grew to $0.60 on 13 November. When it met resistance there, the asset fell to $0.19 on 15 December. LINK currently trades at around $7.00.
LINK experienced a remarkable year in 2020, surging by over 1,000% in value. This positive trend continued into 2021, when the price reached an all-time high of $52.88 on 10 May. Unfortunately, LINK encountered significant selling pressure following this peak, resulting in a decline of over 60% throughout the remainder of the year. By the end of 2021, the token had settled at $19.50.
Regrettably, LINK's downward trajectory persisted throughout 2022. Within the first eight months of the year, the token recorded six monthly losses, accumulating a total loss of over 60% by 29 November 2022.
In June 2022, LINK experienced a significant dip, dropping to a nearly two-year low of $5.30. However, it bounced back in July, demonstrating a 22% increase in value over the month. Nonetheless, it dipped to a 90-day low of $5.58 on 21 November.
Nevertheless, as the launch of its staking services approached, LINK began showing signs of recovery. Around 29 November, it traded at $7.37 after experiencing a 23% increase in the seven days prior.
When this Chainlink price prediction was written on 28 May 2023, Chainlink had seen a noteworthy increase of $0.10 in its current value in the previous 24 hours. In addition, over the past week, LINK demonstrated a favourable upward trend, experiencing growth of 2.22%. These recent developments highlight the robust potential of Chainlink and present a promising opportunity for potential investors.
Over the last month, the price of LINK has experienced a substantial surge, soaring by 14.24%. This impressive growth has contributed a substantial average increase of $0.91 to its current value. Such rapid expansion suggests that Chainlink has the potential to establish itself as a reliable and valuable asset, particularly if this growth trajectory continues.
Chainlink's (LINK) 2019 price prediction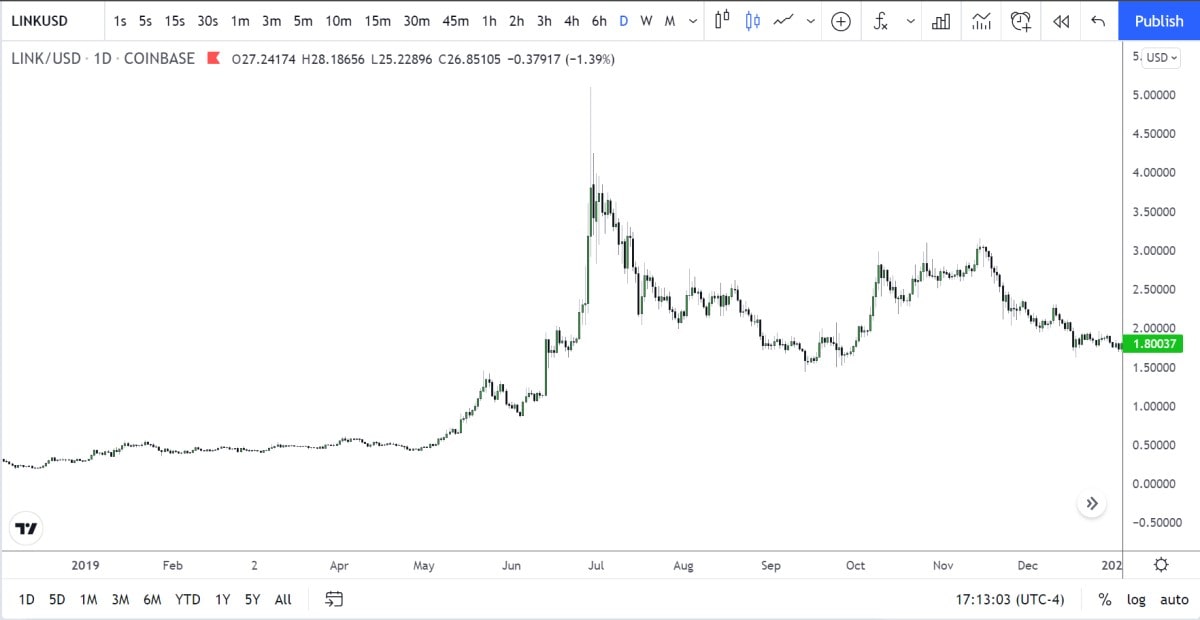 Chainlink's price rose significantly in 2019. On 3 January, LINK broke through the resistance at $0.38 and reached $0.55 a week later. By late April, Chainlink's price had consolidated in the $0.40-0.55 range. After that, buyers stepped in and pushed LINK's price to $4.80 on 29 June. A pullback followed that to $1.50 on 25 September. A rebound from newly formed support led to a retest of the resistance at $3.10. Chainlink made three attempts to break through that level but failed, and sellers took the asset to $1.70 on 30 December.
Chainlink's (LINK) price prediction 2020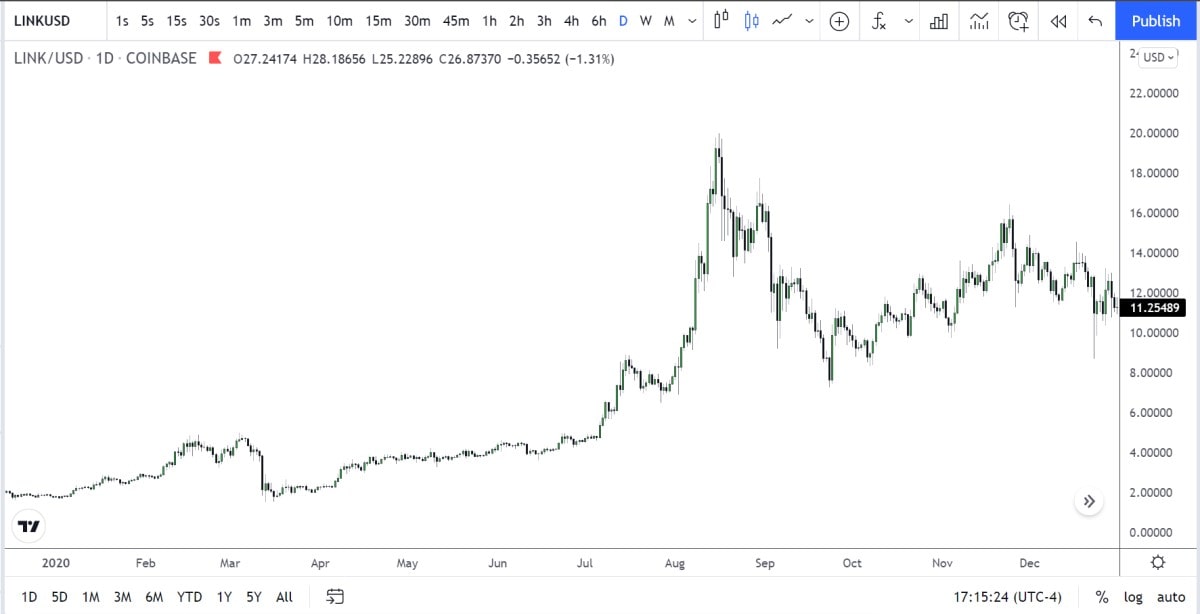 Observing Chainlink's price prediction for 2020, one can conclude that it looks similar to 2019. Even the coronavirus pandemic hasn't stopped LINK's growth. In Q1 2020, the price of LINK performed well, rising from $1.80 in January to $4.90 by early March. A significant pullback across the cryptocurrency market led to a decline in LINK's price, too.
The asset retested its $1.50 support on 13 March. From there, buyers defended the support level and pushed LINK to its resistance at $4.90 on 2 June. The buying pressure was so intense that, on 6 July, the resistance was broken, and the asset surged to $19.85 on 16 August, setting a new all-time high. A pullback to $7.50 followed on 23 September. The rebound from the support took LINK to $17.20 on 24 November.
Chainlink's (LINK) price prediction 2021
In 2021, most mainstream cryptocurrencies experienced one of the most profitable years in history. Chainlink was among the currencies that benefited the most from the extraordinarily bullish trend in the crypto market in 2021. It started the year around $11 but briefly dipped below $10 in early January before the uptrend truly began. On 10 May, the price set a new all-time high at $52.88. Much of that growth was lost in the following months, with Chainlink's value plummeting by 74% before it managed to recover to higher prices in September. The rest of 2021 was quiet, and the price traded within the yearly range until 2022.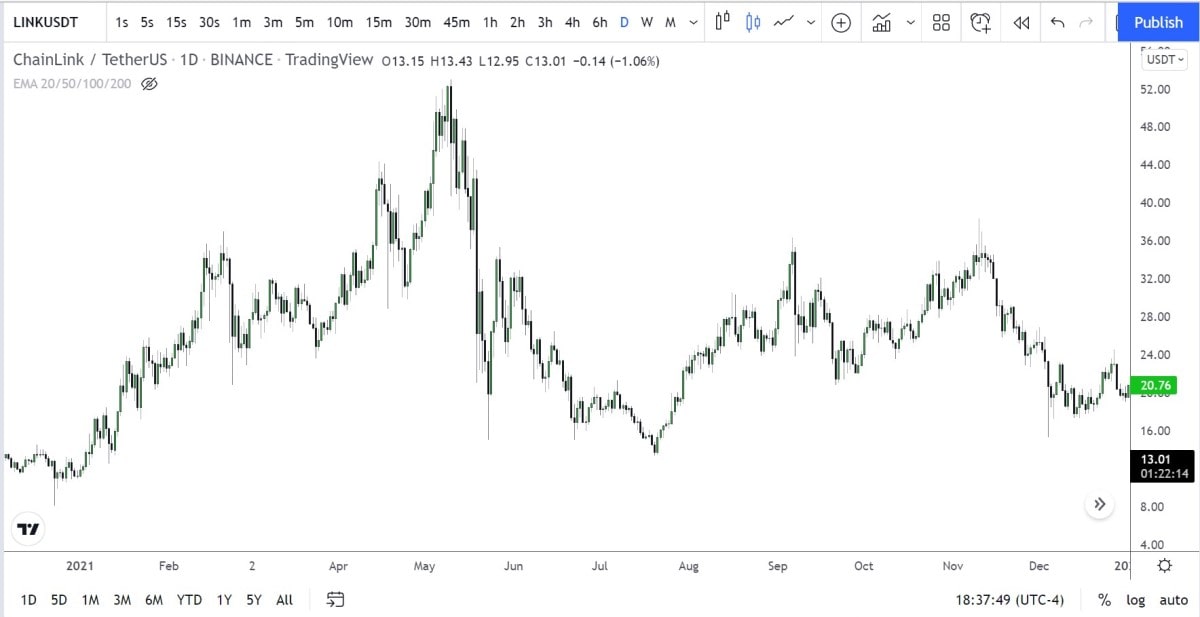 Chainlink's (LINK) price prediction 2023
According to PricePrediction.net, it is anticipated that the price may fluctuate within a range, with a minimum value of $8.12 and a maximum value of $9.33. The average trading price throughout 2023 is projected to be around $8.38.
The forecast suggests that the price of Chainlink may reach a maximum value of $7.28 in June 2023, while the minimum price could be around $6.69. On average, the price is expected to reach approximately $7.02 during June.
Looking ahead to December 2023, the forecast indicates that Chainlink could reach a maximum value of $9.33, while the minimum price is projected to be around $8.12. On average, the price is expected to reach approximately $8.38 in December.
LINK/USDT price chart
Chainlink's (LINK) technical analysis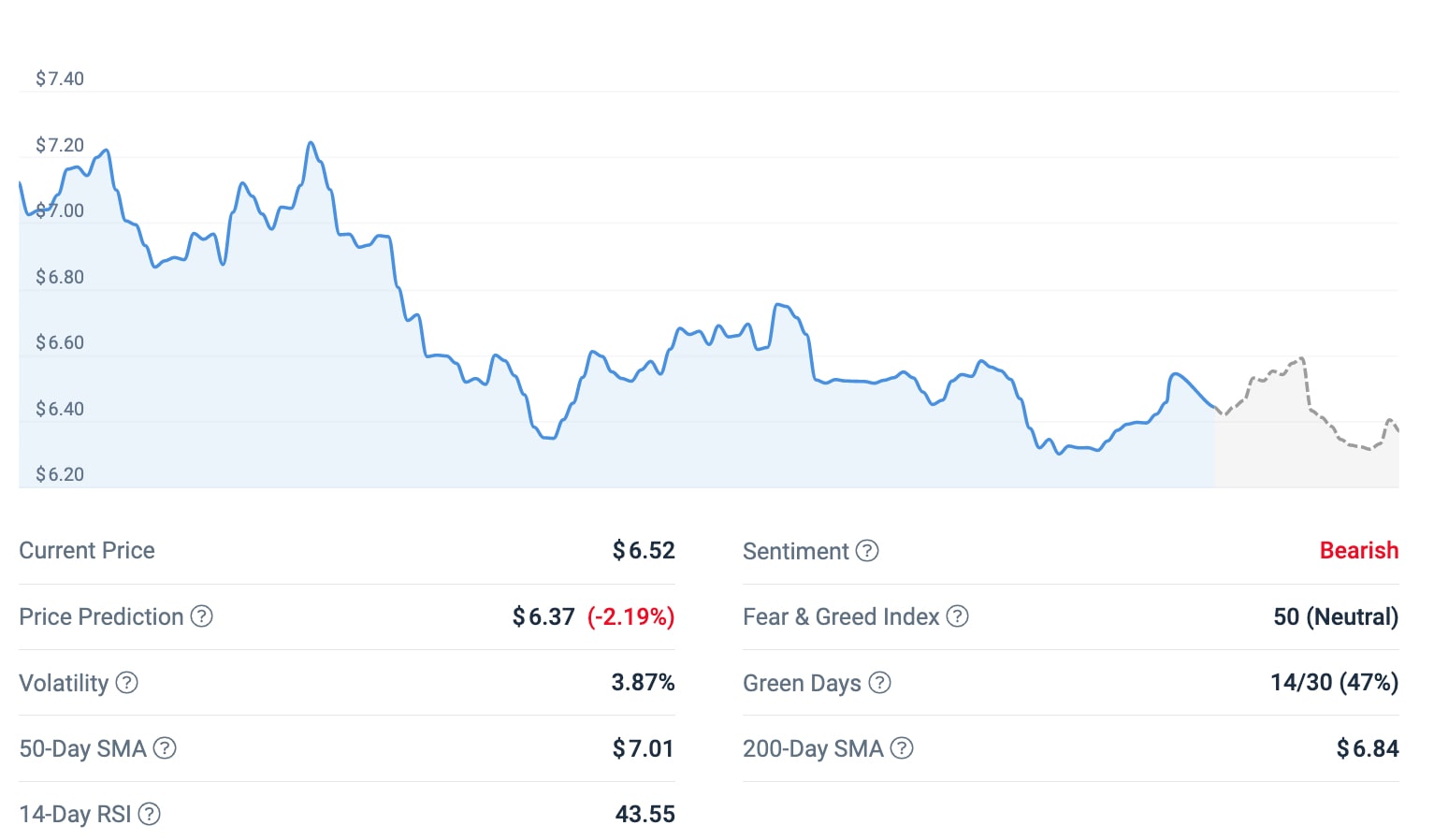 As of 28 May 2023, the general sentiment for Chainlink's price prediction is bearish. Out of the analysed technical indicators, 11 signals are bullish, while 17 indicate bearish signals. Additionally, Chainlink is trading below the 200-day simple moving average (SMA), signalling a sell trend for the past 21 days since 6 May 2023.
Regarding recent market movements, a Death Cross occurred in the Bitcoin market on 25 May 2023. On the other hand, a Golden Cross took place on 26 February 2023, approximately 91 days ago.
Based on the technical indicators, Chainlink's 200-day SMA is projected to decline in the coming month, potentially reaching $6.93 by 27 June 2023. Furthermore, the short-term 50-day SMA is estimated to hit $6.31 by the same date.
Chainlink (LINK) price prediction for 2023, 2025 and 2030
This year, there has been a steady Chainlink integration stream, including partnerships with the largest names in DeFi, as well as integration with Microsoft and IBM. Now it's time to evaluate the LINK crypto price prediction from popular forecasting experts and agencies.
TradingBeasts Chainlink (LINK) price prediction for 2023, 2025 and 2030
Following the Chainlink price prediction from TradingBeasts, the price of Chainlink is expected to reach approximately $5.32219 at the start of June 2023. The projected maximum price is $6.55471, while the minimum price is anticipated to be around $4.45720. The forecasted price for the end of June 2023 remains at $5.32219.
Looking ahead to May 2025, the average price for that month is estimated to be $6.34428. In this same month, it is predicted that the value of LINK could reach $9.53979. Furthermore, in May 2026, the forecast indicates a potential increase in the price of Chainlink, with a projected value of $12.25857.
WalletInvestor Chainlink (LINK) price prediction for 2023, 2025 and 2030
Per WalletInvestor's Chainlink (LINK) price prediction, LINK isn't the best long-term investment. According to the price prediction, LINK will keep its bearish momentum and may fall to $0.83 by the end of 2023. In 2024, LINK's price is predicted to average $0.954. Chainlink price prediction for 2025 is $1.23 and $2.362 for 2028.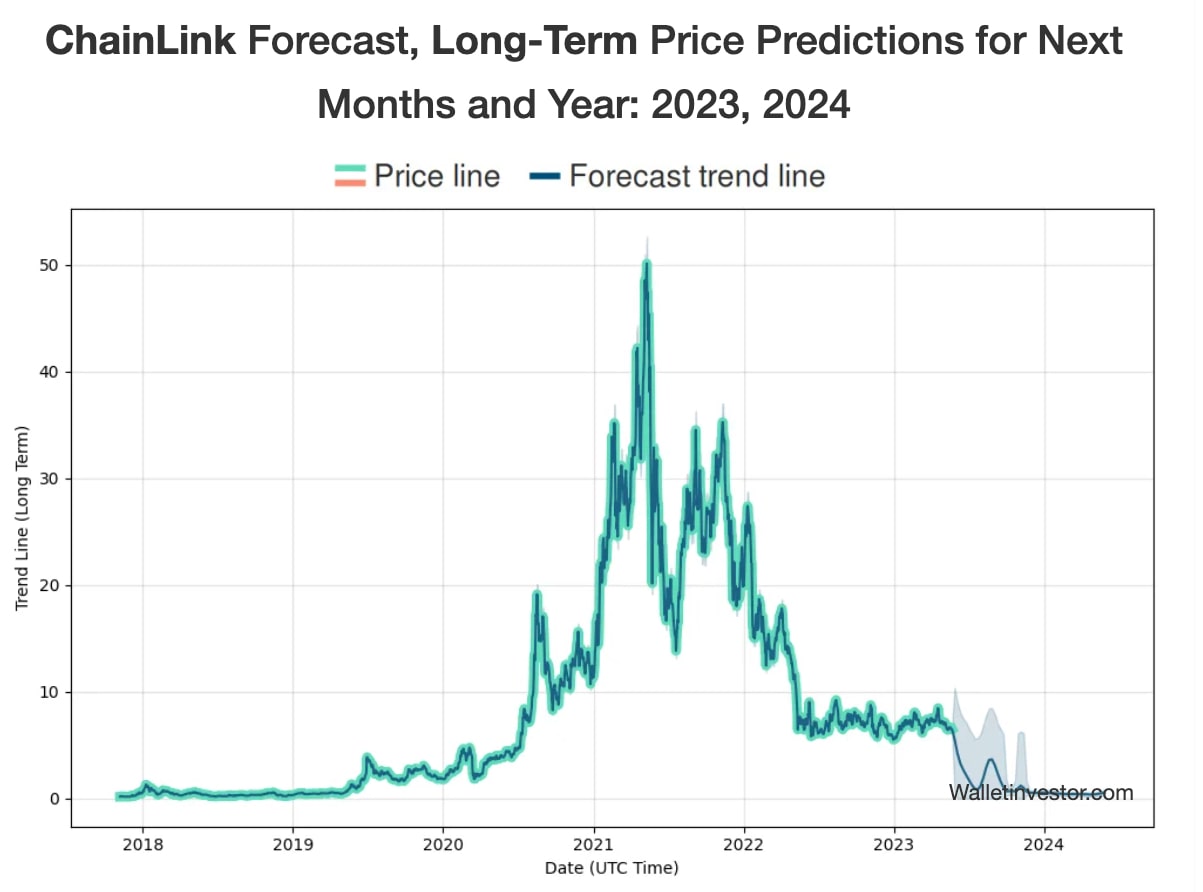 LongForecast.com's Chainlink (LINK) price prediction for 2023, 2025 and 2030
LongForecast.com's Chainlink price prediction is also bearish. They predict that the token will trade below the $7 mark in 2023. The later years are a bit less gloomy, but nothing special. They predict that LINK may grow slowly, and the token may trade at around $7 towards the end of 2026.
Chainlink (LINK) overall future value predictions
Chainlink filters out false or inaccurate data and helps clean up the net. Data fragmentation is a big problem for many companies because it becomes difficult to collect data, and the result is not guaranteed. Chainlink is changing the financial landscape by rethinking the way financial contracts work, while its decentralised oracle network is moving towards the fourth industrial revolution.
Will Chainlink (LINK) go up?
Based on the progress Chainlink's team has achieved and the popularity the crypto coin has gained, its prospects for further growth are tremendous. Chainlink should grow in the future, but we should consider that, for now, the asset is facing strong resistance. 
How high can LINK go?
Answering questions about the potential heights LINK's price can reach isn't so straightforward because there are quite a number of factors that affect coin prices. However, there is one thing to factor in when it comes to cryptocurrencies: their growth. Many believe that the crypto market is still quite young. If that's true, it can only mean that mainstream coin technologies will likely achieve wider adoption and newer implementations. Prices will reach higher as well, and the world will finally realise cryptocurrencies are what make the present the future.
Is Chainlink a good investment?
Chainlink has emerged as a standout performer in digital assets, delivering positive returns in multiple years, including 2017, 2019, 2020 and 2021. Its impressive growth was particularly fuelled by the decentralised finance (DeFi) market expansion throughout 2020 and 2021, leading to numerous instances of LINK reaching new all-time highs.
Looking ahead, Chainlink and its decentralised oracle network are well-positioned to experience even greater adoption as the DeFi and non-fungible token (NFT) markets expand. The versatility of Chainlink's oracles allows for their application across various sectors, which is crucial in driving the widespread adoption of blockchain technology and blockchain-based decentralised applications (dApps). Increased adoption of Chainlink's technology can potentially drive up both the LINK price and market capitalisation, further solidifying Chainlink as an attractive investment opportunity.
As the mainstream adoption of Web 3.0 progresses, many applications will seek services similar to those provided by Chainlink, enabling access to a broader range of real-world, off-chain data. This increased demand can potentially elevate Chainlink's value as an investment and support the overall price of the LINK cryptocurrency.
Chainlink's (LINK) price prediction today
The project has already assisted such large companies as Google, Gartner, Binance, AAVE and many others. The platform currently only works with Ethereum smart contracts, but there are plans to expand the infrastructure and add other blockchains in the future. Chainlink has been working with Swift, Gartner and IC3 and was the first to occupy this niche, creating a network of reliable decentralised oracles, which gives the company a strong advantage for the future.
Tags
Exchange BTC

Try our Bitcoin Cloud Miner and get additional crypto rewards based on your trading volume. It's immediately available upon registration.

Try our Bitcoin Cloud Miner and get additional crypto rewards based on your trading volume. It's immediately available upon registration.
Instrument
Rate
Change (24h)