What is Terra (LUNA) cryptocurrency?

The Terra LUNA coin has been experiencing a significant price drop recently. In May 2022, Terra Luna was trading at $120. The Terra blockchain overtook Solana to become the sixth-largest cryptocurrency by market cap, with almost $19 billion in circulating supply. Terra was the third-largest stablecoin in the market, after USDT and USDC, which was why its fall to barely one-hundredth of a cent was so shocking. An entirely new blockchain was created following the crash. It made people start wondering what Terra (LUNA) cryptocurrency is and how it differs from the original. 
What is Terra (LUNA) crypto?
LUNA is the native token of the Terra blockchain developed by the Korean firm Terraform Labs. The crypto's development was funded through the private sale of LUNA coins, which raised a total of $32 of investments that came from centralised sources, like Binance, Huobi and OKX. The entrepreneur and investor Daniel Shin headed the founding team that launched LUNE in 2019. When it was released, LUNA was one of the most successful decentralised finance coins, ranking seventh by market capitalisation on CoinMarketCap. However, following the price drop, LUNA slumped to the 214th as of 1 June 2022.
LUNA crypto explained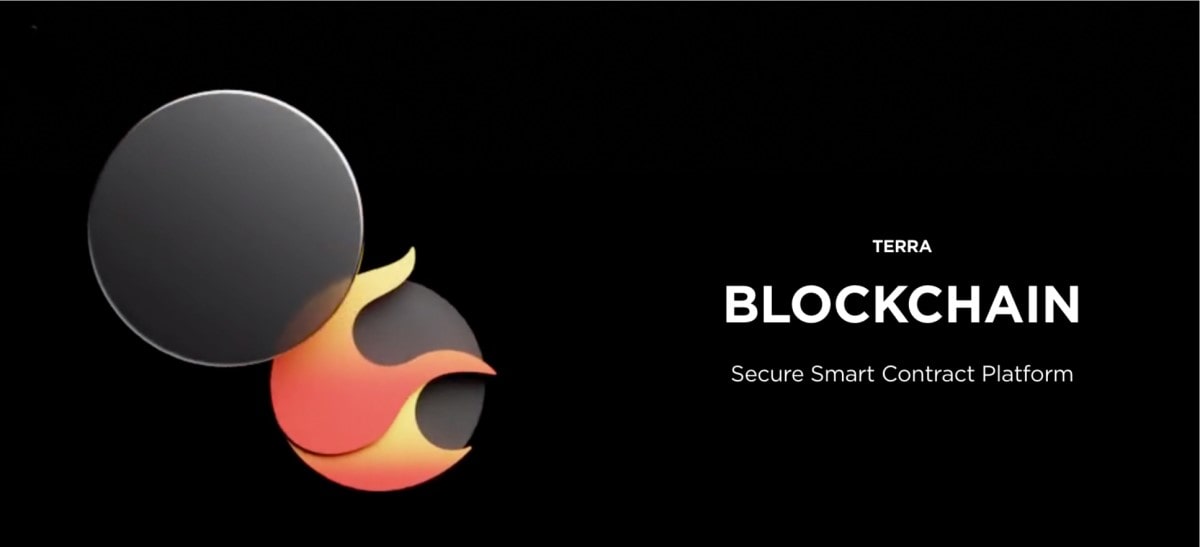 Let's begin our Terra crypto review by explaining what LUNA crypto is. As Terra's white paper explains, the founders' primary goal was to release a peer-to-peer cash system similar to the one that Bitcoin was originally intended to be. To achieve that goal, Terra deploys a system of stablecoins, i.e., cryptocurrencies whose value is closely connected to multiple assets, like fiat money or commodities.
UST is one of the most popular stablecoins and tracks the price of the US dollar. Thus, one UST token costs around $1. The peg to the dollar is achieved using the ecosystem's other token, the LUNA stablecoin, which plays the main role in maintaining Terra's price. It's also used to reduce market volatility.
The LUNA token's price has experienced significant rises and falls over the last year. The token traded at $0.66 and closed the year at $89. In March 2022, it reached the all-time high of $104.58, when the price of most other cryptocurrencies was falling due to the invasion of Ukraine.
Is LUNA a stablecoin?
Stablecoins are a specific type of cryptocurrency whose price is pegged to state-issued fiat currencies, like the US dollar. However, stablecoins in the Terra blockchain use a different method to stabilise prices. Unlike USDC and USDT, which rely on a reserve of assets to maintain their price peg, UST is an algorithmically stabilised coin. It uses a smart contract-based algorithm to keep its price at $1 by burning LUNA tokens to create new UST tokens.
Here's how it works. The process involves arbitrage, which refers to making small profits by finding differences between asset prices on different cryptocurrency exchanges. However, the process works slightly differently in the case of LUNA and UST. In the Terra ecosystem, users can exchange the LUNA token for UST and UST for LUNA at a set price of $1, regardless of the market price of either token at the time. If the demand for UST rises and its prices move higher than $1, LUNA holders can profit by exchanging $1 of LUNA to create a UST token. 
A percentage of LUNA is permanently removed from circulation during the swapping process, and the remainder is deposited into a community treasury. The treasury funds are then used to invest in applications and other services that expand the Terra ecosystem. Burning a percentage of LUNA tokens reduces the number of tokens left in circulation, thus making them more valuable. Minting more UST tokens dilutes the existing assets in circulation and reduces the price to $1. If the demand for UST is low and the price falls below $1, UST holders can exchange UST tokens at a ratio of 1:1 for LUNA.
The UST is one of the most widely-used stablecoins in Terra's ecosystem. However, there are many other stablecoins available that are pegged to other fiat currencies, such as:
TerraCNY (Chinese yuan)
TerraEUR (euro)
TerraBGP (British pound)
TerraJPY (Japanese yen)
TerraKWR (South Korean won)
TerraSDR (the International Monetary Fund)
Unlike other units, the International Monetary Fund's SDR is not available to the average user, and you cannot use it to buy anything. It's an international reserve asset calculated by a basket of various fiat currencies belonging to the world's largest economies.
How does LUNA work?
The Terra blockchain aims to create stablecoins that combine the decentralised freedom of cryptocurrencies with the stability of fiat money. The LUNA token is one of the ecosystem's key elements, often described as a staking token.
The Terra blockchain has implemented a dual-token system between UST and LUNA, where USTs were minted by burning LUNA. If the UST value went above #1, the equivalent LUNA would be burned. It made UST less valuable by minting more UST units. If UST's price dropped below $1, the tokens were swapped for LUNA, making UST more valuable.
Before the LUNA's crash in May 2022, there was a limit of 1 billion coins in circulation. If this number exceeded, LUNA was burned. As of 1 June 2022, the original LUNA was renamed LUNC and had a circulating supply of 6.5 trillion. 
What is LUNA crypto used for?
LUNA is a cryptocurrency coin based on the Terra blockchain, which makes it possible to create and exchange digital assets. LUNA is a native token of the Terra blockchain that's used to pay transaction fees and reward other users for participating in the network.
LUNA can be used to buy goods and services from businesses that accept such coins. Unlike other cryptocurrencies, LUNA coins are backed by other stablecoins, which keeps LUNA's price relatively stable.
LUNA coins can be used for many other purposes rather than online payments. The stablecoin is well-suited for lending, borrowing, insurance, investing and charity.
Is Terra (LUNA) crypto a good investment?
After the LUNA coin's price reached a low of $0.12 on 18 March 2020, the stablecoin became one of the best performing cryptocurrencies in the last couple of years, with a whopping rise of about 76%. In March 2022, LUNA ranked seventh by market capitalisation.
Is Terra (LUNA) crypto a good investment? There is always a risk in investing because you never know which way the market trends will go and whether the price of the chosen cryptocurrency will rise or fall in the future. Speaking about LUNA, the coin's price crashed after the UST crash. Will the coin's price value ever reach its previous all-time high? Nobody knows this for sure. We can only predict the possible price rise or fall based on the coin's previous behaviour. Before buying, it's always a good idea to do market research. 
Terra price analysis
At the time of writing this article (26/09/2022), the price of Terra (LUNA) was $2.73, with a 24-hour trading volume of $547,921,624. The Terra (LUNA) coin was up 11.78% in the last 24 hours. The cryptocurrency ranked #97 on CoinMarketCap, with a live market cap of $347,733,271 and a circulating supply of 127,475,474 LUNA coins.
Due to LUNA's recent price crash, many traders and investors lost their trust in this cryptocurrency. However, many other people think the new blockchain should help Terra's price to recover soon. 
If you look at the chart provided below, you will notice the candle showing a decent price rise. Today's candle (as of 26/09/2022) is red, indicating a slight fear among investors. Compared to its initial days in the market, the coin's price stability is much better for the token.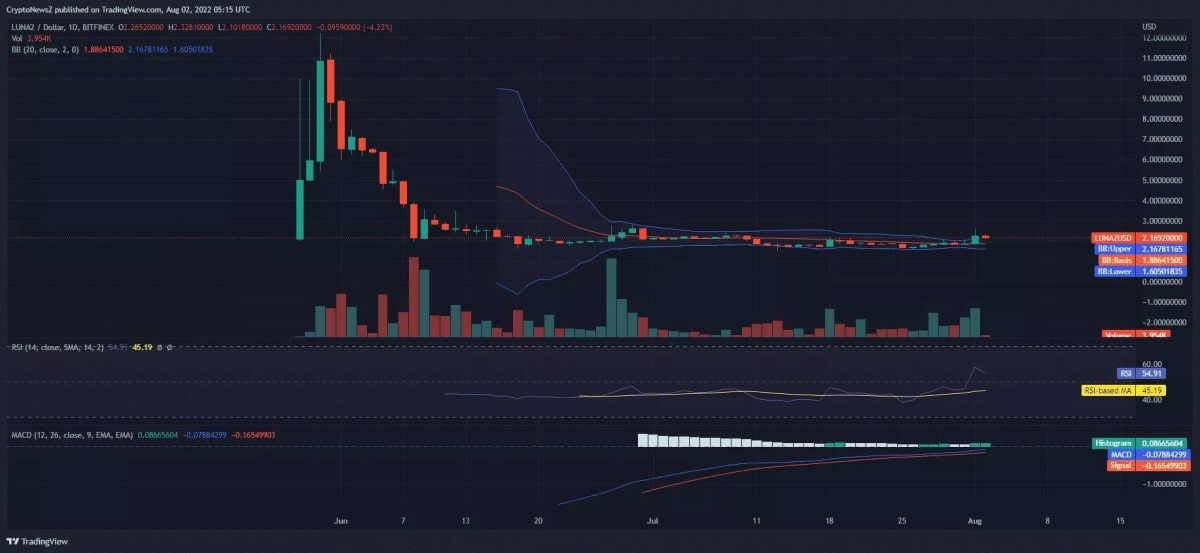 When writing this "what is LUNA crypto" article on 26 September 2022, Terra (LUNA) traded above the upper band of Bollinger Bands, indicating the uptrend is likely to continue. The Relative Strength Index (RSI) was at 54, indicating a neutral momentum. The MACD traded above the signal line with green histograms, showing positive momentum.
The short-term prediction for the Terra (LUNA) token is positive. The entire market has started to recover after the May 2022 crash. However, it is difficult to predict how high LUNA's price can rise in the long term.
LUNA future price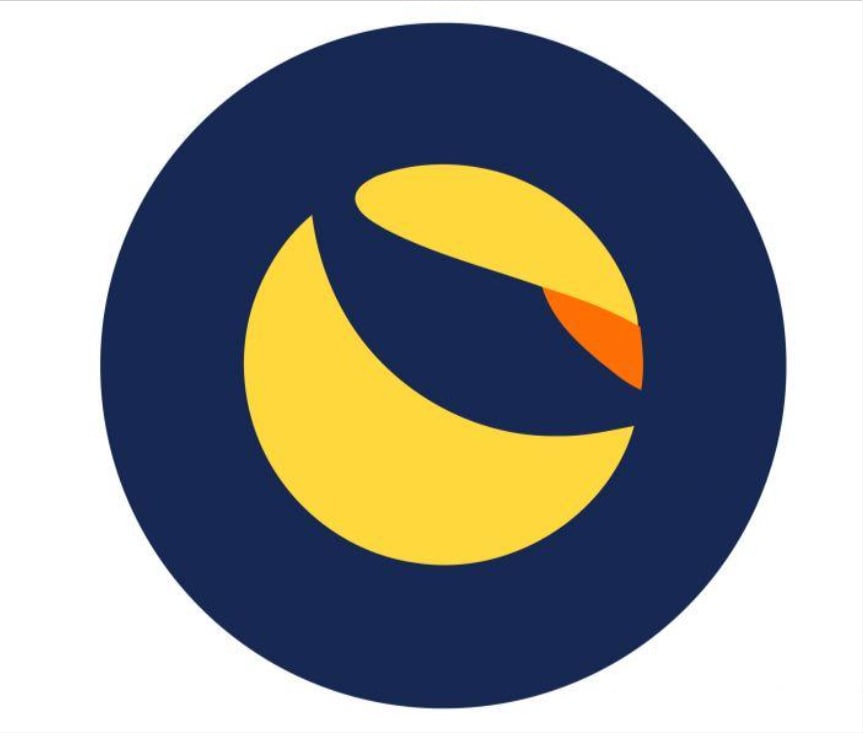 When discussing what is Terra (LUNA) crypto and the asset's future price predictions, in particular, many traders and analysts consider this project quite promising and predict it to show significant growth. However, nobody knows whether LUNA is a good investment or how it will perform in the future. Many factors may affect the stablecoin's price performance.
In the coming years, Terra (LUNA) could attract more attention from investors, which may result in the coin's price rise. For several reasons, many cryptocurrency analysts consider Terra (LUNA) a compelling digital asset. 
Firstly, it has great potential as a means of exchange and payment.
Secondly, it has already entered the top 10 cryptocurrencies list, and its past achievements simply cannot be ignored. 
Let's continue our "what is Terra (LUNA) crypto" discussion with Terra (LUNA) price predictions for the short and long term. 
While many crypto traders feel optimistic about the future of Terra (LUNA), TradingBeasts predicts LUNA's price will decline to $0 in 2023, which makes LUNA a poor investment option. WalletInvestor, on the other hand, predicts the price will drop to $0.70066 in 2023. PricePrediction.net agrees that the price will drop, with a predicted decline to $0.175165.
Terra (LUNA) price predictions for 2024 are mostly positive. PricePrediction.net and WalletInvestor expect the coin's price will be in the $2.955909–$2.955909 range. TradingBeasts takes a different view and cites the possibility of the price reaching $0 in December 2024.
Per DigitalCoinPrice, the price of Terra (LUNA) will increase to $105.05 in 2025. Gov.Capital feels way more optimistic about the cryptocurrency's future price and forecasts that LUNA's price will be $753 by the end of 2025. 
Concerning the Terra (LUNA) coin's long-term forecast, Price Prediction forecasts that LUNA's price will be about $0.30 at the beginning of 2030. CoinPriceForecast's analysts believe that LUNA's price will strengthen and rise to $380 by the end of 2030. 
Pros and cons of Terra investing
Terra (LUNA) may be a good investment option for many, but there are always two sides to a coin. In addition to the multiple advantages of investing in Terra (LUNA), there are also several drawbacks to doing so. Let's consider the main pros and cons of buying Terra (LUNA). 
| | |
| --- | --- |
| Pros  | Cons  |
| Terra (LUNA) is supported by many crypto exchanges and platforms. | Stablecoins can turn out to be a failure. |
| Besides LUNA, Terra has many other special projects, like UST, Mirror, Anchor, Terraswap and Chai. | Terra's stablecoin can be risky as regulators are opposing other stablecoins.  |
| The transaction fees are basically as low as 0.1 to 1%.  |   |
| User interface is far better than other crypto apps.  |   |
How to buy Terra crypto
To buy Terra (LUNA), you need to find a cryptocurrency exchange platform that supports this new digital coin. Given its popularity and demand, the most popular crypto exchanges now offer Terra (LUNA). It lets you choose the best exchange based on price, usability, investment tools and other requirements. Let's consider several of the most popular cryptocurrency exchanges where you can buy Terra (LUNA) today. 
To buy Terra (LUNA) coins, you must first visit the official website. The next step is to create an account and fill in your details and payment information. You can deposit funds or buy the coin directly using a debit/credit card.
Where can I buy Terra?
Now that we know the answer to "what is Terra (LUNA) cryptocurrency?" and how it works, let's see where you can buy it. Here are several examples of exchanges where you can buy Terra (LUNA) coins:
StormGain
Binance
Gate.io (Only for US residents)
OKX
KuCoin (Only for US residents)
Nexo
WazirX (Only in India)
How to buy LUNA on StormGain, step by step
StormGain users can buy Terra (LUNA) in the platform's web version or in the mobile app. 
To buy Terra on StormGain, all you need to do is fund your account in one of several ways:
Deposit funds via a crypto wallet with no charge fee.
Deposit funds using a Visa or Mastercard via Simplex or Koinal (USDT).
Deposit funds via bank transfer.
Once you've completed your deposit, head to the trading platform to buy LUNA.
Tags
Exchange BTC

Try our Bitcoin Cloud Miner and get additional crypto rewards based on your trading volume. It's immediately available upon registration.

Try our Bitcoin Cloud Miner and get additional crypto rewards based on your trading volume. It's immediately available upon registration.