How to get and read crypto trading signals

Cryptocurrencies have become lucrative investments that no one interested in discovering new money-making opportunities can miss out on. Understanding crypto trading signals is vital for every trader and investor looking for success in the crypto market. Crypto signals are instructions sent from a signal provider to an individual that tell traders what cryptocurrency to buy, when and at what price to make their investments, what the sell targets are, and the price at which they should set a Stop Loss. Crypto trading signals are researched by the providers themselves, increasing the likelihood of making a return by investing in the selected cryptocurrencies.
Bitcoin's success and the impressive leap in the crypto coin's value from several cents to thousands of dollars in less than a decade were vivid illustrations that cryptocurrencies offer unique opportunities to investors. Bitcoin was the first to hit the market, but now, you can invest in and profit from hundreds and even thousands of other cryptocurrencies.
However, this doesn't mean that their prices will always increase. In fact, there are rises and falls. Using crypto trading signals, both new and experienced traders can learn about money-making opportunities that new and well-established assets present. This article will tell you how and where to get crypto trading signals to potentially maximise your returns.
What are crypto trading signals?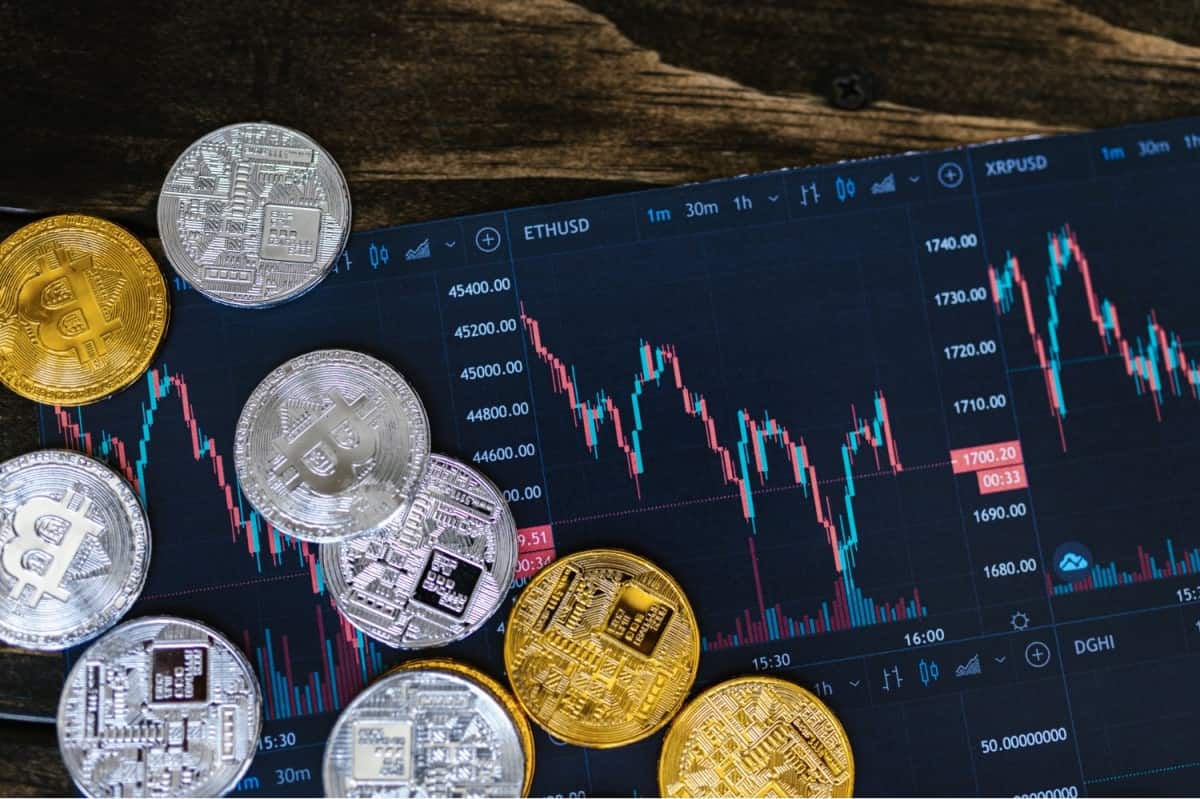 Simply put, crypto trading signals are suggestions or ideas on how to trade chosen cryptocurrencies for a specified price and at the selected time. These are instructions that provide you with relevant information regarding the cryptocurrency trade position to open. The instructions contain details on which specific cryptocurrency to trade, the best time to trade it, at what prices it should be bought and sold and at what price it's recommended to exit the trade, as well as the optimal Stop-Loss level to reduce your losses to a minimum if the situation doesn't go according to the prediction.
By knowing the answer to the question "what are crypto trading signals," we can move further and learn how to become a successful trader.
How can trading signals help me in crypto trading?
Crypto trading signals help investors profit as they avoid analysis paralysis and declutter their minds. With the help of crypto signals, traders can get the top level of flexibility and convenience required to attain better results quickly.
New and experienced traders can benefit from using signals to enhance their trading activity. Beginners get a unique chance to make more money from the start as they learn about trading and gain more skills in investing in crypto. Experienced traders can take advantage of trading signals to improve their profit margins.
The major advantage of using crypto trading signals is the unique opportunity to learn about and earn on the major players in the market. By following the instructions of a crypto signal provider, a trader can potentially make more profit while learning how to use a good trading strategy.
Who generates trading signals?
Crypto trading signals can be generated manually or automatically.
Although the industry is fairly young, crypto professionals have built up extensive expertise in analysing crypto price actions. Based on this knowledge, they can manually generate signals on the major cryptocurrency worth investing in.
Crypto trading signals can be generated using computer software that scans, tracks and analyses crypto price actions based on coded algorithms.
How to read crypto trading signals
Crypto trading signals come in different forms. All of them feature the following basic instructions:
Buy/Sell. The trading signal provides instructions on buying and selling the chosen asset. It may be grounded on the current market price (CMP) or feature a pending order. The CMP instruction will provide you with suggestions to buy/sell crypto assets at the dominating market price. The pending order instructions will give you buy and sell cryptocurrency at the price that will be hit in the future.
Stop-Loss/Take-Profit trading signals are intended to close trade positions when a specific price is reached automatically. There may be cases when the signals are adjusted to minimise the risk and increase profitability when the trade breaks down. For example, you may get instructions to shift the Stop-Loss to the breakeven level when the cryptocurrency's price moves to your benefit.
How to get free crypto trading signals
Trading signals can be either free or paid. Really, it boils down to the cost set by the trading signal provider. Some signals are provided for free or with a limited trial offer. There are also paid crypto signals available at a specific cost, either a one-off payment or a periodic subscription. In this article, we're focusing on finding out how to get free crypto trading signals.
Telegram is one of the most popular sources of free trading signals. The instant messaging service app looks and feels similar to WhatsApp but includes several unique features that make it stand out. The app's online bots are one such feature.
Telegram bots are optimised to handle users' messages automatically. The interaction with Telegram bots is as simple as sending command messages in group environments. In response, bots can issue crypto calls that let users automatically place trades without getting on crypto exchanges. Individuals can use Telegram to place trades with a few clicks and the correct settings.
Another way to get free crypto trading signals is through e-mail. Some users interested in generating more profit with crypto trading may not have Telegram. By subscribing to signal groups, they can receive free signals through e-mail. However, this method has one major disadvantage: you can miss trading signals if you don't regularly check your inbox.
StormGain cryptocurrency trading signals
StormGain mobile app provides accurate ready-made crypto trading solutions for free. The signals are useful recommendations provided by trading experts to help users support their investment plans. Crypto trading signals are the result of work by StormGain specialists that leverage multiple analytical techniques, chart-based analysis and technical performance indicators.

StormGain crypto trading signals are available for the following cryptocurrency pairs:
ETHBTC
ETHUSDT
BTCUSDT
LTCUSDT
LTCBTC
XRPUSDT
BCHUSDT
DASHBTC
StormGain's cryptocurrency trading signals provides recommendations for the trade's direction, entry price, as well as Take-Profit and Stop-Loss parameters. All the trader has to do is choose their trade amount and leverage in the mobile app.
If you want to take advantage of it, simply select 'With signals' in the 'Trading' tab. Next, you'll see a list of assets for which signals are available.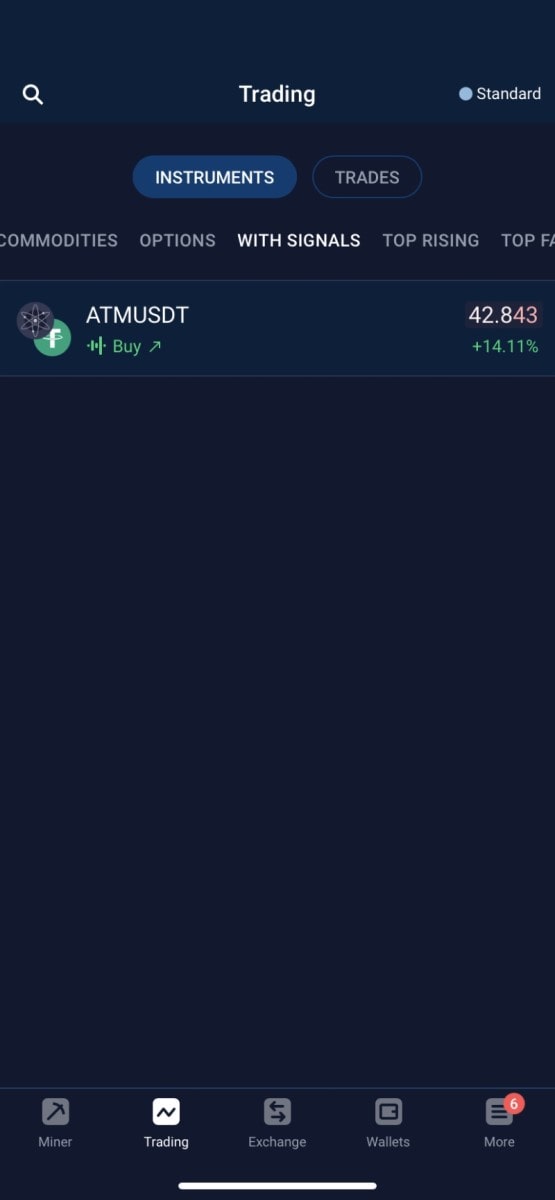 Tap the coin you'd like to use as a signal, and a trading window will show up.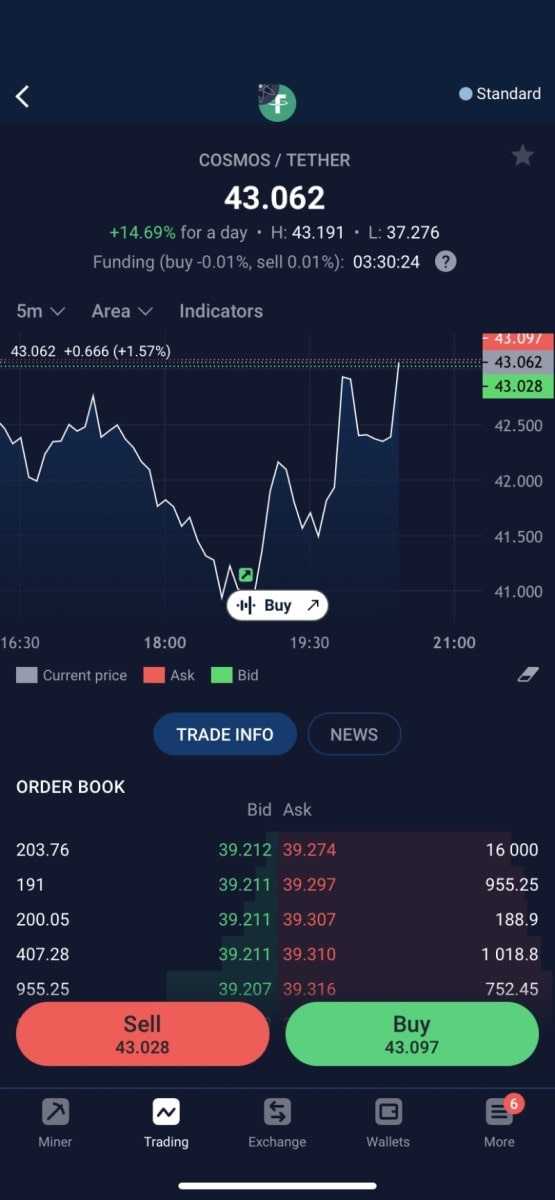 Next, click 'Apply signal'.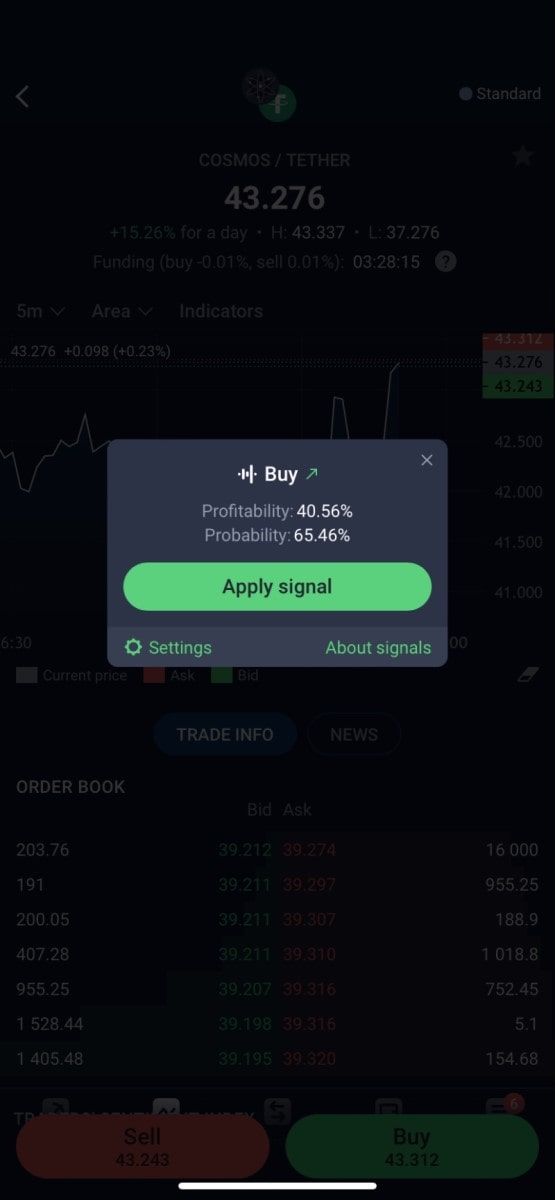 Click 'Apply signal' if you want to use the signal to open a trade or make modifications to its default parameters.
By tapping the corresponding tabs in the app, you can change your investment amount or leverage.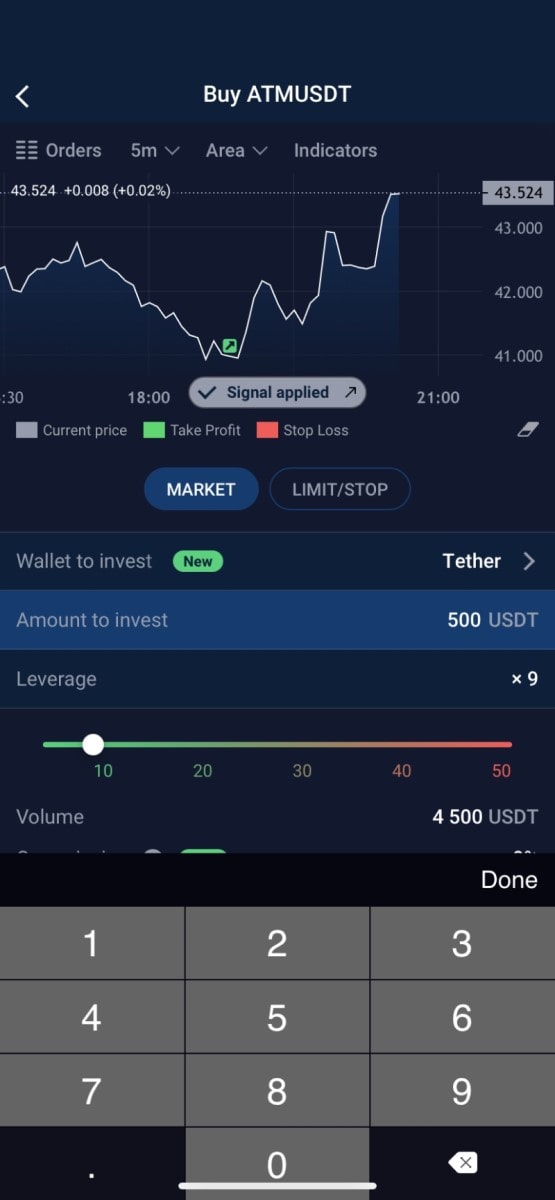 According to the input trade parameters, the Take-Profit and Stop-Loss levels will recalculate automatically. All you have to do then is click 'Confirm buy by signal at the price of…'.
StormGain's trading signals are updated every few hours. They help investors and traders understand when to issue stop loss or increase their profit levels. In StormGain's crypto trading system, the probability required to reach a profitable signal is about 65%-75%, depending on the market's demands and chosen assets. When looking for a higher chance at profit, the best chance is to choose crypto signals with the highest probability.
Tags
Exchange BTC

Try our Bitcoin Cloud Miner and get additional crypto rewards based on your trading volume. It's immediately available upon registration.

Try our Bitcoin Cloud Miner and get additional crypto rewards based on your trading volume. It's immediately available upon registration.
Instrument
Rate
Change (24h)