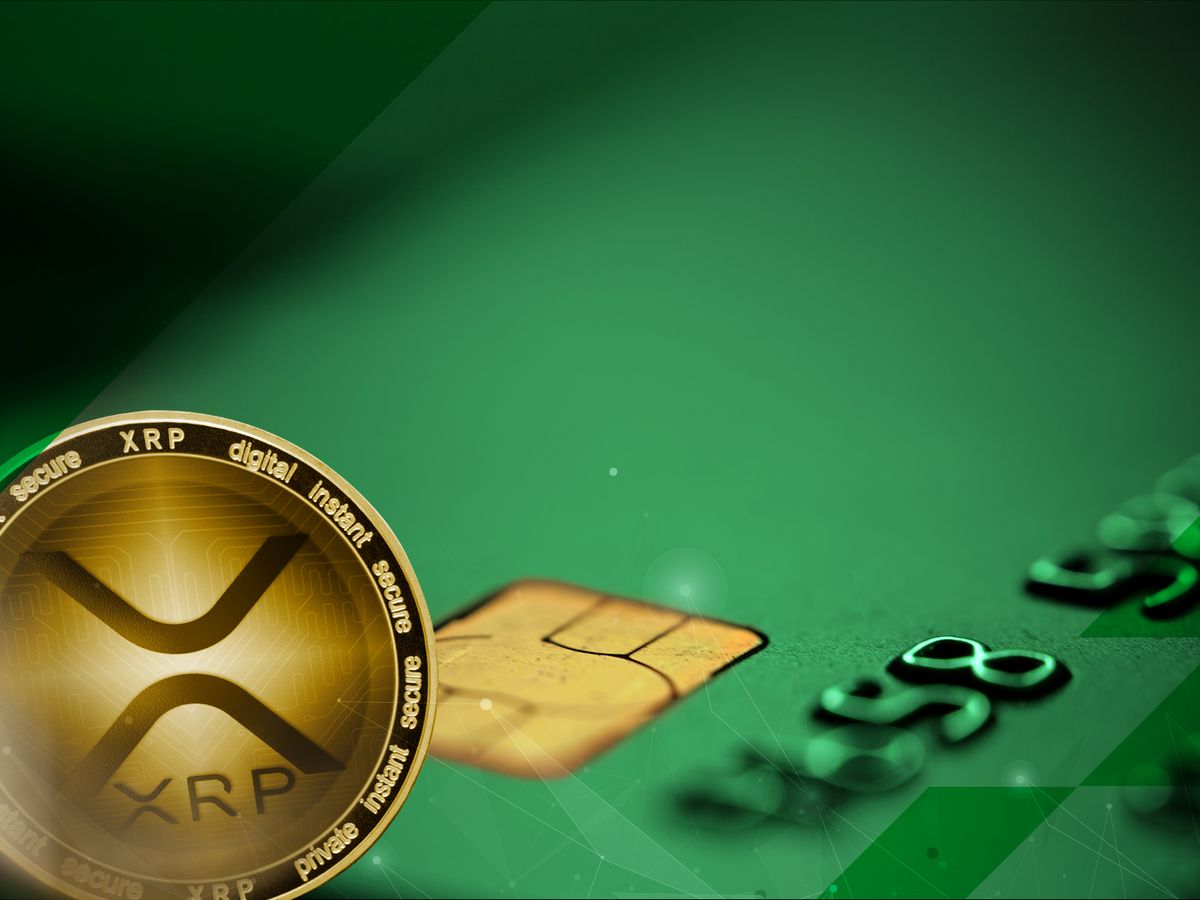 When many people hear the name Ripple, they immediately think of a third-ranked cryptocurrency by market cap XRP. But Ripple Labs – the company behind the coin – is so much more than a crypto project. In fact, the San Francisco-based fintech firm's super-fast payment processing network has already been adopted by some of the world's biggest banks. And it would appear that the relationship is a two-way street.
Some in the bitcoin community have always taken an anti-government, anti-fiat, anti-bank approach to their philosophy. Ripple takes the orthogonal side of each of those.– Ripple CEO Brad Garlinghouse. 
With so much of the old guard seemingly on board when it comes to Ripple, XRP definitely has some impressive future growth potential. At a time when digital currencies find themselves near historic lows, the question on any would-be XRP investor's mind is: where can I buy Ripple?
As one of the most popular digital currencies on the market, XRP is available to trade on a wide range of different exchanges, and many offer the option of purchasing by either using fiat or crypto. If you're based in the UK and looking for the best place to buy Ripple coins – look no further than StormGain. It's secure, convenient and practically instantaneous.
How can I buy Ripple instantly with StormGain?
Buying XRP with StormGain is as easy as pie. Once you've registered an account, which only takes a few seconds, you can start buying Ripple right away. Using your debit/credit card, your XRP purchase will be completed in near real-time and the fees/terms are difficult to beat. Just take a look for yourself!
StormGain's step by step guide to buying Ripple
First things first, you'll need an XRP wallet. Unlike some exchanges, StormGain provides one automatically, so no worries there.
Register your StormGain account. This process is quick and easy, and can be completed in a matter of seconds, with none of the long-drawn out security checks you get with some platforms.
Buy Ripple using your credit/debit card. When you open the StormGain app and sign in, you'll see a button at the top of the screen that says "BUY CRYPTO WITH CREDIT CARD" (see image below).

Once you click the button above, simply select the cryptocurrency you want to buy (in our case, this is Ripple XRP).
Finally, enter your card details as you would for any other transaction, and then click pay. Don't worry, StormGain is 100% secure, so feel free to save your details for subsequent purchases. 
Now you've got your Ripple, you can choose to buy and hold for a guaranteed return of at least 10% annually (Interest on Deposits Scheme) or you can try and play the market by trading with leverage up to 1:200.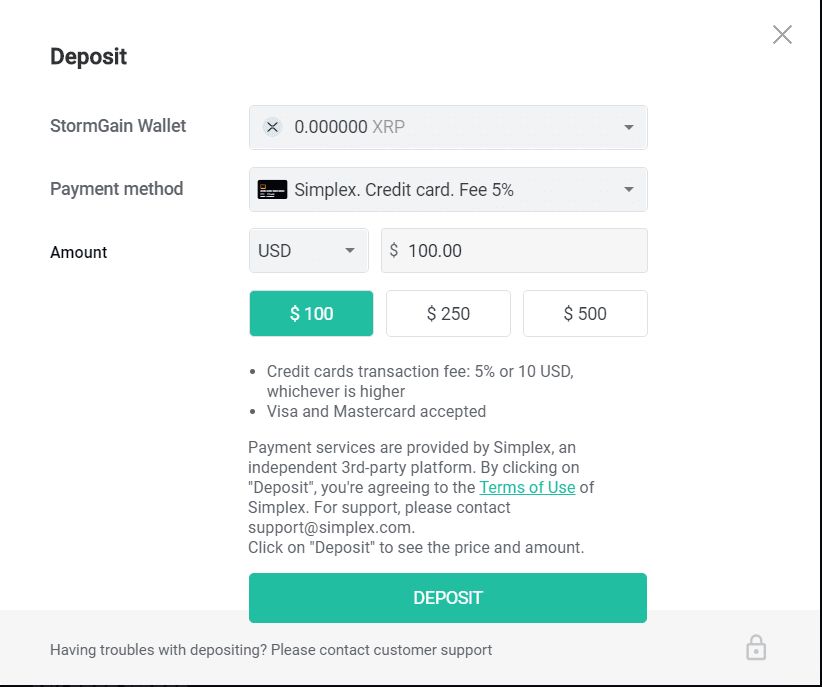 Ripple wallets
Before you can buy XRP, you will first need to get yourself a Ripple wallet. However, unlike Bitcoin wallets, XRP wallets are not free. A standing deposit of 20 XRP is required to keep the wallet open. That means that if you send yourself 1000 XRP, you'll only really have access to 980. Luckily for StormGain clients, all of this is taken care of and you are automatically provided with a Ripple hot wallet when you create your account. Users from other platforms aren't quite as fortunate, though.
Where else can I buy Ripple (XRP)?
If you're asking yourself how you can buy Ripple in the UK and, for whatever reason, you don't wish to purchase your XRP directly on StormGain, there are a few other options available. While there are some exchanges with extremely low commission rates out there (e.g. Binance), most of these will not accept fiat. So, in the interest of fairness, our guide will only compare those that allow you to buy Ripple with traditional currency. 
Coinbase 
If speaking of one of the most famous fiat exchanges around, Coinbase is a name that most will have heard of. Following intense popular demand, Coinbase has finally added XRP to its crypto offering. At 3.99% commission on purchases, the cost is significantly higher than crypto-only exchanges. And unlike StormGain, they don't support credit card purchases, so you are limited to debit card transactions/wire transfers. Additionally, Coinbase clients receive zero interest on their crypto deposits (StormGain pays its users 10% APR on their balances).
Summary of Coinbase purchase/withdrawal costs:
Instant buys – 3.99% + $0.10 withdrawal fee
Standard buy and sell – 1.49$ + $0.10 withdrawal fee
CEX.io
This is a good option for anyone who is just looking to buy and hold crypto without leverage. It offers security and generally fair commission rates. Users in a wide range of countries are able to deposit funds via VISA, MasterCard, bank transfer or Crypto Capital, though each method carries different taker-maker transfer fees. Bank transfers are totally free, though they typically take several days, while card payments are usually instantaneous. One thing to bear in mind is that CEX's verification procedure can take some time and requires you to submit photo ID, which may make it unsuitable for some users. However, if you're wondering 'how can I buy Ripple in the US?', this could be a good fit for you.
A quick breakdown of typical CEX costs:
VISA payments – 3.5% + $0.25 deposit fee and $3.80 withdrawal fee.
MasterCard – 3.5% + $0.25 deposit fee and a 1.2% + $3.80 withdrawal fee.
Crypto Capital – only 3% withdrawal fee.
Bank transfers – free of charge.
Paypal
Why anybody would choose this method is beyond us but, yes, there is a way to buy XRP using your Paypal balance. Be warned, though, it's unnecessarily complicated and you'll rack up around 15% in total fees. First, you will need to purchase Bitcoin on a platform such as Localbitcoins. Once you have your (needlessly expensive) BTC, you can then trade these for Ripple on another site like Binance or Bittrex. Not only is this process much more complex, expensive and time-consuming than making a credit/debit card purchase with StormGain, the use of several different platforms (including a p2p exchange) makes it inherently riskier.
Peer-to-Peer
As alluded above, there are indeed p2p exchanges and some (like Cointal) do offer XRP. However, given Ripple's less popular status, it is much harder to find offers of sale than with other coins. Though the fees are lower, there's a relatively large risk that your seller could just abscond with your fiat. That's why many such exchanges recommend meeting face to face – a step that is undesirable and impractical for most.
So, how do they all stack up?
 

StormGain

Coinbase

CEX.IO

Paypal

Cointal (P2P)

Verification

Required?

 

NO

 

YES (Official ID document)

YES (internationally-recognised ID)

YES (government-issued ID + proof of address

 

No

Instant fiat purchase fees

 

5%

 

3.99%

 

3.50%

Around 5-10% for BTC + BTC>XRP commission (depending on method)

 

From 1%

Available in UK

YES

YES

YES

YES

YES

Available in US

NO

YES

YES

YES

YES

Total countries supported

 

200+

 

30+

All (with some restrictions on card purchases)

 

200+

 

All
Final thoughts
So, there you have it; how to buy Ripple with fiat, summarised in a handy, easy-to-digest format. We've seen numerous different methods, all of which have their individual advantages and disadvantages. Generally speaking, you will always have to strike some balance between speed, convenience, cost and security. However, out of all of the options above, StormGain clearly stands head and shoulders above the rest. With almost instantaneous registration and free hot storage, backed by industry-leading security and unhackable encryption, you'll struggle to find a more comprehensive solution. Add to that StormGain's incredible generosity with its Interest on Deposit scheme and the huge profit potential of leveraged trading, and the choice is clear-cut. Get StormGain now and start earning from day one! 
Welcome to StormGain — crypto trading platform!
Trade with 200× multiplier.