Register in 5 seconds and easily operate funds on your wallet: deposit, exchange, withdrawal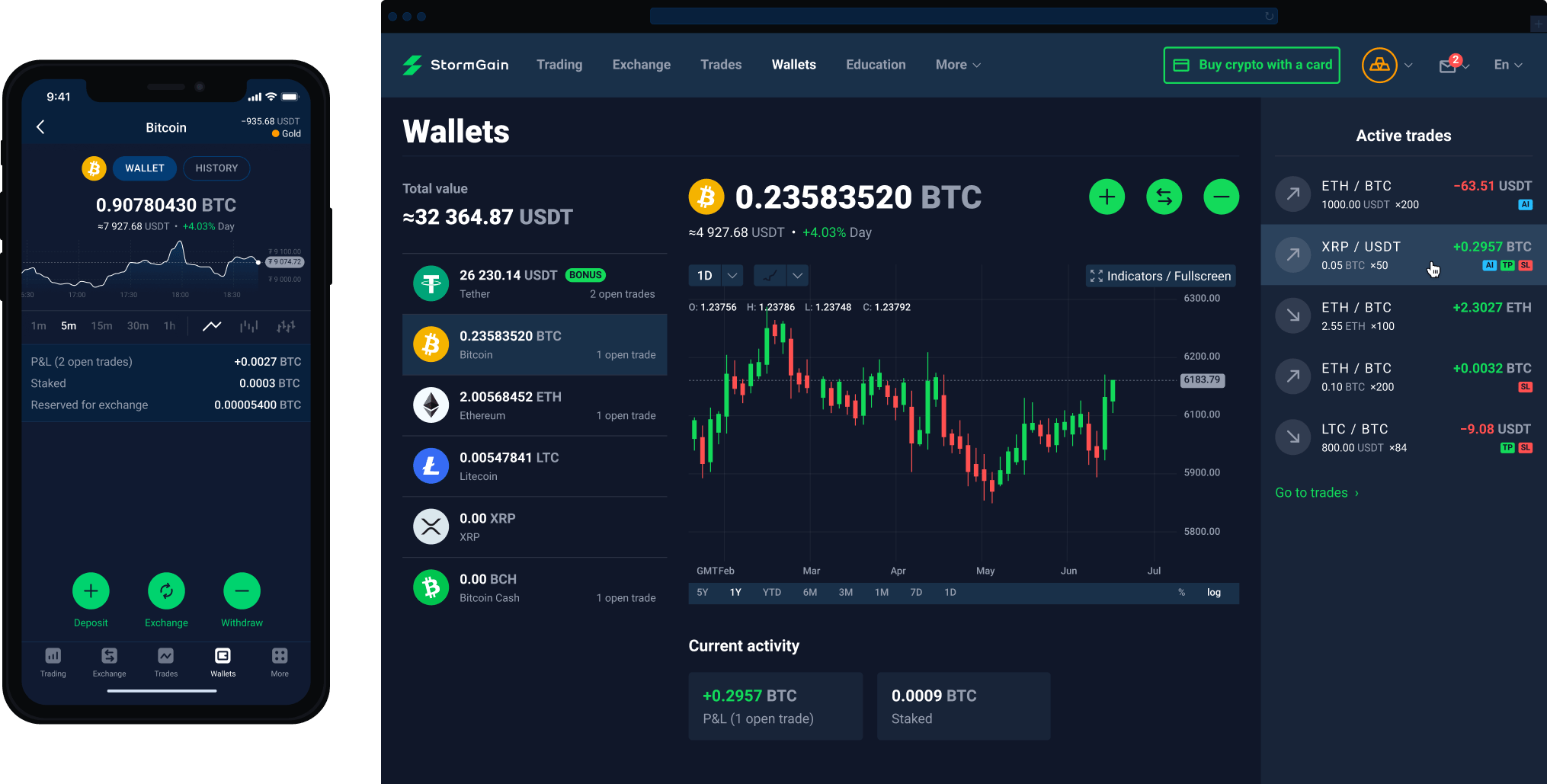 StormGain's XRP Wallet
StormGain's built-in multi-currency wallet provides a simple way to secure, manage and exchange your funds whenever and wherever you want. All you need to do is to register and deposit your assets!

Full crypto options
Whether you're looking to exchange, hodl or transfer your assets, StormGain's crypto wallets let you do just that with its built-in tools.

Available 24/7
Access your wallet 24/7 worldwide from any device.

Top-level security
Rest assured with industry-leading security protocols and strong encryption.

Absolutely free
StormGain's built-in wallet is completely free of charge.

Exchange Tokens in Wallet
Hedge your portfolio by exchanging your coins for Gold and Silver tokens in your wallet.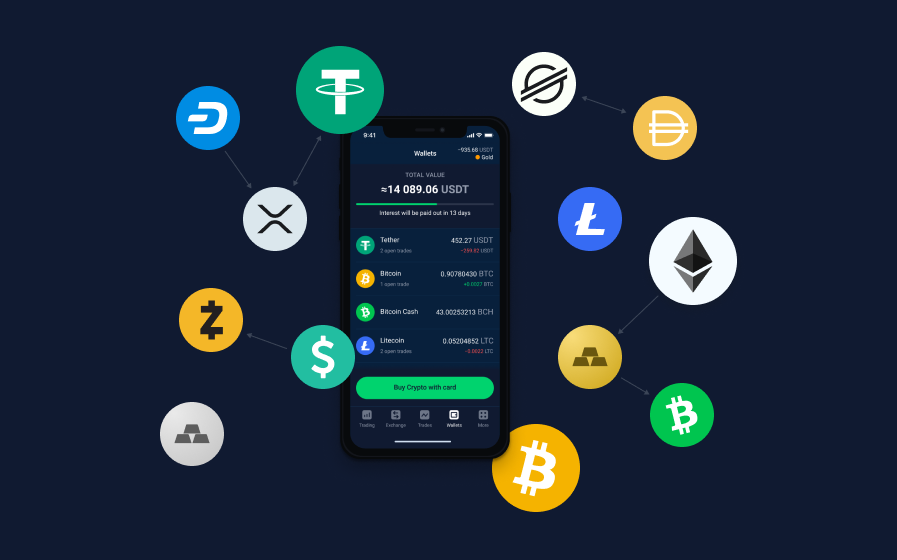 Your Digital Assets in One Place
You have a quick access to all of your crypto assets — BTC, ETH, BCH or any other.
Cold wallet for Ripple
The most popular cryptocurrencies wallets: we have selected the best for you. Easy purchase and reliable storage of real cryptocurrency
How do I register a Ripple wallet?
Registering a Ripple wallet can be time-consuming and tedious…unless you're a StormGain client. That's because StormGain automatically generates an XRP wallet for you as soon as you register your account. In addition to avoiding annoying checksums and manual synchronisations, you'll also steer clear of paying the reservation fee Ripple charges other wallet users. Thanks, StormGain!
What devices does the crypto wallet work on?
Online wallets are preferred for their convenience and accessibility, with security as an additional important aspect. That's why most people opt to install them on to their smartphones. While you can't expect the same protection that you'd get with a hardware cold storage medium, two-factor authentication and a strong, unique password will provide plenty of security for your crypto assets. With encryption leagues ahead of the competition, StormGain clients can be certain that their XRP is safe, while still enjoying easy access to their coins.
How do I download an XRP wallet?
As a StormGain client, getting your Ripple wallet on your computer or mobile phone couldn't be easier. Simply download and install the StormGain app on the device of your choosing. That's it. Because StormGain's cold wallets are accessible right in the platform, you'll be able to manage your Ripple as soon as you have the app up and running. After that, you can trade, exchange or just hold your XRP – it's entirely up to you!
What is the best way to add funds to my wallet?
StormGain makes adding funds to your wallet a walk in the park. If you have your own cryptocurrencies already, we'll only charge a 0.25% commission to exchange them for Ripple. For the crypto newbies out there, you can also buy XRP instantly in the app using your debit or credit card. As soon as the payment clears, your Ripple will appear in your StormGain wallet. With StormGain, fiat purchases are lightning-fast and as easy as pie.
How can I make 10% profit on my deposits?
Trading on a volatile market like the crypto market can be incredibly profitable, but it can also be pretty unforgiving, as well. If only there was a way you could guarantee a stable annual return of at least 10%...With StormGain, there is. This is because StormGain will pay you 10% interest on any crypto you hold with us. That means that no matter what your trading performance looks like, you'll always know your balance is slowly growing.
What advantages does StormGain's Ripple wallet offer?
You'd be hard pressed to find another service that can rival StormGain. From the convenience of our free in-app wallet to incredible interest on deposits, StormGain is constantly setting itself apart from the competition. Just when you thought we couldn't get any better, we also offer instant credit/debit card purchases at fair prices. The StormGain platform features an integrated XRP wallet, meaning it's always at your fingertips, whether you're on Linux, Windows, iOS or Android. So what are you waiting for?! Register your StormGain account today for unbeatable terms.
Download the XRP Wallet Now!
Enjoy quick access to all of your crypto assets — BTC, ETH, BCH or any other — stored in one place.