Litecoin (LTC) price prediction 2023-2030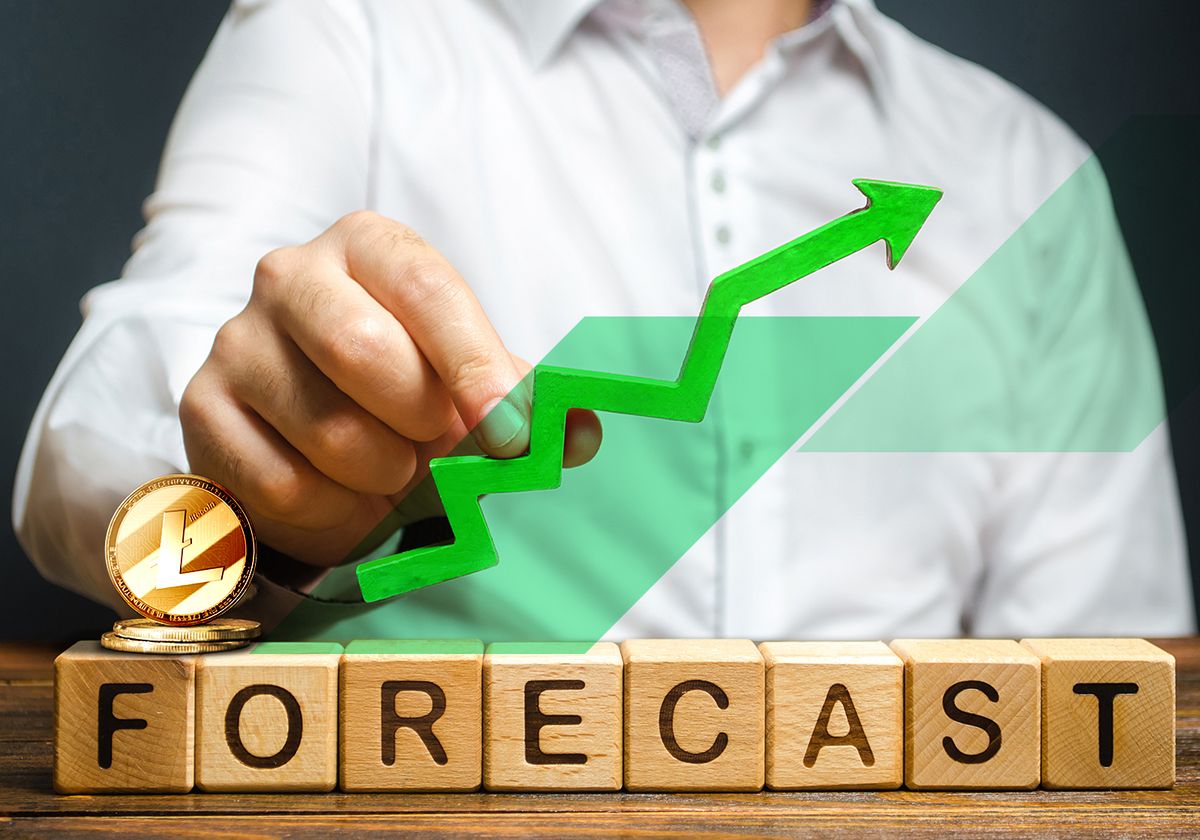 Some investors are proud of Litecoin, while others are disappointed with it. LTC's biggest failure was in 2018. Since then, it has performed better. Still, for the most part, people don't believe in Litecoin, which is why LTC lost ground, according to CoinMarketCap.
However, Litecoin may still provide investment potential. Analysts say that, in the long term, LTC may see its price increase and reassume its previous rank. If you're looking for a good return in 5 or more years, pay attention to this cryptocurrency.
Before we delve into Litecoin predictions and answer questions such as why LTC may be successful or fail once again, let's quickly review its history, main features and future plans.
What is Litecoin (LTC)?
For ordinary users, Litecoin is one of the most recognised cryptocurrencies in the whole market. It is also known as the 'silver crypto', while Bitcoin is gold. Newbies to the cryptocurrency market may not know that LTC is a fork from Bitcoin and is one of the oldest digital currencies. For many years, LTC was one of Bitcoin's main competitors.
A brief overview of Litecoin as of 28/06/2023:
| | |
| --- | --- |
| Project name | Litecoin |
| Founded by | Charlie Lee in 2011 |
| Market capitalisation | $6,451,786,294 |
| Market price | $88.75 |
| Total supply | 84,000,000 LTC |
| Difficulty changes | Every 3.5 days |
| Protocol | Proof-of-work |
| Block time | 2m 26s |
| Algorithm | Scrypt |
| GitHub stars | 4208 |
| Official website | |
Important information about Litecoin
Litecoin comes from the words' light' and 'coin' because this cryptocurrency was founded as a simplified version of Bitcoin. They work the same way, but LTC is technologically better:
It reduced the block time by 4 times, which allowed transactions to be processed faster.
It uses a Scrypt mining algorithm that requires less power to create a block.
Litecoin has a big user base and significant demand on exchanges. Moreover, it's one of the most popular cryptocurrencies on the dark net.
LTC is promoted by the not-for-profit organisation Litecoin Foundation. Today, there are only two full-time developers at this foundation. The other supporters are advisors, investors and ambassadors or play other roles.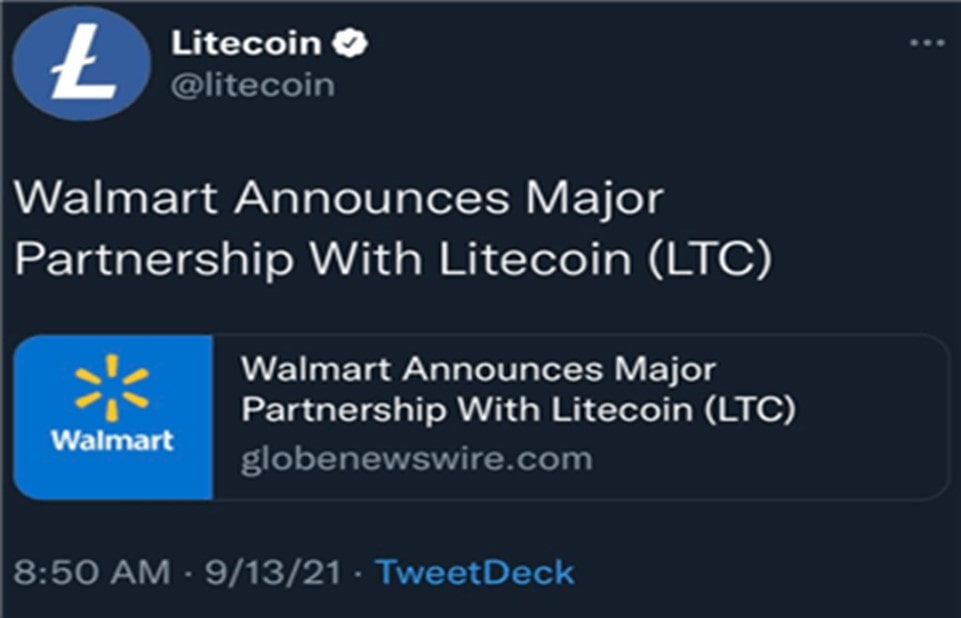 Litecoin (LTC) price analysis
The future of Litecoin's price depends on many factors, from fundamental to technical analysis. In general, like silver compared to gold, Litecoin is cheaper than Bitcoin. The price ratio is 1:155, which is much bigger than silver's ratio to gold (1:50). Why is that?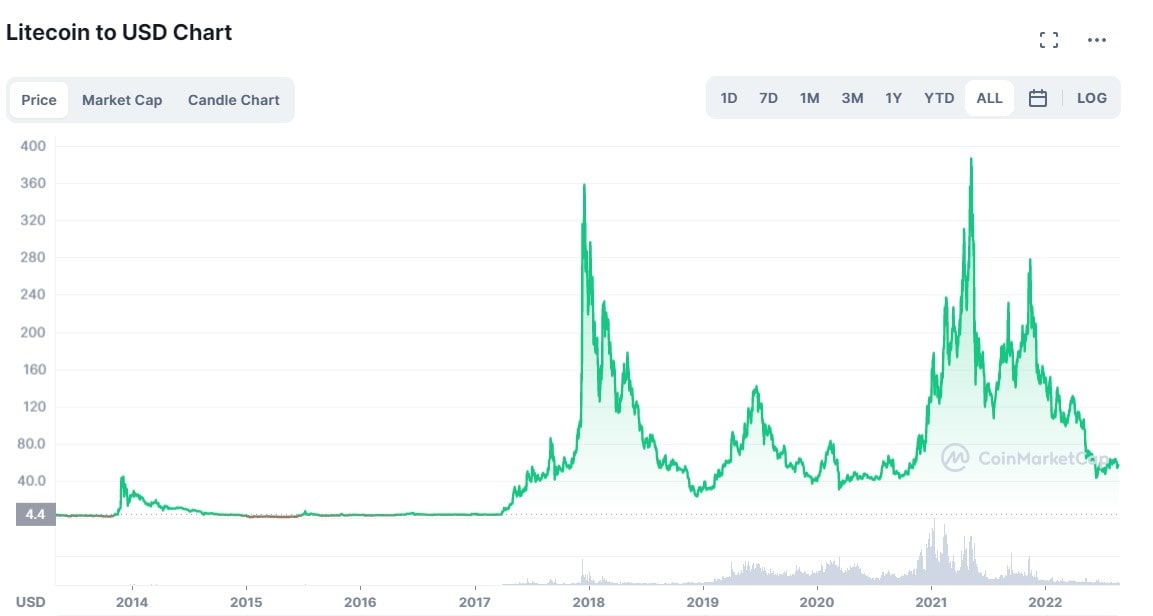 Litecoin is more available for buyers. LTC's total supply is 4 times greater than BTC's. Another reason for the price disparity is that Bitcoin, like gold, has better recognition around the world. Increasingly more people prefer BTC as an alternative to fiat money. What's more, BTC is a superior store of value, while LTC is better for quick purchases.
LTC's price history
Litecoin was founded in 2011, so today, its history is very long and saturated. During its first three years of existence, LTC was very popular for several reasons:
The ability to mine with low-power processors.
Its low exchange rate allowed people to buy the necessary number of coins in anticipation of a future price increase.
The Scrypt algorithm simplified the mining process and increased the cryptocurrency's reliability.
Higher transaction speed.
Higher coin amount.
Mining difficulty is recalculated more often.
The increased block size reduced the possibility of transaction freezes.
These benefits attracted the attention of the cryptocurrency community. Most of them changed their priorities from BTC to LTC and began to buy the 'silver crypto'. As a result, LTC's price grew every month. From the moment of its creation in 2011 through the end of November 2013, LTC's price changed from $2 to $52.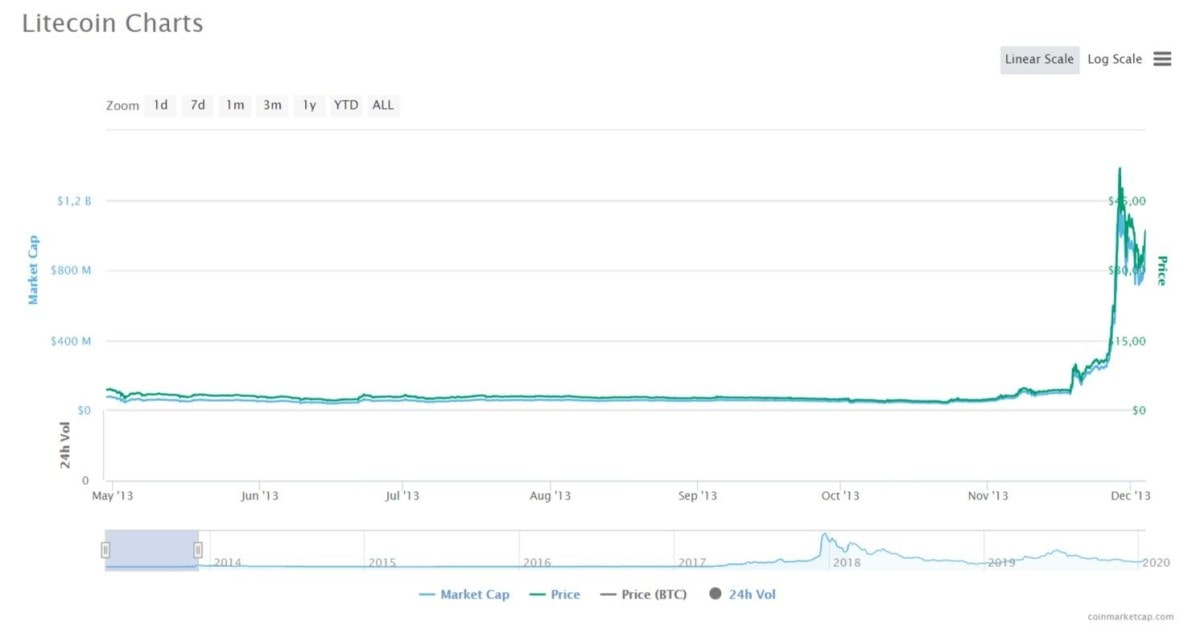 A correction then occurred, and its price changed from $50 to $24 (on 31 December 2013). Nevertheless, the cryptocurrency community began to consider this asset for serious investments.
The reasons for such sharp changes are ambiguous. It's not as easy to interpret the real factors for a coin's rise and fall in the crypto world. This might be due to decentralisation, the complete absence of any regulatory authority or more recognised growth-filled speculation.
At the very beginning of 2014, the situation rapidly changed. In January, LTC was valued above $20, but from February on, a downward trend became apparent. By the summer, its price was above $10, but on 15 June 2014, it passed the psychological mark of $10, and by the end of the year, the price again dropped to $2.
The all-time Litecoin price chart from June 2014 to the end of 2017 was low but stable. There were several insignificant jumps slightly above $6, but there wasn't any large-scale growth.
In the summer of 2015, many members of the cryptocurrency community discussed a possible increase in LTC's price due to a halving of its mining block reward. It was supposed to take place in August. Accordingly, a price pump was carried out on 10 July 2015, and LTC rose to $8 before rapidly dropping down to $3 and then to $2.
For the first three months of 2017, LTC's price remained stable. The 'silver' cryptocurrency was trading for $3-$4 and didn't give investors any hope. However, in the spring of 2017, the situation changed. Litecoin exceeded $10 for the first time on 6 April. By the end of April, it was trading at $15.
This increase happened for several reasons:
A new version of Litecoin Core was released.
The SegWit code was implemented in the new version.
The open-source blockchain explorer 'insight.litecore.io' was released, which can be used to develop online repositories and other apps.
Litecoin's price continued to grow until the end of 2017. Its growth was not rapid but stable, going from $4.30 to $83 in 11 months. That growth trend favourably influenced the popularisation of cryptocurrency and attracted the attention of investors again.
Then the crypto market boom came about. No member of the cryptocurrency market will forget the end of 2017 and the beginning of 2018. That's when all crypto projects saw their prices grow several-fold. Some projects rose up to 1500%. Litecoin also had the greatest time.
On 2 December 2017, the chart for the entire duration of Litecoin's existence reached the $100 mark for the first time, and on 12 December, the value exceeded $200. The price continued to grow rapidly before surpassing $320 on the evening of 12 December.
LTC's maximum price came on 19 December, when it hit $372 per coin. Its market capitalisation at that time was over $20 billion, thanks to the overall positive upward trend across the cryptocurrency market.
At the same time, Charles Lee made a statement that he would sell all his LTC coins for system transparency. Many members were worried that this could cause a depreciation, but there wasn't any correction.
Then the 'dark times' began for all crypto lovers. Many people began to speculate on prices, leaving the market very unstable. Every coin lost its position. Litecoin fell to $200, then to $120. The summer of 2019 was a good period for this crypto coin because it had risen to $135 per coin. However, its price fell again and traded within the range of $40 to $60 for the majority of 2020. Hope arose again for enthusiasts in early 2021; the pump in crypto price saw Litecoin regain its all-time high at over $400 to a Litecoin. The exponential growth wasn't sustainable, of course, and the price has declined ever since. 
As of 28 June 2023, the price of Litecoin stands at $88.75, positioning LTC as the 11th-ranked cryptocurrency in the entire digital asset landscape. With a circulating supply of $6,499,621,213.12 and a market cap of $6,451,786,29, Litecoin has displayed a notable upward trend over the past 24 hours, with its value growing by $1.14. Over the last week, LTC has experienced a favourable trajectory, surging by an impressive 16.18%. These recent developments indicate the significant potential of Litecoin and present a promising opportunity for investment. Notably, in the last month, LTC has witnessed a 0.73% increase in price, translating to an impressive average gain of $0.65. This rapid growth further solidifies Litecoin's potential as a valuable asset if its upward momentum persists.
LTC/USDT price chart
LTC technical analysis
In the first few months of 2021, a storm of exponential growth ravaged the crypto market, coin prices skyrocketed following BTC's upsurge, and new highs for a lot of cryptocurrencies were formed.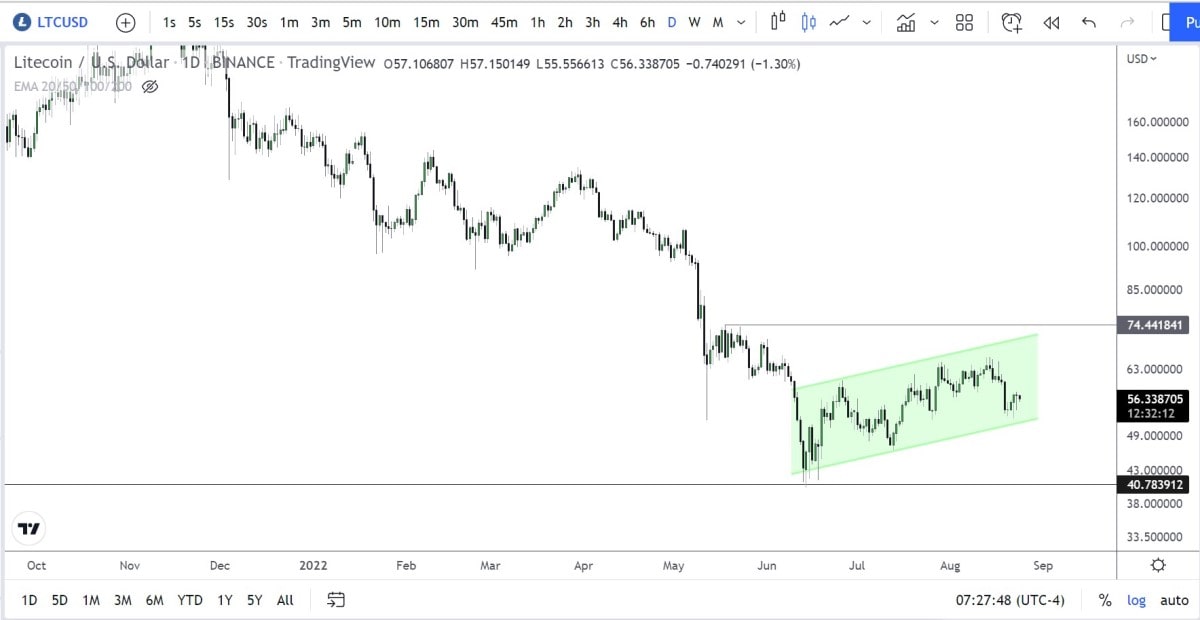 Based on the data collected on 28 June 2023, the overall sentiment regarding the price prediction of Litecoin is bearish. Currently, Litecoin is trading above its 200-day simple moving average (SMA). The 200-day SMA has been indicating a buying opportunity starting from 20 June 2023.
In terms of market trends, the most recent Death Cross in the Bitcoin market occurred on 4 January 2022. Conversely, a Golden Cross was observed on 24 November 2022.
Based on the technical indicators, it is anticipated that Litecoin's 200-day SMA will rise in the coming month, reaching a value of $81.43 by 27 July 2023. Additionally, the short-term 50-day SMA for Litecoin is projected to reach $81.00 by the same date.
Presently, the RSI value stands at 56.20, suggesting that the LTC market is currently in a neutral position.
Litecoin price prediction 2018
After the cryptocurrency boom at the end of 2017, the crypto community thought that Litecoin would move up and get closer to CoinMarketCap's top 3 cryptocurrencies: BTC, ETH, and XRP. But no analyst could accurately predict the situation in the cryptocurrency market because everything happens so quickly.
Analysts relied on the information in the chart, so they concluded that a gradual rise in Litecoin's price might begin. They said that it would go slowly and that the price would either fall or rise again. The most positive forecasts showed that Litecoin's price could grow to $370.
Ideally, by the end of 2018, a 'silver' coin might be sold for $500. In addition, analysts said there wouldn't be a significant drop, given that the cryptocurrency market was in a deep correction, but that every coin would increase afterwards.
Litecoin price prediction 2019
The analysts made a mistake. Litecoin saw a small increase in the spring of 2018, but then it fell to $20.
At the very beginning, experts said of the Litecoin price prediction for 2019 that the value of any asset could not decrease continuously for a long time. Any asset that had shown a significant decrease would later show a correction. Given all of the above, the situation changed: LTC's price rose from $30 in January to $122 in July.
Analysts gave another positive forecast. They believed that Litecoin's future price would be better. The most realistic forecast was $380 per LTC. The most impressive predicted new record: $2000 per coin. However, today Litecoin now trades for $55. Let's talk about future predictions.
Litecoin price prediction 2020
Litecoin began 2020 in an uptrend that lasted until late February. The price peaked in the first quarter of 2020 at $84.50, then declined by more than 65% to set a yearly low at $25. LTC picked up slowly after that but picked up the pace towards the end of the year. In November, it had grown to levels above the previous yearly high set in February, and in December, Litecoin traded above $120.
Litecoin price prediction 2021
Litecoin continued the uptrend that began in late 2020, creating significantly higher highs as it sped along in its growth. In May, it finally lost steam and fell sharply, but not before setting a new all-time high at $412.96. LTC fell by more than 70% before finding support at around $120. It tried to recover the new all-time high set in May but only managed to get back slightly above $300 before falling again to lower prices.
Litecoin price prediction 2023
Based on the technical analysis conducted for Litecoin's price in 2023, it is anticipated that the lowest value the cryptocurrency will reach is $70.72. On the other hand, the price has the potential to climb to a maximum level of $82.17. The average trading price for Litecoin is projected to hover around $93.61.
Litecoin (LTC) price prediction for 2023, 2025 and 2030
Some analysts are making very optimistic forecasts again. Others say that Litecoin will never be great again. Why? Because there are simply so many new projects with better conditions. We'll tell you about our expectations, but let's first look at some forecasts.
TradingBeasts Litecoin price prediction for 2023, 2025 and 2030
TradingBeasts has always been very realistic. Their beliefs are based only on technical analysis. They predict that LTC will fall slightly and may close the year 2023 around $77.63. 
The LTC price is anticipated to grow slightly to reach by the end of 2024. The average Litecoin (LTC) price prediction for 2025 is $125.76 and $152.28 for 2026.
WalletInvestor Litecoin price prediction for 2023, 2025 and 2030
WalletInvestor is somewhat positive with its predictions. They predict that LTC will get as high as $99.42 by the end of 2023. Consequent years are predicted to be less positive, with LTC being valued at $46.93 in 2025, $4.06 in 2027 and $2.72 in 2028.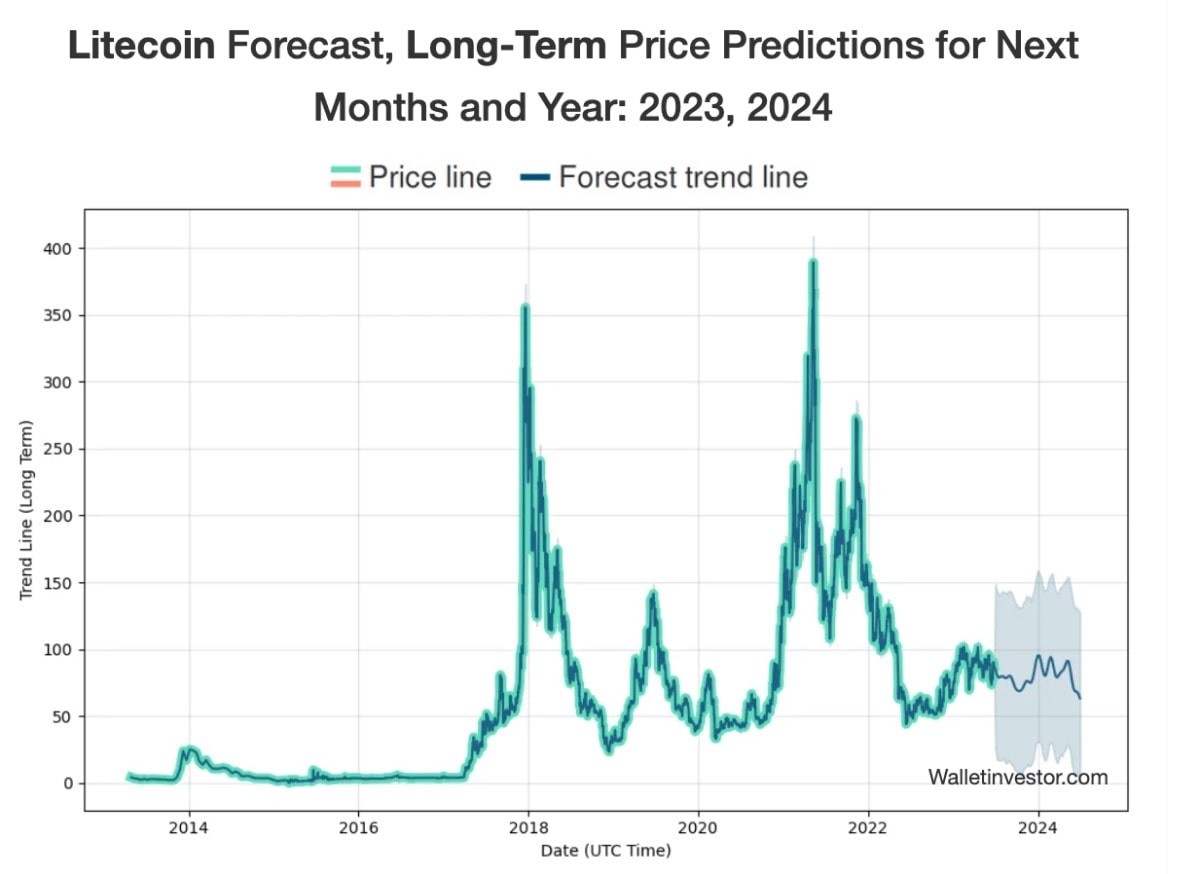 Long Forecast Litecoin price prediction for 2023, 2025, and 2030
According to Long Forecast's LTC price predictions, the crypto's price will see rises and falls throughout this decade. They've predicted that the coming years will see LTC's price rise to $90.2 in 2023. However, in 2024 the crypto's price is predicted to drop to $53.8. 2026 is anticipated to be the best year in this decade as LTC may trade to $93.1 before crashing to $50.8 in 2027.
DigitalCoinPrice Litecoin price prediction for 2023, 2025, and 2030
Probably the most optimistic forecast yet, DigitalCoinPrice believes that LTC is a great option for long-term investment. By the end of 2023, Litecoin will trade close to $171. Consequent years will see a steady price increase for LTC, and $300 may be in view. This is great news for potential investors, and 2023 may be a fine time to get in on Litecoin.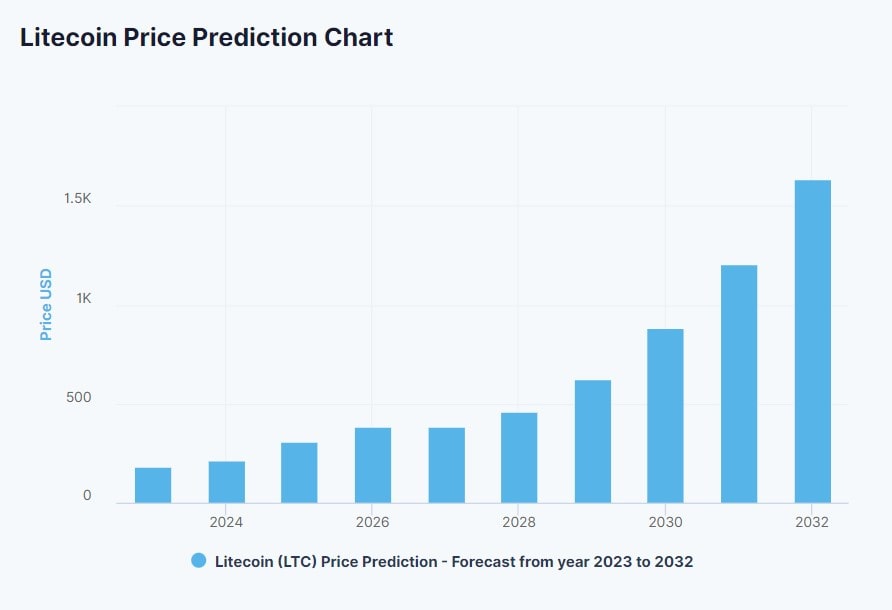 Litecoin overall value predictions
In general, Litecoin has some chances for upward price movement. First, this cryptocurrency is one of the most successful Bitcoin forks. Second, it provides fast transactions, so many people will use it as a payment system. Third, mining Litecoin is easier than Bitcoin or Bitcoin Cash (BCH). If the price for BTC and BCH rises, LTC will be in better shape, too.
How high can Litecoin go?
It's difficult to predict exactly how high a coin like Litecoin can go, and with all the uncertainties facing the world right now, it'll take strong positive sentiments to return the general crypto market to bullish sentiments. 
Litecoin price prediction today
LTC's price prediction today must be based on technical analysis. We've seen that bulls have found support at around $75. They have a great chance of moving LTC's price higher if that support holds long enough for market sentiment to explode once again like it did last year.
Once again: Litecoin is silver to Bitcoin's gold. That is why LTC's price always depends on BTC. Today, BTC is showing signs of recovery, so LTC may reach higher marks soon.
Tags
Exchange BTC

Try our Bitcoin Cloud Miner and get additional crypto rewards based on your trading volume. It's immediately available upon registration.

Try our Bitcoin Cloud Miner and get additional crypto rewards based on your trading volume. It's immediately available upon registration.
Instrument
Rate
Change (24h)