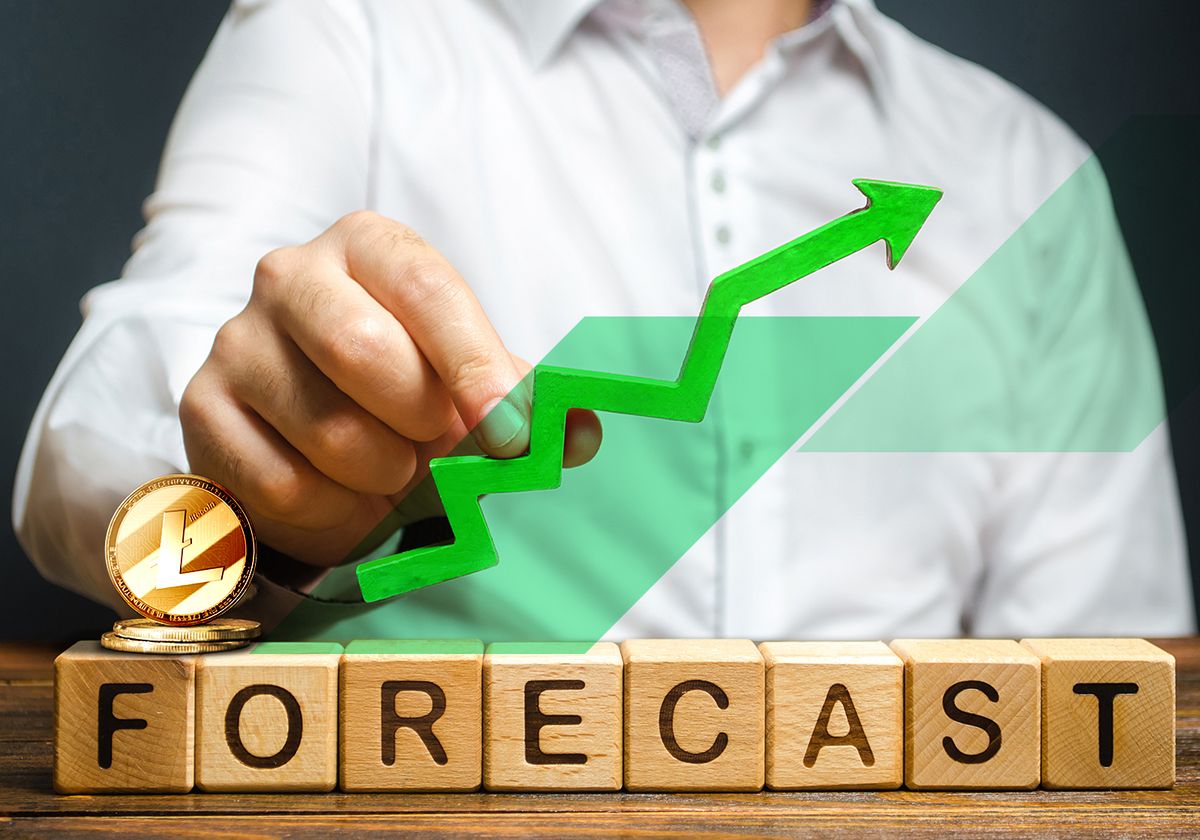 Litecoin (LTC) Price Prediction 2020-2030
Some investors are proud of Litecoin, while the other are disappointed with this cryptocurrency. 2018 was the biggest failure for LTC. It has better time nowadays, but mostly, people don't believe in Litecoin. That is why, LTC lost its positions according to Coinmarketcap.
However, Litecoin may still provide investment potential. Analytics said that in long-term perspective LTC might grow up and take back its rank. If you look for a good return in 5 and more years, you have to pay attention for this cryptocurrency.
Before we delve deep into Litecoin predictions and answer questions such as why LTC can be successful or fail once again, let's have a quick review on its history, main features and future intentions. 
What is Litecoin (LTC)?
For common users, Litecoin is one of the most recognized cryptocurrencies in the whole market. It is also known as "silver crypto", while Bitcoin is gold. "Newborns" of cryptocurrency market also don't know, that LTC is Bitcoin's fork. It is one of the oldest digital currencies. For many years LTC was one of the main Bitcoin competitors.
Some brief information about Litecoin:
| | |
| --- | --- |
| Project name | Litecoin |
| Found by | Charlie Lee in 2011 |
| Market Capacity | 3.5 billions USD |
| Market price | 55 USD  |
| Total supply | 84 millions coins |
| Difficulty changes | Every 3.5 days |
| Protocol | Proof-of-work |
| Block time | 2m 26s |
| Algorithm | scrypt |
| Github stars | 3421 |
| Official website | |
Table 1. Litecoin main information
Etymology of Litecoin is referred to 'light coin', because this cryptocurrency was actually found as an easy version of Bitcoin. They have the same paradigm, but LTC is technologically better:
It reduced block time by 4 times. That is why transactions can be proceeded faster.
It uses a scrypt mining algorithm, which needs less power for creating a block.
Litecoin has a big user base and great demand on exchanges. Moreover, it is one of the most popular cryptocurrencies on Darknet.
The promotion of LTC is held by non-profit organization – Litecoin Foundation. Today there are only two full-time developers in this Foundation. The other supporters are advisors, investors, ambassadors and others. 
Litecoin (LTC) Price Analysis
The future of Litecoin price depends on many factors, from fundamental to technical analysis. In general, like silver to gold, Litecoin is cheaper to Bitcoin. The price ratio is 1:155 that is much bigger than silver to gold ratio (1:50). Why?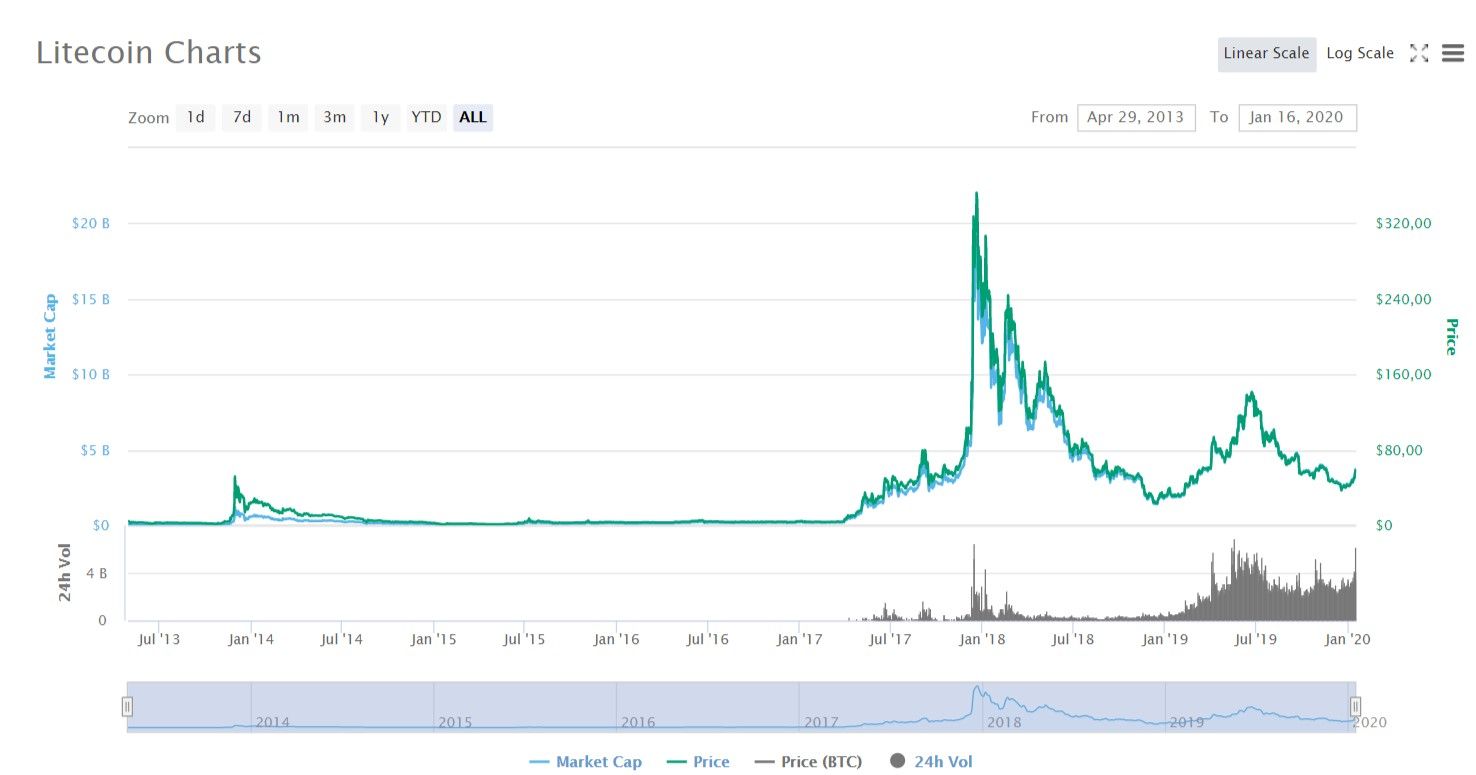 Litecoin is more available for buyers. The total supply of LTC is 4 times greater than BTC. Another reason for price disparity is that Bitcoin, like gold, has better recognize around the world. More and more people prefer BTC as an alternative for fiat money. What's more, BTC is a superior store of value, while LTC is better for quick purchases.
LTC Price History
Litecoin was found in 2011, so today its history is very long and saturated. During first three years, LTC was very popular for several reasons:
the possibility of mining with low-power processors;
small exchange rate allowed people buy the necessary number of coins in anticipation of a future price increase;
scrypt algorithm simplified the mining process and increased the reliability of cryptocurrency;
higher transactions speed;
higher coins amount;
mining difficulty is recounted more often;
the increased block size reduced the possibility of transaction freezes.
These benefits attracted the attention of cryptocurrency community. Most of them changed their priorities from BTC to LTC and began to buy "silver crypto". According to this, LTC price was growing every month. From the moment of its creation in 2011 till the end of November of 2013 the LTC index changed from 2 dollars to 52 dollars.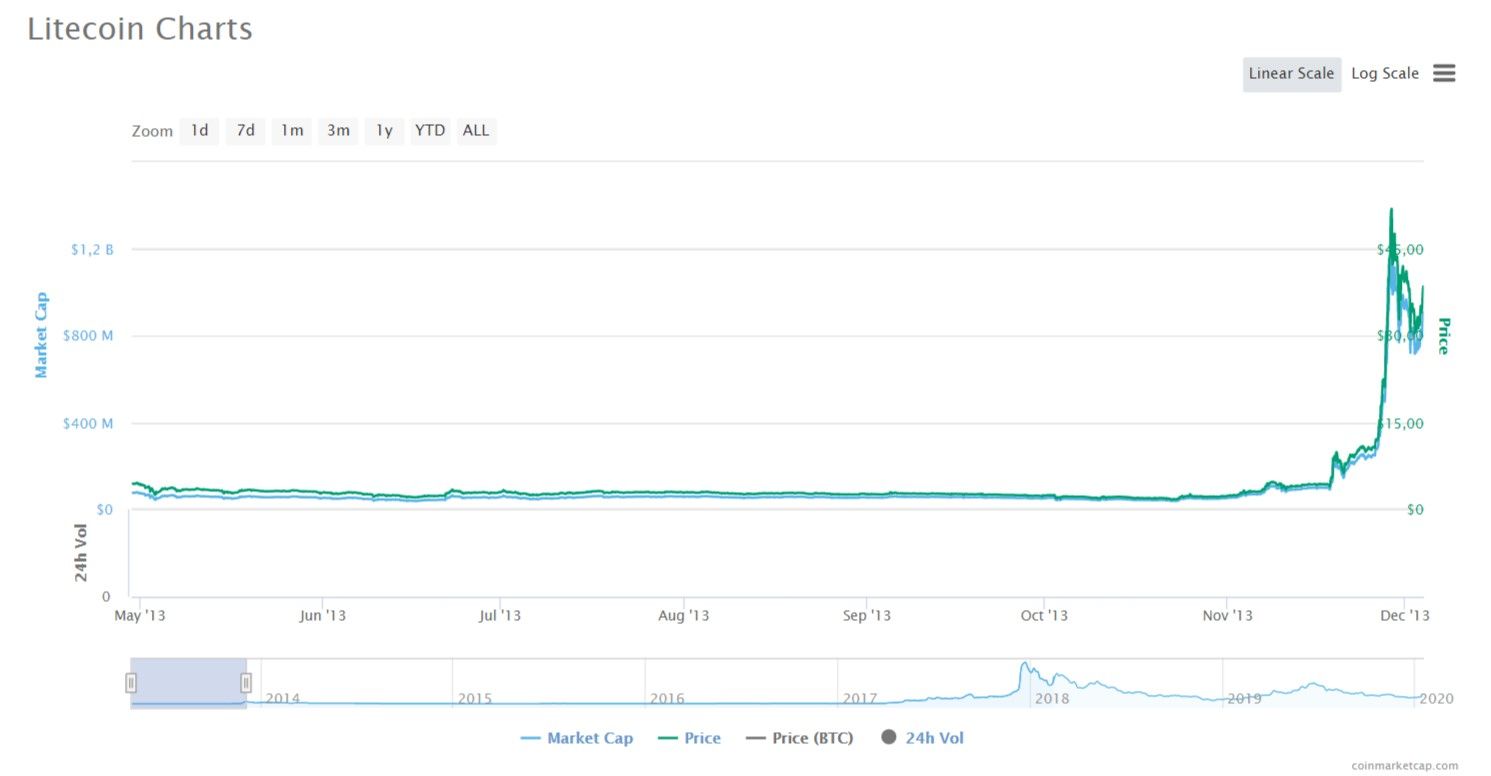 Then the correction was carried out and its price changed from 50 dollars to 24 dollars (31.12.2013). Nevertheless, cryptocurrency community began to consider this asset for serious investments.
The reasons for such sharp changes are ambiguous. It is not so easy to interpret the real factors of the growth and fall of a coin in cryptoworld. This might be connected with decentralization, the complete absence of any regulatory authority or simple speculations.
At the very beginning of 2014 the situation changed rapidly. In January, LTC rate was above 20$, but since February the downward trend has become clear. Until the summer, its price was above 10$, but on June 15, 2014 the psychological mark of 10$ was passed and by the of the year the price again propped to 2$.
The Litecoin price chart for all the time from June 2014 to the end of 2017 was low, but stable. There were several insignificant 'jumps' slightly above 6 dollars, but there wasn't any large-scale growth.
In the summer of 2015, many members of the cryptocurrency community discussed a possible increase of LTC due to halving of the block reward.
It was supposed to take place in August. According to such background and the pump carried out on July 10, 2015, the LTC rate rose to 8$, but rapidly fell down to 3$ and then to 2$. 
The first three months of 2017 quotes remained stable. "Cryptocurrency silver" was trading for 3-4 dollars and did not give any hopes for investors. But, the spring of 2017 changed the situation. Litecoin chart exceeded 10$ for the first time on the 6 of April. By the end of April it was trading for 15$.
This increase was possible to several reasons:
the new version of Litecoin Core;
implementation of the SegWit code in the new version;
the release of the open-source blockchain explorer 'insight.litecore.io', which can be used to develop online repositories and other applications.
The Litecoin price continued to grow until the end of fall 2017. The growth was not rapid, but stable – from 4.3$ to 83$ in 11 months. This growth trend favorably influenced the popularization of cryptocurrency and attracted the attention of investors again.
The cryptomarket boom. No cryptocurrency market member will forget the end of 2017 end the beginning of 2018. The time, when all projects grew up by several times. Some projects had a rise up to 1500%. Litecoin also had the greatest time.
On December 2, the Litecoin chart for the entire duration of the crypto's existence first reached the 100$ mark, and on December 12, the cost exceeded 200$. The price continued to grow rapidly and by the evening of the December 12 exceeded 320$.
The maximum for LTC price was on December 19 with the 372$ per one coin. Capitalization at that time was over 20$ billion. The reason for this was the overall positive upward trend in the entire cryptocurrency market.
At the same time, Charles Lee made a statement that he is going to sell all his LTC coins for system transparency. Many members were worried that this could cause a depreciation, but there wasn't any correction.
Then the "dark times" for all cryptolovers began. Many people began to speculate on prices, so market was very unstable. Every coin lost its positions. Litecoin fell down to 200$, then to 120$. The summer of 2019 was good period for this crypto, because it has risen to 135$ for one LTC. However, the ratio fell down again and nowadays it is traded for 55$. Moreover, Litecoin rankings on Coinmarketcap fell down from the 5th position to the 7th. 
LTC Technical Analysis
In the middle of January, there was bullish trend for LTC. The 50$ resistance level was broken to reestablish an uptrend. The bulls gained traction and the Litecoin index formed a resistance near 60$. So, the bulls are going to broke this level. If they succeed, the possible price will be near 70$. If no, there will be a strong decline to 45$.
Litecoin Price Prediction 2018
After the "cryptocurrency boom" in the end of 2017, cryptocurrency community thought, that Litecoin will grow up and will be closer to the top 3 of Coinmarketcap (BTC-ETH-XRP). But, no analyst will be able to accurately predict the situation on the cryptocurrency market, because in this area everything happens spontaneously.
Analysts relied on the information in the chart, so they made a conclusion that a gradual rise in price of Litecoin might begin. They said that it will go slowly and the price will either decrease or rise again. The most positive forecasts shown that the Litecoin exchange rate may grow to 370 dollars.
Ideally, by the end of 2018, a "silver" coin might be sold for 500 USD. In addition, they said that there won't be a significant drop. Analysts considered that the cryptocurrency market was in a deep correction, but after this every coin will increase.
Litecoin Price Prediction 2019
The analysts made a mistake. Litecoin had a small increase in the spring of 2018, but then it fell down to 20$. 
So, at the very beginning Litecoin price prediction 2019 experts said, the the value of any asset cannot decrease continuously and for a long time. Any asset that has shown impressive decrease should later show a correction. Give all of the above, the situation changed and from 30$ for 1 LTC in January the rate rose to 122$ in July.
Analysts gave the positive forecast again. They believed that the future of Litecoin price must be better. The most realistic forecast was 380$ for 1 LTC. The most impressive was about new records: 2000$ for 1 LTC. However, today Litecoin is traded for 55 USD. Lets talk about future predictions.
Litecoin (LTC) price prediction for 2020, 2021, 2025, 2030
Some analysts give very positive forecasts again. The others say that Litecoin will never be great again. Why? Just because there are many new projects with greater conditions. We will tell you about our expectations, but let's have a look on some forecasts.
Smartereum Litecoin Price Prediction for 2020, 2021, 2025, 2030
Smartereum forecasts consider that the future of Litecoin Price is not so positive. They believe that in the near future this cryptocurrency will fall down for 2.5%. As for Litecoin price prediction 2025, they didn't give any clear forecast.
Trading Beasts Litecoin Price Prediction for 2020, 2021, 2025, 2030
Trading Beasts always were very realistic. Their beliefs based only on technical analysis. As it was said earlier, due to such analysis for LTC, its price can grow up to 70$ in the near future. But Trading Beasts consider that such ratio can be reached only by the end of 2021. In addition, they believe in future growth for 30% each year. That is why, their forecast shows, that in 2025 LTC can be traded for 150-160$ and in 2030 – for 200$.
WalletInvestor Litecoin Price Prediction for 2020, 2021, 2025, 2030
WalletInvestor said that LTC may fall down from 55$ to 30$. Moreover, they don't believe, the LTC can grow up in future. This cryptocurrency cannot hit 100 USD within a year or even more. Walletinvestor gives the negative forecast for LTC.
LongForecast Litecoin Price Prediction for 2020, 2021, 2025, 2030
LongForecast believes that the future of Litecoin price will be very volatile. In the middle of 2020 it will be traded for 50$, but in the end of 2020 the LTC ratio will be 75$. What's more, they predict a downtrend in 2021 with the lowest price of 20$. However, in the long-term future LTC might grow up to 150$.
DigitalCoinPrice Litecoin Price Prediction for 2020, 2021, 2025, 2030
DigitalCoinPrice believes in future growth of LTC. They show, that this rise won't be very high, but in 2025 LTC index must be 97 USD.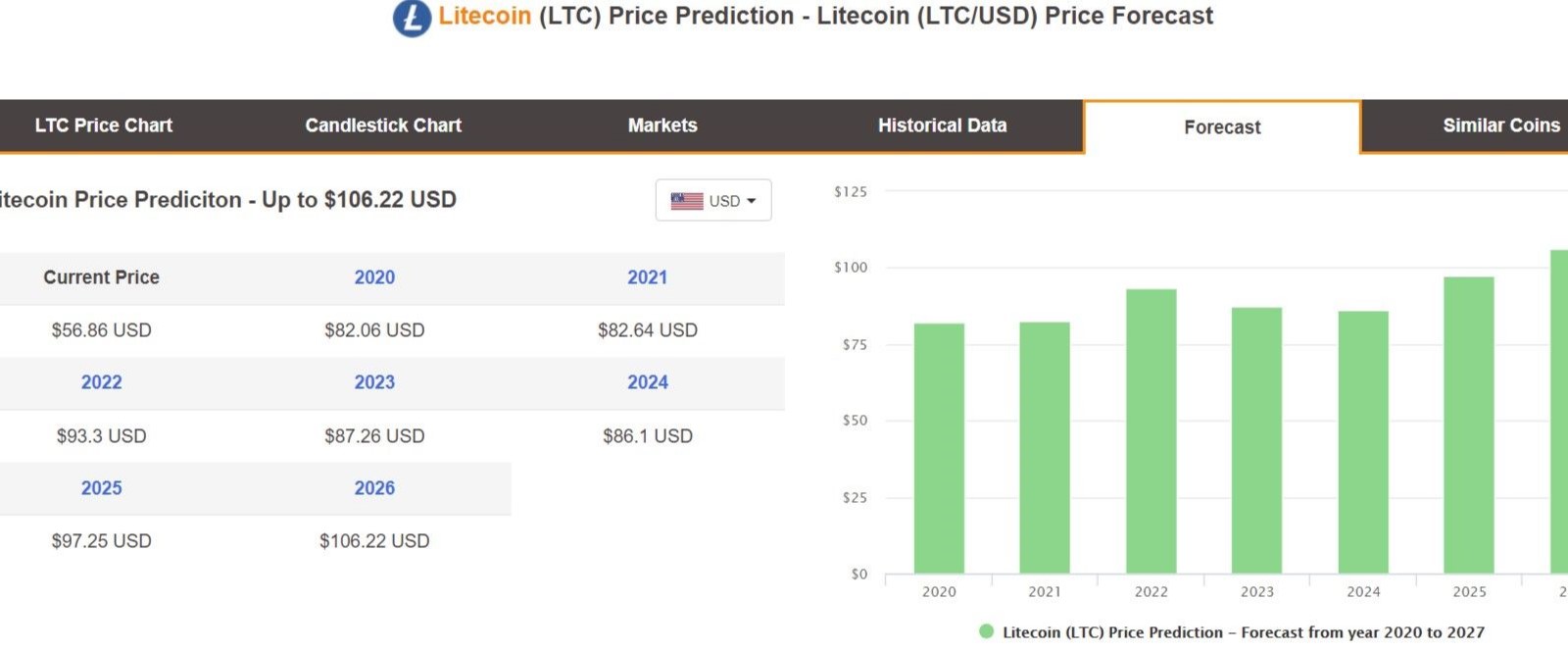 Litecoin Future Value Predictions in General
In general, Litecoin have some chances to grow up. Firstly, this cryptocurrency is one of the most successful Bitcoin forks. Secondly, it provides fast transactions; so many people will use it as paying system. Thirdly, mining is easier than Bitcoin or Bitcoin Cash. These two cryptocurrencies have positive forecasts. Litecoin depends on their position. If BTC and BCH will grow up, LTC will be in better conditions as well.
How High Can Litecoin Go
Litecoin future predictions for 2020 from different analysts show, that this cryptocurrency cannot hit 100$ mark this year. Why? It depends on market situation. Today it is very stable. It can reach 100$ and higher in 2020 only due to big pump. However, after every pump there are corrections. 
The future of Litecoin price is not very clear, because cryptocurrency market is unpredictable. Nevertheless, we consider that in 2025 LTC change ratio will be near 150-160$ for one coin.
Litecoin Price Prediction Today
LTC price prediction today must be based on technical analysis. We saw, that bulls broke down the resistance. They have a great chance to repeat this success. So, the January exchange ratio for LTC might be at 70$.
Moreover, analysts believe, that LTC can lead Bitcoin in the next Bull Run. That is why, it has all chances to hit 70$ or even more.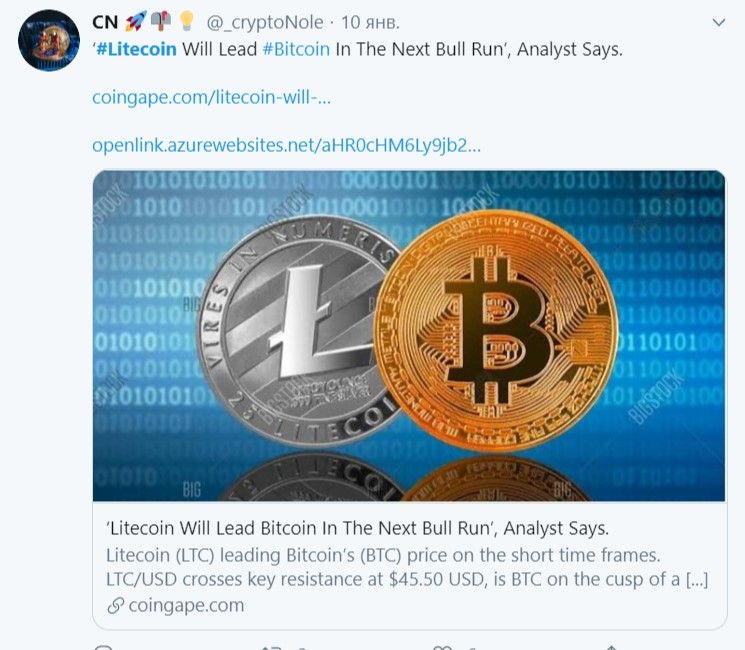 Once again: Litecoin is a silver to Bitcoin. That is why LTC price is always depends on BTC. Today BTC shows a small growth. So LTC can reach higher marks. 
Welcome to StormGain — crypto trading platform!
Trade with 200× multiplier.