Monero (XMR) price prediction for 2022-2030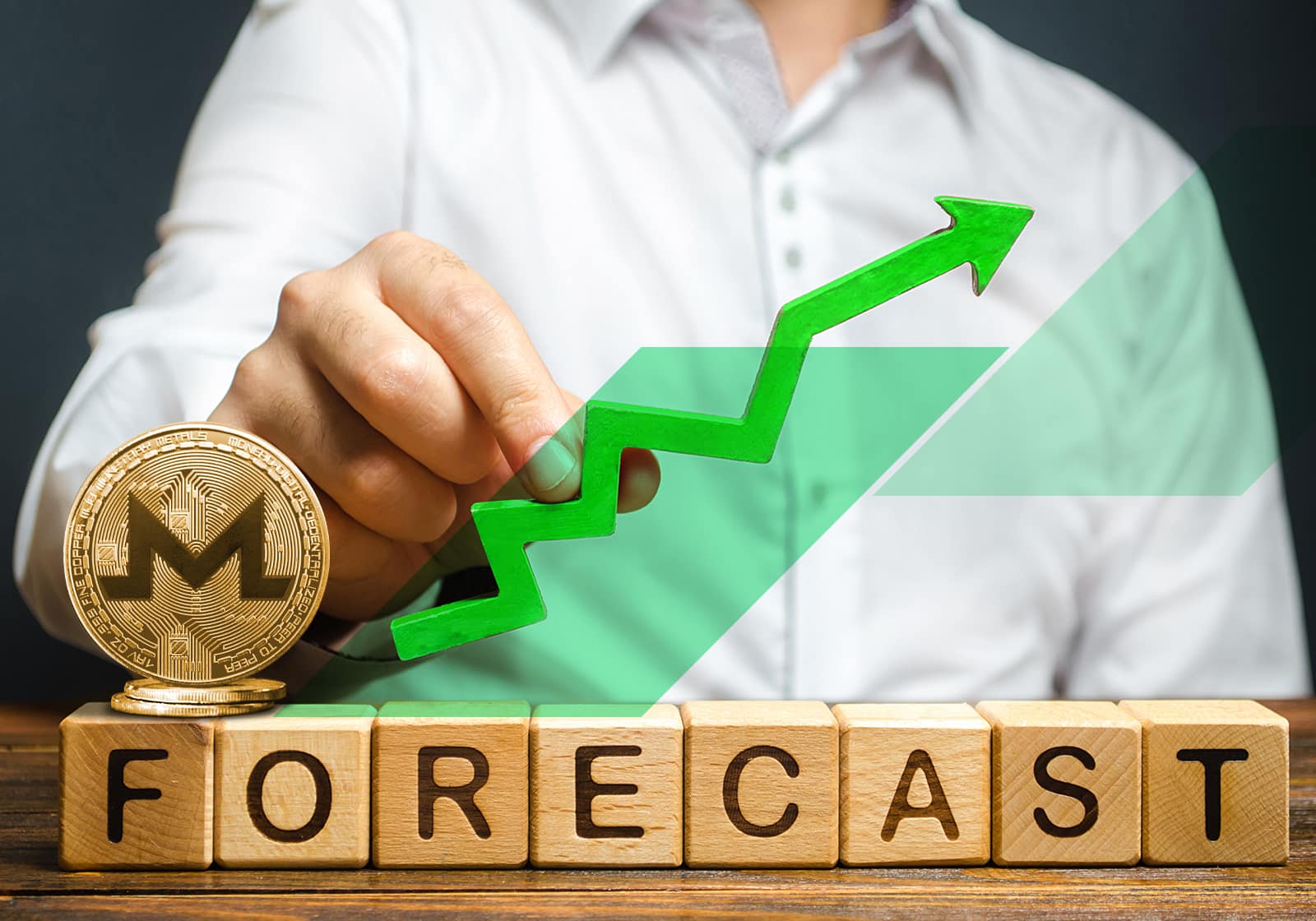 Transparency is one of the most important properties of public blockchains. Each node of a peer-to-peer network can verify the authenticity of any transaction and obtain all necessary data. That's how the largest blockchains work, such as Bitcoin and Ethereum.
Transparency significantly increases the trust and reliability of transactions but, at the same time, reduces their confidentiality to the point of complete loss of anonymity in some cases. The fact is that third-party observers can link certain transactions and addresses with real purchases, resulting in the de-anonymisation of address owners. It takes time and specific software, but nothing is impossible here.
Therefore, for those users looking for both security and privacy, confidential cryptocurrencies were developed. Monero is one of the best-known and most widespread privacy cryptocurrencies. Investors are keen to know the Monero coin price prediction. Throughout this article, we'll review Monero's future price predictions, covering the project's fundamentals and ending with experts' Monero future price forecasts.
Monero's history
Monero owes its appearance to the CryptoNote protocol. This technology was developed in 2012, and information about its principles was published in the CryptoNote Whitepaper. The creator of the algorithm is a cryptographer or a group of cryptographers hiding under the name Nicolas van Saberhagen. The cryptographic foundation for the protocol was created in 2001 by Ron Rivest, Adi Shamir, and Yael Tauman.
The first cryptocurrency designed using this protocol was Bytecoin (from the word 'byte', a unit of information). The payment system was launched on US Independence Day, 4 July 2012. Bytecoin used ring signatures on the EdDSA algorithm, which were proposed by cryptographer Daniel Bernstein from the Technical University of Eindhoven. As with Monero, the cryptographic software used a method of obfuscation based on single-use keys that allows fully confidential transactions.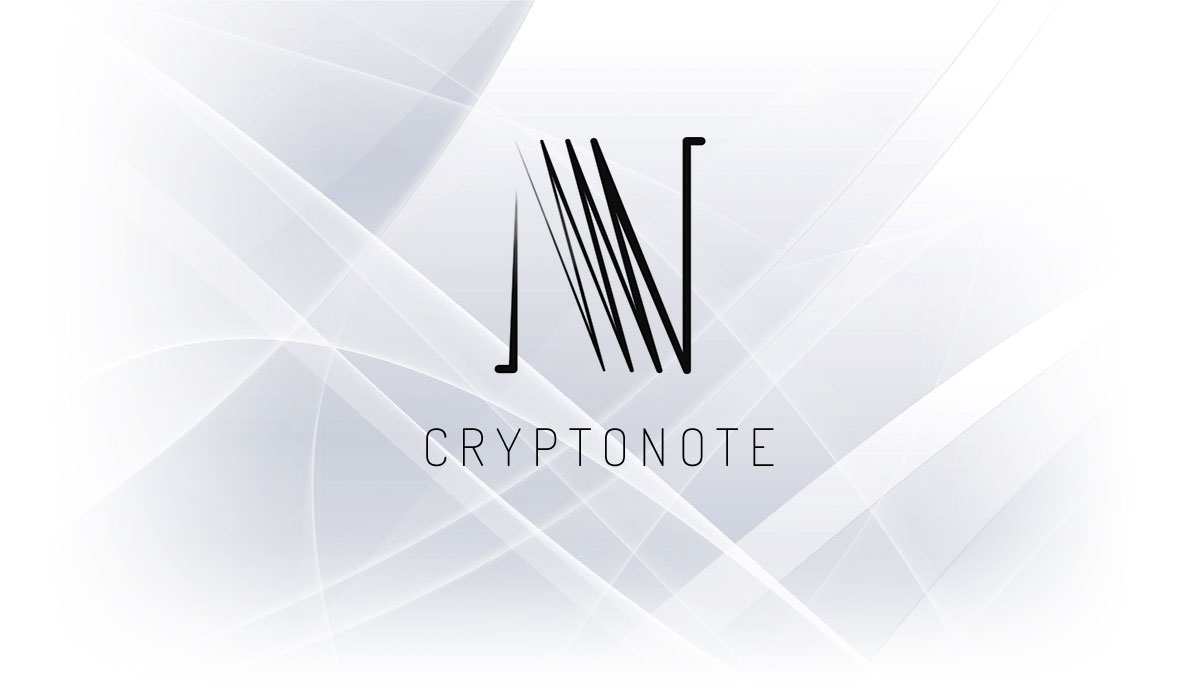 Bytecoin's issuance was limited to 184.47 billion BCN. In April 2014, it became clear that 80% of Bytecoin's maximum had already been distributed among users. That compromised the network's existence because, without a reward, users weren't willing to process transactions. The community of developers decided to reissue a cryptocurrency under the name Monero to change the issuance structure and the process for mining the cryptocurrency.
The cryptocurrency appeared as a fork of Bytecoin, with a final issue of 18.4 million coins. At the same time, the Monero network was launched without pre-mining, with the client programme for working with GPUs appearing only a few weeks later. The system's block production speed is fixed at 2 minutes. However, the mining reward is not fixed; it can be modified to protect the system from reaching the final issue. If you're new to mining, please read our tutorial on cryptocurrency mining for beginners.
By September 2014, a targeted hacker attack on Monero was carried out. The event showed that the cryptocurrency was prepared for external attacks, but the system kernel needed serious improvement. Later on, the Monero network was updated and reworked many times. In 2017, there was a planned developer hard fork (called Monero) in response to the increasing popularity of ASIC miners. For the same reason, a second planned hard fork was made in March 2019.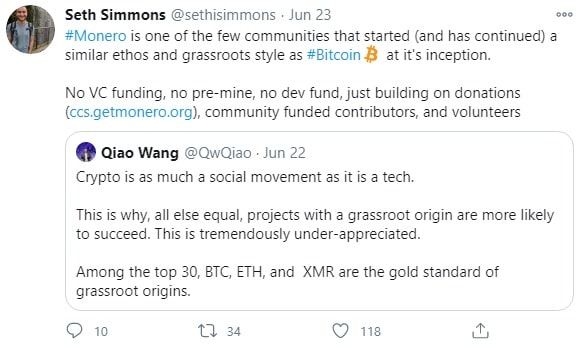 Monero has open-source code. That means any developer, by their competence, can use the Monero cryptocurrency as the basis for their project. It isn't surprising that, as of 2021, Monero already has four independent hard forks: Monero Original, Monero 0, Monero Classic and Monero V.
Much progress has been made since the project launched. Today, Monero has a convenient client programme for storing funds, a lightweight wallet, many pools, a united community of miners, and prospects for further development. The reward for a block is 1.65 XMR (about $200), which makes the coin attractive for miners. You can check out our article to find out what the best cryptocurrency to mine is in 2020. Mining keeps the network stable and allows XMR to remain in the top 15 cryptocurrencies by market capitalisation, according to CoinMarketCap.
What is Monero (XMR)?
Monero is a cryptocurrency and a payment system that operates through the CryptoNote protocol, which is based on blockchain technology. With Monero, users can make completely confidential transactions in the network thanks to the ring signature algorithm. The cryptocurrency's name is the Esperanto word for 'coin'. On exchanges, Monero's trading pair can be found under the ticker symbol XMR.
Monero differs from other cryptocurrencies based entirely or partially on Bitcoin's source code. To understand what Monero is and how it works, we have to study the basic concepts of blockchain, hash sum, transaction, and ring signatures. To do this, let's analyse the CryptoNote protocol and proof-of-work (PoW) algorithm.
A blockchain based on the CryptoNote protocol is used as a distributed, decentralised database for storing XMR. It consists of a continuous sequence of blocks that are connected. The blocks contain transactions that are also linked to the history of all transfers, otherwise called a hash sum. As such, it's impossible to fake a block without affecting other elements in the chain. Decentralisation is ensured by the fact that copies of the current blockchain are stored on all network users' computers at the same time.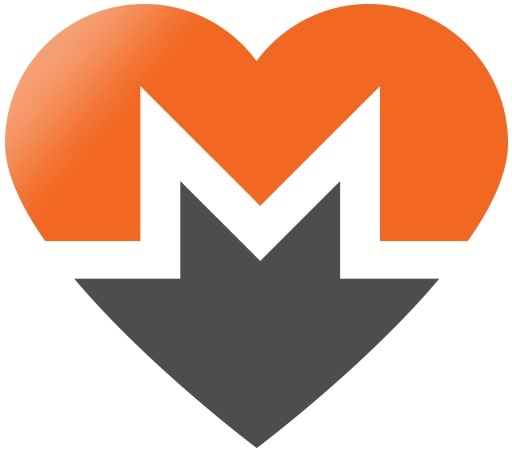 For convenience's sake, we'll compare Monero with the Bitcoin network. According to Bitcoin blockchain researchers, it's possible to identify Bitcoin owners by analysing transaction history. In other words, it is possible to find information about the current and previous owners of coins. To prevent this, the Monero network uses one-time addresses (stealth addresses) to hide the recipient. The algorithm of ring digital signatures allows the recipient to simultaneously use the value of one of the outputs of the transaction while not allowing the output used to be identified.
In other words, transactions carried out using a ring signature are connected with several other transactions at the same time. Because of this, there are multiple routes of exchange, and it's impossible to determine exactly which one was used for the current transaction. The more links with previous block records are specified in the CryptoNote system, the more difficult it is to identify the recipient. In this case, the size of the signature and transaction increases, which means that users can independently influence the confidentiality of the transaction. The commission is used to regulate confidentiality and transfer processing speed.
As with Bitcoin, the Monero blockchain is protected from changes by the PoW algorithm, which calculates the hash sum of the XMR transaction. The computation algorithm is based on the blockchain's memory access speed. The system contains the following technologies:
1 MB block size or larger with the scrypt key formation function
An SHA-3 hashing algorithm and sponge function
Hash functions, such as Grøstl, JH, BLAKE, and Skein
Multiplication operations in x86-64 mode
An AES command system for x86 microprocessors.
The latter technology enhances a cryptocurrency's decentralisation, even for Bitcoin. The encryption standard adopted for Monero implements the principle of 'one processor, one vote on the network', making the use of specialised ASIC processors ineffective for the PoW method.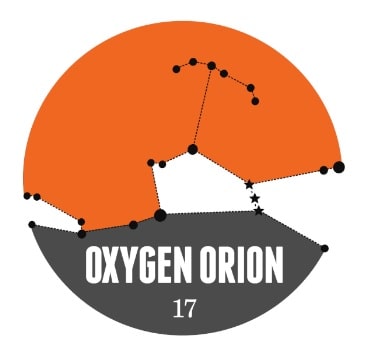 On 17 October 2020, Monero's base protocol underwent an Oxygen Orion upgrade. Developers implemented a new linkable ring signature protocol called CLSAG (compact linkable spontaneous anonymous group). That protocol reduces the average transaction size by approximately 25% and improves verification performance by 10%. That made transactions on Monero faster and less resource-intensive.
Monero (XMR) advantages
At the time of writing on 28 April 2022, Monero has a market capitalisation of nearly $2 billion and is ranked 14th by market cap among all cryptocurrencies. Its high capitalisation shows confidence among users and prospects for further development. Meanwhile, XMR, like other cryptos, should be evaluated not just as a payment method. That's where Monero's advantage comes into play:
One-time addresses and ring signatures allow senders and recipients to cover up their transaction routes. With Monero, users are assured that their purchases and transfers are protected from public leaks. Suppose a hacker somehow managed to find out the specific addresses of one of the parties. In that case, the system member could deny a transaction about obfuscation.
The Monero network has few vulnerabilities. In the network's history of hacker attacks, it was never on the verge of failure. However, serious mistakes were detected after the attacks ended. The proof-of-work system and blockchain make it possible to exclude transaction spoofing or serious DDoS attacks. Monero (XMR) software runs on Windows, macOS, Linux, Android and FreeBSD.
Monero (XMR) is not just a cryptocurrency; it's also a great investment tool. Between 2016 and March 2018, Monero's value increased from $1 to $300. Throughout its existence, the value of the cryptocurrency has risen by 8900%. Many leading experts suggest including XMR in investment portfolios since it's one of the most reliable and confidential cryptocurrencies.
So long as a community of miners, pools, users and developers exists, a cryptocurrency cannot be considered unpopular. Developer groups are actively involved in creating and implementing new project features. Miners and ordinary users are also engaged in discussing Monero's future. On top of that, hundreds of thousands of users around the world use XMR every day, and the daily trading volume is an excellent indicator of this.
The average time to transfer coins from one address to another is from 2 to 30 minutes. In the Bitcoin network, the transfer time can be as high as 2 hours (with a slightly loaded mempool), while standard transfers in the international SWIFT system are processed in 15 minutes. Monero offers a worthy alternative to modern banking transfer systems while maintaining privacy.
The commission doesn't exceed 0.05% of the amount transferred. Traditional wire transfers, on the other hand, may take up to 1% or even more.
Cryptocurrencies are needed to exchange between regular users and pay for goods and services. Monero is used as an underlying currency in some MMORPGs, as well as in online casino sites and VPN services.
Monero (XMR) price analysis
Over the years, Monero (XMR) has proven its reliability and demand on the market, which allowed it to a hold position among the top cryptocurrencies. As of 28 April 2022, XMR was ranked 32nd by market cap at $4,236,694,475. With a circulating supply of 18,113,612.56 coins, the cost of one XMR token equals $233.90. Here's an overview of Monero (XMR):
Monero (XMR) Price Today

$233.90

Market Cap

$4,236,694,475

Circulating Supply

18,113,612.56 XMR

Daily Trading Volume

$229,228,282

All-Time High

$517.60

(7 May 2021)

All-Time Low

$0.212967

(14 January 2015)

Official Website
Monero (XMR) price history
Monero (XMR) is one of the oldest cryptocurrencies on the market. At the time of its launch, hardly any expert could predict that there would be such good growth for Monero in the future. Over the years, Monero has proven its viability many times and now takes a well-deserved place in the portfolio of thousands of investors. Monero was placed on cryptocurrency exchanges with an initial price of $2. As usually happens for newly listed coins, there was a lack of demand. In February 2015, Monero reached its all-time low of $0.25.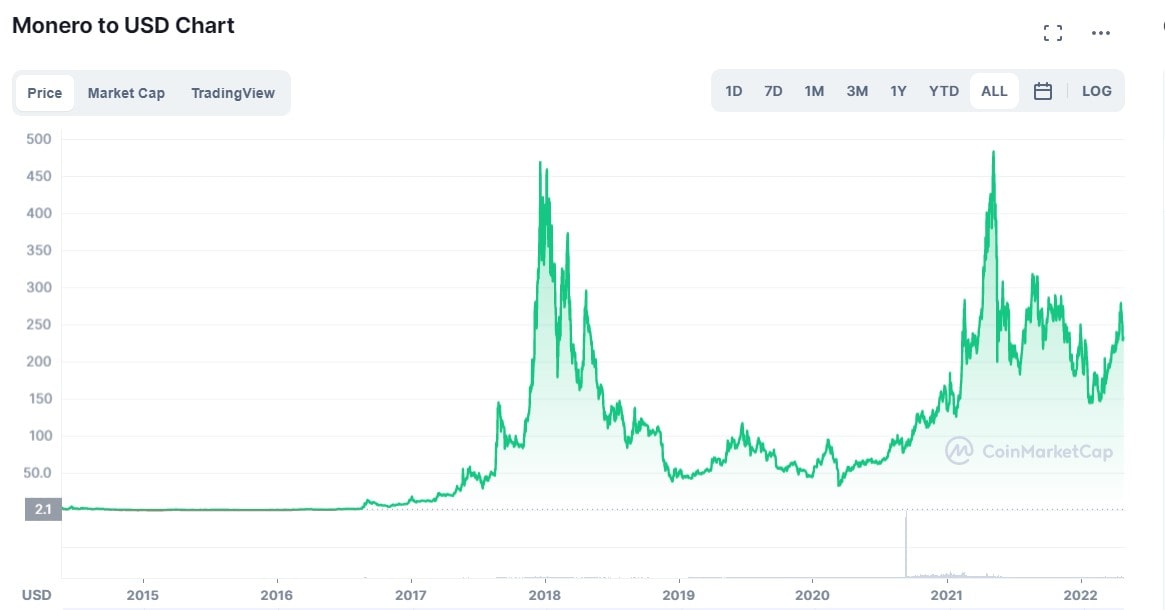 The initial peak of Monero's popularity came in 2016-2018 when the cryptocurrency created a significant all-time high. The first major Monero price increase came in the second half of 2016. While XMR changed hands for less than a dollar in early 2016, it jumped to $14 by September. In 2017, the cryptocurrency continued its growth, and the price surged to $460 by December. In early January 2018, when the whole crypto market was experiencing a boom, Monero surpassed $495, setting an all-time high. However, as it was for the entire market, the rest of the year was bearish for Monero. XMR closed the year at $50.
Following the bull run that gripped the market in 2021, Monero also had a wonderful time. It grew by almost 2000% in less than a year, from July 2020 to May 2021. It eventually set a new all-time high at $517.62.
Monero (XMR) price prediction 2019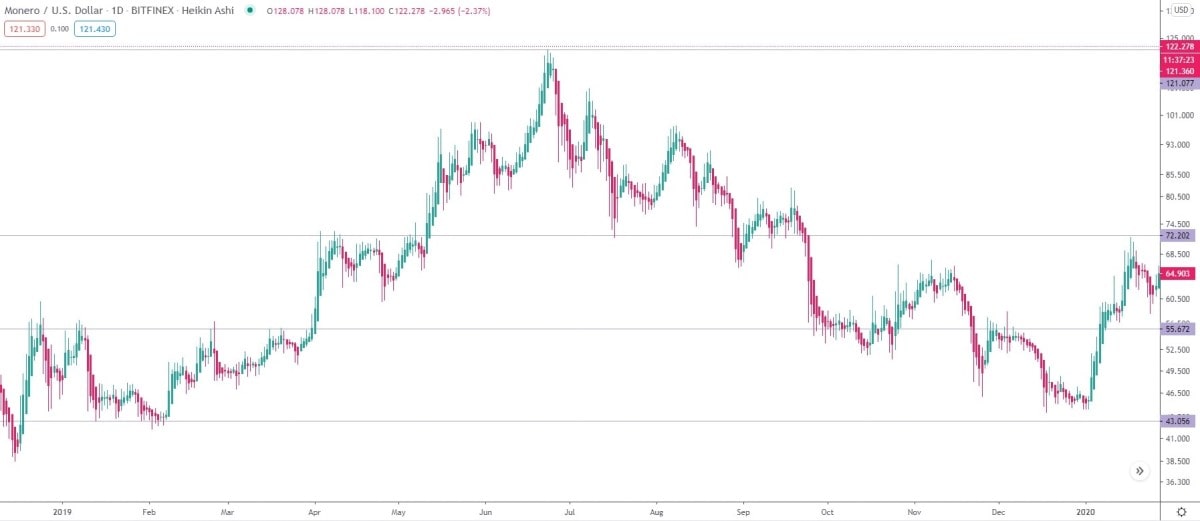 Monero had a favourable year in 2019. The bearish trend shifted to bullish, and XMR bottomed out at $42.70 on 6 February. High demand for the cryptocurrency pushed the price upwards, and Monero topped $120 on 22 June. A sell-off to the $72 support level on 17 July followed that growth. The cryptocurrency attempted to resume its uptrend, but its price met resistance at $98 in early August. The price declined after meeting resistance, falling to a strong support level and ending the year at $44.
Monero (XMR) price prediction 2020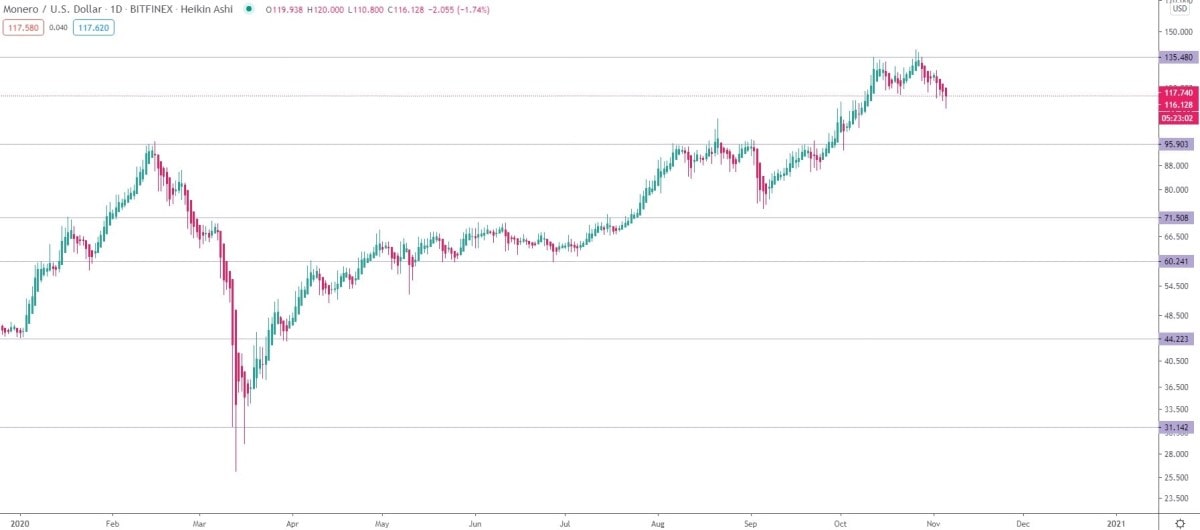 Observing the XMR 2020 price prediction, one can conclude that it's much more volatile than 2019. Monero bounced from a support level of $44 to $96 by 13 February. Although XMR experienced some growth, the entire crypto market took a hit, and Monero fell back to $26 by 13 March. However, XMR recovered quickly and reached its $70 resistance level by May. After multiple attempts, the cryptocurrency surged through resistance and continued its growth, reaching $139 on 26 October.
Monero (XMR) price prediction 2021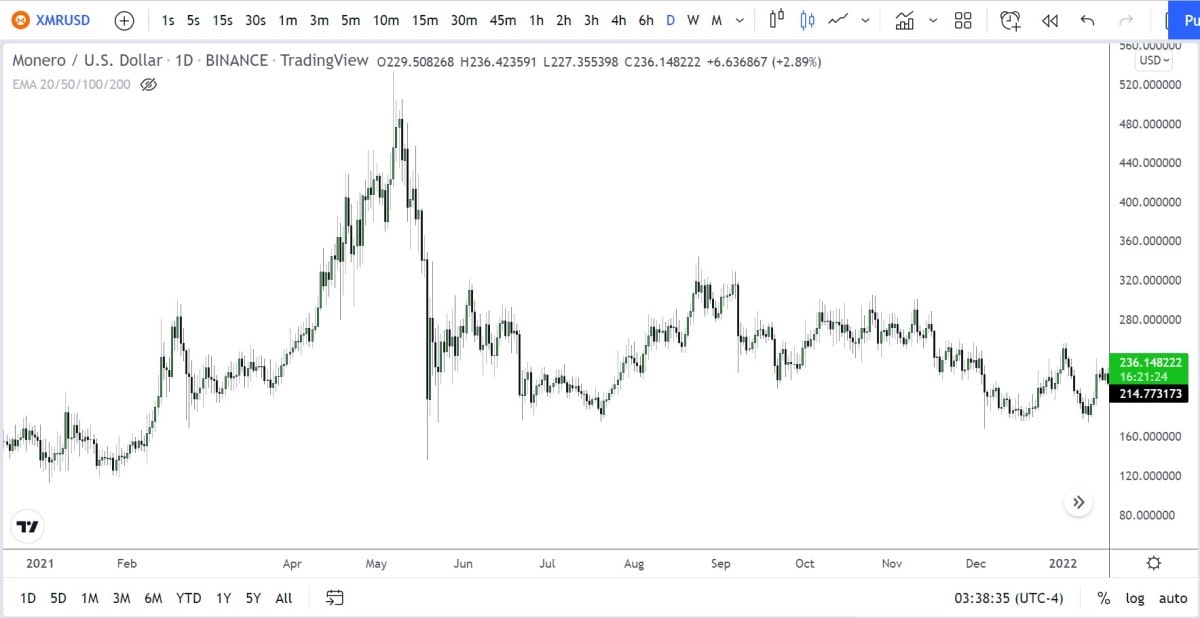 In 2021, Monero had one of its best years since 2017. It grew by over 310% within barely six months in one calendar year to set an all-time high at $517.60. The price fell sharply immediately after but found solid support at around $137 before trying and failing to recover above the yearly high throughout the remainder of the year.
XMR/USDT price chart
Monero (XMR) technical analysis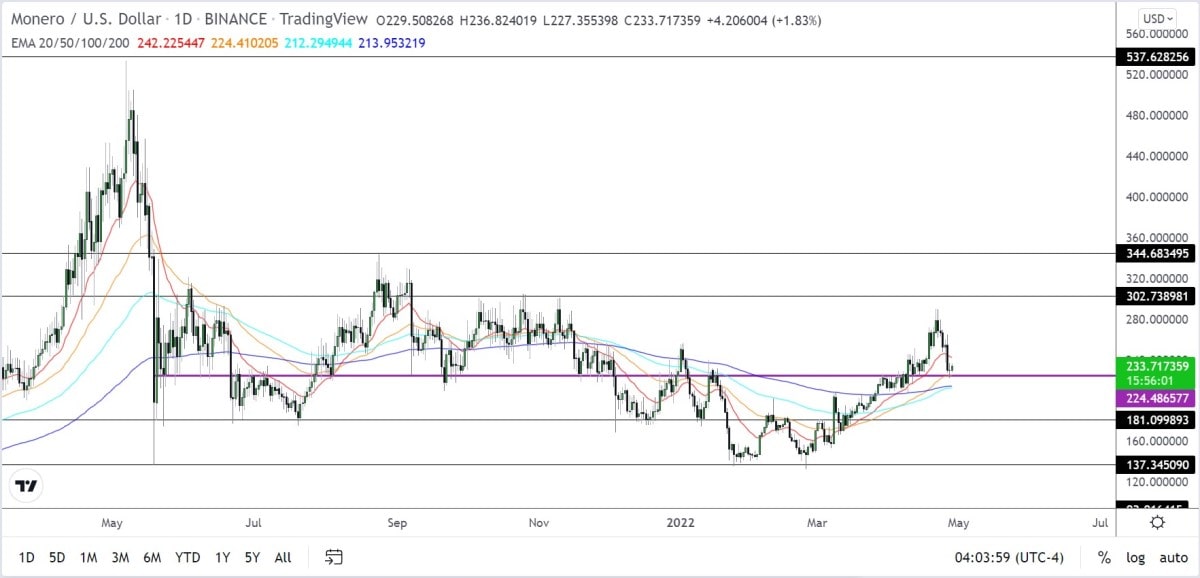 Monero's price action has always been choppy on lower timeframes, hence the prominent wicks on higher timeframe candlesticks. The story is different on higher timeframes as the price has consistently trended higher or lower with consolidations in between like any regular currency. 
Price action on the daily timeframe for Monero is something to see. Ever since XMR took out its all-time high a year ago, the price declined sharply to around $160 and has struggled to make any significant recovery.
The good news for Monero is that there has been a steady upward price movement since hitting the support at $137.34. It recently broke above a local resistance level at $224.48 and attempted to hit the high created in November 2021. If XMR can maintain the price above the newly formed support at $224.48, there may be more reasons for buyers to commit and continue the trend till the price reaches a significant resistance.
Monero (XMR) price prediction for 2022, 2023, 2025 and 2030
Monero (XMR) was designed as a confidential transaction tool with its original tangling routes system. It performs this function perfectly. This feature provides the Monero network with a constant flow of users because there will always be people who want to hide their financial activities from public attention. Let's get down to the probable scenarios on XMR price prediction from experts for 2022, 2023, 2025 and 2030.
TradingBeasts Monero (XMR) price prediction for 2022, 2023, 2025 and 2030
According to the price prediction from TradingBeasts, Monero's price may fall to $177.70 by December 2022. In 2023, the forecast suggests a further decline in the price, losing between 9% to 24% from the expected close of 2022. The story changes a bit in 2025, when the forecast suggests that XMR may gain all that it will lose in 2023/2034, reaching as high as $374.20 by the end of the year.
WalletInvestor Monero (XMR) price prediction for 2022, 2023, 2025 and 2030
WalletInvestor's Monero price prediction for the coming years is quite optimistic. In 2023, it has been predicted that Monero will reach as high as $336.04, which is great news for investors. The bullish trend doesn't end next year; WalletInvestor predicts that Monero's future price could reach as high as $666.19 by 2027.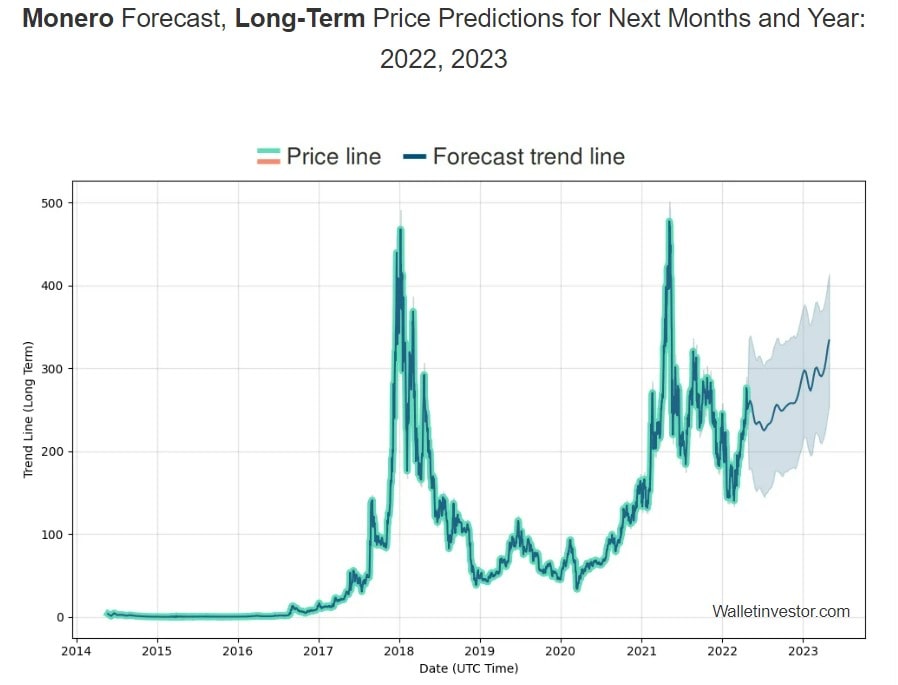 Coinliker's Monero (XMR) price prediction for 2022, 2023, 2025 and 2030
The prediction Coinliker gave back in 2020 for Monero's future price was quite optimistic, or so some thought. They expected that XMR would surge to $366 by 2021, which did take place. We can continue to look forward to $1,366 by 2025, according to the same prediction. Overall, Coinliker suggested that Monero is an excellent cryptocurrency with great potential. 

CoinSwitch Monero (XMR) price prediction for 2022, 2023, 2025 and 2030
Based on CoinSwitch's XMR price prediction, Monero is a good long-term investment. The network's forthcoming update, improved confidentiality system and development funding will add weight to it. As the demand for XMR grows, CoinSwitch predicts that Monero may reach $900 by 2023. It's expected that the cryptocurrency will continue to surge and might make it to the $1400 mark by 2025.
Monero (XMR) overall future value predictions
Over the years, Monero (XMR) has held a leading position among the top cryptos. That's a good indicator of stable demand for confidential transactions among users. The project is under active development, and new updates are periodically released, which allows Monero's blockchain to remain competitive. One of the latest updates, named Oxygen Orion, was applied on 17 October 2020. Attention from users and developers indicates that the project will continue to be developed in the future.
Will Monero (XMR) go up?
Monero is a cryptocurrency with strong fundamentals and widespread usage. There's no doubt there's widespread demand for it on the market, and its price should rise in the future. From a regulatory standpoint, its total privacy could hurt it. Will it get banned or heavily regulated? Can it be delisted from exchanges? Who knows? However, the risk of government reprisals should be taken into account when determining whether or not to use Monero.
Monero (XMR) price prediction today
Today, Monero is the most anonymous of all existing cryptocurrencies. While the confidentiality of other coins varies from coin to coin and depends on individual circumstances, XMR guarantees complete security. The network users' data are unknown even to the developers, so it's impossible to send them to third parties. It's hard to say who will win this struggle, governments or users wishing to remain anonymous. One thing is certain: as long as the demand for anonymity grows, so, too, will Monero's price.
Tags
Exchange BTC

Try our Bitcoin Cloud Miner and get additional crypto rewards based on your trading volume. It's immediately available upon registration.

Try our Bitcoin Cloud Miner and get additional crypto rewards based on your trading volume. It's immediately available upon registration.
Instrument
Rate
Change (24h)