Neo (NEO) Price Prediction 2022 - 2030

In the cryptocurrency world, new projects appear every day. On average, only one project out of ten becomes a complete working ecosystem, and only a few of those have an application to the problems of the modern world. One successful start-up is NEO, an open-source cryptocurrency with the extended functionality to develop smart contracts and decentralised applications (dApps).
If you're thinking about investing in NEO, then you're in the right place. We'll present readers a complete NEO price prediction for 2020 and 2030 and cover the fundamentals behind the project, historical price analysis, technical analysis and NEO's long-term price prediction from experts. By the end of this article, you'll understand what NEO is and what to expect from NEO coin in the future.
What is Neo (NEO)?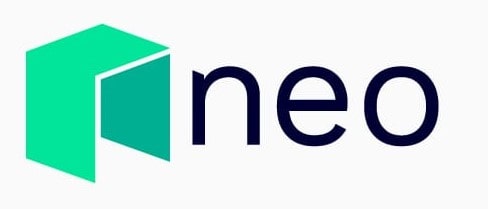 NEO is a cryptocurrency based on blockchain technology. The data chain about existing transactions is kept on different computers that are independent of each other. All operations conducted with the NEO cryptocurrency are checked by these data blocks, identifying the owner and transaction.
The project was launched in 2017, but development on it started three years earlier by Da Hongfei and Erik Zhang, programmers from China. Initially, this project was called Antshares and was launched in the summer of 2014 before conducting an ICO (over $4 million funded) in 2015. By that time, the Antshares cryptocurrency was primarily traded only domestically in China. The Antshares platform actively developed, and by 2016, it had entered the Top 10 coins in China.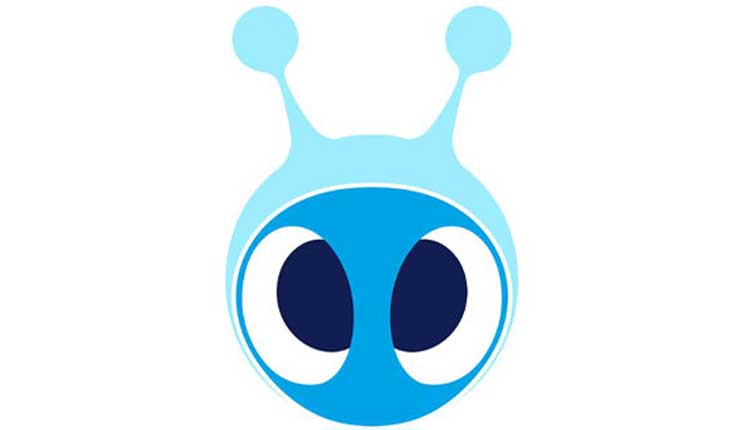 The Antshares team faced growing demand from businesses for solutions that included blockchain technology in specific industries. These requests led the team to recognise the possibility of expanding the company further. They realised that providing these services should be a separate business in itself.
This implementation led to the creation of Onchain, an independent company that was aimed at creating a universal blockchain structure. As a result, Antshares and Onchain became two separate projects. Antshares' general purpose is to create a publicly available blockchain network, while Onchain's focus was on creating a blockchain architecture that can be replicated to meet specific industry needs.
After a successful ICO, the Antshares team sought a way to reach out to traders on the world market. The company decided to rename the blockchain network NEO. The rebranding took place in June 2017. After that, some of the largest cryptocurrency exchanges in the world integrated support for trading NEO. It was a wise and visionary step that allowed NEO crypto to rank in the Top 10 cryptocurrencies by market cap worldwide.
NEO and the Chinese government
China opposes cryptocurrencies and initial coin offerings (ICO). Their comments on plans to ban the mining of cryptocurrencies led to a collapse in market prices. However, Neo is one of the cryptocurrencies that the country has favoured. Neo is the first blockchain project supported by the Chinese government. Furthermore, it is used by many large companies in the country, such as Alibaba and Microsoft China. Taking into account the size of the Chinese market and the impact that China has on the global economy as a whole, this factor can give a powerful boost to NEO's growth.
Based on the project's country of origin and the solutions it offers, some compare it to Ethereum. You can read What is Ethereum? and Ethereum (ETH) Price Prediction in our blog. In a nutshell, Ethereum (ETH) is a cryptocurrency and platform that allows users to create decentralised applications (dApps) and various tokens, run smart contracts and conduct ICOs (crowdfunding for crypto projects). 
The team behind NEO was able to identify a critical flaw in the Ethereum ecosystem. Ethereum smart contracts and dApps are encoded using Ethereum's native language, Solidity. This means that developers who want to contribute to the community or make a profit must first learn an entirely new programming language. In contrast, NEO allows developers to encode their software in many programming languages, such as C, C++, Java, Python, .NET, Kotlin, and others. It significantly reduces the entry barrier for developers, thereby accelerating innovation and, as a result, implementation.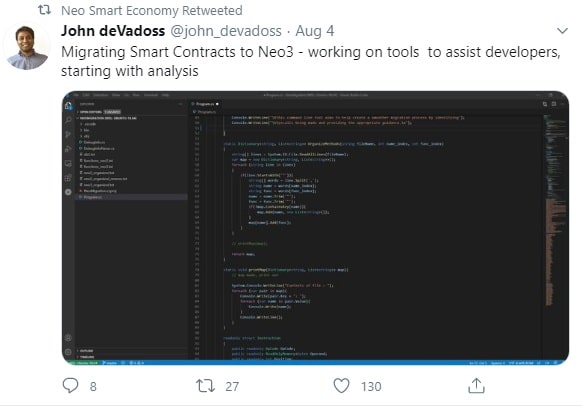 This important feature of NEO significantly changes the meaning of cryptocurrency. Technology is rapidly evolving, and engineers and programmers who have spent a lot of time and effort learning a programming language can now easily cope with smart contracts.
NEO's pros and cons
NEO is one of the largest blockchain projects to use secure cryptographic encryption for transactions in the system without involving third parties. This cryptocurrency has gained popularity because of its advantages:
It offers a limited number of 15 million coins mined per year, which helps avoid inflation.
The coin has the lowest commission in the blockchain system.
NEO's data processing speed reaches over 1,000 t/sec thanks to the use of a smart contracts system.
Microsoft, Alibaba, HyperLedger are partners and investors in the platform. Thanks to these partnerships, NEO rose in users' esteem.
The platform supports many programming languages.
The programmers who founded NEO want to establish close cooperation with the Chinese government soon. This will allow them to get a large share of the Chinese market once cryptocurrencies are legalised in the country.
Experts also consider some of the above advantages to be disadvantages:
Centralisation. The course of Neo cryptocurrency depends directly on the Onchain policy, and the developers own half the coins.
Pseudoanonymity. The creator company's work is aimed at cooperating with the Chinese government.
Crypto in crypto. It is impossible to mine NEO cryptocurrency. It has a limited number of issued coins. The intermediary is the intra-system cryptocurrency GAS, its amount limited to 100 million. Experts believe that this may lead to speculation.
When referring to NEO price prediction, the prospects for the NEO cryptocurrency are huge, but much depends on the developers and further demand for the coin in society. As China intends to accelerate the implementation of blockchain as a key innovation, the NEO cryptocurrency's future seems promising.
When NEO3 appears
Developers started working on NEO3 back in Q4 2018. The plan is to finish the work in 2020. Although part of the update is ready now, there are enough difficulties. The biggest problems lie in migration.
Some functions of NEO3 are simply incompatible with the previous version of the blockchain. That is why the new system will have to run from scratch on a completely new blockchain with a new genesis block.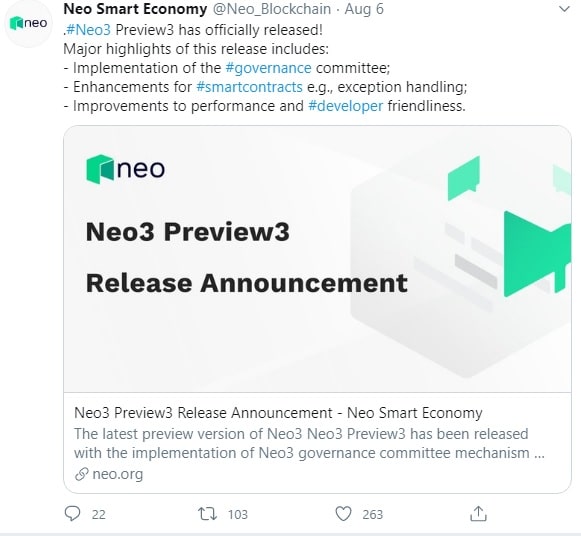 Before running the NEO3 main network, there will be two branches for crypto developers. That is necessary to perform the migration, i.e., transferring data from one circuit to the new one. According to the team, most of the decentralised applications will migrate painlessly to the new blockchain. At the same time, the NEO Foundation will provide all kinds of support to developers, both technical and monetary.
The company claims that transferring data from the current chain to the new chain is inevitable. And to begin with, such migration will be "simulated" into the test network. But the NEO Foundation promises to reimburse all costs associated with restarting decentralised applications and testing them. For developers to have more incentives to migrate, the organisation promises to create a program to support early adopters. Token holders will have to exchange tokens for NEO3. However, exchange users will not be affected by this.
Neo (NEO) Price Analysis
Neo (NEO) is ranked 65th by market cap at $1,431,616,823. NEO's competitors are Ethereum (ETH), Tezos (XTZ), Cardano (ADA), and other smart contract and dApp projects.
NEO Price Today (19 April 2022)

$20.30

Market Cap

$1,431,616,823

Supply / Total Supply

70,538,831.00 NEO / 100,000,000 NEO

Daily Trading Volume

$124,882,233

All-Time High

$196.85 

(15 January 2018)

All-Time Low

$0.072287

(21 October 2016)

Official Website
Neo (NEO) Price History
We will conduct a historical price analysis from the moment the coin was rebranded under the well-known name NEO. When Antshares changed to NEO, the main trading pair was NEO/BTC. The dollar pair was added only later. The chart below represents the converted price of NEO/BTC to NEO/USD.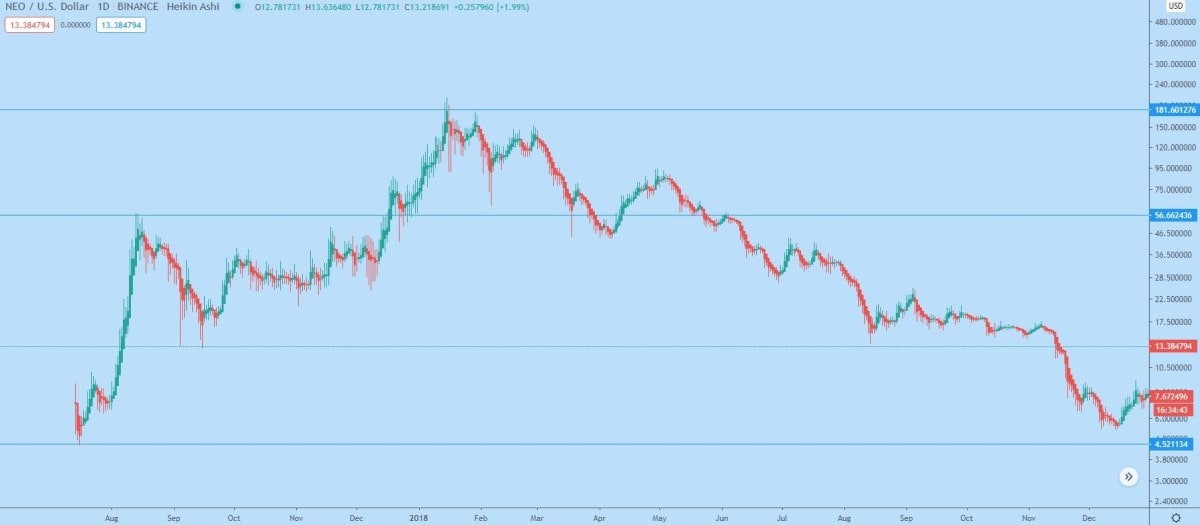 The cryptocurrency community began actively purchasing NEO when it became aware of the coin's prospects. After rebranding, NEO's value increased from $1 to $7 in June 2017. After the 700% increase, the price of NEO dropped and found support at $4.50 on 16 July 2017. Who would have thought that it would be a multi-year low for NEO by that time?
NEO bounced from the support of $4.50 and nearly reached the $57 mark on 13 August. On 16 September, buyers stepped in, and the coin established support at $13.50. In December 2017, buyers pushed NEO up, and the asset breached the previous high of $57. It grew rapidly, reaching $196 on 15 January 2018. Many altcoins shot up during that time, with NEO among them.
NEO Price Prediction 2018
NEO had both a good and rough year in 2018. After reaching its all-time high of $196, the cryptocurrency market turned bearish and dragged NEO down. NEO tried to climb back to highs along with Bitcoin and other cryptocurrencies, but on 28 February, the downtrend resumed, and the price slid after it failed to maintain at $145. On 7 April, buyers stepped in and protected support at the $45 mark. They managed to push the price up to $90 by the end of the month. April was the last positive month for NEO in 2018. By the end of the year, NEO fell to as low as $5.40 on 15 December.
NEO Price Prediction 2019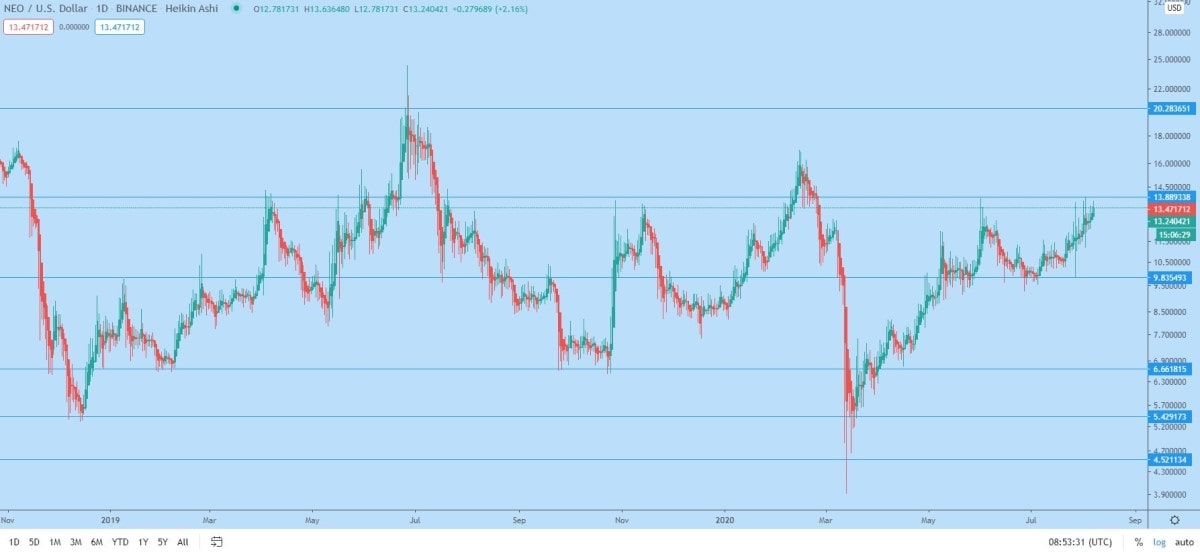 NEO began the new year on a positive note. On 7 January 2019, it reached $9.50 when the asset met resistance and went down to $6.60 in February. But by April, NEO was already able to consolidate above the resistance at $9.50 and reach the $14 mark. From there, the asset pulled back to $8 in early May and showed solid growth to $20 by late June. That growth may have been speculative and fuelled by the upgrade of the NEO algorithm, which improved network stability and transaction speed. However, even that positive step failed to help NEO expand beyond $20. Sellers dragged the price down to its previous support level at the $6.60 mark by 26 September. On 27 October, the price of NEO surged to $13.50, showing an incredible 100% growth in two days. The asset tried to breach $13.50 twice but failed. NEO closed the year slightly below $9. 
NEO Price Prediction 2020
At the beginning of 2020, NEO turned bullish and rose as high as $16.60 by 15 February. After that, Bitcoin turned bearish and dragged the entire crypto market down with it. NEO found support on 13 March at the $4.50 price mark. From that moment on, along with Bitcoin, NEO turned bullish and established a $9.60-$13.50 trading range.
NEO Price Prediction 2021
NEO continued the bullish trend from the start of 2021. It opened the year around the support at $13.20 and consolidated higher for a few weeks. In February, the price picked up and rallied until it set a new yearly high of $146.83 before declining sharply and stabilising around $25. By the end of the year, NEO had lost most of the growth it accumulated earlier, closing the year at $25.63.
NEO/USDT price chart
NEO Technical Analysis
Ever since the crypto price surge that ended in May 2021, NEO has consistently traded lower. In December 2021, NEO's price traded to significant support levels where traders expected that the price might rebound and hopefully recover. That was not to be the case. NEO consolidated for days upon nearing the support zone and eventually shattered it to reach lower prices. 
As of the time of writing on 22 April, the price is trying — and failing — to break back above the support now turned resistance. The 50 and 100 EMAs are also currently acting as dynamic resistance to the price. If bulls fail to break convincingly above the resistance at around $25.00, NEO is likely to trade even lower to the support at $13.20, which is the lowest price it has traded at since December 2020.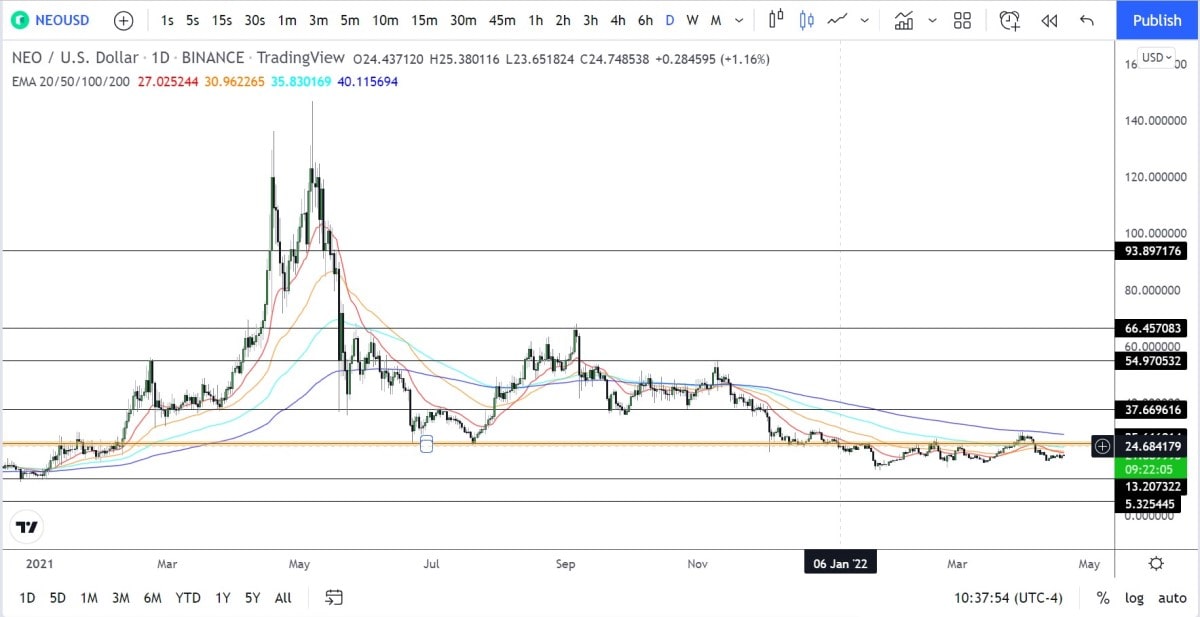 Neo (NEO) price prediction for 2022, 2023, 2025, and 2030
Let's look at the price prediction for NEO from popular forecasting agencies. What do they expect from NEO cryptocurrency in the future, and will NEO go up?
Trading Beasts NEO Price Prediction for 2022, 2023, 2025, and 2030
According to the prediction from Trading Beasts, NEO's price will likely trade at around $15 at the close of the year. 2022 also doesn't see much in terms of growth as NEO coin price is expected to average around $18.55. Trading Beasts predicts that not until 2024 will there be any real stability at higher prices, and the price could stabilise around $50 near the end of 2024. 
WalletInvestor NEO Price Prediction for 2022, 2023, 2025, and 2030
WalletInvestor predicts that NEO may rise to $31.62 in one year. This is good news for potential investors who have NEO insight as an investment option for 2023, as it signifies a $49.39 growth expectation. It gets even better. By 2027, WalletInvestor predicts that NEO may witness a price surge to over $71.18.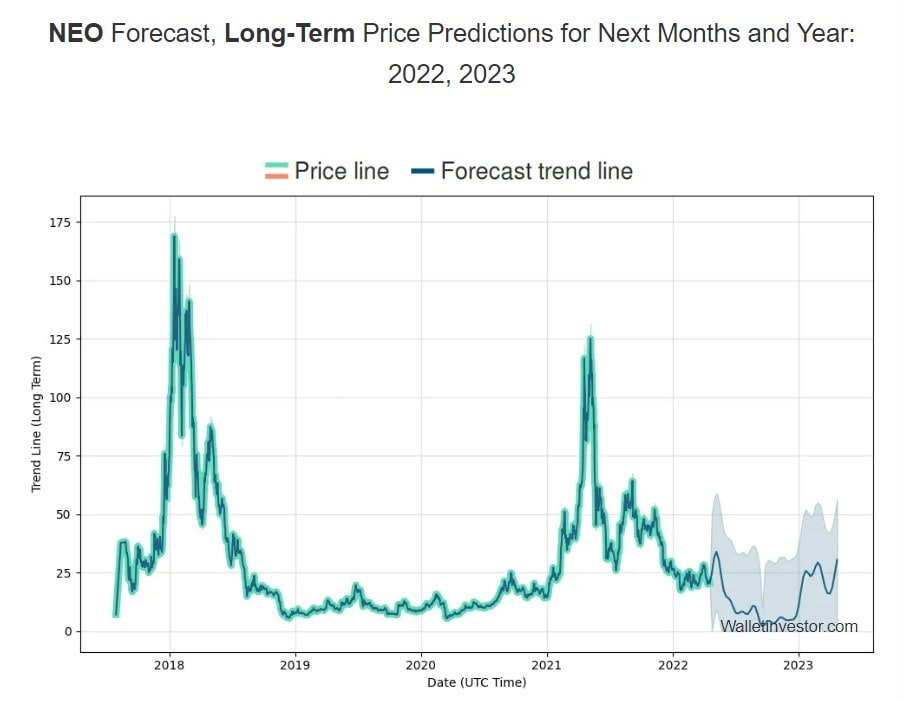 Long Forecast NEO Price Prediction for 2022, 2023, 2025 and 2030
According to Long Forecast's NEO price prediction, the cryptocurrency's price will rise soon. They expect that NEO may reach as high as $31.82 in 2024 but will decline heavily afterwards. By 2026, Long Forecast predicts that NEO may fall to as low as $7.85, which doesn't look good for long term investment. 
Neo (NEO) Future Value Predictions in General
The upcoming NEO release and constant updates from developers indicate that the project is steadily evolving and isn't standing still. If the Neo team accomplishes all the tasks it has set for itself, the project will succeed in the future.
Will NEO Go Up?
Will NEO go up? Looking at this project's fundamental and technical analyses, the prospects for further growth are great. Nevertheless, the cryptocurrency market is still at an early stage, and it's impossible to predict what difficulties we may face in the future. The project is currently very centralised; decentralisation is necessary for future NEO crypto success and attaining flexibility.
NEO Price Prediction Today
The efforts made by the NEO team to comply with China's legal framework provided a strong basis for further development. Cooperation with the government at an early stage helps avoid significant errors in the future. Projects that do not pay attention to compliance with the legal framework may encounter difficulties in legalising their cryptocurrency. Only with the government's participation is it possible to achieve real change and make a breakthrough with the implementation of blockchain technology in our lives. 
At the moment, it is safe to say that NEO is the project that has successfully established close cooperation with the Chinese government. This cooperation increases both the project's attractiveness as an investment asset and investors' confidence in it. That is why we can say that NEO is an attractive investment right now.
Tags
Exchange BTC

Try our Bitcoin Cloud Miner and get additional crypto rewards based on your trading volume. It's immediately available upon registration.

Try our Bitcoin Cloud Miner and get additional crypto rewards based on your trading volume. It's immediately available upon registration.
Instrument
Rate
Change (24h)