Reasons why you should buy ETH now

ETH is more than just a crypto instrument. We all know that ETH is the official digital coin that powers its network. It's different from Bitcoin since it only offers a so-called 'store of value'. Ethereum is actually doing exactly what it was created for: bringing advanced features like NFTs, smart contracts, DApps and more. In a nutshell, Ethereum is the direct competitor of Bitcoin (in terms of capitalisation), fighting to take over the top spot since its debut in 2015. Based on its annual growth rate, ETH outperformed Bitcoin in 2020 and 2021.
Many analysts compared ETH to silver and Bitcoin to gold. Over time, we can see that ETH is moving towards the features that oil has since it attracts more and more derivatives which help 'fuel' different projects and crypto features and products.
How will the 2.0 Upgrade change things for ETH?
Developers and upcoming crypto projects have become familiar with the vulnerabilities of Ethereum, leading them to choose other networks over it. However, the targeted shift from the proof-of-work model to the proof-of-stake one is expected to make many positive changes. For example, the upgrade is aimed at addressing high transaction fees, increasing the number of coins burned and improving network congestion. Ethereum 2.0's upgraded features are expected to increase demand for the coin and drastically boost activity, which will eventually impact the price even more.
Experts also say that the shift to proof-of-stake will have a positive impact on ETH's price, and more investors will 'jump in'. ETH's biggest drawback right now is its gas fees. If the network is willing to reduce them, investors won't have a problem availing themselves of ETH services. That means that as soon as the upgrade starts, ETH should see a significant rise in its price.
Will geopolitical unrest impact ETH?
Except for certain stocks and industries, everything has been impacted by the geopolitical unrest brought out by Russia's invasion of Ukraine. Stocks, coins and other assets have seen an impact of 2% to 5%. This week, Ethereum's price dropped below $2,500 before quickly bouncing back on track in an attempt to make a comeback. The cryptocurrency is facing strong resistance at $3,000. However, it's not common for geopolitical events to have an effect on cryptocurrencies. Even if this particular upheaval does, experts say that crypto assets' value will get back on track as soon as a clear outcome emerges from the unrest.
A very important fact to consider is that more and more individuals have turned to investing in crypto as a way to protect their assets. In just the past two weeks, ETH has been one of their top picks, and the number of spot holders has seen a significant increase.
Chart analysis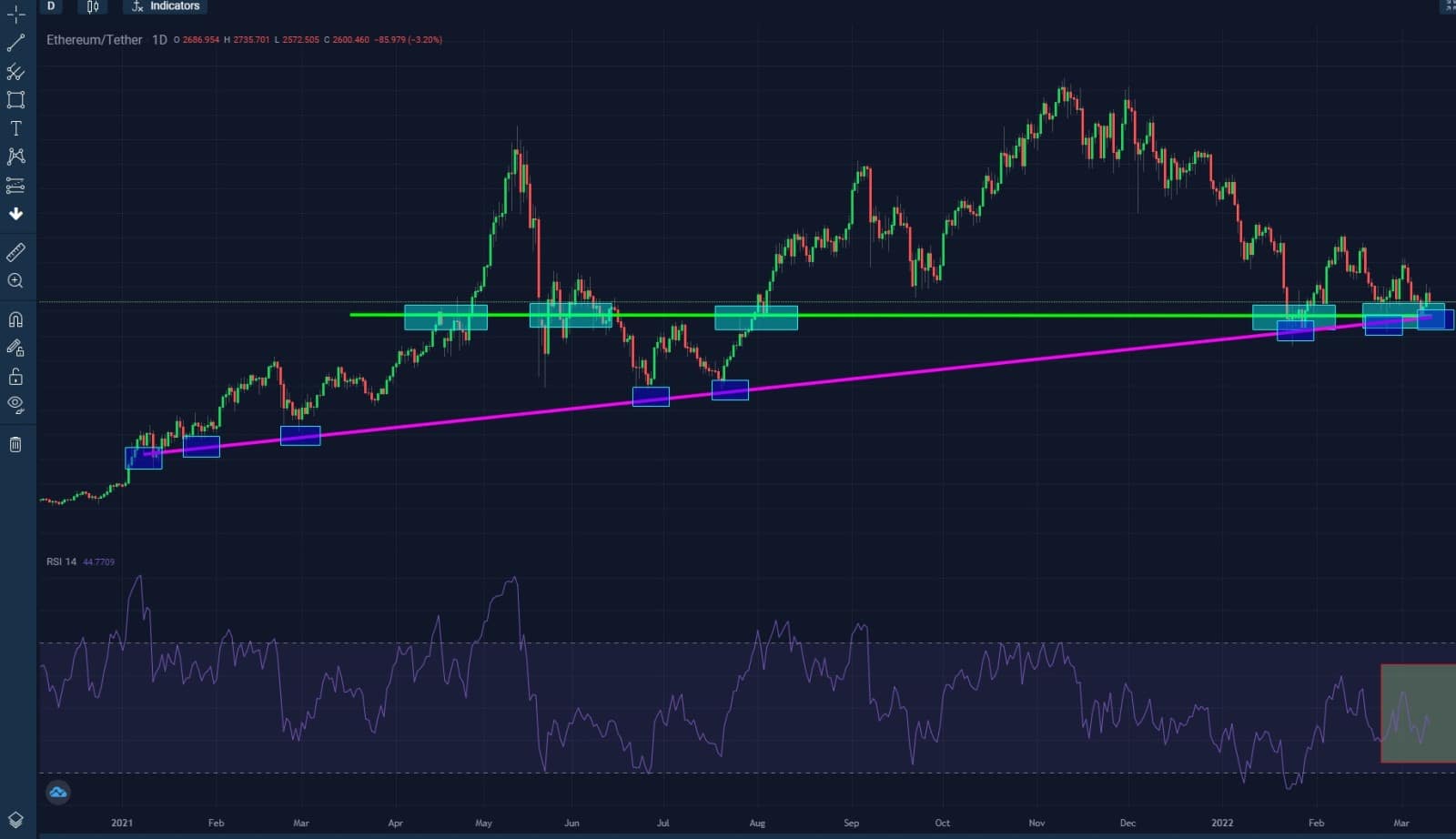 From analysing the chart, we can see that:
$2,500 is still a powerful support level for ETH, and, even if it goes under this level, it is very likely to immediately get back on track
There is a perfect trend line with 8 hits, which indicates that this is the general trendline that needs to be followed
The RSI is in the middle, a strong indication that ETH still has a strong chance of recovery
How to trade and invest with StormGain
Potential profit based on the last 12 months:
Current price: $2,500-$2,600
All-time high: $4,960 (50% potential profit) 
Potential profit on StormGain (without leverage): $500 return with a $1,000 investment
Potential profit on StormGain:
(1:30 leverage): $15,000 with a $1,000 investment
(1:10 leverage): $5,000 return with a $1,000 Investment
(1:5 leverage): $2,500 return with a $1,000 investment 
Tags
Exchange BTC

Try our Bitcoin Cloud Miner and get additional crypto rewards based on your trading volume. It's immediately available upon registration.

Try our Bitcoin Cloud Miner and get additional crypto rewards based on your trading volume. It's immediately available upon registration.
Instrument
Rate
Change (24h)