VeChain Price Prediction for 2022, 2025, 2030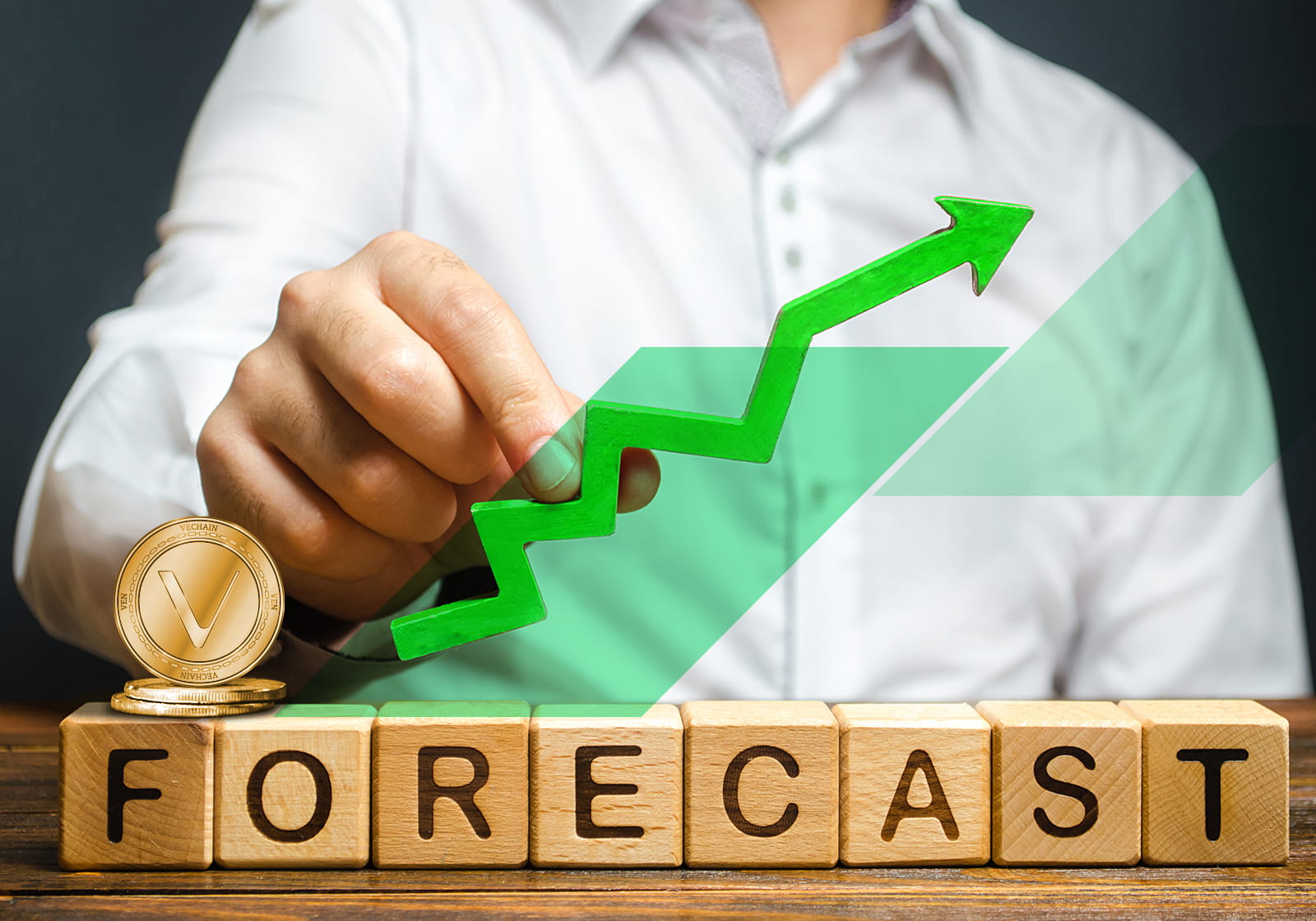 VeChain (VET) is a project that has grown from a private blockchain logistics solution to a public multifunctional blockchain platform. The team behind VeChain was able to create an in-demand product that has created a universal platform dedicated to business. The company offers a range of solutions that simplify blockchain integration among traditional industry players.
The platform's flexibility allows you to track a product from factory to end-user, whether it's branded clothing, alcohol, or drugs. What is VeChain, who has invested in it, and what to expect from VeChain in the future? In our complete VET price prediction, we look ahead to understand whether the project can continue to develop and innovate in the future.
What is VeChain (VET)?
VeChain is a blockchain project founded in 2015. The project was initially conceived as a supply chain management and anti-counterfeiting system based on blockchain and IoT technologies. In December 2017, the product was rebranded and relaunched as the VeChainThor blockchain for decentralised applications (dApps).
At first, VeChain was famous for its blockchain technology and smart product tracking chips that could be integrated into various devices, such as NFC chips, QR codes, or RFID trackers. Writing all products into smart chips guaranteed user data reliability. VeChain's primary goals were to optimise the supply chain, protect against counterfeiting, ensure product safety and verify product authenticity, among other things.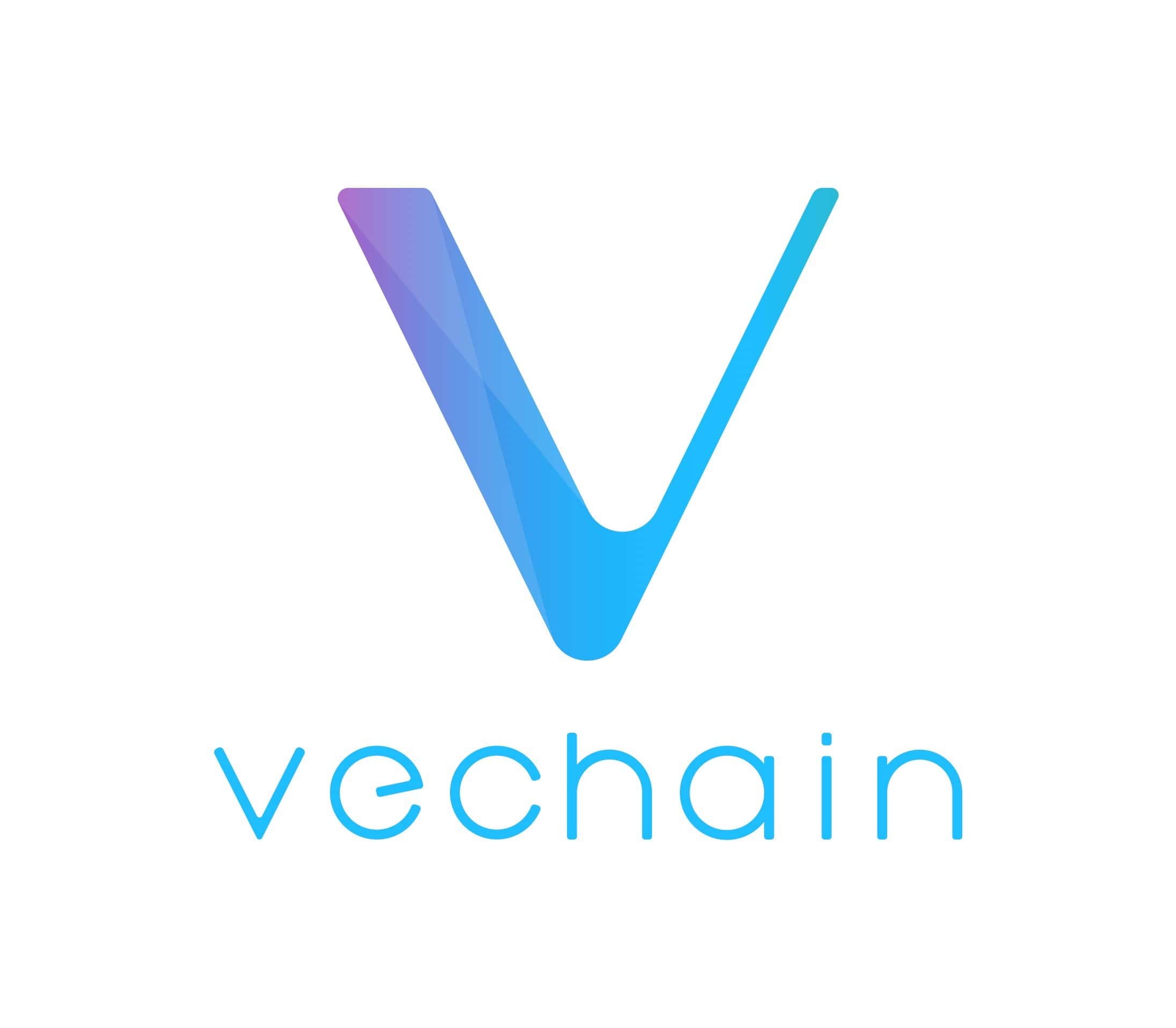 Despite its initial success in logistics, VeChain has now established itself as a blockchain service provider for businesses in any industry. VeChain's goal is to create a reliable distributed ecosystem for companies that can provide a transparent flow of information and efficient cooperation between parties. The project is known for its collaboration with major companies such as Microsoft, Shanghai Gas, Walmart China, BMW Group, H&M, and others.
VeChain Foundation
VeChain Foundation, a non-profit organisation registered in Singapore in 2017, manages the project. The team of experts works on legal support for the project, which operates within the law and publishes quarterly financial reports on its website. VeChain Foundation continually strives to build new partnerships.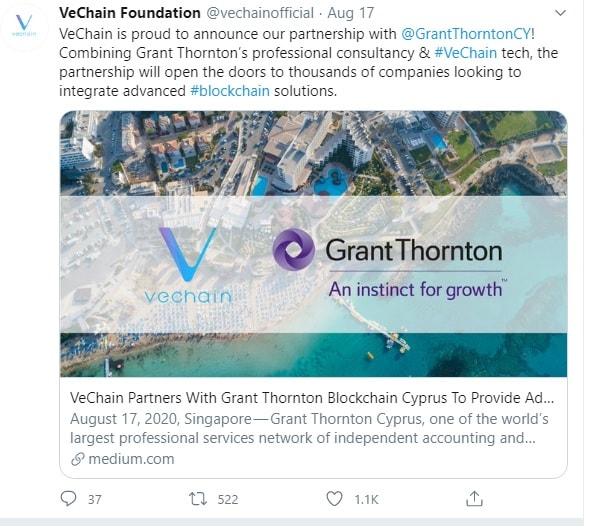 Before the public blockchain's launch, one of VeChain's first projects was to implement blockchain technology in China's public sector for the Government of China. 
While VeChain conducted an ICO, China banned initial coin offering and the sale of digital tokens to Chinese citizens due to the uncertain legal status of tokens. VeChain refunded all Chinese citizens who participated in the ICO per legal requirements.
VeChain Architecture and Functionality
VeChainThor blockchain is based on the Ethereum blockchain, which is best-known as a platform for dApps. (Note: you can read our article What is Ethereum in our blog.) VeChain borrowed the following technical blocks from Ethereum: accounting/balance blockchain model, RLP encoding methods, Ethereum virtual machine (EVM), etc.
It takes 10 seconds to generate a block in VeChainThor. The team states that the VeChainThor blockchain can reach 10,000 transactions per second (TPS), including the PoA (proof of authority) consensus mechanism. However, the platform was first launched with 50 TPS, a value that corresponded to the network's needs at that stage. VeChainThor transactions are multitasking, which allows you to perform multiple actions in one operation. The network's peak registered TPS was 165. According to the founder, an average of 100 TPS is processed in the network.

VeChainThor's main feature is that it's designed to mass-integrate blockchain technology into businesses. That's why the project seeks to develop elements that will simplify the real use of business technologies, in addition to blockchain's primary function —transferring value.
VeChain anticipates that not all traditional organisations are comfortable dealing with cryptocurrency, but VeChainThor has a solution for this. Its multi-level payment model allows a user to make transactions using the sponsor's account. This is convenient when there are several parties involved in the business, and not all of them are willing to work with cryptocurrencies. All the user needs is a private and public key to use the platform and run smart contracts with applications through a sponsored account.
Since VechainThor was designed for use in business applications, it's built according to the following rules:
System standardisation, modulation, and flexibility
Multi-layered architecture, with independent and interconnected architectural layers
Open protocols to connect other systems and technologies
Fast and comfortable development
Dual-Token Economic Model
VeChainThor uses a dual-token system similar to the NEO blockchain. For example, just as NEO uses the cryptocurrency GAS to perform a transaction, VET uses VTHO. Feel free to read our NEO price prediction.
VeChain Tokens (VET), a kind of smart money, are the primary tokens used to transfer value in a blockchain between accounts. A user's role and status in the network depends on the amount of VET that the user has.
VeChainThor Tokens (VTHO), the cryptocurrency's fuel, are the secondary tokens used to send a transaction or perform actions on the blockchain. When a user performs an action in a blockchain by making transactions or running smart contracts, 70% of their payment in VTHO is burned, while the other 30% is used as a reward for validators.
VeChain Partnerships
VeChain has an impressive list of partnerships that have already led to working solutions. The company aims to change the big players' level of acceptance of blockchain technology by expanding partnerships and integration. The largest international companies and organisations from different fields have joined VeChain, including:
PriceWaterhouseCoopers (PwC). One of the largest global audit firms that counts Dell, Cisco, IBM, and Ford among their clients.
BitOcean. One of the first fully licensed cryptocurrency exchanges by Japan's Financial Services Authority (FSA). The company provides an ATM-based solution for selling and buying crypto.
BMW Group. VeChain participates in developing a blockchain solution to store vehicle data and safely transfer it to third parties.
China National Partnership. VeChain and the Chinese government have partnered to implement blockchain technology in Gui'an New Area, a special economic development zone. Among the companies that will launch operations in the Gui'an New Area are IBM, Microsoft, Apple, Huawei, Tencent, and Foxcom.
To date, VeChain's official website features 39 strategic partners. It's the impressive result of intensive work that not many companies can show off.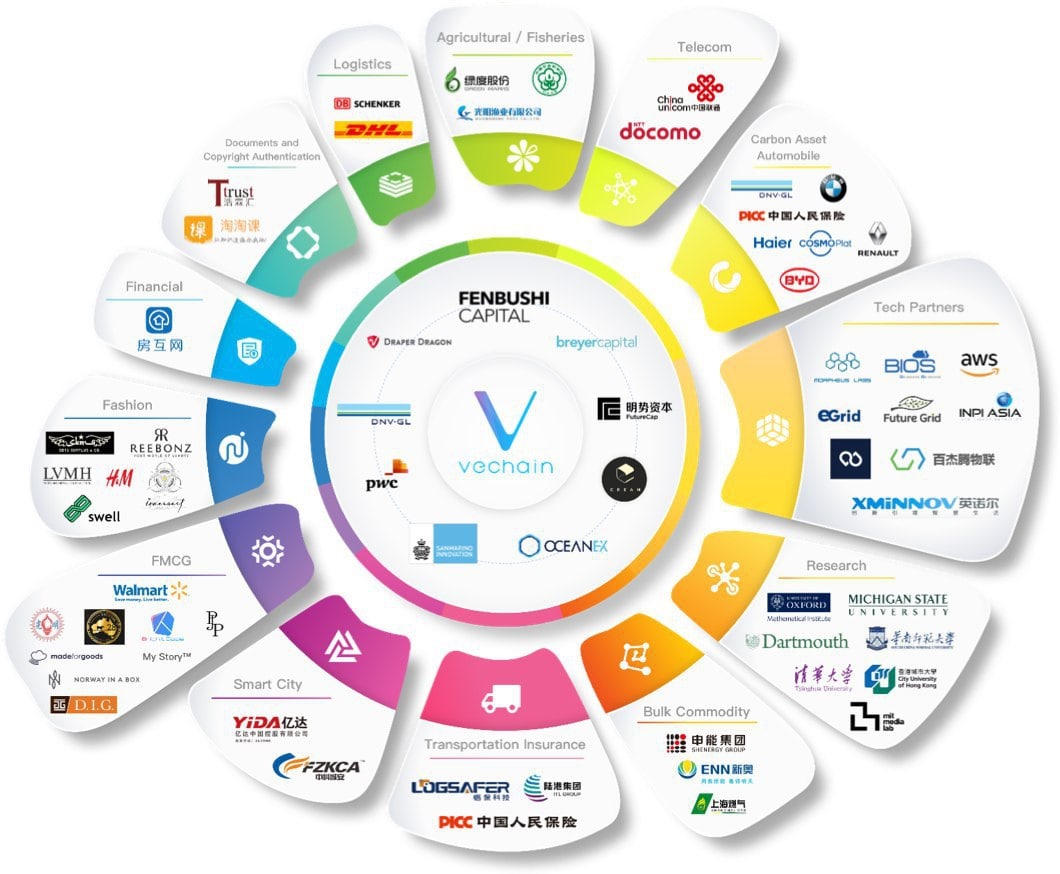 VeChain (VET) Price Analysis
As of 19 October 2021, VeChain (VET) is ranked 24th among cryptocurrencies by market cap at $7,543,266,774. The cost of one VET token is estimated at $0.1173. Here's an overview of VeChain:
TRON Price Today

$0.1173

Market Cap

$7,543,266,774

Supply/Total Supply

64.32B VET / 86,712,634,466 VET

Daily Trading Volume

$7,543,266,774

All-Time High

$0.2782

(17 Apr 2021)

All-Time Low

$0.001678

(13 March 2020)

Official Website
Vechain (VET) Price History
Before proceeding to our VeChainThor price prediction, let's start with historical data analysis. VeChainThor is a relatively young project that entered the market in 2018. That year marked the beginning of the bear market, but the team kept developing through 2018-2019 and was able to show excellent results in 2021.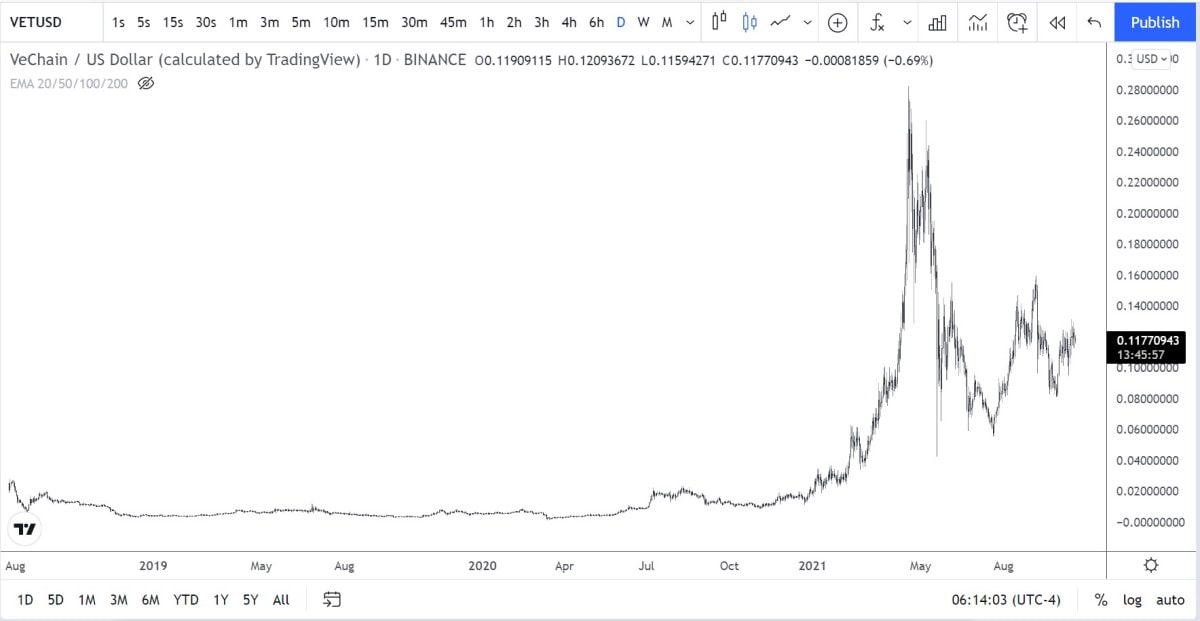 VeChain (VET) was listed on cryptocurrency exchanges in late July and traded in the range of $0.02-$0.026. However, VeChain soon broke out of that range and experienced increased volatility. From the beginning to the middle of August, the price fell to $0.006 per VET. A rebound immediately followed the decline, hitting $0.0198 by 4 September. Unfortunately, the rebound was temporary and was followed by a prolonged recession. By 16 December, the price had dropped as low as $0.0033. VeChain closed the year at $0.004.
Vechain (VET) Price Prediction 2019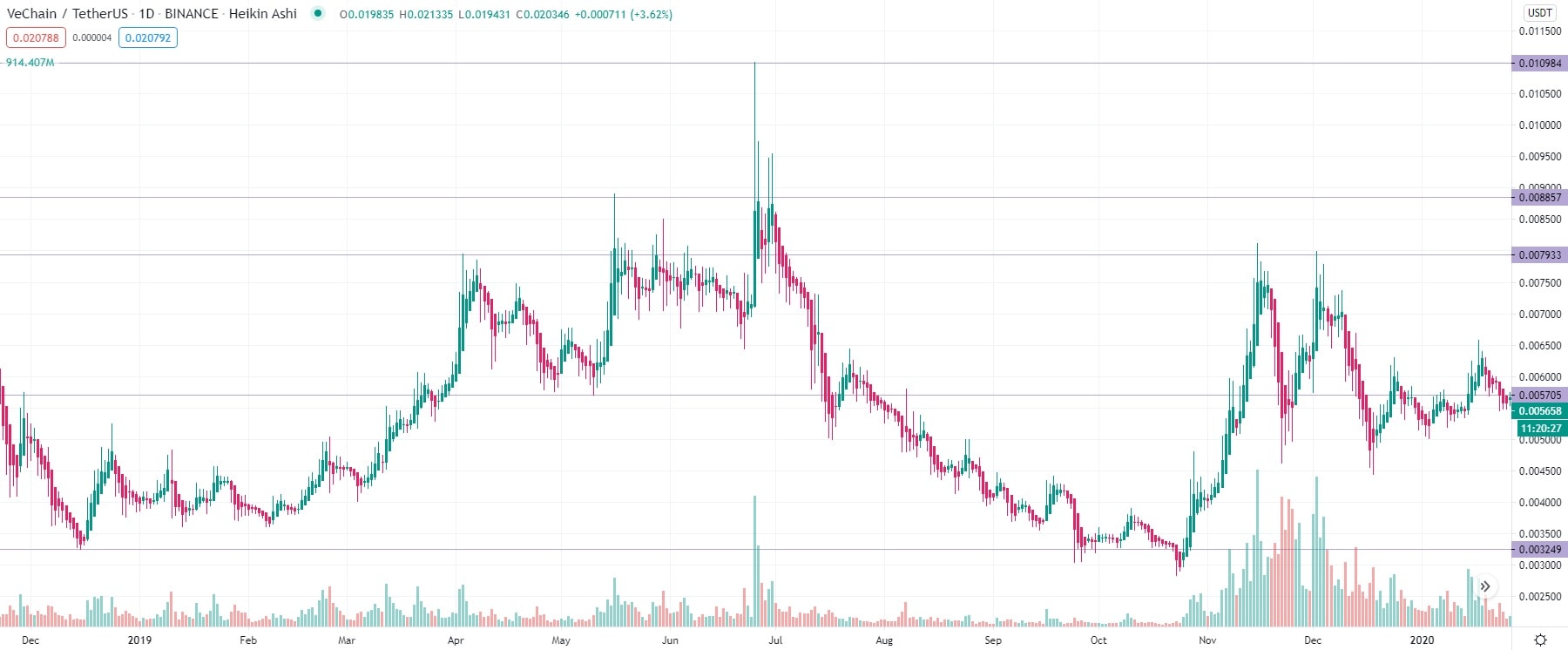 In Q1 2019, the price of VET was stuck in the $0.0036-$0.005 range. On 12 March, the cryptocurrency was able to break out of the range and grow to $0.0079 by 3 April. After pulling back to $0.0056, the asset continued to grow, peaking at $0.0098 on 25 June. VET couldn't hold these heights and slid down before it established support at $0.0028 in late October. As the asset found new ground, it recovered quickly and met resistance at $0.008 on 15 November. Its first attempt to rise above this mark didn't end well and led to a pullback to $0.0046. The second attempt led to the same result. After running up against resistance at $0.008, VET fell to its previous support of $0.0046. The asset closed the year with a $0.0056 price per coin.
Vechain (VET) Price Prediction 2020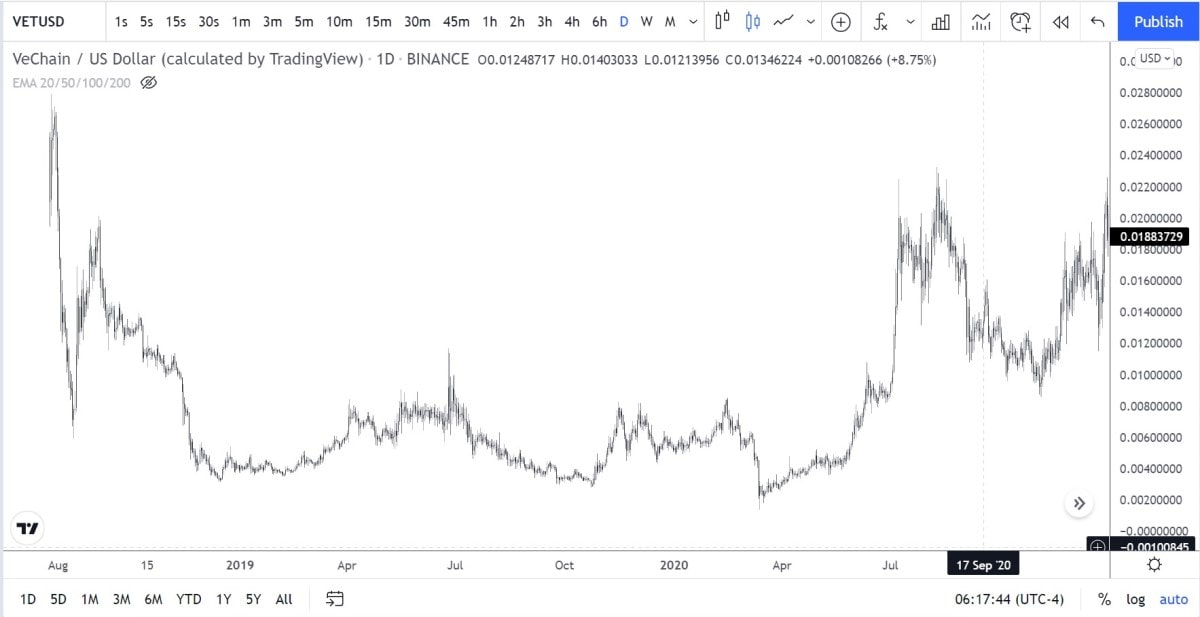 From the beginning of the year, VeChain continued to grow and retested the resistance at $0.0082 on 15 February. Unfortunately, at that point, the entire market had rapidly declined. On 13 March, VET set a new low at the $0.0016 mark. After that, the cryptocurrency started to grow slowly but surely. On 11 June, VET broke its resistance at $0.0082, and buyers pushed the price as high as $0.022 in July. A slight pullback followed to $0.0146. Price began to recover in October and closed the year around $0.0220.
Vechain (VET) Technical Analysis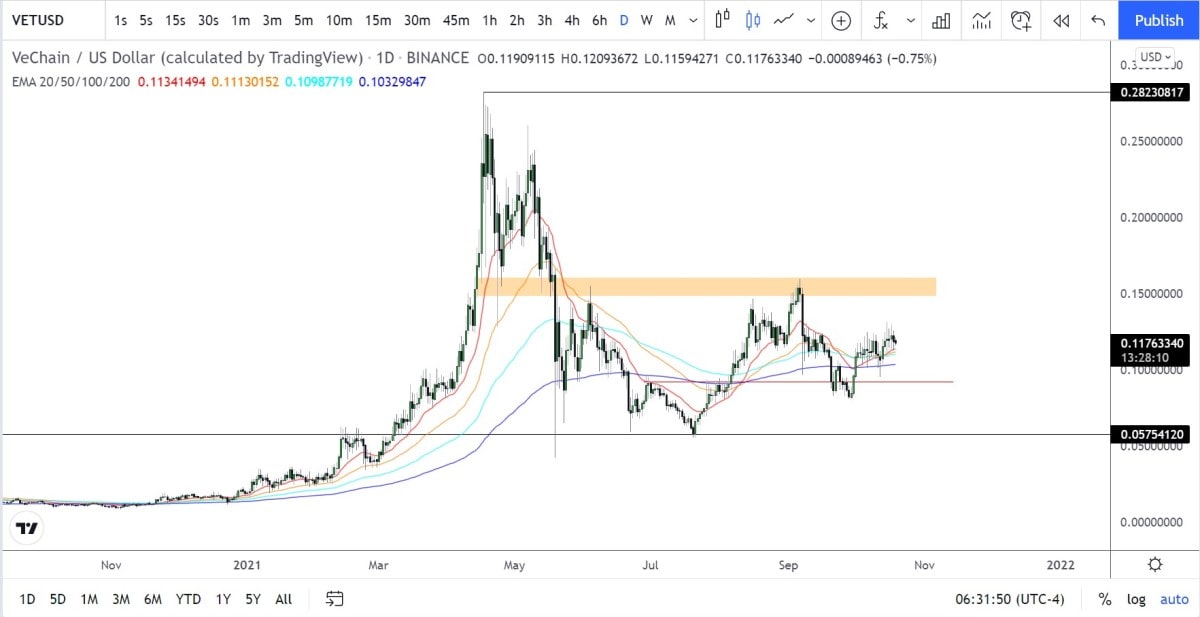 A first glance at the daily timeframe may suggest that Vechain is in a terrible position since a couple of months ago, it was over 140% up. But let's not forget that as at this time last year, Vechain's price was over 700% lower at around $0.03. That's a really good place to be for an investor who got in last year. 
Yet, we are — superficially — bearish on VET. Thanks to the price surge in April, a new all-time high was formed, and price did what it did best; corrected massively. The correction ended after the price repeatedly tested the $0.05 support region and has since traded away into the resistance at $0.15. The good news for bulls is that the price recently flipped its short-term support and is going for another try at the $0.15 resistance level. If the price successfully flips that resistance, we can comfortably expect VET to trade towards $0.20. 
Vechain (VET) Price Prediction for 2021, 2022, 2025, 2030
VeChain successfully integrates blockchain into existing business processes, thus optimising and freeing up resources. The impressive list of its partnerships shows that the company is serious about continuing its growth. Now it's time to analyse VeChain's price prediction using popular forecasting services.
Trading Beasts Vechain (VET) Price Prediction for 2021 2022, 2023, 2025, 2030
Following the price prediction from TradingBeasts, VeChain's price will grow in Q4 2021. While VET's current price is $0.11, Trading Beasts expects the crypto coin to rise to $0.15, with probable highs at $0.18 by year-end. In subsequent years, VeChain will keep growing and won't fall below $0.10. According to TradingBeasts, VET may go as high as $0.20 by 2024.
Wallet Investor Vechain (VET) Price Prediction for 2021, 2022, 2023, 2025, 2030
The WalletInvestor forecasting service predicts that VET is an excellent long-term investment. They don't expect VET's price to dip below $0.10 and see a potential price close of the year around $0.15. In 2022, WalletInvestor predicts that the price may trade to the all-time high then reject briefly before breaking past it in 2023.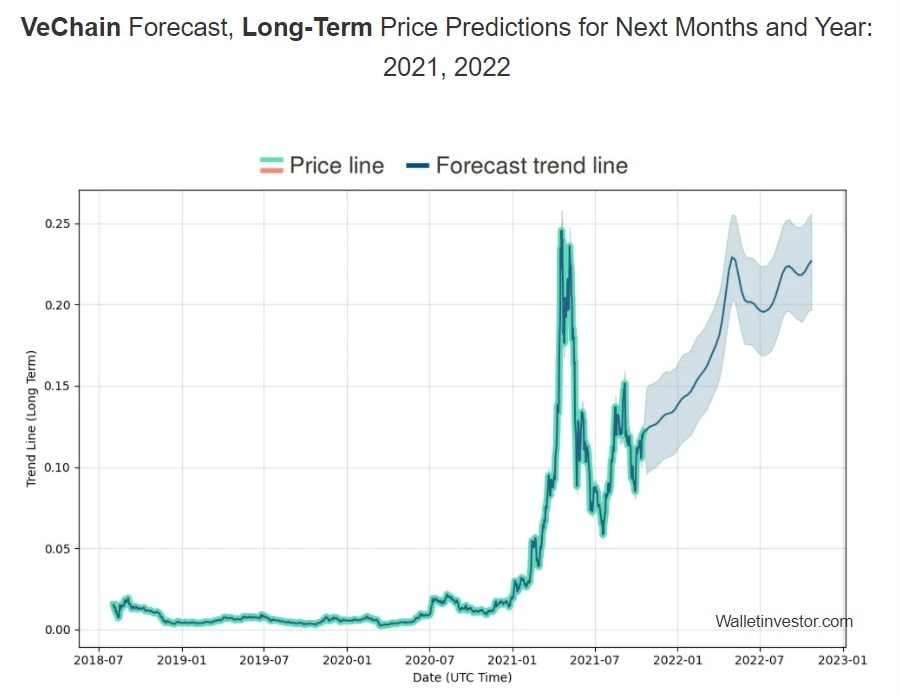 CoinSwitch Vechain (VET) Price Prediction for 2021, 2022, 2023, 2025, 2030
According to CoinSwitch, VeChain (VET) is considered a healthy investment as the price of a single token has increased over time. It is also beneficial for companies that use the VeChain blockchain, as it allows better monitoring of the supply chain. They conclude by stating that Investing in VeChain can be profitable in the long term.
Vechain (VET) Future Value Predictions Overall
The team behind VeСhain has been able to achieve impressive results since the project launched. Its partnerships show that big players are interested in this project's development and technology in general. A significant advantage of the project is that it pays attention not only to implementing improvements to the blockchain and supply chains but also to developing the sensors and microchips needed to perform the tasks.
How High Can VET Go
It's difficult to predict what heights this project will reach. The efforts spent on its development, technological solutions and extensive partnerships indicate that this project is in high demand. Nevertheless, it's fair to say that this asset's price will rise over time.
Vechain (VET) Price Prediction Today
We can state that today VeChain is not just another cryptocurrency project but a public multifunctional blockchain platform. The high demand for technology solutions developed by the VeChain team indicates that interest in such developments will only grow. Those who are among the first to implement such developments are the ones to benefit the most. Today, VeChain has grown into a mature business that implements blockchain standards for industrial players.
Tags
Exchange BTC
Try our Bitcoin Cloud Miner and get additional crypto rewards based on your trading volume. It's immediately available upon registration.
Try our Bitcoin Cloud Miner and get additional crypto rewards based on your trading volume. It's immediately available upon registration.
Welcome to StormGain — crypto trading platform!
Trade with 300× multiplier.