Virgin Galactic Stock (SPCE) price prediction
Gone are the days when the spaceflight industry was considered the exclusive sphere of state space agencies. Nowadays, seeing commercial companies like Virgin Galactic in this industry is no longer that surprising. In this article, we'll review Virgin Galactic and discuss the future price of Virgin Galactic's stock (SPCE).
What is Virgin Galactic's stock (SPCE)?
I really hope that there will be millions of kids all over the world who will be captivated and inspired about the possibility of them going to space one day. – Richard Branson
Virgin Galactic is an American company and part of the Virgin Group. It was established in 2004 by British entrepreneur Sir Richard Branson, founder of the Virgin Group and Virgin Atlantic. Virgin Galactic's aim is to organise commercial suborbital space flights and launch small satellites. In the future, the company will also offer its customers orbital flights.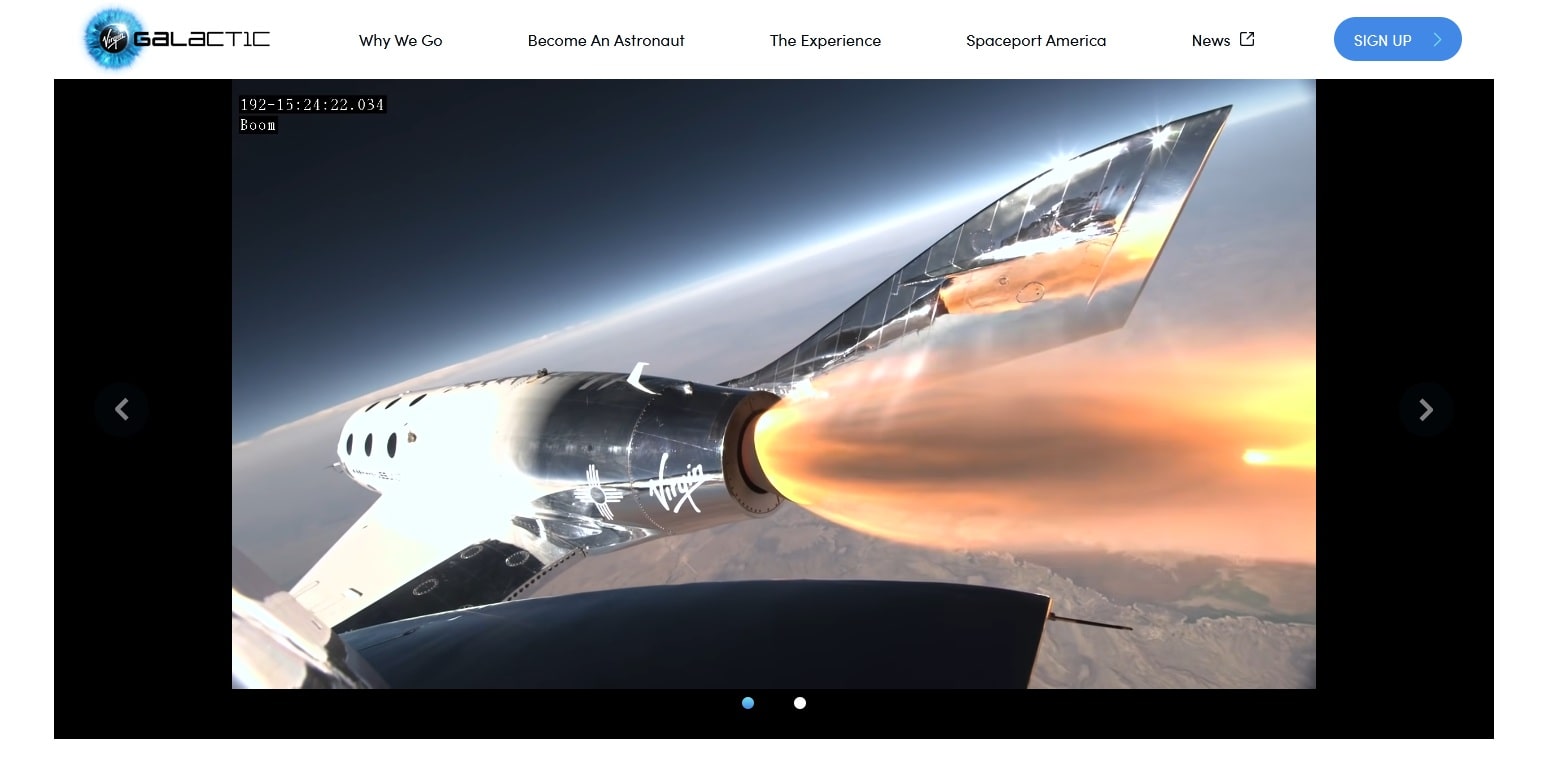 Richard Branson originally hoped to see the maiden flight in 2009, but it was delayed for several years, mostly due to the VSS Enterprise crash in October 2014.
On 13 December 2018, VSS Unity performed the first suborbital space flight with two pilots, reaching an altitude of 82.7 kilometres (51.4 miles) and officially entering space by American standards.
Finally, on 11 July 2021, Sir Richard Branson made a space flight aboard the VSS Unity spacecraft. Many experts believe that this is the start of commercial space tourism.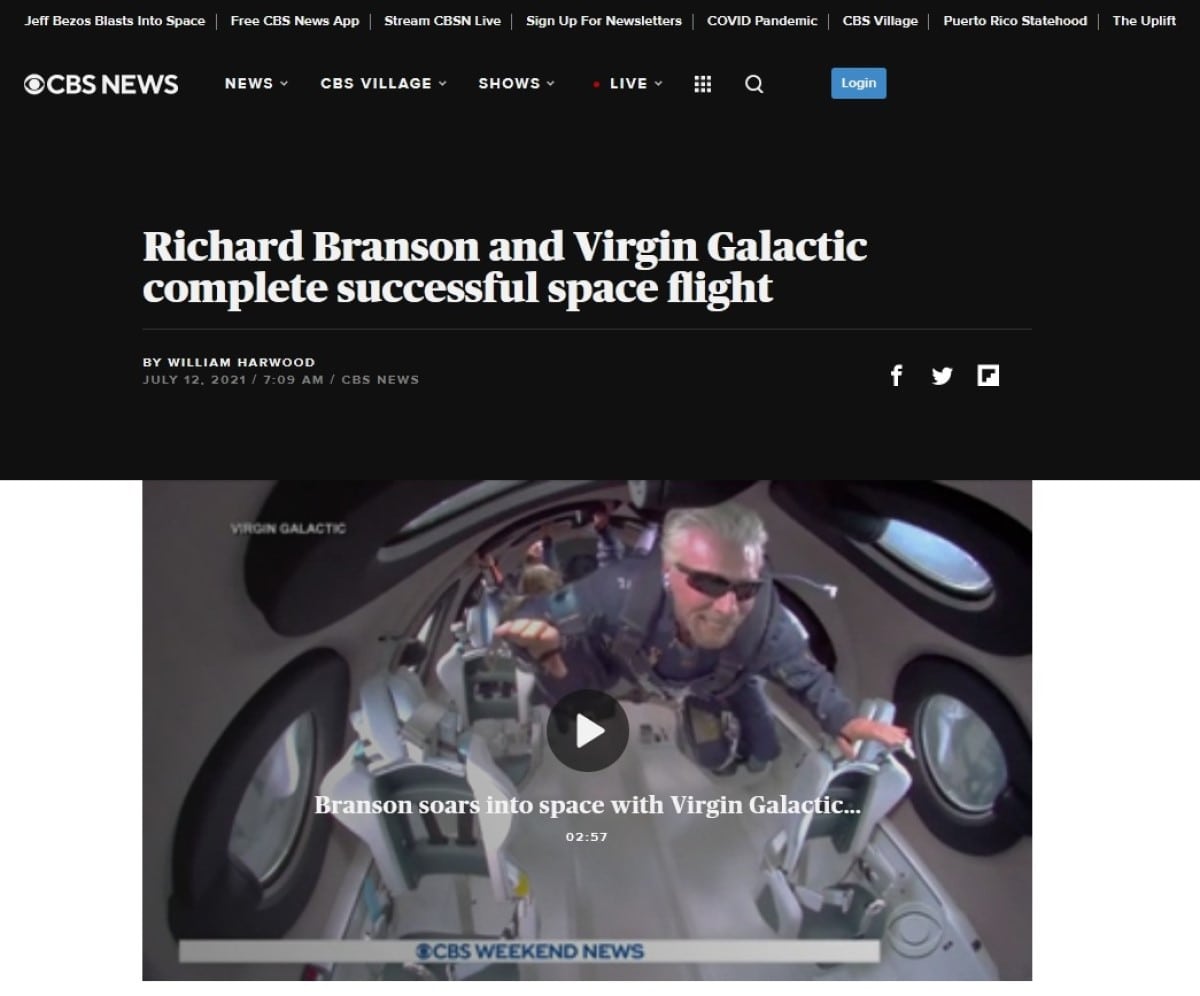 Virgin Galactic Stock (SPCE) price analysis
SPCE price statistics (as of 20/07/21)
| | |
| --- | --- |
| SPCE current price | $32.03 |
| Market cap | $7.557B |
| Total common shares outstanding | 240.822M |
| Average volume | 70.271M |
| 52 Week High | $62.80 |
| 52 Week Low | $14.27 |
| All-time high | $62.80 (04/02/21) |
| All-time low | $6.90 (25/11/19) |
| Website | |
SPCE's price history
Since SPCE was listed on the New York Stock Exchange (NYSE) in September 2017, its share price fluctuated between $9.87 and $10.64 until October 2019. After the price reached a local high of $12.93, it collapsed to its all-time low on 25 November 2019. Soon after, the price began to rise quite rapidly, and it hit a new high of $42.49 on 20 February 2020. Followed by a deep correction, the global bullish trend continued. After exiting the correction, the price rose to its all-time high on 4 February 2021. Followed by another deep correction and then new growth again, it couldn't reestablish its all-time high.
Since the fall of 2019, the price has been demonstrating fairly high volatility. At the same time, however, it is still moving in a global bullish trend.

SPCE technical analysis
Although the price drop ended with a rebound from the support level of $28.50, the current indicators on the daily chart (the MACD and the 20-Day Moving Average in particular) demonstrate continuing bearish sentiment. The indicators also show a possible change in the local trend on the hourly chart.
The nearest support levels are $28.50 and $25.00.The closest horizontal resistance level is located at $35.00.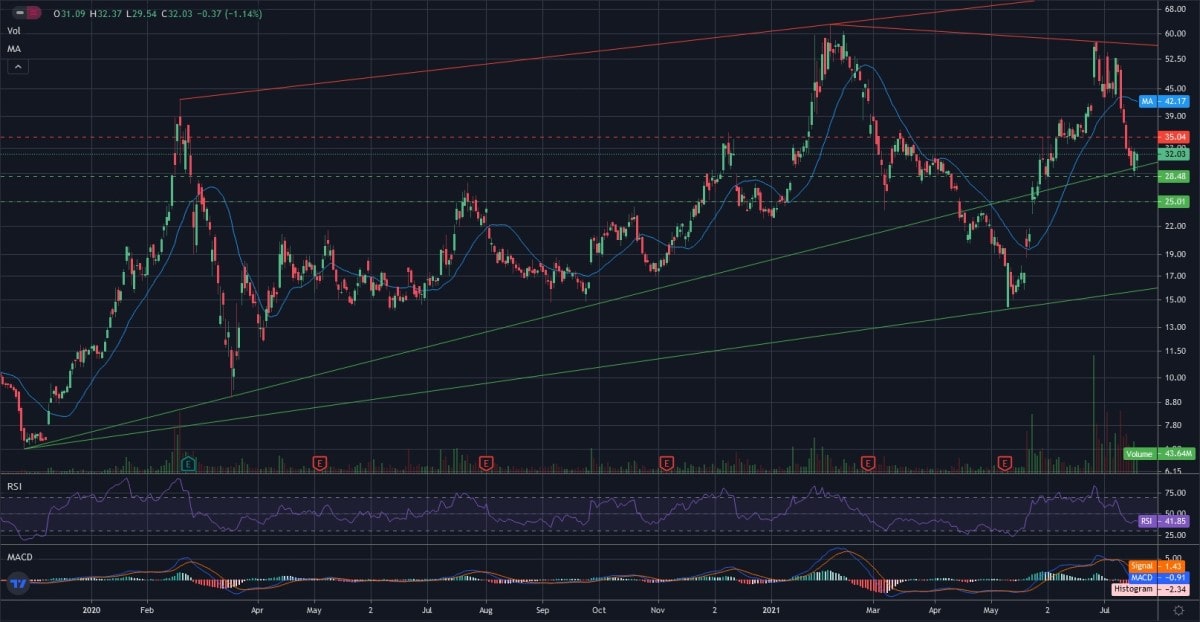 Virgin Galactic Stock (SPCE) price prediction for 2021, 2022, 2023, 2025, 2030
Now let's take a look at what analysts think about SPCE's price prospects. We've compiled some mid-term and long-term price forecasts for you.
WalletInvestor's SPCE price prediction for 2021, 2022, 2023, 2025, 2030
WalletInvestor considers SPCE to be a profitable investment with high earning potential. They believe that the global bullish trend will continue in the coming years. According to their analysis, Virgin Galactic's stock price will be $38.348 by the end of 2021. In the future, the price will grow to $52.714 by the end of 2022, $67.095 by the end of 2023 and $96.035 by the end of 2025.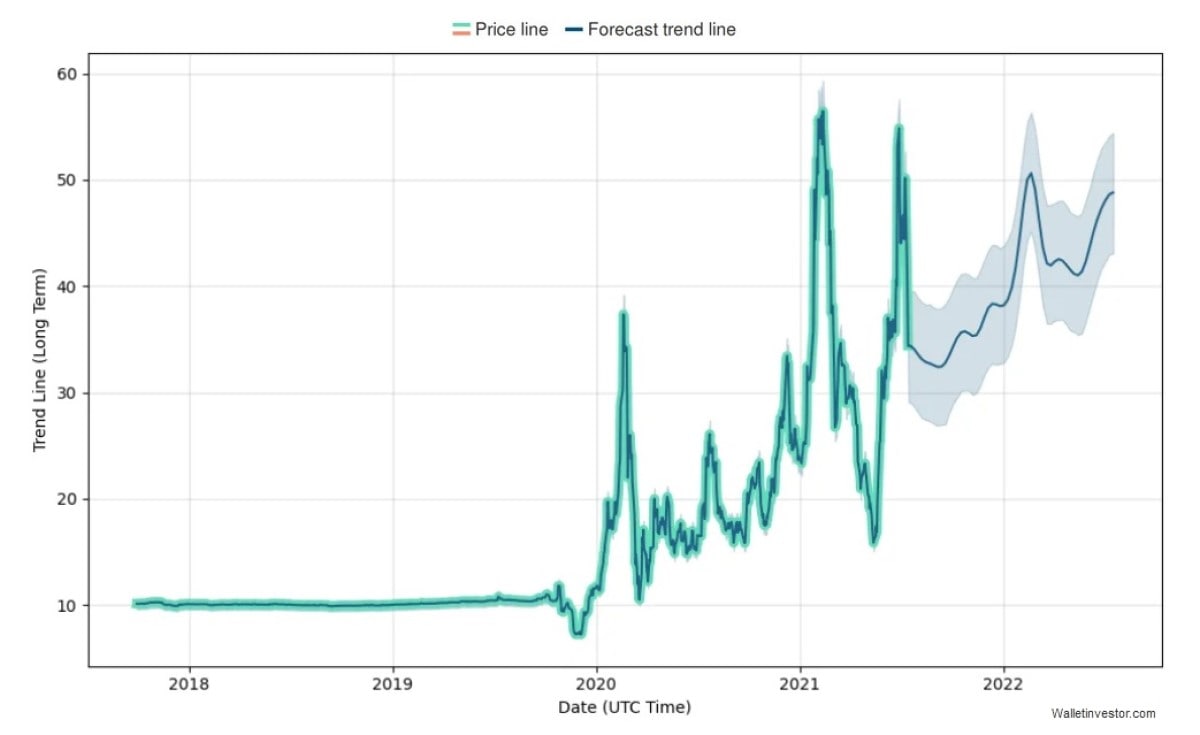 Wallstreetzen's SPCE price prediction
Wallstreetzen's average forecast shows that the price won't change that much and will be $31.91 in the coming year. Despite this, the average asset rating is tilted towards buy.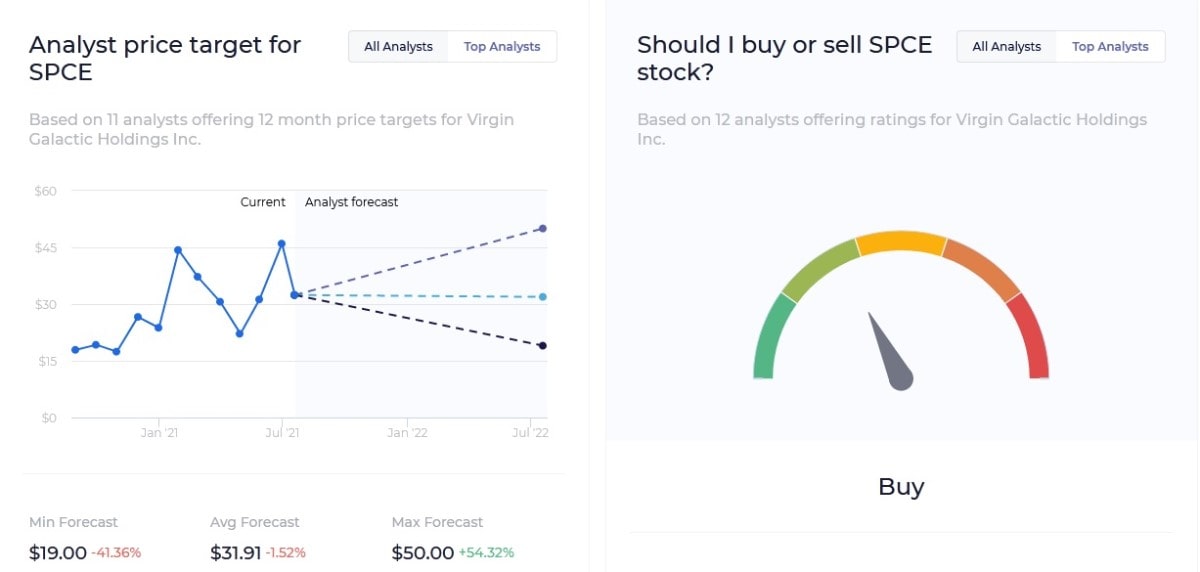 Analyst Price Targets' SPCE price prediction
Analyst Price Targets' forecast is similar to the previous one but more optimistic. According to their prediction, the average price of SPCE will be $38.92 in a year.

Virgin Galactic stock's (SPCE) overall future value predictions
Virgin Galactic looks promising. Despite early setbacks that postponed its maiden flight, the company finally managed to take off. In addition, one important event has happened recently. The US Federal Aviation Administration has awarded Virgin Galactic its 'full commercial launch license', which means the company can now operate tourist flights into space. Although there are several competing companies in the market, overall competition in this industry is quite low, primarily due to the high barriers to entry. So, at the moment, the demand for flights from wealthy people who want to go to space exceeds supply, thus resulting in the high ticket price. Given the above, the company's prospects are quite encouraging, and so are its stock's prospects.
Will Virgin Galactic's stock go up?
Yes, the chances are pretty high.
How high can SPCE go?
In a favourable scenario, SPCE's price may well exceed the current all-time high and even cross the $100 threshold in the future.
Virgin Galactic's stock price prediction today
At the moment, bearish sentiment remains in the short term. However, the situation looks more optimistic in the long term, and indicators signal the bullish trend will continue.
Tags
Exchange BTC
Try our Bitcoin Cloud Miner and get additional crypto rewards based on your trading volume. It's immediately available upon registration.
Try our Bitcoin Cloud Miner and get additional crypto rewards based on your trading volume. It's immediately available upon registration.
Welcome to StormGain — crypto trading platform!
Trade with 300× multiplier.