Virgin Galactic Stock (SPCE) price prediction 2022-2030

Gone are the days when the spaceflight industry was considered the exclusive sphere of state space agencies. Nowadays, seeing commercial companies like Virgin Galactic in this industry is no longer that surprising. In this article, we'll review Virgin Galactic and discuss the future price of Virgin Galactic's stock (SPCE).
What is Virgin Galactic's stock (SPCE)?
I really hope that there will be millions of kids all over the world who will be captivated and inspired about the possibility of them going to space one day. – Richard Branson
Virgin Galactic is an American company and part of the Virgin Group. It was established in 2004 by British entrepreneur Sir Richard Branson, founder of the Virgin Group and Virgin Atlantic. Virgin Galactic's aim is to organise commercial suborbital space flights and launch small satellites. In the future, the company will also offer its customers orbital flights.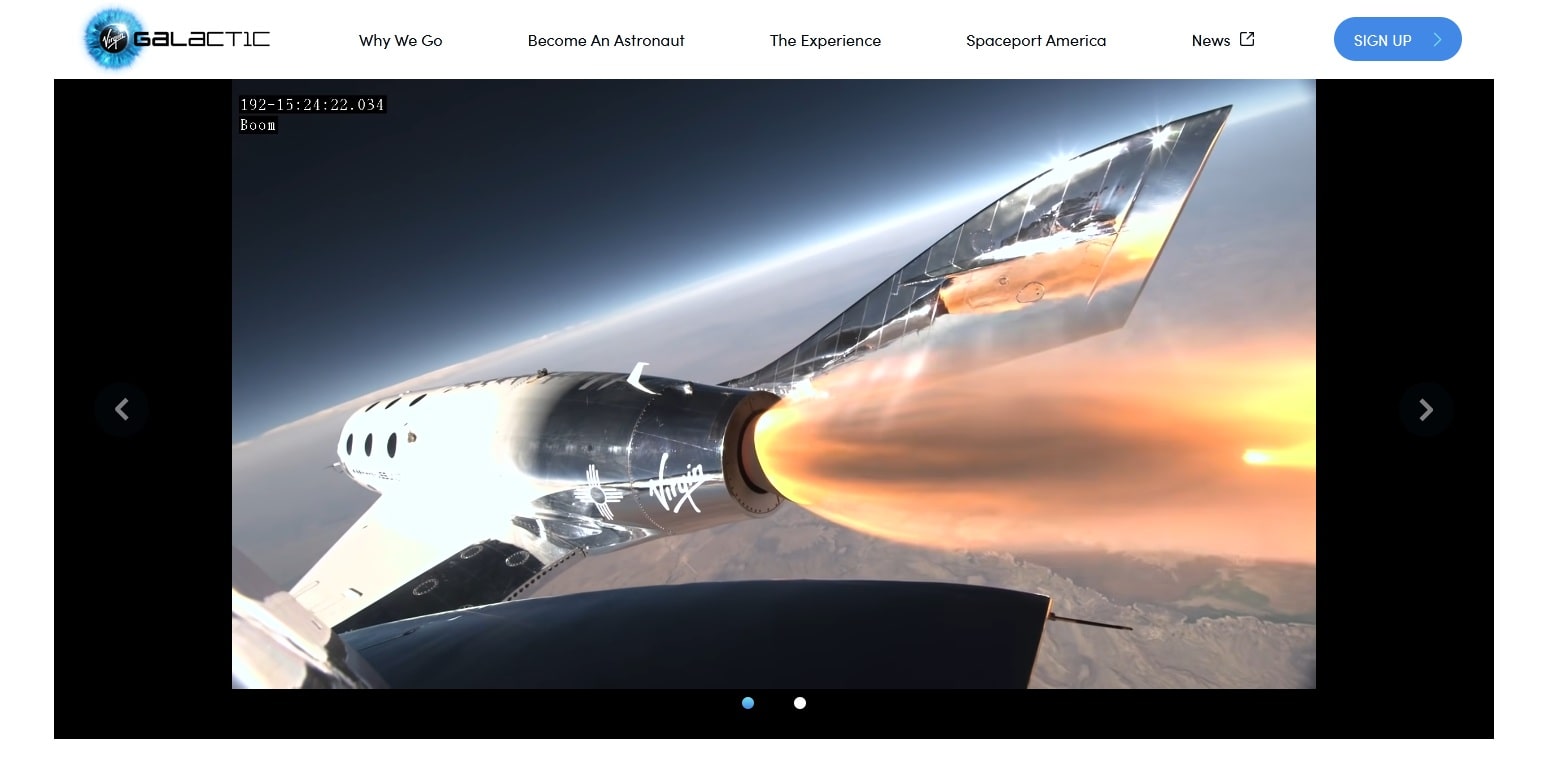 Richard Branson originally hoped to see the maiden flight in 2009, but it was delayed for several years, mostly due to the VSS Enterprise crash in October 2014.
On 13 December 2018, VSS Unity performed the first suborbital space flight with two pilots, reaching an altitude of 82.7 kilometres (51.4 miles) and officially entering space by American standards.
Finally, on 11 July 2021, Sir Richard Branson made a space flight aboard the VSS Unity spacecraft. Many experts believe that this is the start of commercial space tourism.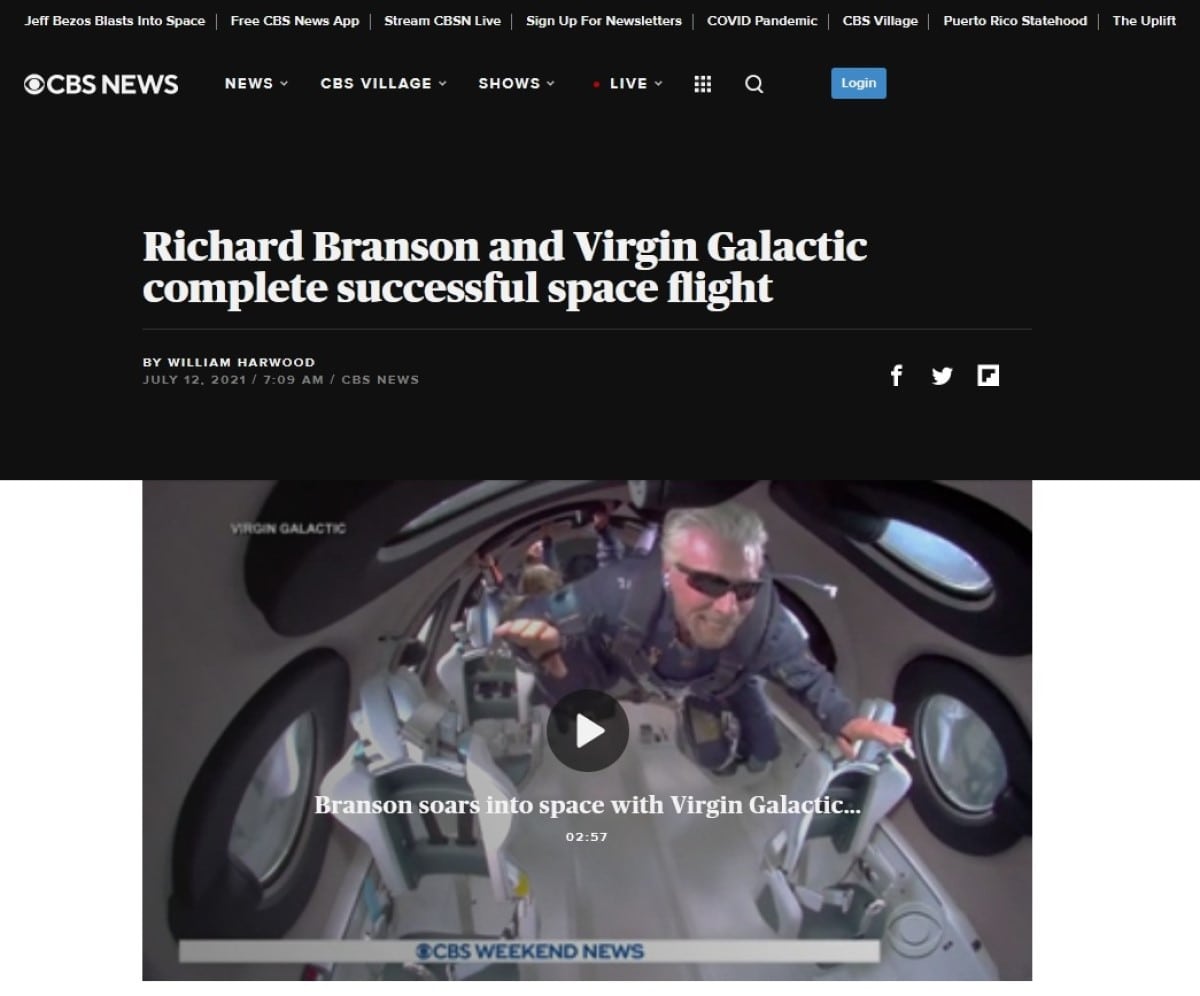 Virgin Galactic Stock (SPCE) price analysis
SPCE price statistics (as of 28/06/22)
| | |
| --- | --- |
| SPCE current price | $6.640 |
| Market cap | $1.72B |
| Total common shares outstanding | 258.59M |
| Average volume | 10.41M |
| 52 Week High | $57.51 |
| 52 Week Low | $5.14 |
| All-time high | $62.80 (04/02/21) |
| All-time low | $5.14 (12/05/22) |
| Website | |
SPCE's price history
Since SPCE was listed on the New York Stock Exchange (NYSE) in September 2017, its share price fluctuated between $9.87 and $10.64 until October 2019. After the price reached a local high of $12.93, it collapsed to its all-time low on 25 November 2019. Soon after, the price began to rise quite rapidly, and it hit a new high of $42.49 on 20 February 2020. Followed by a deep correction, the global bullish trend continued. After exiting the correction, the price rose to its all-time high on 4 February 2021. Followed by another deep correction and then new growth again that saw the price move above $55. It couldn't reestablish a new all-time high and has been on a downward trend ever since. As of 28/06/2022, SPCE is trading at $6.64.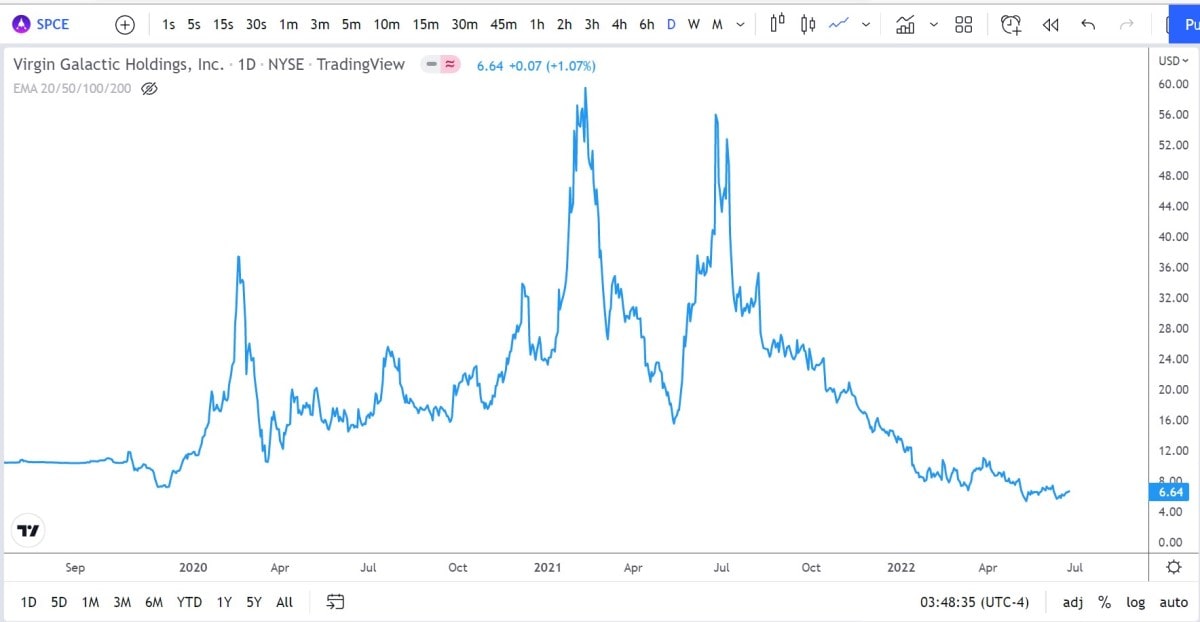 SPCE technical analysis
Things have not been completely rosy for SPCE, especially since its failed attempt at creating a new all-time high back in July 2021. The price fell steadily, with few short retracements in between, and has recently created a new all-time low at $5.14. Current indicators on the daily chart (like the 20, 50, and 100-Day Moving Averages in particular) demonstrate continuing bearish sentiment, acting as a resistance and pushing the price lower. We are currently in uncharted waters as the asset hasn't traded in these price regions before. If the price does recover, the nearest resistance level will naturally be the previous all-time low that was set in November 2019.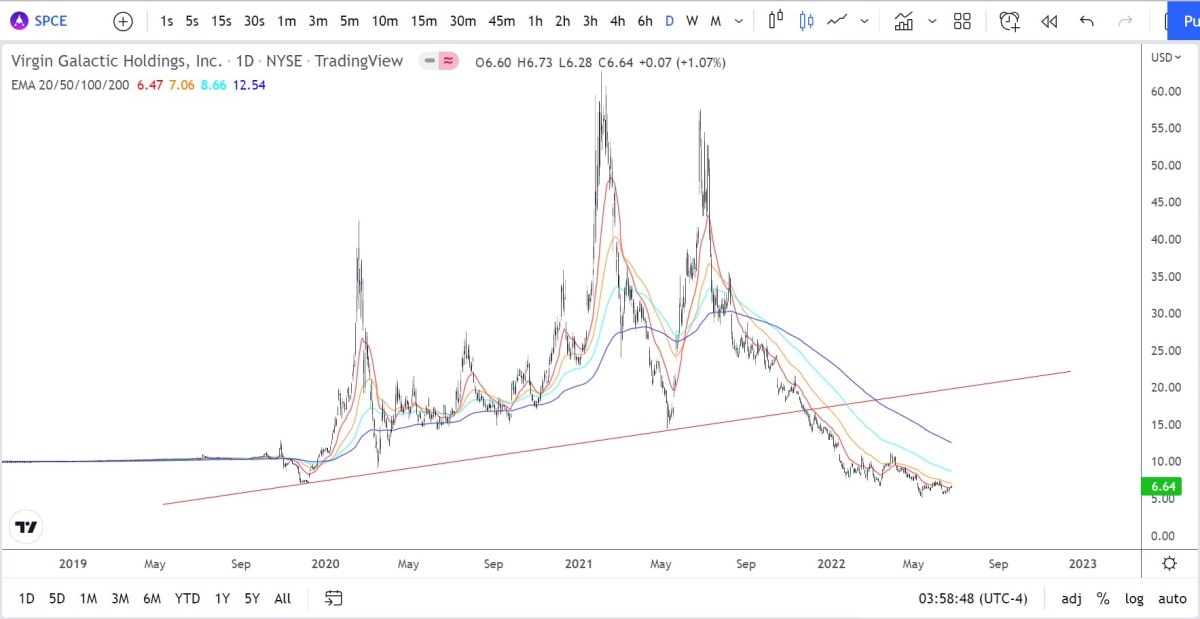 Virgin Galactic Stock (SPCE) price prediction for 2022, 2023, 2025, 2030
Now let's take a look at what analysts think about SPCE's price prospects. We've compiled some mid-term and long-term price forecasts for you.
WalletInvestor's SPCE price prediction for 2022, 2023, 2025, 2030
WalletInvestor considers SPCE to be a profitable investment with high earning potential. According to their analysis, Virgin Galactic's stock price will trade as high as $28.88 in one year, which translates to an ROI of more than 59%. The prediction gets even better in 2027 as they forecast that the price will trade as high as $72.67, higher than its current all-time high.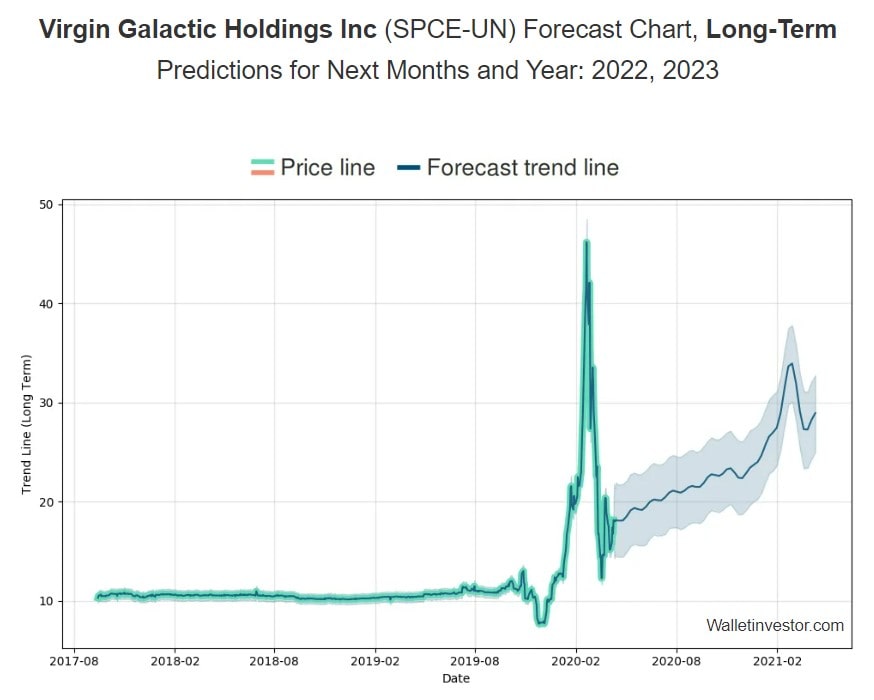 Wallstreetzen's SPCE price prediction
Wallstreetzen's average forecast shows that the price is set to recover a little higher and may even reach as high as $48 by July 2023. The average asset rating is tilted towards 'Hold', which means the asset may recover eventually.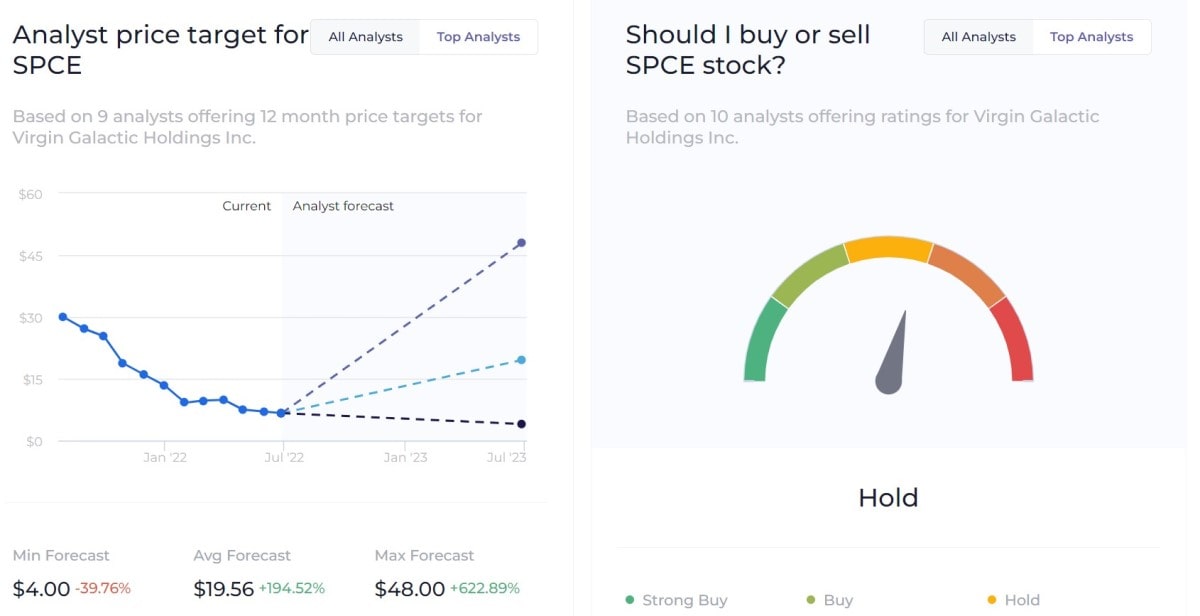 Analyst Price Targets' SPCE price prediction
Analyst Price Targets' forecast is also a bit optimistic. According to their prediction, the average price of SPCE will be $22.00 in a year.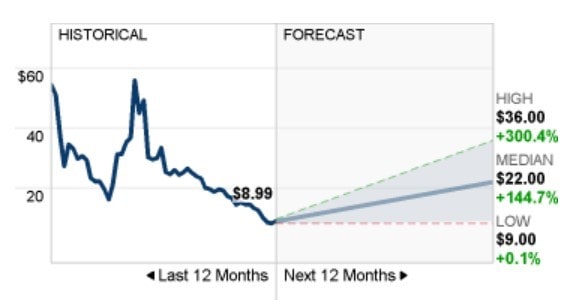 Virgin Galactic stock's (SPCE) overall future value predictions
Virgin Galactic is at a low that hasn't been seen in years. Despite its promising run in 2021, the price has traded alarmingly lower, which is a cause for concern for investors. The only string of hope that may help ease tensions is the fact that the current price is a huge discount within the yearly range. Buying at such a discounted price may be an attractive option to some investors. Additionally, while we may not exactly be at post-pandemic times just yet, there have been calls for resumed international flights in some countries, which may be the revival spark for the aviation stock.
Will Virgin Galactic's stock go up?
The chances are moderately high that we may eventually see higher prices.
How high can SPCE go?
In a favourable scenario, SPCE's price may well exceed the current all-time high and even cross the $50 threshold in the future.
Virgin Galactic's stock price prediction today
At the moment, bearish sentiment remains in the short term. However, the situation looks more optimistic in the long term.
Tags
Exchange BTC

Try our Bitcoin Cloud Miner and get additional crypto rewards based on your trading volume. It's immediately available upon registration.

Try our Bitcoin Cloud Miner and get additional crypto rewards based on your trading volume. It's immediately available upon registration.
Instrument
Rate
Change (24h)