What is a Bitcoin faucet?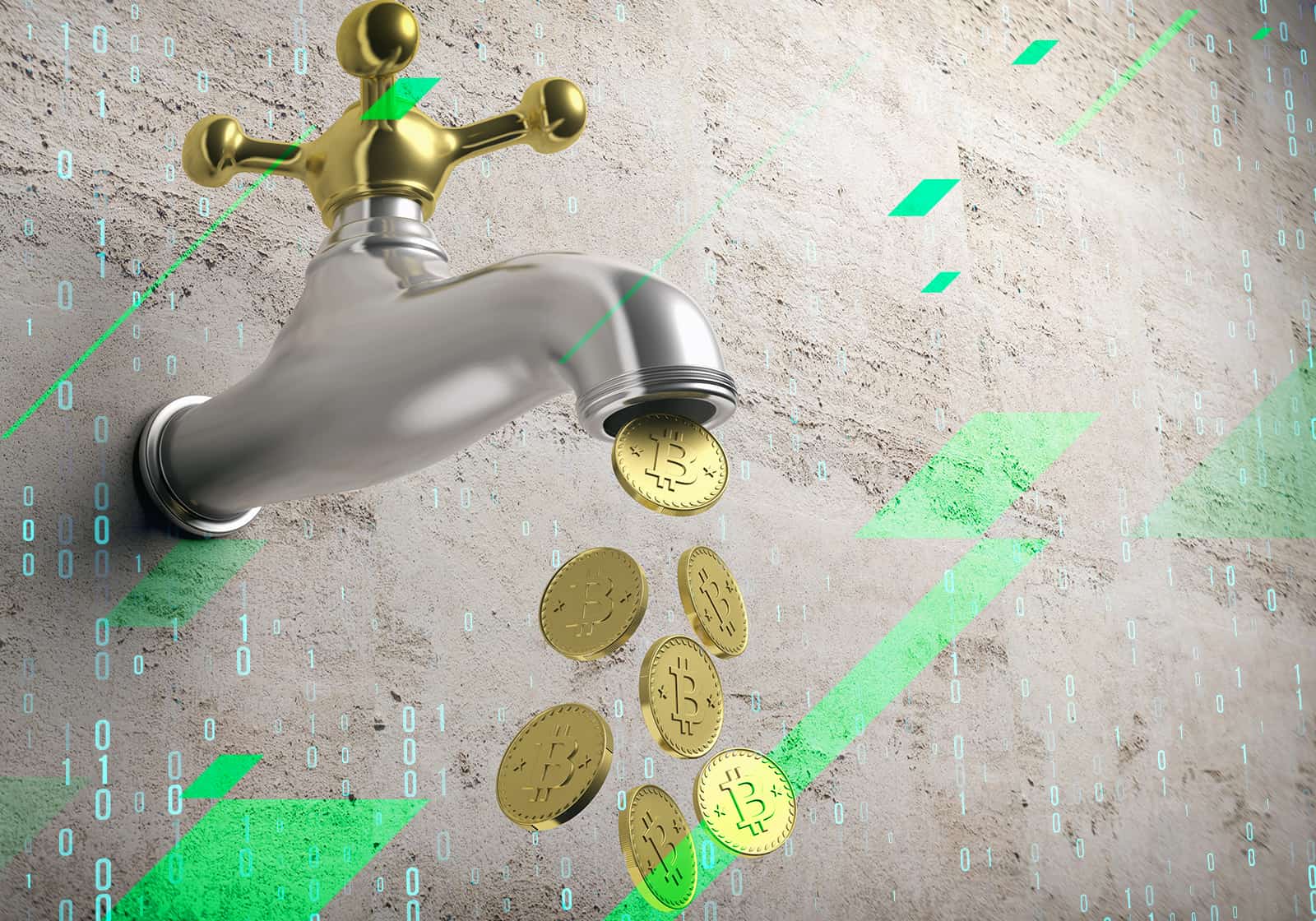 The cryptocurrency industry provides people with numerous ways of making money. They can be either risky with promises of huge profits or safe but not very profitable. One way to earn on cryptocurrencies is Bitcoin faucets.
In this post, we'll take a closer look at Bitcoin faucets and the most frequent questions on the topic, such as: How do Bitcoin faucets work?Are Bitcoin faucets safe? Are they profitable?How do Bitcoin faucets make money? And more.

Register and mine your free Bitcoin
 
Bitcoin faucets explained
A Bitcoin faucet is a website where a user receives a small amount of Bitcoin for a simple action. These actions can be viewing ads, solving a captcha, or performing activities in a simple online game. These are specialised advertising sites that are free to use but sometimes require a simple registration procedure. Most often, to register, you just need to enter your e-mail address and Bitcoin wallet address.
Idea and purpose of Bitcoin faucets
The idea of Bitcoin faucets was first proposed in 2010 by American software developer Gavin Andresen as a tool to promote Bitcoin to the broader public. Since then, the primary purpose of creating Bitcoin faucets has changed; faucet owners now use them to make money from ad placement. However, they still carry out informational and promotional functions.
You really want some natural way for people to get Bitcoins, as part of their paycheck or some other activity so they can turn around and spend them. It's much better if the Bitcoin economy is a self-contained thing. – Gavin Andresen, software developer and creator of the first Bitcoin faucet.

Register and mine your free Bitcoin
 
How do Bitcoin faucets work?
Here's how Bitcoin faucets work:
The faucet owner places advertisements on the website in the form of videos or banners. They then promote the faucet by publishing links on forums, blogs and related websites.
People visit the Bitcoin faucet and perform certain actions (go to advertisers' websites, solve a captcha, watch videos, etc.)
After the required action is completed, a small amount of satoshis (the smallest unit of Bitcoin, equivalent to 1/100 millionth of a Bitcoin) is paid to the visitor. After accumulating a certain minimum amount, the visitor can withdraw the amount to their Bitcoin wallet.
The reward amount paid for completing the required action on different faucets varies and depends on:
Difficulty of action. The more complex and time-consuming the activity is, the higher the reward.
Frequency of action. The more often an action can be repeated, the lower the reward.
Contrary to first impressions, building your own Bitcoin faucet isn't an easy business. It requires IT skills and paying for the financial costs of promoting the faucet and payments to visitors. There's also fairly high competition in this business.
If you want to try to make some money as a visitor, just follow these simple steps:
Register on the faucet website. You don't need to enter personal data since most websites ask for your e-mail address (and if they DO ask you to enter your personal data, that's a warning sign).
Enter your Bitcoin wallet's address.
Perform an action for a reward: solve a captcha, watch a video or click a banner.
Receive satoshi. To credit the coins to your account, click the "Get" button (or "Get reward", "Claim reward", etc.).
Repeat the action after the timeout.
As soon as a certain amount of cryptocurrency has accumulated in your account, you can withdraw the reward to your external crypto wallet.
Safety
The risks of using Bitcoin faucets are pretty low. In the worst-case scenario, the user will only lose the money earned but not withdrawn. The investment made was time.
Some scam websites masquerading as faucets require deposits under the pretext of paying a withdrawal fee. At the same time, they state that the money will be returned along with the withdrawn satoshi. The website owner blocks the user after making a deposit, and the user doesn't receive the coins earned or the amount deposited.
Profit
Bitcoin faucets are one of the few ways to get cryptocurrency for free, although earnings are tiny. Even if you sign up for a large number of cryptocurrency faucets, you'll still earn little.
Pros and Cons of Crypto Faucets
Crypto faucets have both advantages and disadvantages that investors should consider:
Advantages of Crypto Faucets
The main advantage of crypto faucets is the opportunity to receive free cryptocurrency. Unlike other methods, faucets provide a straightforward way to obtain crypto without investing one's own funds. Although crypto airdrops also offer free coins, they are usually limited to specific users who meet certain criteria.
Faucets are an easy entry point for beginners in Bitcoin and other cryptocurrencies. You only need a crypto wallet and some time to complete the required tasks.
Using faucets doesn't require extensive knowledge or expertise in crypto trading. Anyone can use them, regardless of their trading skills.
Disadvantages of Crypto Faucets
The amount of crypto earned from faucets is usually minimal. For example, some Bitcoin faucets may only reward you with one Satoshi, worth a fraction of a cent.
The tasks involved in using a Bitcoin faucet can become repetitive and monotonous. How long can someone stay motivated to keep solving Captchas repeatedly?
Faucets carry the same risks associated with cryptocurrencies in general. Some faucets may be scams, phishing attempts or even a way to compromise a user's funds or identity. Some may also infect devices with malware.
It's essential to be cautious when using crypto faucets, as hackers can exploit the allure of free money. Here are some warning signs that a crypto faucet might be a scam:
If the rewards offered by a faucet seem too good to be true, they are likely illegitimate compared to other faucets.
Unsolicited offers received via e-mail or messages may come from scammers.
E-mails with multiple grammatical errors and misspellings often indicate fraudulent activity.

Register and mine your free Bitcoin
 
Who uses Bitcoin faucets?
Considering that cryptocurrency faucets are a dull, monotonous form of earning, their main visitors are crypto newbies. For them, faucets represent an opportunity to get acquainted with cryptocurrencies and the basics of crypto transactions at no cost.
Where can you find Bitcoin faucets?
Let's take a look at a few of the best and most profitable Bitcoin faucet sites.
Freebitco.in is one of the oldest and most popular Bitcoin faucets. It offers payouts once an hour for solving captchas and pays interest on balances over 30,000 satoshis. In terms of withdrawals, you can choose between manual and weekly auto payments.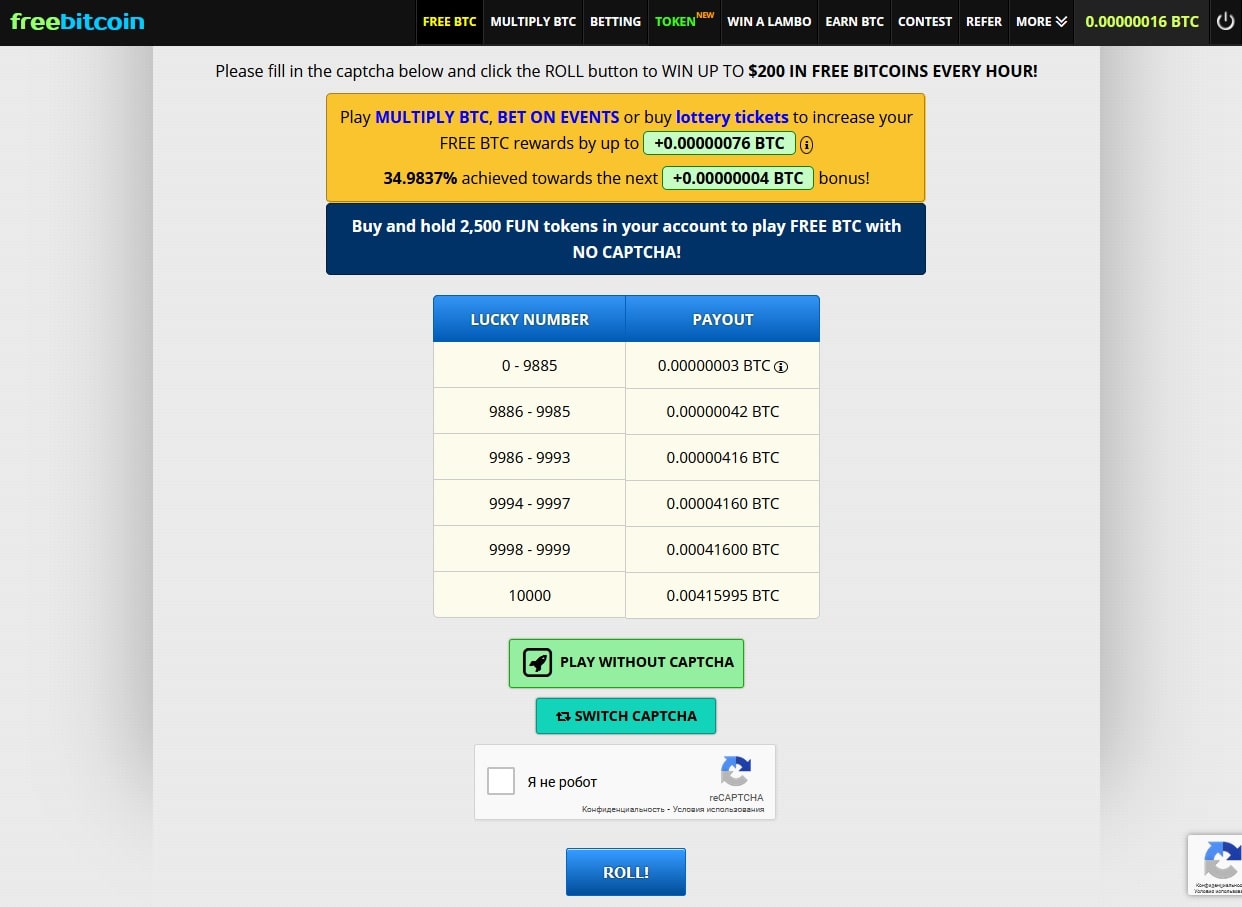 MoreMoney.io is a relatively new faucet with fair rewards.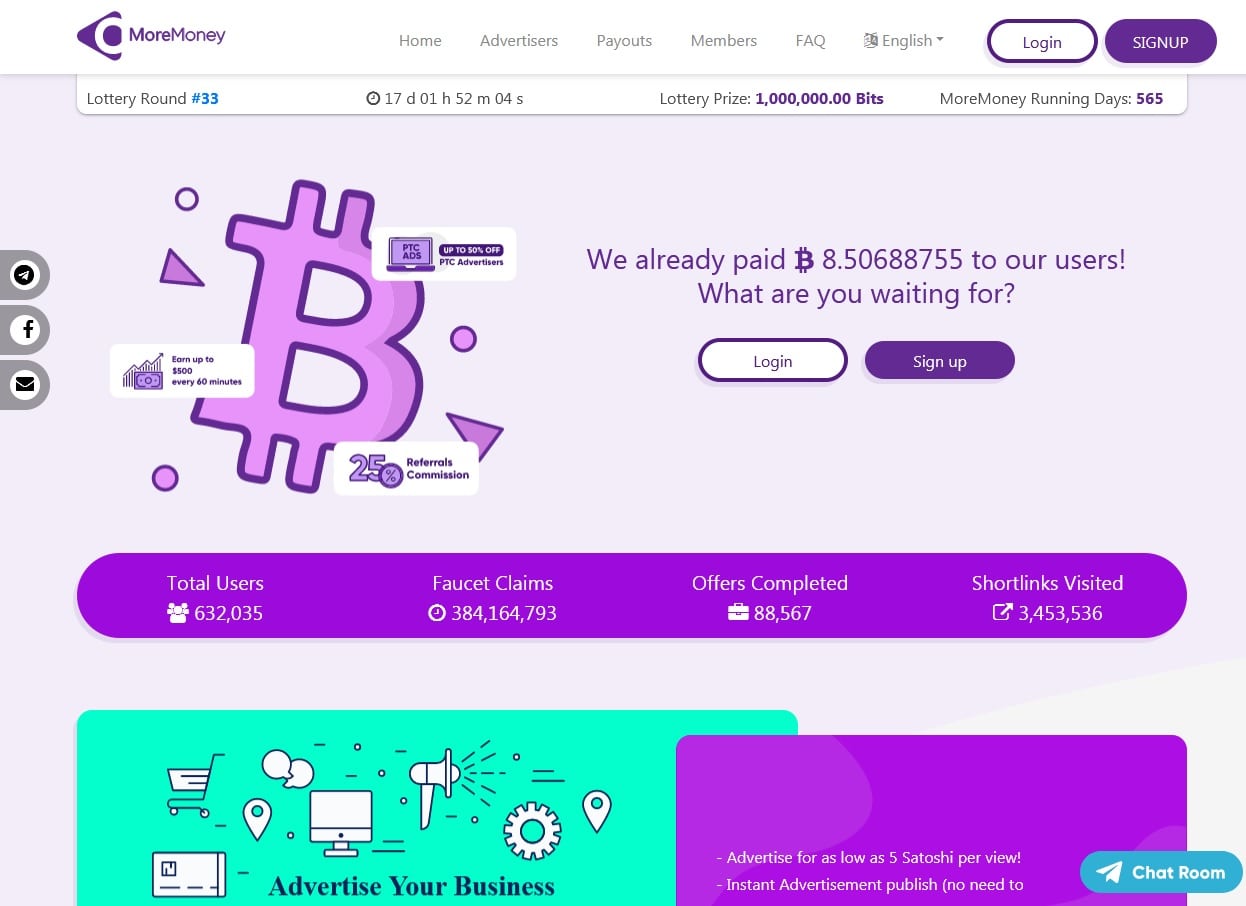 One of the easiest and most convenient ways to find Bitcoin faucets are Bitcoin faucet rotators, like bitcoinrotator.in or ifaucet.net. Rotators are websites with a collection of links to trusted cryptocurrency faucets. They significantly increase the convenience of using faucets, allowing you to keep fewer tabs open.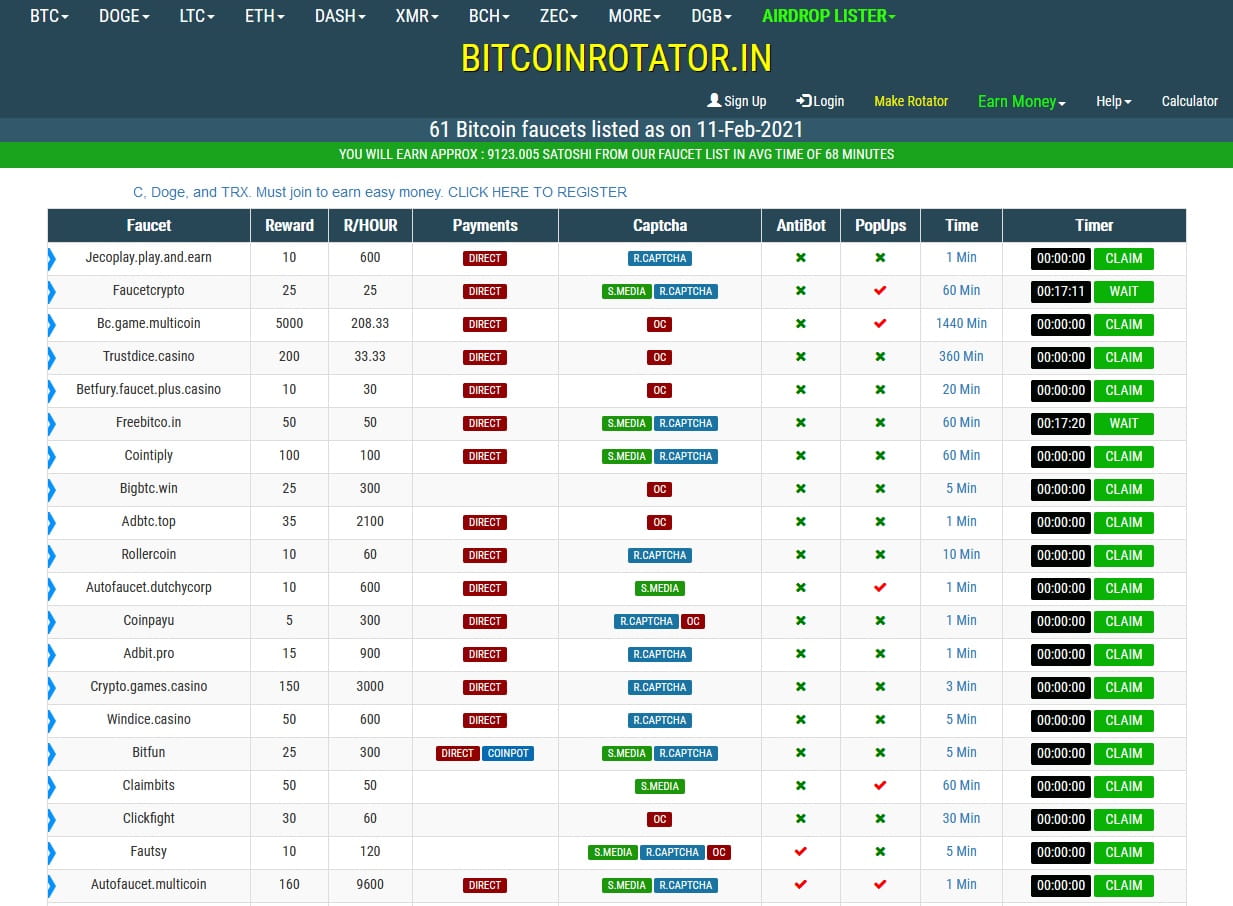 Altcoin faucets
Bitcoin is far from the only cryptocurrency that can be obtained using faucets. In fact, many faucet websites specialise in various altcoins.
Bitcoinaliens.com is a cryptocurrency faucet that rewards users for playing games on mobile devices.
Faucetcrypto.com is a multicurrency faucet that allows users to select a task and different ways to complete them.
Free-litecoin.com is a Litecoin faucet with hourly payouts.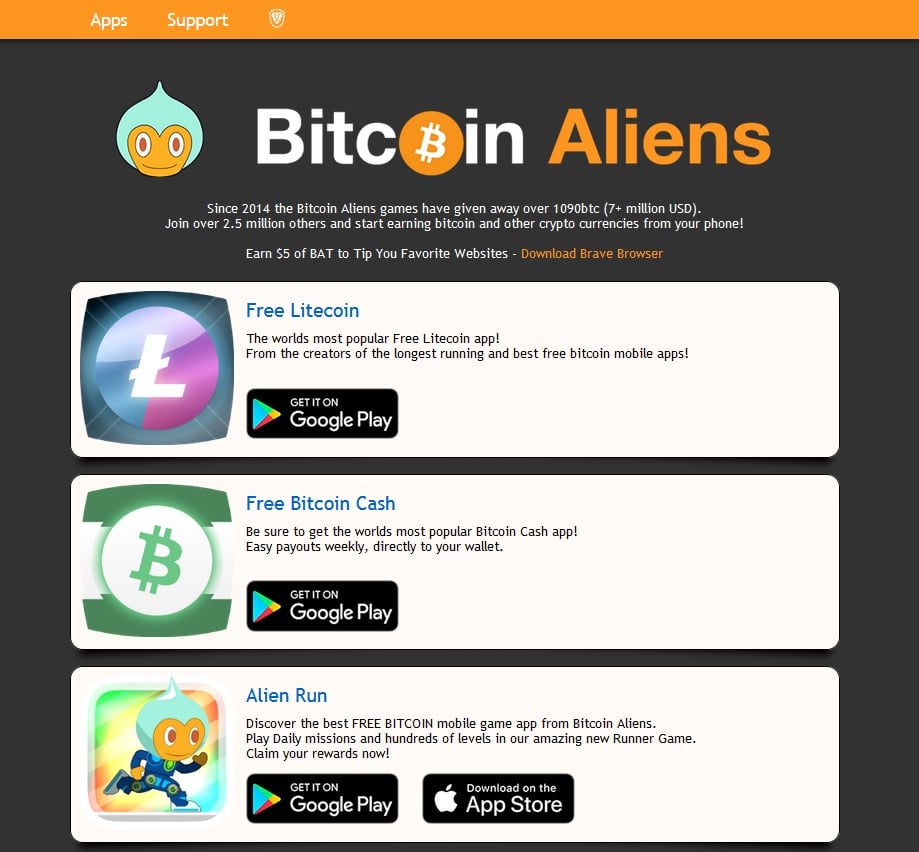 Register and mine your free Bitcoin
 
Ethereum Faucets
Ethereum Faucets are platforms that give out ETH, the Ethereum network's native token. These faucets may offer referral bonuses that allow users to earn extra ETH without additional effort. However, users may encounter a problem when withdrawing funds from Ethereum faucets. The network has high transaction fees, known as gas fees, which can make sending even a small amount of ETH costly.
Dogecoin Faucets
On the other hand, Dogecoin faucets have gained popularity since the meme cryptocurrency's creation in 2014. These faucets distribute Dogecoin (DOGE), which has a relatively low value. As a result, larger amounts of DOGE can be obtained from these faucets.
In the early days, when one DOGE was worth only a fraction of a penny, faucets would distribute between one and five DOGE at a time. Nowadays, Dogecoin faucets typically distribute anywhere from 0.1 to 1 DOGE per transaction.
Tags
Exchange BTC

Try our Bitcoin Cloud Miner and get additional crypto rewards based on your trading volume. It's immediately available upon registration.

Try our Bitcoin Cloud Miner and get additional crypto rewards based on your trading volume. It's immediately available upon registration.
Instrument
Rate
Change (24h)