What is VeChain (VET) coin?

The cryptocurrency market is growing at a tremendously fast rate. New coins and tokens are launched almost daily, increasing the public interest in discovering new industry players. Currently, Asia is considered one of the primary hubs in the blockchain world, with a series of impressive cryptocurrency projects worth investing in. One of them is the VeChain coin. 
VeChain and its native VET coin are among the finest offsets worth considering for investment, much like Ethereum and Shiba Inu coin. So, what is VET coin, and is it a reasonable investment for 2022 and beyond? Let's find out. 
What is VeChain coin?
VeChain is software that aims to incentivise a network of computers to work with a platform that allows businesses to build and run decentralised applications. Thus, VeChain coin delivers better collaboration between companies by providing them with tools for better supply-chain management and data transfers. 
VeChain coin runs on its own blockchain network, and its ecosystem boasts two native cryptocurrencies. They are:
VET coin, which is used for voting on changes to the protocol
VTHO, which is used for executing transactions. 
Some of the biggest corporations that have started to use the VeChain blockchain include BMW (which uses VeChain to fight odometer fraud in automobile sales), Walmart (for tracking food provenance) and LVMH (for tracking luxury leather goods).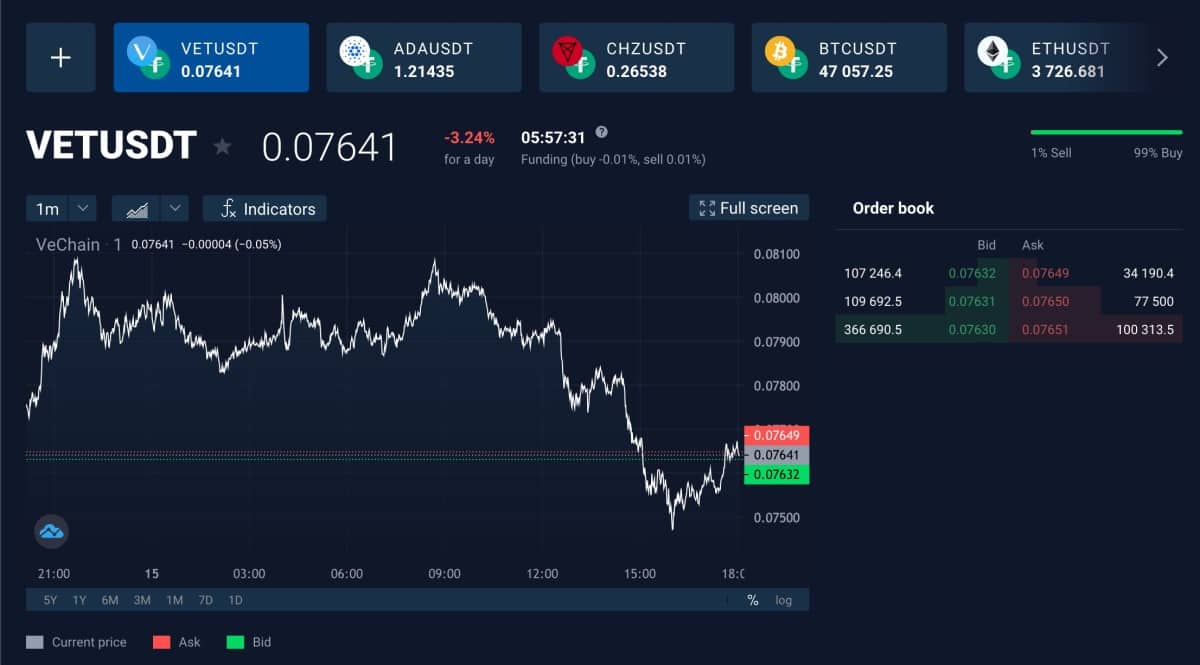 VeChain definition
VeChain is a cryptocurrency network intended for supply chains and logistics. It was officially launched in 2015 by a Shanghai-based team and is now run by about 100 workers globally who offer BaaS products to customers in the logistics and data management industries.
According to the VeChain whitepaper, the currency's mission is to let business owners, enterprises, governments and everyone else in the blockchain community move their business activities to the blockchain without needing any technical knowledge.
VeChain characteristics (as of 15/12/2021)
| | |
| --- | --- |
| Name | VeChain |
| Ticker | VET |
| Token standard | ERC-20  |
| Market rank | #34 |
| Current price | $0.07815 |
| Market cap | $4,915,162,768.67 |
| Daily trading volume | $271,304,717  |
| Circulating supply | 64,315,576,989 VET |
| Max supply | 86,712,634,466 VET |
| Website | |
Key points of VET coin
The VeChain ecosystem doesn't use a proof-of-stake (PoS) or proof-of-work (PoW) system, unlike other cryptos. Instead, it uses a proof-of-authority (PoA) system, defined as a reputation-based consensus algorithm in which block validators stake their reputation instead of coins. The major advantages of the PoA system include its scalability and privacy protection, which are the most effective for supply chains and other business applications.
VeChain's vision is another point you should understand about the VeChain coin. It facilitates how small to large businesses enter the blockchain world and use decentralised finance. VeChain offers a diverse ecosystem with several builders, ranging from startups to enterprises and communities. The use cases of businesses using the VeChain ecosystem are also diverse, ranging from the food sector to anti-counterfeiting solutions.
How does VET coin work?
VeChain's primary goal is to let companies launch all kinds of decentralised applications. To facilitate the process, the VeChain team has developed a software development kit called VeChain ToolChain.
In addition to using the PoA consensus algorithm to ensure a more randomised and distributed block creation mechanism, VeChain features a two-token design to isolate VET coin's price volatility from the cost of computations on the network. Since VTHO's supply can maintain a stable transaction price, VeChain-based applications can charge regular fees.
In the VeChain ecosystem, miners earn VTHO fees for network-processed computations. Programmes require more VTHO for more complex computations. 
Nodes staking VET coins can vote on the VeChain network's upgrades and get rewards in VTHO for every block.
Security
VeChain coin focuses on using blockchain to change how traditional models of supply chains work. A transparent technology used in the VeChain ecosystem allows for supply chains to be tracked more securely and efficiently, thus reducing the cost of trustless automation.
VeChain uses the proof-of-stake mechanism, which explains the need for low computing power to secure its network. The proof-of-authority mechanism maintains the protocol as per the rules specified by the VeChain Foundation. 
VeChain ICO price
VeChain was first released as an ERC-20 token on the Ethereum network. Its ICO was held with Ethereum at the rate of 1 ETH for 3500 VEN, thus putting the ICO price at around $0.90 per token.

This past summer, in preparation for the MainNet, the original VET tokens based on Ethereum were converted to VET at a rate of 1 VEN to 100 VET.
VET coin today
According to CoinMarketCap, VeChain's price as of the time of writing is $0.07815, with a daily trading volume of $268,669,298. VeChain currently ranks #34, with a market cap of $4,849,667,846. The circulating supply is 64,315,576,989 VET coins, and the maximum supply is 86,712,634,466 VET coins.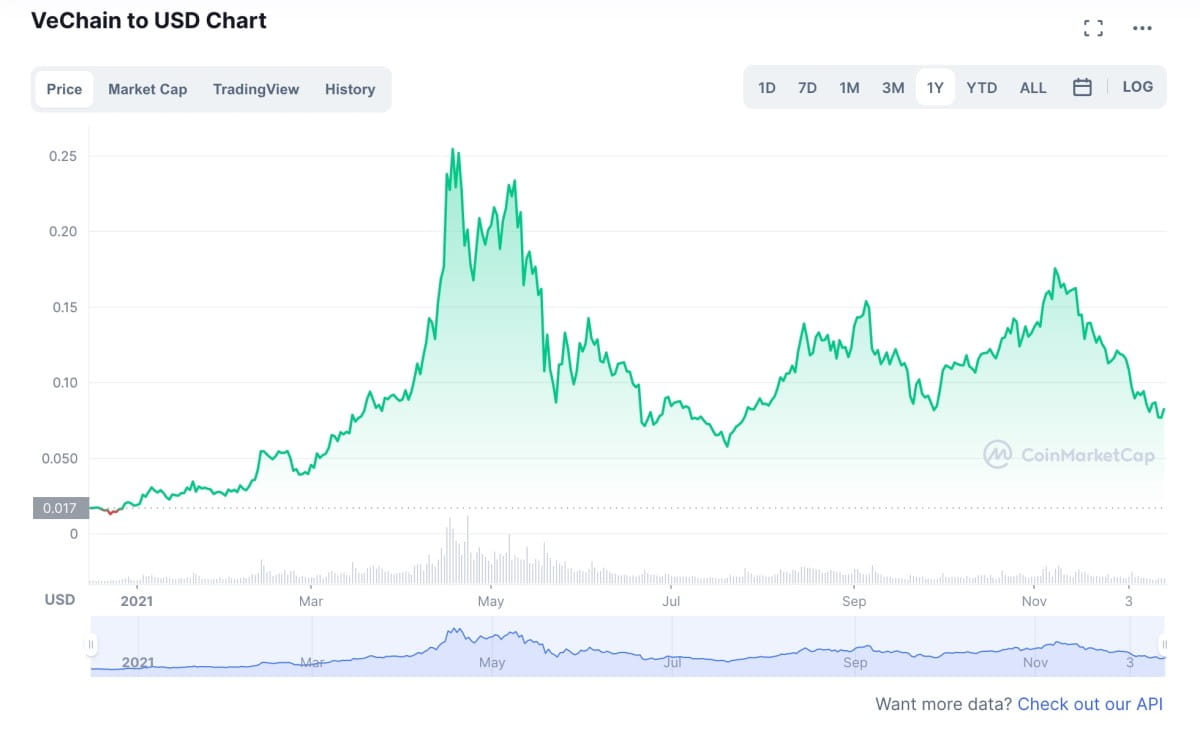 VET coin price prediction
If the current trend of VeChain coin's price growth continues, the value per coin will reach $2 by the end of 2022. With VeChain's upcoming partnerships and developments, the price of $2 per coin sounds quite optimistic but feasible for the near future. VET's price is expected to rise rapidly in the first half of 2022 to $2.50, which will be followed by a slowdown. 
In 2023, VeChain might move to great heights, with the price per coin expected to reach $4.
Considering the latest upgrades and developments, the VeChain price prediction for 2024 is $7. In 2025, the price per coin is expected to reach $10.
Only time will show how high VeChain coin's price will rise. Current market trends indicate that VeChain has a high possibility of reaching new all-time heights in the next five years.
Is VeChain a good investment in 2022?
The past few years have shown VeChain to be one of the most powerful assets in the crypto world. In the last 12 months, VeChain has risen by over 796% in the marketplace. If this trend continues, VeChain will likely hit $1 per coin by the end of the year. With this in mind, it's not unreasonable to assume that investing in VET could be a good decision for 2022.
Tags
Exchange BTC

Try our Bitcoin Cloud Miner and get additional crypto rewards based on your trading volume. It's immediately available upon registration.

Try our Bitcoin Cloud Miner and get additional crypto rewards based on your trading volume. It's immediately available upon registration.
Instrument
Rate
Change (24h)