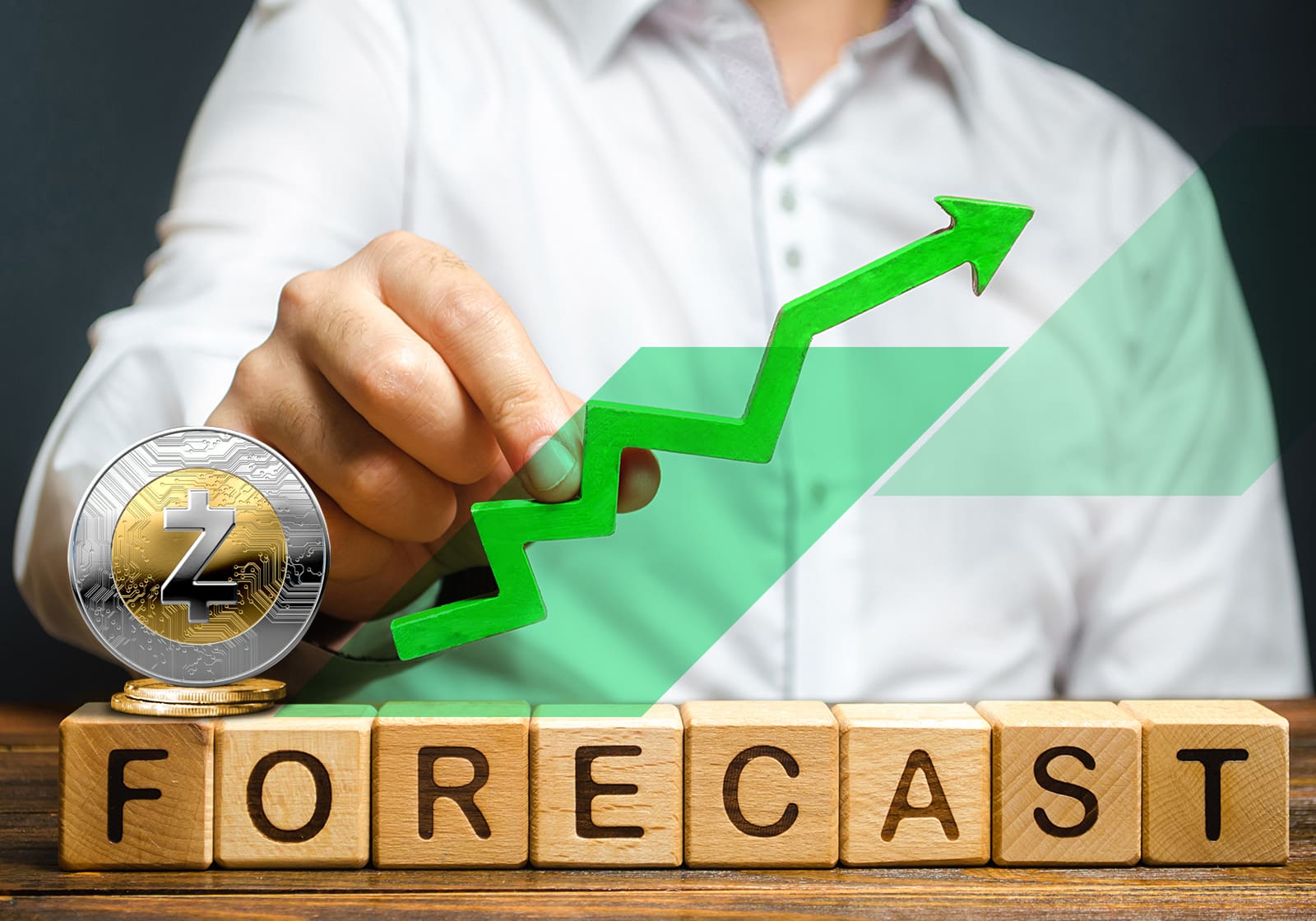 Zcash (ZEC) price prediction for 2020, 2021, 2023, 2025, 2030
Transaction confidentiality is one reason why cryptocurrencies are so popular and blockchain technology is so widely used. But not all cryptocurrencies are completely confidential. You can track transactions in the Bitcoin network through a blockchain to determine the wallet address of the sender and recipient. The amount transferred is known from the beginning. That compromises the competition between cryptocurrencies and standard bank payment systems. 
Steven Waterhouse, a well-known entrepreneur and crypto investor, once gave a good example: while Bitcoin is an HTTP data transfer protocol for the financial world, Zcash is an HTTPS protocol that offers encryption support for enhanced security. Most crypto enthusiasts agree with the analogy since Zcash is traditionally considered the first fully private, secure cryptocurrency.
So, what is Zcash? Is it worth investing in? What are the prospects of the Zcash coin? To make an accurate Zcash price prediction, let's dive into what Zcash is, it's price history, technical analysis and Zcash future predictions from experts.
Zcash's history
The history of Zcash (ZEC), the first private cryptocurrency, deserves exploring the origin of the technology itself. Zcash owes its emergence to the ZeroCash cryptographic protocol. The protocol was developed by Professor Matthew Green and his graduate students, Christina Garman and Ian Miers, from Johns Hopkins University in Maryland. Initially, the project was intended to be a supplement to the Bitcoin protocol. In May 2013, the report Zerocoin: Anonymous Distributed E-Cash from Bitcoin was presented at a scientific symposium in San Francisco. Later, the protocol was executed as an alpha version for the existing Bitcoin network.
In January 2014, it was announced that Zerocoin would appear as a separate project based on the first cryptocurrency blockchain, Bitcoin. But later, the team failed to reach an agreement with the Bitcoin developers on permission to work with an operating protocol. The community of Bitcoin miners and users had already formed by that time. To know more about Bitcoin mining profitability, please read our blog. It was impossible at the time to create an addition to the BTC because it would have required existing developments to be expanded.
On 20 January 2016, it was announced that the new Zcash cryptocurrency had been developed. The developers promised that it would be an ideological continuation of ZeroCash and an attempt to implement the protocol in isolation from Bitcoin. On 28 September, Zcoin, which was similar to the Zero-Knowledge concept, was released. However, records, keys and addresses and the transaction protocol were poorly developed. The coin was not as popular as the fully confidential Zcash (ZEC).
A month later, on 28 October 2016, Zcash officially appeared. Timed to coincide with the project's launch, the developers spoke in detail at the conference about the principles of transactions in the network and provided data on zk-SNARK. The conference attracted a lot of attention to the coin, which is how ZEC's price briefly reached $4,000, according to CoinMarketCap. After balancing supply and demand, the value of cryptocurrency settled in at $40-50 per coin.
What is ZEC?
Zcash (ZEC) is the world's first confidential open-source cryptocurrency based on a blockchain. Zerocoin Electric Coin Company developed it in 2016. The coin of the same name with the trading ticker ZEC is used as a payment method. The Zcash platform ensures transparency and complete transaction confidentiality in the network. Transactions are recorded in the general blockchain, but the sender, recipient and amount transferred are unknown to other members of the network.
Zcash uses cryptographic methods based on zero-disclosure evidence, which allows the mathematical reliability of the transaction to be verified without providing any information about the second participant in the transaction. In addition, the cryptocurrency uses special transaction block headers, zk-SNARK protocol, notes, JoinSplit descriptions, and others.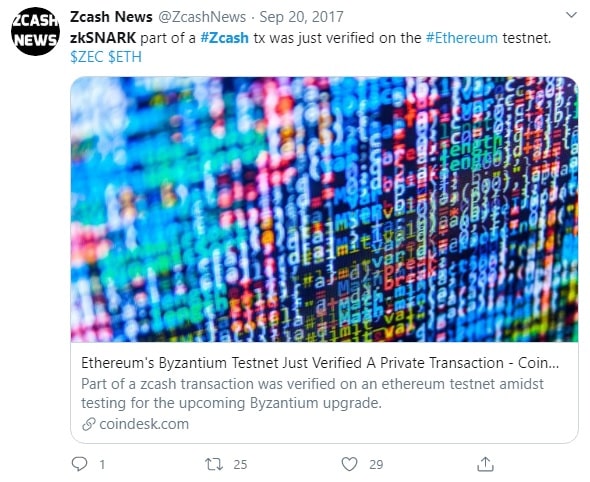 A team of scientists from world-famous universities worked on the creation of Zcash. They came from MIT, the University of Tel Aviv, Technion, University of California, Berkeley, and others. In this regard, the internal structure of the coin is thought through to the smallest detail and mathematically justified. Zcash's technical protocol can be called a true scientific work and a breakthrough along the lines of Bitcoin and Ethereum (for our Ethereum (ETH) price prediction, please read our blog). 

At the same time, the ZEC crypto has borrowed many successful developments from Bitcoin, Zerocoin and other cryptocurrencies. ZEC's minimum transferable value is ten minus eight degrees, or a zatoshi, similar to Bitcoin's satoshi.
The confidentiality of the Zcash network has been praised by many prominent investors, developers and cryptographers. WikiLeaks made donations to ZEC to keep it secure, and cybersecurity specialist Edward Snowden called it the best substitute for BTC. Because of its privacy, Zcash is often used on the online black market. Europol has even expressed concern about the cryptocurrency's popularity.
Zcash's (ZEC) advantages
In 2020, the average daily trading volume on ZEC is $500-900 million. This significant popularity came to the cryptocurrency due to the system's reliability and the confidentiality of its transactions. Zcash is often referred to as 'digital gold', stealing the moniker away from Bitcoin. It seems that the cryptocurrency was created the way Bitcoin should have originally been. Here are some of the most significant advantages Zcash offers: 
Full transaction confidentiality is a unique feature of ZeroCash's payment system. Many cryptocurrencies guarantee their users' confidentiality, but in reality, turn out to overpromise and underperform. Even more cryptocurrencies lack any built-in encryption and are created by amateurs for amateurs. Zcash is a breakthrough in the industry of confidential transactions, allowing them to be made quickly, anonymously and almost for free.
Inability to compromise the user. 
When exchanging ZEC, users do not disclose their personal data. Moreover, during the exchange, it is not even theoretically possible to calculate the ZEC wallets' addresses. In today's banking system, where a regulator controls every action a client takes, Zcash creates a convenient payment system that doesn't store data about its users.
Reliability of the network.
The decentralised blockchain creates a more reliable financial solution than all modern banking payment systems. Every year, swindlers and criminals find hundreds of loopholes in ATM algorithms and online banking, among other platforms. As a result, people lose their savings at the hands of unknown hackers. In the Zcash network, each user on whose computer a copy of a block sequence is stored is responsible. Hacking such a system is extremely unlikely and requires enormous resources to execute.
Use of scientifically based protocols. 
The ZeroCash protocol is the result of the work of several dozens of mathematicians, cryptographers and computer science specialists. The methods used to create the project are no worse than those used in serious scientific works. Appealing to authority is not an argument, but the creators of Zcash guarantee the stable and safe operation of the system with their own reputation in scientific circles. When Zcash was created, its developers were pursuing a scientific interest and aspiring to benefit humanity instead of seeking profit.
One transaction takes between 1 and 2 minutes. The creation time for a block is fixed and takes no more than 150 seconds. As a result, transactions are four times faster than in the Bitcoin network (not taking into account the loaded mempool) and 30 seconds faster than in the SWIFT international transaction system. That makes Zcash not only a competitor to the first cryptocurrency but also a modern, confidential bank transfer that takes up to 15 minutes.
When you exchange BTC for ZEC, you can't track the recipient's information. That allows you to remain confidential even when logged into the Zcash network. However, there are many Zcash Foundation-accredited online wallets and services for storing and exchanging cryptocurrency. The original client programme requires you to store a blockchain of no more than 10 GB, which can't compare to the official BTC wallet's 200 GB.
There are no differences between ZEC coins, regardless of how they were made and their previous history of use. Their value is influenced only by the coin's denomination and the total supply and demand on the market. Thus, absolutely all ZEC coins are equal to each other. However, the funds won't be 'blacklisted' as sometimes happens with Bitcoins on exchanges.
Zcash (ZEC) price analysis
As of 22 October 2020, Zcash (ZEC) is ranked 30th by market cap among cryptocurrencies, coming in at $676,462,726. With a circulating supply of 10,298,000 out of 21,000,000 coins, the cost of one ZEC token equals $65.69/0.005106BTC. Here's an overview of Zcash (ZEC):
Zcash (ZEC) Price Today

$ 65.69

Market Cap

$676,462,726

Circulating Supply / Total Supply

10,298,000 ZEC / 21,000,000 ZEC

Daily Trading Volume

$718,695,876 

All-Time High

$5,941 

(29 October 2016)

All-Time Low

$18.94

(13 March 2020)

Official Website
Zcash's (ZEC) price history
On 28 October 2016, when Zcash (ZEC) was first presented at the conference dedicated to the project's launch, the developers attracted a lot of attention to the coin by explaining the details of zk-SNARK encryption technology. At that time, ZEC's price rose to $4000, but after it was placed on cryptocurrency exchanges, the price plunged before stabilising in the $40-50 range.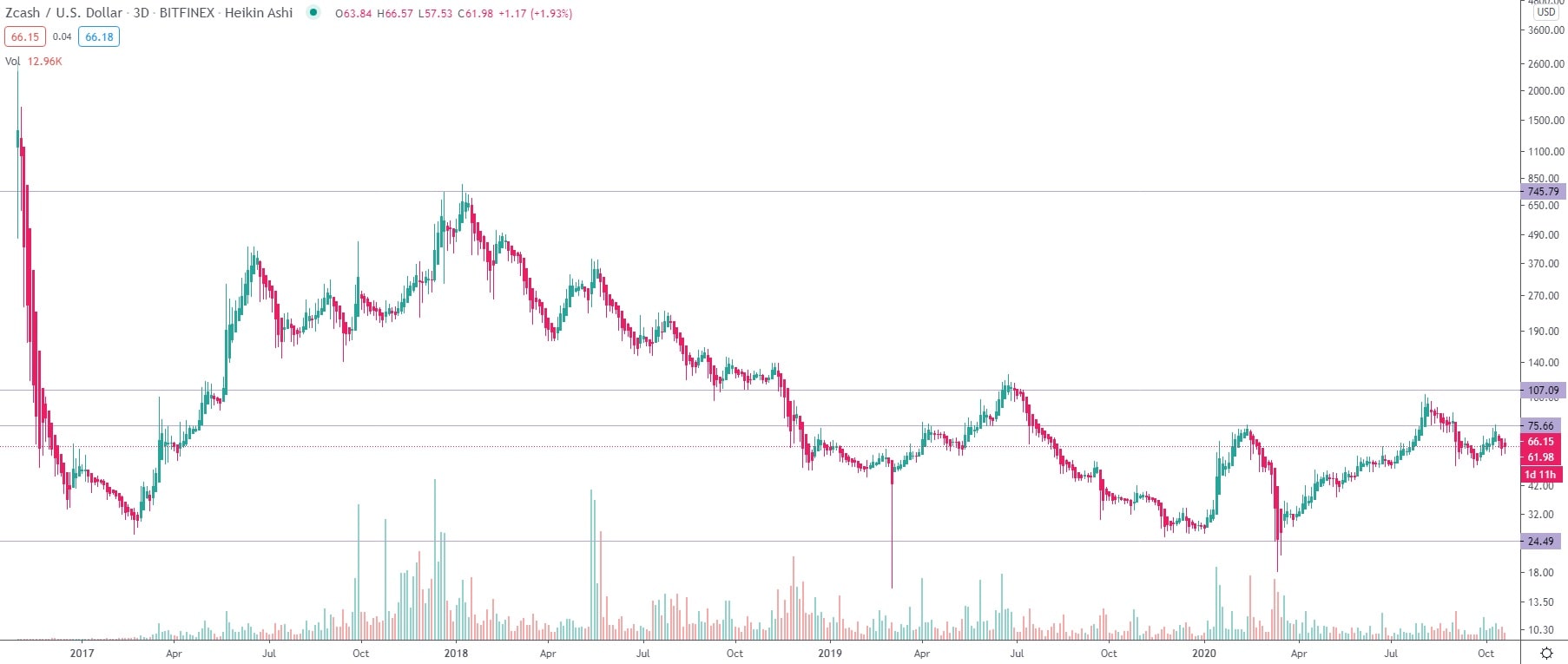 Due to its outstanding technical qualities, in April 2017, Zcash made it to the Top 10 cryptocurrencies by capitalisation. That was a direct reflection of the Zcash's popularity. The first serious spike in the coin's capitalisation and market value occurred in May of the same year when developers signed a partnership agreement with the American financial holding JPMorgan. That led to a price increase that saw ZEC reach $429 by June 2017.
The peak of the market capitalisation was achieved against the background of the general popularity of the crypto market at the beginning of January 2018. The market cap grew to over $2.5 billion. At the same time, the price per coin reached $600-700. After the decline in the crypto boom, the price returned to normal and levelled off at the previous values of $50-60 by December.
Zcash (ZEC) price prediction 2019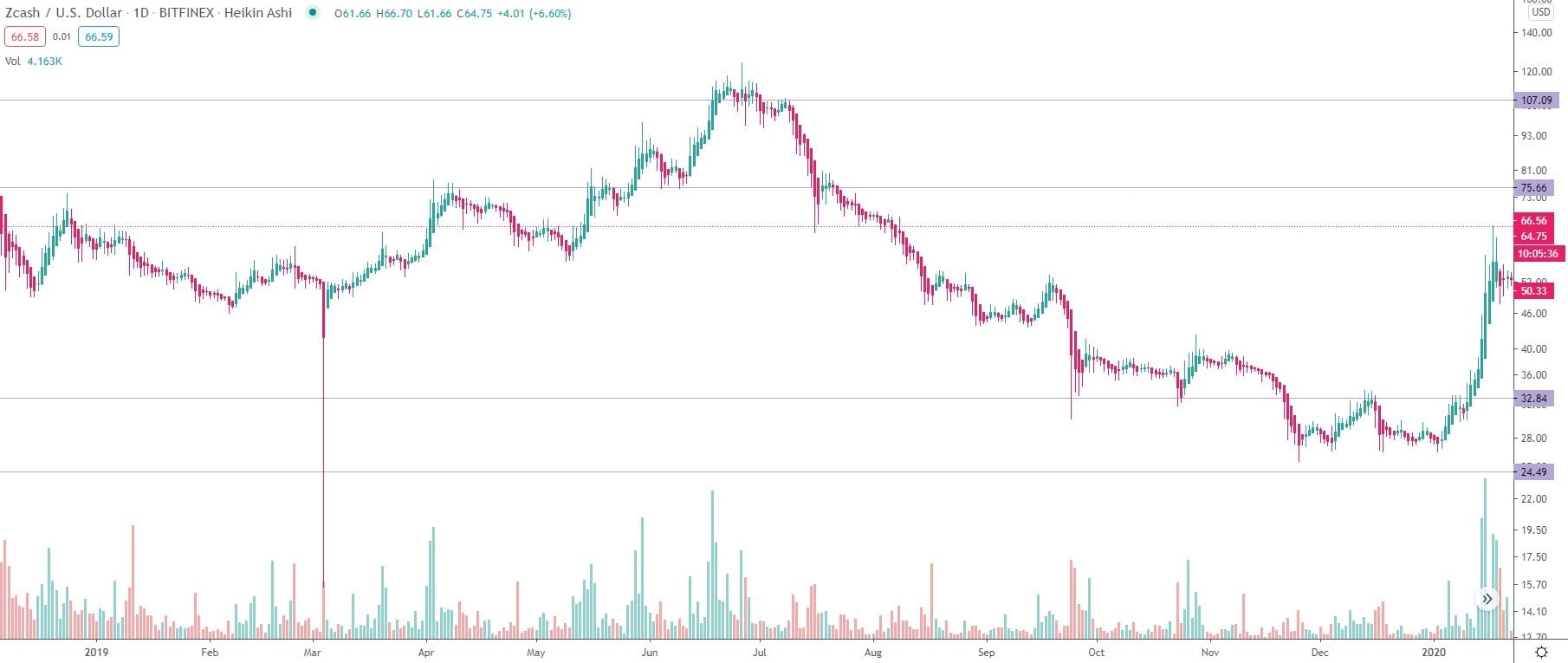 In Q1 2019, Zcash continued to trend down, reaching $40 by 4 March. As expected, buyers defended the $40 support level and started buying ZEC, which reversed the negative trend to the upside. Bulls pushed Zcash price to $123 on 27 June. After that, the asset tried to stay above $100-110 support but failed. Sellers dragged the price down to as low as $26 by December.
Zcash (ZEC) price prediction 2020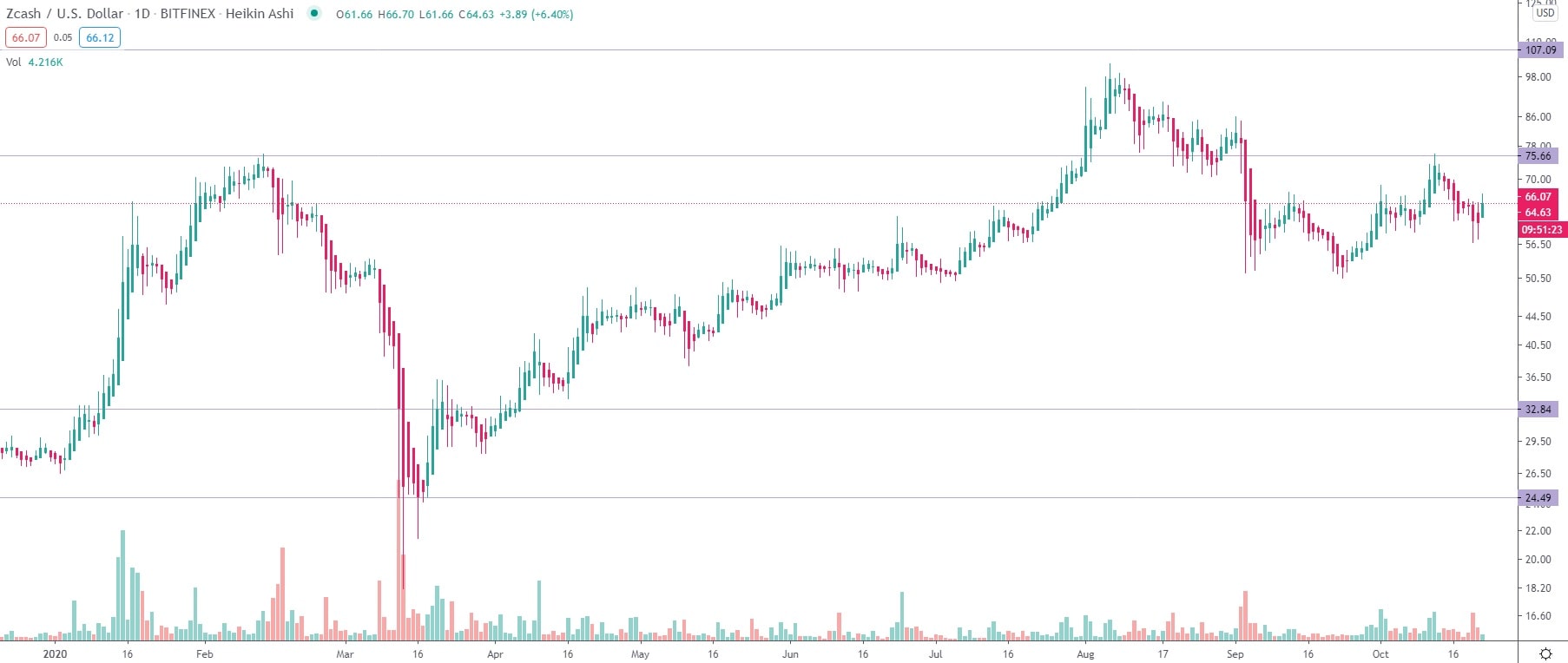 Zcash opened 2020 with a strong bullish trend. ZEC's price grew from $27 in January to $75 on 13 February, an almost three-fold price increase. However, as the entire cryptocurrency market declined, Zcash followed. The asset's price decreased to establish a new all-time low, ZEC fell to $18.94 on 13 March. After that, the market turned positive, and Zcash's price grew along with Bitcoin's, reaching the $100 mark by 6 August. That was followed with a pullback to the $50 support level by late September. Currently, the asset is bullish, trading in the $60-75 range and trying to break through the upper resistance of the trading channel.
Zcash (ZEC) technical analysis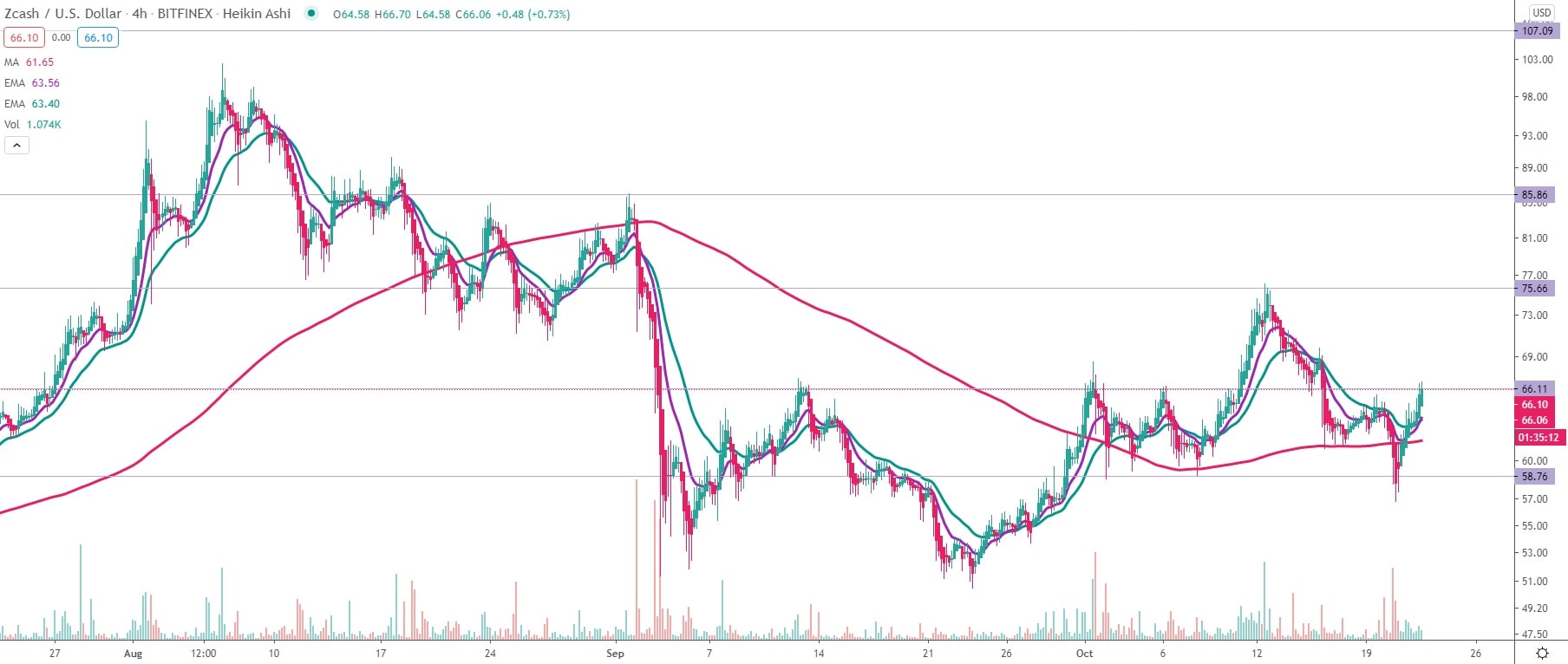 A brief look at ZEC/USD's four-hour chart makes it clear that the asset is trending bullish. At the beginning of October, Zcash broke through the 200-Day Moving Average resistance level and successfully retested it multiple times from above. After a fake 200MA breakthrough, ZEC climbed back and consolidated above it.
Zcash (ZEC) is primed to pass the $66 resistance level and continue the uptrend. Currently, ZEC is trading hands for $65.69 per token. The asset is trading above the 200MA and above the newly formed 12-day and 26-day Exponential Moving Averages bullish cross. Today's Zcash price prediction shows that ZEC aims to retest resistance at $66/$75/$100, with support in the $56-62 zone.
Zcash (ZEC) price prediction for 2020, 2021, 2025, 2030
ZCash is preparing for the first halving in its history. The activation will take place around 18 November 2020 on block #1,046,400. After the halving, the award miners receive will be reduced from 6.25 ZEC to 3.125 ZEC. At the same time, the fifth major update, called Canopy, will be activated. This update will launch a network development fund and improve ZCash's security.
Now let's take a look at Zcash (ZEC) price prediction from popular experts and agencies. What do they expect from ZEC cryptocurrency in the future, and what are its prospects?
Trading Beasts Zcash (ZEC) price prediction for 2020, 2021, 2023, 2025, 2030
Following Zcash's price prediction from Trading Beasts, Zcash's future price will remain stable in Q4 2020. They predict that price will trade in the $50-68 range by December 2020. For the next few years, $50 is the lowest possible price for Zcash. Trading Beasts forecast that ZEC will grow from $70 in 2021 to $100 in 2023.
WalletInvestor Zcash (ZEC) Price Prediction for 2020, 2021, 2023, 2025, 2030
Per WalletInvestor's Zcash (ZEC) price prediction, ZEC is a bad long-term investment. They predict that, by the end of the year, Zcash will drop to $60. Over the next few years, ZEC is expected to fall further. According to WalletInvestor's price forecast, Zcash will drop to as low as $1 by 2025.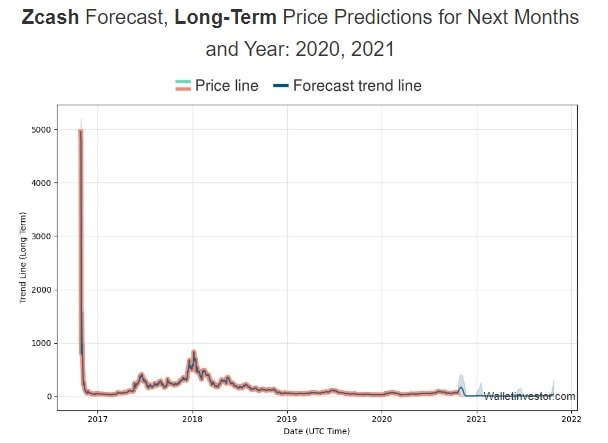 Coinliker Zcash (ZEC) price prediction for 2020, 2021, 2023, 2025, 2030
Coinliker's ZEC price prediction is the most bullish one. Although they expect a drop to $34.29 in the upcoming week, for the next few years, ZEC will skyrocket, according to their prediction. They expect that Zcash will grow to $355.72 in a year and will continue growing to $1,444 by 2025.

CoinSwitch Zcash (ZEC) Price Prediction for 2020, 2021, 2023, 2025, 2030
The CoinSwitch news website predicts a bright future for Zcash. They believe that Zcash's halving and implementation of new developments, which include an improved confidentiality system, will lead to increased demand for the cryptocurrency. As such, CoinSwitch predicts that ZEC may reach $200 by 2021 and will continue growing to $1242 by 2025.
Zcash (ZEC) overall future value predictions
Despite the emergence of new competitors, ZEC remains one of the most attractive cryptocurrencies for investment. Investors highly appreciate the possibilities of exchanging coins privately with a high transaction speed.
Will Zcash (ZEC) go up?
Based on the project's fundamentals and working solutions, there's no doubt this cryptocurrency will grow in the future. Its daily trading volume indicates wide usage of the cryptocurrency. Zcash's halving scheduled for November 2020, along with the Canopy update, will lead to a price increase for ZEC.
Zcash (ZEC) price prediction today
Zcash has great prospects for the future. In the age of centralisation, the demand for anonymity is on the rise. Upcoming events, such as the Canopy update and ZEC's halving, will strengthen the cryptocurrency's position and increase its attractiveness as an investment option. At the same time, the Zcash Foundation's team of qualified mathematicians and cryptographers are developing and maintaining the cryptocurrency. In this regard, Zcash has excellent credibility among network users and investors.
Welcome to StormGain — crypto trading platform!
Trade with 200× multiplier.