Bitcoin mining software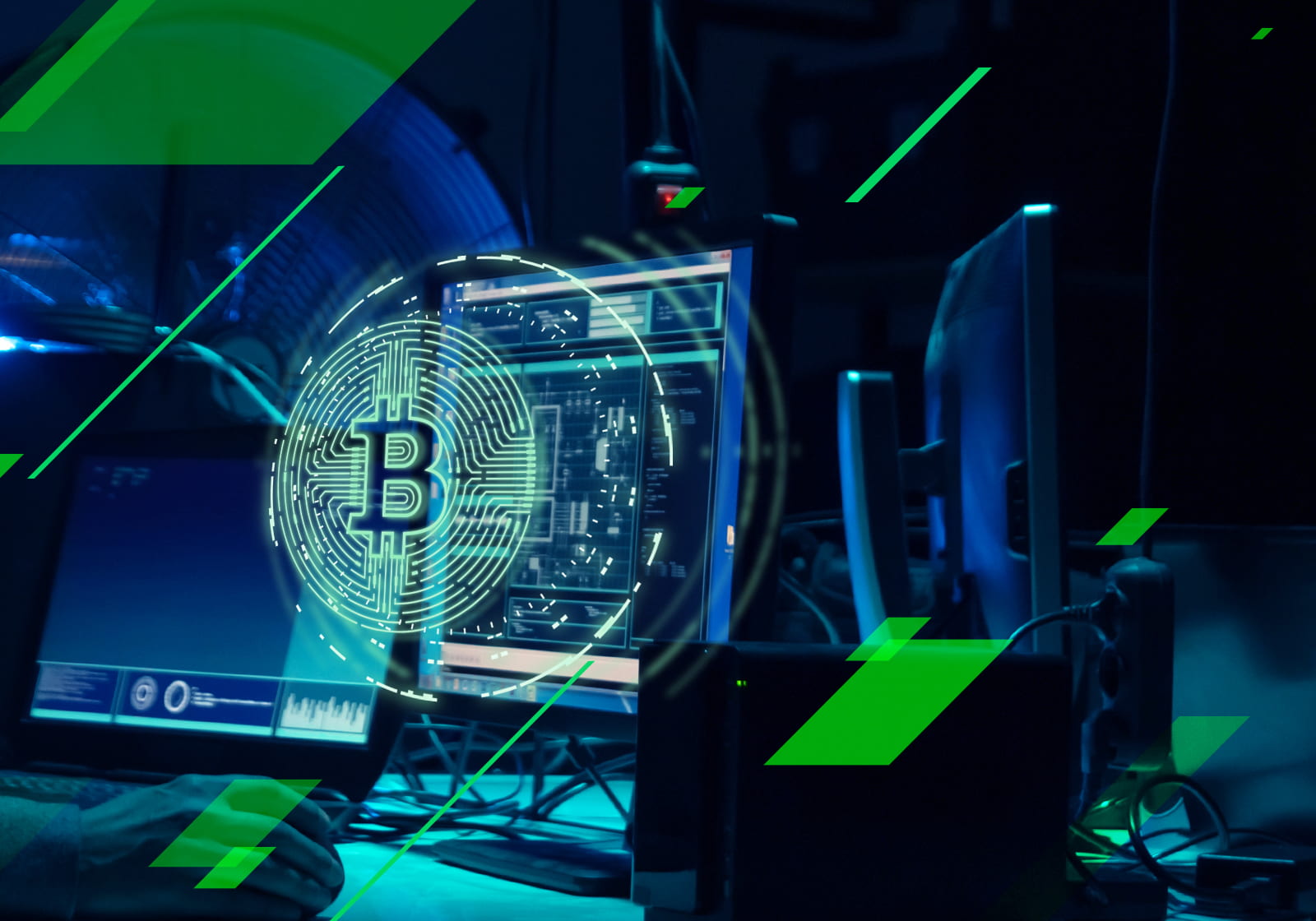 Long gone are the days when Bitcoin mining was just a hobby. It's now an entire industry and a profitable business with an entrance threshold that's still within reach for ordinary people. However, to start making money by mining Bitcoin, purchasing mining equipment isn't enough. You'll also need to select and configure the appropriate Bitcoin mining software.
We set up a small Bitcoin and Ethereum mining operation... that miraculously now is actually making a lot of money. - Abigail Johnson, businesswoman.
Although the actual work of mining Bitcoin is performed by mining hardware, mining software is needed to connect your mining equipment to the blockchain and the mining pool if you are part of one. In addition, good mining software also monitors various parameters of the equipment, such as the hash rate, temperature, etc.
There is currently a wide selection of Bitcoin mining software, and this guide will help you make a choice. Ready to find out what the best Bitcoin mining software is? Let's start.
What Bitcoin mining software to use
The choice of Bitcoin mining software depends on many factors. When it comes to mining, there's no one-size-fits-all solution. Here are the most important factors you need to consider when choosing software:
Your mining equipment. Does the software support your specific mining hardware?
Which operating system supports the software you're considering?
Is the software user interface friendly enough for you and your IT skills?
What options are available for advanced mining hardware configuration and customisation?
Does it support mining various cryptocurrencies?
Free Bitcoin mining software for PC
A few years ago, Bitcoin could be mined directly on a PC CPU or GPU. And while doing that is no longer worth the effort, a PC is still needed to manage specialised Bitcoin mining equipment.
Although the best Bitcoin mining software tools support different versions of Windows (XP, 7, 8.1 or 10), there are some available for Linux and Mac OS. You can download all mining software online. Let's look at the most popular ones.
MultiMiner. Considered one of the most user-friendly and easy-to-use programs, MultiMiner is a desktop software for cryptocurrency mining with a graphical user interface. It's available for Windows, Linux and Mac OS X operating systems. MultiMiner supports various types of mining hardware, including ASICs, GPUs and FPGAs. It also allows you to switch between different cryptocurrencies easily. It automatically detects available mining equipment and its statistics. In addition, MultiMiner enables you to monitor your mining hardware using your mobile phone. This open-source project's code is publicly available to be examined and used in other projects.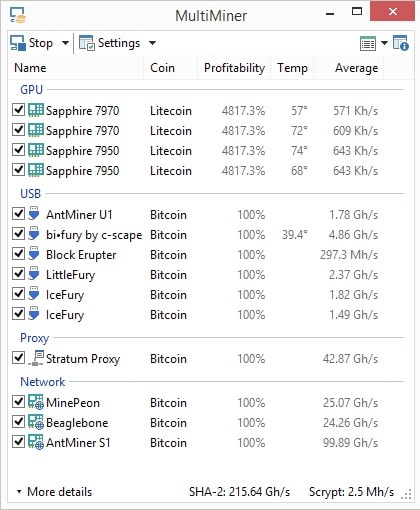 | | |
| --- | --- |
| Advantages | Disadvantages |
| User-friendly | Not easy to install on operating systems other than Windows |
| Graphical user interface |   |
| Advanced options for experienced users |   |
Awesome Miner. A powerful tool for large-scale mining. Like MultiMiner, it has a graphical user interface. Awesome Miner requires a paid subscription if you want to use all of its features, but its core functions are free for up to 2 miners. It's available for 32-bit and 64-bit editions of Windows 7, Windows 8 and Windows 10. Awesome Miner uses real-time multi-pool and coin statistics to achieve the highest profitability of the mining operation by automatically switching between algorithms and multiple Bitcoin mining pools. The software supports different types of mining rigs, including all popular ASIC devices. It also includes a built-in web interface that can be accessed from any computer or mobile device.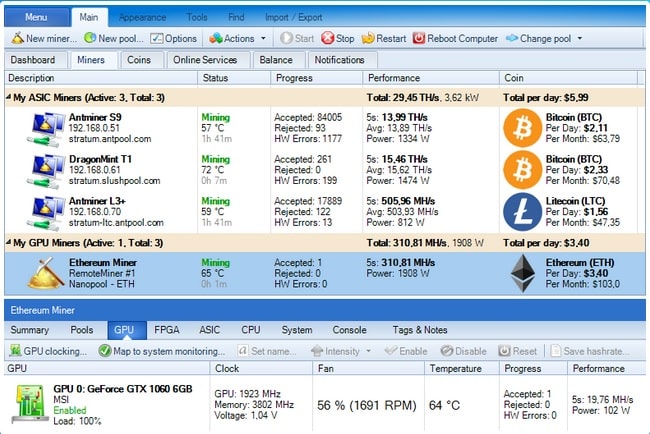 | | |
| --- | --- |
| Advantages | Disadvantages |
| Suitable for large-scale mining | Requires a paid subscription to unlock full functionality |
| Graphical user interface |   |
| Great customisation options |   |
MacMiner. A native Bitcoin miner for Mac with a friendly graphical user interface. Simple and powerful, it has a wide range of customisation options. It supports CPU, GPU, FPGA and ASIC miners and allows users to mine Bitcoin, Litecoin and several other cryptocurrencies. MacMiner is open-source software.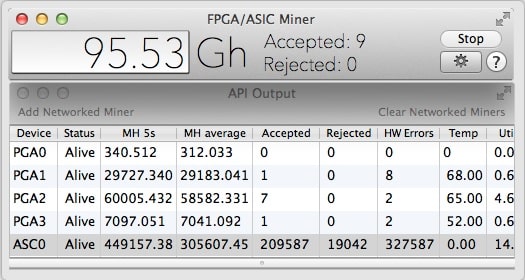 | | |
| --- | --- |
| Advantages | Disadvantages |
| User-friendly | For Mac users only |
| Graphical user interface |   |
| Good customisation options |   |
BFGMiner. A modular ASIC/FPGA miner written in C. It can run on Windows or Linux and has a very low CPU usage. It offers excellent customisation options for mining hardware including overclocking, fan speed control and remote interface capabilities. Its interface is text-based that makes it less suitable for beginners.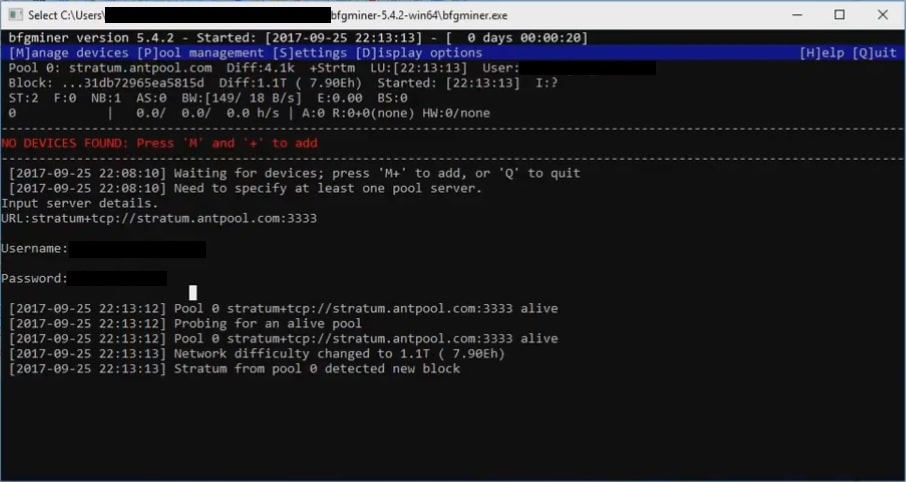 | | |
| --- | --- |
| Advantages | Disadvantages |
| Great customisation options | Command-line interface |
| Many features |   |
CGMiner. One of the most popular free Bitcoin mining software, CGMiner is available for download on Github.com. It's an open-source application written in C and can be used on Windows, Linux and Mac OS. Like BFGMiner, it has a text-based interface and is more suitable for experienced users. It's considered to be the most versatile Bitcoin mining software that allows considerable customisation options for mining rigs.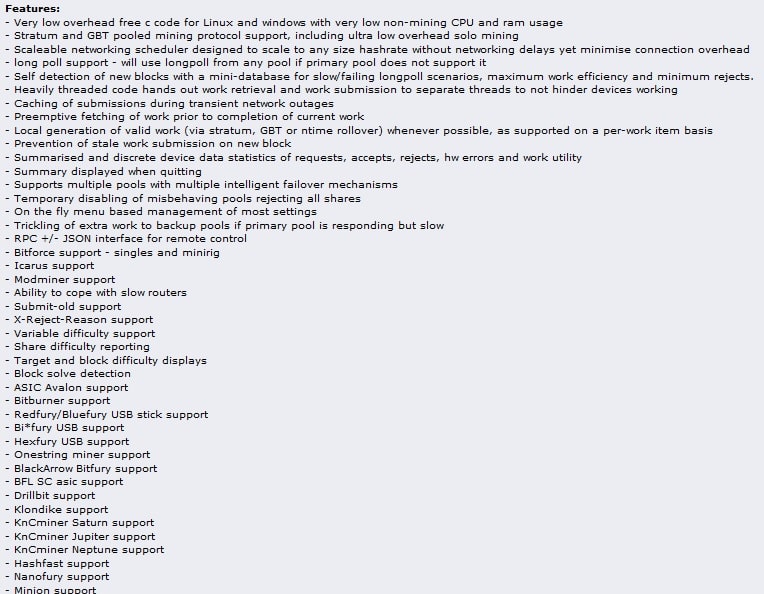 | | |
| --- | --- |
| Advantages | Disadvantages |
| Great customisation options and versatility | Command-line interface |
| Its popularity means it's frequently updated and has many tutorials and guides |   |
EasyMiner. This open-source free Bitcoin mining software with a graphical user interface is basically a graphical frontend for command line-based mining software like CGMiner. Currently, EasyMiner is available only for Windows. One of its features is a mode called the Moneymaker that allows users to start mining right away without having to learn all the programme's details. Other features include a log window for maximum transparency of the mining process, a market cap bar that displays current market prices of the most popular cryptocurrencies, a stats bar, a crypto wallet, a chat window and more.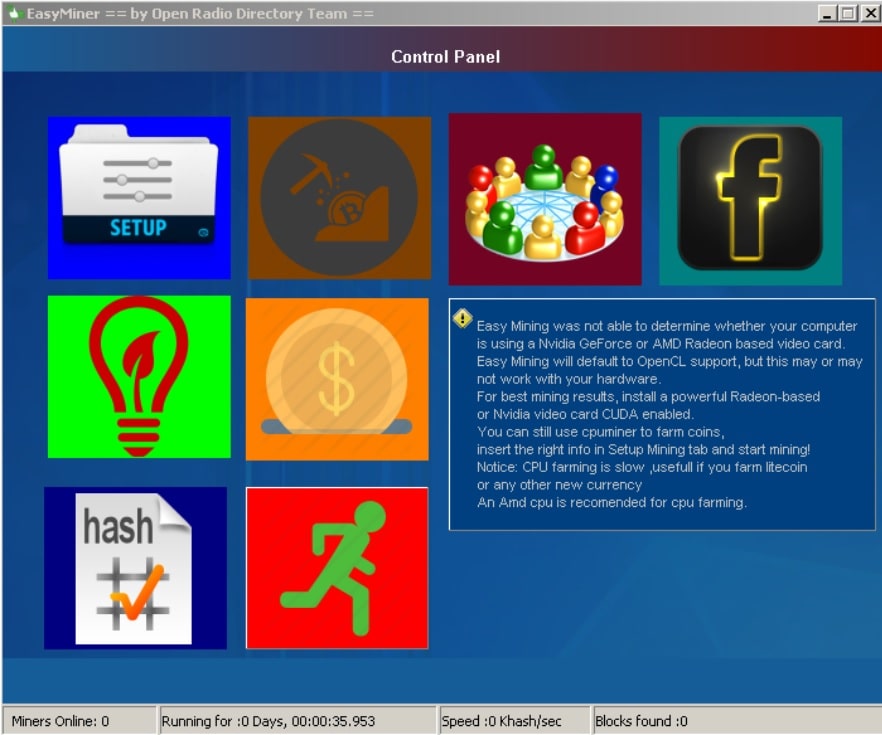 | | |
| --- | --- |
| Advantages | Disadvantages |
| User-friendly | For Windows only |
| Graphical user interface |   |
| Many interesting features |   |
For mobile devices
With the current hash rates required to mine Bitcoin, you cannot actually mine it directly on mobile devices. However, there are modern mining software programmes with mobile apps that allow you to manage your mining farm from anywhere in the world using mobile devices.
Bitcoin mining software for Android phone and iPhone
In terms of Bitcoin mining, mobile devices are currently used only to control specialised mining rigs remotely. Bitcoin mining puts a heavy load on the device's CPU. That's why using a mobile gadget directly for mining, especially for a long time, may damage the device. That was one of the reasons why both Apple and Google banned the distribution of mining apps for mobile devices in the App Store and Google Play Store, respectively.
If you still want to try to mine Bitcoin with your mobile device, you can download the Crypto Miner mining app (for Android) or MobileMiner app (for iOS devices).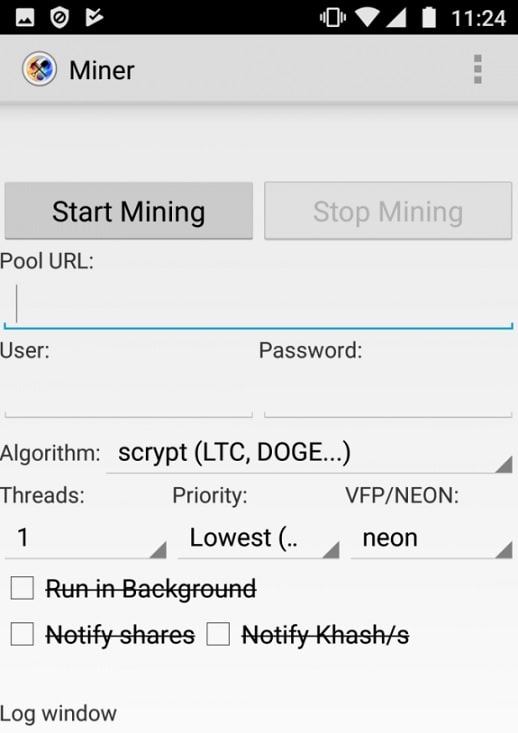 As for the mobile versions of software to manage Bitcoin mining rigs, you can consider the following options:
MultiMiner allows you to monitor and control mining rigs remotely from your smartphone.
Awesome Miner has a built-in web interface accessible from mobile devices.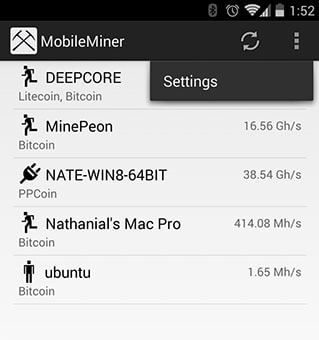 In addition to that, you may like to know that the StormGain cryptocurrency trading platform launched a new Cloud Miner tool for mobile devices two months ago.
USB Bitcoin mining software
USB miners are a lighter, cheaper version of ASIC devices with smaller power consumption. As the name implies, they are connected to the computer via a USB port. Their hash rate is relatively low, so you won't earn any noticeable money with them. But if you want to get familiar with Bitcoin mining without investing a lot of money, you can try a USB miner.
Examples of mining software supporting USB miners include BFGMiner, CGMiner and MacMiner.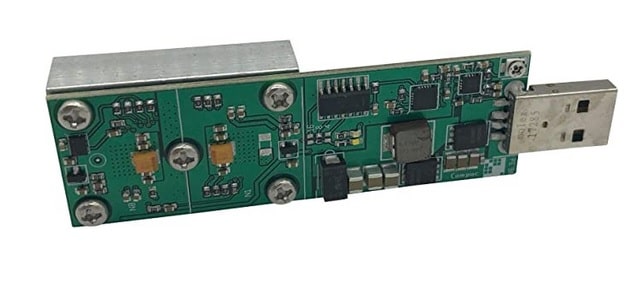 Hidden Bitcoin mining software
Now let's say a few words about the dark side of cryptocurrency mining. Since crypto mining requires powerful and expensive hardware, as well as large amounts of electricity, cybercriminals use malicious software that forces affected computers to mine cryptocurrencies without their owners being aware. That's how they avoid all the associated costs. Their large number compensates the low mining performance of individual affected computers. Meanwhile, the computers' rightful users experience numerous problems with them.
To protect your computer from such malware, use a good antivirus and be careful when downloading programs from the internet.
Bitcoin mining software for beginners
Although many mining programmes are available, not all of them are user-friendly for novice miners. Most often, the biggest stumbling block for beginners is using a command line, which is necessary to manage some of the most popular mining programs like CGMiner. Among the most beginner-friendly software with a graphical interface, you have EasyMiner, MacMiner and MultiMiner.
Bitcoin mining with StormGain
Bitcoin mining is a complicated process that requires substantial investments and is associated with many inconveniences, such as noise and heat from mining equipment. If you're not sure whether you want to face these challenges but you're still want to try Bitcoin mining, there's an option for you.
This summer, the StormGain cryptocurrency trading platform launched its own cloud mining service. It's fast and completely free to use. To start mining, just install the StormGain mobile app and register an account. After that, all you need to do is to open the Cloud Miner section and tap 'Start Mining'. The app and remote mining rig will do the rest, keeping your device's CPU and battery from suffering any additional load. Just don't forget to press the mining button every four hours.
Tags
Exchange BTC

Try our Bitcoin Cloud Miner and get additional crypto rewards based on your trading volume. It's immediately available upon registration.

Try our Bitcoin Cloud Miner and get additional crypto rewards based on your trading volume. It's immediately available upon registration.
Instrument
Rate
Change (24h)