Bitcoin SV (BSV) price prediction for 2022-2030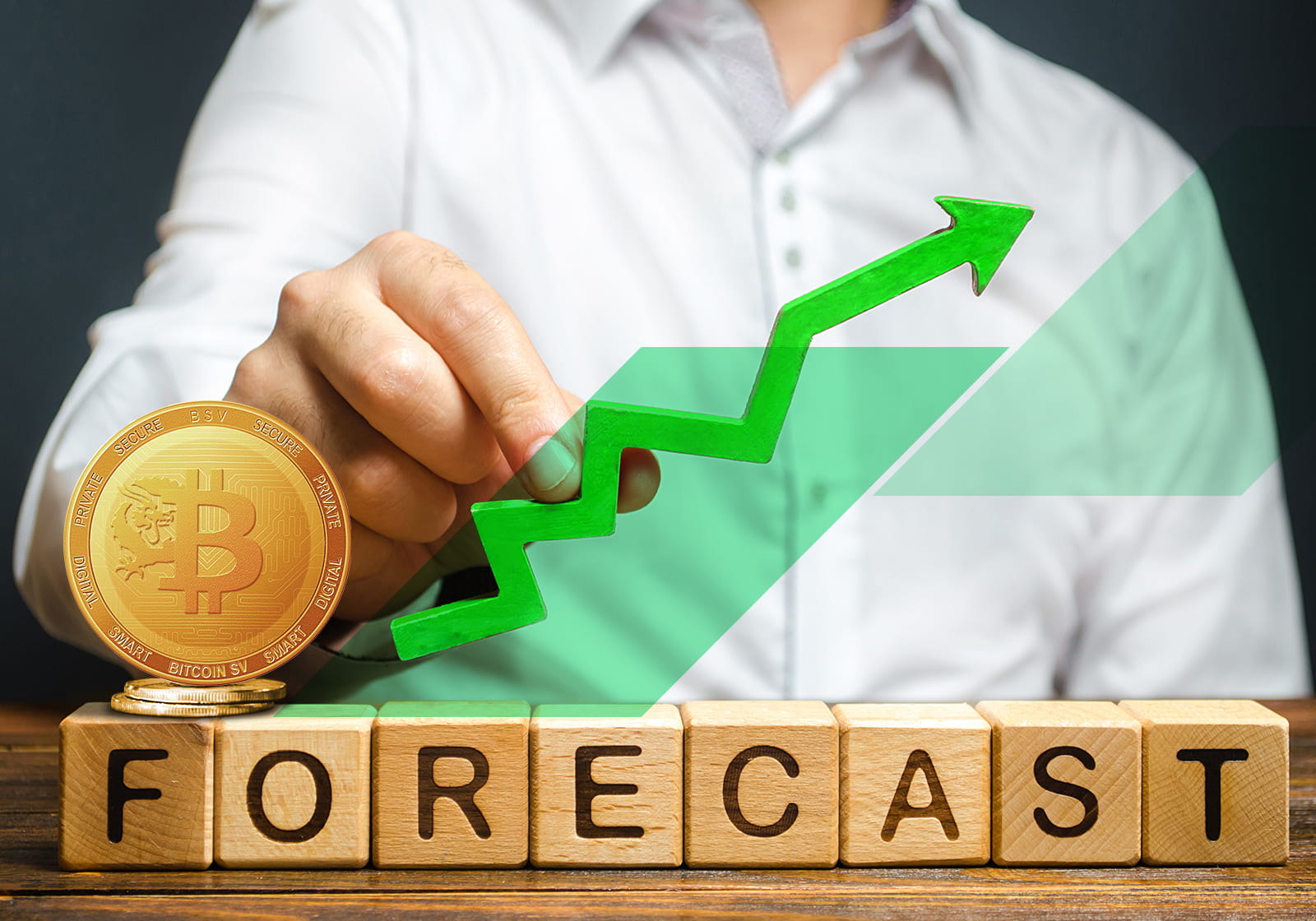 Bitcoin SV (BSV) is a Bitcoin Cash (BCH) hard fork that appeared on 15 November 2018. The developers continue to rely on the idea embodied in Bitcoin Cash (BCH), promising to keep low transaction fees, high security and scalability, as well as benefits for miners and institutional investors.
The coin's main goal is to preserve the essence of the classic Bitcoin as much as possible. So, when thinking about what Bitcoin SV is, it should be emphasised that it's fully geared toward the vision presented by Satoshi Nakamoto (SV stands for "Satoshi's Vision"), the founder of the cryptographic currency, in The Bitcoin White Paper.
In our complete Bitcoin SV price prediction for 2022 and 2030, we gathered all info about the project's fundamentals, historical price analysis, technical analysis and BSV coin price predictions from experts. By the end of this article, we'll have covered everything investors and traders need to know about BSV.
Bitcoin SV's (BSV) origin
The autumn of 2018 was a turning point for Bitcoin Cash's developers. At that time, they were divided into two camps that had completely different goals. A compromise was out of the question, which is why the hard fork came about, and Bitcoin Cash divided into two groups: BCH and BSV, respectively. Feel free to read our article exploring whether Bitcoin Cash is a good investment in 2020
The first group, BCH ABC, was led by Roger Ver. He pursued the goal of qualitatively developing the project, which was of primary importance to him. The development and planned changes concerned dApps (decentralised applications) whose functionality would allow users to avoid using crypto exchange services and to perform all necessary transactions between blockchains.

The second group, Bitcoin SV, was controlled by Craig Wright. The appearance of this hard fork occurred at block number 556,767. The leader of this group is focused on improving network scalability performance, transaction speed and block expansion (up to 128 MB).
As such, Bitcoin SV repeats BCH technology in many ways. The developers stopped at the Proof of Work consensus algorithm and aren't planning to change it yet. On block 557,301, there was a block restructuring, typical for PoW cryptocurrencies.
Bitcoin SV (BSV) Team
According to the Bitcoin SV website, the project team consists of 5 C++ developers (with 95 years of combined experience), quality assurance engineers and nChain project managers.
Daniel Connolly is the lead project developer. He joined the nChain team from the United Nations' corporate systems, where he held leading positions in the IT sphere. Daniel has invested in Bitcoin, Electron Cash and Bitcoin Cash for several years.
Steve Shadders is the company's CTO, and his responsibilities include building the project's vision and communicating with sponsors and partners. Steve has been investing in Bitcoin since 2011 and created one of the first open mining pools.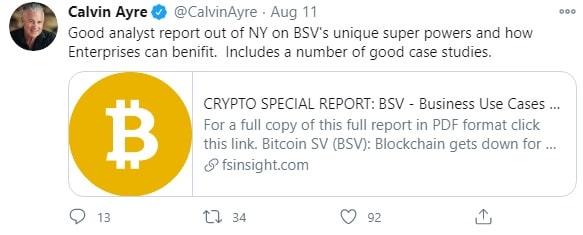 The project's founder, or rather the fork initiator, is Australian entrepreneur Craig Steven Wright. He worked for OzEmail, K-Mart, Mahindra & Mahindra, and the Australian Securities Exchange. Currently, he's the head researcher at nChain and owns the BMG Pool. He has a contentious reputation in the crypto community, proclaiming that he's the creator of Bitcoin, Satoshi Nakamoto.
The project is also supported by billionaire Calvin Ayre who acts as a representative. He provides BSV with computing power from his CoinGeek mining pool.
What is Bitcoin SV (BSV)?
In simple words, Bitcoin SV is an ordinary BCH fork with no innovations, destinations or directions. The primary goal is to preserve the essence of Bitcoin, only to provide the coin's large scale.
The cryptocurrency developers remain committed to the ideas of Bitcoin Cash. Among the top priorities are to maintain low transaction fees, ensure a high level of security, create favourable conditions for miners and investors and scale the project.

The Bitcoin SV project was created by nChain and CoinGeek Mining specialists. Thanks to their fruitful work, the Bitcoin SV code has received an open software licence from the University of Massachusetts (MIT Licence).
How Bitcoin SV works
As we know, Bitcoin SV is a fork of the original Bitcoin, meaning that it has a similar working principle. It includes a blockchain, similar to a register, that includes a sequence of blocks. Each block holds an original record that contains necessary information about the previous block and the key to the next one. The principle for creating the chain is presented as such:
The transactions' execution is reflected in all nodes.
Each node copies the executed transactions to the block.
Each node searches for solutions to the mathematical task of the corresponding block.
If the right solution is found, the block is transferred to all nodes.
The nodes accept a block if all operations in it are valid and not executed.
The nodes accept the block and work on creating a new block on the blockchain begins. The hash of the block accepted earlier is used as the previous one.
Nodes usually accept the longest hash of a chain as correct, so they continue to extend it further. It happens that two nodes transmit different versions of the next block simultaneously. The node that was received first is prioritised, but the second one is saved if it's found to be longer. That means the connection will be broken when the next proof-of-work (PoW) solution is found, and one chain will become longer while the nodes from the previous chain will be moved to the used chain. If you're looking for what the best cryptocurrency to mine in 2022 is, please read our blog.
Bitcoin SV (BSV) versus Bitcoin (BTC)
Researching the difference between the BSV Bitcoin fork and the original system, it's worth noting several key points. For example, the original blockchain was severely hampered by problems related to scalability. The reason for that was the restriction of the block size to 1 MB. When the number of transactions increased, the processing wait time increased. That created a situation in which the block formation speed was several times higher than the production speed. To solve this problem, the Bitcoin Cash fork was created with a larger block size of 8 MB. Over time, it increased to 32 MB.
According to the data presented, the block size in Bitcoin SV has been increased from 128 MB and is planned to be increased to 2 GB. This was followed by the official conclusion of a partnership with the project that focuses on cooperating with the corporate clients of Bitcoin Cash node's (Teranode) software. That was done to provide the system with high bandwidth, i.e., 6.5 million transactions per second, and block maintenance of over 1 TB in size. The planned actions should be implemented in the next few years.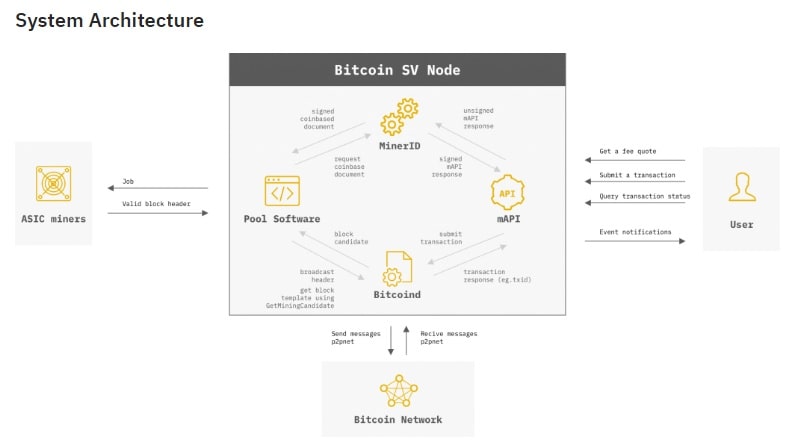 After the test results for Bitcoin SV, the system's ability to work with larger blocks was evident, and its speed reached 1500 TPS. However, there's no regular high load on the network today, which means there's no need for high bandwidth. The highest fixed transaction speed in the network was 3.36 TPS.
Interestingly, increasing the block size may also result in the situation worsening. Negative factors include a slow distribution of blocks through the network, which, in turn, will increase the number of ignored blocks. The innovation will also augment the capacity for processing large blocks, which will promote centralisation and negatively affect scalability.
Bitcoin SV (BSV) is a peer-to-peer e-payment system that provides irreversible transactions between transaction participants. The client programme for this payment system represents its basic component. Programmes simultaneously run on different software, connect and form a peer-to-peer network. Each node of the network is equal and self-sufficient.
Based on information recorded in the Bitcoin SV protocol, the use of Level 2 scaling values (e.g., Plasma) is prohibited. In addition, the scripts OP_INVERT, OP_MUL, OP_LSHIFT and OP_RSHIFT are returned; the limitation of 201 opcodes for a separate script is excluded. In other words, this is where you can observe the return to the original Bitcoin blockchain.
Among the innovations that also deserve focus is double-spend protection, which will be included in the BSV blockchain. Thanks to this feature, users will be able to perform operations in BCH and BSV blockchains while not worrying about the chance of double payment. Once the ecosystem shows its readiness, the changes are implemented.
The transaction execution function without special confirmations will also be implemented in Bitcoin SV. It will allow users to transfer cryptocurrency instantly. Such an improvement is dual in nature because, with its advantages, it makes the system more open and vulnerable to double-spending.
Bitcoin SV (BSV) price analysis
Despite the fact that Bitcoin SV is a fairly young crypto, it has already climbed to among the top cryptocurrencies. BSV is ranked 62nd by market capitalisation at $1,492,328,311. The cost of one BSV token is estimated to be $78.38. Here's an overview of Bitcoin SV:
Bitcoin SV Price Today (28 April 2022)

$78.38

Market Cap

$1,492,328,311

Circulating Supply/Max Supply

19,044,495.39 BSV / 21,000,000 BSV

Daily Trading Volume

$124,638,348

All-Time High

$491.64

(16 Apr 2021)

All-Time Low

$36.87

(23 November 2018)

Official Website
Bitcoin SV (BSV) price history
Let's analyse BSV's price history to make an accurate price prediction. Throughout its history, Bitcoin SV has remained in the top 15 coins by market capitalisation. Even though the coin is a fork of Bitcoin and managed to take a substantial capitalisation from the market, its maximum value reached $491, while Bitcoin is currently setting new all-time highs above $65,000. Taking into account that BSV is a newer cryptocurrency, it's highly likely that it aims to grow further.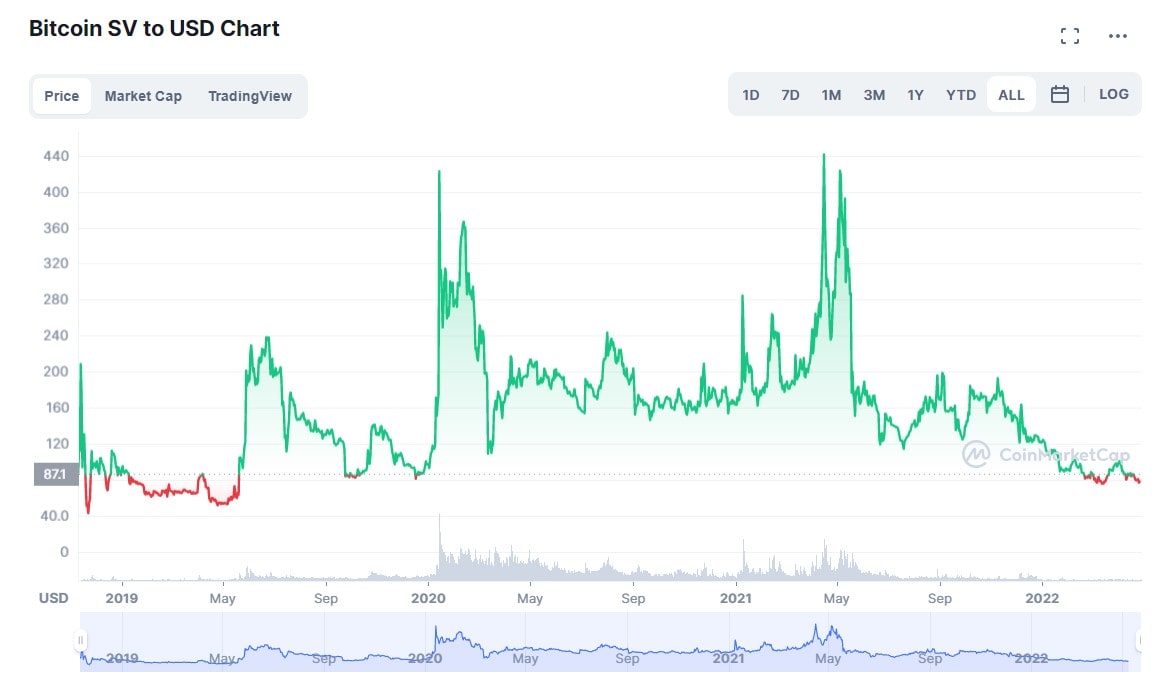 Bitcoin SV offers wild price swings and volatility, ideal conditions for professional traders. When BSV was listed on 15 November 2018, its price was $200. Even though Bitcoin SV attracted the attention of the cryptocurrency industry and investors, the price plunged to $36.87 on 23 November. A newly formed low attracted buyers' interest, and the price rebounded and raised to $123 on 26 November. A pullback to $66 on 18 December followed that. The asset rose to $133 three days later. After it hit resistance, BSV's price declined, closing the year out at $90. Today, BSV has come a long way and is now regarded as a top cryptocurrency with a price of $78.38 as of 28 April 2022.
Bitcoin SV (BSV) price prediction 2019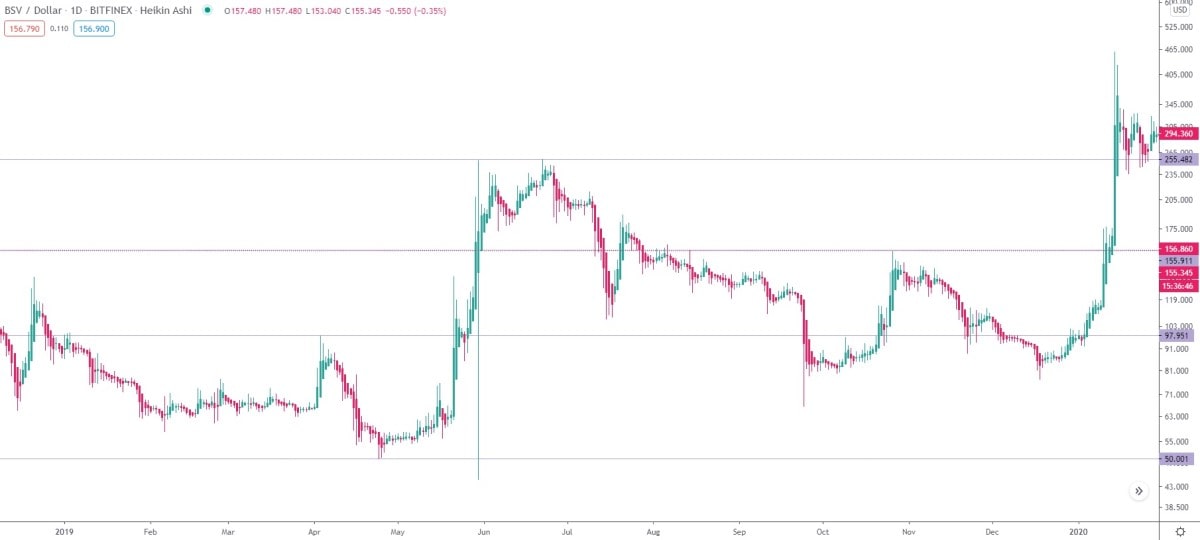 In Q1 2019, Bitcoin SV dropped down to the support level of $60 and consolidated in the $60-$75 range until April. After breaking through the resistance level at $75 on 3 April, the price quickly went to $99 a day later. The breakout turned out to be short-lived, and sellers pushed the price down to $50 on 25 April. Buyers managed to protect the $50 support level and reversed the trend to the upside, taking BSV's price to $255 on 22 June. However, buyers failed to push the price above resistance at $255. Instead, it slid downward.
BSV's price slowly declined, falling to $80 on 6 October. A rebound from its support level took Bitcoin SV to $155 by late October. Selling pressure resumed, and the asset retested its $80 support on 18 December. BSV closed the year by consolidating in the $90-$100 range.
Bitcoin SV (BSV) price prediction 2020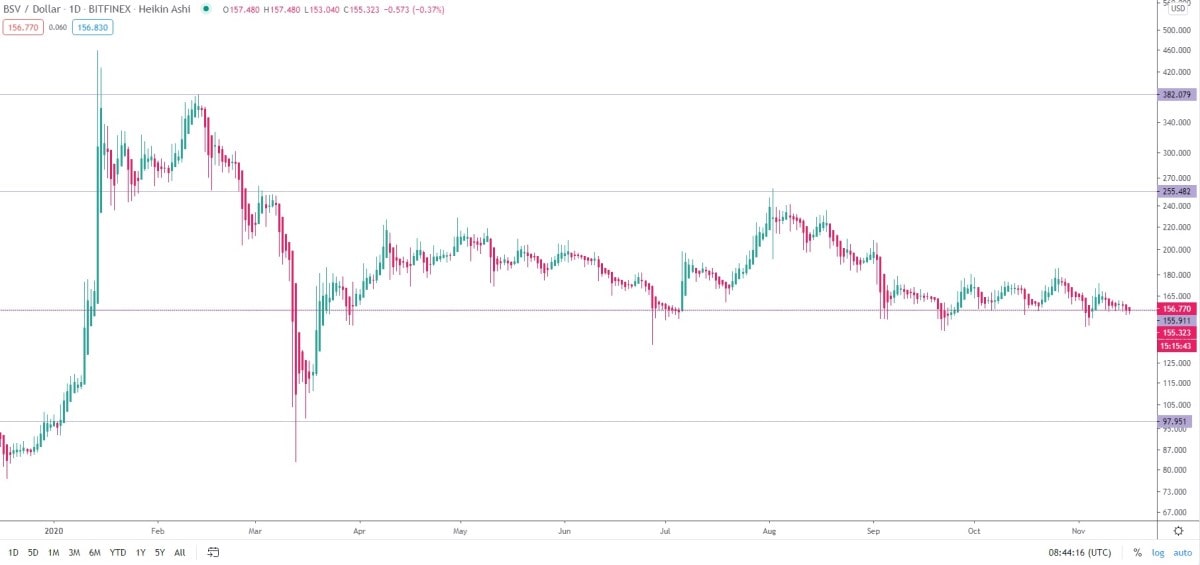 Bitcoin SV performed great in Q1 2020. On 4 January, the asset surpassed resistance at $100 and surged to $441 on 14 January, a 400% price increase in just ten days. Rumours that Craig Wright got secret keys to Satoshi Nakamoto's wallet fuelled that growth. However, Wright later announced that he didn't have the keys, and everyone had misunderstood him. On 15 February, the cryptocurrency market plunged on Bitcoin's coattails. BSV followed suit. On 13 March, Bitcoin SV bottomed out at $80 but rebounded to $225 on 9 April. That was followed by a pullback to $155 on 5 July. The asset made another attempt to break through $255 on 2 August but failed. Bitcoin SV dropped to its $155 support level.
Bitcoin SV (BSV) price prediction 2021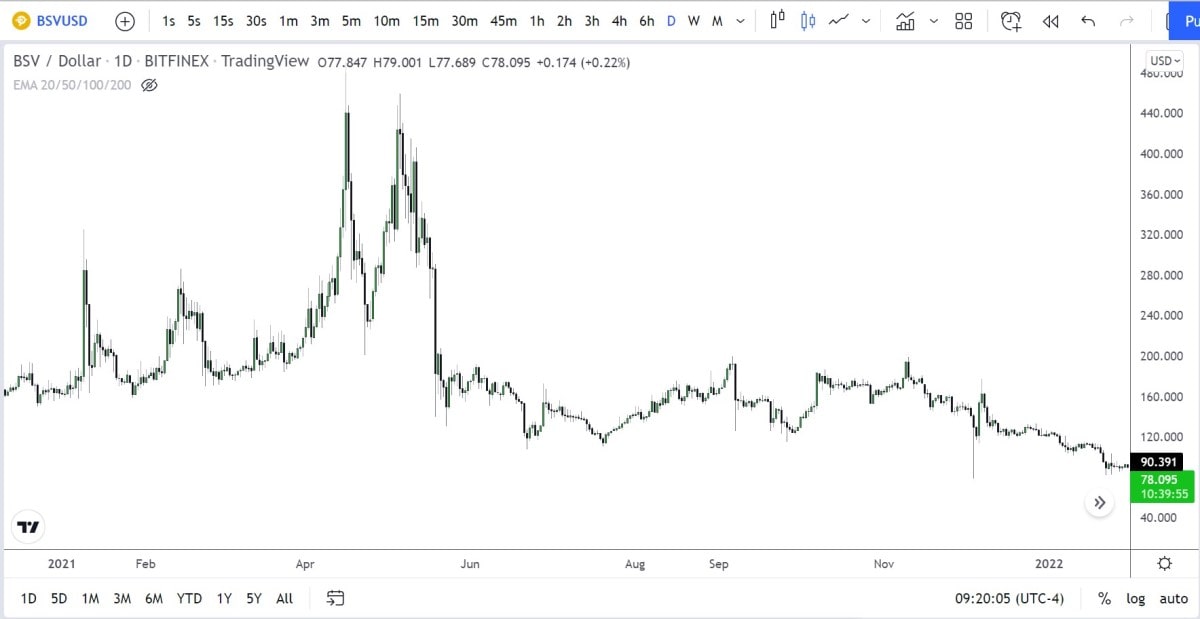 BSV had a great start to 2021, and its momentum was helped by the positive sentiment and interest that gripped the market that year.
In the first two quarters of 2021, BSV grew by more than 200% to set a new all-time high at $491.64 in April but fell sharply by about 60% before recovering immediately to claim almost 130% growth in barely two weeks. That was the end of the bull run, and BSV's price fell and closed the year around $121.10.
Bitcoin SV (BSV) technical analysis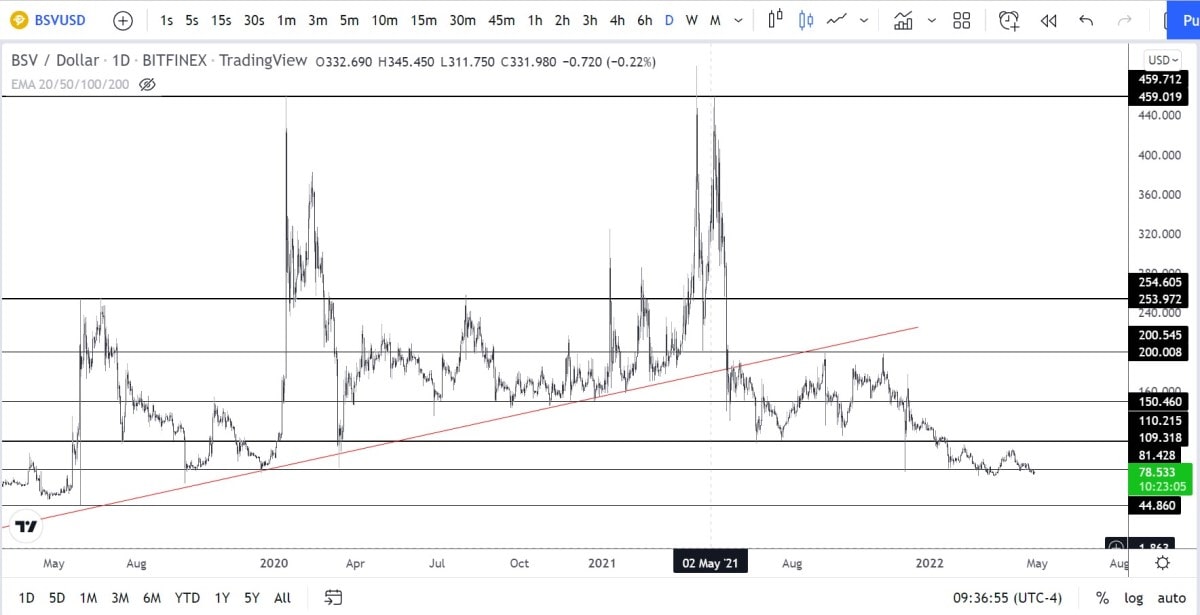 BSV is historically known for its 'choppy' price action; the market barely trends in between ranges. Some have viewed this as poor conditions for price analysis, while others believe it's relatively easier to predict.
Since reaching a high at $491, BSV's price has traded over 80% lower, finding support at around $109. The bulls tried to rally the price back to premium levels, but the immediate resistance at $200 was enough to thwart the attempt and push the price even lower to regions below $80. With the continued bearish pressure, BSV may be heading to its lowest price since December 2020 at $44.86.
Bitcoin SV (BSV) price prediction for 2022, 2023, 2025 and 2030
Every cryptocurrency price prediction should be treated with caution, and the same applies to BSV's price prediction. Investing in Bitcoin SV and any other crypto based on price predictions alone could be risky. However, we reviewed the most credible Bitcoin SV price predictions from experts to see what they say.
TradingBeasts Bitcoin SV (BSV) price prediction for 2022, 2023, 2025 and 2030
Per TradingBeasts' Bitcoin SV price prediction, BSV's price may fall in the coming years. They predict that its price could fall to $54.82 by December 2022. TradingBeasts predict that BSV's price in 2023 will trade in the range of $52.48-$98.78, showing a poor estimate for its return on investment. For 2024, things are not so gloomy, but BSV is still expected to trade within the range of $69-$130.
WalletInvestor Bitcoin SV (BSV) price prediction for 2022, 2023, 2025 and 2030
WalletInvestor also predicts a bearish decade ahead for Bitcoin SV. Much like TradingBeasts, WalletInvestor's price prediction suggests a small decrease of 90.43% within one year. This already shows that BSV isn't the best investment option for 2023. They've even gone as far as to predict a possible crash for this Bitcoin fork. Not that it will happen with any real certainty. As long as there is continued support, things probably won't get that bleak. But the mere suggestion may be a warning sign for investors.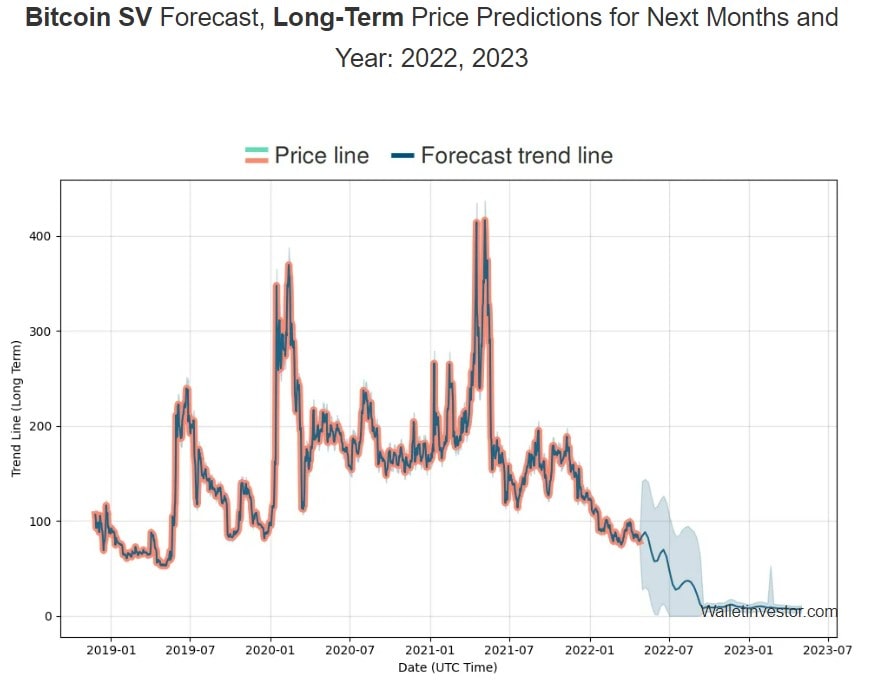 CoinSwitch Bitcoin SV (BSV) price prediction for 2022, 2023, 2025 and 2030
The CoinSwitch news website concurs with the previous experts that Bitcoin SV may not see any real rise in the coming years. They are a bit bullish for BSV in the later years. Although their Bitcoin SV price prediction that it will reach $500 in 2020 didn't materialise, they believe that BSV will rise to $600 by 2023 and will keep rising to $750 by 2025.
Bitcoin SV (BSV) overall value predictions in the future
BSV's project managers have chosen the hard way, aiming for a fight against Bitcoin. There's no doubt that Wright and his friends have great ideas on how to improve the blockchain. Take, for example, the fact that BSV's block bandwidth is higher than that of Bitcoin's. However, it is unlikely that Bitcoin SV will surpass the 'digital gold'. At present, the project's main task is mass acceptance of cryptocurrencies in general, which means that these ideas and principles are accessible to ordinary people.
Will Bitcoin SV (BSV) go up?
Despite the centralisation of mining, scandals surrounding the project and high competition, the prospects for currency growth should not be ignored. The project's success depends on the efforts and developments of project managers as well as general market sentiment.
Bitcoin SV's (BSV) price prediction today
Craig Wright and nChain promote Bitcoin SV as a possible replacement for Bitcoin. It's important to remember that the same thing was once said about Bitcoin Cash. However, to date, Bitcoin Cash has been unable to replace Bitcoin. This is due to the fact that Bitcoin is supported by more than ten years of history of social evidence and development. Therefore, investors should be careful when investing in BSV if they are expecting prices like Bitcoin's.
Tags
Exchange BTC

Try our Bitcoin Cloud Miner and get additional crypto rewards based on your trading volume. It's immediately available upon registration.

Try our Bitcoin Cloud Miner and get additional crypto rewards based on your trading volume. It's immediately available upon registration.
Instrument
Rate
Change (24h)