Is Bitcoin Cash (BCH) a good investment in 2020?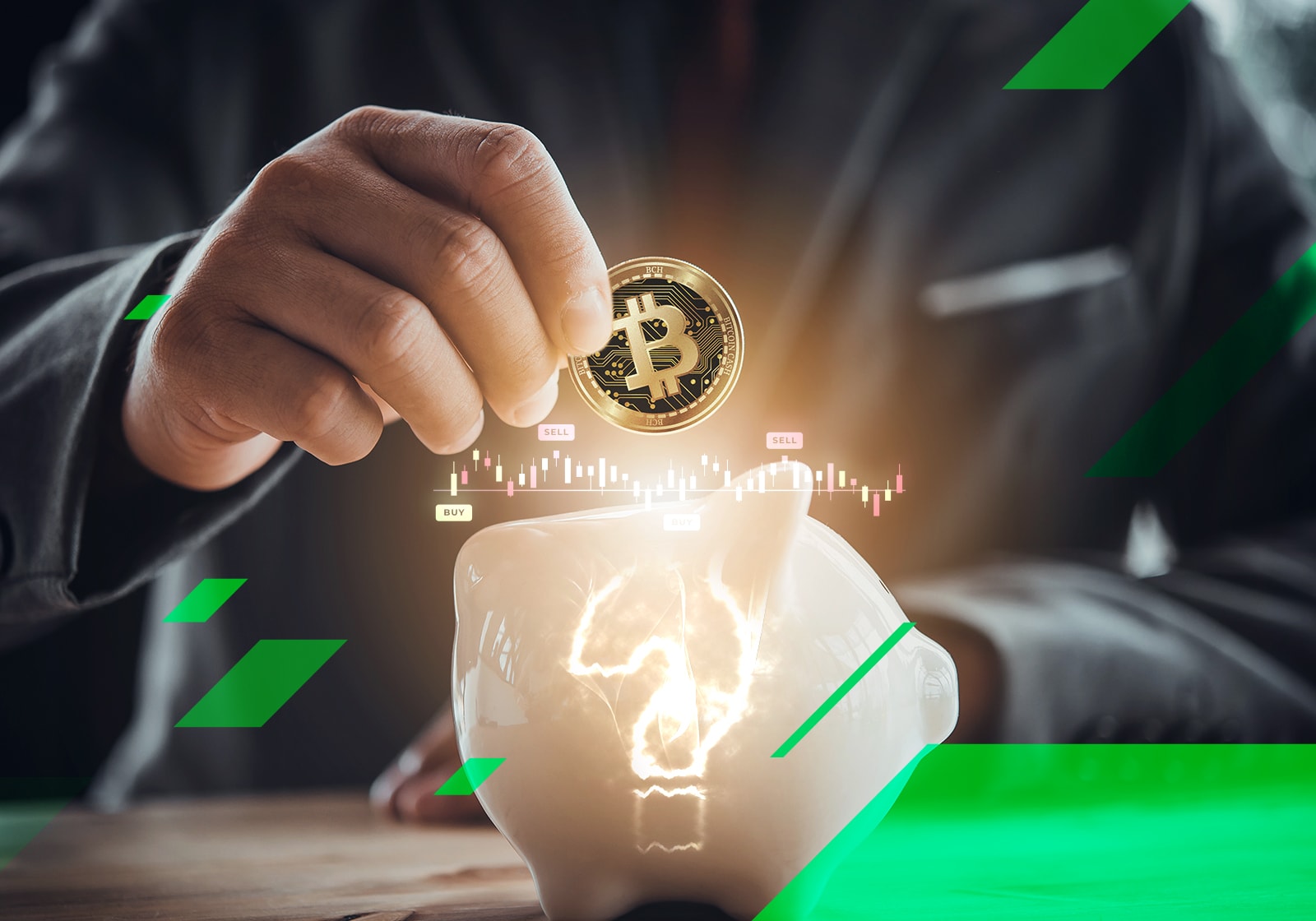 Perhaps no cryptocurrency has caused more controversy with its creation in the crypto community than Bitcoin Cash. In less than a day after its appearance, BCH's market cap exceeded $7 billion, making it the third-largest cryptocurrency in the world by market cap. Some enthusiasts even insisted it would eventually replace Bitcoin. If you're interested in that coin, then you're probably wondering how to invest in Bitcoin Cash, is it wise to invest in Bitcoin Cash, and "should I invest in Bitcoin or Bitcoin Cash?" Well, you've come to the right place!
What is Bitcoin Cash (BCH)?
Bitcoin Cash is a fork of Bitcoin that has become an established and competitive cryptocurrency. It currently ranks fifth among cryptocurrencies by market cap. The main reason for its appearance was the scaling problem Bitcoin faced as a result of its increased popularity.
The fact is that the block size in the Bitcoin blockchain is limited to 1 MB. When there were not too many transactions, this limitation almost didn't affect anything. However, in 2017, the number of transactions became too high. As a result, their speed dropped, and transaction fees increased. Different approaches to solving this problem caused developers to split into two camps. As a result, on 1 August 2017, the Bitcoin network underwent a hard fork, after which Bitcoin Cash appeared. Bitcoin Cash's block size was 8 MB and further increased to 32 MB in May 2018, which significantly increased the number of transactions available per second.
Bitcoin Cash is like a new version of Microsoft Word, which generates documents that can no longer be opened via the older versions.- Zheping Huang, a blockchain journalist.
| | |
| --- | --- |
| Name | Bitcoin Cash |
| Ticker | BCH |
| Price (as of 4/08/2020) | $297.25 |
| Market cap (as of 4/08/2020) | $5,493,239,265 |
| Circulating supply (as of 4/08/2020) | 18,480,269 BCH |
| Max supply | 21,000,000 BCH |
| Consensus algorithm | Proof of Work |
| Hashing algorithm | SHA-256 |
| Website | https://www.bitcoincash.org |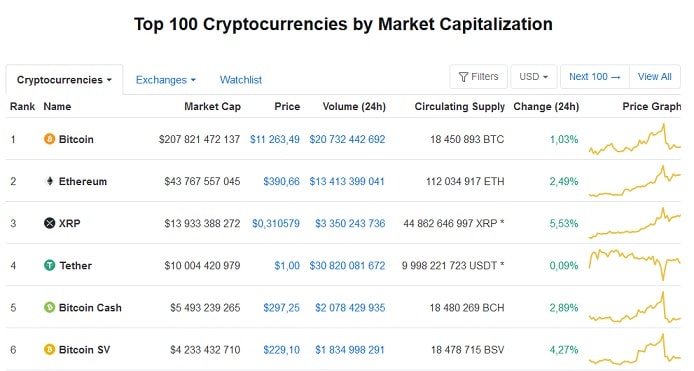 Is Bitcoin Cash worth investing in?
First thing's first: can you invest in Bitcoin Cash? Of course! Should you invest in Bitcoin Cash? Well, that's a more complicated question. Let's try to answer it.
It's impossible to give an accurate guidance on Bitcoin Cash because there are too many unpredictable factors involved. Despite its numerous critics, Bitcoin Cash is growing, and its developers have quite ambitious plans. Currently, it's the most popular and widely adopted of all Bitcoin forks. So, if you believe in the future of cryptocurrencies, investing in Bitcoin Cash might be worth it.
Bitcoin Cash investing
Before you start investing in any asset, including cryptocurrencies, you should decide on an investment strategy. There are many different strategies for investing in cryptocurrencies. Your specific choice depends on many factors, including the market situation and personal preferences. However, most of them involve the creation of a portfolio, a significant part of which is Bitcoin and Ethereum. On top of that, strategies are divided into two types:
Short-term trading. This means buying and selling cryptocurrencies in short timeframes. Doing so has a higher potential profit but requires a more significant time commitment and good trading skills to achieve profit.
Long-term investment. This means buying and holding cryptocurrencies over long periods of time. This method is generally less profitable than the previous one but requires less time and skill.
Is BCH a safe investment?
Put simply, no highly profitable investment is completely safe, and cryptocurrencies are by no means an exception to this rule. Nevertheless, there are three things that directly affect the longevity of any cryptocurrency and, as a result, the safety of investing in it.
A development team actively working on the project.
A large community of supporters and enthusiasts.
Wide adoption, i.e., the ability to use this cryptocurrency to pay for various goods and services as well as the ease of buying and selling it.
All three of these indicators for Bitcoin Cash are at a good level. As such, it can be assumed that investing in Bitcoin Cash is safer than investing in most other cryptocurrencies.
Bitcoin Cash investment trusts
For investors who want to invest in Bitcoin Cash but don't have either the time or desire to deal with purchasing and storing it, there are Bitcoin Cash investment trusts. They work like a regular trust with the only difference being that they hold Bitcoin Cash as their only asset.
While these might be a viable solution for some investors, we wouldn't generally recommend it. Their services are not free, which decreases your potential profit. In addition, you won't own any actual Bitcoin Cash, just a share in the trust.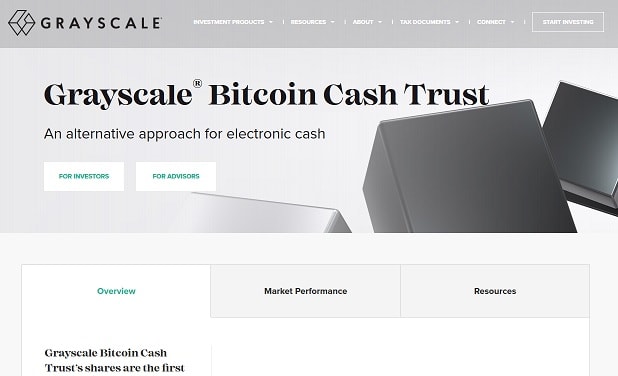 Bitcoin vs Bitcoin Cash investment opportunities and differences
Bitcoin Cash was created as a competitor to Bitcoin from the start. As a Bitcoin fork, it has a faster transaction speed and lower fees. Nevertheless, after three years of existence, it hasn't been able to replace Bitcoin or at least compete with it in terms of popularity. But although Bitcoin and Bitcoin Cash are natural competitors, they may still be able to coexist.
As we mentioned earlier, most cryptocurrency investment strategies suggest holding Bitcoin as a significant part of your portfolio. So, if you believe in the prospects of Bitcoin Cash, you'll probably want to invest in both.
Should I invest in Bitcoin Cash or Ethereum?
A table below summarises some of the important differences between Bitcoin Cash and Ethereum.
| | | |
| --- | --- | --- |
|   | Bitcoin Cash | Ethereum |
| Purpose | Cryptocurrency | Platform for developing decentralised applications / Cryptocurrency |
| Launch Date | 1 August 2017 | July 2015 |
| Total Supply | 21 million | Unlimited |
| Hashing Algorithm | SHA-256 | Ethash |
| Block Size Limit | 32 MB | 1 MB |
| Block Confirmation Time | 10 min | about 15 sec |
| Average transaction fee | $0.0078 | $1.725 |
| Market Cap | $5,493,239,265 | $43,767,557,045 |
As you can see, Bitcoin Cash and Ethereum are very different assets, each with its own advantages. Bitcoin Cash has cheaper transactions, and its supply is limited. Ethereum, on the other hand, is more than just a cryptocurrency. Its adoption is more widespread, and it's been around for longer. Ultimately, it's up to you to decide which to invest in, but you can always invest in both to diversify your portfolio.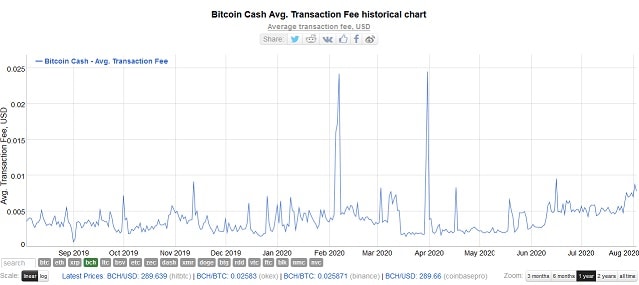 How do I invest in Bitcoin Cash?
Investing in Bitcoin Cash is a pretty simple task. You just need to purchase it and then store it in a digital wallet until you decide it's time to sell it.
Where can I invest in Bitcoin Cash?
Since Bitcoin Cash is quite a popular cryptocurrency, it's not difficult to find a place where you can buy it. As with many other cryptocurrencies, there are three main ways of purchasing it.
Cryptocurrency exchange platforms. These are one of the easiest and safest ways to invest in the cryptocurrency of your choice, including Bitcoin Cash. There are many such platforms, like Binance, Coinbase and StormGain, to name a few. After choosing one, create an account, make a deposit and purchase your preferred cryptocurrency. After that, you can either withdraw your cryptocurrency to your digital wallet or leave it on the platform. The latter option allows you to use your cryptocurrency for trading, thus increasing your profit.

Online exchange services. These are another popular way to purchase Bitcoin Cash. These are generally simpler than the previous method. However, on the downside, the exchange rate tends to be less advantageous than the market rate. If you prefer this method, you can choose an exchange service by using a specialised monitoring platform like www.bestchange.com.

Of course, if you know someone who wants to sell Bitcoin Cash, you can buy it directly from that person, thus avoiding any intermediary fees. But this is the least secure way to purchase cryptocurrency. You should only consider it if you're sure you can trust that seller.
How much should I invest in BCH?
The general rule of investing in cryptocurrencies is never to invest more than you can afford to lose.
That aside, you need to keep in mind that different platforms may have various loyalty programmes depending on the amount you deposit. StormGain's loyalty programme, for example, offers bonuses and interest on your deposits if it exceeds 499 USDT.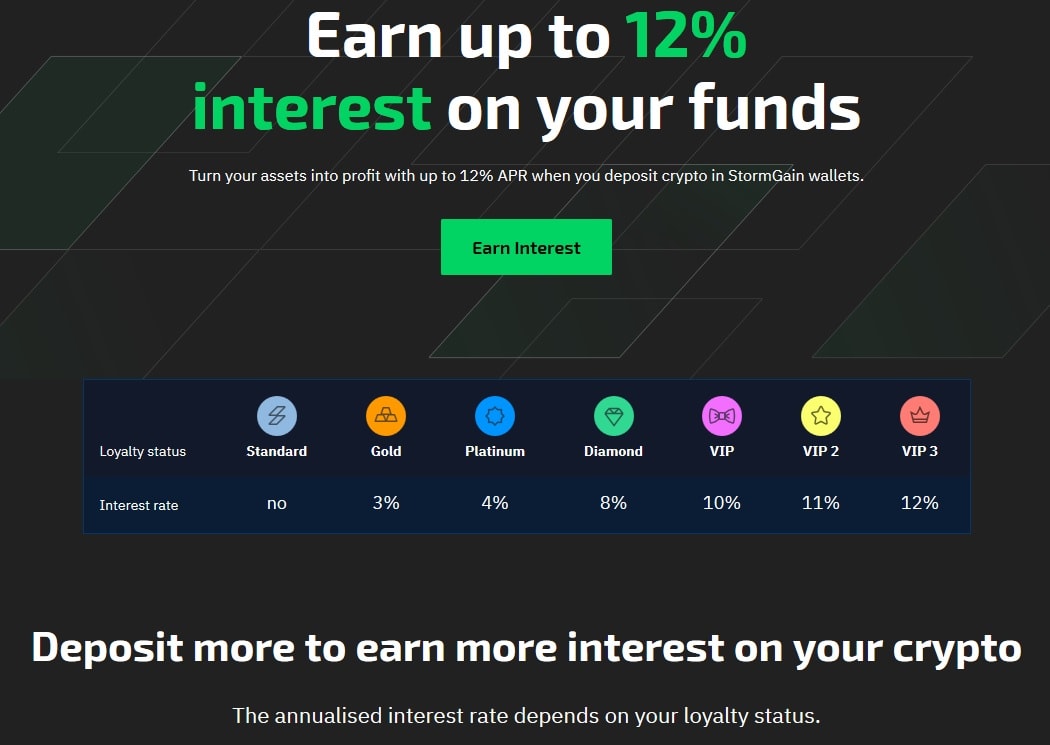 How to invest in Bitcoin Cash in the UK
Some countries, the UK included, have an additional option to choose from when deciding how to invest in Bitcoin Cash. That option is Bitcoin Cash cash machines. You can try to find the one closest to you at coinatmradar.com. Unfortunately, there are still only a few of them.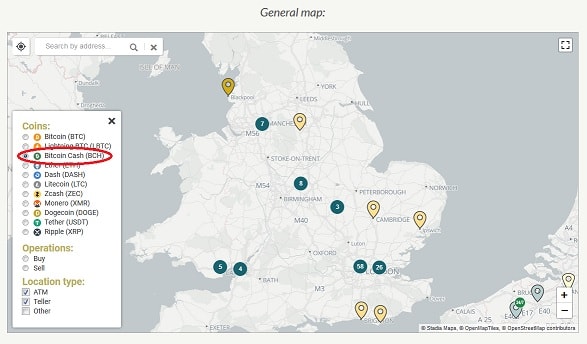 Cryptocurrency exchanges serving the UK where you can purchase Bitcoin Cash include StormGain, Kraken, Bitstamp and Coinbase.
Who has invested in Bitcoin Cash?
Bitcoin Cash has quite a few supporters who have invested in it, including such well-known people in the crypto community as crypto evangelist Roger Ver and Jihan Wu, CEO of Bitmain.
Is BCH a good investment?
Despite its advantages, Bitcoin Cash failed its ultimate mission of replacing Bitcoin. Nevertheless, it's still the most successful fork of the original Bitcoin, with many supporters and wide adoption. This suggests that Bitcoin Cash has a good chance of staying in the crypto world as an alternative to Bitcoin.
Was Bitcoin Cash a good investment in 2019?
The first half of the year was good for Bitcoin Cash investors. BCH price started 2019 at $164.85. After decreasing slowly during January and February, the price skyrocketed in March and reached its local max of $319.60 on 8 April. This was followed by a brief consolidation before the rally continued to its peak of $485.57 on 27 June.
After that, the price declined until the end of the year. On 1 January 2020, the price was $204.62, which was 24.12% higher than the start of 2019.
Is Bitcoin Cash a good investment in 2020?
The beginning of this year set up a new rally on crypto markets. On 15 February, Bitcoin Cash reached its local max of $491.16. However, the crush of financial markets due to the coronavirus pandemic also affected the crypto market.
Right now, after four months of stagnant prices, we are beginning to see what looks like the start of a new bullish trend. This could be a good opportunity for traders and investors alike. Be sure to remember risk management as you take advantage of this opportunity.
Ultimately, the fate of any cryptocurrency investment depends on one critical factor: its adoption. Bitcoin Cash's future also depends on how successfully it can withstand competition. Right now, it looks like it can succeed.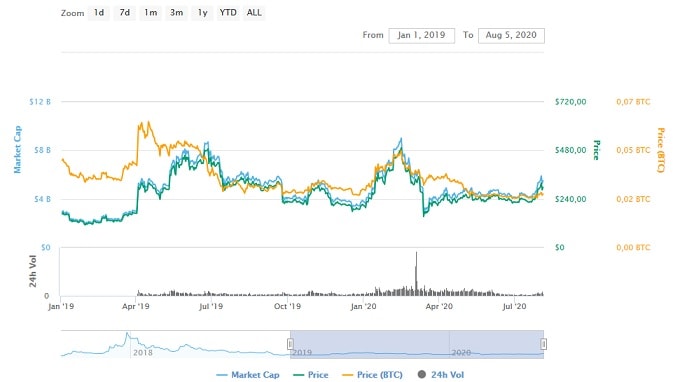 The benefits of investing with StormGain
StormGain is an advanced and secure platform for crypto traders and investors. It has many benefits, including:
Quick and easy registration
A loyalty programme allowing you to earn up to 12% interest on your funds
A free and secure built-in digital wallet that supports 6 of the most popular cryptocurrencies
A user-friendly mobile app. Investing in Bitcoin Cash with this app couldn't be easier!
The ability to trade with up to 200x leverage, which is higher than any competitor can offer
Low trading fees
Built-in trading signals
A variety of payment methods
And much more...
With all its features, StormGain offers an all-in-one solution for lucrative crypto trading and investments.
Tags
Exchange BTC

Try our Bitcoin Cloud Miner and get additional crypto rewards based on your trading volume. It's immediately available upon registration.

Try our Bitcoin Cloud Miner and get additional crypto rewards based on your trading volume. It's immediately available upon registration.