Electroneum (ETN) price prediction for 2022-2030

Electroneum is a leading mobile cryptocurrency with anonymous transactions and its own blockchain. It was built for the specific purpose of creating an easy-to-use payment system for developing countries and capturing the market of mobile games and online gambling. It's designed with convenience for mobile devices, fast transactions, and smart micropayments. For a deeper dive into what Electroneum is and how it works, we'll review the project's fundamentals and analysis, along with Electroneum price predictions from experts.
Electroneum's origin
The leader of the Electroneum's team is Richard Ellis, a veteran in the field of mass Internet-related products and smartphones. In 2013, Ellis became CEO of Retortal, a social media marketing company with respectable customers and a budget of tens of millions of dollars.
In 2015, Ellis and his partners began developing a new cryptocurrency and blockchain. In July 2017, Electroneum Ltd was registered, with its headquarters in the UK. In September-October 2017, Electroneum held an ICO, attracting about $40 million. It was a very successful campaign, especially compared to many other ICOs.
The number of participants holds an industry record, with over 115,000 investors buying coins. Soon, Electroneum tokens became available on big cryptocurrency exchanges, including Huobi, KuCoin, and others. At the time of writing, it was reported that more than 2.7 million people had downloaded the Electroneum app.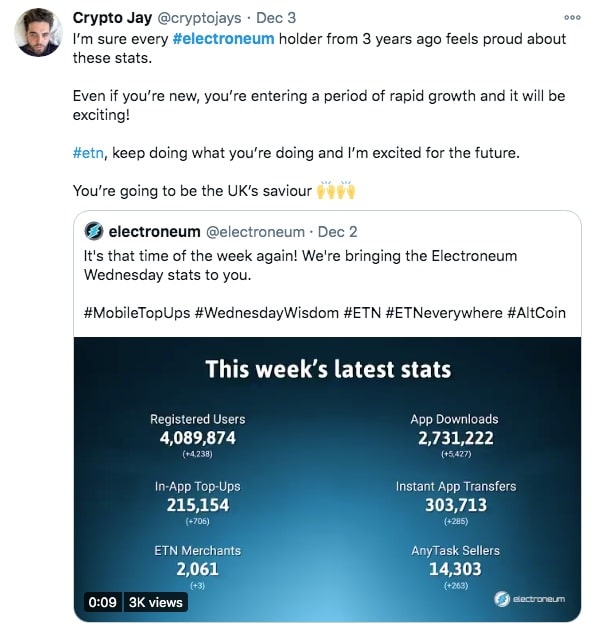 What is Electroneum (ETN)?
Electroneum (ETN) is an anonymous mobile-friendly cryptocurrency that runs on its own blockchain. Electroneum crypto differs significantly from other cryptocurrencies, focusing on mobile devices and fast micropayments. Electroneum was designed as light as possible to make it easier to mine this crypto coin with smartphones. After mining, the coin can be easily sent to another ETN wallet owner or an app or game.
The developers' goal was to create a cryptocurrency that is easy to mine, send and store and to make ETN widely used for daily shopping around the world, especially in developing countries. The idea is to provide a smartphone-based pocket crypto bank to communities that do not have access to traditional financial instruments such as PayPal and credit/debit cards. Electroneum's ecosystem and the ability to mine new coins with a smartphone should give these people more financial freedom and opportunities.

Another way that Electroneum benefits communities in the developing world is through its relationship with non-governmental organisations (NGOs). They manage the Electroneum network and receive ETN tokens as a block reward. Later on, this money can be used to help communities in different ways, depending on the NGO's mission. Moreover, Electroneum is proud to say that its network is one of the most environmentally friendly in the industry, even while mining new tokens. The company's website states that the entire ETN network consumes the equivalent of several light bulbs of energy. Of course, this is much better than the pollution caused by Bitcoin mining, which has been widely discussed for a long time.
Another important detail regarding Electroneum is that the developers created their own blockchain. This blockchain is created using Bitcoin and CryptoNote's source codes. To learn more about the CryptoNote protocol's origin, please read our Monero price prediction.
The blockchain is moderated to prevent any possibility of a 51% attack. The maximum number of Electroneum tokens is 21 billion ETN. Unlike BTC, the Electroneum token can only be used only as a full unit, while Bitcoin can be divided. ETN is designed to make exchanging coins more convenient without having to deal with fractions.

To ensure reliability, Electroneum partners with mobile operators. This is quite a new phenomenon; never before has a cryptocurrency company cooperated with mobile operators. In addition, the platform complies with AML rules and cryptocurrency-related regulations, which is relevant to the UK.
All these features and the concept underlying the project show that Electroneum is an ambitious project with a mission and a real vision for how to achieve its goals. This is probably why Electroneum has a very loyal and active community.
How does the Electroneum (ETN) work?
Based on Bitcoin's code, as well as the Bytecoin and Monero cryptocurrencies, Electroneum works with the CryptoNote algorithm, the key feature of which is that it ensures absolute anonymity of transactions. To receive a money transfer, the network creates a one-time address that allows the user to hide the real address of their wallet and prevents the recipient from being identified. Ring signature technology is used to protect the money sender's personal data. In addition to the real sender, the system adds a few random users, which makes it impossible to determine who sent the money. Furthermore, the details of the financial transaction are not available to third parties.
The ETN network has high bandwidth that allows a new crypto block to be created in about 60 seconds. The commission amount depends on the traffic level, but the average fee doesn't exceed 0.2 ETN. The sender can increase the transaction's anonymity level by adding more random users. However, the more potential senders are added to a transaction, the higher the commission for the transaction is.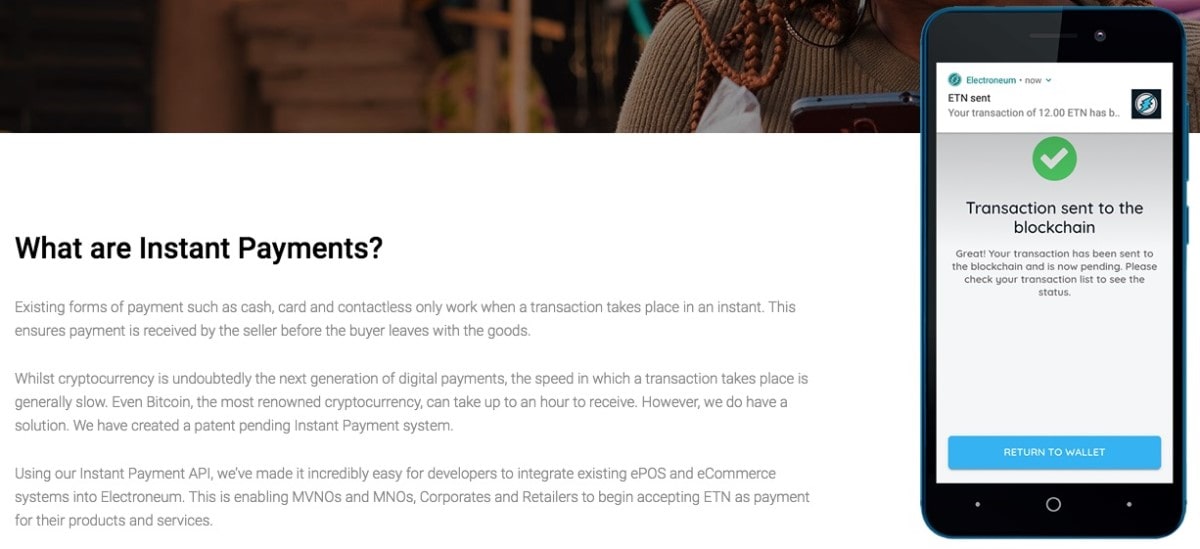 Therefore, the sender always decides for themselves whether to pay a higher commission to ensure a high level of anonymity for the transfer or to save on commission but accept a lower level of anonymity. The maximum commissions in the system are very low (just a few cents), and the security level is very high, even with the minimum number of potential senders involved. That makes Electroneum's level of personal data protection much higher than on the Bitcoin blockchain, where it's enough to know a user's wallet number to see what transactions they made and how much money they have on their balance.
Compared to Bitcoin, Electroneum has one more advantage of displaying prices in the system with two decimal places, which is very convenient. Because Bitcoin has a maximum possible issue of 21 million coins and is extremely popular, coins are broken down into Satoshi, which has eight decimal places. There needs to be enough Bitcoin to cover everybody's needs.
How to get Electroneum (ETN)
Basically, there are two ways to get Electroneum. The easiest way to get ETN is to buy the tokens on a cryptocurrency exchange for fiat money or other cryptocurrencies. The second way to get coins is through mining. If you're new to mining, please read our tutorial on cryptocurrency mining for beginners.
A distinctive feature of Electroneum mining is the ability to get crypto by using your smartphone's computing power. All you need to do is to download the dedicated app from Electroneum's official website, register your digital wallet and run the mining programme in the background. After that, your smartphone will start to process transactions and create new coins.
If you want, you can also mine Electroneum cryptocurrency from a personal computer. But you can't use ASIC (application-specific integrated circuit) devices for mining. The developers are doing their best to prevent the appearance of such devices in the network. The introduction of ASIC devices into the Electroneum network would significantly complicate ETN crypto mining and would make it impossible to mine the cryptocurrency at home.
Electroneum (ETN) price analysis
Electroneum (ETN) is ranked 242nd among cryptocurrencies by market capitalisation at $348,185,046. The current supply is 17.90B ETN of 21,000,000,000 ETN, which means that almost half of the maximum number of coins has already been mined. The cost of one ETN token equals $0.01942/0.0000002994BTC. Here's an overview of Electroneum (ETN):
Electroneum (ETN) Price Today

$0.004973

Market Cap

$89,105,133

Circulating Supply

17.92B ETN

Daily Trading Volume

$145,073

All-Time High

$0.236234 

(2 November 2017)

All-Time Low

$0.001428

(13 March 2020)

Official Website
Electroneum (ETN) price history
Electroneum Coin entered the market during the strong growth of Bitcoin and the popularity of cryptocurrencies around the globe. In its first month, it traded below $0.10, sometimes around $0.04, but in early December, the situation began to change. The price rise coincided with its listing on HitBTC. In December and January, the price held above $0.10.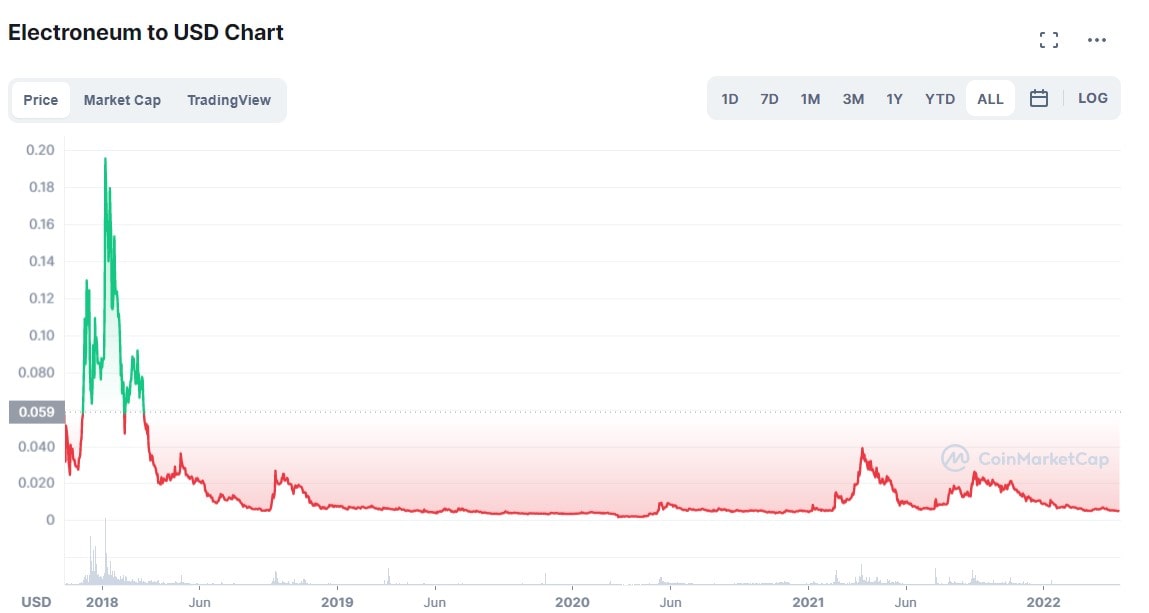 By the end of January 2018, the price had fallen. In March 2018, several exchanges listed Electroneum. However, this did not affect the asset's price. The price kept dropping through spring and June. There was a short spike in July, when the price rose above $0.010 per coin for several days, only to fall again. On 5 August, the coin began to lose value quickly.
By mid-September 2018, the ETN coin traded for about $0.005. Together with Bitcoin, the price of Electroneum rose on 22 September, reaching $0.02 in October 2020. In November of the same year, the BTC market began to decline sharply, a trend that affected the entire cryptocurrency industry. Unfortunately, for most altcoins, prices depend largely on Bitcoin's price fluctuations, and ETN is no exception. Not surprisingly, Electroneum's price fell to $0.005 by 17 January 2019.
Electroneum (ETN) price prediction 2019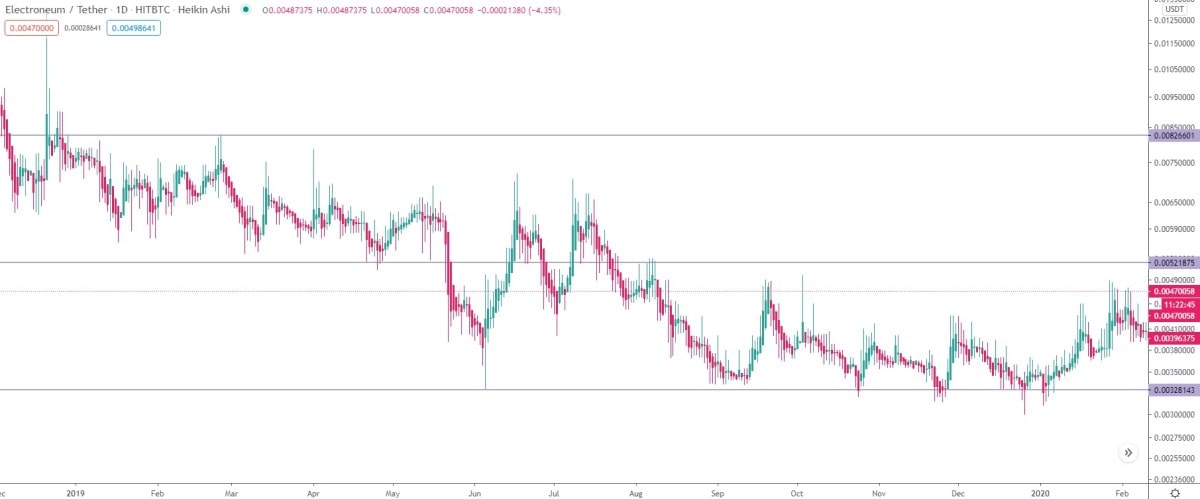 From there, the coin grew to $0.0075 by 23 February. The coin failed to consolidate at this price, dropping back to $0.005 on 11 March. The positive news about Electroneum's listing on Huobi Global led to a price increase from $0.005 per coin to $0.006 for some time. Right after that, ETN dropped to $0.004 on 4 June. A rise to $0.0063 followed that in July.
In August, the price fell even harder, breaking the $0.004 support level, but that wasn't its bottom. In September, the price dropped to $0.0034 per 1 ETN. A quick rebound to $0.0047 followed that on 17 September. One way or another, Electroneum's price failed to recover fully, and the asset closed the year at $0.0034 per ETN coin.
Electroneum (ETN) price prediction 2020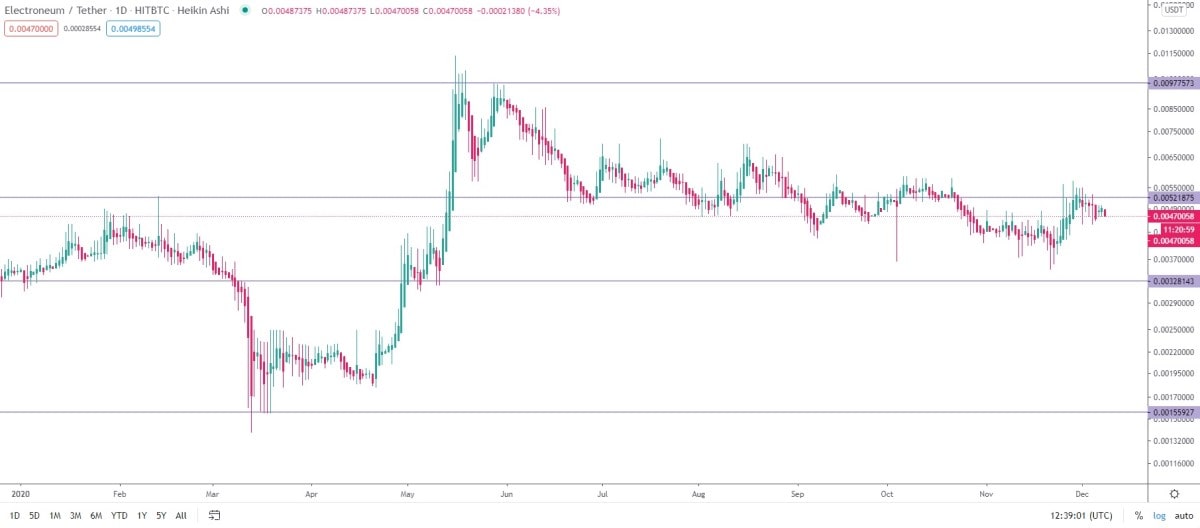 It wasn't until late January 2020 that Electroneum's price reached $0.004, but not for long. In March 2020, the cryptocurrency market experienced one of the biggest shocks. Numerous investors were selling all their coins in a hurry to get some money to pay brokers in the floating stock markets. Like all other crypto assets, Electroneum began to lose value.
At certain points in the second half of March, ETN's price was just above $0.0015. The price struggled below $0.002 until late April, when buyers managed to break through resistance and take Electroneum's price to $0.0093 on 18 May. A sharp pullback to $0.006 followed that, and buyers made another attempt to climb above the $0.0093 resistance level on 30 May but failed. Through the summer and autumn, the asset consolidated in the $0.0045-0.006 range. In late October, Electroneum dropped below the $0.0045 support level, forming a new support level at $0.0038 on 21 November. 
Electroneum (ETN) price prediction 2021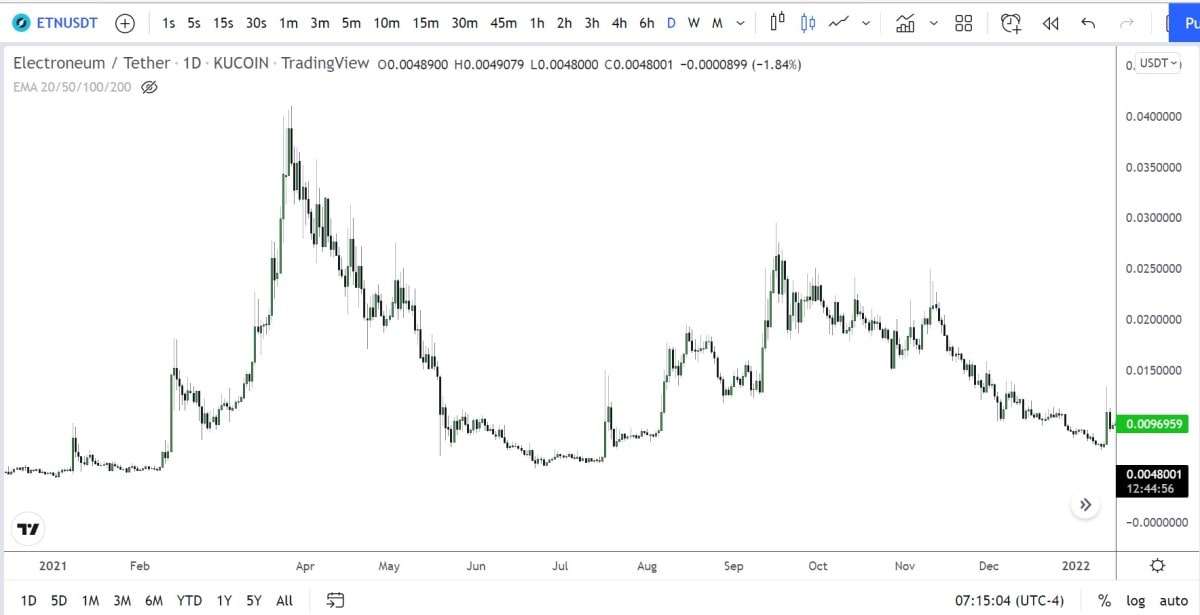 In 2021, ETN had its best year in terms of growth since it launched. Its value rose by over 800% from the start of the year until March, then corrected heavily for the half of 2021. In June, ETN hit a support zone that ended the correction, but the price couldn't recover all it had lost, even until the end of the year.
Electroneum (ETN) technical analysis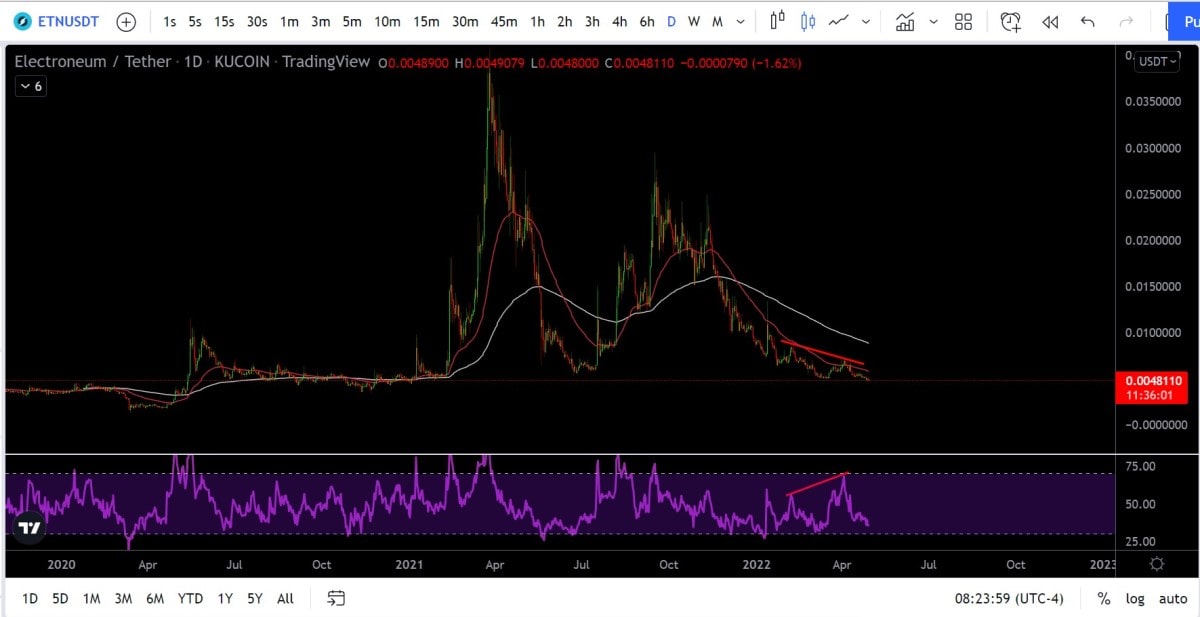 After ETN launched in 2017, it had a price flash crash that saw its initial value go from $0.50 to $0.05 in less than a week. After the crash, ETN failed to recover by any real margin. Its highest price since then was the high made in March 2021. There's not much hope for substantial price recovery; a bearish double divergence on the RSI formed a couple of weeks ago, which further propelled the value downwards. It will likely take a strong bullish crypto market to revive ETN to significantly higher prices.
Electroneum (ETN) price prediction for 2022,2023, 2025, 2030
Throughout this time, Electroneum's achievements in terms of technology, advertising, getting listed on respectable exchanges and other developments didn't help its price take off or remain at the same level. In addition, we must understand that ETN entered the crypto market at a historically high point. Since the cryptocurrency market tends to follow Bitcoin in terms of price trends, ETN was bound to lose its original high price along with the rest of the market almost from the very beginning.
However, the project has solid support from the community, and its developer team continues to work on the project. It seems that Electroneum has a chance for a bright future, so let's review the most credible Electroneum (ETN) price predictions from experts to see what they say.
TradingBeasts Electroneum (ETN) price prediction for 2022, 2023, 2025, 2030
TradingBeasts' Electroneum coin price prediction is quite bullish. ETN's price is expected to gain another 26.10% before the end of the year. It's also expected that the price will continue to rise for the most part of 2023, reaching as high as $0.01. From 2024, ETN's price is expected to grow even higher through 2026, with a steady price of above $0.015.
WalletInvestor Electroneum (ETN) price prediction for 2022, 2023, 2025, 2030
Following WalletInvestor's Electroneum latest price prediction, ETN is an awesome long-term investment, especially for 2023. They predict that the price could spike to $0.0777 in one year. In the following years, WalletInvestor expects that Electroneum's future price will continue growing, reaching $0.0197 by 2027.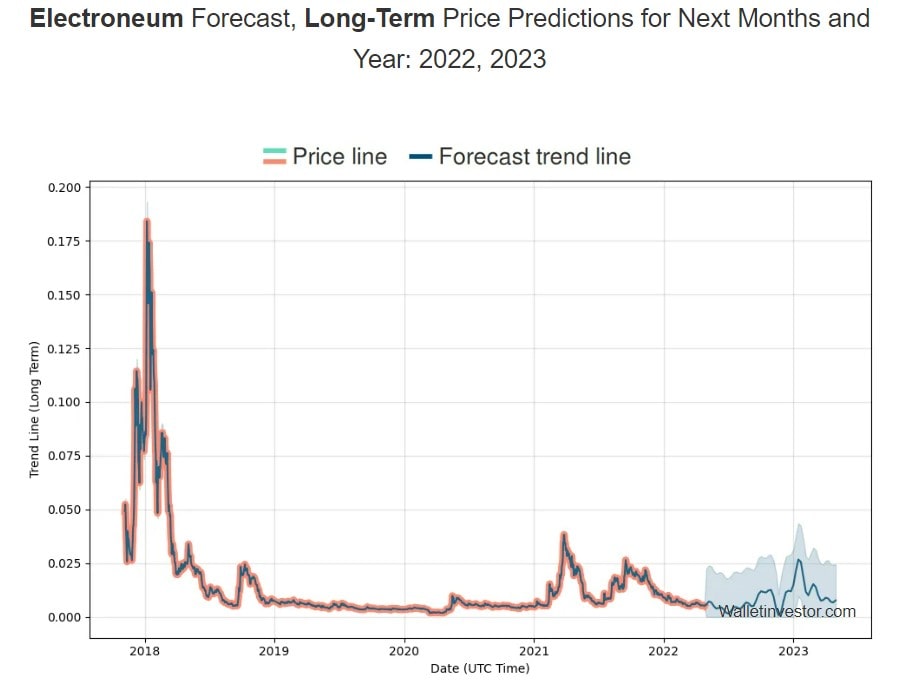 CoinLiker Electroneum (ETN) price prediction for 2022, 2023, 2025, 2030
According to CoinLiker's ETN price prediction, the future of Electroneum is bright. In the next years, Electroneum will skyrocket, according to their prediction. They forecast that ETN coin's future price will grow to $0.03235 in a year and will continue rising to $0.146962 by 2025.

Electroneum (ETN) overall value predictions in the future
We believe that the Electroneum team is professional and skilful enough to maintain its presence in the cryptocurrency space. The ideas rooted in the project will help people to overcome financial crises with this asset. The project's regular development and support, along with its growing popularity, should have a positive impact on Electroneum's future.
Will Electroneum (ETN) go up?
Electroneum is one of the cryptocurrencies with a practical application. The team is actively working with citizens of developing countries, as well as in the gambling and telecommunications industries. The probability of ETN's growth is very high.
Electroneum's (ETN) price prediction today
Considering the fact that there are about 2 billion smartphones in the world, it opens up a huge field for Electroneum's goals. If the developers can achieve all their plans, including establishing cooperation with such companies as Google and Facebook, and make use of the opportunities that the world presents them, Electroneum's growth is inevitable.
Tags
Exchange BTC

Try our Bitcoin Cloud Miner and get additional crypto rewards based on your trading volume. It's immediately available upon registration.

Try our Bitcoin Cloud Miner and get additional crypto rewards based on your trading volume. It's immediately available upon registration.
Instrument
Rate
Change (24h)