Ethereum Classic (ETC) price prediction for 2022-2030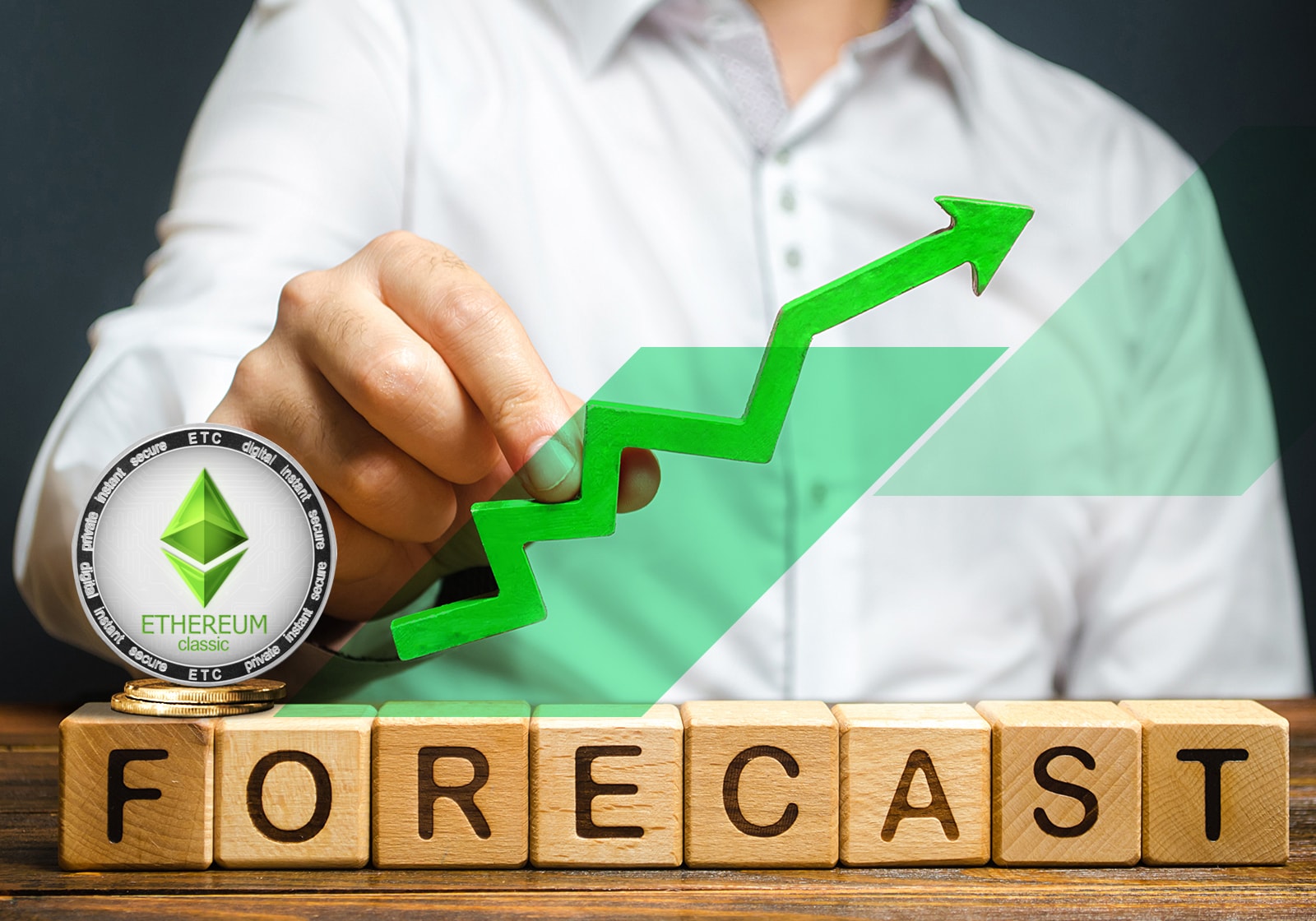 The global economy is currently witnessing the rapid development of the cryptocurrency market. Today, this direction represents an essential component of the financial sphere as a whole. In this article, we'll review the first Ethereum hard fork: Ethereum Classic.
What is Ethereum Classic (ETC), and how does it work? By evaluating and studying all of the important information about the project, readers will get the right idea about ETC's investment potential. That's why we'll use this article to review the project's fundamentals, explore Ethereum Classic price predictions and end with experts' price forecasts.
Ethereum Classic's origin
The history of Ethereum Classic has its roots in the cryptocurrency Ethereum, which was initially proposed by Vitalik Buterin, the man who founded Bitcoin Magazine and who's known to all crypto traders. The idea for Ethereum was put forward in late 2013, and, on 30 July 2015, the network was launched, fully ready for operation. Since then, Ethereum has shown its benefits, arousing interest among new startup projects and large investors. Read our blog article What is Ethereum (ETH)? for more info on Ethereum.
However, in June 2016, an extremely unpleasant incident occurred. A bug was found in the software code of the decentralised autonomous organisation (DAO). On 16 June, the vulnerability in an autonomous investment wealth management platform led to a hacker attack that saw the digital assailants move more than a third of all assets, worth a total of $50 million, to vaults under their control. However, the wallets' design, and the system itself, didn't allow the funds to be withdrawn immediately; the transfer was made only a month later.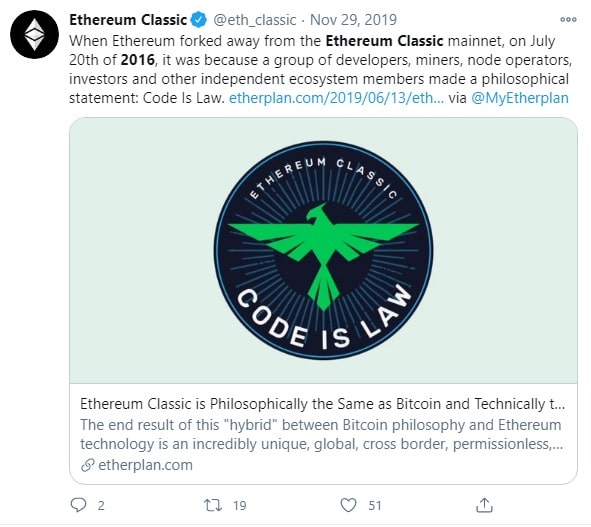 Ethereum's management thought about how to return the invested capital to investors and resolve this unpleasant incident. As a solution and to preserve funds in the future, the platform's developers and founders decided to change the blockchain and return the stolen money, a move that not everyone was on board with. Some felt that the blockchain should remain unchanged and secure.
As a result of the split opinion, the platform underwent a hard fork. From the original Ethereum, two projects were born: Ethereum Classic and Ethereum. The adherents of Ethereum Classic continued to mine coins based on the old blockchain, while others began to work on the new one that resulted from the hard fork. It's worth noting that each investor's capital doubled during the fork, so many continue to use both platforms.
What is Ethereum Classic (ETC)?
Ethereum Classic is a cryptocurrency project that operates through a blockchain network and is powered by smart contracts. The Ethereum Classic blockchain stores all network information, specifically data on accounts' status and all data on performed transactions. This resource is an open-source, public platform. It is generally accepted that the coin's main feature is smart contracts.
Smart contracts are notable for how they work, i.e., through predetermined terms and conditions that are automatically observed in the process of making a deal between ecosystem participants. The software monitors every document signing stage and controls the conditions for fulfilling obligations under the contract. Thanks to the software, the chance of human error, third-party intervention or fraud is minimised. That makes smart contracts extremely reliable agreements between parties.

Ecosystem participants can transfer Ethereum Classic within the network and store funds in specialised wallets. Moreover, node operators are rewarded with ETC tokens for processing computations on financial transactions. An internal transaction asset, called "gas", is used to eliminate spam on the platform and distribute assets as requested.
The Ethereum Classic network is a decentralised blockchain capable of running smart contracts using an international network of public nodes. It emerged as a consequence of a DAO hack in 2016. After the attack, the decision was made to undertake a hard fork, which invalidated the corrupted transactions and formed a new blockchain model. However, not all users agreed with this decision, so some customers continued to work on the original blockchain (Ethereum Classic's). 
Like Ethereum, Ethereum Classic runs on a proof-of-work algorithm. For general information on cryptocurrency mining for beginners, please read our blog. The platform is intended to create and develop new open-source applications. The project is inferior to the original Ethereum in terms of its scale, and, to some extent, this is its advantage. It benefits application developers who choose to work on the platform. As for the mining organisations, they help maintain Ethereum Classic's independence and decentralisation. Importantly, they also help stabilise the cryptocurrency's market value.
The Ethereum Classic (ETC) team
Basically, there is no sole leader among Ethereum Classic's developers. Responsibilities are evenly divided among the core development teams, each contributing in their own way. This configuration of the leadership department was created for a reason. After all, the project's overarching idea is the embodiment of independence and decentralisation; this arrangement means the project is truly a decentralised movement.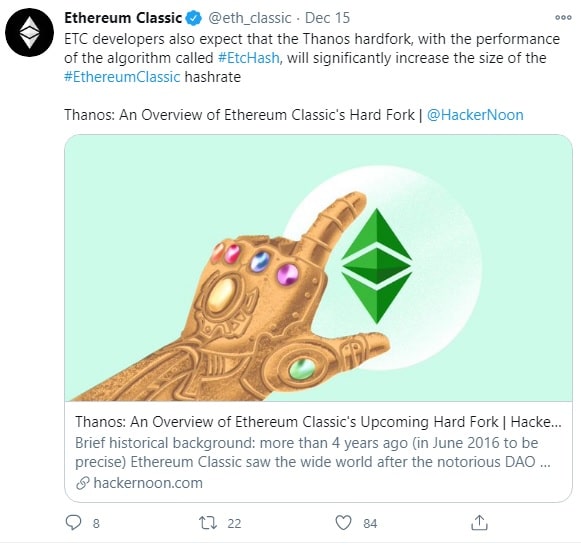 At the same time, any user can become a member of the project development department. Clients have the opportunity to join the work on the software improvements and help in drafting documents and financial materials, conducting trading events, and developing mining farms. There are currently several teams working on the network:
The ETC Dev Team is headed by Igor Artamonov. It works on the main client of the Classic Geth system. The team is also creating several other projects from scratch (Emerald Platform and Emerald Wallet) and is also busy developing a virtual machine called SputnikVM.
IOHK is a team headed by Charles Hoskinson. The group has been working on Ethereum Classic's continued development since December 2016.
Ethereum Commonwealth is an organisation that raises funds and assets for project development through ICOs. The team was founded by an anonymous individual under the nickname Dexaran and is developing the DexNS smart agreement system and standards for tokens.
Ethereum Classic vs Ethereum
Comparing Ethereum Classic to Ethereum, let's start with the common criteria for both cryptocurrencies: the blockchain. In principle, it's identical. Ethereum Classic is a continuation of the original Ethereum blockchain, with its transaction history intact. This explains one of the project's main principles: the founders' pride that the resource is completely free of external interference. Another similarity of both platforms is how they work: identically, namely through the activation of a decentralised application. The use case for tokens is similar, too; they can be used to purchase other assets and pay to create smart contracts.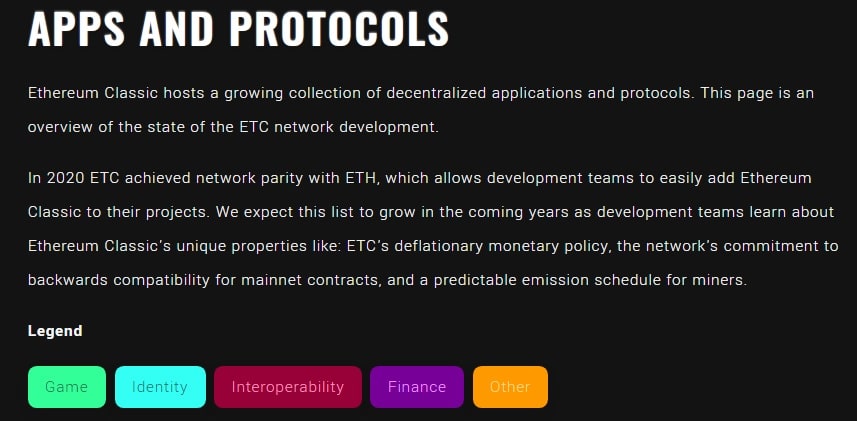 As for the difference between both projects, it lies in the very ideology of functioning. All distinguishing features can be divided into several groups:
Intervention in the blockchain
In the main Ethereum network, the blockchain can change. If adjustments are needed, a vote is held, and the blockchain is modified. For Ethereum Classic, the blockchain can't be modified.
The Ethereum Foundation's developers operated the original Ethereum with initiative from the network users themselves. But that's not how the Classic branch is structured. Decisions in it are discussed by community members and the development managers themselves. Collective problem-solving prevails in this project.
Vector of development and modernisation
The original Ethereum attracted many developers to the project, which ended up outnumbering the users who created the applications themselves. But Ethereum Classic explicitly aims at creating secure smart contracts. The number of users is not a priority. The important thing is that applications are secure; the higher the protection, the better.
Several other minor technical differences exist. For example, Ethereum Classic has higher bandwidth. It can process up to 25 transactions per second, unlike Ethereum, which has a rate of 15 per second. The projects also differ in terms of mining difficulty. Ethereum Classic is much easier to mine because it doesn't require extensive computing power or large farms. A good computer with a modern video card is enough.
Ethereum Classic (ETC) price analysis
As of 22 October 2021, Ethereum Classic (ETC) is ranked 29th among cryptocurrencies by market cap, coming in at $7,381,394,166. With a circulating supply of 130,370,135.52 out of 210,700,000 coins, one ETC token's cost equals $56.58/0.0008901 BTC. Here's an overview of Ethereum Classic (ETC):
Ethereum Classic (ETC) Price Today

$26.95

Market Cap

$7,381,394,166

Circulating Supply

130,370,135.52 ETC

Daily Trading Volume

$1,593,542,090

All-Time High

$176.16

(06 May 2021)

All-Time Low

$0.452446

(25 July 2016)

Official Website
Ethereum Classic (ETC) price history
Any Ethereum Classic price prediction and analysis should start with a review of historical data. After the Ethereum network forked, Ethereum Classic appeared on exchanges on 24 July 2016, at an opening price of $0.9288. The following day, it set a historic low of $0.6024 before bouncing to $2.76 by 2 August, setting a high for the year. However, the rest of the year was bearish, and the asset found demand only at its $0.75 support level in December 2020.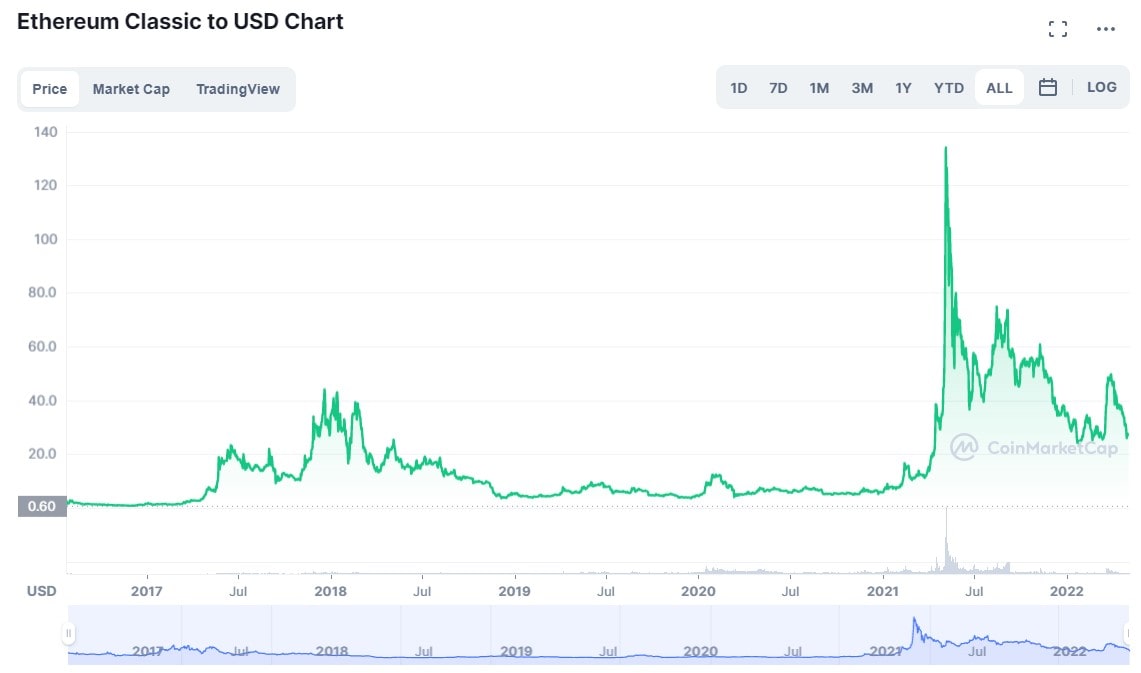 In 2017, Ethereum Classic showed remarkable growth and maintained bullish momentum for the whole year. ETC opened the year at $1.45, and significant demand for the coin took it to new highs, with Ethereum Classic reaching $22 in early September. This was followed by a pullback to $9.60 leading up to late September, when ETC reversed and continued its upward movement, setting a high of $47.77 on 21 December 2020.
After the incredible growth Ethereum Classic showed in 2017, 2018 was disappointing. The significant pullback across all crypto markets halted ETC's growth, and sellers dropped the price from $40 to $16.50 on 5 February. A quick rebound led to retesting $40, but ETC failed to hold momentum, and the price plunged. Finding solid support only at $3.30 by early December, ETC managed to close the year at $5.50. Two years later ETC shocked the world once more with over 130% growth, creating a new all-time high at $176.
Ethereum Classic (ETC) price prediction 2019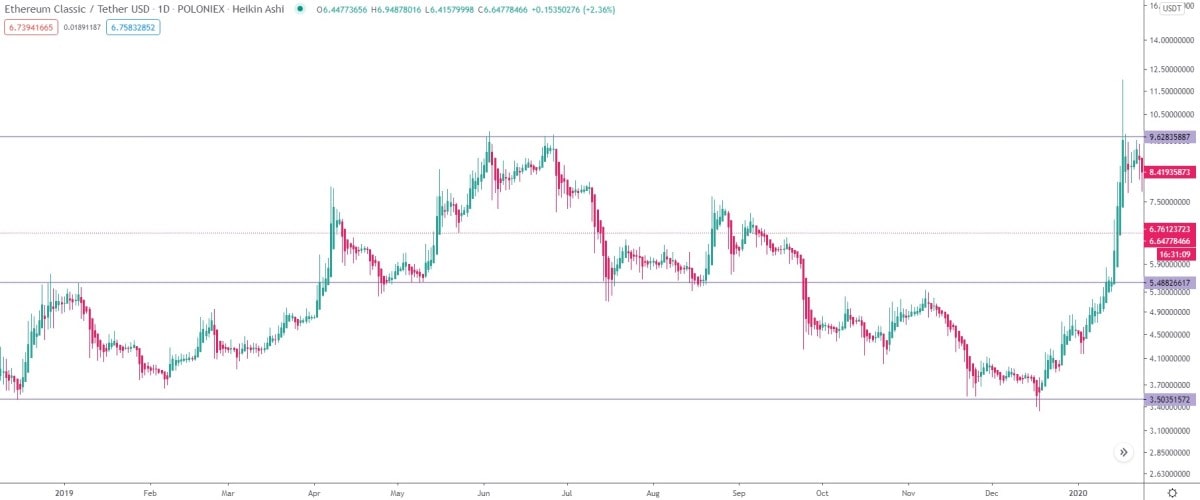 Observing the Ethereum Classic 2019 price prediction, one can conclude that it was a pretty balanced year. After a slight pullback from $5.50 to $3.70 on 5 February, buyers stepped in and pushed the price to $8 on 6 April. The newly formed support at $5.50 proved strong, leading ETC to bounce to $9.70 on 3 June. Ethereum Classic made one more attempt to break through $9.70 on 26 June but failed; the asset plunged to $3.50 by mid-December. Reaching a critical support level, ETC bounced again and closed the year at $4.80.
Ethereum Classic (ETC) price prediction 2020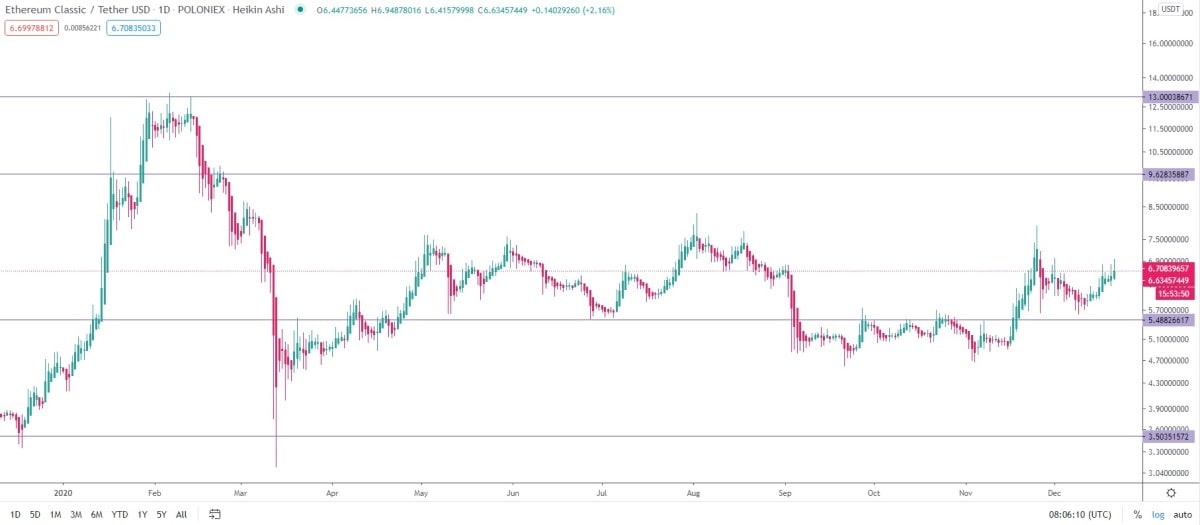 In Q1 2020, Ethereum Classic's price performed well and grew from $5 to $13 on 13 February. However, immediately after that, a major pullback across all markets led to a price decline. For a moment, ETC pierced its $3.50 support level and reached $3.10 on 13 March. It then rose to $7.60 on 3 May and consolidated in the $5.50-8.00 trading range by September. On 3 September, ETC dropped below $5.50 and found new support at $4.50. The asset consolidated in the $4.50-5.50 range until mid-November, when it managed to break through and rise to $7.80 on 24 November. 
Ethereum Classic (ETC) price prediction 2021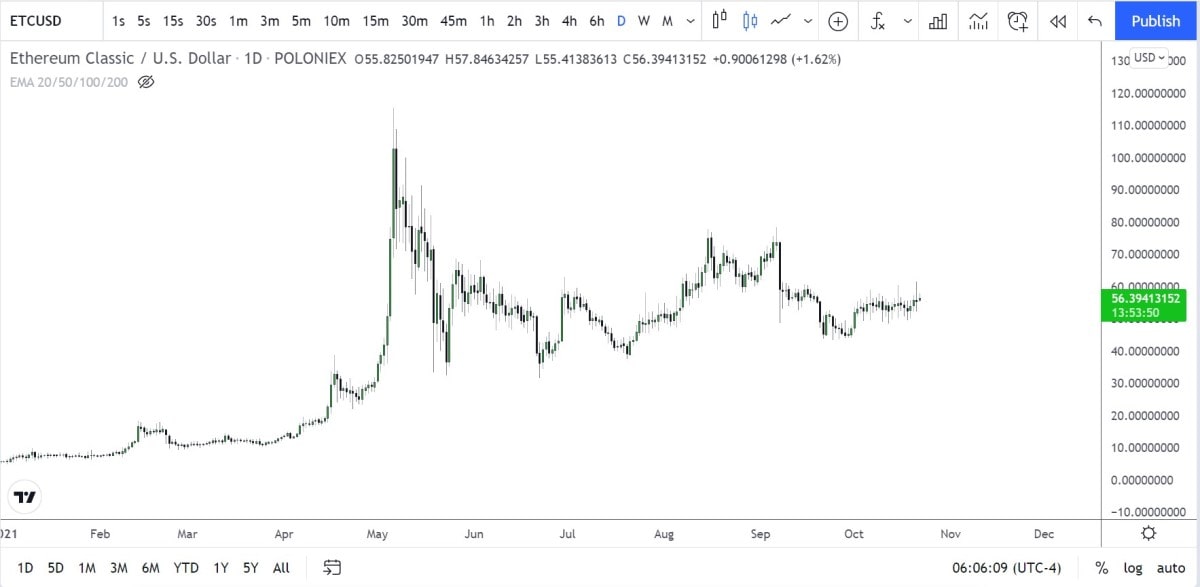 At the start of 2021, Ethereum Classic looked very promising. The price opened at $5.69 and looked set to keep going higher. Q2 was where the thrusters truly kicked in. ETC became quite popular, and a lot of people were interested in having their own share. The time from April through May was astonishing as the price didn't slow down to catch its breath. In those two months, it only made one significant stop at $38, where it corrected about 43%. On 6 May, the price reached a record high of $176 before it began to fall. ETC currently trades at $56.40.
Ethereum Classic (ETC) technical analysis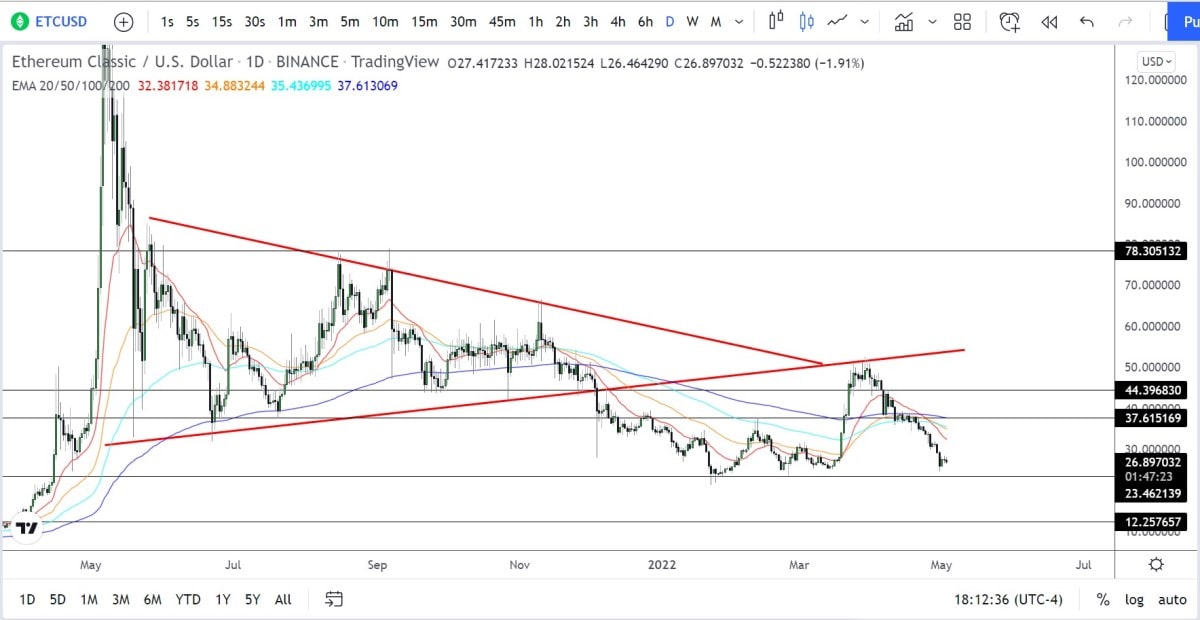 According to technical analysis of ETC/USDT's D1 chart, the cryptocurrency formed a wedge spanning the entire price action from the all-time high that was formed back in May until it finally broke below it in December 2021. ETC trended lower after the breakout until March 2022, when it hit a support zone around $23.46. The rebound took the price to the diagonal resistance created by the wedge but couldn't break through to continue higher. Exponential Moving Averages (EMA) like the 100-day and 50-day EMAs are currently acting as dynamic resistance for the price after it bounced off the trendline above.
ETC is currently trading towards the support level at $23.46. If it holds, the potential price point to look out for is the next support at $12.25.
Ethereum Classic (ETC) price prediction for 2021, 2022, 2025, 2030
The team has chosen the right strategy, which includes blockchain immutability, transparency, and technology development. Those are some of the most important values and are key to an Ethereum Classic future price increase. We gathered the most reliable Ethereum Classic future price prediction from experts to figure out their view on the project. But before we get into them, it should be noted that every cryptocurrency price prediction should be treated with caution, and the same applies to ETC price prediction. Always consider the risk before investing in Ethereum Classic or any other cryptocurrency based on price predictions alone.
TradingBeasts Ethereum Classic (ETC) price prediction for 2021, 2022, 2023, 2025, 2030
According to TradingBeasts' ETC price prediction, ETC's price may fall to $21.48 by late December 2022. In 2023, Trading Beasts' forecast puts Ethereum Classic at $17.12 as the lowest possible price per ETC coin and $40.39 as its highest. They expect the same price range in the following years, but the range may expand to $57.49 in 2024. This is a rather conservative prediction from Trading Beasts.
WalletInvestor Ethereum Classic (ETC) price prediction for 2021, 2022, 2023, 2025, 2030
Per WalletInvestor's Ethereum Classic price prediction, ETC is a good long-term investment. According to them, Ethereum Classic may rise to $53.76 in one year, a 97.71% growth. WalletInvestor expects that the asset will keep rising and may reach as high as $152 by 2027.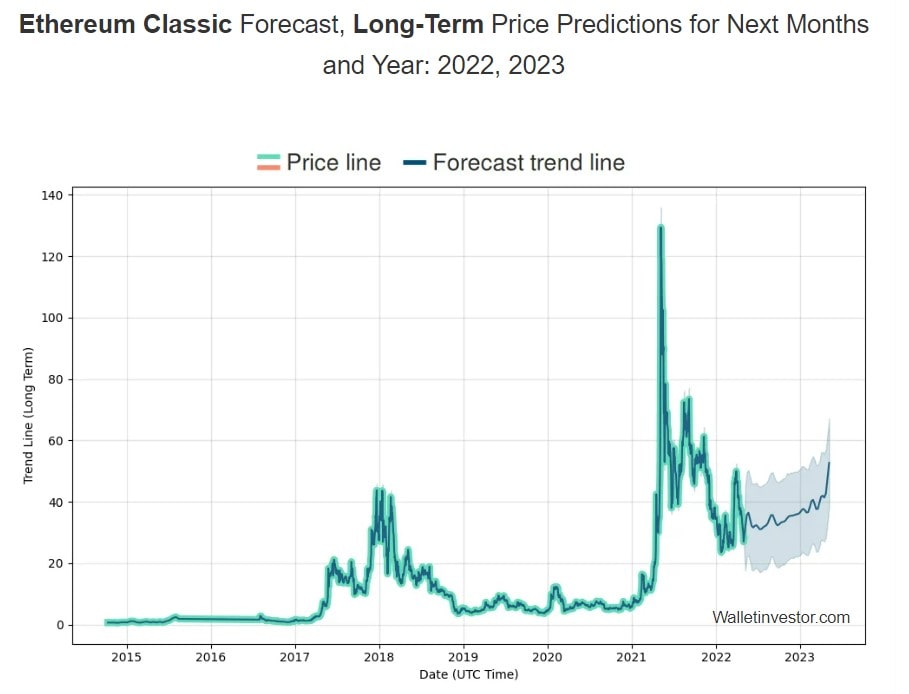 Coinliker Ethereum Classic (ETC) price prediction for 2021, 2022, 2023, 2025, 2030
Coinliker's Ethereum Classic price prediction gives the most promising target for ETC's future price, up to $354 per token in 5 years. Coinliker suggests a tenfold annual increase each year for ETC. Based on their forecast, Ethereum Classic is an excellent investment.

CoinSwitch Ethereum Classic (ETC) price prediction for 2021, 2022, 2023, 2025, 2030
CoinSwitch's ETC price prediction sees the cryptocurrency possibly rising in the future. They expect developers to improve scalability and interoperability with other blockchains, which is crucial to attaining greater highs. CoinSwitch predicted that ETC's price might grow to $34 in 2021, which it did and more. They also expect it to continue growing to $114 by 2025.
Ethereum Classic (ETC) overall value predictions in the future
Ethereum Classic is quite dynamic and sensitive to major movements in the cryptocurrency market. The development team is actively working on the product, regularly updates the roadmap, publishes announcements about upcoming changes and pays attention to users' opinions. That approach should have a positive impact on Ethereum Classic's future success and value.
Will Ethereum Classic (ETC) go up?
Most recently, ETC Labs unveiled a development team that will improve ETC's core projects, where it will provide tools for decentralised application development and support for its blockchain services. These changes have a positive effect on stability and set the stage for ETC's growth.
Ethereum Classic (ETC) price prediction today
According to crypto experts, the future of Ethereum Classic is quite promising. From its first appearance, the coin became quite widespread in the cryptocurrency community. It could easily be bought or sold on all popular cryptocurrency exchanges. The experts agree that the project and its future development will adhere to the unbreakable rules of transparency, decentralisation and immutability of the project's blockchain. Along with the project's policy, its prospects are determined by the availability of limited coin issuance, the reliability of its software and the platform's rich functionality.
Tags
Exchange BTC

Try our Bitcoin Cloud Miner and get additional crypto rewards based on your trading volume. It's immediately available upon registration.

Try our Bitcoin Cloud Miner and get additional crypto rewards based on your trading volume. It's immediately available upon registration.