Gods Unchained (GODS) Price Prediction 2023, 2025 and 2030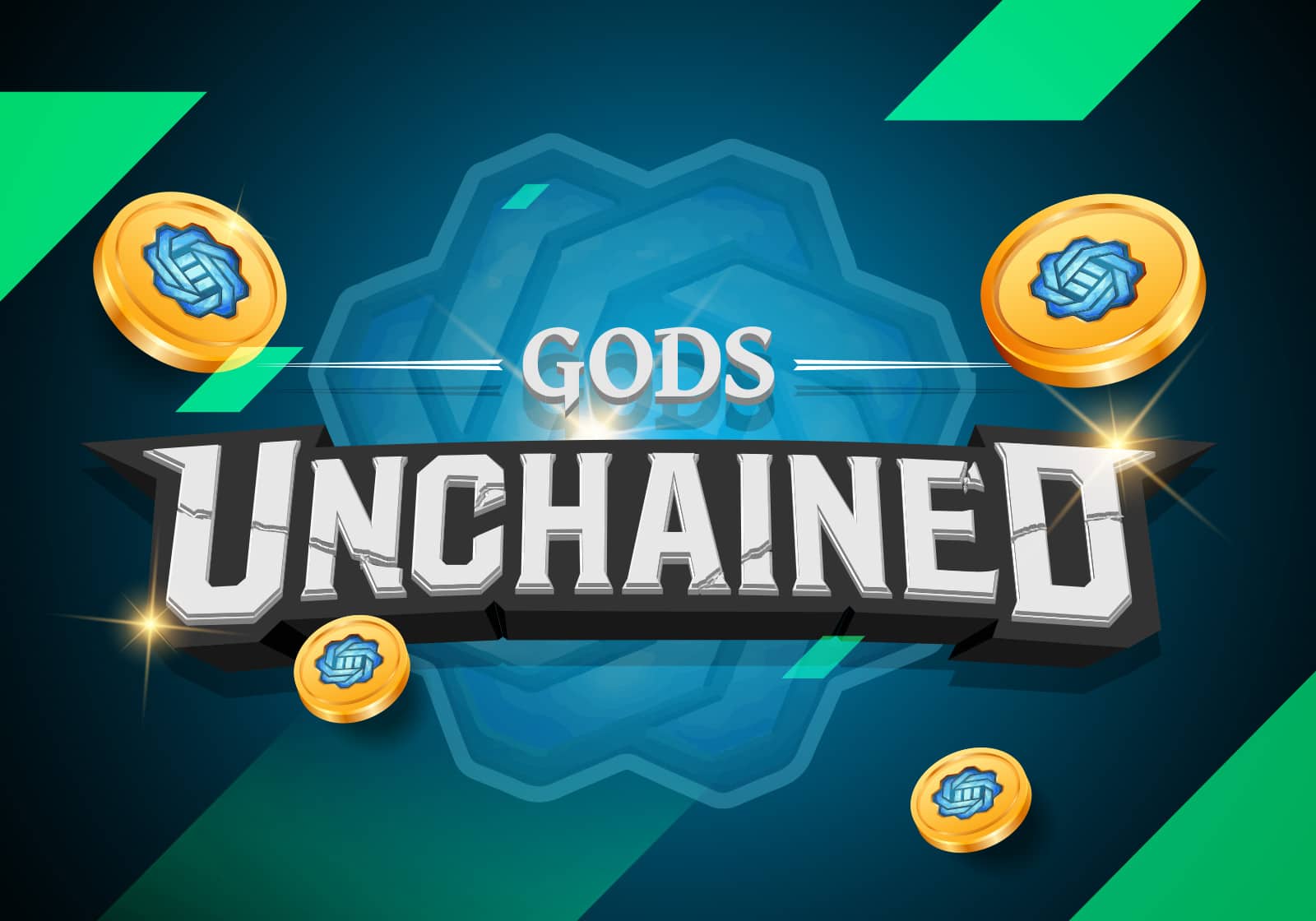 Since its inception, Gods Unchained has brought revolutionary change to several sectors. The token has gained approval from numerous regulators, and a team of specialised developers is tirelessly working to promote it and increase its acceptance. This article will delve into the various aspects of Gods Unchained, including Gods Unchained (GODS) price predictions for 2023 and beyond. But before delving into GODS price predictions, let's briefly examine the history of Gods Unchained and evaluate its current position in the market. 
What is Gods Unchained (GODS)?
Gods Unchained is a fresh entry into the gaming industry incorporating blockchain and cryptocurrency. It's a free-to-play online trading card game similar to Magic: The Gathering Arena. It challenges conventional gaming commerce models where players buy the game and in-game items that can't be resold.
In Gods Unchained, players can earn the native GODS token, which is a payment method in the game. Rare cards have real-world value, and players can sell them for GODS, which can be converted to fiat money. This unique model motivates players to keep playing as they completely own their valuable assets.
The game was announced in 2018, and it sold its first mythic card in that same year. Since then, it has sold millions of cards, raised $15 million in Series A funding, and launched its first game season. The game's popularity is skyrocketing, alongside other NFT and crypto-based games that appeal to those who want to have fun while earning rewards.
The native token of Gods Unchained goes by the name of GODS. While technically not a coin, it's a token built on the Ethereum network. "Gods Unchained coin" and "Gods Unchained currency" may be used interchangeably with GODS.
The GODS token serves several purposes. It can be used to build in-game NFTs, purchased, sold, and traded on exchanges, and players can earn it as a reward for making in-game purchases. GODS holders also can vote on proposals related to the token.
GODS History
Gods Unchained was created by James and Robbie Ferguson, two brothers from Australia who became interested in Ethereum in 2015. They went on to create several innovative projects, such as the world's first multiplayer blockchain-based game, the first blockchain trading card game, and the first zk-rollup for NFTs on Ethereum, which is known as Immutable X. 
Before founding Gods Unchained, James led a software development team at a billion-dollar eCommerce company. He has a Bachelor of Law and a Bachelor of Commerce (Finance) from the University of Sydney, and he taught himself coding through the online MIT curriculum before moving to Silicon Valley in 2014. 
Robbie Ferguson has a background in developing an automated capital gains tax platform at KPMG, which was licensed to Australia's biggest cryptocurrency exchange. He became fascinated with Ethereum in 2015, causing him to drop out of his Computer Science/Law degree at the University of Sydney to establish Immutable X. In 2020, he was granted the Thiel Fellowship for his achievements.
Gods Unchained White Paper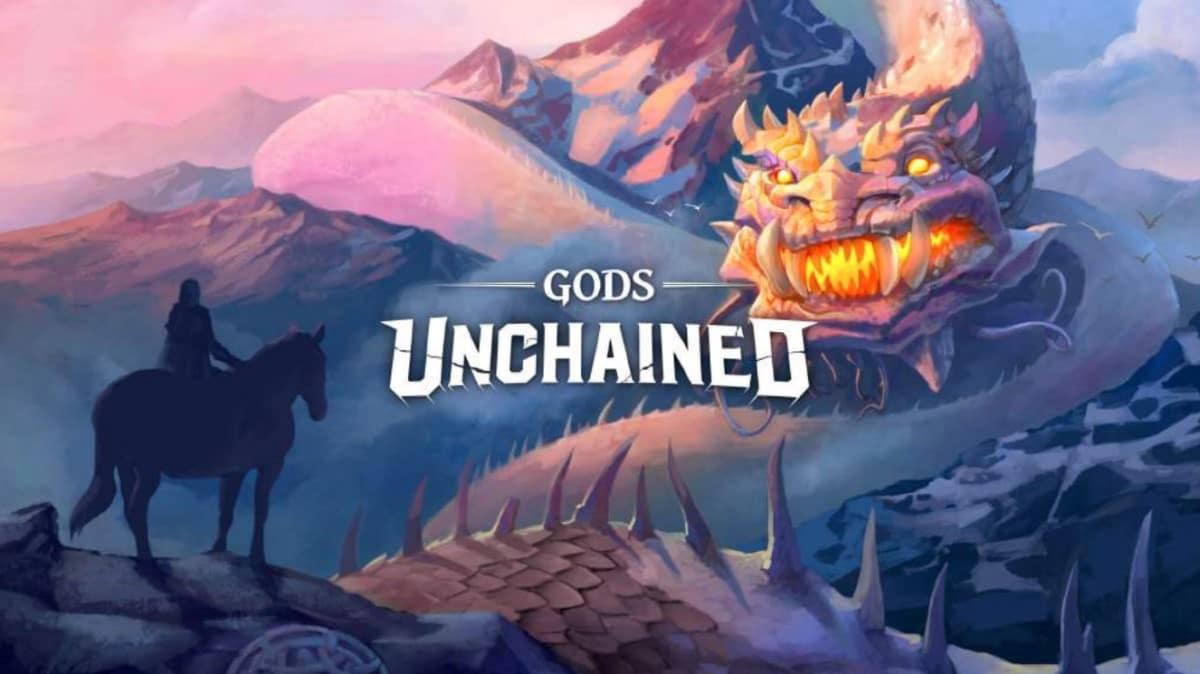 According to the Gods Unchained (GODS) white paper, Gods Unchained is a free-to-play trading card game that allows players to compete in duels using fantasy cards. It's built on Ethereum technology and aims to revolutionise the gaming industry by providing players with true digital ownership and the ability to earn valuable in-game items. The GODS token is the game's primary currency, and it fuels the ecosystem that allows players to earn and sell Non-Fungible Tokens (NFTs).

The Gods Unchained white paper outlines several unique features that set the game apart. The game provides true digital ownership by turning in-game items into ERC-721 tokens/NFTs, which allows players to sell them for real money, use them in Gods Unchained, and even embed them in third-party games and tools. Players can earn tangible rewards, including the ERC-20 $GODS token, simply by playing the game, which helps to drive engagement. 
The GODS token is at the heart of the game's economy and is used to purchase new card packs and chests, craft NFT cards, and earn staking rewards. The game has a passionate community of evangelists, with over $34 million worth of NFTs sold and traded and over 450,000 registered players in beta. Gods Unchained digital assets are built to scale on Immutable X, Ethereum's first zero-knowledge rollup (zk-rollup) for NFTs, which allows for gas-free NFT minting and trading at scale with instant trade confirmation while ensuring the security of users' assets.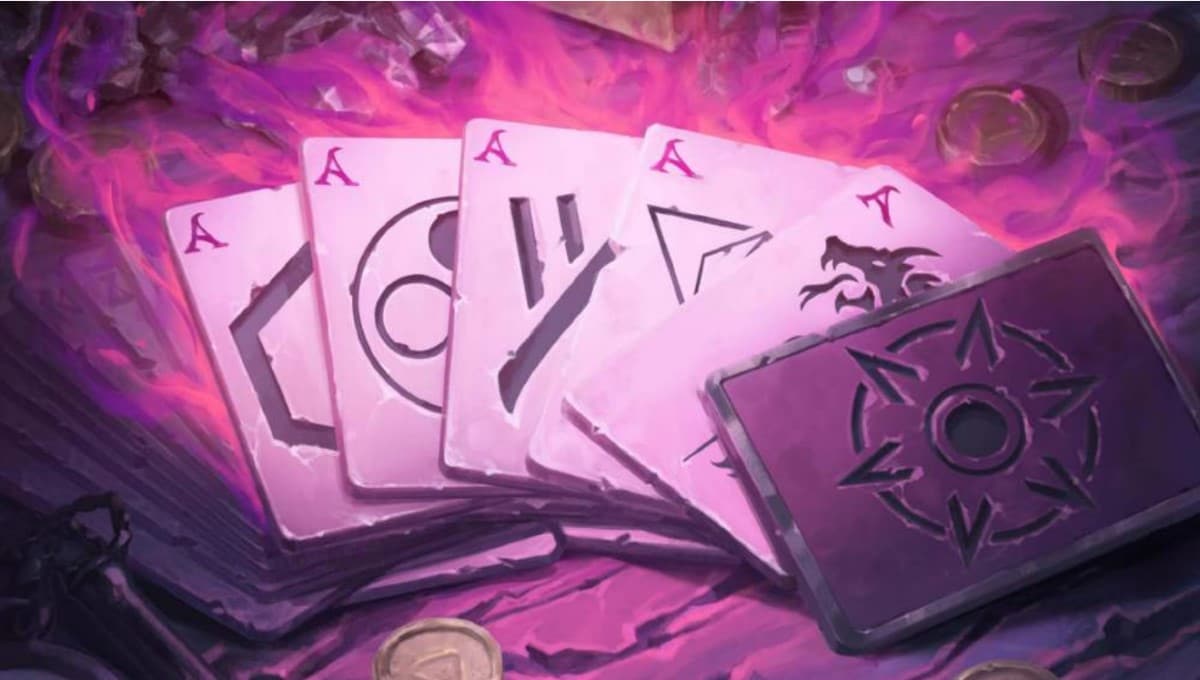 GODS Benefits
While many crypto-based mobile games exist, incorporating blockchain into an online strategy game could significantly impact. Players purchase items from a game store but need to own them. They receive licences to use skins, weapons, and armour. Gods Unchained is among the leading crypto and blockchain projects offering this game type.
Gods Unchained changes this by creating NFTs for items on a layer 2 Ethereum network. By owning these NFTs, players own valuable digital assets they can sell for the in-game GODS currency, which can be converted into fiat money. This project could solve a significant problem in gaming, which can be very costly for players, with billions spent every year on in-game purchases. Gods Unchained allows players to earn money and trade cards simply by playing.
We may soon see a significant shift in business models across industries such as gaming and music (which primarily deal in digital assets) toward NFT and blockchain-based operations and gameplay. Additionally, cryptocurrencies like GODS provide projects and gaming companies like Gods Unchained a unique way to generate profits as the value of their native cryptocurrency rises.
Gods Unchained (GODS) Price Analysis
When writing this Gods Unchained (GODS) price prediction on 22 April 2023, the token's price was $0.197582, with a daily trading volume of $1,038,685. The token ranked #435 on CoinMarketCap, with a market capitalisation of $42,497,540, a circulating supply of 215,088,616 GODS and a maximum supply of 500,000,000 GODS.
GODS price statistics (as of 22/04/23)
| | |
| --- | --- |
| Current price | $0.197582 |
| Market cap | $42,497,540 |
| Circulating supply | 215,088,616 GODS |
| Max supply | 500,000,000 GODS  |
| Daily trading volume | $1,038,685 |
| All-time high | $8.8252 (10/12/21) |
| All-time low | $0.1914 (21/04/23) |
| Website | |
GODS token price history
Now it's time to examine GODS' price history. It's important to understand that past performance is not a reliable indicator of future outcomes. Comprehending the behaviour of the token in the past can aid us in analysing a potential Gods Unchained price prediction or making our own.
GODS entered the market in October 2021 when the market was on the brink of a bullish surge, buoyed by record-breaking Bitcoin prices. Nevertheless, the token was not impervious to the volatility that frequently characterises newly launched cryptocurrencies. On 30 October 2021, at the commencement of trading, it was valued at $4.60, reaching a high of $6.08 and a low of $2.95 within the same day and eventually closing at $4.80. By 3 November, it had soared to $7.74 before undergoing a downward spiral, hitting a low of $4.04 on 9 November. 
2022 was a difficult year for the cryptocurrency market. As a token aligned with the metaverse, GODS, unfortunately, suffered from the contracting market. It fell below $2 in February and hit a low of $1.02 following Russia's invasion of Ukraine on 24 February. By the end of January, its value had plummeted to $2.14. On 14 March 2022, it dipped below one dollar for the first time, reaching an intraday low of $0.9959. However, it experienced a bullish run towards the end of the month, peaking at $1.82 on 2 April 2022.
The disengagement of the UST stablecoin and the subsequent collapse of the associated LUNA cryptocurrency led to GODS hitting its all-time low of $0.2312 on 12 May 2022. Following this, the Chinese cryptocurrency ban and a sluggish market caused GODS to drop and close the month at $0.6987. It then underwent a minor recovery and closed the month at $0.8158. While it appeared that GODS was beginning to recover, the news that the Celsius crypto lending platform had suspended withdrawals confirmed a bear market. By 17 June 2022, the token was valued at approximately $0.54.
Out of a total supply of 500 million tokens, there are under 23.7 million GODS in circulation, giving it a market cap of around $12.75 million, ranking it 669th in market capitalisation.
GODS technical analysis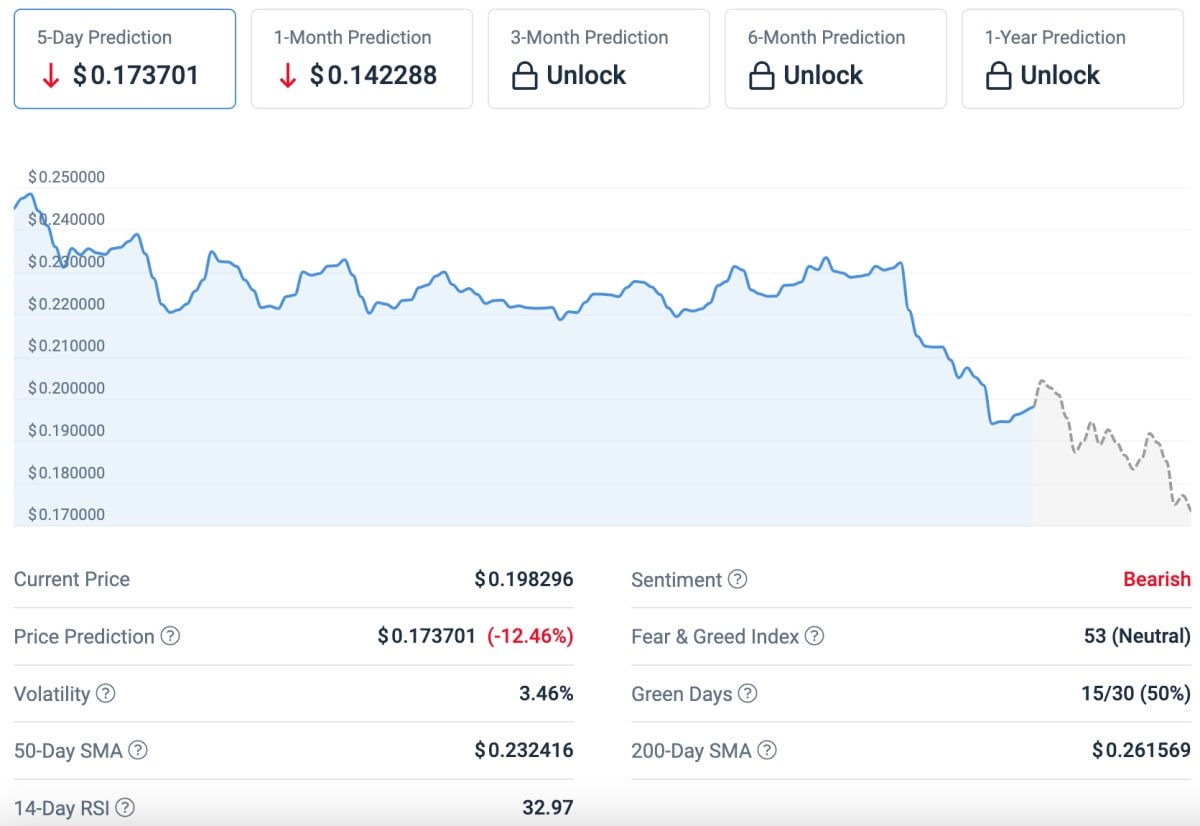 As of 22 April 2023, the overall sentiment for the Gods Unchained price prediction was bearish. Among the 27 technical analysis indicators, 4 showed bullish signals, while 23 showed bearish signals.
The trading price of Gods Unchained was below the 200-day simple moving average (SMA), which indicated a sell signal since 21 February 2023. The 50-day SMA was signalling a sell for the last 51 days, since 2 March 2023.
The most recent Death Cross in the Bitcoin market occurred on 15 May 2022. Based on the technical indicators, Gods Unchained's 200-day SMA should decline in the coming month and reach $0.242035 by 22 May 2023. Meanwhile, the short-term 50-Day SMA is predicted to reach $0.198952 by the same date.
The Relative Strength Index (RSI) momentum oscillator is currently at 32.97, which signifies that the GODS market is in a neutral position.
Gods Unchained predictions 2023
Gods Unchained, a rising cryptocurrency, has caught the attention of many in the market, with some predicting a promising future for the token. According to the GODS price prediction for 2023, there is a possibility of a significant increase in its value in the second half of the year, with some projections anticipating it to reach $0.322406. 
Is Gods Unchained a good investment?
While some experts and traders may believe that Gods Unchained is a good long-term investment, there are also risks involved in investing in any cryptocurrency. While the value of GODS has been increasing recently, there are other guarantees that it'll continue to do so. It's important to conduct thorough research and consider factors such as market trends, competition and regulatory changes before making any investment decisions.
Gods Unchained (GODS) price prediction 2023-2050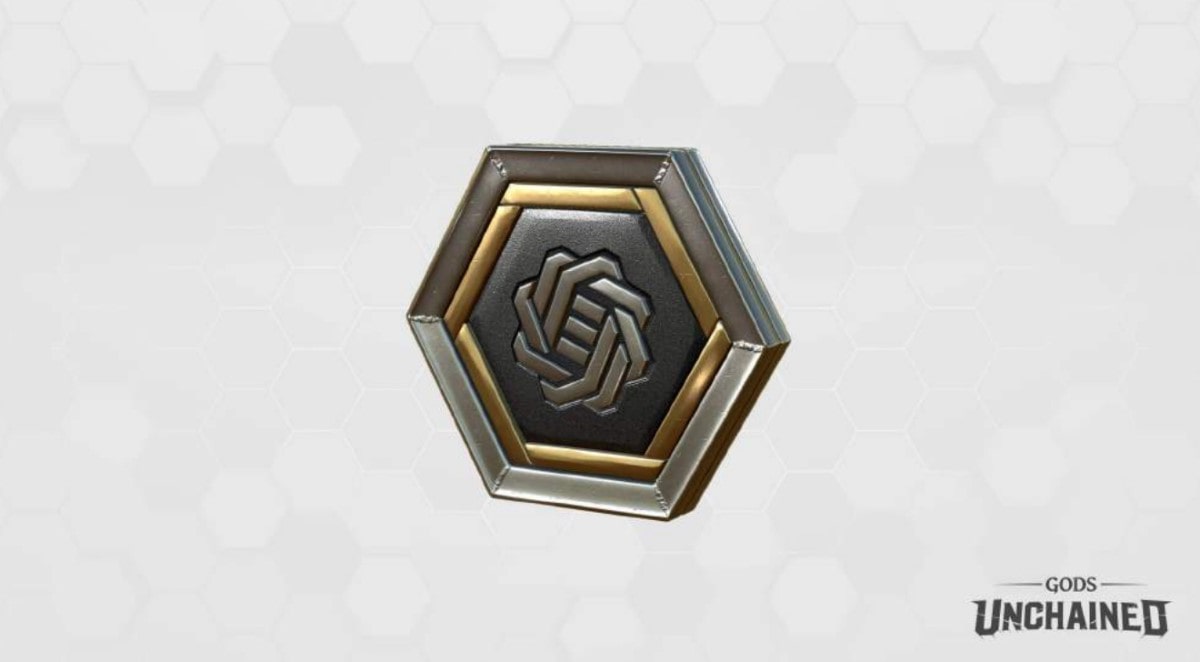 Let's review the price predictions for Gods Unchained. It's worth noting that long-term crypto price forecasts are typically algorithmically generated, which means they can be modified at any moment.
WalletInvestor Gods Unchained (GODS) price prediction for 2023, 2025, 2030, 2040 and 2050
Based on WalletInvestor's Gods Unchained crypto price prediction, the value of the Gods Unchained (GODS) token is expected to have an average price of $0.03043 by the end of 2023. At the beginning of January 2025, the token's price is predicted to be $0.0348 and close the year at $0.0370. However, by the end of 2028, the price of the GODS token is predicted to be around $0.00655.
CryptoPredictions GODS token price prediction for 2023, 2025, 2030, 2040 and 2050
Based on CryptoPredictions, the GODS token price prediction indicates that the Gods Unchained value will start in May 2023 at $0.264 and close the month at $0.344. Throughout May, the highest predicted GODS price is $0.3847, while the lowest predicted price is $0.261.
Gods Unchained is expected to increase to slightly less than $1.22 by the end of 2023. By December 2024, it's predicted to reach around $1.53; by the end of 2025, the token's value should be about $1.74. Finally, the forecast suggests the price will rise to just under $1.90 by the end of 2026.
CoinCodex GODS price prediction for 2023, 2025, 2030, 2040 and 2050
Based on the data as of 22 April 2023, CoinCodex's Gods Unchained price prediction suggests that the token's value may decrease by -12.46% and reach $0.173701 by 27 April 2023. Regarding the prediction for 2026, a projected value of $9.92 for GODS seems highly unrealistic, given the current price and historical trends. 
PricePrediction GODS crypto price prediction for 2023, 2025, 2030, 2040 and 2050
PricePrediction.net predicts that the lowest possible level for the GODS token in 2023 is $0.26, while the maximum possible level is $0.31, with an average forecast price of $0.27. By 2025, the token is expected to reach $1.42 before climbing to $2.08 in 2026, $3.12 in 2027, and $4.62 in 2028. The prediction suggests that GODS should close the decade at $6.90, with a price forecast of $9.84 for 2030. In 2031, the token is expected to reach around $14.16.
DigitalCoinPrice GODS price prediction for 2023, 2025, 2030, 2040 and 2050
Based on DigitalCoinPrice's GODS token price prediction, it's expected to surpass the $0.24 level and reach a minimum of $0.17 by the end of 2023. The price forecast for 2025 indicates that the value of GODS is expected to exceed $0.65, with a minimum fee of $0.58 at year-end. The maximum projected price for GODS is $0.67. The maximum expected price for GODS is $2.02. 
Gods Unchained future forecast in general
Numerous platforms and analysts predict that the value of Gods Unchained will continue to increase over the next 5 years, exceeding $1.60 by the end of 2025. Although the price may seem ambitious, the volatile nature of GODS and other cryptocurrencies means that the direction of their value can shift at any given moment.
How high can the GODS coin go?
The price of Gods Unchained will likely rise to $7.40 over the next ten years. One Gods Unchained token's value could reach a minimum price of $7.19 and a maximum price of $9.02 within the next eight to ten years.
GODS price prediction today
The cryptocurrency market is on the cusp of a new era, and many analysts predict that the long-term price of GODS will surge as the currency continues to attract more attention. By the end of 2023, it's projected that GODS will have an average price of $0.33, with a minimum price of $0.32 and a maximum price of $0.37.
Tags
Exchange BTC

Try our Bitcoin Cloud Miner and get additional crypto rewards based on your trading volume. It's immediately available upon registration.

Try our Bitcoin Cloud Miner and get additional crypto rewards based on your trading volume. It's immediately available upon registration.