Hedera Hashgraph (HBAR) Price Prediction 2022-2030

On 17 September 2019, a public beta test was launched for the Hedera Hashgraph network. The platform gained public interest due to its declared throughput of 10,000 transactions per second, its service for file storage and smart contracts. In addition to that, they also presented their native cryptocurrency HBAR. Soon after the project's launch, more than three dozen projects started operating on its basis.
All this makes Hedera Hashgraph a potentially lucrative investment option. Before investing your money in this cryptocurrency, let's learn more about HBAR and the Hedera Hashgraph price prediction for 2022 and beyond. Will HBAR's price go up in 2022? Find out this and more in our Hedera Hashgraph price prediction for 2022-2030. 
What is Hedera Hashgraph (HBAR)?
Hedera Hashgraph, the HBAR blockchain, is a more efficient alternative to blockchain. Instead of using a clear sequence of blocks, the hashgraph uses a Directed Acyclic Graph (DAG), which records information in a non-linear way without a sequential chain of blocks. 
Such cryptocurrencies already use DAG as IOTA, Byteball and Tangle. DAG lets the hashgraph provide all the advantages of the blockchain network but at faster transaction speeds. 
There are three products offered by Hedera Hashgraph at the moment: a cryptocurrency, smart contracts and a file service. Everyone is welcome to create an account on the network and create dApps based on Hedera Hashgraph after passing the KYC test.
The Hedera Hashgraph network supports up to 10,000 transactions per second. It doesn't take longer than 3-5 seconds to confirm the transaction. The throughput for smart contracts and file services is also available, with a declared speed of 10 transactions per second. The average transaction fee is $0.0001.
Here's how the hashgraph consensus works:
Nodes exchange data using the Gossip protocol.
Transaction information is sent to two random nodes to verify the transaction.
Nodes exchange only transaction data with each other.
Unlike traditional blockchain networks, the hashgraph uses hashes to store information, making it faster to complete transactions and exchange data. 
You can track the history of transactions in chronological order. 
HBAR Whitepaper
The Hedera: A Public Hashgraph Network & Governing Council whitepaper was published on 13 March 2018. According to the official hashgraph document, "The Hedera network will be governed by a council of leading global enterprises, across multiple industries and geographies. Its vision is cyberspace that is trusted and secure, without the need for centralised parties with inordinate influence. Its licensing and governance model protects users by eliminating the risk of forking, protecting the integrity of the codebase and providing open access to review the underlying software code".
The HBAR whitepaper declares the decentralised platform governance performed through the Hedera Governing Council, a term-limited, rotating set of governing members who have equal voting rights over key decisions relating to the platform.
Hedera Hashgraph Projects
Hedera Hashgraph is the world's first fair, fast and secure distributed ledger technology, with smart contracts, file storage and native cryptocurrency ready to disrupt various industries like finance, real estate and gaming, as well as media and entertainment. As we've already mentioned, the network is a foundation for dApps. Some of the top Hedera Hashgraph dApps include:
Sagewise, which is used to build a smart contract SDK that stops contracts when a dispute arises.
hearo.fm, a marketplace based on Hedera Hashgraph that lets music artists showcase and sell their works via a decentralised platform.
Alto.io, a decentralised gaming platform, letting users sell and use crypto items on Hedera Hashgraph. The platform enables any game to create and use non-fungible items that can become an additional revenue stream when offered to users.
Carbon, which is built on the Hedera Hashgraph platform and offers users a secure, fast and stable cryptocurrency that closely relates to USD. 
Cryptotask, a decentralised task marketplace for freelancers. It solves such problems of a centralised marketplace as restrictions on high-value tasks, slow dispute resolution and high fees.
HBAR Benefits
Instead of a blockchain, Hedera Hashgraph uses its unique DLT technology to improve speed, cost, and scalability. Byzantine Fault Tolerance (ABFT) is used as its consensus algorithm, which is generally considered one of the most secure solutions in the industry. Thanks to its resistance to DDoS and Sybil attacks, it offers significantly improved network security. The transactions have a nominal fee of $0.0001 and take 3-5 seconds to reach finality. Unlike most popular blockchains, the hashgraph network can handle up to 10,000 transactions/second.
Hedera Hashgraph is one of the industry's fairest and most democratic networks. Instead of giving privileges to nodes of miners to determine the consensus timestamp assigned to a transaction, it uses the automated voting process to calculate transactions. 
Hedera Hashgraph (HBAR) Price Analysis
At the time of writing this Hedera Hashgraph (HBAR) price prediction article (11 July 2022), the Hedera price was $0.06295, with a daily trading volume of $21,683,750. Hedera was down 2.44% in the past 24 hours. Hedera Hashgraph (HBAR) ranked 38th on CoinMarketCap, with a market cap of $1,327,047,289. It had a circulating supply of 21,084,776,584 HBAR coins and a maximum supply of 50,000,000,000 HBAR coins.
HBAR price statistics (as of 11/07/22)
| | |
| --- | --- |
| HBAR current price | $0.06295 |
| Market cap | $1,327,047,289 |
| Circulating supply | 21.08 billion HBAR |
| Max supply | 50,000,000,000 |
| Daily trading volume | $21,683,750 |
| All-time high | $0.5701 (16 September 2021) |
| All-time low | $0.01001 (2 January 2020) |
| Website | |
HBAR price history
Before we move to the discussion of Hedera Hashgraph (HBAR) price predictions, let's look back at its history.
After its launch, the HBAR crypto coin's price dipped from $0.0289 on 26 September 2019 to $0.0131 on 2 February 2020, before surging to $0.0551 on 17 August 2020. On 2 January 2021, it fell to the $0.0332 level. The crypto coin's value began to soar later that month. HBAR rose to $0.4026 on 15 March 2021 but slightly dropped to $0.3054 on 24 March 2021.
Volatility continued in April. The Hedera Hashgraph (HBAR) price dropped to $0.1586 on 20 July 2021 before surging to record highs of $0.5059 on 15 September 2021. On 28 September 2021, the price dropped again and reached the $0.3042 price point.
By mid-December, the Hedera Hashgraph (HBAR) price rose again and reached $0.225 on 14 December 2021. There was significant volatility in crypto markets from the end of 2021 to the beginning of 2022. Despite significant volatility across the crypto markets, the Hedera Hashgraph (HBAR) price rose again to $0.3396 on 5 January 2022.
There were slight improvements in the crypto coin's price in February 2022. Hedera (HBAR) began trading above its initial launch price. However, it didn't maintain its value for long, and the HBAR price dropped to $0.23 on 28 February 2022.
On 10 March 2022, the HBAR Foundation, which provides grants and resources to developers and drives the Hedera network's development, launched a $100 million fund for sustainable ventures. On 22 March 2022, they announced further protocol developments and a partnership with TYMLEZ, "a sustainability-focused enterprise-grade solutions provider that deploys leading software applications that leverage blockchain technology". The HBAR crypto coin closed out March at $0.2356.
Despite numerous on-chain developments, the prolonged bearing trend left its mark on HBAR. The crypto coin reached its new four-month low of $0.05867 by 18 June 2022.
HBAR technical analysis
Cryptocurrency technical analysis is essential to every forecast published on our blog. The Hedera (HBAR) crypto price prediction isn't an exception. 
As of 11 July 2022, Hedera Hashgraph (HBAR) retained the market risk-adjusted performance of 10.2. The Fibonacci retracement levels can be considered resistance and support levels for the crypto coin. The immediate resistance is placed at $0.27. The next resistances are at $0.33 and $0.38. The significant resistance is placed at $0.43. The immediate support for HBAR is placed at $0.18.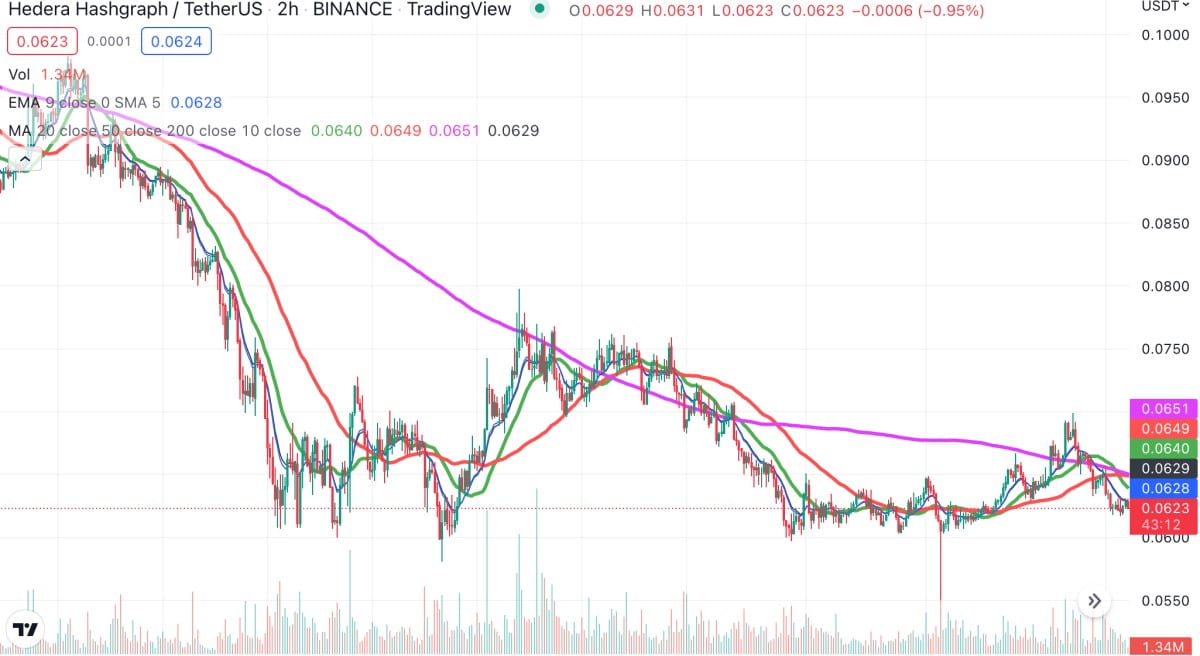 The current price is trading below the 20 Exponential Moving Average (EMA), 50 EMA & 200 EMA, which means there is a downtrend. While the cryptocurrency market gains momentum and there are green candles in the trading session, the crypto coin's price might stop falling and switch to a bullish trend.
Is the Hedera Hashgraph coin a good investment?
Hedera Hashgraph (HBAR) can be a potentially good choice if you are looking for a relatively risky asset that would bring you a steady profit in the long term. The project has an impressive number of over 3 million daily transactions, indicating many people are interested in using the hashgraph network and its cryptocurrency.
Besides the multiple benefits of Hedera Hashgraph (HBAR), many other signs point toward HBAR being a good investment option.
However, we should traditionally warn you before investing in HBAR or any other digital asset. You should do your research and consider whether it's a good fit for your portfolio or not. Articles like this Hedera Hashgraph (HBAR) price prediction are not intended and should not be considered investment advice.
How does this data affect the HBAR price prediction for 2022? Let's look at what the forecasters think.
Hedera Hashgraph (HBAR) price prediction 2022-2030
Let's consider Hedera Hashgraph (HBAR) price predictions shared by the top analysts and cryptocurrency platforms. 
WalletInvestor Hedera price prediction for 2022, 2025 and 2030
WalletInvestor forecasts HBAR to be a bad, high-risk 1-year investment option. In a bearish Hedera coin price prediction, WalletInvestor predicts HBAR will continue its downward trend, dropping to $0.006 in 2023.
Gov Capital Hedera price prediction for 2022, 2025 and 2030
The Hedera (HBAR) crypto coin's price has been downtrend for the past year. Based on HBAR's declining tendency, Gov Capital shares a prediction that HBAR's value will continue to fall before it reaches its new all-time low in July 2023 or sooner. They do not recommend using HBAR as a new addition to your cryptocurrency portfolio.
Trading Beasts Hedera price prediction for 2022, 2025 and 2030
According to HBAR price prediction 2022, the expected maximum price of the HBAR coin is $0.374, and the expected minimum price of $0.24. The Hedera price prediction for the end of July 2022 is $0.29.
CoinArbitrageBot Hedera price prediction for 2022, 2025 and 2030
CoinArbitrageBot predicts the Hedera Hashgraph cryptocurrency could be $0.28 at the end of 2022. According to the Hedera price prediction from CoinArbitrageBot, the highest support level of coin price could reach $0.21, and the lowest price could be $0.148. The Hedera Hashgraph price could be around $0.45 by 2023.
Digital Coin Price Hedera price prediction for 2022, 2025 and 2030
According to the short-term HBAR crypto price prediction from Digital Coin Price, the crypto coin could cross the highest price of $0.31 by 2022 and $0.50 by 2025.
Hedera Hashgraph future forecast in general
Based on the analysis of HBAR historical data and technical indicators, Hedera could reach the estimated trading average of $0.12 for September 2022. The lowest and peak HBAR rates might be $0.12 and $0.13.
How high can the HBAR coin go?
On average, you can expect the HBAR price to be around $2.72 in the future.
HBAR price prediction today
According to the technical analysis of Hedera prices expected in 2022, the minimum cost of Hedera will be $0.13. The maximum level that the HBAR price can reach is $0.15. The average trading price is expected to be around $0.13.
Tags
Exchange BTC

Try our Bitcoin Cloud Miner and get additional crypto rewards based on your trading volume. It's immediately available upon registration.

Try our Bitcoin Cloud Miner and get additional crypto rewards based on your trading volume. It's immediately available upon registration.
Instrument
Rate
Change (24h)