How to mine the Pi Network (Pi) coin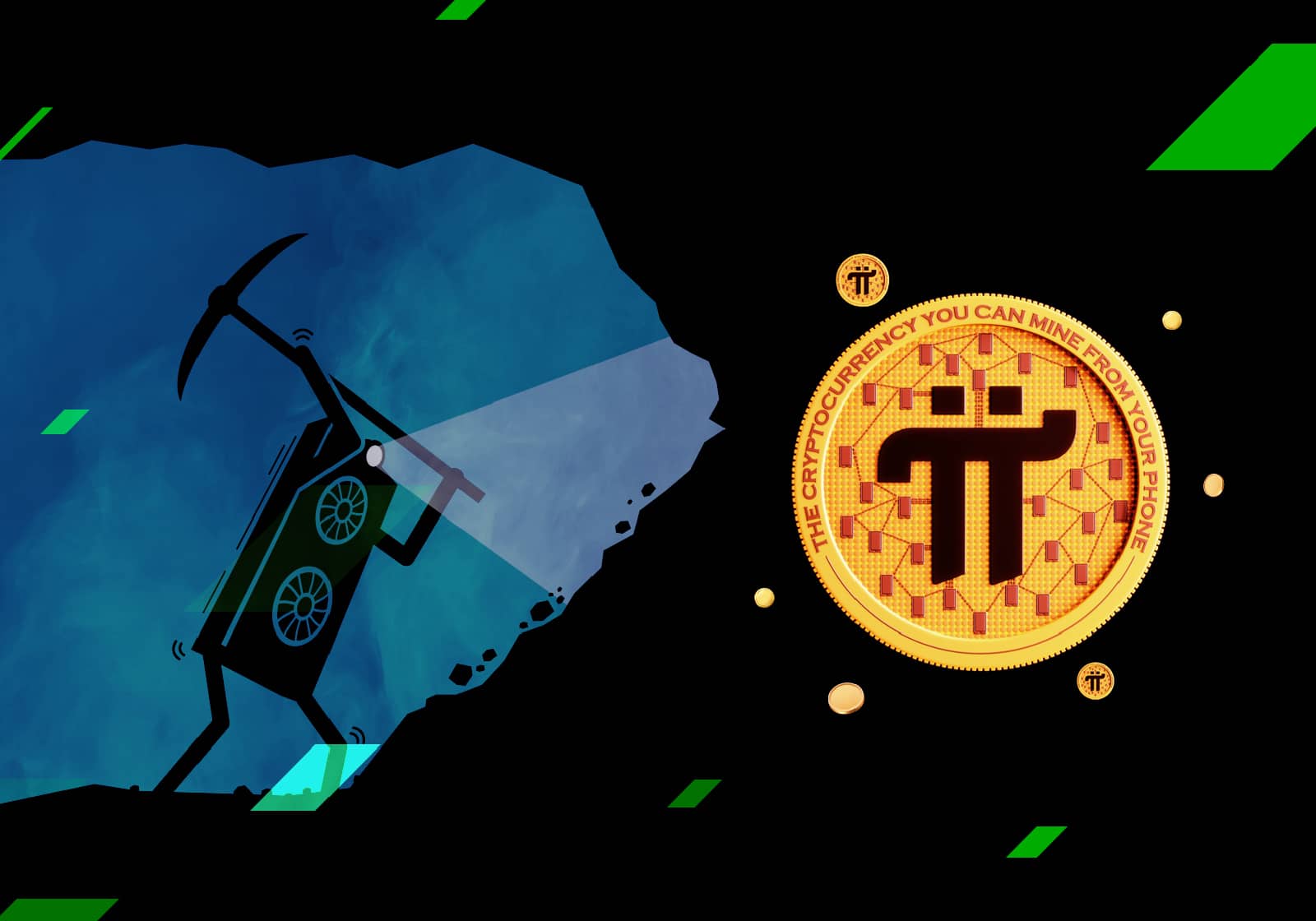 Cryptocurrency mining long ago became a business that requires careful planning and investments. This is a complex computational process for which specialised mining equipment is used. However, a crypto project recently appeared where mining is available to anyone and done with a mobile phone: the Pi Network. In this article, we'll explore this project and tell you how to mine the Pi Network (Pi) coin.
What is the Pi Network (Pi) coin?
The Pi Network is a cryptocurrency project that aims to make mining accessible to all users. The Pi Network cryptocurrency can be mined by anyone who has installed the associated app on their mobile phone. Moreover, the mobile device doesn't suffer from the increased workloads that traditional mining equipment is traditionally subjected to.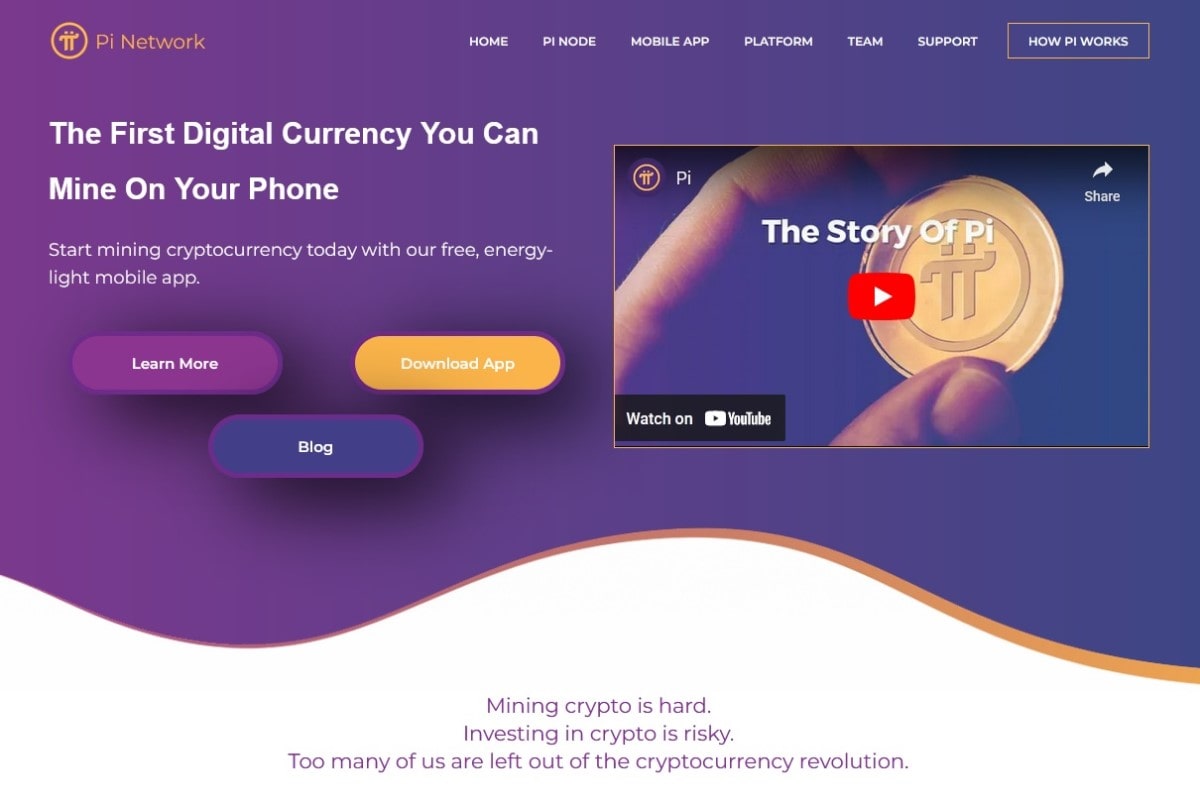 How does mining on the Pi Network work?
Nodes on the Pi Network rely on an algorithm based on the Stellar Consensus Protocol (SCP). Within it, the nodes on the Pi Network form "security circles", that is, groups of three to five trusted people who are known to each of the network's users. Security circles prevent fraud because transactions are only validated on the blockchain if they're approved by trusted nodes.
The system has the following user ranks:
Pioneer. Entry level for all users
Contributor. You only need to mine Pi cryptocurrency for three days to unlock it
Ambassador. A rank for users who invite other members to join the Pi Network. This rank caused a lot of criticism, as many saw it as a sign of a pyramid scheme.
Node. Members who have connected additional hardware to the network. This level is still in development and will be available later.
The developers have planned three phases for the Pi Network's evolution:
Token development and distribution. At this phase, the Pi Network acts as a faucet that mimics the behaviour of a decentralised system, as it'll function once the mainnet is up and running. During this stage, it's easy to introduce improvements to the user experience. The Pi coin is actively mined, but it's not traded on exchanges, has no exchange rate and can't be withdrawn or exchanged for other coins. All user coins will be migrated to the mainnet once it is launched.
Testnet. The deployment of software in a test network on existing nodes that will run parallel to the first phase.
Mainnet launch. When the community feels that the software is ready for release and has been thoroughly tested, the official Pi mainnet will be launched. By that point, the Pi Network will be fully decentralised and won't be run by anyone but nodes. According to the developers, only those accounts that pass the KYC procedure will be migrated to the mainnet.
The Pi Network ecosystem is now in its first and second phases. The launch of the third one is still in question.
How to mine Pi coin
Pi mining is simple and is done using a special mobile app.
How to mine Pi Network onmobilephones
To start mining Pi, follow a few simple steps:
Find the mobile phone app in the App Store or Google Play by searching for the Pi Network.
Download the app and install it on your mobile device. It's free.
Choose whether you want to register using your Facebook account or your phone number. Please note that if you choose the former method and then lose access to your Facebook account, you may also lose access to your Pi coins.
Enter your first name, surname, nickname, country of residence and telephone number.
Enter the invitation code. You can get it from someone who's already a Pi Network user. The easiest thing to do would be to Google it.
Press the lightning button to start mining Pi. The mining process will run for 24 hours before you need to press this button again.
Pi mining on iPhone
You can find the Pi mining app for iPhone in the App Store. It requires iOS 9.0 or later to work properly.
Pi mining on Android
The Android app can be downloaded from Google Play. It requires Android 5.0 or later.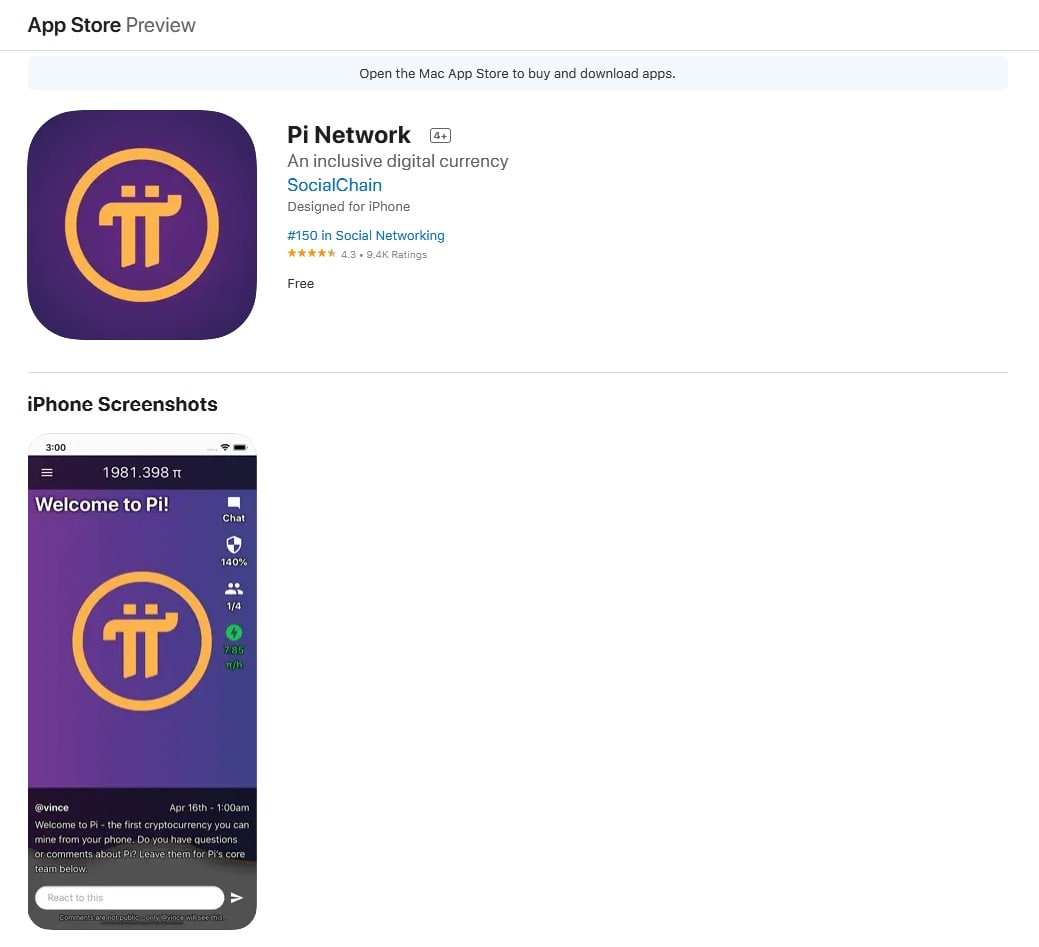 How to mine Pi Network on PCs
As the Pi Network is positioned as a cryptocurrency for mining on mobile phones, you may be wondering, "Can I mine Pi on a PC?". Yes, you can, but it'll require some extra work.
You'll need an Android emulator such as NoxPlayer, BlueStacks or MEmu. Download and install the emulator of your choice. Run it, then install and use the mining app.
How to mine Pi faster
Increasing the amount of Pi mined can be done in the following ways:
Get the Contributor rank. To obtain it, you need to mine Pi for three days and add 5 users to the circle of trust.
Get the Ambassador rank. To obtain it, you have to invite new members to join the network via your referral code.
Is Pi Network mining profitable?
The Pi coin isn't currently traded on exchanges and doesn't have any price. The developers themselves emphasise that Pi's price is now zero, just like the price of Bitcoin in 2008. This, of course, is true because the first block of Bitcoin was generated in January 2009, and Bitcoin didn't exist yet in 2008.
For this reason, it's impossible to assess the profitability of Pi mining right now. However, the Pi Network mining app is free and doesn't consume any noticeable amount of electricity for its operation. As a result, no matter what the price of the coin is, once it's listed on cryptocurrency exchanges, its miners will see profit anyway.
It's also worth bearing in mind that when you install the app, you have to provide personal details: Name, phone number and country of residence, and if you register using a Facebook account, the ID of that account. Thus, there's always the potential risk that this data could be stolen. Given this, it's even more suspicious that the developers are willing to implement KYC procedures, i.e., full identification of customers with their personal data, including passports and addresses.
The question of whether the Pi token has any prospects is rather difficult to answer until the Pi Network's mainnet is launched. There are no dates for its launch on the project's official website. And while Pi mining costs users nothing, the requirement to pass KYC, the use of pyramid schemes tactics and the fact that the app is a closed-source software are surely red flags.
Difference between Pi mining and Bitcoin mining
There are a number of significant differences between mining a Pi Network coin and Bitcoin.
| | | |
| --- | --- | --- |
|   | Bitcoin | Pi Network |
| Costs of mining equipment | High - requires specialised hardware (ASIC) | Can be mined on a mobile phone |
| Electricity costs | High | Insignificant |
| Complexity of setting up the equipment | Medium | Very low |
| Profitability | Profitable in regions with cheap electricity | Unknown |
| Market cap (as of 06/10/22) | $384,786 B | $0 |
| Privacy | Above average | Low |
StormGain Bitcoin mining benefits
If you want to try crypto mining for free but don't want to wait an unknown amount of time for the Pi Network mainnet launch to cash out your mined coins, you can try Bitcoin mining on the StormGain platform.
It's fast and risk-free.
Bitcoin is the most popular and liquid cryptocurrency in the world.
You don't need to buy any mining equipment: The mining is done on StormGain's hardware. All you need is a mobile device to start the process.
As the mining process takes place on StormGain's hardware, it won't wear out your device or consume electricity.
It's totally free.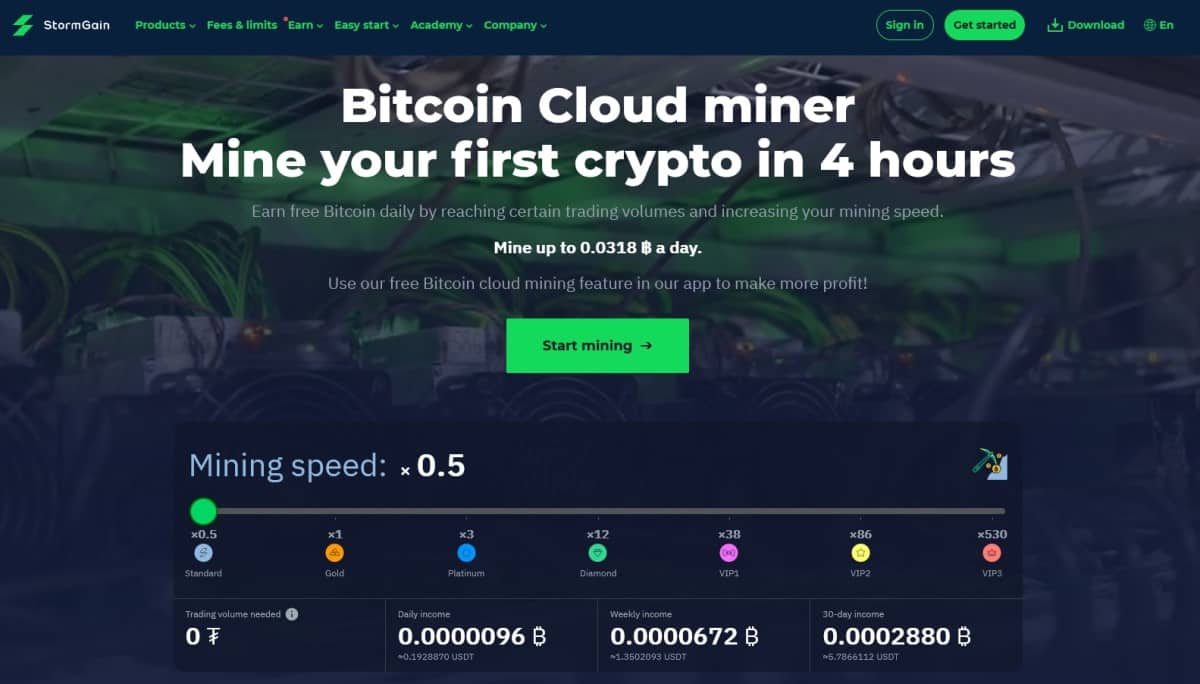 Pi Coin Price Prediction
On Pi Day, which was on 14 March 2023, the Pi Network protocol marked its fourth anniversary. As the Pi Network project is approaching its final stages, people are curious about the future.
It's crucial to note that the cryptocurrency market is highly volatile, making it challenging to forecast the coin's price in a few hours accurately, let alone make long-term projections, such as predicting the Pi crypto price in 2025. Consequently, analysts can and do make incorrect predictions.
As of 23 April 2023, the price of the Pi coin remains unknown because it is still in pre-release mode. However, this is expected to change soon.
The Pi Network is projected to continue integrating blockchain technology and aims to build up its developer ecosystem, a critical metric for its success. The launch of its hackathon indicates its long-term goals.
Since Pi uses the Stellar Consensus Protocol (SCP), it would be simple for decentralised applications (dApps) to develop and onboard the smart contract platform.
A robust developer ecosystem would provide more use cases for the Pi coin. Network upgrades are also expected, and exploring NFTs, DeFi and Metaverse ecosystems would benefit the digital asset significantly. This could push the Pi coin's value well beyond the $10 range by 2025.
Predicting the Pi crypto price in 2030 is likely to be more speculative, and the value of Pi coin in 2030 may be influenced by when the cryptocurrency becomes available for trading and its performance post-launch. According to some users on social media, estimates for the Pi coin's value in 2030 vary widely, from $1 to several hundred dollars.
Tags
Exchange BTC

Try our Bitcoin Cloud Miner and get additional crypto rewards based on your trading volume. It's immediately available upon registration.

Try our Bitcoin Cloud Miner and get additional crypto rewards based on your trading volume. It's immediately available upon registration.
Instrument
Rate
Change (24h)