How to buy Chiliz (CHZ): the fastest way

Gone are those days when cryptocurrencies were used only as general-purpose replacements for fiat money. The blockchain industry is rapidly changing, with new types of digital money being presented regularly. In recent years, we've seen a boost in the launch of coins and tokens intended to be used for specific purposes. Chiliz (CHZ) is one of them.
Soon after its release in 2012, the token was officially adopted by the sports and entertainment industry. Such well-known football clubs as FC Barcelona, Juventus and Paris Saint-Germain have adopted CHZ as the official currency that lets sports fans support their favourite football clubs. Are you also eager to buy Chiliz? In this article, we'll take a closer look at the digital currency and check step-by-step instructions on how to buy Chiliz token with the StormGain platform.
What is Chiliz?
The increased popularity of NFTs resulted in a series of niche-specific tokens being released in the cryptocurrency industry. Chiliz (CHZ) is one of the most popular solutions enabling sports fans worldwide to buy a digital token and support their favourite teams by purchasing digital collectables for CHZ.
Chiliz is the leading cryptocurrency for the sports and entertainment industry. CHZ is an ERC-20 token running on the Chiliz blockchain based on Ethereum. The token serves as the digital currency that lets sports fans buy NFTs at Chiliz' Socios fan token marketplace. The token operates on Socios, which lets sports fans buy branded NFTs to connect with their favourite sports teams and entertainers. For sports clubs, fan tokens like CHZ are a great way to connect with their fan base and unlock new sources of revenue. As of now, Chiliz is the only digital currency that the Socios NFT marketplace accepts.
Socios is a fun website that lets users buy tokens and participate in contests and win CHZ, exchange NFT tokens and trade them with other users. Currently, the marketplace offers branded NFT tokens for 20+ sports and eSports teams, and more are yet to come. 
Tokens like Chiliz are bridging the gap between passive and active sports fans. The Chiliz token lets sports fans actively participate in making club-related decisions while taking part in surveys and polls, voting for the message that the captain of their favourite football team will wear on his armband, the music that will be played before the match and when the supported team scores a goal, etc.
The fan token can be used for signing the sports or entertainment team's official merchandise or a free ticket to the upcoming matches. There is a limited supply of fan tokens available. It means that only a few fans can get special rewards or have voting rights. 
On the Chiliz exchange platform, you can buy fan tokens from well-known football teams like Barcelona, Paris Saint-Germain, and Juventus. 
NFTs have proven to be especially useful for the gaming, sports, and entertainment industries. Users can personalise their profiles and achieve in-app goals. Chiliz and other NFTs are widely used in customer loyalty programs, making it possible to use the technology to support sports teams. The Socios application is a vivid example of how NFTs are used in innovative ways.
How it works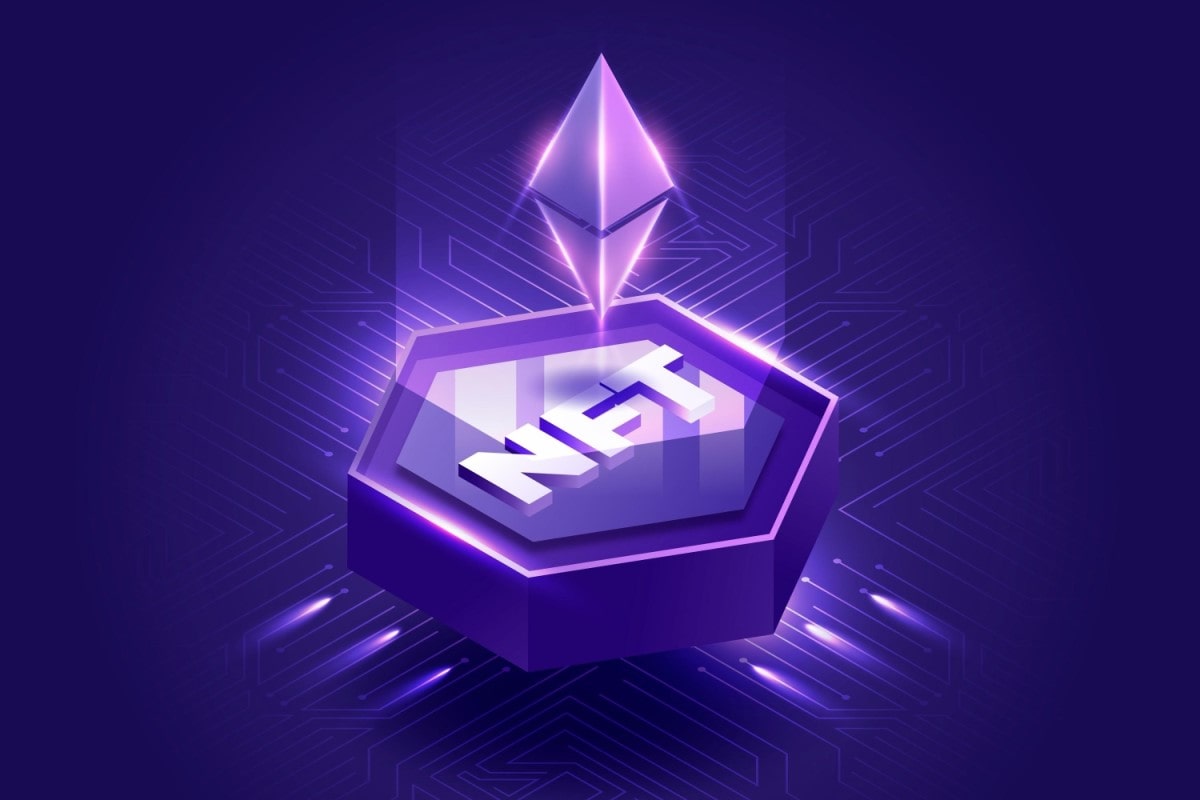 Chiliz (CHZ) is an Ethereum blockchain-based ERC-20 utility token. The digital asset is used to buy fan tokens issued by popular sports clubs and entertainment teams. Chiliz tokens are not mere collectables. When purchased with CHZ, team-branded NFTs let fans participate in the life of their favourite sports teams while giving them the voting right and the possibility to express themselves while incoming Socios partners.
Socios partners issue NFTs in Fan Token Offerings. Each token is stored on the Socios Proof-of-Authority side chain. The cost of fan tokens rises and falls depending on the selected teams' popularity and each token's supply and demand factors.
Every sports or entertainment organisation using the Chiliz technology has a limited token supply specified in the initial fan token offering (FTO). The tokens are provided on a first-come-first-serve basis. Chiliz discloses the opening price and fully diluted market cap beforehand. Native CHZ tokens are used to purchase fan tokens, which perform as the internal currency of the app. Sports fans can use fan tokens and smart contracts to vote on the Socios platform. It's up to sports clubs to decide on the amount of influence their fans' votes may have.
Everyone who has a team-branded NFT for a sport or eSports team that runs a poll has one vote. If you own two tokens, you get two votes. The math is simple: the more tokens you have, the more your influence over decisions grows.
For example, Juventus football club let token holders vote for the song played over the loudspeakers when the team scores a goal. For eight years, the team celebrated goals with the Chelsea Dagger song, but when CHZ token holders voted for Blur's Song 2, it replaced the old song.
Other popular examples include the case when FC Barcelona fans voted for the mural that would hang on the wall of the players' dressing room. The Paris Saint-Germain football club let token holders decide what message would be written on their captain's armband, which he wore during a series of games.
Football clubs aren't the only ones to interact with their fans through interactive voting. eSports games and teams do the same. For example, the OG eSports team let the token holders decide on the banner on display when the team participated in charity events. The eSports team, the Spanish Heretics, let their fans choose the design for their scarves that the team wears during tournaments and sell as fan gear afterwards.
Besides giving token holders voting rights, every sports club and entertainment team can offer additional bonuses and rewards to their fans. This includes the possibility of buying premium seats at events, getting team-branded merchandise, participating in the gamification process and more. The more branded tokens fans have, the closer their relationship with their favourite teams is. 
The history of Chiliz 
Chiliz's current CEO, Alexandre Dreyfus, founded Chiliz (CHZ) in 2012 as part of the Malta-based international sports and entertainment organisation called Mediarex Group. With more than 20 years of experience working with web-based companies, Dreyfus has founded and promoted such big projects as Winamax and Chilipoker online poker projects, the Webcity interactive travel guide and others. Chiliz's CEO main mission was to establish the ultimate fan engagement tool that would become a powerful additional source of income for the sports industry. As a result of his hard work, the token reached numerous large and small football clubs in Europe.
Although the token was presented in 2012, its official launch date was only in October 2018. At that time, Chiliz had 8.8 billion CHZ issued. Later the same year, the token was listed on all major cryptocurrency exchanges.
Turin, an Italy-based Juventus football club, was the first sports organisation to partner with Chiliz in 2019. In November 2019, the football team held its Fan Token Offering, selling 1.3 million tokens out of a total supply of 20 million.
The Socios platform was launched in late December 2019. The app was developed with the aid of a $66 million investment by a private placement. Juventus was the first company to start issuing fan tokens (JUV) and let football fans vote on the blockchain. Today, the Socios app is installed on millions of devices.

Chiliz has offices in Malta, France, Turkey, Spain, South Korea and Brazil. The company is continuing to add more football and eSports teams to the partners' list. Chiliz is also looking to add more sports and entertainment tokens to the Socios app.
In March 2021, Alexandre Dreyfus shared the plans to invest $50 million in expanding the US market. It lets the company reach a wider market, attract new customers, increase demand for CHZ and partner with American sports teams.
CHZ features and main advantages
Chiliz is a promising cryptocurrency that sports and crypto enthusiasts will appreciate investing in. In March 2021, CHZ triggered the NFT hype when its price rose by 1,650% in just two weeks. This impressive performance let the digital currency hit the list of the 30 fastest-growing cryptocurrencies in 2021.
Chiliz has a clearly defined business strategy based on tokens. It considers fan tokens as a means for building fan communities and expanding its business reach. This approach made it easier for the company to attract investors and moderate volatility, which is often high and shaky in the cryptocurrency world. But Chiliz isn't a crypto company; it uses cryptocurrencies as a vital technology to achieve its business goals.
Chiliz was the pioneer in the sports and entertainment industry that allowed sports fans to take an active part in the decision-making process of their favourite sports clubs. The company is constantly searching for new ways and platforms of adopting the technology and letting fans interact with sports clubs. The recently established Chiliz Blockchain Campus is a vivid example of the company's successful attempts to accelerate the adoption of blockchain technology in Asia and Europe.
How safe is the Chiliz network?
CHZ is available on such blockchains as Ethereum, Binance Smart Chain and Tron. Fan tokens are sold and bought on the Socios platform using a proprietary crowd control mechanism that protects sports fans by letting them vote in publicly audited polls. The proof-of-authority mechanism used by the Socios platform is mostly used by private businesses with closed blockchains and lets only businesses within their ecosystems participate. Unlike other consensus mechanisms, CHZ is less decentralised, but it's scalable and highly secure.
Chiliz (CHZ) at a glance
| | |
| --- | --- |
| Coin symbol | CHZ |
| CoinMarketCap | $1,726,151,430 |
| Total CHZ supply | 8,888,888,888 |
| Circulating CHZ | 5,344,064,580 |
| Current price | $0.322993 |
| Notable team members | Alexandre Dreyfus |
| Partnerships | FC Barcelona, Juventus, Paris Saint-Germain |
| Industry | Sports and entertainment |
| Token uses | Utility token |
| Network | Ethereum, Binance Smart Chain |
Chiliz price analysis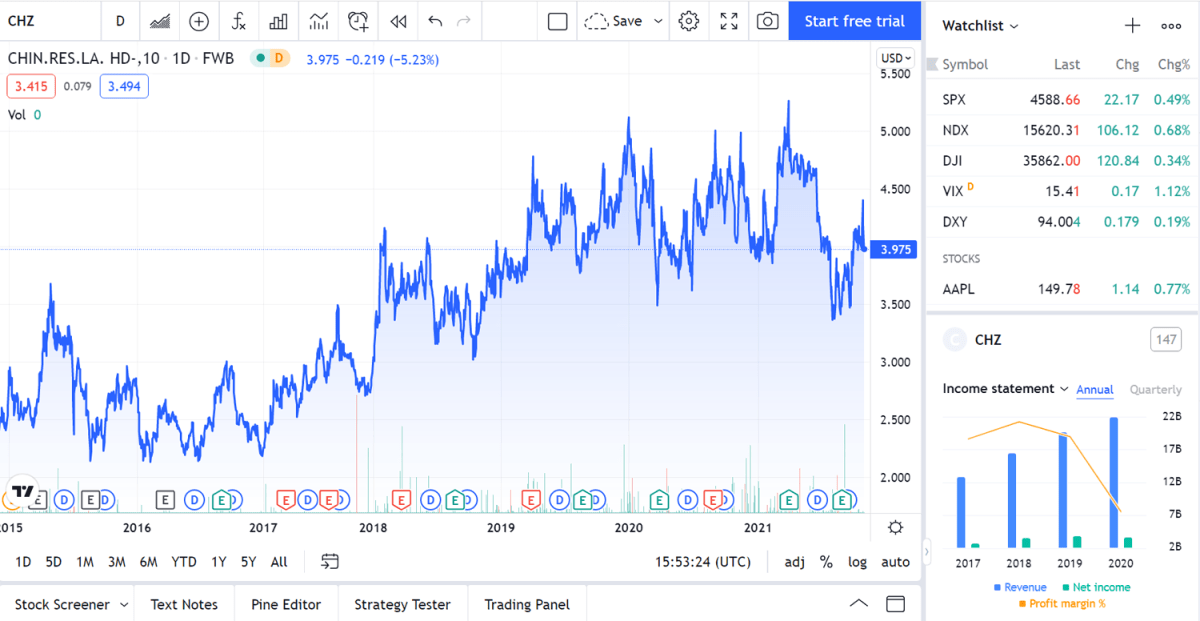 Chiliz was officially launched in 2018 and, since then, it has performed impressively. More specifically, the digital currency reached $0.0150 in just 30 minutes after it was released. None of its competitors can boast a similar result; even Bitcoin lagged behind at its launch. In January 2020, the price of a single Chiliz reached the historical maximum of $0.009. However, the trend didn't last for long, and the price decreased to $0.004. The biggest price drop was caused by the coronavirus pandemic.
In November 2020, Chiliz's price reached its lowest mark, $0.010. However, from then until January 2021, the currency's price value started to recover gradually, and, in early 2021, the price of a single Chiliz reached $0.0340 in February 2021. Ever since then, the currency's price and volume haven't rolled back. In March 2021, Chiliz's price underwent tremendous growth and marked an all-time high of $0.89 per token. After that, the token price underwent a slight correction and stayed around $0.40. In September 2021, CHZ's price significantly increased once again and reached the value of $0.758. However, it didn't stick to that mark for long, and soon the token price corrected to $0.40.
As of the time of writing this article (26 October 2021), Chiliz ranks 67th by market cap at $1,873,394,098. The cost of one CHZ token is approximately $0.31, with a 24-hour trading volume of $130,123,125. There are 5,941,076,911 CHZ tokens in circulation, and the maximum supply is 8,888,888,888 CHZ coins.
| | |
| --- | --- |
| Price | $0.31 |
| Market Cap | $1,873,964,848 |
| Circulating Supply | 5,941,076,911 C |
| Daily Trading Volume | $130,123,125 |
| All-Time High | $0.8915 (13 March 2021) |
| All-Time Low | $0.004001 (27 September 2019) |
| Official Website | |
CHZ Price Prediction
Chiliz (CHZ) has withstood the test of time and become the ultimate choice for the gaming and sports industries. The pandemic was a real test of strength for fiat and digital currencies, and although Chiliz experienced both rises and falls, the currency's price managed to remain more or less stable. As a result, many investors considered it to be more or less reliable. Now, with all hurdles and risks in the past, the Chiliz token is set to keep holding its benchmark for the future, attract more investors and reach more industries. 
Even though CHZ's price hasn't skyrocketed recently, there is one thing that we can feel certain about. Price predictions indicate that the digital currency is here to stay and can potentially increase its value.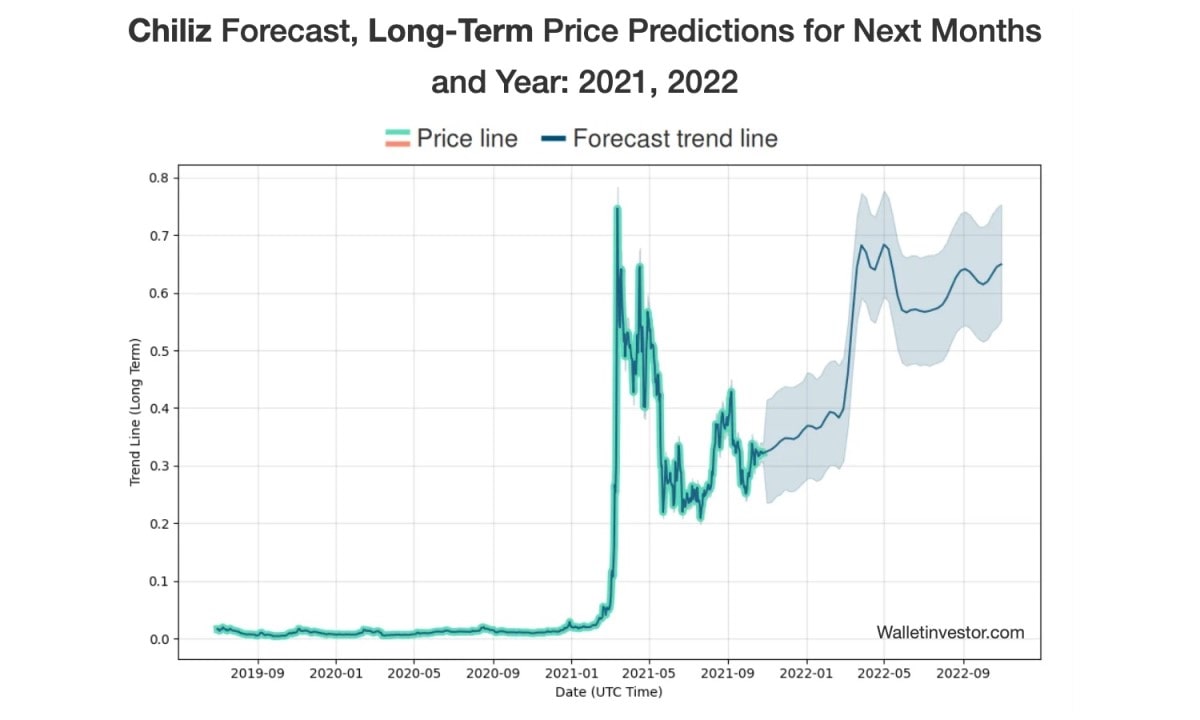 Chiliz price prediction 2021
Having survived the uncertain times of the coronavirus pandemic, Chiliz is definitely here to stay and attract more investors. According to Chiliz price predictions, the token's price can easily reach $0.75 by the end of 2021, thanks to the robust smart contracts backing it.
Chiliz price prediction 2022
The road ahead is winding and unpredictable. If the cryptocurrency market remains stable in 2022, Chiliz's price is set to grow as it attracts more investors and big names in the sports and gaming industries. Considering that investors' confidence in the Chiliz token keeps booming, the currency's price may rise to $1.20 by the end of 2022. 
Chiliz price prediction 2023
Chiliz has established a usable, reliable network focused on the combination of interactivity and advanced user experience. If the company keeps this up and adds more features that support its philosophy, chances are the token's price may reach $1.50 or higher by the end of 2023.
Chiliz price prediction 2024
There are many predictions and speculations related to the future performance of the Chiliz token. Paying attention to the company's rapid and dynamic growth and focus on implementing new technological advancements, some believe that the cost of one token may reach the price of $2 by the end of 2024.
Chiliz price prediction 2025
Speaking about the long-term prediction for Chiliz's price, the cryptocurrency is expected to pick up the pace with other tokens available in the industry while settling at the level of $2-$2.50 in early 2025. 
Is Chiliz a good investment?
Due to its properly thought-out roadmap and vision, Chiliz could be a profitable investment. It's a relatively new type of digital currency that can make big changes in the cryptocurrency world. 
The optimism for the Chiliz price prediction is based on the currency's consistent performance since it was launched to the present moment. The digital currency's price may rise higher as more sports, teams and users are added, thus making it a more popular and profitable crypto for investors.
When you consider investing in the Chiliz token, keep in mind that it's a volatile, high-risk/high-reward investment. Although its price hasn't gone as high as Bitcoin's, Chiliz could provide early investors with more than a 1,500% return on investment. At the same time, people who decided to buy the Chiliz token at its all-time high price may have suffered a 60% loss on their investment.
With that said, we can conclude that buying a Chiliz token would be a great choice for sports fans looking for an opportunity to support their favourite teams and participate in polls.
How to buy Chiliz with StormGain
Buying Chiliz with StormGain is quick and easy. As soon as you sign up with the platform and verify your account details, you can start buying CHZ using a credit or debit card. Your order will be completed in a matter of seconds. StormGain also offers the most lucrative terms and fees that other platforms have a tough time beating. Now let's look at how to buy Chiliz with StormGain.
Step 1. Download the StormGain app or go to the website and sign up
To get started, you need to sign in to your account. If you don't have one yet, you need to sign up. It isn't hard to create a StormGain account because the platform welcomes anyone to buy and exchange cryptocurrency.
To register on the StormGain platform, you need to enter a valid e-mail address and create a strong password for your account. You can sign up on a personal computer, laptop or smartphone after you download the StormGain app.
After you enter your personal details, a confirmation code will be sent to your phone by text message. Enter this code to verify your account.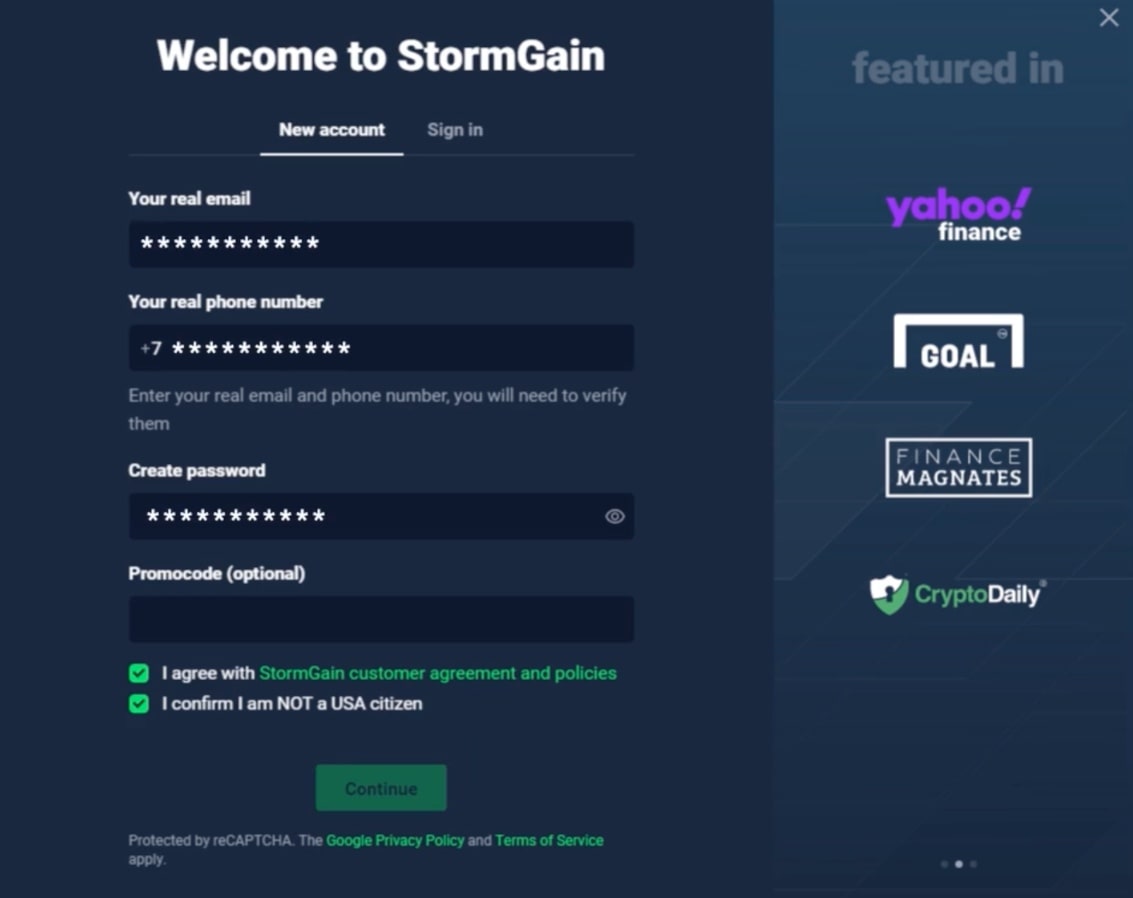 As soon as you register on the StormGain platform, you're automatically provided with six wallets of the most popular cryptocurrencies: Bitcoin, Bitcoin Cash, Ethereum, Ripple, Litecoin and USDT Tether. StormGain lets you trade up to 23 different crypto pairs on the open market, including CHZ/USDT. Buying and selling your tokens on the platform is as safe as using a hardware crypto wallet because StormGain keeps all private keys safe on cloud storage servers.
Step 2. Deposit funds
To buy Chiliz, find it in the list of available assets and click 'Deposit'.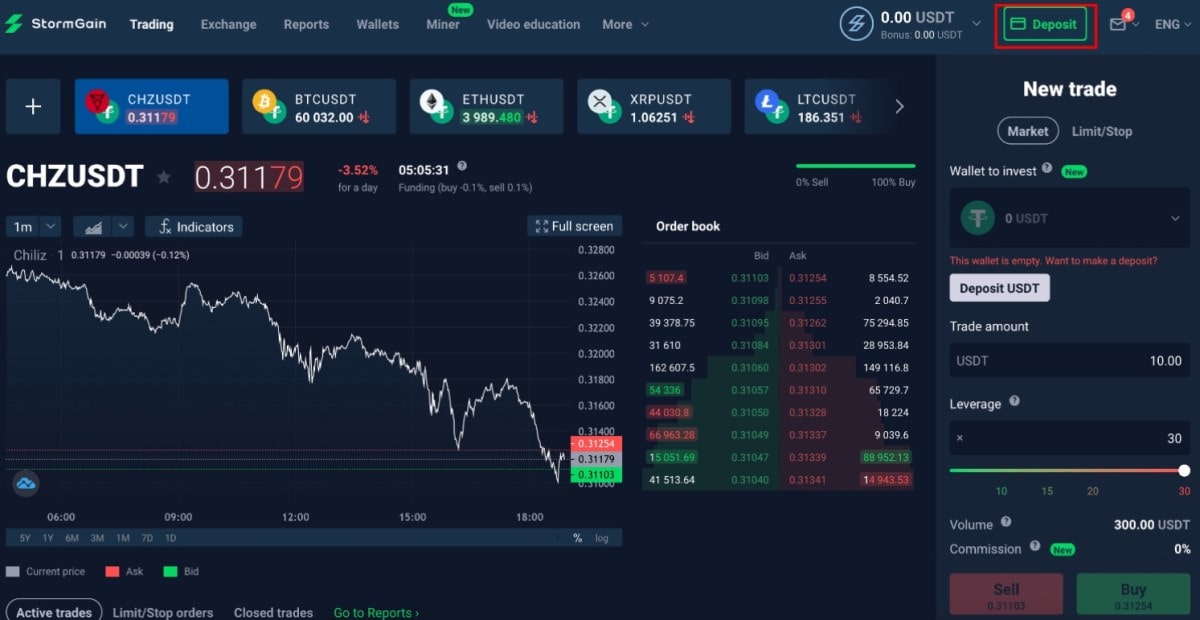 Step 3. How to buy Chiliz
After adding funds to your StormGain account, select 'Buy CHZ using the credit or debit card option and specify the amount of money you'd like to use for the purchase. You'll then see the following screen. Select the StormGain wallet, payment method, currency and the amount you want to add to your account. The minimum deposit amount is $50.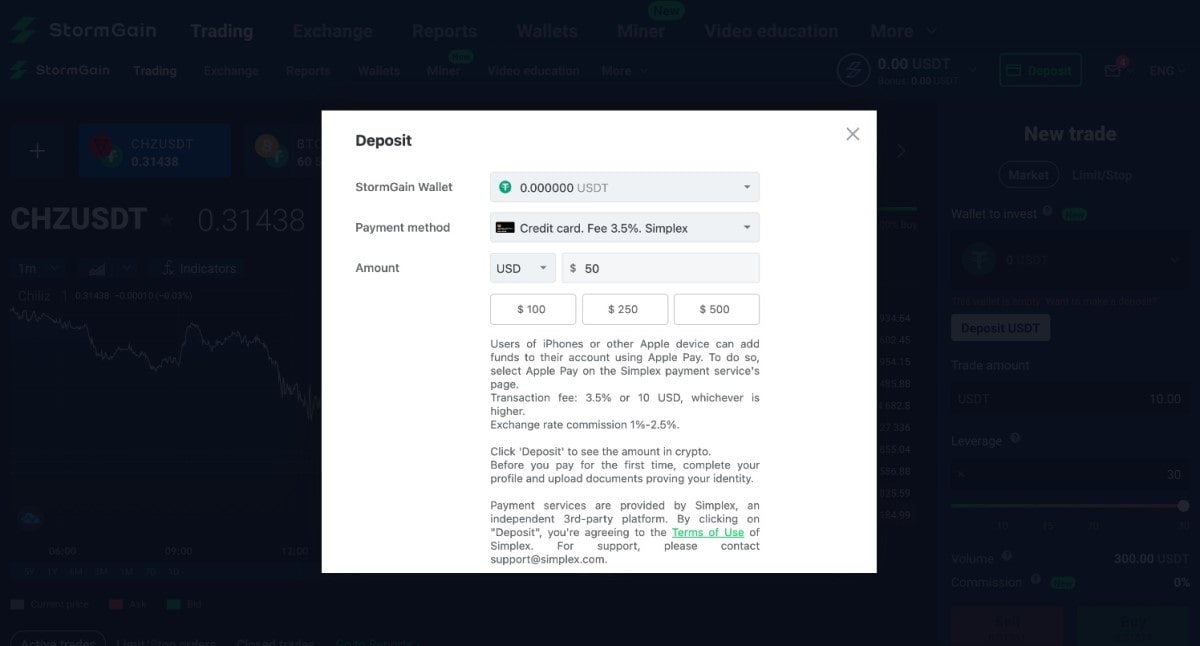 Click 'Pay now,' and you'll get the corresponding amount of Chiliz in your StormGain wallet.
Step 4. Start trading
Now that you've got your Chiliz, you can turn it into more money. The StormGain platform lets you buy and hold for a guaranteed return of at least 10% annually (Interest on Deposits Scheme), or you can try and play the market by trading with leverage of up to 1:30.
Where else can you buy Chiliz (CHZ)?
If, for some reason, you're looking for additional platforms where you can buy or sell Chiliz, you might want to consider using Binance, Huobi, Coinbase, Crypto.com or other exchanges. Whatever platform you choose, you need to verify your identity to start trading Chiliz and other cryptocurrencies. This includes providing your full name, address, personal ID and tax identity number.
You may be asked to create a hardware or software wallet for your cryptocurrency, depending on the chosen platform. For example, to prevent and avoid hacks, Coinbase, Crypto.com and Binance keep most of their users' tokens offline. This is done to keep users' finances safe and avoid the risk of becoming a victim of exchange hacks. Users who wish to keep their digital currencies as safe as possible may rely on using hardware wallets since they are the best solutions to keep finances from hacks.
After entering your personal details, verifying your account and depositing fiat money or other cryptocurrencies, you can buy Chiliz token on the platform of your choice. In most cases, crypto exchanges support instant deposits, which means you can buy CHZ as soon as your deposit successfully comes in.
Pick the pair that you'd like to buy your CHZ token with. For example, it may be the CHZ/USD pair. Once you buy the crypto, you can send it to your Socios account and buy fan tokens. You can leave the CHZ token on your exchange account or store it on the hardware or software wallet of your choice.
The best crypto wallets for Chiliz
As we've previously mentioned, you may choose from hardware and software wallets to keep your CHZ tokens in a safe place and avoid hacking risks. Let's consider the best crypto wallets for your Chiliz tokens.
When looking for the best hardware wallet for Chiliz, Ledger would be the best choice for you. The wallet supports 1,000+ cryptocurrencies, including Bitcoin, Ethereum, Ripple, Chiliz and other ERC-20 tokens. There are two types of safe and easy-to-use hardware wallets that you may choose from. Both solutions keep your cryptocurrency protected from hacks, thanks to the certified secure chips installed in each of them. The first one is the Ledger Nano S, which is a simple wallet type that would be a perfect choice for beginners. The Ledger Nano X is a more expensive solution, featuring a large screen and fully encrypted Bluetooth functionality that would be a handy choice for professional use.
Software wallets are not as safe as hardware wallets. Still, these are the easiest and the most convenient ways to trade your digital currencies and interact with most DeFi platforms available in the market. Software wallets may be available as mobile apps for iOS and Android devices or come in the form of extensions for such popular web browsing apps like Google Chrome. Like hardware wallets, software wallets can store Bitcoin, Ethereum, Dogecoin and all ERC-20 tokens.
Everyone looking forward to working with secure online wallets will enjoy using the StormGain platform. We keep your digital currencies protected from hacks and other kinds of malware attacks while using industry-leading encryption and two-factor authentication, which makes it more difficult or impossible for scammers to put their hands on your crypto. This secure and convenient access to all wallets is available right from the platform's front page.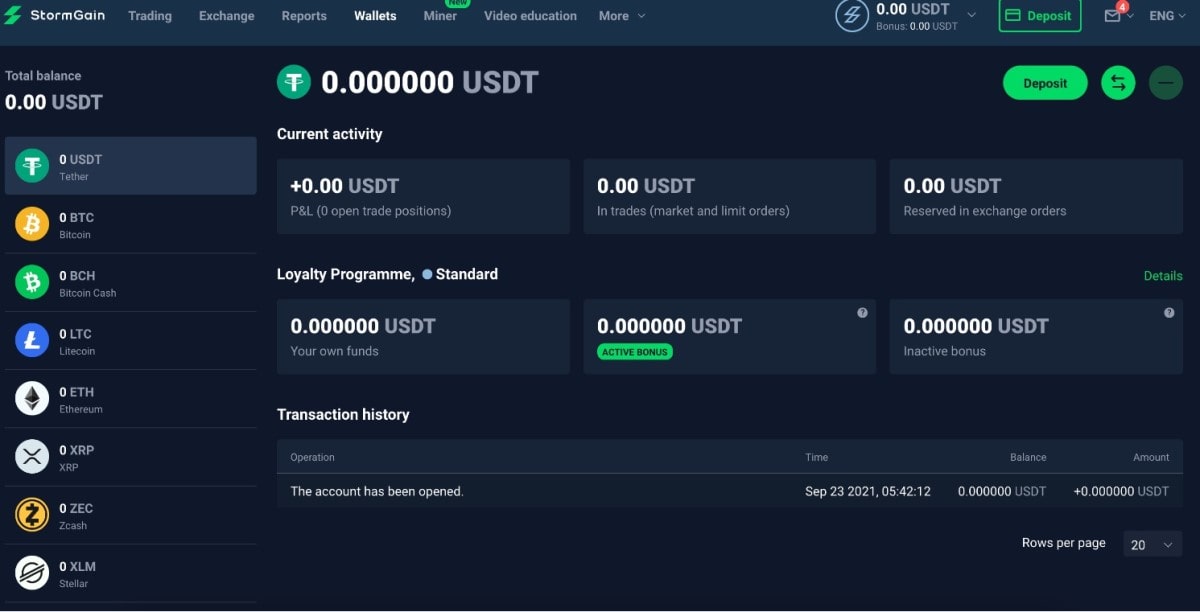 StormGain has integrated wallet storage in the crypto trading app available for both iOS and Android users. The platform lets you hold six of the biggest cryptocurrencies using the in-platform wallets and store your entire crypto portfolio in a single place. StormGain supports ERC-20 tokens (including Chiliz), Bitcoin, Ethereum, Ripple, Litecoin and Tether, enabling you to keep your entire crypto portfolio all in one place.
Bottom line
Looking for the best cryptocurrency to invest your funds in can be a complicated process. It takes time to do the proper research and find options that are worth investing in. If you're thinking about buying Chiliz, check out the following points before investing:
Chiliz's (CHZ) maximum total supply is 8.8 billion, with a circulating supply of about 5.6 billion tokens.
It's important to clearly understand the purpose of Chiliz tokens. 
Why are you buying Chiliz? Is it a short-term or long-term investment? Are you a sports fan and want to use CHZ to make your voice heard during meaningful decision-making? If you're interested in the latter, make sure that your favourite sports team is available on Socios and check the rewards that fan tokens holders can potentially get.
You can invest in Chiliz directly or use it to invest in fan tokens. One of the most vivid examples is FC Barcelona fan tokens ($BAR), the price of which increased by 200% in the first five minutes of trading in June 2020. In April 2021, the fan token traded at $29, which was up from $6.60 in June 2020.
If you wonder how to buy Chiliz quickly and easily, the StormGain platform is the right way to go. It takes just a few seconds to sign up, and you can deposit as many funds as you want into your account to buy CHZ and start trading right away.
Tags
Exchange BTC

Try our Bitcoin Cloud Miner and get additional crypto rewards based on your trading volume. It's immediately available upon registration.

Try our Bitcoin Cloud Miner and get additional crypto rewards based on your trading volume. It's immediately available upon registration.
Instrument
Rate
Change (24h)