Is ETH Better Than BTC? Is It a Good Time to Buy?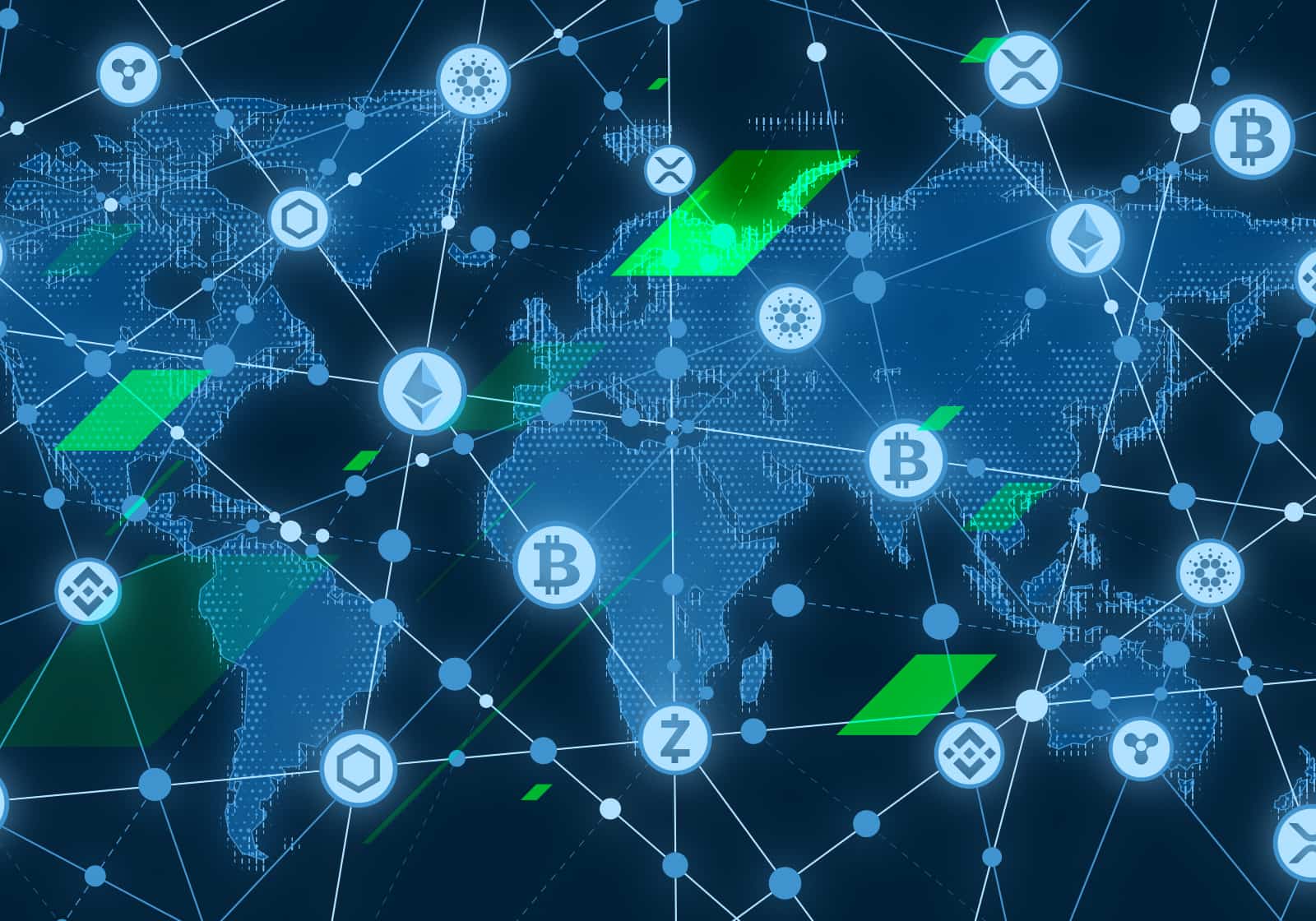 You've most likely heard these two questions quite often. That's why our analysts have done research and conducted an in-depth analysis from different angles to cover everything. 
ETH and BTC are similar in many ways: each one is a digital currency traded on several centralised exchanges (CEXs)and stored on cold and hot wallets.
Both of these crypto coins are decentralised, meaning they're not issued or regulated by a central bank or any state institution. Both use distributed ledger technology, also known as blockchains. 
However, there are also many differences between the two most popular cryptocurrencies, the first one being their market capitalisation. On top of that, ETH as a plus has the following advantages: 
It proposed to utilise blockchain technology for both maintaining a decentralised payment network and storing computer code that can be used to power tamper-proof decentralised financial contracts and applications.
Its applications and contracts are powered by its mainnet.
It was intended to complement rather than compete with Bitcoin, but it has nonetheless emerged as a competitor on cryptocurrency exchanges.
Its PoW (Proof-of-work) algorithm is somewhat similar to BTCs. However, in 2022, ETH will move to PoS (Proof-of-stake) as part of ETH 2.0, which will make Ethereum more scalable, secure and sustainable
Its blockchain is programmable and can be applied in numerous areas, including DeFi, smart contracts and NFTs.
In conclusion, BTC can be considered to be the 'gold' of crypto markets, and ETH can be deemed 'silver'. However, as we've seen in commodities charts, silver has gained more ground than gold has in the past 20 years.
Other important facts that will help ETH get back to its previous highs:
ETH 2.0
The wait seems to be over. We received confirmation that Phase 1 of ETH 2.0 will be done in Q2 2022, and Phase 2 will be ready in Q4 2022 or Q1 2023. However, rumours have emerged that Phase 1 will create an integration for Phase 2, as well.
Vitalik Buterin
It's important to understand that Vitalik Buterin is ETH's 'face'. The project has a real team that he leads and that coordinates all of the strategies, processes and technology integrations.
Passive income
ETH also earns from other projects that have to pay ETH gas fees to run their operation on its blockchain. Ethereum has partnered with some of the cryptocurrencies from the Top 20 by market capitalisation, as well as traditional companies like Samsung Group, J.P. Morgan, Mastercard and Microsoft.
Is it a good time to buy? Let's see what the chart says.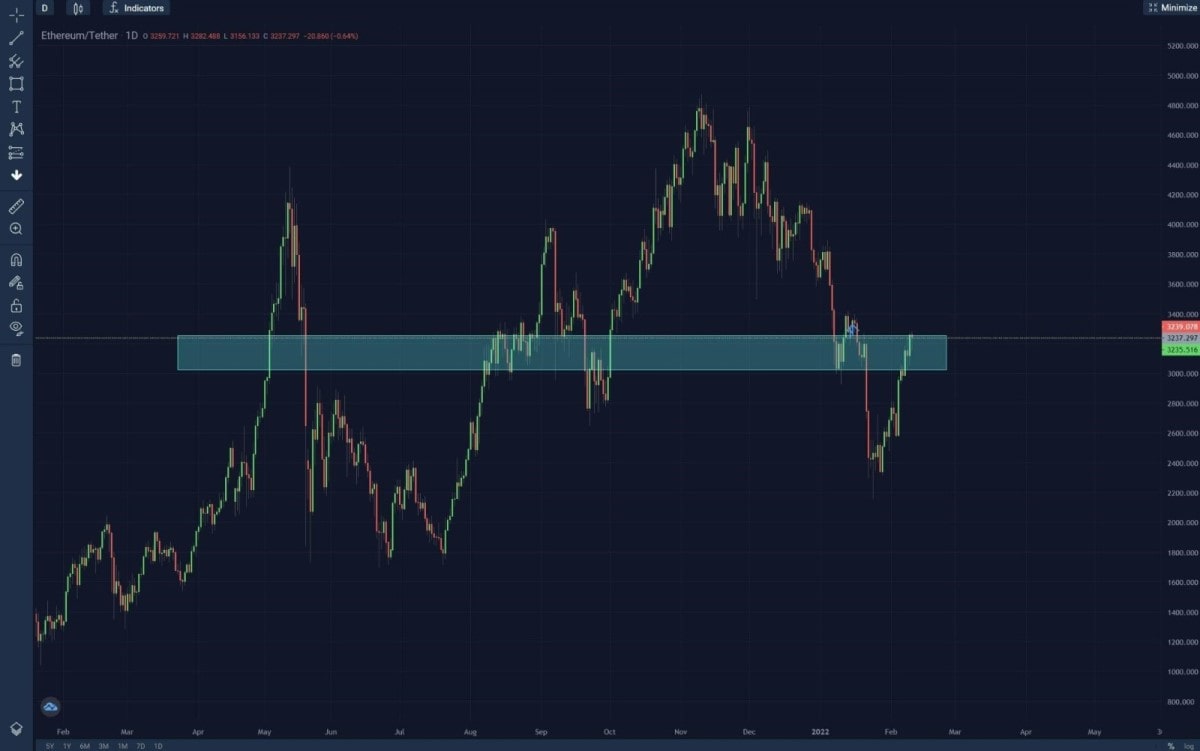 We can see a clear 'mid level', which means the chances for reaching its all-time highs based on the chart history are much higher.
How can you know for sure? 
Our analysts dug a little deeper: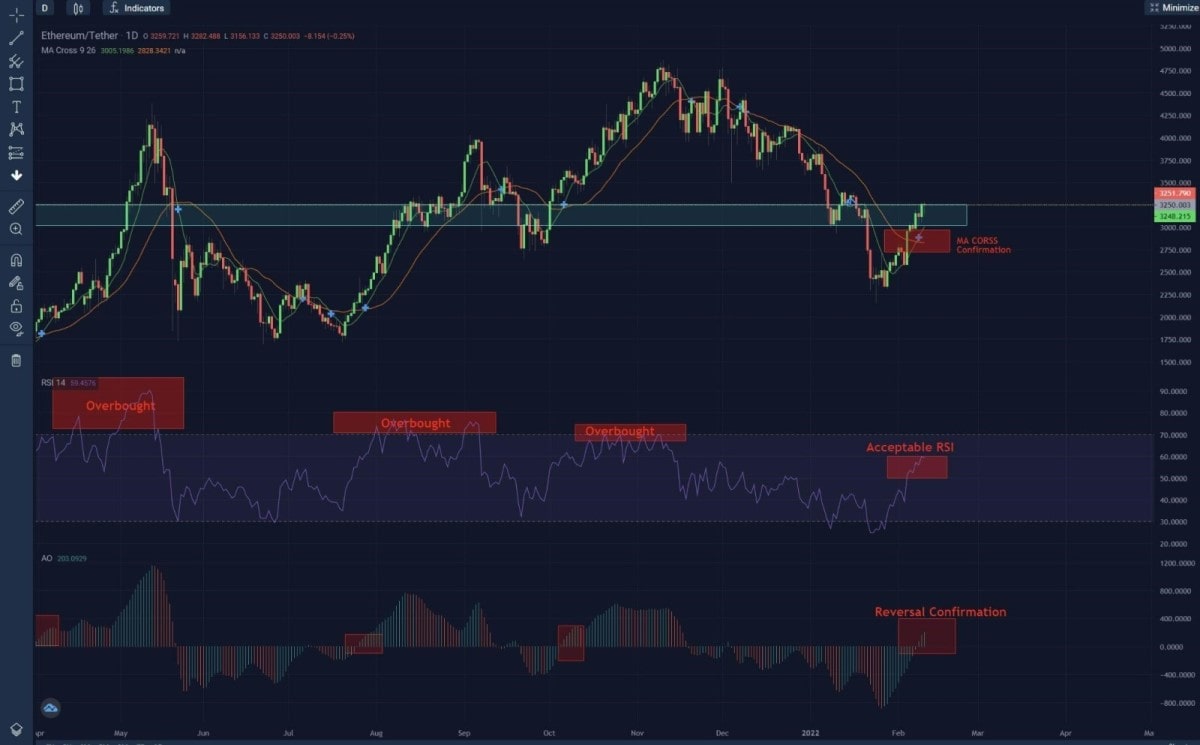 We have three confirmations:
The 1-day MA Cross was formed on 8 February. Based on the chart history, the last time this happened, the bullish run lasted for more than one month.
The RSI is showing perfect conditions. It's almost a little over the middle, indicating that ETH has more to gain in the next 1-3 weeks.
The Awesome Indicator is also showing us the beginning of a reversal, exactly like it did in previous cycles. 
How to invest in ETH via StormGain
There are two options: 
A. Spot Trading - Advanced Exchange lets you buy ETH with no leverage. Investing $1000 will get you 0.33 ETH, and if ETH increases from $3000 to $5000 (its previous all-time high), you will make $600 in profit.
B. Leveraged Trading lets you choose different kinds of leverage. At ETH's current values, the possible gains on a $1000 investment would be:
1:5 Leverage > $3000 potential profit
1:10 Leverage > 6000$ potential profit
1:30 Leverage > $18,000 potential profit
With no risk comes no reward. Don't miss out. Trade now!
Tags
Exchange BTC

Try our Bitcoin Cloud Miner and get additional crypto rewards based on your trading volume. It's immediately available upon registration.

Try our Bitcoin Cloud Miner and get additional crypto rewards based on your trading volume. It's immediately available upon registration.
Instrument
Rate
Change (24h)