Nem (XEM) price prediction for 2023, 2025 and 2030

NEM (XEM) is gaining popularity due to its versatility and unique business strategy. The crypto offers enterprise clients a more efficient way to verify and transfer blockchain assets. It acts as a bridge between private and public blockchains, expanding usability. This new blockchain network enables users to manage assets and data more efficiently. Is investing in the NEM token a good idea? Let's explore the NEM (XEM) price prediction for 2023 and beyond to find out.
What is Nem token?

NEM (XEM) is a cryptocurrency that powers a blockchain platform called the New Economy Movement (NEM). This platform is designed to host digital business platforms and uses the Proof-of-Importance consensus mechanism and data management technology.
In 2021, the Nem (XEM) price experienced significant growth, increasing fourfold. The overall upward trend influenced this growth in the cryptocurrency market. However, the subsequent decline in prices brought the XEM price back to levels seen in the summer of 2020. Despite this, the 5-year chart shows evident extremes, indicating the potential for 3-4x or higher growth on long-term timeframes. The question remains about how long one must wait for another price surge.
Nem (XEM) crypto history
The history of NEM began in 2015, when a user on the Bitcoin Talk forum, known as UtopianFuture, was inspired by the cryptocurrency NXT to build a new project. In March 2015, a forked version of NXT called NEM was launched. Shortly after, developers decided to rebuild NEM from scratch. By the end of the year, NEM had its codebase, making it more scalable and faster than NXT. In 2016, the non-profit organisation NEM Foundation entered the scene, focusing on increasing NEM adoption through brand awareness, marketing, training and partnerships.
In January 2018, the popular cryptocurrency exchange Coincheck experienced a hack, resulting in the theft of 523 million XEM tokens worth over $400 million. Although the funds were never recovered, NEM spent two years monitoring and reporting every account handling the stolen crypto to the authorities.
Also, in 2018, NEM was chosen by the Ukraine Central Election Commission for a pilot program to test blockchain-based voting systems. This marked NEM's first real-world application, offering a voting protocol that improved transparency and efficiency.
XEM, the native utility token of the NEM blockchain, plays a crucial role in the ecosystem. Users can vest XEM for voting rights and block approval rights. Additionally, XEM serves as a cryptocurrency with fast transaction times. Its main purpose, however, has been to facilitate smart contracts.
XEM token overview
The XEM price reached its highest point in January 2018, hitting $1.87. On the other hand, it reached its all-time low in September 2015 at $0.00008482 per XEM token.
The total supply of XEM tokens is nearly 9 billion. These tokens were initially distributed to 1,500 stakeholders and secured fund wallets using multi-signature technology. To obtain their share of XEM tokens, people could sign up for free or pay with either NXT or BTC. The initial participants received 4 million XEM tokens each.
Aside from two significant price movements, the price of XEM has generally been stable. The currency gained initial interest in April 2017, surging from $0.0239 to its all-time high. However, it experienced a sharp decline and fell to $0.09 by September 2018. It regained momentum in September 2020, reaching $0.16 and peaking at $0.77 in early March 2021. Since then, its value has dropped back to the $0.09 range.
The two price peaks of XEM coincided with bull runs in the Bitcoin market, which also led to increased prices in other cryptocurrencies. Outside these bullish periods, XEM typically trades within the $0.09 to $0.10 range.
Mem cryptocurrency white paper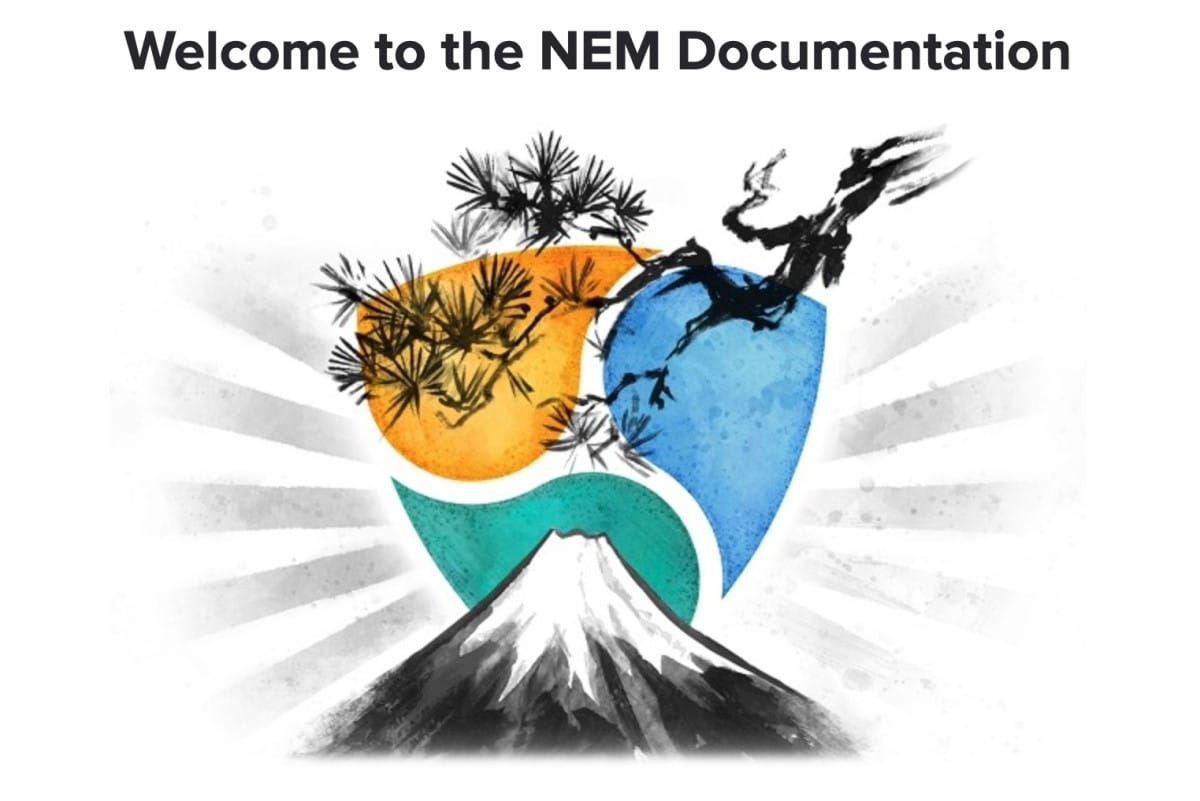 According to the white paper, NEM introduces Proof-of-Importance (POI) as an innovative alternative to Proof-of-Work (POW) and Proof-of-Stake (POS). Unlike traditional systems, POI considers account balance and transaction activity, rewarding users who are actively contributing to the economy. Users with higher trust scores receive more significant rewards, promoting a more equitable wealth distribution.
Harvesting is the method for earning rewards, requiring a vested balance of 10,000 XEM. Vesting occurs gradually, building trust based on the duration and amount of held coins. Users can engage in local or delegated harvesting, with the latter being more complex but offering additional advantages.
NEM's approach aims to empower all users, fostering a fair and inclusive system that values active contributions to the community.
XEM token benefits
NEM offers numerous advantages and is crucial in driving mainstream adoption by integrating top-notch blockchains. Its emphasis on serving large businesses positions it as a significant catalyst for growth. Developers have ensured the platform's agility to sustain market expansion, equipping it with a comprehensive API interface.
With NEM, users can customise access and usage permissions within an open and self-scaling framework. This system empowers developers to generate, distribute, and exchange cryptocurrencies and tokens through the NEM blockchain.
Nem (XEM) cryptocurrency price analysis
At the time of writing this Nem (XEM) price prediction on 17 November 2023, the token price was $0.036784, with a daily trading volume of $32,061,024. The crypto ranked # 117 on CoinMarketCap, with a market cap of $331,058,998, a circulating supply of 8,999,999,999 XEM and a maximum supply of 8,999,999,999 XEM.
XEM stats (as of 17/11/2023)
| | |
| --- | --- |
| Nem (XEM) Price | $0.036784 |
| Market Cap | $331,058,998 |
| Circulating Supply / Max Supply | 8,999,999,999 XEM /8,999,999,999 XEM |
| Daily Trading Volume | $32,061,024 |
| All-Time High | $2.09 (4 January 2018) |
| All-Time Low | $0.0000793 (15 September 2015) |
| Nem (XEM) website | |
Nem (XEM) price history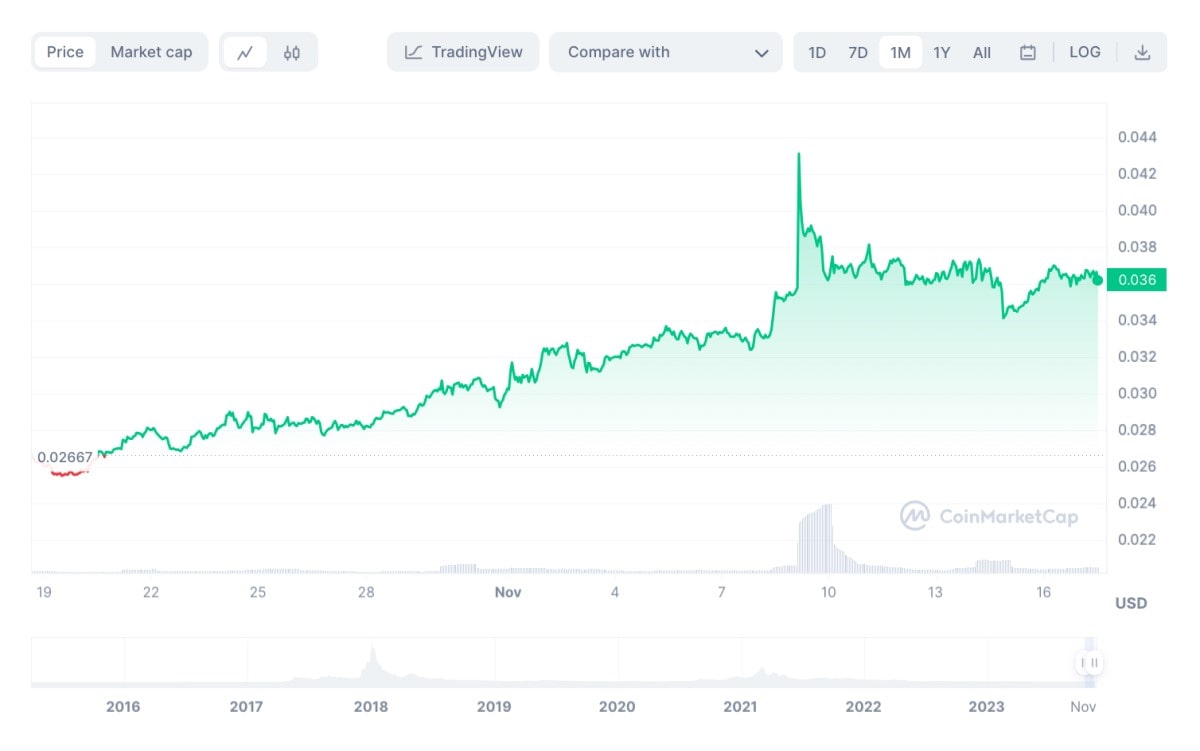 NEM, as a cryptocurrency, has experienced significant price fluctuations on exchanges since its inception. Market movement, trading volume, and technology influence these price changes. Therefore, the potential for substantial profits from NEM depends on market trends.
The pandemic has also impacted NEM, leading to a pessimistic outlook in 2020. However, the situation has improved since the start of 2021, as the NEM price has shown signs of recovery, reaching $0.205.
The end of 2020 marked a turning point for cryptocurrencies, including XEM, where negative trends and predictions gave way to optimism and hope. Significant developments have positively influenced the XEM price.
Despite reaching a high of $0.79 in early 2021, the NEM crypto faced bearish pressure and experienced a decline, ending at $0.028 by the end of 2022. Since the beginning of 2023, the Nem (XEM) price has fluctuated between $0.028 and $0.050. Considering historical price patterns and current momentum, NEM has the potential for a strong recovery in the coming months.
XEM/USDT price chart
Nem crypto token technical analysis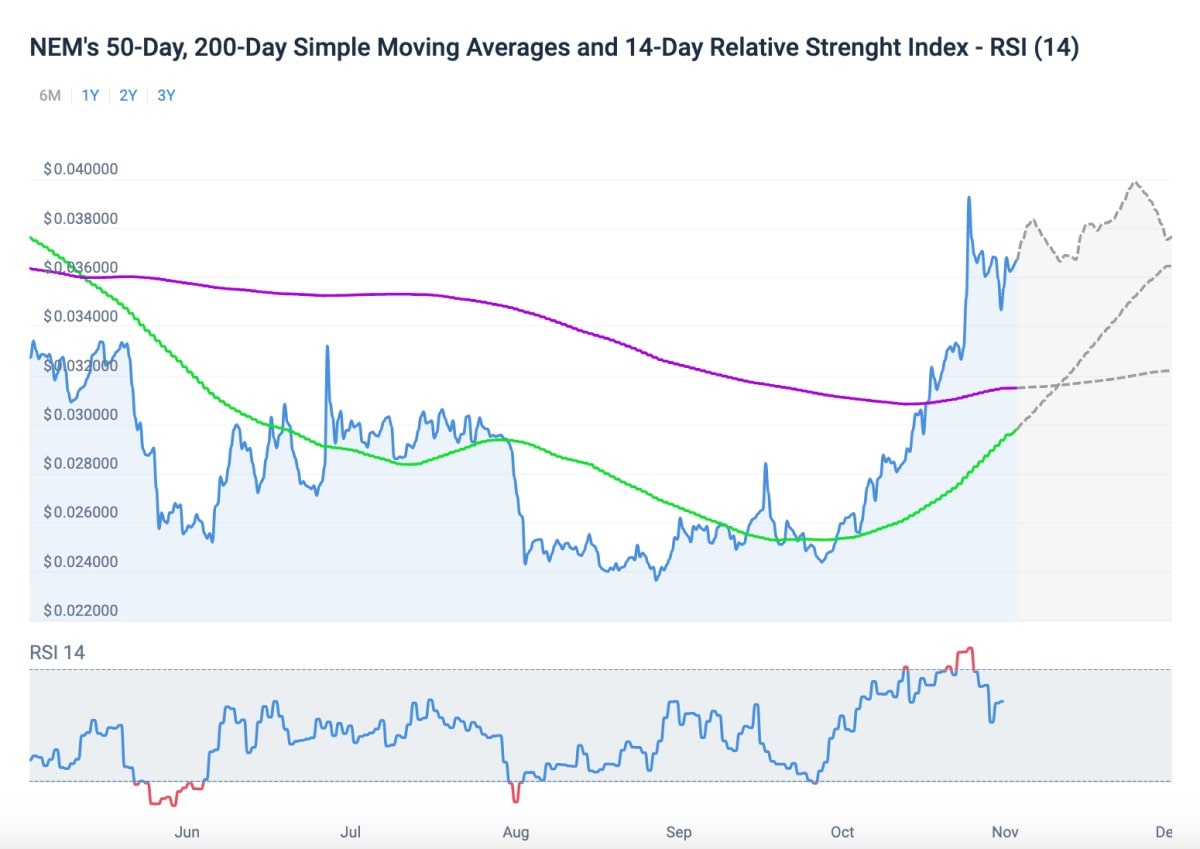 Based on data from 17 November 2023, the overall sentiment for NEM crypto price prediction is bearish. The technical indicators suggest that NEM's 200-day SMA will increase in the coming month and reach $0.032236 by 17 December 2023. Additionally, the short-term 50-day SMA for NEM is expected to reach $0.036505 by the same date. The Relative Strength Index (RSI) currently stands at 58.98, indicating a neutral position for the XEM market.
XEM price in 2023
The Nem (XEM) price forecast for 2023 suggests a substantial rise in the second half, potentially reaching $0.054249. Similar to other cryptocurrencies, this increase will happen gradually, with no significant drops expected. The goal of averaging a price of $0.050632 is ambitious but achievable, thanks to anticipated collaborations and advancements. The minimum value anticipated for XEM is $0.043399.
Is XEM a good investment?
The projected year-end price for NEM is estimated to be around $0.039996. Looking ahead to a five-year perspective, there is a potential for the cryptocurrency to reach approximately $0.159984. It's important to note that market fluctuations can impact prices, so it's advisable to conduct thorough research before investing in projects, networks, assets, etc.
Nem (XEM) crypto future predictions 2024-2050
WalletInvestor Nem (XEM) price prediction for 2024, 2025, 2030, 2040 and 2050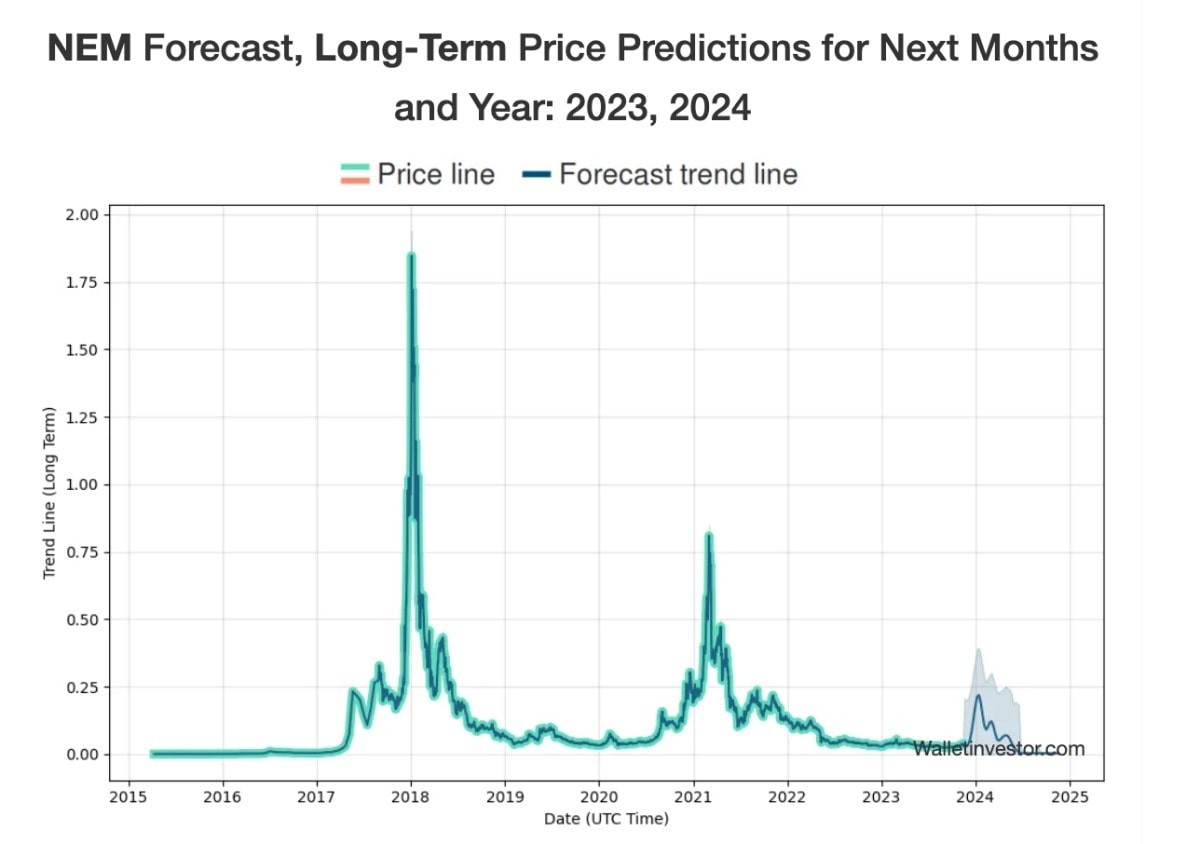 According to Wallet Investor's NEM forecast, investing in XEM for a year could be a risky choice with potential downsides. By the end of 2023, the price of XEM may reach approximately $0.00449. In 2024, the forecast predicts a token's average price of $0.002. In 2027, the cost of XEM is expected to remain relatively stable at around $0.003. However, in 2028, the price will decline to $0.001.
CoinCodex Nem (XEM) price prediction for 2024, 2025 and 2030 
According to CoinCodex, the projected lowest Nem (XEM) price in 2024 is approximately $ 0.033037. In 2025, the predicted price range for NEM is between $ 0.031023 and $ 0.037625. As for 2030, the projected price range for NEM is between $ 0.004085 and $ 0.008001.
Long Forecast Nem (XEM) crypto token price prediction for 2024, 2025 and 2030
As per Long Forecast's crypto price prediction, the token is expected to conclude 2023 with a value of $0.038. In 2024, the cryptocurrency will commence the year at $0.044 and end with an average value of $0.025. Starting from 2025, the token's price will decline gradually and reach $0.01 by the end of 2027.
DigitalCoinPrice Nem (XEM) crypto price predictions for 2024, 2025 and 2030 
According to DigitalCoinPrice's crypto future predictions, XEM is forecasted to surpass $0.0563, with a projected minimum of $0.0292 by the end of 2023. The maximum level for XEM is expected to reach $0.0704. In 2024, the average price of the token is anticipated to be $0.0893. By 2030, the average price prediction for XEM is $0.37. The minimum estimated price for the token in 2032 is $0.67.
Nem (XEM) forecast in general
Various sources offer diverse predictions for the Nem (XEM) cryptocurrency. 
WalletInvestor suggests potential risks in investing for the short term, with XEM predicted to reach around $0.00449 by the end of 2023 and an average of $0.002 in 2024. 
CoinCodex presents a more optimistic outlook, forecasting a lowest price of approximately $0.033037 in 2024 and a range between $0.031023 and $0.037625 in 2025. 
Long Forecast predicts a decline, starting at $0.044 in 2024 and reaching $0.01 by the end of 2027. 
DigitalCoinPrice provides a varied projection, expecting XEM to surpass $0.0563 by the end of 2023, with an average of $0.0893 in 2024 and a long-term prediction of $0.37 by 2030.
How high can the Nem crypto coin go?
This year, the projected average Nem (XEM) price is around $0.050163. Experts anticipate that over the next 5 years, Nem could potentially exceed $0.232899.
Nem (XEM) coin prediction today
Based on the technical analysis, it's predicted that the minimum price of NEM in 2023 will be $0.0310. The maximum expected level for XEM price is $0.0352, while the average trading price is anticipated to be around $0.0393. 
Tags
Exchange BTC

Try our Bitcoin Cloud Miner and get additional crypto rewards based on your trading volume. It's immediately available upon registration.

Try our Bitcoin Cloud Miner and get additional crypto rewards based on your trading volume. It's immediately available upon registration.
Instrument
Rate
Change (24h)