What are NFT games? Is it really possible to earn money while playing?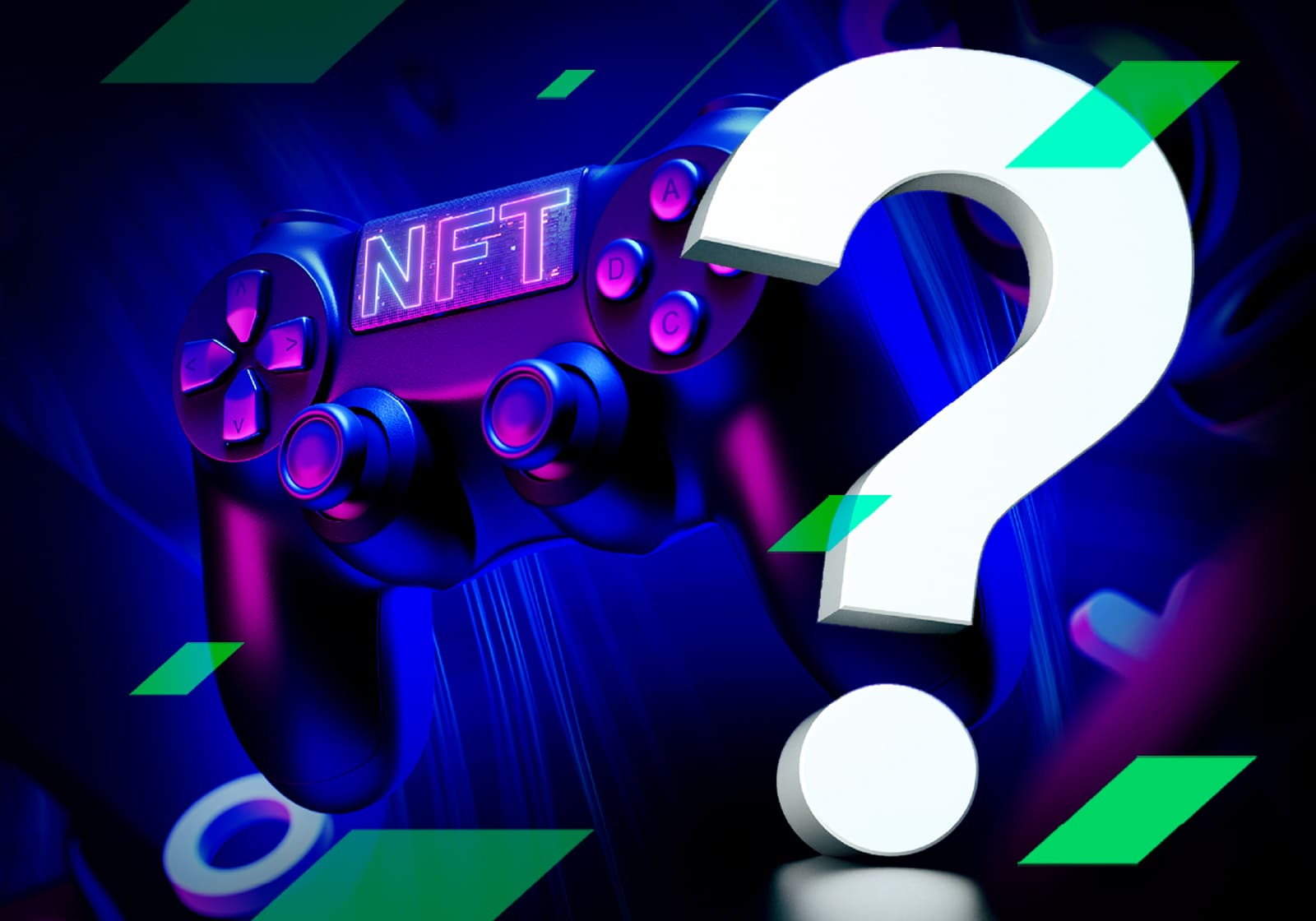 NFT games emerged back in 2017. The first game of that kind was the legendary CryptoKitties, which was so popular that it caused transactions to slow down on the Ethereum network. But the real beginning of the NFT games' heyday was in 2021, which saw explosive growth in the popularity of non-fungible tokens. Let's take a closer look at the phenomenon of NFT games and the play-to-earn business model.
What is an NFT game?
We know that people love to collect things. We know that people value rarity. What makes a collectable valuable? An intersection of a perception of underlying value and quality and rarity. NFTs can offer that. They can offer a digital version of that. There's no question people value digital goods. It's digital, rare and collectable — Strauss Zelnick, CEO of Take-Two Interactive Software.
NFT games are games with non-fungible tokens built into the gameplay. A non-fungible token (NFT) is a unique digital asset stored in a blockchain that contains information that distinguishes it from other NFTs. Each NFT is indivisible, exists in only one copy, cannot be replaced by another one and represents a unique digital or real-world object. You can read more about NFTs in our dedicated article.
NFT games meaning
NFT games are computer games where some valuable in-game assets are represented by NFTs. Such assets can be characters, real estate, weapons and other items, skins, etc.
How NFT games work
NFT games run on smart contracts stored in a blockchain. Ethereum and Binance Smart Chain (BSC) blockchains are the most popular for this purpose. Players are able to buy, sell or exchange their in-game NFTs. Most NFT games also have a native currency, which is used to make payments between players and to buy and sell in-game NFTs.
In addition, such currencies are often used in gameplay, such as Axie Infinity's native cryptocurrency, AXS, which is used as a resource for breeding axies. However, some NFT games don't have their own cryptocurrencies, using pre-existing ones, such as Ethereum, instead.
It's worth noting that unlike traditional games, where players are essentially not the real owners of their in-game assets, in NFT games, developers cannot take away a player's NFT (although they can stop providing access to the asset represented by the NFT).
What is Play-to-Earn?
Play-to-earn is a business model that allows players to earn money as they play. The mechanism is simple: while playing the game, the player receives some assets that can eventually be sold for fiat money. Typically, these assets are the game's native cryptocurrency or NFTs (or both). Thus, play-to-earn games reward players for their time and effort.
Types of NFT games
Having started with CryptoKitties in the virtual pet genre, NFT games have quickly spread to many other game genres and continue to take over new ones:
Action games
PVP battle games
RPG
Racing games
Trading card games
Farming simulators
How to earn money with NFT games
There are generally three main ways of earning money in NFT games:
Selling cryptocurrency earned through gameplay. This method involves participating in in-game activities that are rewarded with the game's cryptocurrency. The player then sells the earned cryptocurrency.
Earning and selling NFTs. In this case, the player earns in-game assets, which are NFTs, through gameplay and sells them to other players.
Buying and reselling NFTs. In order to earn money in this way, the player invests in the purchase of promising NFT in-game assets for subsequent resale. Obviously, this method of earning is the most costly and risky but also potentially the most profitable.
It's worth bearing in mind that most NFT games require some initial investment. So, if you want to try out play-to-earn games as a source of income, it's worth choosing games that are fun to play. Otherwise, players' interest in the game will quickly fade, the game will lose its audience, and the time and money invested in it will go to waste.
Benefits of NFTs in games
Looking at the booming NFT game sector, one might ask: what is the reason for the strong interest in the games? Well, the advocates of NFT games make a number of arguments:
NFTs give players more control over their in-game items and collectables.
Gaming is becoming a possible source of income, especially for people in poor countries.
The interoperability of NFTs allows the same in-game assets to be used in different games.
Blockchain technology makes transactions related to in-game assets transparent.
Some NFT games allow players to create content and monetise it.
Criticism of NFT games
Although NFT games have many supporters, there is much criticism around them. The critics point to the following disadvantages and risks associated with the introduction of NFT into the gaming industry:
NFT volatility leads to a high risk of loss. A player who misjudges the prospects of an NFT in-game asset can lose a significant amount of money.
NFTs can assign various sets of rights to objects, including only nominal rights to the owner. And the fact that NFT technology doesn't allow tokens to be taken away from an owner doesn't guarantee that the developer will not stop providing access to the asset assigned to that NFT.
There are quite a few scam projects in the NFT gaming sector right now trying to make a quick buck on the hype.
Play-to-earn is Pay-to-win. In games where not only cosmetic items are presented as NFTs, but those that give a real advantage in the game, the player's success isn't determined by the players' skills but by their investments. In fact, this has long been a known problem with many free-to-play games.
Play-to-earn is not entertainment. When play becomes work, it loses all fun and becomes a chore.
The best NFT games list of 2022
The number of NFT games is already quite large and growing. We'll list the most popular ones.
Axie Infinity. Inspired by the TV series Pokémon, the game focuses on breeding and collecting virtual pets called Axies and the battles between them. Investments are required to start playing: you need to buy your first three Axies. The game is based on the Ethereum blockchain.

Gods Unchained. This is a tactical trading card game led by the former game director of Magic The Gathering: Arena. As one of the free-to-play NFT games out there, it requires no investment to start playing.

Sorare. Sorare is a fantasy football game where users can swap collectable images of football players. To play Sorare, you need to assemble a team of five football players, using either free starter cards or paid tokenised cards.

The Sandbox. The Sandbox is a virtual world in the sandbox genre where players can create their own NFT virtual assets and even games and monetise them. The game uses the pixel graphics familiar to Minecraft players.

Splinterlands. Play-to-earn collectable fantasy card game. Players defeat monsters and are rewarded for each successful battle. The game mechanics are based around NFT cards, and players can improve their characters' skills by combining them. Splinterlands is one of the NFT games where you can start earning without investment, but you will need to spend quite a lot of time collecting strong card combinations to do so.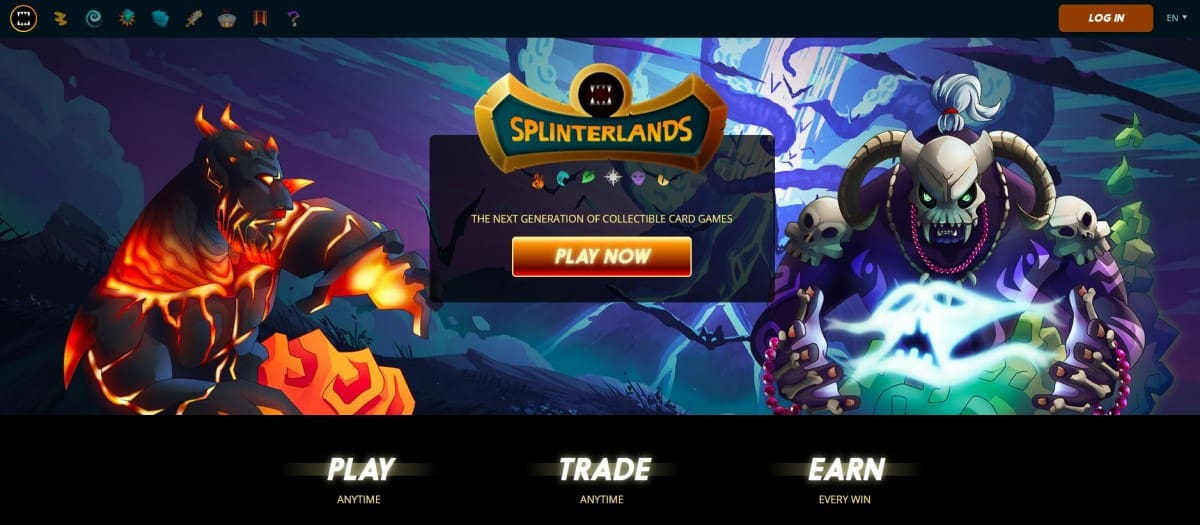 NFT games for mobile
Best NFT games for Android and iOS
All of the above games except Gods Unchained are available on both Android and iOS. However, apart from these, there are currently many NFT games, and many more are expected to be released in the near future. The choice of particular games depends on your preferences in terms of genre and gameplay. Just be aware of the risks associated with investing in digital assets.
Tags
Exchange BTC

Try our Bitcoin Cloud Miner and get additional crypto rewards based on your trading volume. It's immediately available upon registration.

Try our Bitcoin Cloud Miner and get additional crypto rewards based on your trading volume. It's immediately available upon registration.
Instrument
Rate
Change (24h)