Reef Price Prediction 2023, 2025 and 2030

Reef is primarily known for its unique DeFi business model. However, the project has recently evolved into a fully functioning blockchain network. Reef's developments are still young and require time until it realises its full potential. However, the project has excellent growth prospects in multiple decentralised applications (dApps) that can be deployed on the network. The blockchain's growth lures investors, making crypto traders interested in Reef token price prediction for 2023 and beyond. Is Reef (REEF) a good investment for the short and long term? Let's find out in which direction the REEF token's price will move.
What is Reef (REEF)?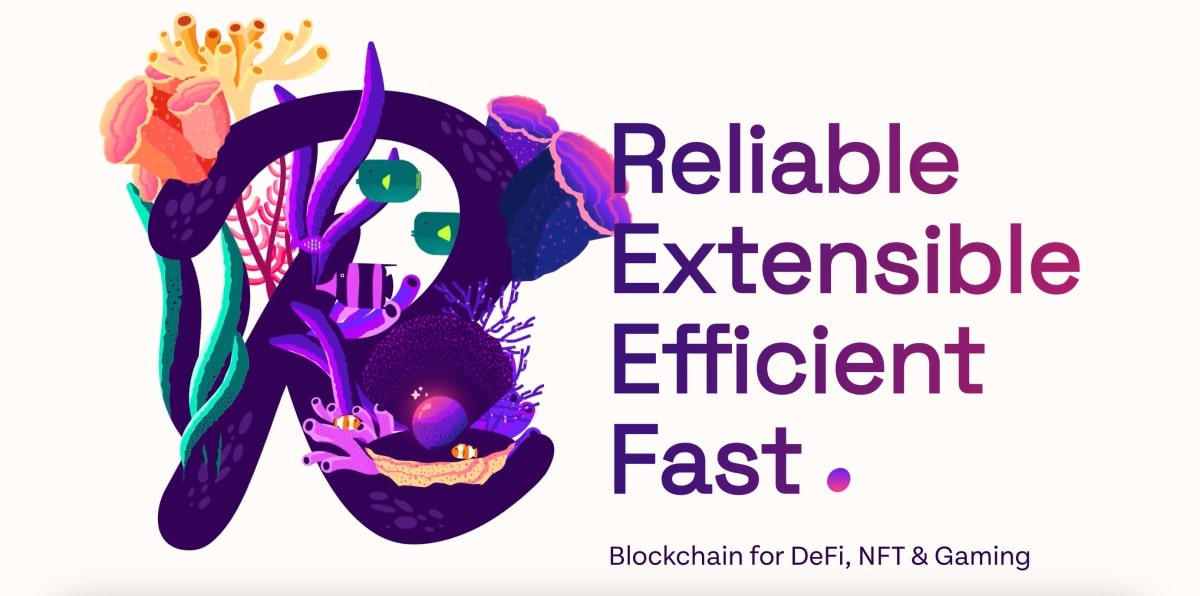 Reef Finance (REEF) is a blockchain-based project built on the Polkadot ecosystem. The project's native cryptocurrency is REEF. The on-chain governance makes it possible to use the token to pay transaction fees on the blockchain network. Originally, REEF was minted as an ERC-20 token on Ethereum and BEP-20 in BNB Smart Chain. However, it's now possible to convert the token at a rate of 1:1 on Reef. The REEF token has been on the market for a relatively short time, but its price has already seen significant changes, which we'll discuss later in this Reef crypto price prediction article. 
The good thing about Reef Finance is that it's fully decentralised. The network enables low-cost transactions and lets developers migrate dApps from Ethereum to Reef without codebase modifications.
REEF History
Denko Mancheski launched the Reef platform in 2019 to build the most advanced blockchain network for investors looking forward to getting involved with DeFi, NFTs and gaming. The REEF token launched on 30 December 2021.
Initially, the Reef project aimed to lower the barrier for new and inexperienced investors wanting to invest in cryptocurrencies. The founder of Reef Finance had a strong background in cryptocurrencies. Before launching the Reef project, Mancheski was the Chief Technology Officer at Adel, a crypto incubator company. When asked about the personal attributes that helped him become a successful entrepreneur, Mancheski said, "I have a very addictive personality. I just can't stop doing something until I get to the goal that I set for myself."
Reef Whitepaper
According to the whitepaper, Reef isn't just its blockchain. Its extended ecosystem consists of: 
The Reef App, which is Reef's wallet, DEX, and the token's creator
The Reef browser extension, which allows users to safely interact with the Reef chain ecosystem without exposing private keys
Reefscan, the primary block explorer for Reef, which allows users to interact with smart contracts deployed on the Reef chain
Reefswap, the Uniswap version 2-based DEX for Reef chain tokens
Sqwid, the first native NFT marketplace on the Reef blockchain.
The Reef ecosystem is made up of nominators and validators. All users interested in Reef chain governance can become nominators, but becoming a validator is not that easy. It's a highly competitive game. Validators' main responsibility is to produce a block and provide additional services to the community.
Reef is highly scalable, and new features, security updates and performance optimisations are applied to the Reef ecosystem without hindrance.
REEF, the project's native cryptocurrency, undergoes burning, a process that involves removing REEF tokens from circulation and reducing the number of tokens used on the network.
Reef Features
Before we discuss the Reef token price prediction for 2023-2030, let's discuss the project's main features. 
Reef primarily focuses on cryptocurrency newcomers and those who find it difficult to maintain wallets across multiple blockchains. Reef Chain's unique functionality is that any Defi protocol deployed on Ethereum or an EVM-compatible network can run on Reef with only minor code changes. Anyone using a Web3 wallet who is interested in accessing dApps on Reef can use the Reef ecosystem.
Using a Nominated Proof of Stake system, Reef bonds to potential validators, nominates them and secures its network. It makes transactions exceptionally cheap and fast, with an average of only 10 seconds needed to finalise a transaction. 
As mentioned above, the Reef ecosystem features validators and nominators. Being a validator requires certain technical skills for staking REEF and running a node 24/7/365. Users lacking the technical skills to run the validator node can be nominators. On the Reef Chain, nominators are responsible for securing the Reef Relay Chain by staking REEF and selecting good validators.
In addition to possessing some technical knowledge, several other things differentiate nominators from validators on the Reef Chain. REEF tokens are staked by nominating a validator. They are locked (bonded). Nominators can receive new REEF tokens in their wallets but cannot transfer them from their wallets or stake REEF like validators do. 
Nominators can un-nominate whenever they want to stop staking their funds. However, un-nominating doesn't automatically unlock funds. It takes an average of 28 days for unbonded funds to be transferred after issuing an unbonded transaction.
REEF Benefits
The discussion of the REEF token's main advantages comes next in our REEF prediction article. By understanding the main REEF benefits, we can determine if the token is any better than the competitors. 
Reef is compatible with many DeFi wallets, including MetaMask, Torus and others. It lets users easily convert their assets to the Reef token.
Reef is compatible with both centralised and decentralised exchanges. 
It partners with Binance, Uniswap and other of the world's largest exchanges.
It is based on the Polkadot ecosystem and offers the scalability and security of the Polkadot network.
Unlike its competitors, Reef provides very low fees on the network.
Reef (REEF) Price Analysis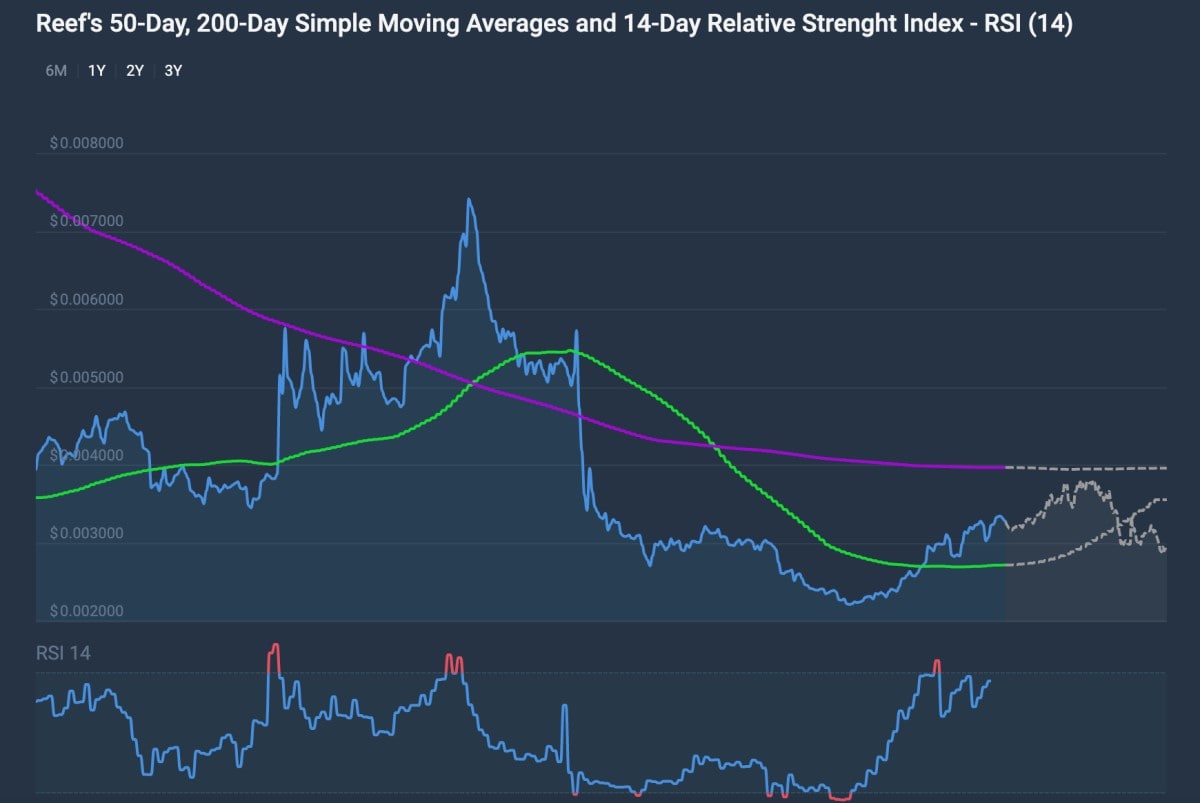 At the time of writing this Reef Finance price prediction on 28 January 2023, the REEF token's price was $0.003345, with a daily trading volume of $24,600,182. The cryptocurrency ranked #320 on CoinMarketCap, with a market capitalisation of $71,217,035 and a circulating supply of 21,291,094,551 REEF tokens.
Reef (REEF) price statistics (as of 28/01/23)
| | |
| --- | --- |
| Current price | $0.003325 |
| Market cap | $70,807,792 |
| Circulating supply | 21,291,094,551 REEF |
| Total supply | 21,291,094,551 REEF |
| Daily trading volume | $24,140,106 |
| All-time high | $0.05841 (15/03/21) |
| All-time low | $0.002201 (29/12/22) |
| Website | |
REEF price history
Let's continue the Reef price prediction article, this time casting an eye at REEF's price history. 
In December 2020, REEF was first released onto the open market for $0.23.
The market experienced a significant decrease in price early on, falling below a cent in early January 2021. However, the market soon rebounded and entered a bullish phase characterised by rising prices in the following months.
REEF reached its highest point on 15 March 2021, with an all-time high of $0.05841. However, the prices dropped afterwards. However, there were instances of prices reaching similar levels again in May 2021.
Following the significant drop in the crypto market on 19 May 2021, the token's value remained low throughout the summer. But it regained some of its value later in the year, with occasional highs above $0.035 in early November, before ending the year at $0.01834.
The year 2022 was challenging for the crypto market and the REEF token. The token's price chart shows a significant overall decline. However, there were some positive movements early in the year, with the token increasing from a low of $0.009572 on 3 February 202 to a high of $0.01415 on 10 February 2022.
In late March 2022, there was a small increase in the token's value, reaching $0.01266 on 2 April 2022. However, its value dropped after that. The de-pegging of the UST stablecoin and the collapse of the associated LUNA cryptocurrency led to a market crash in May, and the token reached an all-time low of $0.002806 on 12 May 2022. Despite some recovery, the token's value remained low due to the cancellation of withdrawals on the Celsius Network (CEL) crypto lending platform, which confirmed a bear market. On 18 June 2022, REEF traded at a daily low of $0.002991.
After the market crash, there was some recovery in the token's value. On 31 August 2022, the news of REEF launching its debit card helped stabilise the price to around $0.003 in early September. However, a sudden price increase on 17 September 2022 caused the token to reach a high of $0.005077. Despite a temporary decrease in value, the token's value increased again following the news that REEF would be available on the Atomic Wallet platform and its listing on the MEXC exchange, reaching a value of around $0.00694 on 17 October 2022.
REEF technical analysis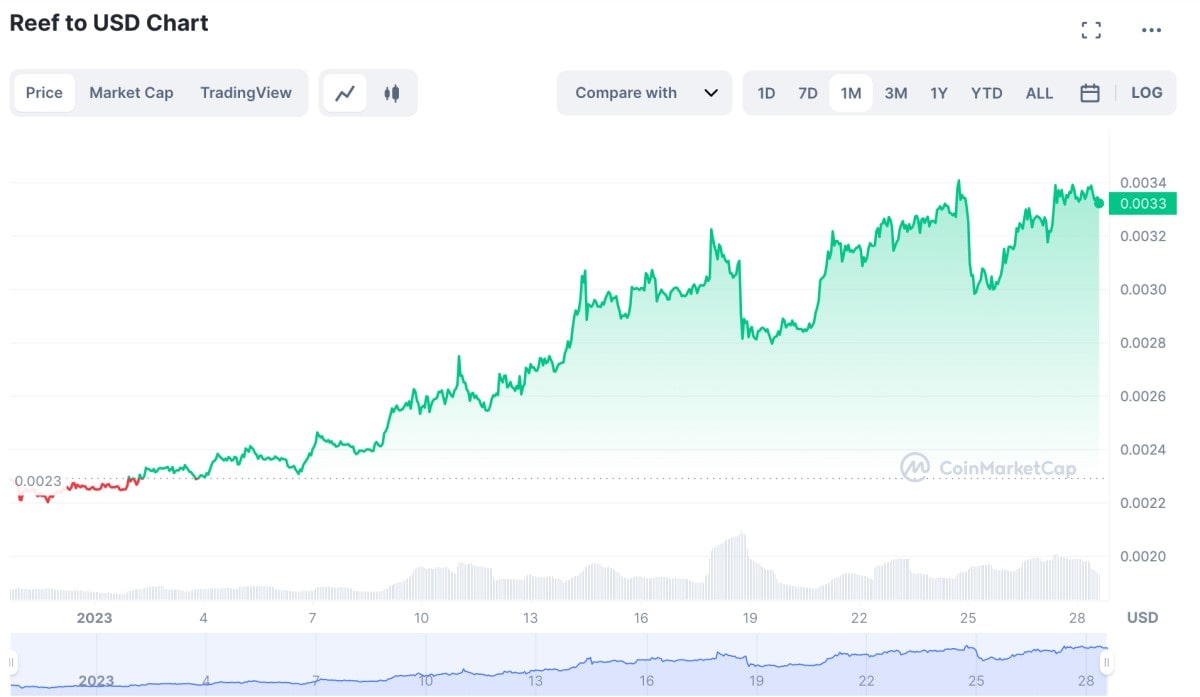 As of 28 January 2023, the overall prediction for REEF's price is neutral, with 16 technical analysis indicators indicating a bullish trend and 12 indicating a bearish trend.
Currently, REEF is trading below the 200-day simple moving average (SMA). The 200-day SMA has been signalling a SELL signal for the last 80 days, starting on 7 November 2022. The current REEF price (as of 28/01/2023) is below the 50-day SMA, and this indicator has been signalling a SELL signal since 12 January 2023.
The last Death Cross in the Bitcoin market occurred on 4 December 2022, just 55 days ago. On the other hand, a Golden Cross last occurred 101 days ago on 19 October 2022.
The Relative Strength Index (RSI) is a momentum oscillator used to signal if a cryptocurrency is oversold (below 30) or overbought (above 70).
The current RSI value for REEF is 67.35, which suggests the market is neutral.
Is Reef coin a good investment?
Reef finance is a platform that aims to develop the next generation of decentralised finance products and services. Despite its current value being down by around 30% compared to its all-time high, it may still be a good investment opportunity due to its low transaction fees and compatibility with the Ethereum Virtual Machine.
Additionally, it is easy to port different projects from the ERC-20 ecosystem to REEF-20, making it developer-friendly.
Furthermore, being on the Polkadot network allows faster transactions than other ecosystems. According to some predictions, REEF could reach a $0.016 value by the end of 2023. However, it's worth noting that the crypto market is highly volatile, and predictions are not always accurate. Investors should conduct their research and consider their own risk tolerance before making any investment decisions. Reef Finance's various use cases make it a worthwhile long-term investment option.
Reef (REEF) price prediction 2023-2030
Now, let's take a look at the Reef price predictions published on websites that provide financial analysis, predictions, and research on various cryptocurrencies and see how high the token's price can grow in 2023 and beyond.
WalletInvestor REEF token price prediction for 2023, 2025 and 2030
According to WalletInvestor's REEF crypto price prediction, the REEF token may experience a significant decrease in value and reach a low of $0.000517 by October 2023. 
CryptoPredictions REEF price prediction for 2023, 2025 and 2030
According to CryptoPredictions' REEF price prediction, the token may experience an upward trend over the next few years. The site predicts the token could reach a high of $0.012428 by the end of 2026. In 2023, the forecast suggests that REEF could reach a high of $0.00754 in October and $0.0087 by the end of the year. In 2025, the site predicts that REEF could open the year at $0.009358, reach $0.010946 in October and close the year at $0.01123. 
CoinCodex REEF crypto price prediction for 2023, 2025 and 2030
According to CoinCodex, Reef's price is expected to increase slightly by 0.03% and reach $0.003323 by 2 February 2023. Their analysis indicates a neutral sentiment and a Fear & Greed Index of 52 (neutral). They also note that Reef has had 21 out of 30 (70%) positive price changes in the past 30 days, with a volatility of 13.35%. Based on this information, CoinCodex suggests that now may be a good time to purchase Reef.
CaptainAltcoin REEF price prediction for 2023, 2025 and 2030
According to CaptainAltcoin's REEF price prediction, the token's value is expected to rebound to $0.0073 in October 2023. The site then projects that REEF could reach $0.024 in 2025 before potentially dropping to $0.0112 by October 2027. In 2030, the site predicts that REEF could be worth $0.0599 and reach $0.1198 in 2040.
Reef future forecast in general
Reef (REEF) price predictions for 2023 vary. PricePrediction.net predicts an upward trend towards $0.003527, while TradingBeasts estimates the price to reach around $0.004607 by the end of the year. However, some experts, such as those from WalletInvestor, have a more negative outlook on REEF's future price, forecasting a value of around $0.002661 in December 2023.
How high can the REEF coin go?
According to some predictions, the average price of Reef (REEF) is expected to reach $0.005 by the end of 2023.
Additionally, it is estimated that the token could reach the $0.023 mark in the long term within the next five years.
REEF price prediction today
The prospects of Reef (REEF) are closely tied to the overall performance of the cryptocurrency market. When considering whether to invest in REEF, it's important to have a well-thought-out strategy and a high tolerance for risk. This type of investment may not be suitable for those with a low-risk tolerance or limited financial resources. Despite its speculative nature, REEF offers exposure to rapidly developing technology and a growing ecosystem. As of 28 January 2023, Reef is trading at $0.003 with a market capitalisation of $70,219,336.000.
Tags
Exchange BTC

Try our Bitcoin Cloud Miner and get additional crypto rewards based on your trading volume. It's immediately available upon registration.

Try our Bitcoin Cloud Miner and get additional crypto rewards based on your trading volume. It's immediately available upon registration.