Polkadot (DOT) price prediction 2023-2030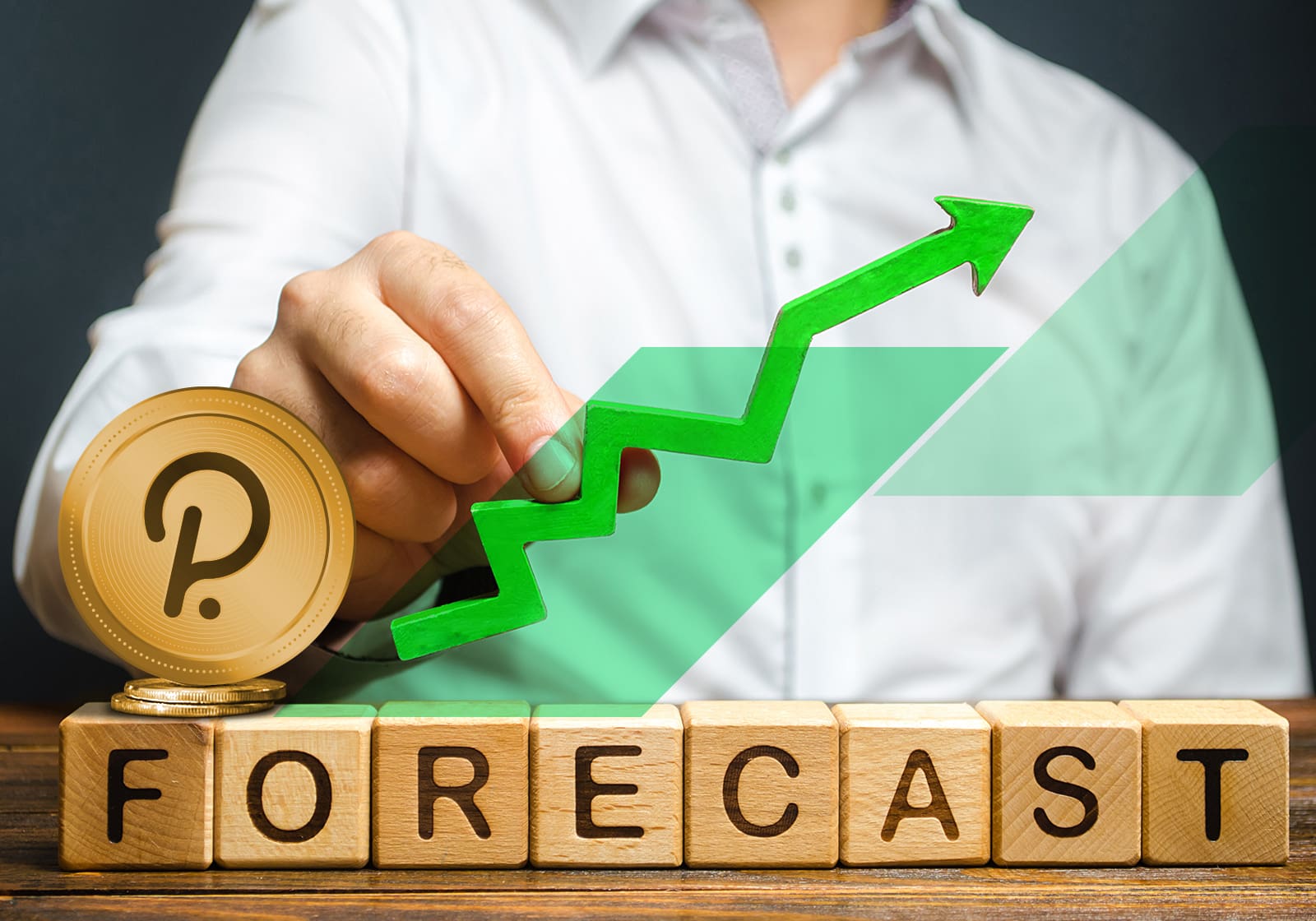 The rapid development of the blockchain industry has led to the emergence of numerous blockchain projects. This gave rise to a new, previously non-existent problem: communication between different blockchains. Most projects exist independently, with separate blockchains that aren't connected in any way. That makes information transfer from one blockchain to another difficult. Today, we're going to study Polkadot, a project created precisely to solve this problem. In this article, we'll explore what Polkadot is, conduct a technical analysis of the project's token and try to predict Polkadot's future.
What is Polkadot (DOT)?
In simple terms, Polkadot is a project on its own blockchain that allows any other blockchain to be 'attached' to it using unique technological solutions. This allows data to be transferred between different blockchains and tokens.
The origins of Polkadot
Polkadot is the flagship project of the Swiss not-for-profit organisation Web3 Foundation, which was founded to create Web 3.0, a convenient decentralised Internet where users will control their data. The inventor of the concept of Polkadot is the president of the Web3 Foundation, Dr Gavin Wood, one of the most well-known individuals in the blockchain industry. He was a co-founder of Ethereum and one of the developers of the Solidity programming language for smart contracts.
In the future, trusting an institution with our interests will be as archaic a concept as a reckoning on an abacus today.— Dr Gavin Wood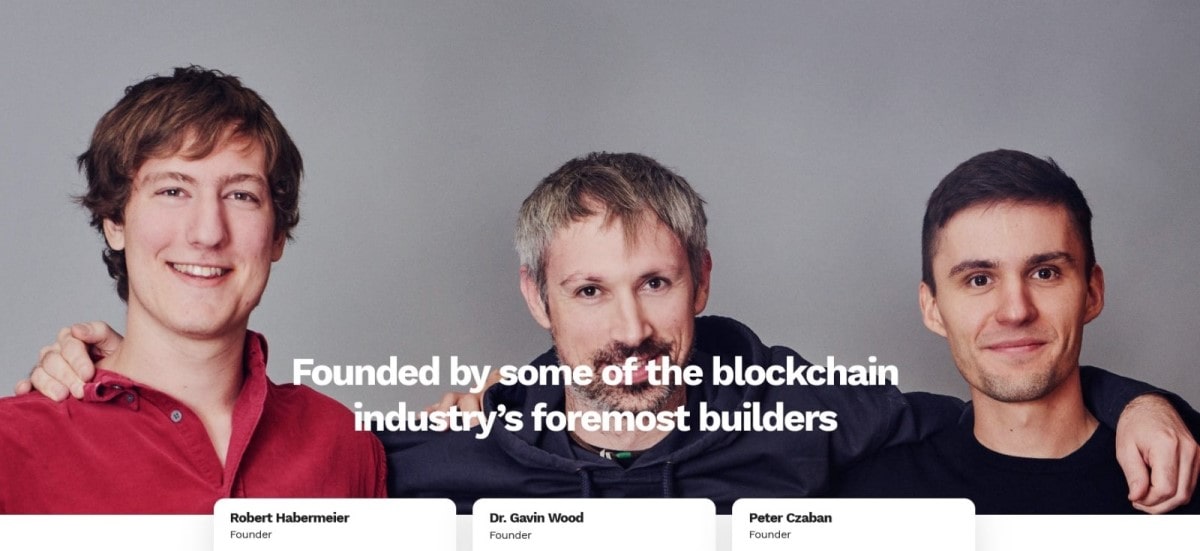 The Polkadot project was launched through an ICO held in 2017, which raised $145 million. Unfortunately, the wallet where the funds were collected was hacked, and $90 million was stolen. Despite this, the developers didn't abandon their project. Instead, it was implemented at the expense of the remaining funds and additional funding.
When the project started, 10 million DOT were issued, but after a redenomination in August 2020 to make calculations easier, the number of coins increased to 1 billion. To date, the developers have managed to accomplish the best part of their plans, though the platform remains under development.
Polkadot's features
Polkadot's architecture is quite complex. The key feature of the Polkadot project is that the network is multi-chain and combines many blockchains. This allows the system to simultaneously process a massive number of transactions, making it very scalable. Furthermore, any blockchain can be connected to this ecosystem through a special technology that was developed to combine various blockchains with the main Polkadot blockchain.
If significant changes need to be made to the system or an error eliminated, a fork isn't required as it is with other cryptocurrencies. At the same time, the system has a high level of security thanks to a network of participants with various functions.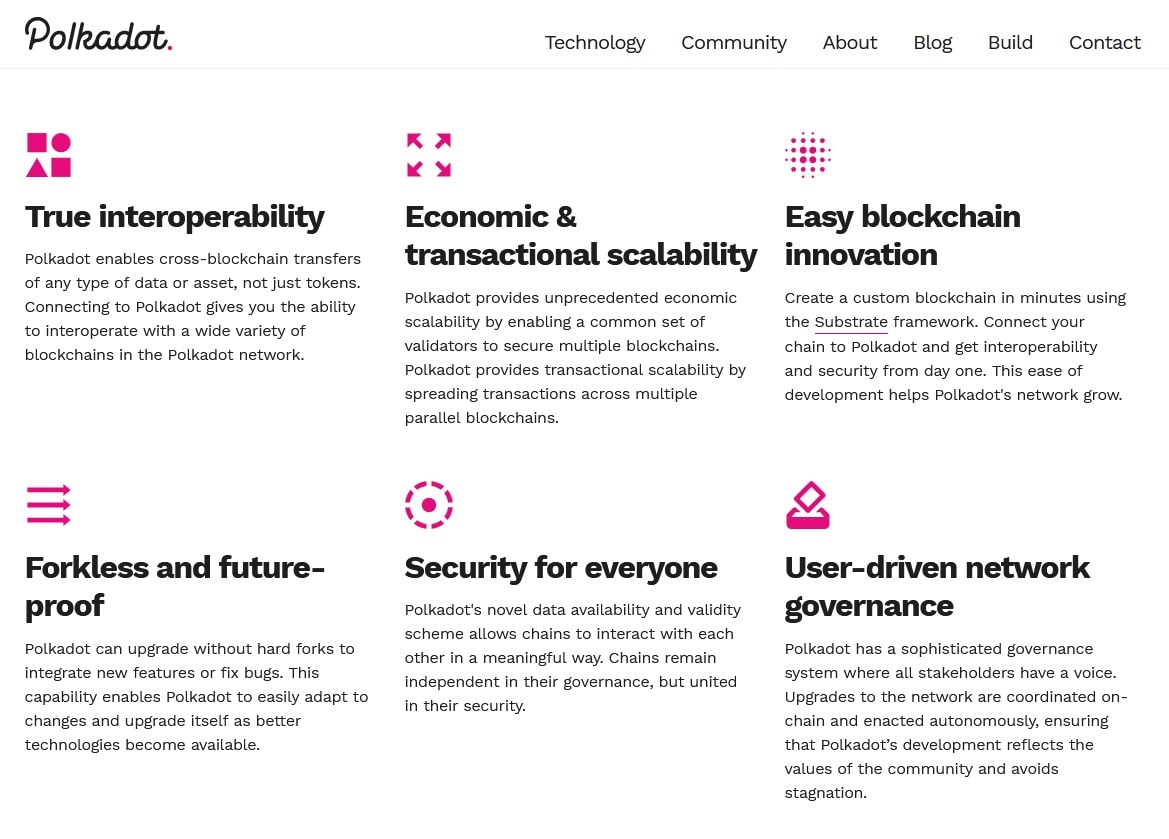 The project's architecture consists of four key elements:
The relay chain is the main chain. It's a kind of 'heart' for the entire system, which provides consensus and interoperability between all existing blockchains.
Parachains are blockchains that are connected to the system and work autonomously. They have their own tokens and functionality.
Parathreads are blockchains that are similar to parachains but more cost-efficient. They allow payments to be made on a pay-as-you-go basis. Using these kinds of blockchains is practical if there is no constant need to connect to the network.
Bridges are technological solutions that allow parachains and parathreads to be connected to external blockchains, such as Ethereum.
Furthermore, the system has several roles that network participants perform:
Nominators select validators and receive a portion of the block reward. They also supply Polkadot tokens (DOT) and play a role in protecting the system.
Validators verify transactions, protect the relay chain with DOT staking, validate collators' evidence and participate in consensus.
Collators create blocks on parachains, jointly select a block that demonstrates the chain's current state and transfer it to the relay chain.
Fishermen are participants who control the network and report unscrupulous validators. A fisherman can be a collator or any node of the parachain and can receive a reward by identifying violators.
The NPoS (Nominated Proof of Stake) protocol is used to ensure maximum network security. Nominators and validators pay the amount required by the protocol in DOT, which gives them access to perform their functions. At the same time, they receive remuneration for their work and are incentivised to do it well.
The DOT token, in turn, performs the following functions in the project ecosystem:
Network management. This allows token holders to control platform changes, including defining network fees and scheduling events, updates and fixes.
Staking. Token holders' active participation is required for the platform to function and for transactions to take place.
Adding new parachains. DOTs will be unavailable for the duration of the parachains' operation and returned once the parachains are removed.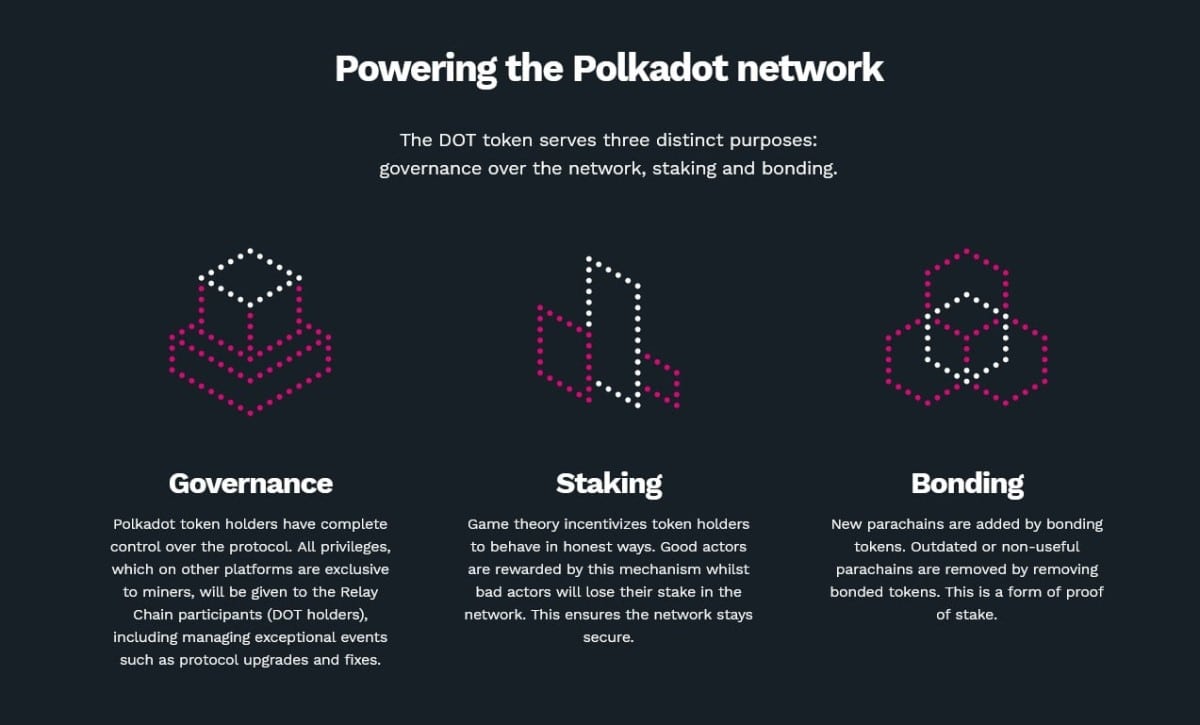 Polkadot (DOT) price analysis
At the time of writing, the DOT token ranked 13th among cryptocurrencies by market capitalisation at $6,297,128,519.
DOT price statistics (as of 24/05/23)
| | |
| --- | --- |
| DOT current price | $5.30 |
| Market cap | $6,297,128,519 |
| Circulating supply | 1,186,862,179 DOT |
| Total supply | 1,316,341,056 DOT |
| Daily trading volume | $88,435,021 |
| All-time high | $55.00 (04/11/21) |
| All-time low | $2.69 (20/08/20) |
| Website | |
DOT's price history
During its ICO, the DOT token had a price of about $30. However, after being redenominated in August 2020, the price collapsed, as was expected. Shortly after this event, the token was listed on major crypto exchanges.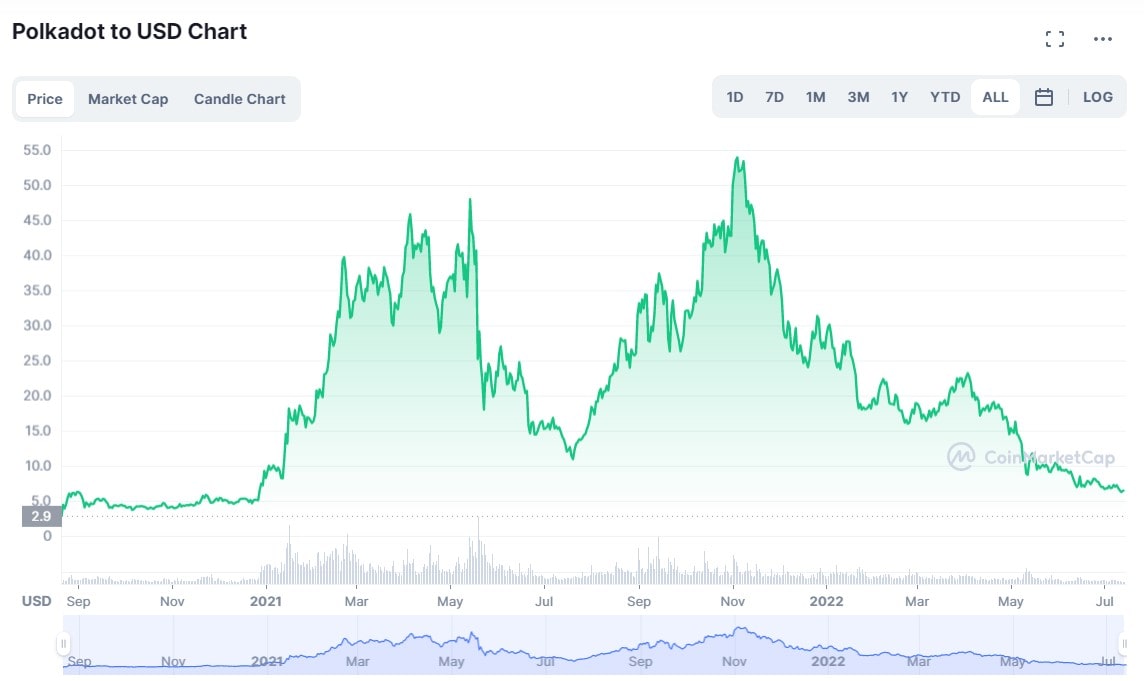 Polkadot debuted in the latter part of August 2020, commencing at an initial price of $2.79. Over the subsequent six months, the value of the DOT token remained relatively stable until it started gaining momentum in mid-January 2021. By 12 January 2021, it experienced a remarkable surge of 208%, reaching a peak of $8.62.
Continuing its upward trajectory, the token exhibited a bullish trend and soared to a closing price of $39.70 on 21 February 2021, reflecting an impressive surge of 360% in just over a month. However, this positive sentiment was short-lived, as DOT dipped below the $32 threshold within four days. Throughout March 2021, it fluctuated within the range of $33 and $38.
On 14 May 2021, the DOT cryptocurrency again witnessed a surge, reaching a closing price of $47.95, which marked an all-time high then. This surge occurred before Polkadot introduced parachains, which served as the network's final launch phase within a series of multi-phase processes.
On 23 May 2021, the DOT token experienced a significant decline of over 60%, dropping to $18.03. This decline was attributed to Polkadot nodes encountering an "out of memory" error while attempting to construct a block. Although the nodes themselves did not crash, their runtime was affected. As a result, DOT entered a bearish trend throughout the summer months, reaching a low point of $10.42 by mid-July.
However, the Polkadot price began to recover in early September 2021 following the announcement of plans to launch its cross-consensus messaging format. By 4 November 2021, DOT achieved its all-time high, surging by over 427% from its July lows to reach $55. This surge was fueled by the network's announcement of the successful passing of Referendum 42 through a community vote. This referendum enabled parachain registration and the implementation of "crowdloans."
The token experienced a downturn towards the end of 2021, closing at $26.72. The situation worsened in 2022 with a series of crashes, including the collapse of the FTX (FTT) cryptocurrency exchange in November. These events caused DOT to plummet to a 52-week low of approximately $5. Furthermore, it fell even further in December, ending the year at $4.31, resulting in an annual loss of over 80%.
In 2023, DOT made a modest recovery, surpassing $5 on 9 January and stabilising around $4.90 by 11 January 2023. During this period, more than 1.15 billion DOT were circulated out of a total supply of 1,270,814,926. This gave the coin a market capitalisation of approximately $5.66 billion, positioning it as the 14th largest cryptocurrency based on that metric.
Polkadot price prediction 2018-2019
DOT was listed on crypto exchanges in August 2020 and was not traded before that date.
Polkadot price prediction 2020
After being listed on large cryptocurrency exchanges in August 2020, the price of the DOT token began to rise, reaching a local high of $6.862 on 1 September 2020. Soon after, the price fell sharply, hitting a local low of $3.532 on 5 September. It then began to move sideways between $3.60 and $6.10. This trend continued until the end of the year. Finally, on 28 December, the price broke the $6.10 resistance level and reached $9.51 on 31 December.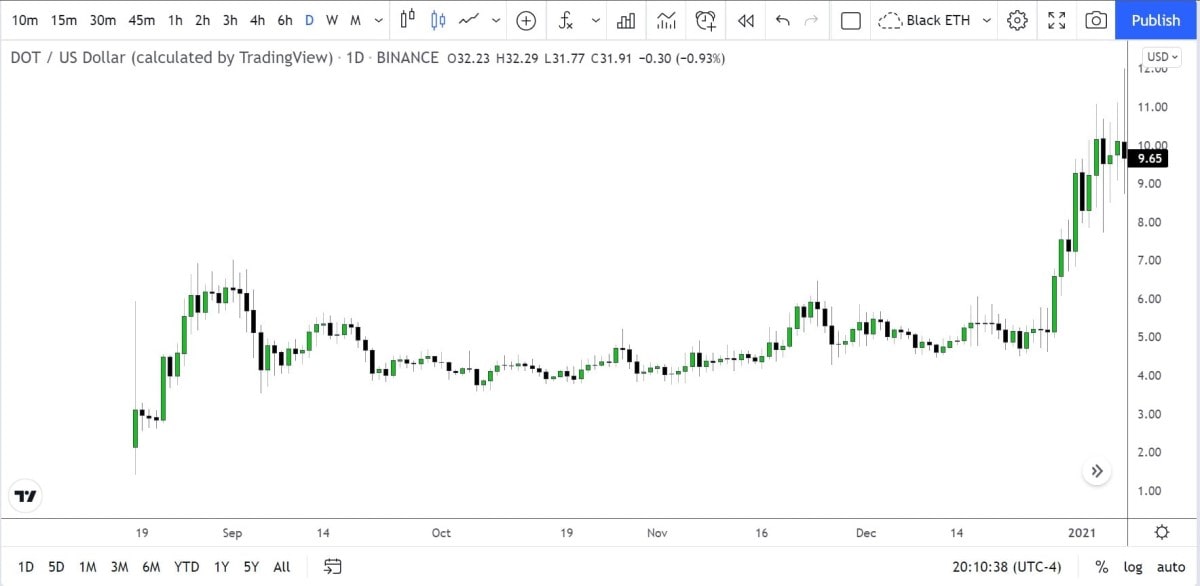 Polkadot price prediction 2021
Like most cryptocurrencies in 2021, Polkadot began the year in an uptrend that lasted five months. It set a new all-time high along the way at $49.78 before falling sharply by over 70% of the yearly range. After some price consolidation lasting from May to June, DOT finally started recovering, and by November, it had set a new all-time high at $55.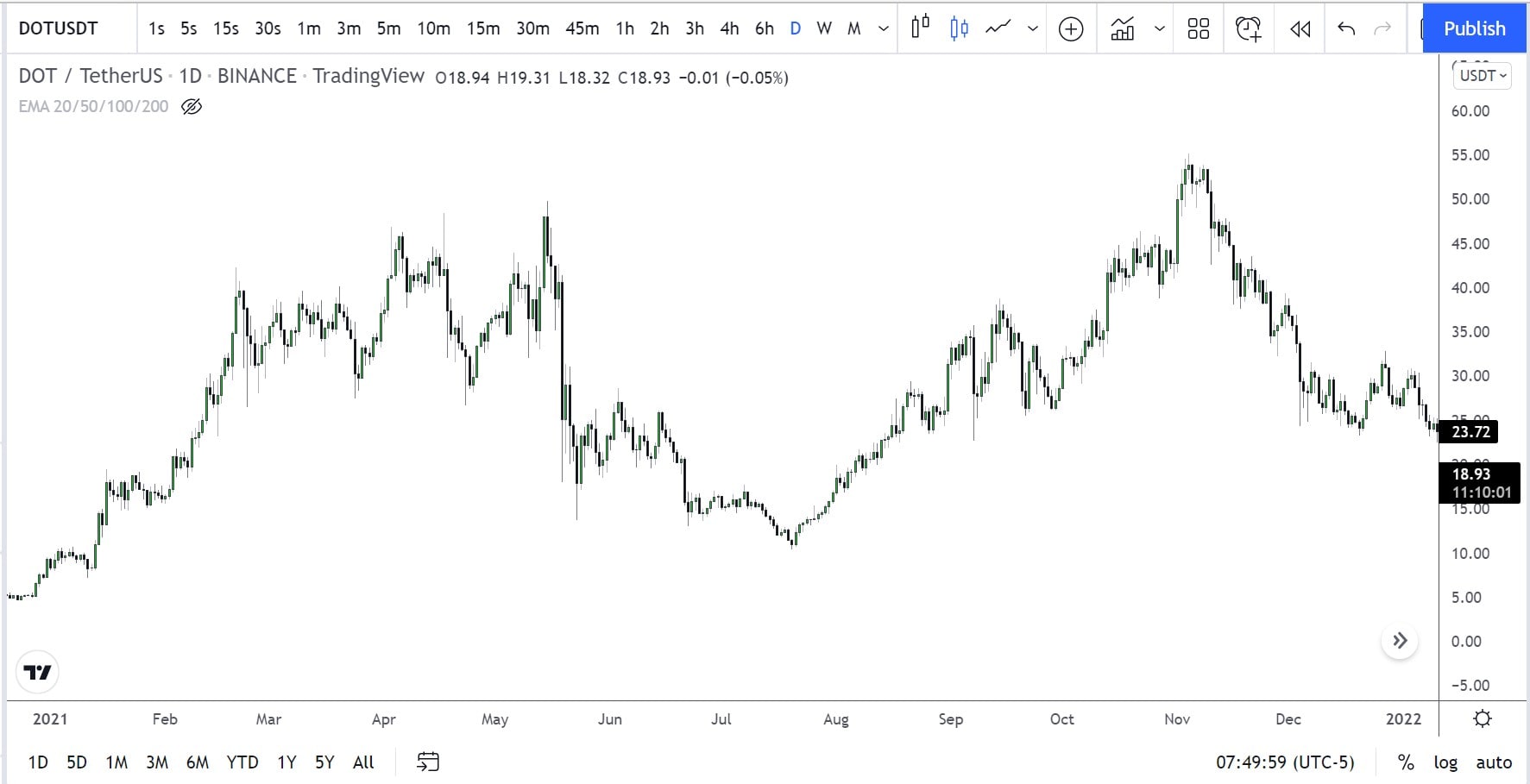 Polkadot price prediction 2023
Based on an in-depth technical analysis of Polkadot's projected prices for 2023, it is anticipated that the minimum value of Polkadot (DOT) will be $4.75 by the end of the year. On the other hand, the price may surge to a maximum level of $5.88. It is estimated that the average trading price will hover around $7.01.
DOT/USDT price chart
DOT technical analysis
The price of Polkadot has recently broken below the 200-day moving average (MA) and the key level of $6.00. These developments indicate a downtrend in the market. Currently, the price trades within a Descending Triangle pattern, which typically results in a bearish breakout aligning with the existing trend. If the price breaks below $5.00, it would confirm the downtrend and could lead to a further decline towards $4.20. However, a bullish breakout above $6.00 may indicate a trend reversal with the possibility of an upside movement towards $8.00. We recommend setting a price alert to stay updated.
The momentum indicators present a mixed picture. The MACD Line is currently above the MACD Signal Line, indicating a bullish signal. However, the RSI (Relative Strength Index) is below 45, which suggests a bearish sentiment.
Polkadot's nearest support zone is $5.00, followed by $4.20. On the other hand, the nearest resistance zone can be found at $6.00, with a subsequent level at $8.00.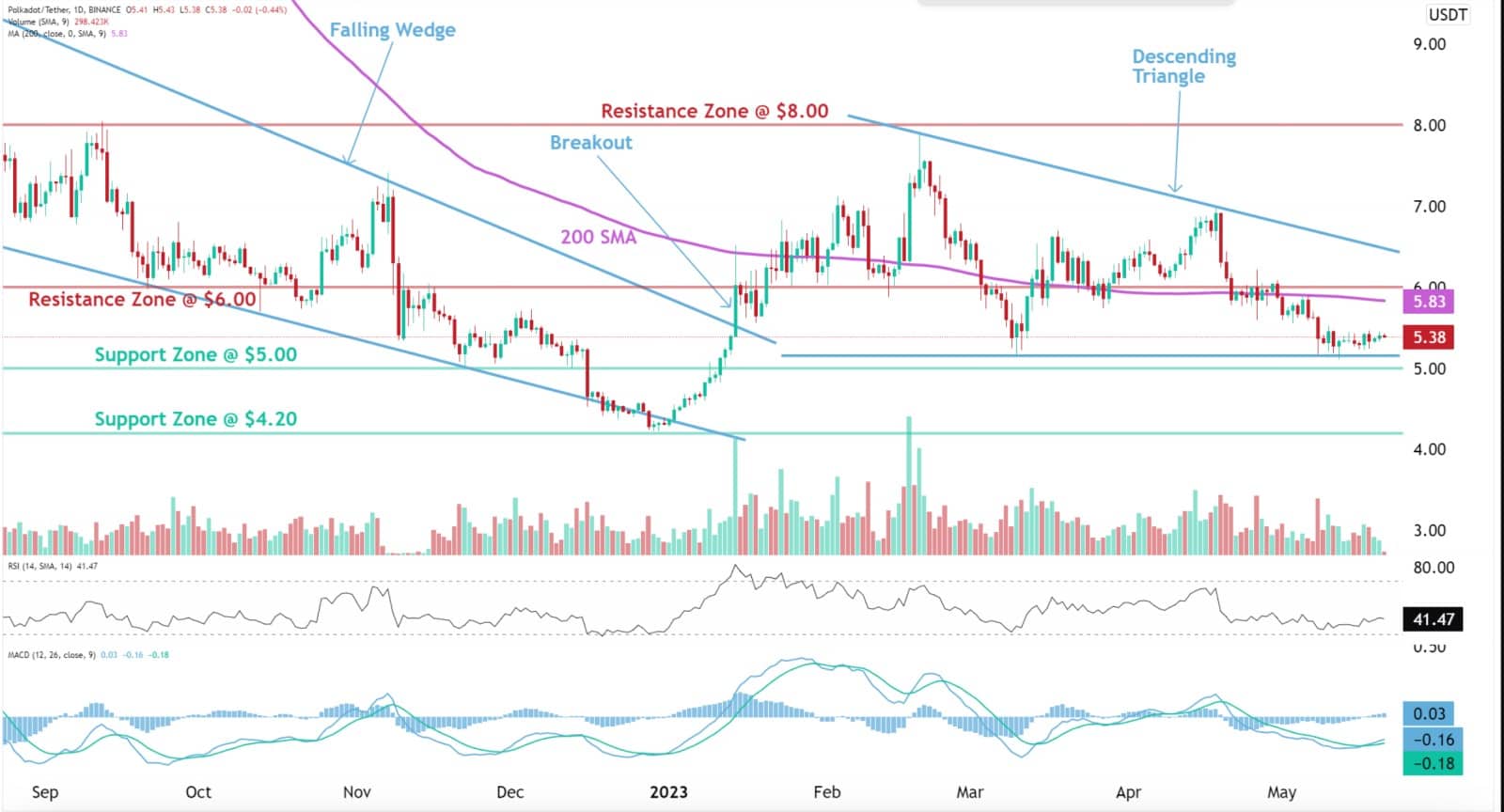 Polkadot (DOT) price prediction for 2023, 2025 and 2030
As usual, we've compiled for you DOT price forecasts made by renowned cryptocurrency experts.
TradingBeasts' DOT price prediction for 2023, 2025 and 2030
According to TradingBeast's forecast, Polkadot's price is forecasted to reach $4.44887 by the beginning of June 2023. By the end of 2023, DOT's value could hit $5.13118. By the end of 2024, TradingBeasts forecast the cryptocurrency to reach a value of $8.48616. The DOT price prediction for 2025 is $9.67297. In 2026, the DOT price could go as high as $12.12385. 
WalletInvestor's DOT price prediction for 2023, 2025 and 2030
WalletInvestor has provided a bearish prediction for Polkadot's price in 2023. According to their analysis, they anticipate a challenging year ahead for the cryptocurrency, with a projected plunge to approximately $0.37 by mid-January 2023. Looking further ahead, by the end of 2024, Wallet Investor estimates that the average price of Polkadot will be around $0.4097. In 2025, they expect the price to reach $0.50, and by 2028, the estimate rises to $0.98.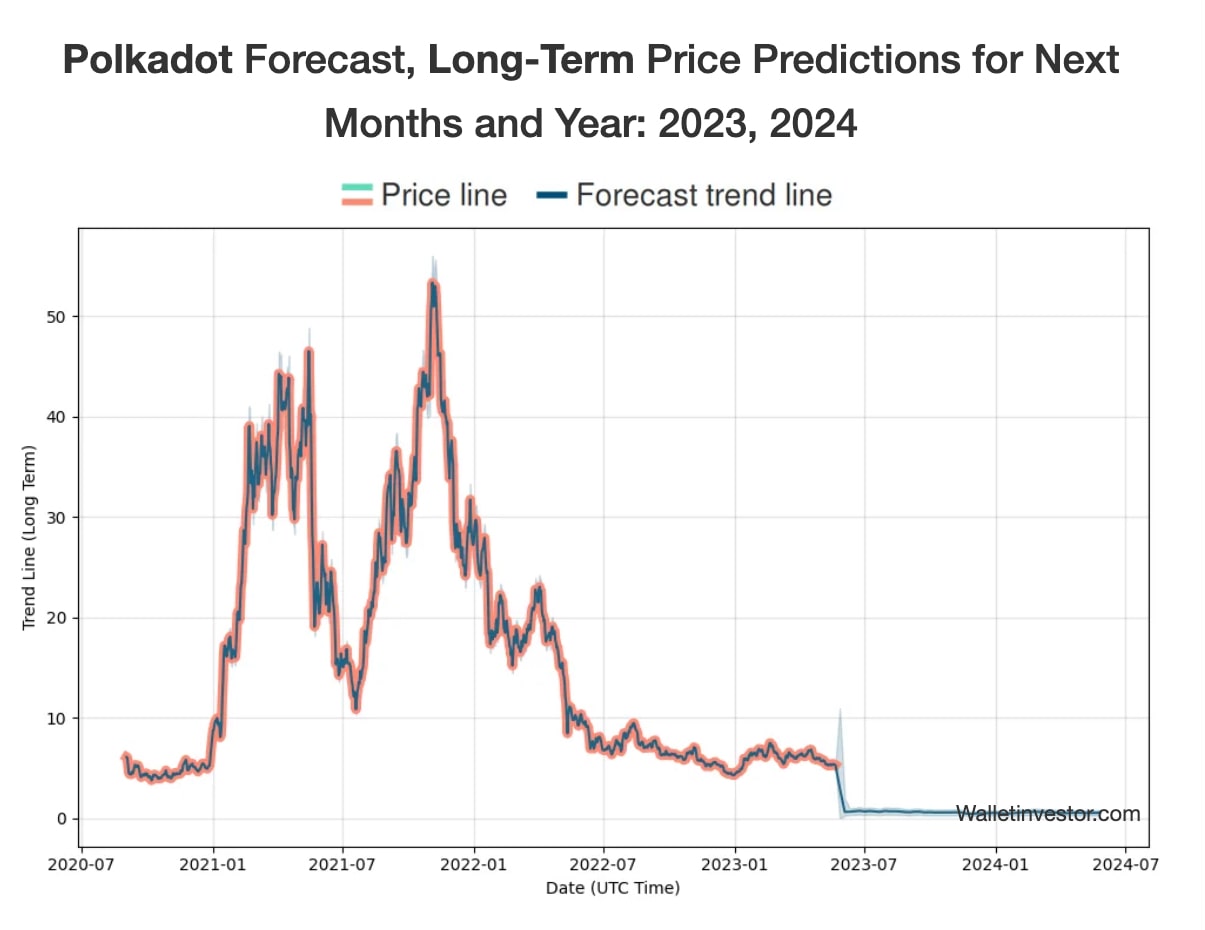 LongForecast's DOT price prediction for 2023, 2025 and 2030
LongForecast is also bearish with its DOT price forecast. They believe that Polkadot's price will close the year at $4.28, then fall to $1.64 in 2024 before recovering slightly to stabilise around $3.16 in 2026.
DigitalCoinPrice's DOT price prediction for 2023, 2025 and 2030
DigitalCoinPrice predicts a gradual rise in Polkadot's price over the coming years. According to their forecast, the token will cost as much as $10.78 in 2023, $12.87 in 2024, $16.98 in 2025, $27.64 in 2028 and reach a stable price of around $53.86 in 2030.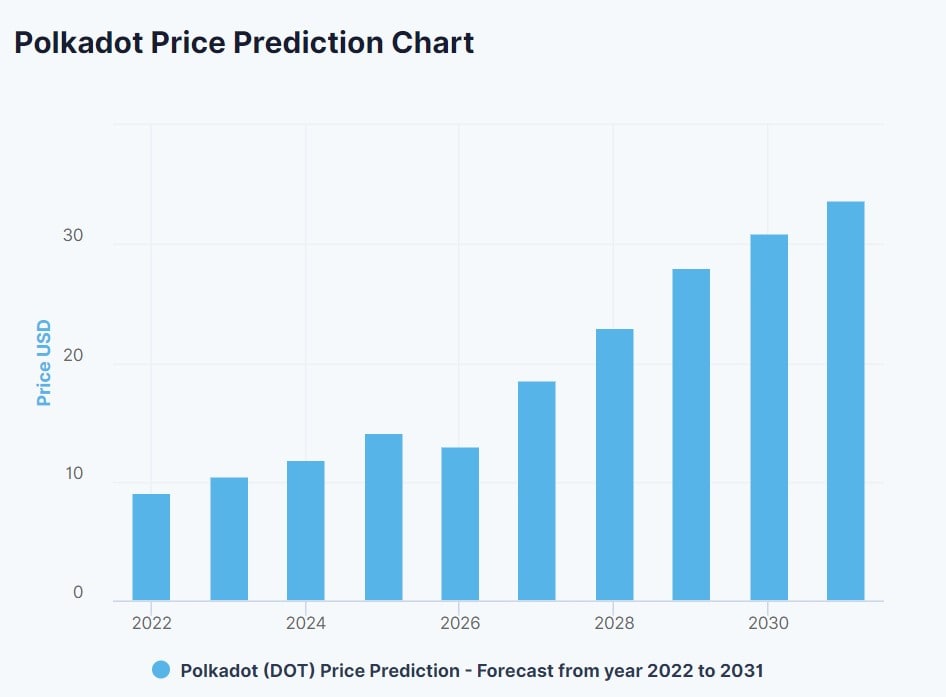 Polkadot (DOT) overall future value predictions
Polkadot is a very ambitious project aimed at transforming the very structure of the global network. Many experts consider it to be a revolutionary solution that could completely change the blockchain industry. Moreover, the project has several advantages that increase its attractiveness to investors:
An experienced development team led by one of the most famous and influential personalities in the blockchain industry
A focus on solving the real-world problem of the interaction between different blockchains
The project's ability to be infinitely scaled
No need for forks to make system changes and updates
A high degree of decentralisation and security
Open-source software code
At the same time, the project does have one or two disadvantages. One drawback is the project's complexity, which can be an obstacle for developers who want to connect their blockchains to the project.
Will Polkadot go up?
There are several optimistic long-term predictions for Polkadot, indicating bullish sentiment. WalletInvestor holds a different viewpoint. Caution is warranted as prices in the market can fluctuate.
Investing in cryptocurrencies, including Polkadot, entails inherent risks. Therefore, it is advisable to consider such investments and conduct thorough research carefully. Diversifying your investment portfolio and seeking professional advice can mitigate potential risks.
How high can DOT go?
If the crypto market sees a new bull run, the DOT token's price is very likely to reach $70 and possibly even exceed its all-time high.
Polkadot price prediction today
DOT is currently trading downwards in a wedge, but in the last couple of days, overall market sentiment has begun to shift, ever so slightly, to the upside. This may influence a bullish breakout in the coming days.
Tags
Exchange BTC

Try our Bitcoin Cloud Miner and get additional crypto rewards based on your trading volume. It's immediately available upon registration.

Try our Bitcoin Cloud Miner and get additional crypto rewards based on your trading volume. It's immediately available upon registration.
Instrument
Rate
Change (24h)