Spell Token (SPELL) Price Prediction 2022-2030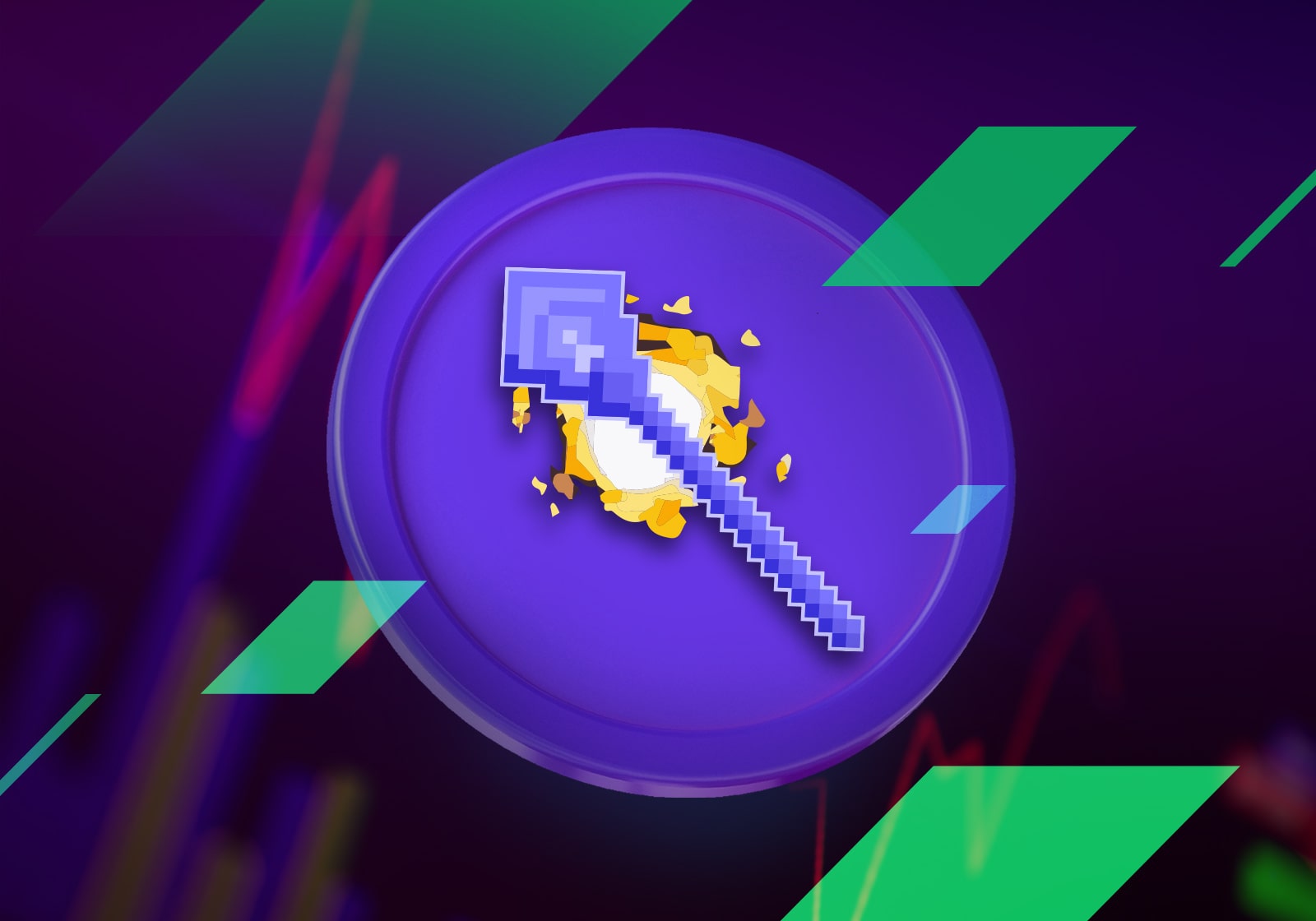 The cryptocurrency world offers multiple money-making opportunities, one of which is Abracadabra. This blockchain system provides a straightforward formula: investors can profit from their collateral. The Abracadabra protocol offers DeFi solutions to solving modern problems. The network's native token is SPELL, which has been showing a steady rise recently. What height can the token hit, and what are the Spell Token (SPELL) price predictions for the end of 2022 and beyond? Let's find out. 
What is Spell Token (SPELL)?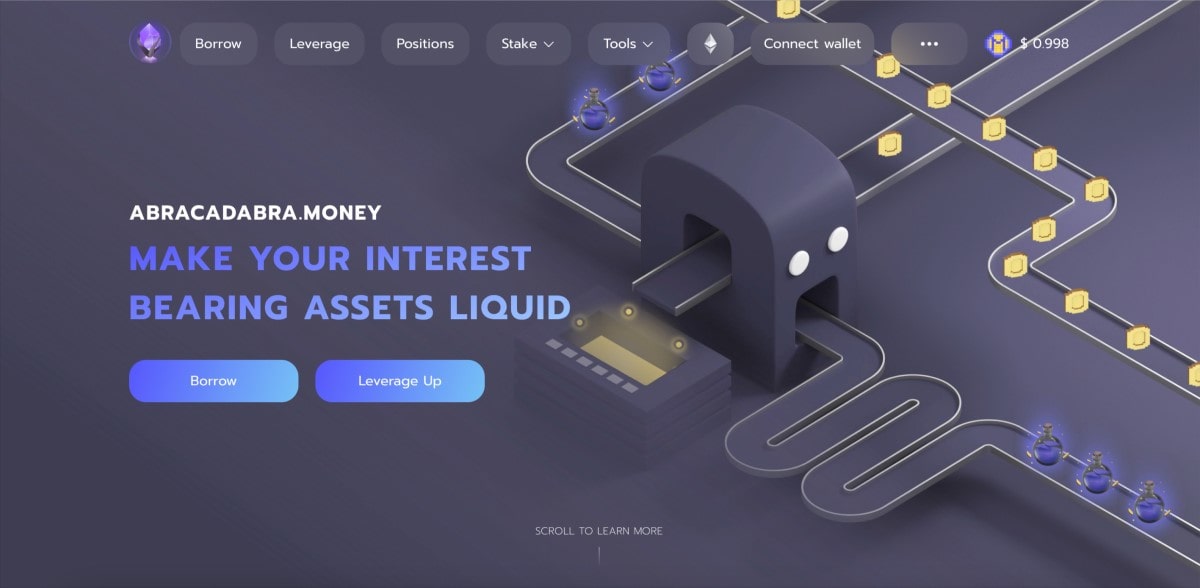 To better understand what the Spell Token (SPELL) is, let's see how Abracadabra.money works. Abracadabra.money is a decentralised finance (DeFi) platform that allows users to deposit ibTKNS (interest-bearing tokens) as collateral to borrow the USD-pegged MIM stablecoin. The amount users make in interest depends on the asset they collateralise.
Abracadabra.money runs on user-generated liquidity pools. Liquidity providers (LPs) are incentivised through return on interest (ROI) on their staked SPELL tokens. Abracadabra.money uses Kashi Lending Technology, which allows for isolated risk markets that are not shared across the platform's trading pairs.
To guarantee that all of its main systems run smoothly, the Abracadabra protocol has two native tokens: MIM (Magic Internet Money) and SPELL. Both tokens run on the Ethereum platform and are used for staking. MIM and SPELL tokens are both involved in keeping the Abracadabra ecosystem running smoothly. The tokens provide many benefits once they are staked on the forum.
The SPELL token (SPELL) uses three different tokens to lend money in Abracadabra: yvWETH, yvUSDC and xSUSHI. People can use them to lend digital money.
One of the major advantages of using the SPELL token is the ability to earn passive income in the form of a percentage of trading fees. Once you invest in SPELL, you get voting power, which means you have voting rights to participate in governance. The more SPELL tokens you buy, the more voting power you get. 75% of the trading fee goes to investors, and the remaining part is used for other purposes.
SPELL's History
The first mention of the SPELL token goes back to 2021. Similar to the FLOKI INU (FLOKI) token we discussed in previous posts, the project's team is anonymous, and nobody knows who stands behind SPELL.
Abracadabra.money was launched in May 2021. Since then, the platform has been taking over the DeFi world, with its MIN token currently ranking as the sixth-largest stablecoin by market cap. As a cross-chain lending protocol, Abracadabra enables individuals to use interest-bearing tokens they earn in vaults (like xSUSHI and yvUSDT) to use their capital. 
MIM is a USD-pegged stablecoin backed by interest-bearing tokens. By depositing their interest-bearing assets to Abracadabra as collateral, users get a debt allocation and interest, which results in the MIM token getting deposited into the borrower's wallet. 
SPELL holders, in turn, can use their tokens to receive sSPELL, which grants the holders voting rights.
Spell Token Whitepaper
According to the project's whitepaper, "Abracadabra uses Kashi Lending Technology to provide isolated lending markets that allow users to adjust their risk tolerance according to the collateral they decide to use".
Using Kashi as the lending engine allows users to leverage their interest-bearing token positions. Abracadabra has developed a one-click UI enabling you to do so automatically. Here's how it works.
Before opening a leverage position, users need to deposit the interest-bearing token they want to leverage. With Kashi, a person can withdraw more MIMs than possible.
To open a leveraged position, users need to deposit the interest-bearing token they want to leverage. With Kashi, you can withdraw more MIMs than possible, provided that the required collateral is supplied within the same transaction.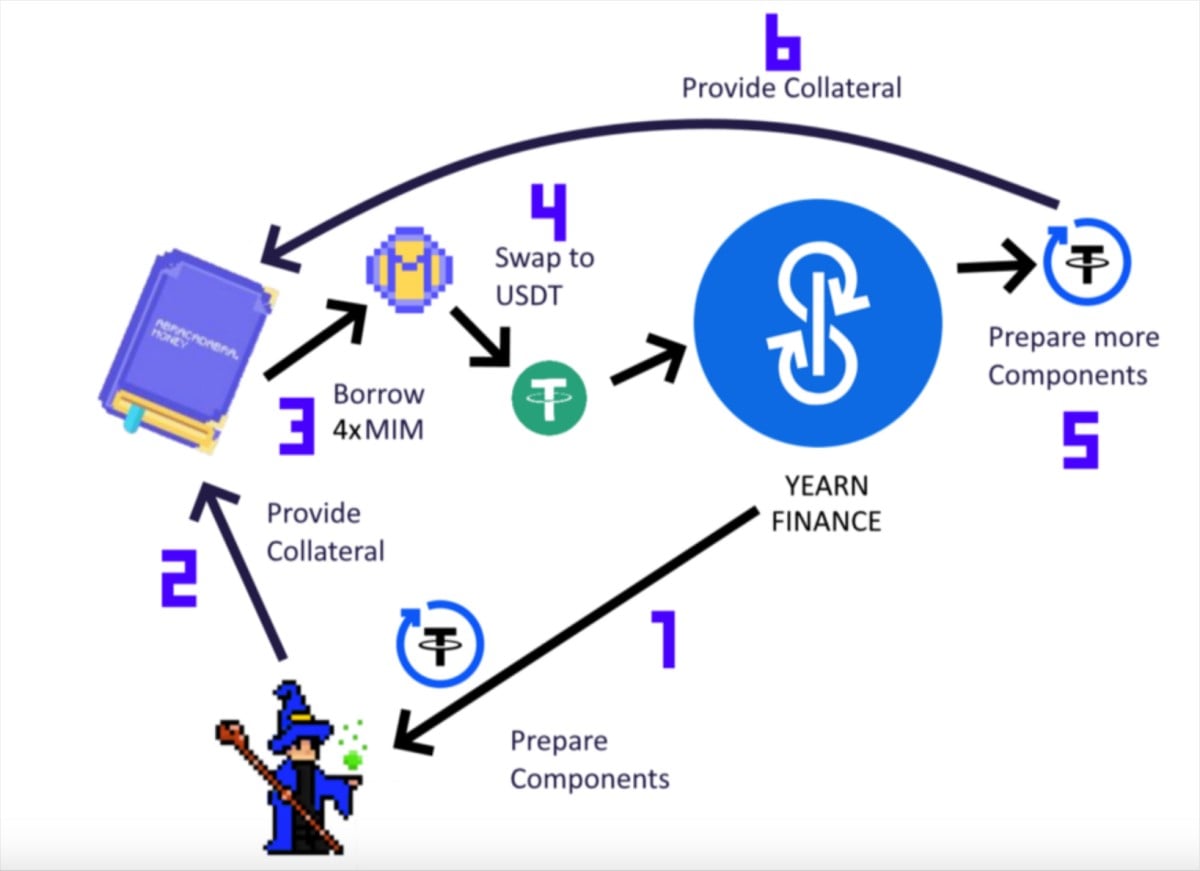 Here's how it works step-by-step:
A user chooses the desired leverage, gets yvUSDT and deposits it as collateral.
After the user selects a leverage amount, the protocol borrows the required MIMs. 
The MIM is exchanged for USDT. 
The USDT is deposited into a Yearn Vault to receive yvUSDT.
The yvUSDT tokens are deposited back into the Abracadabra to collateralise the user's position.
How Does Spell Token (SPELL) Work?
Spell Token (SPELL) is a reward token created and used by Abracadabra.money. The platform uses ibTNKS (like CRV, YFI, CVX) to offer collateral for borrowing MIM. If users contribute to the project by participating in one or more of the offered opportunities (like providing staking liquidity or yield farming), they are rewarded with a SPELL token.
The Spell Token (SPELL) gives users voting power. They can participate in the project's governance or stick to earning rewards by staking tokens and receiving passive income.
Using Kashi Lending Technology created by the SushiSwap project allowed Abracadabra.money to bring many innovations to DeFi lending. Isolating the lending market is among them. It prevents the risks from being shared across the entire ecosystem. Let's consider the following example. If the liquidity for a specific pair runs out, only that pair will suffer. Other pairs will continue operating as usual.
SPELL Benefits
To continue discussing SPELL price prediction, let's define the key advantages it can get by joining Abracadabra.money's platform. 
SPELL offers liquidity rewards for users who farm SPELL. The process is similar to liquidity provided in any other ecosystem: a user needs to stake tokens in liquidity pools for the project to process transactions quickly. Users get paid in SPELL, which brings them passive income.
Staking works the same way as elsewhere. Users lock up their tokens (which prevents other risks associated with other crypto activities, like trading) and receive rewards. Staking is especially popular among long-term investors. The longer they hold the SPELL token, the more tokens they get as a reward.
The community of SPELL holders makes decisions about the project's future. They can vote on proposals submitted by others and suggest new features or upgrades. 
Spell Token (SPELL) Price Analysis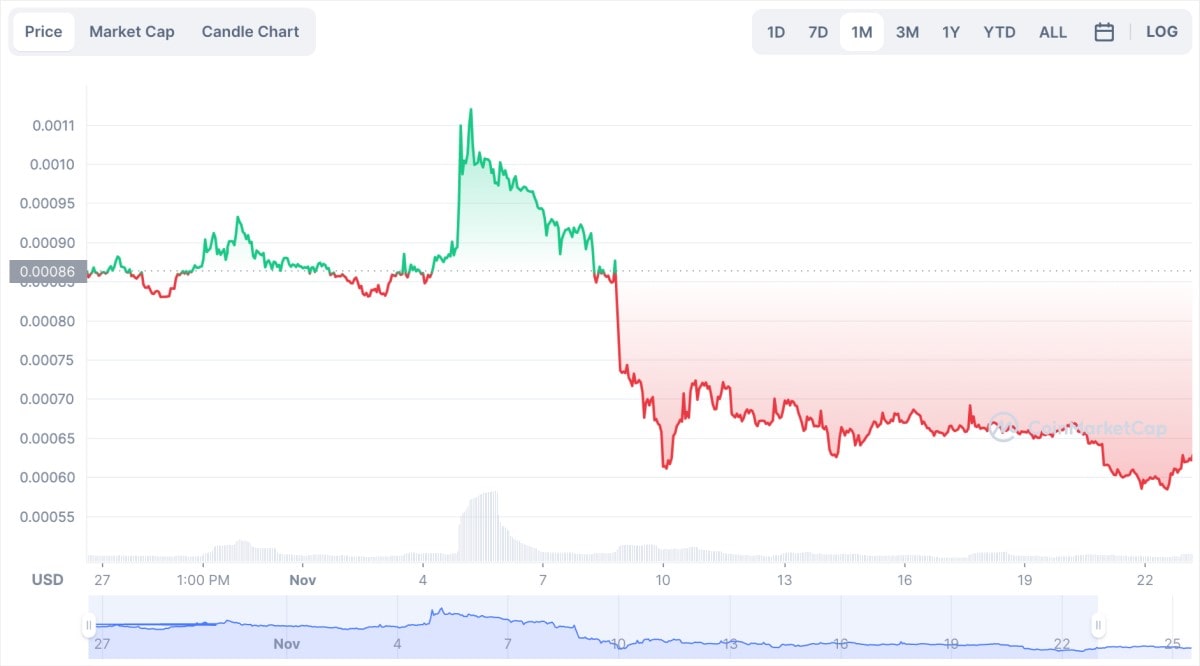 When writing this SPELL crypto price prediction on 23/11/2022, the token's price was $0.000638, with a daily trading volume of $15,259,405. Spell Token's price increased by 4.45% in the last 24 hours. SPELL ranked #268 on CoinMarketCap, with a live market cap of $68,195,168, a circulating supply of 106,967,566,987 SPELL tokens and a maximum supply of 196,008,739,620 SPELL tokens.
Although the SPELL token has been in a bearish trend recently, it is still having difficulty getting on board with other cryptocurrencies. In the past seven days, the token's price fell by 2.78%. Although the token might show strong fundamentals, it still has risky framing segments. It suggests that the SPELL token might not be a profitable investment in the short term. 
The SPELL token's price decreased by 26% during the last month. The sudden drop means the token's price is low now, and it may be a good buy opportunity for a quick investment.
In the past three months, the token's price dropped by 53.59%. The minimum average price circulated from $0.001 to the maximum average price of $0.002. 
Spell Token (SPELL) price statistics (as of 23/11/22)
| | |
| --- | --- |
| Current price | $0.000635 |
| Market cap | $67,946,742 |
| Circulating supply | 106.97 billion SPELL |
| Maximum supply | 196,008,739,620 |
| Total supply | 103,214,939,480 |
| Daily volume | $15,207,369 |
| All-time high | $0.07515 (16/11/21) |
| All-time low | $0.0005836 (22/11/22) |
| Website | |
SPELL price history
A quick overview of the SPELL token's price history is a traditional part of the SPELL token price prediction discussion. The current SPELL token price is $0.000635. The all-time high value of $0.07515 was recorded a year ago. Let's see what price movements the Spell Token (SPELL) experienced in the past year. 
The token first appeared in the market in August 2021. The release price was $0.0005. The value of the SPELL token rose throughout August, generating a 100% gain for early investors. 
In October 2021, the token's price continued to increase. By the end of the month, the price had risen over 4000% since its release, reaching almost $0.03.
At the start of November 2021, SPELL peaked at over $0.03 and reached an all-time high of $0.07515 on 16 November 2021. 
In December 2021, the SPELL token's price declined until it had a small pike at $0.02.
Since the beginning of 2022, SPELL has been extremely volatile. Throughout the year, the token has struggled to gain momentum and slid to the current price of $0.000635 (as of 23/11/2022). 
SPELL technical analysis
We'll continue discussing SPELL token future price predictions with the SPELL token's technical analysis.
The Spell Token (SPELL) is currently trading below the 200-day simple moving average (SMA) (as of 23 November 2022). The 200-day SMA has been signalling SELL since 21 January 2022.
Spell Token's price is below the 50-day SMA, and this indicator has been signalling SELL since 6 November 2022. The most recent Death Cross in the Bitcoin market happened on 16 February 2022.
The Relative Strength Index (RSI) momentum oscillator signals whether a cryptocurrency is oversold (below 30) or overbought (above 70). Currently, the RSI value is at 35.35, which indicates that the SPELL market is in a neutral position.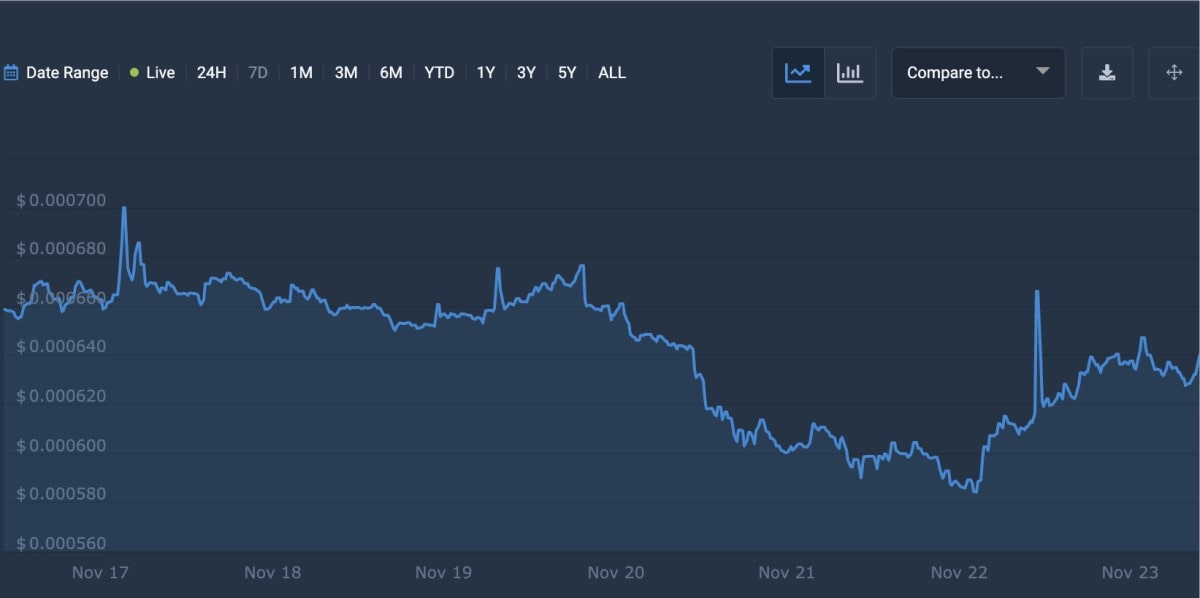 Is Spell Token coin a good investment?
Many experts and cryptocurrency analysts believe SPELL could be a good investment for a long time. The token's value has been increasing recently, meaning the investment is capable of yielding a good return. 
Spell Token price prediction 2022-2030
Does the Spell token have a future? Let's find it out from the following Spell token price predictions shared by cryptocurrency trading platforms and analysts.
WalletInvestor SPELL price prediction for 2022, 2025 and 2030
According to Wallet Investor's Spell Token price prediction, the digital asset will be a bad long-term investment. The SPELL token's future is bearish. According to the platform, the price could reach $0.0000754 by the end of 2022 and $0.0000991 by the end of 2023.
Wallet Investor's SPELL price prediction for 2025 is $0.0000819. By the end of October 2027, the token's price is forecasted to reach $0.000135. 
CoinCodex SPELL crypto price prediction for 2022, 2025 and 2030
According to CoinCodex, the value of Spell Token should rise by 4.27% to reach  0.000665 by the end of November 2022. The SPELL price prediction for 2025 is $ 0.01206. The prediction for 2025 would be $ 0.002377.
DigitalCoinPrice SPELL token future price prediction for 2022, 2025 and 2030
DigitalCoinPrice's Spell Token price prediction for 2022 estimated that it could hit an average of $0.000882 by the end of the year. The website forecast the token to average $0.00138 in 2023, $0.00179 in 2024, $0.00221 in 2025, $0.00236 in 2026, $0.00266 in 2027, $0.00311 in 2028 and $0.00377 in 2029.
According to DigitalCoinPrice's Spell Token price prediction for 2030, the coin is expected to average $0.00464 in 2030, going to $0.00575 in 2031.
Price Prediction SPELL price prediction for 2022, 2025 and 2030
PricePrediction forecasts a moderately bullish long-term outlook on the SPELL token. The platform projected that the average price of SPELL could be $0.001 by the end of 2022, $0.001 in 2023, $0.003 in 2025, $0.020 in 2030 and $0.029 in 2031.
Spell Token future forecast in general
The future of Spell Token (SPELL) highly depends on the overall performance of the cryptocurrency industry. Most analysts and traders agree the token's price would hardly hit the $1 value in one or five years.
When you invest in cryptocurrency, make sure you use the right strategy. This type of investment is unsuitable for those with an asymmetric risk profile. Investing in the SPELL token could be the best choice for those with a high-risk tolerance and a solid financial position.
How high can the SPELL token go?
The average price of Spell Token (SPELL) might go to $0.00066045 by the end of this year. The token may easily reach the $0.03 mark in five years.
SPELL price prediction today
When looking at the SPELL token price prediction, keep in mind that analysts can be wrong. All price predictions of Spell Token are based on fundamental and technical studies of the cryptocurrency's past performance. However, the token's past performance is no guarantee of its future results.
Before investing in the SPELL token or any other cryptocurrency, do your own research. Your decision should be grounded on your attitude to risk, your expertise in the market and how comfortable you feel about the risk of losing money. The last point is especially important. This is a rule of thumb for all traders: never trade with more money than you can afford to lose.
Tags
Exchange BTC

Try our Bitcoin Cloud Miner and get additional crypto rewards based on your trading volume. It's immediately available upon registration.

Try our Bitcoin Cloud Miner and get additional crypto rewards based on your trading volume. It's immediately available upon registration.