Floki Inu (FLOKI) Price Prediction 2022-2030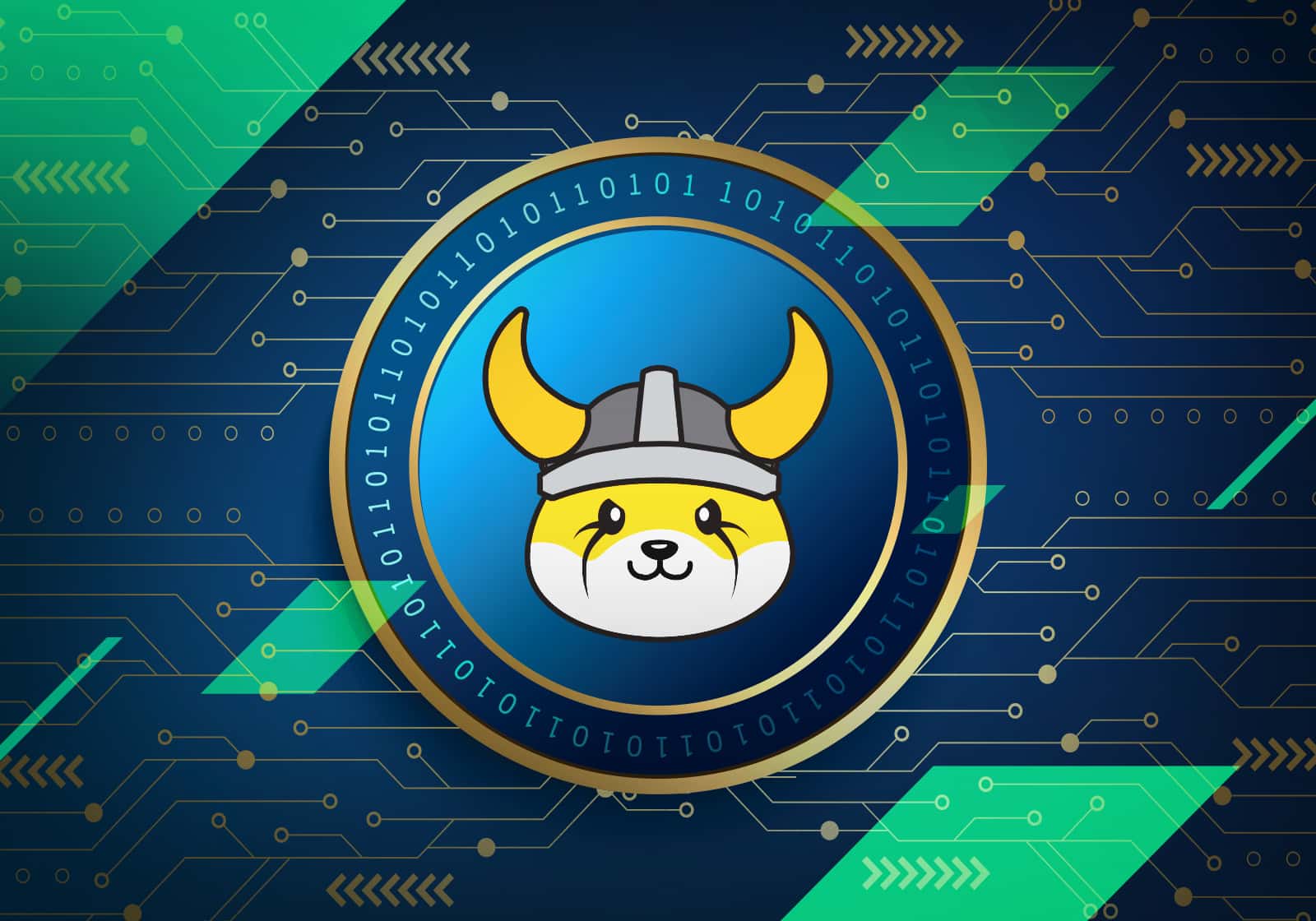 Floki Inu (FLOKI) is one of the many dog-meme cryptocurrencies (like Shiba Inu and Dogecoin) inspired by Tesla CEO Elon Musk. It first came into the market in the summer of 2021, following the news that Tesla's founder bought a Shiba Inu dog and called it Floki. Although the token's creators are anonymous, the new cryptocurrency has attracted many devotees. The token promises quite a lot, but how has it behaved since its release, and what are Floki Inu (FLOKI) price predictions for 2022 and beyond? Let's discuss the token's fundamentals and check future predictions for Floki Inu.
What is Floki Inu (FLOKI)?
Floki Inu (FLOKI) is a dog-themed meme token. It's an ERC-20 token based on the Ethereum blockchain. As stated in the project's whitepaper, FLOKI "is not a meme coin. IT'S A MOVEMENT. A new cryptocurrency birthed by fans and members of the Shiba Inu community." 
On 25 June 2021, Elon Musk shared a tweet: "My Shiba Inu will be named Floki." This is where the token's name originates. 

Floki Inu is described as a people's cryptocurrency with a strong meme culture. FLOKI's ideas lay the foundation for the three major pillars: The Meme, Utility and Charitability. Let's discuss the token's pillars in detail.
The Meme is generally considered to appeal to everyone, regardless of people's age, gender or financial status. 
Utility lays the fundamentals for the crypto project, encompassing three major utility projects:

Vanilla bridges the gap between people and cryptocurrency through the use of the Pay-to-Earn NFT gaming metaverse. FLOKI lets people explore cryptocurrency and blockchain technology by playing NFT games and getting paid, which is a bonus earned from playing.
FlokiPlaces facilitates buying physical products with cryptocurrency. The FLOKI token is used as the core payment mode. Investors can use Curate's NFT marketplace to shop from over 1,700 online stores.
Floki University is "the premier cryptocurrency education platform" launched to increase cryptocurrency and blockchain understanding.
Charitability plays a crucial role in the aim of the FLOKI token to "cross through divides, race, and borders to help make life easier for the average Joe."
The project's mission is to build at least one school on every continent. FLOKI has already partnered with Pencils of Promise and the Million Gardens Movement. They've commissioned Pencils of Promise to start building a school in Ghana. 
FLOKI History
Floki Inu (FLOKI) was launched on the Ethereum blockchain in the summer of 2021. The meme token is now available on the Binance Smart Chain (BSC). While the token's creators are anonymous, according to the whitepaper, the development team consists of some top cryptocurrency influencers, including BPeta, Byte Capital, Sabre, MrBrown Whale and Jackie Xu.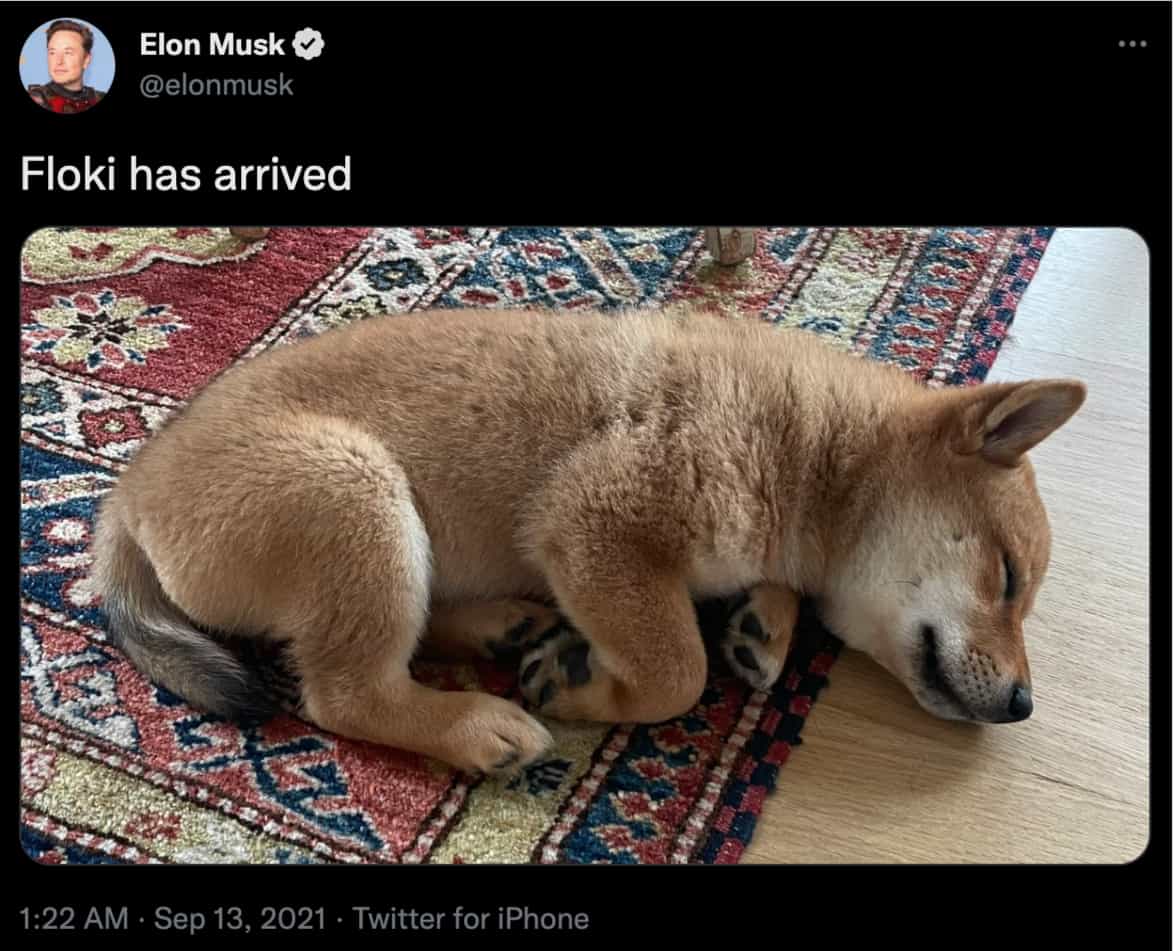 FLOKI is a new token that's been on the market for only a year. Still, it didn't stop the project from partnering with big companies to provide utility to the token holders. For example, FLOKI has partnered with the EPay platform to let the token holders make purchases from the Floki marketplace.
Floki Inu Whitepaper
According to the whitepaper, the "Floki ecosystem is a community-powered ecosystem that aims to give people control of their finances through four key utility offerings," namely the Valhalla NFT Metaverse Game, the Floki University Crypto Education platform, DeFi and
FlokiPlaces.
The Floki Inu whitepaper describes Floki University as "FLOKI's attempt to fill the crypto education gap for the next billion users that will be discovering crypto in the coming years – all while creating awareness for the FLOKI token."
The FLOKI token is available on the Ethereum and Binance Smart Chain blockchains. "Each blockchain FLOKI has the strong points that allow the FLOKI ecosystem to thrive."
Floki Inu Features
Before discussing FLOKI token price predictions, let's consider the main features of the project. 
Multi-Chain Protocol. FLOKI is hosted on two blockchains, providing both ETH and BSC communities with access to the meme token. Token holders are granted a 1:1 swap through the ETH-BSC bridge, excluding any transactions during the bridging process.
Focus on marketing. During every FLOKI trade, holders are charged a small fee that goes directly to the project's marketing and development teams. The funds help onboard influencers, pay for donations and release new updates to the Floki Inu ecosystem. The project's monthly marketing budget is more than $2 million, which is enough for running such aggressive marketing campaigns as keeping the FLOKI logo on 300 buses in London or locking down Times Square for 3.5 months.
There are multiple NFT portals inside the Floki Inu (FLOKI) ecosystem, including Floki Diamond-Hands NFT Portal, Floki Inu Ruby NFT Portal and Flokitar. Each NFT portal has a collection of Floki NFTs by connecting a wallet and placing a bid. 
FLOKI holders can earn rewards for holding tokens. On the BSC and ETH blockchains, users can earn a 4% reward whenever anyone swaps tokens on a crypto exchange. FLOKI is a hyper-deflationary token, meaning that rewards for Floki holders rise with the increase in the size of the burn wallet.
Unlike other meme coins, FLOKI has real-world usage. The project's partnership with CryptoCart (CC) allows FLOKI holders to purchase items at 1,500+ stores.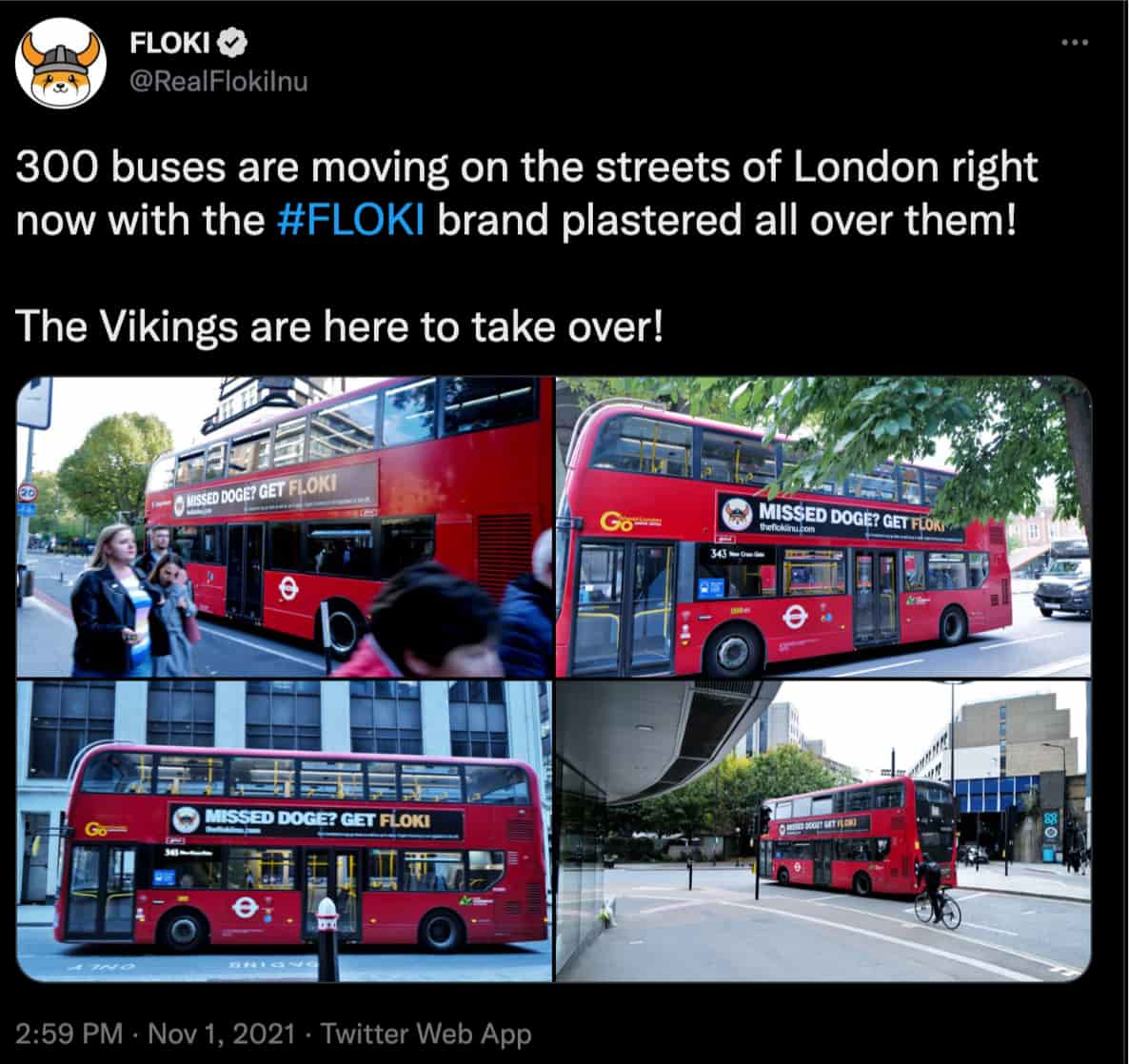 Floki Inu (FLOKI) Price Analysis
At the time of writing this Floki Inu (FLOKI) price prediction on 22/11/2022, FLOKI's price was $0.000008, with a daily trading volume of $3,502,126. The token ranked #2665 on CoinMarketCap, with a combined market cap of $84,607,699.00. The total circulating supply is 9,317,584,635,793.74 FLOKI.
Floki Inu (FLOKI) price statistics (as of 22/11/22)
| | |
| --- | --- |
| Current price | $0.000008 |
| Combined Market Cap | $84,607,699.00 |
| Total circulating supply | 9,317,584,635,793.74 FLOKI |
| Maximum supply | 10 trillion  |
| Daily trading volume | $3,502,126 |
| All-time high | $0.0003437 (04/11/21) |
| All-time low | $0.00000002 (09/08/21) |
| Website | |
FLOKI price history
On the launch day (10 July 2021), the FLOKI token was worth $0.00000361. The token's price didn't change until the cryptocurrency crash on 19 July 2021. On 30 July 2021, the FLOKI token's price rose to $0.00000594.
The token's price was worth $0.00001686 on 12 September 2021, but it closed the day at $0.00003663 (a 117% rise). On 16 September 2021, FLOKI reached a high of $0.00007023. 
The token's price continued to grow in October. Thus, on 27 October 2021, the price increased from $0.00005621 to $0.0001066. On 4 November 2021, FLOKI Inu (FLOKI) hit an all-time high of $0.0003437, followed by the token's new price drop. However, the news of partnerships and sponsorships helped the token's price rise again in November 2021.
The FLOKI token's price surged more than 14% on 1 December 2021, following the announcement that Floki would be the first cryptocurrency to advertise Dubai's Burj Khalifa building on 3 December at 8:40 PM local time. However, after trending on Twitter for days, Floki Inu crashed and closed the year at $0.0001.
The downward trend continued in 2022, when FLOKI fell to a low of $0.0000056 on 18 June 2022, in line with the wider crypto crash. 
The meme token slightly recovered on 27 October 2022, when its price reached $0.0000074. FLOKI's price continued to rise while Musk was preparing to complete his $44 billion takeover of Twitter. Still, the recovery didn't last for long, and FLOKI dropped to the current value of $0.000008 (as of 22/11/2022).
FLOKI technical analysis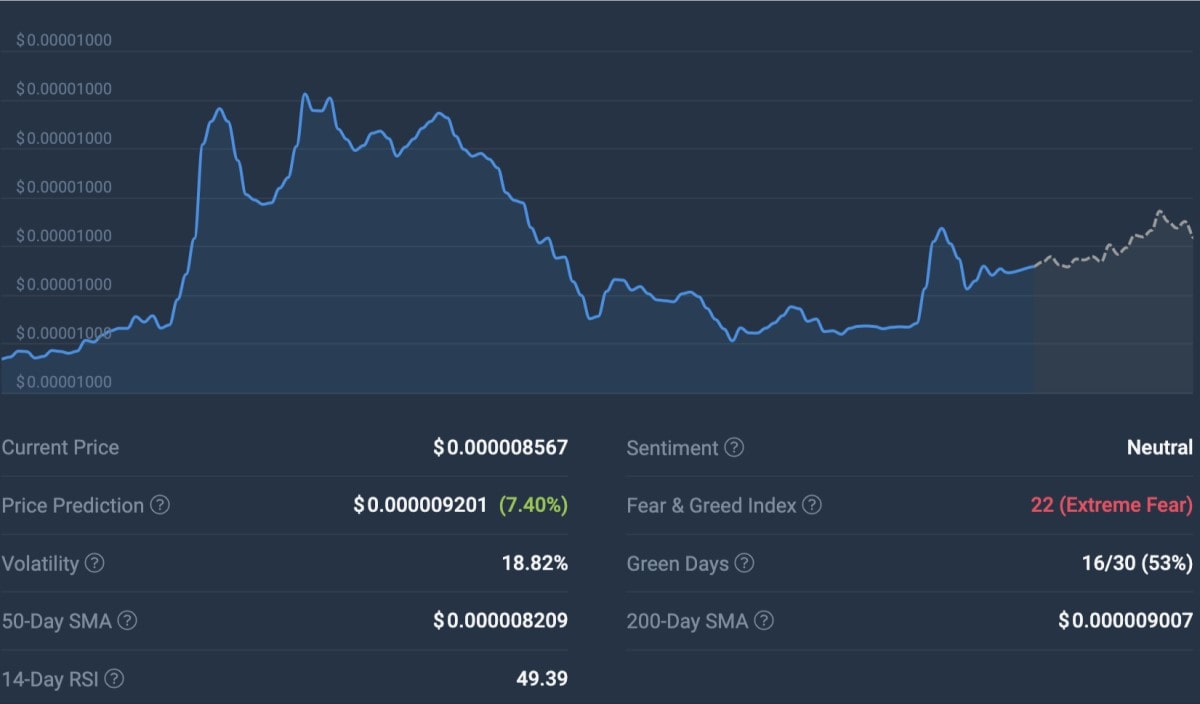 Based on data from 22 November 2022, the general Floki Inu (FLOKI) price sentiment is neutral, with 15 technical indicators signalling bullish signals and 11 bearing signals. According to the technical indicators, the Fear & Greed Index shows 21 (Extreme Fear), though the current sentiment is neutral. 
On 22 November 2022, Floki Inu traded below the 200-day simple moving average (SMA). The 200-day SMA has been signalling SELL since 20 November 2022. Floki Inu's price is below the 50-day SMA, and this indicator has been signalling SELL for the last zero days since 21 November 2022.
The Relative Strength Index (RSI) momentum oscillator is a popular indicator that signals whether a cryptocurrency is oversold (below 30) or overbought (above 70). Currently, FLOKI's RSI value is at 48.20, which indicates that the FLOKI market is in a neutral position.
Is Floki Inu coin a good investment?
FLOKi might be a good investment, especially considering how well it has performed since its launch and its diluted market cap of more than $100 million.
Floki Inu price prediction 2022-2030
Before we discuss price predictions for Floki Inu (FLOKI) from different analysts and platforms, it's worth pointing out that all forecasts can only be useful as a reference. Mind that such forecasts can be wrong because the predictions are based on the token's past performance. They do not consider such external factors as market volatility because it's difficult to predict the cryptocurrency's market performance in the future.
With that said, let's check out some FLOKI price predictions. 

WalletInvestor FLOKI price prediction for 2022, 2025 and 2030
According to WalletInvestor's price prediction for FLOKI Inu (FLOKI), the token can be a bad, high-risk 1-year investment option. According to their forecast, the token's price should reach an average of $0.000000679 by the end of 2022. In 2023, the FLOKI token's price should be about $0.000000159 by the end of the year. The token should close the year 2025 at the $0.000000885 mark. The Floki Inu price prediction for 2027 is $0.000000734 on average. 
PricePrediction FLOKI token price prediction for 2022, 2025 and 2030
PricePrediction suggest the FLOKI price should reach the value of $0.00001693 by December 2022. The yearly average is expected to be around $0.00002557 in 2023 and $0.00005777 in 2025. The Floki Inu future price for 2030 is forecasted to reach $0.00034274.
CoinCodex FLOKI Inu price prediction for 2022, 2025 and 2030
According to CoinCodex, the future value of the Floki Inu (FLOKI) token will rise by 14.00% and reach $ 0.000009574 by 26 November 2022. In the best-case scenario, FLOKI price prediction for the year 2025 is $ 0.000175 if it follows Facebook's growth. If Floki Inu follows Internet growth, the prediction for 2025 would be $ 0.00003456.
DigitalCoinPrice FLOKI crypto price prediction for 2022, 2025 and 2030
DigitalCoinPrice makes a FLOKI token price prediction for December 2022 of $0.0000129. In 2023, the site suggests an average value of $0.0000142 and $0.0000143 in 2024. The site's FLOKI token price prediction for 2025 is $0.0000189 (up 93%) and $0.0000450 for 2030. 
Gov Capital FLOKI price prediction for 2022, 2025 and 2030
Gov Capital focuses on providing short-term price predictions for Floki Inu. According to the site, the token should be worth $5.33 by the end of 2023.
Floki Inu future forecast in general
Opinions about the Floki Inu future differ. As you can see from the FLOKI price predictions we've highlighted in this article, PricePrediction has the most optimistic forecast. The site predicts the token's price can reach a value of $0.00049314 by 2031. Other sites claim the meme token is reliant on hype caused by the name of its creator. Some other sources list it as a dead coin.
How high can the FLOKI coin go?
Most analysts agree that Floki Inu (FLOKI) token price won't rise higher than $1 in a year or five. 
FLOKI price prediction today
On 22 November 2022, Floki Inu's price was $0.000008, having corrected massively throughout 2022. The token could be a good investment for the future due to its upcoming NFT marketplace release and metaverse-based games. 
As it stands, it makes sense to do your research before investing in any cryptocurrency. Floki Inu (FLOKI) price predictions are not genuine representations of the token's future price. Mind the market conditions and research before you buy. Remember that you should never invest more than you can afford to lose.
Tags
Exchange BTC

Try our Bitcoin Cloud Miner and get additional crypto rewards based on your trading volume. It's immediately available upon registration.

Try our Bitcoin Cloud Miner and get additional crypto rewards based on your trading volume. It's immediately available upon registration.